In 2015, Adam Gascoyne explained to us the work of Union VFX on THE THEORY OF EVERYTHING. He then worked on many projects such as STEVE JOBS, THE PROGRAM or FLORENCE FOSTER JENKINS. Today, he talks to us about T2: TRAINSPOTTING, his new collaboration with director Danny Boyle.
How was this new collaboration with director Danny Boyle?
It's always very exciting starting a new project with Danny. His energy and enthusiasm are boundless and extremely contagious.
What was your feeling to work on the sequel of such an iconic movie?
The original TRAINSPOTTING is a very important movie to me. It inspired me to work in film. It's use of music and visuals were so groundbreaking – a real game changer. Being involved in the sequel was a real honor.
What was his approach and expectations about the visual effects?
Although it might not instantly jump out as a visual effects film, Union worked on over 400 shots. The focus was very much on coming up with ways to visualise the fantasy, flashbacks and hallucinations that punctuate the story throughout. We created environments that enhance the narrative, gradually decaying Spuds flat as it comes ever closer to demolition and ensured Sick Boy's pub was in a virtually derelict setting where almost everything else had been destroyed. Other effects provide subtle accents to moments in the story allowing Spud to demonstrate his forgery prowess by scribing signatures in the air with light and deer to gamble across the walls and ceiling. It's really rewarding to see and experience the outcome on the screen.
How did you create the various environments and especially the one around Spud's flat?
We shot the plates in Greendykes in Edinburgh. Then we aged the building and created demolition sites all around the tower blocks. We also increased the size of the buildings to dominate the landscape more.
Can you tell us more about the work on the Sick Boy's pub environment?
The plates for this were shot in Glasgow. We then placed the pub into a digital matte painting of Leith docks, adding a passing CG train and generally making the environment more run down and desolate.
How did you created the shot in Spud in falling back from the top of his building?
Spud was shot live action on wires falling from a small hight into Renton's arms as he was wheeled into shot on a skate. As well as wire removal, we created a digi double of Spud and hand animated his fall. It's actually an entirely CG shot as the tower bloc is a DMP too.
Spud's shows his signature ability. How did you created this effect?
To show off Spud's forgery prowess, we traced the movement of his hands as he signed the air and then hand animated luminous writing in the air.
Can you tell us more about the various projections?
The flashbacks were projected into a room in Spuds apartment like a bill viola installation.
The look dev was based on some real projections we had created on set with in the room during some other scenes. We made the projection fill the entire room using volumetric God rays so that the image appears everywhere, not just on the walls.
Can you tell us more about the Begbie flashbacks and how you created his younger version?
We carefully selected footage from the first movie that we thought would work as far as angles on the characters within the scene. We then shot plates of Begbie, Spud and Renton lookalikes that lined up and composited the shots together. It was amazing really to see a young Begbie acting alongside Robert Carlyle 20 years on.
Can you explain in detail about the creation of the final shot in Renton's room?
This room was extended from an 8 ft long set to a fully CG room pull back that lasted for 1.5 minutes. The room was textured with Renton's famous wallpaper and carpet, which were meticulously recreated by the art dept on set to match the original movie. We rendered the whole shot out of Maya in Arnold and then finished the comping of all the other elements in Nuke.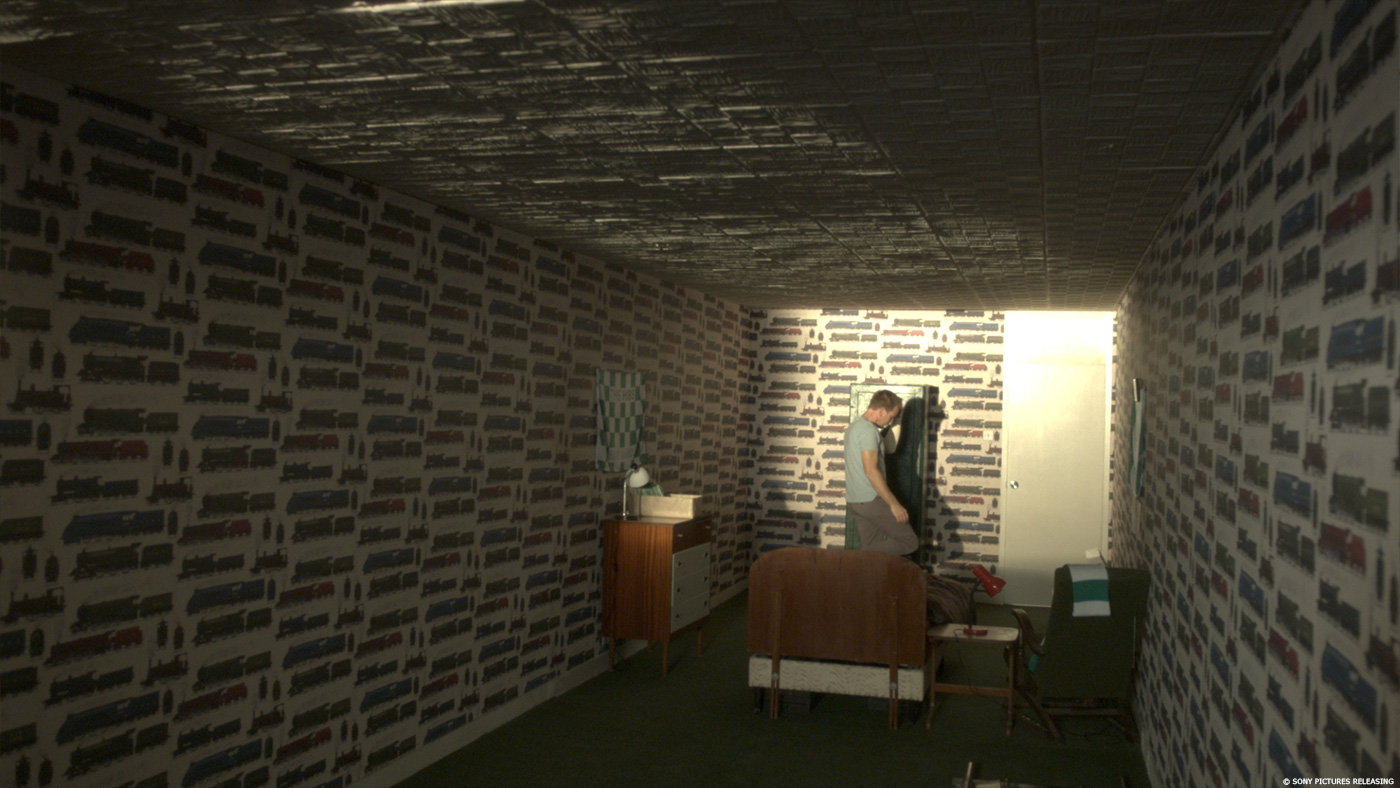 How did you work with Tomato for the end credits?
We supplied the background plates of Spuds flat collapsing to Tomato who then edited them with stock footage and then applied a treatment and the titles. The end result was stunning.
Which sequence was the most complicated to created and why?
Probably the end shot of Renton's bedroom due to the length of the render etc.
Is there any other invisible effect you want to reveal to us?
There are so many secret enhancements to the film that assist the story
Was there a shot or a sequence that prevented you from sleep?
The end shot of Renton dancing in his bedroom was a tricky one, although seemingly simple it presented a lot of challenges with rendering. We built a long CG model of the room and textured it with elements of the set build, including the iconic train wallpaper from Renton's cold turkey scene in TRAINSPOTTING. The camera was sent flying backwards through this room at speed, which lasted for around a minute and a half while the end credits start. We played a lot with the motion blur here dialing it up and down on various surfaces to get maximum stroboscopic effect.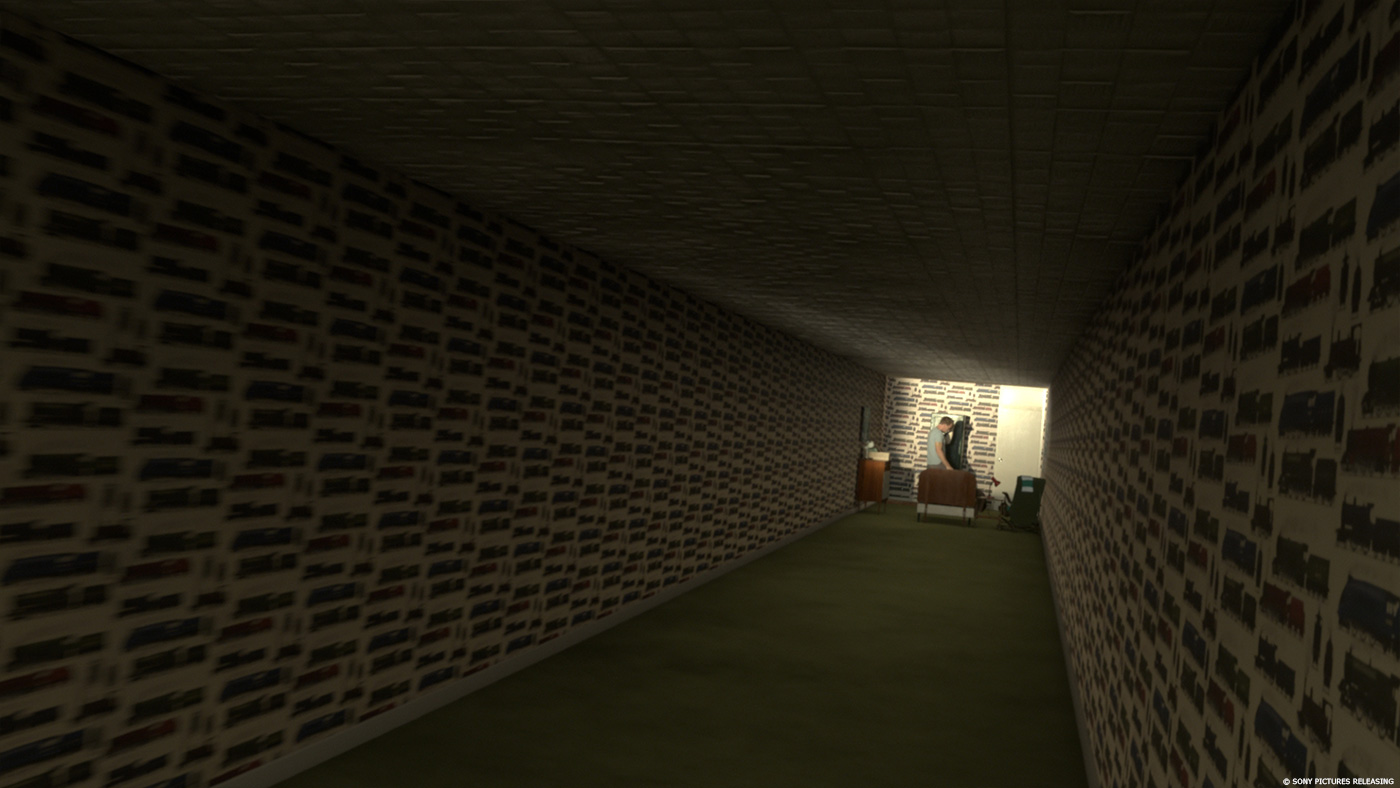 What do you keep from this experience?
We enjoyed a lot of creative freedom on this show and had a lot of fun with it, all thanks to Danny's collaborative film making methods. It was a great project to be a part of.
How long have you worked on this show?
I was involved for about a year, the post period was very condensed to hit a planned release so our amazing team worked really hard over Christmas to ensure we hit the deadline.
What's the VFX shots count?
We worked on around 400 shots, there are 350 in the film.
What was the size of your team?
We are about 70 people now, and growing. We recently took on additional space in Soho and are looking for artists.
What is your next project?
We are really busy working on a variety of high end Film and TV projects, but can't talk about them just yet. One thing we can mention though is our work on an exciting pilot for Amazon Prime which is currently available as part of their Pilot season. It's called OASIS and is based on Michel Faber's 2014 science fiction novel 'The Book of Strange New Things'. The project stars Richard Madden and is directed by Kevin Macdonald both of whom we've worked with before.
A big thanks for your time.
// WANT TO KNOW MORE?
Union VFX: Dedicated page about T2 – TRAINSPOTTING on Union VFX website.
// T2 – TRAINSPOTTING: VFX BREAKDOWN BY UNION VFX
© Vincent Frei – The Art of VFX – 2017