Jabbar Raisani has been working in visual effects for over 17 years. He has worked on projects such as FANTASTIC FOUR, PREDATORS, MACHETE and GAME OF THRONES.
Terron Pratt began his career in VFX in 2003 at Digiscope. He has worked on numerous projects such as PUSHING DAISIES, SNOW WHITE AND THE HUNTSMAN, 300: RISE OF AN EMPIRE and BLACK SAILS.
How was the collaboration with the showrunners and the various directors?
There is a lot of collaboration between us and Zack Estrin, our showrunner. I (Jabbar) literally sit in the writers room as they break story ideas and offer my input for VFX heavy sequences. So we're involved in shaping the big VFX sequences from their very inception. After season 1, there was a whole new level of trust between us and Zack and we were able to work much more in lockstep as we worked through the challenges of the 2nd season.
What was their expectations and approach about the visual effects?
After a successful first season, the expectations and demands of team VFX were much higher on season 2. We approached the new challenges by being more outspoken early on about the areas we were most concerned about and focused on smoothing out as many of the wrinkles as possible. But the scope and scale was so huge relative to season 1 that we weren't always able to get ahead of every challenge and also had to do a lot of thinking on our feet.
Jabbar, you have directed one of the episodes. How did you approach this challenge?
I directed a lot of the 2nd unit on season 1 so it was a bit of an extension of what I was already doing on the show. With that said, having an episode that is entirely your own is a much bigger challenge. One of our on set supervisors, Jed Glassford, VFX supervised my episode which allowed me to focus on the story and performances and not get bogged down with the numerous responsibilities of supervising while directing.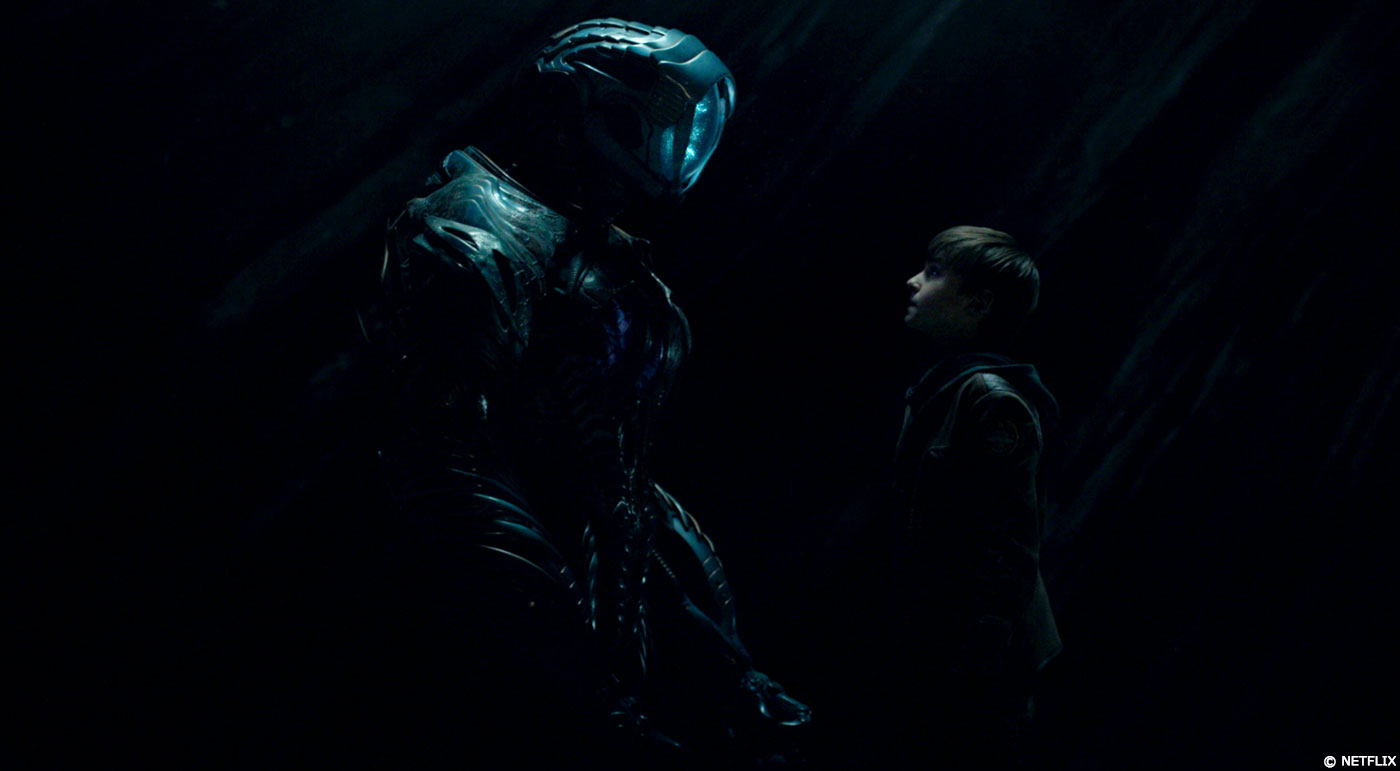 What are the main benefit from the VFX side to be the director?
The main benefit for the VFX department of me directing an episode is I really planned out my VFX sequences to take advantage of everything I knew we could achieve with great success and to avoid choices that would created unwanted complexity and cost. This really helped us to get the biggest bang for our buck in my episode (#208).
Can you explain in detail about the creation of new locations?
In creating the various planets and creatures for season 2, we did a lot of collaboration with our vendors to work through the concept design. As often as possible we did this in advance of shooting so the crew and actors would have the best possible understanding of what would eventually be on camera. Important Looking Pirates (ILP) did some amazing work setting looks for the gas planet in advance of shooting so we were able to light the set with the appropriate color temperature to really connect the foregrounds to our CG backgrounds.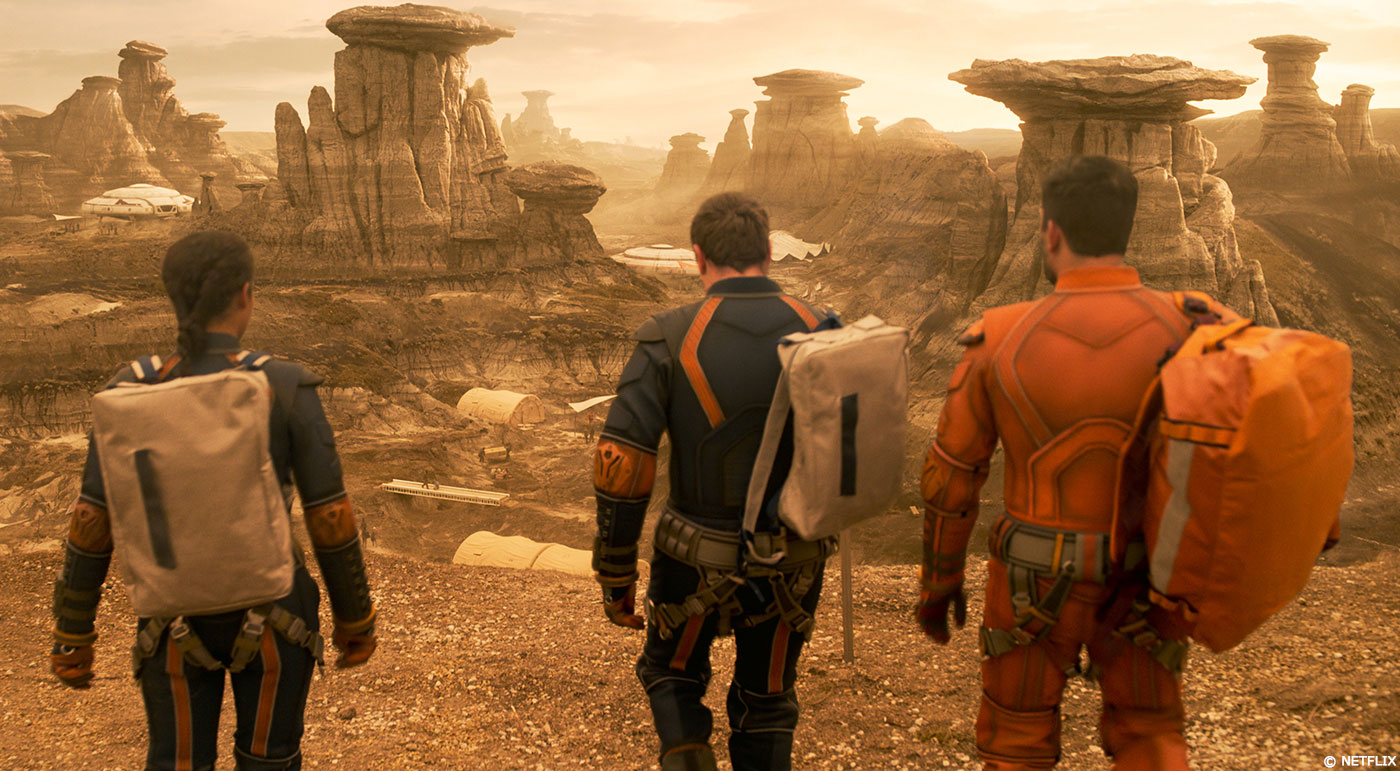 Where was filmed the various locations?
Season 2 was filmed in Iceland and Canada (Calgary & Vancouver) .
How did you handle the challenges of the water planet?
Luckily we knew from very early on that we would be creating the water planet. We began development work with ILP before production even began for the season. We also did a lot of previs with our internal team supervised by Dirk Valk. We relied heavily on the previs to figure out how exactly we would shoot the various sequences and shots. There is a combination of location work in Iceland, Vancouver, and green screen, and full CG work that all had to be seamlessly integrated. It really came down to a lot of pre-production planning to ensure we were using the correct approach for each shot and sequence. Our additional VFX Supervisor Marion Spates and our On-Set Supervisor Blaine Lougheed worked very closely with the director to achieve some of the most complex work of the season.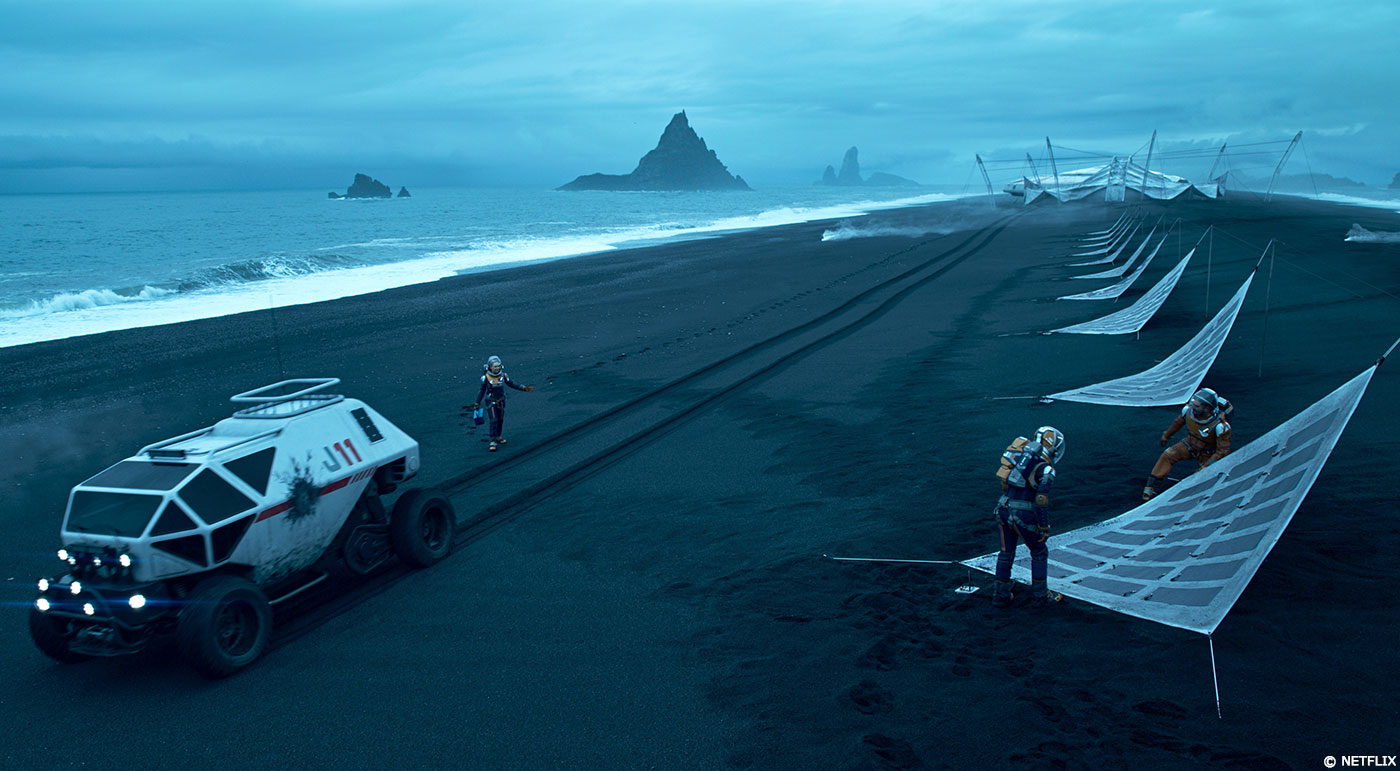 Can you explain in detail about the creation of the intense sequence when the Jupiter is turning into a boat?
Mackevision lead the work that transformed the Jupiter from a spaceship to a boat. In pre-production both ILP and Mackevision did extensive concept work on the look of the beach and seaworthy Jupiter. Once we knew what the J2 would look like as a boat, we decided there were enough scenes on the top deck that we'd need to build a practical portion of the ship at scale. The ship is 115 feet in diameter so this was no small task. Troy Davis, one of our internal artists, took the reins on figuring out a lot of the technical details of how we'd achieve such a feat. One of many challenges we faced was the fact that the pitch of the top of the CG Jupiter was far too great for actors to safely stand on. Troy and Marion worked with stunts and production design to figure out a safe incline that stayed true to the essence of the CG Jupiter we'd all come to know and love. Initially we thought that we would film close-ups against practical sails, but the size of even a portion of sail was so large that we ended up doing all of unfurled sails purely in CG. In the end the J2's transformation into a boat was handled by three different vendors… Mackevision sailed the J2 off of the beach, Digital Domain saw our heroes through the storm, and ILP managed to get us both stuck on the waterfall and finally unstuck and off the water.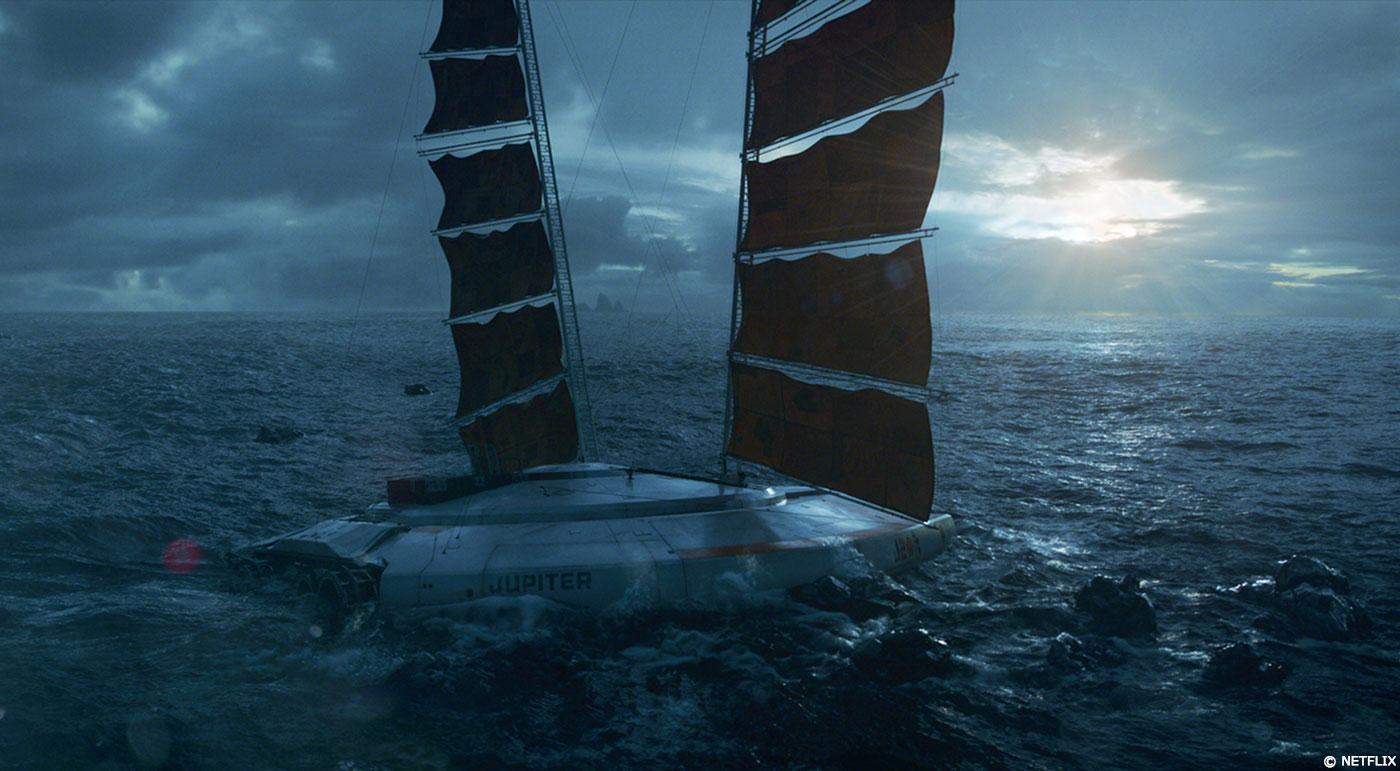 Can you tell us more about the beautiful and massive flying creature?
The Space Whale, as we called him! Even though he's more like a Space Beta-Fish. This creature started with a discussion with our showrunner, Zack Estrin. We settled on the idea that this would be a wondrous creature that would be more beautiful and ethereal than threatening. The backstory for the creature was that its kind were like the massive earthworms living inside the gas atmosphere; ingesting and venting the atmosphere, but not dangerous. The visual concept for this character started with ILP. They did the initial design that got the creature on the right track. From there, Mackevision finalized the design and El Ranchito transformed the concepts into the living breathing giant that's on screen.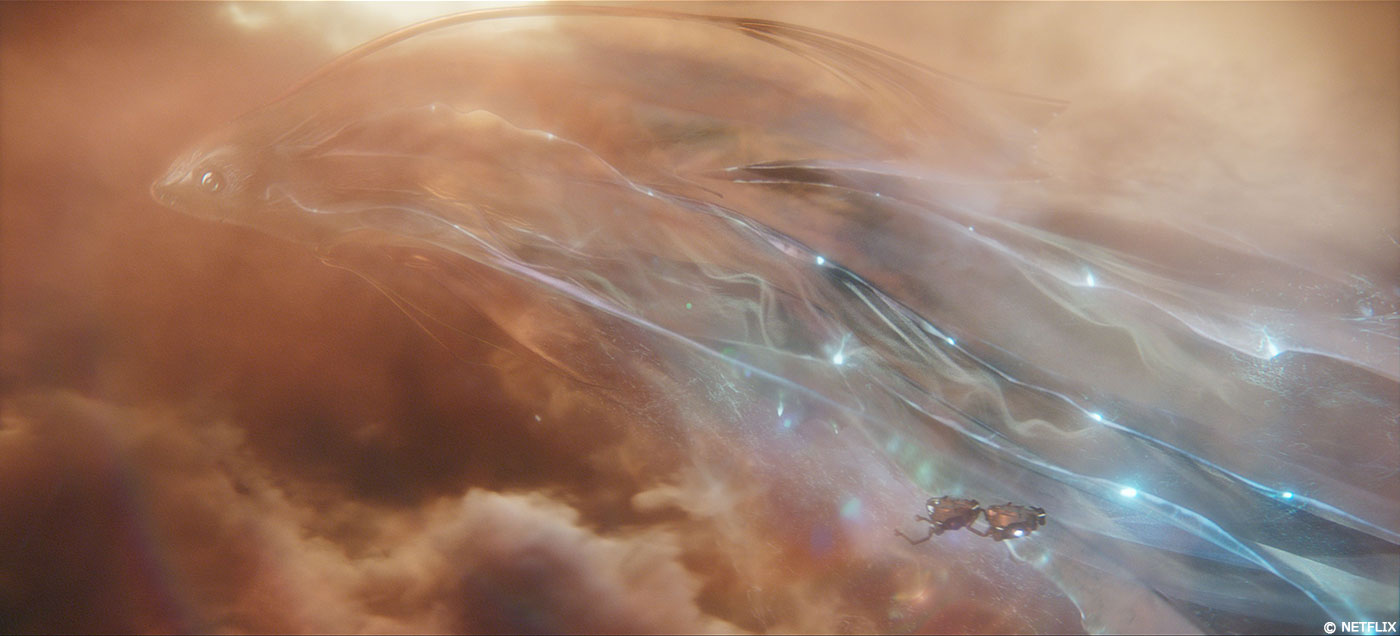 How did you design and create the Resolute?
The original concept of the Resolute was designed by our season 1 production designer. However since the Resolute was much more heavily featured in season 2 and from so many more angles, we had to go revisit the design process. For the second season we relied on our vendor ILP to oversee not only the redesign, but also the rebuild of the entire Resolute.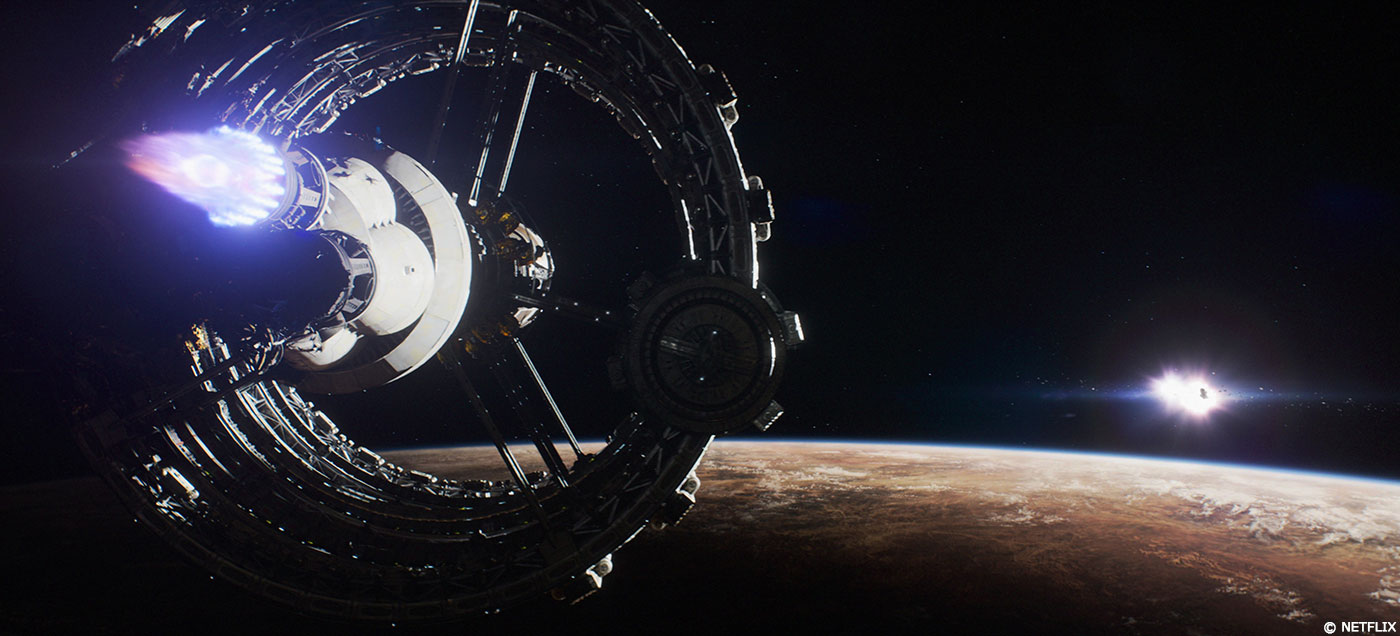 How did you manage the feeling of scale of Resolute?
In season 1 we relied mainly on a procedural approach to the Resolute however, in order to achieve the appropriate sense of scale, the fidelity needed to be increased across the entirety of the asset. ILP did a ton of hand painted detailing to uniquely modeled geometry in order to get the appropriate sense of scale and detail into a ship of this scale.
The Robot is back. How did you improve his model?
This season features a completely revamped model of our hero Robot. Mackevision had several shots featuring the Robot in close up and from various angles not previously featured in Season 1. They added both modeling and texturing detail to the Robot, allowing for us to be much more versatile with our digital Robot storytelling beats in S2.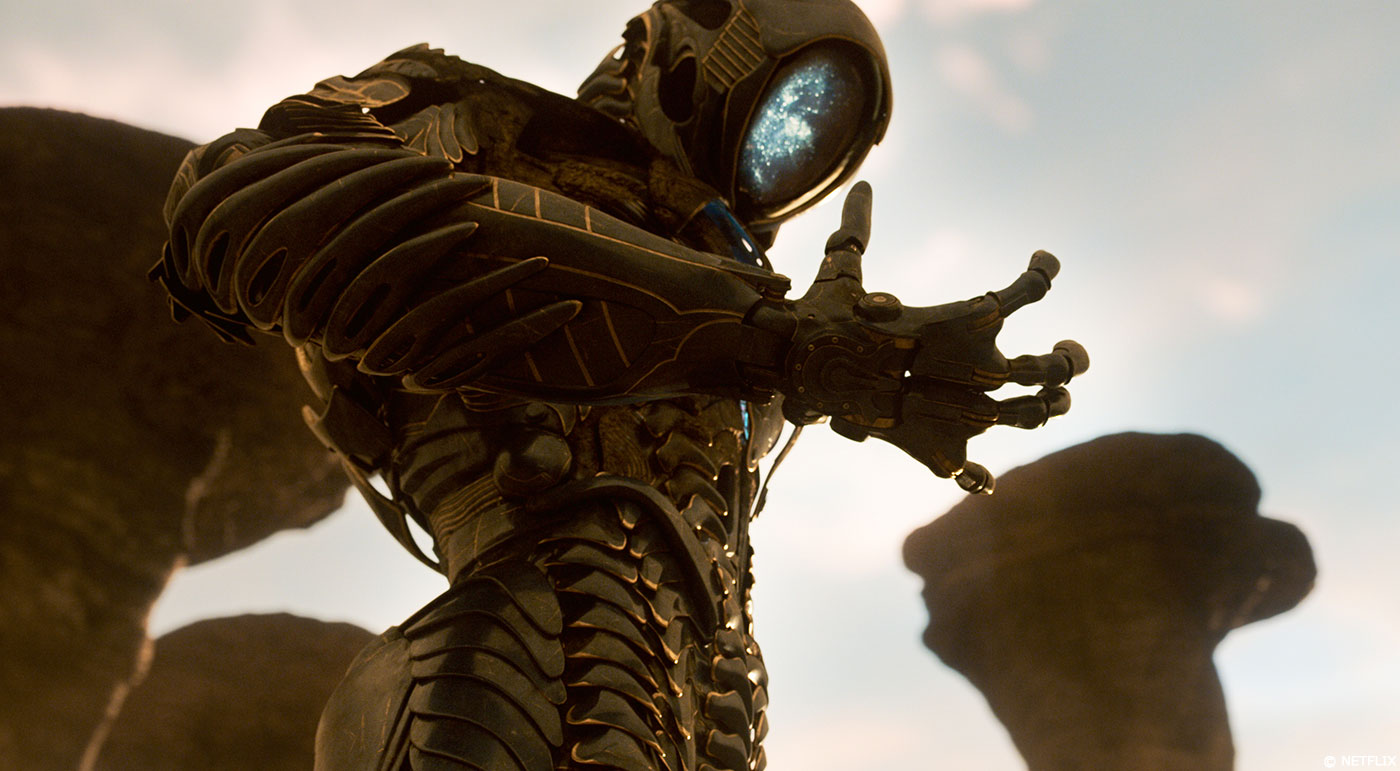 The final episode involve a massive Robots attack. Can you explain in detail about the crowd creation and animation?
The hordes of Robots in the Season 2 finale were handled by both Mackevision and Image Engine. For the 'Kill Box' Mackevision built a completely digital version of the room and filled it with a horde of killer robots. Back on season 1, Image Engine handled our Robot fight, so they were a natural choice for the epic robot battle we wanted to accomplish in season 2. Our script simply read "What follows is 30 seconds of the most spectacular Robot action imaginable…". In the end we were able to deliver nearly two minutes of fighting robots. The writers really trusted Team VFX to work out the rest of the details and we had a great time working with Image Engine figuring out exactly how such a battle would unfold.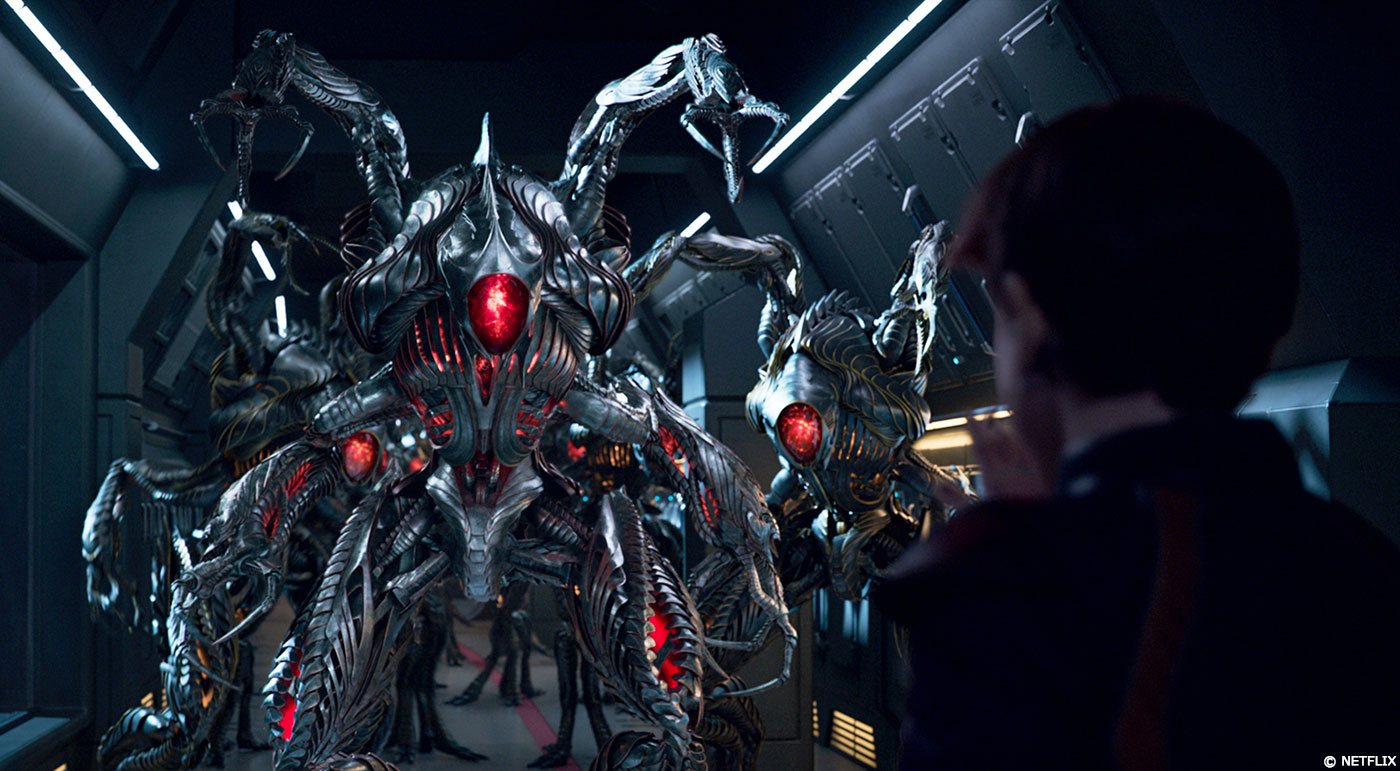 How did you choose the various VFX vendors?
I think it always starts with reviewing demo reels online or when taking meetings. That said, nearly every vendor that worked on season 2, Jabbar or I had worked with previously. When we're entertaining taking on vendor that we haven't worked with before, we'll often start with a small body of work perfectly suited to their strengths. It may end up that that's all they do for the season however, we're really interested in developing a level of trust and comfort and maintaining relationships that will allow us to produce amazing work for years to come.
How did you split the work amongst these vendors?
Some of this was very obvious to us. ILP had done an extensive amount of water work for me in the past so we knew they were going to tackle the waterfall. Early on, we had a good sense of what the episode was about so ILP was able to start developing well in advance of physical production. With that kind of lead time, it also made sense to award nearly the entire episode to them, ensuring consistency amongst the sequences. Digital Domain (DD) had also done water work on my (Terron) previous show, in fact, a storm with a familiar captain at the helm, so it was kind of a no brainer to get them involved again for this one! We had such a great experience with Mackevision that we knew we had to get them more heavily involved in season 2 and that's exactly what we did. They did initial design work on the sailing Jupiter along with the Island so we leaned into that, awarding them the 1st section of the episode, DD the 2nd, once the time of day changed, followed by ILP with the approach to the waterfall. We always knew that season 2 was going to feature Robots so Image Engine was an obvious casting for several of those sequences.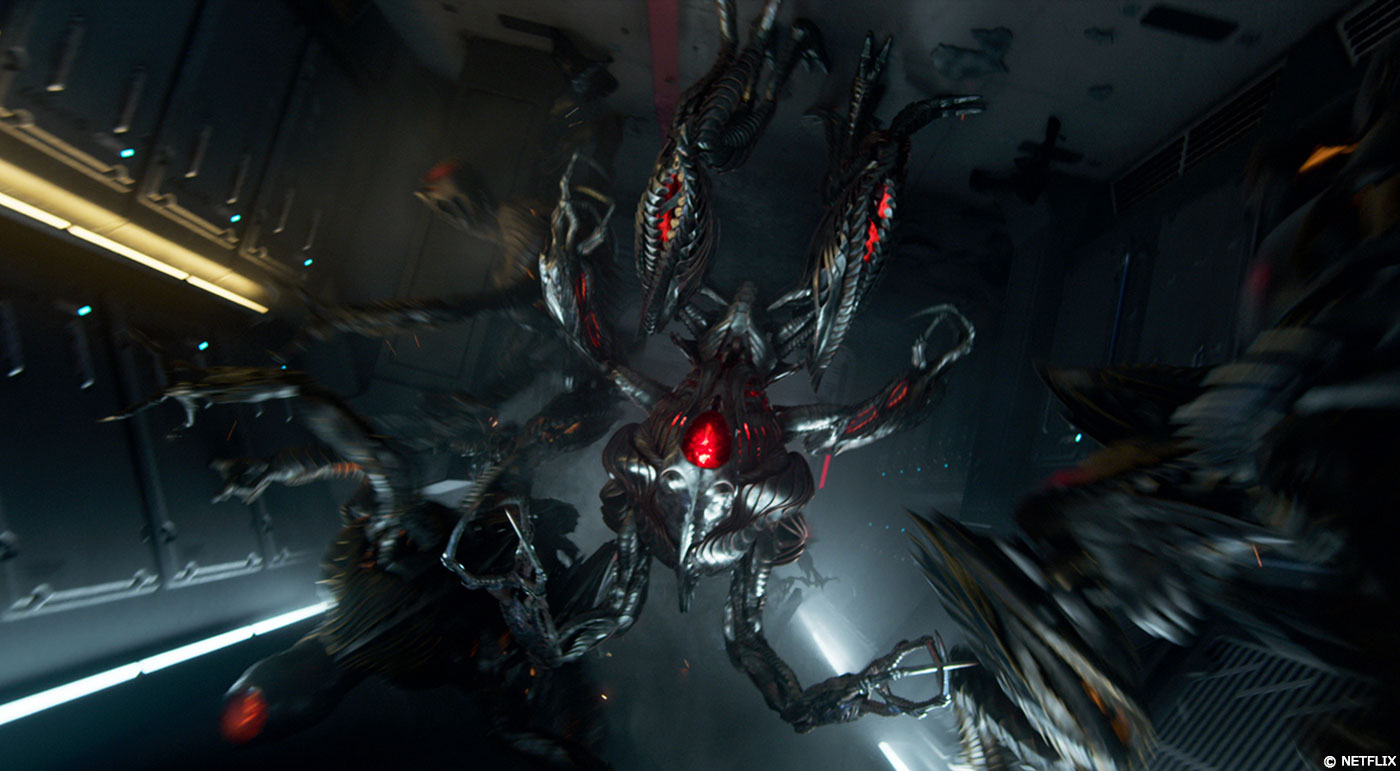 Can you tell us more about your collaboration with their VFX supervisors?
When working with vendors, we always try to give the VFX supervisors as much creative freedom as we can. Terron, Marion (our additional VFX Supervisor), and I all come from the vendor side and the projects we most enjoyed were those where we had creative freedom and were really allowed to collaborate and contribute to the creative process. We really embrace that on our show and are always looking for vendors and supervisors who really want to be a part of the creative problem solving process.
Which sequence or shot was the most challenging?
The Robot Battle in episode 210 was the high point of stress for the season. There is so much sound work that is dependent upon the VFX animation that it was immensely challenging to keep the train on the tracks. Luckily the sequence was in the talented hands of Andy Walker (VFX Supervisor) and Jenn Taylor (Animation Sup) at Image Engine and they really knocked it out of the park in record time.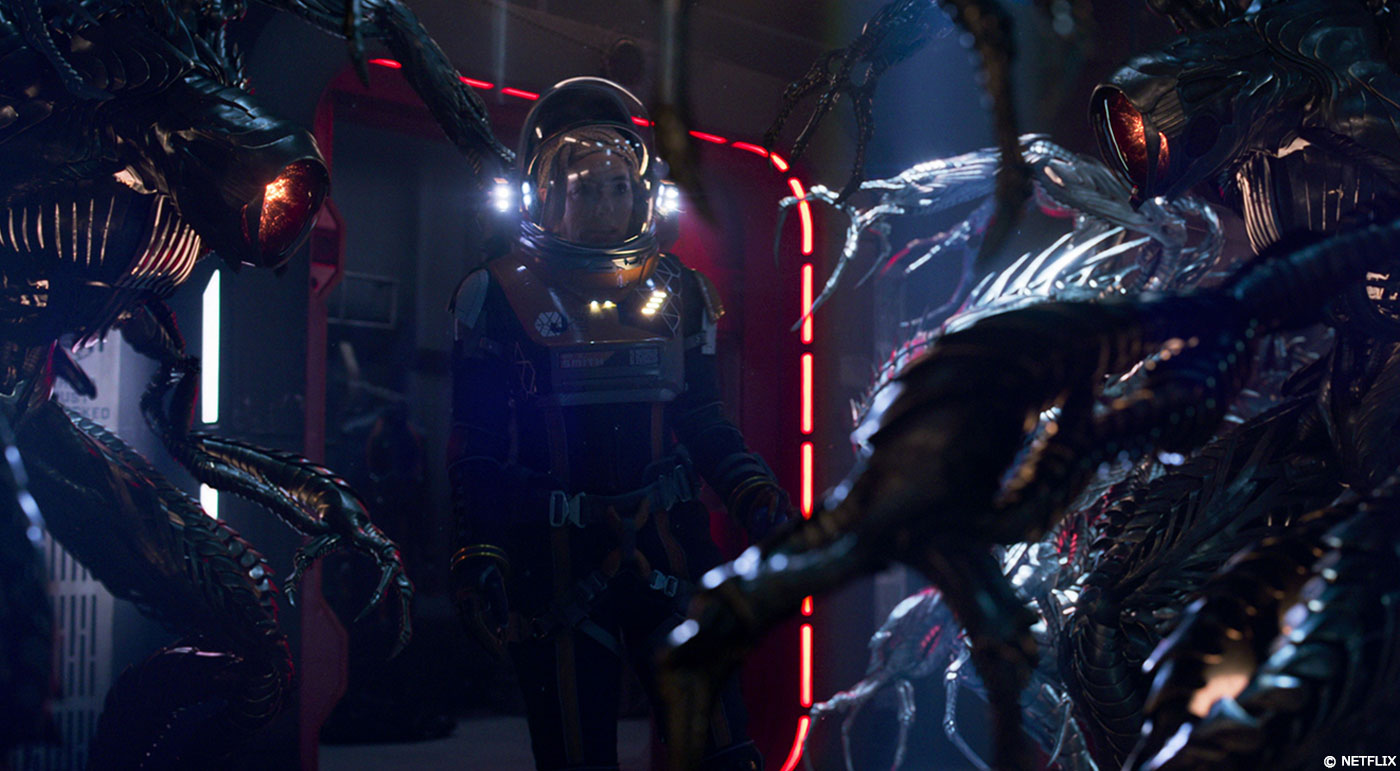 What's the VFX shots count?
2,250 for season 2.
What is your next project?
I guess we'll have to wait to see if season 3 gets a green light!
A big thanks for your time.
WANT TO KNOW MORE?
Netflix: You can watch LOST IN SPACE – Season 2 on Netflix now.
El Ranchito: Dedicated page about LOST IN SPACE – Season 2 on El Ranchito website.
© Vincent Frei – The Art of VFX – 2020