Last year, François Dumoulin explained to us about the work of Rodeo FX on THE LEGEND OF TARZAN. He speaks to us today about his new collaboration with Luc Besson and the challenges encountered on VALERIAN.
How did you and Rodeo FX get involved on this show?
We had a great experience working with Luc Besson and Sophie Leclerc on LUCY. I've known Sophie for many years, we've been in the trenches together in the past and it's always a joy to work with her.
What was your feeling to work on such an iconic character as Valerian?
I have a childhood memory that I associate with Valerian. It was the late 70s, I was 6 or 7, my parents were visiting a friend in the french countryside. After sunset we went for a walk outside the house, climbing a path among the fields. The sky was filling up with stars, cows were sleeping in the stables. A small wooden cabin was sitting at the end of the path. Someone pushed the door open and there it was : spitting out green pixels onto a black backdrop, a computer, the very first computer I ever saw. The collision between the archaic (the environment, the cows) and the high-tech struck me very deeply, triggering an everlasting sense of adventure and wonder in my mind. Few months later I was offered my very first computer (a ZX81) and my first Valerian album (Bienvenue sur Alflolol). This comic was wild, there were so many ideas in each individual drawings! I later read some Marvel and DC, but I wasn't drawn to them as much as I was to Valerian. The french comic book authors from that generation (Mézières, Moebius, Druillet, Caza, Bilal…) entirely defined my aesthetics and imagination.
How was the collaboration with director Luc Besson and VFX Supervisor Scott Stokdyk?
Working with them was all about passion and creativity. Luc already had the final result in mind for everything, and was super enthusiastic, like a kid in a giant toy store. Scott is an excellent communicator, and always had great suggestions on how to get where Luc wanted to go. Best of all we were given the luxury of a long and well thought schedule. It just can't get any better than that.
What were their approaches and expectations about the visual effects?
I went to meet Luc and Scott in LA, walked into their office and the walls were covered, floor to ceiling, with concept art. Scanning the walls from left to right you could see the entire film in sequence order, with the vivid colors and the insanely detailed set pieces. Luc had been working on these designs for years, and basically told me : « this is the movie, you'll just have to match these »! Of course he went on to explain the story point behind each images, and what his expectations were with the animation. This « bible » was a fantastic starting point, and we would constantly refer to it until the very last days.
What are the sequences made by Rodeo FX?
The opening sequence, the arrival on Alpha, the chase sequence going from outside of Alpha to the depth of the forbidden zone where Valerian crashes the Skyjet, the crazy space battle ending with the explosion of an entire planet, the Pearl Zeppelin leaving Alpha, plus basically every single shots in outer space involving Alpha or space ships, that's us. And tons of motion graphics.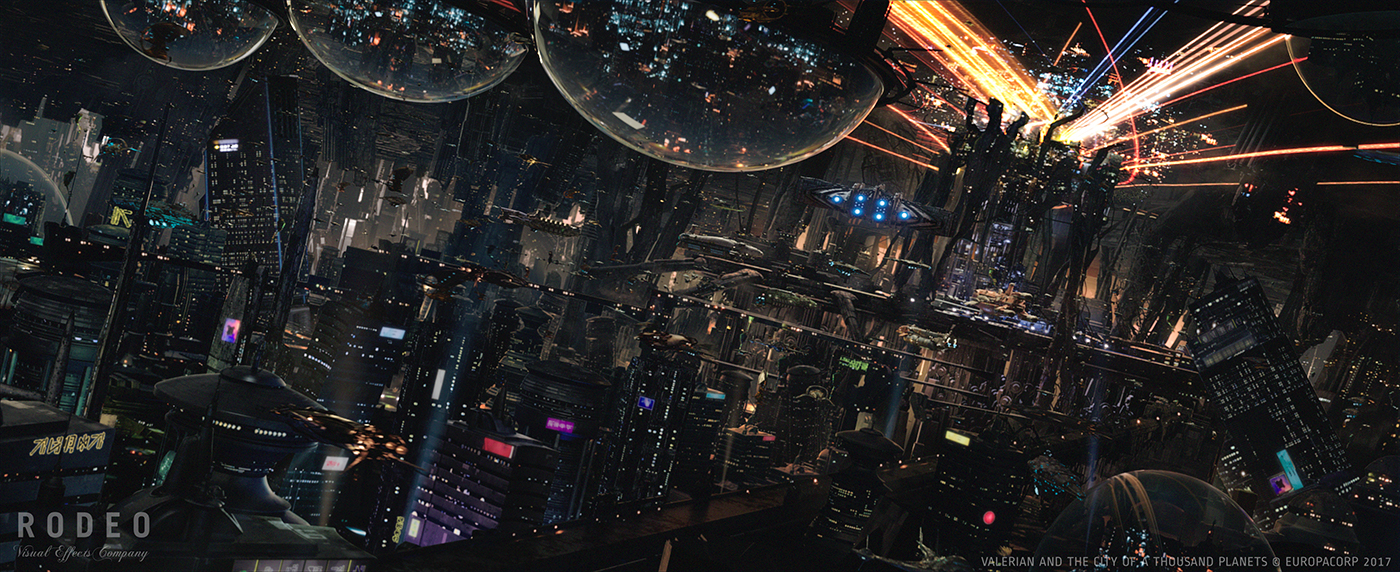 How did you organize the work at Rodeo FX?
We were awarded a significant number of full CG shots in October 2015, 3 months before principal photography began. For the first 6-8 months we were mostly building assets, and we had a very strong team of modelers and texture artists working side by side with our internal art department. Olivier Martin, our art director, was constantly producing artworks, designs and reference sheets for the various environments and the hero spaceships. We spent a big amount of time and energy defining the style, and Olivier really deserves full recognition for the fantastic work he delivered. We were also lucky to have Isaac Hannaford on board with us for a few months. He designed the dozen of ships seen around Alpha, and he also refined the production concepts for the human armada seen during the battle sequence. Deak Ferrand designed the police cars, transporters and drones used throughout the film. Vlad Bina, with whom I had worked previously on UPSIDE DOWN, joined us as digital set designer to help with some of the environments.
The modeling and texture artists were split into teams : human technologies versus alien technologies, and organic versus non-organic. We used Substance for the first time on this show, and were very happy with the results. It allowed us to generate super quickly different iterations of surfaces, and adjust the scaling of the procedural patterns in the blink of an eye (which was a key factor). It became our go to solution for all of the building blocks, and some of the BG spaceships.
The environment and set dressing team was brilliantly supervised by long time partner in crime Manuel Gaudreau. Alexandre Ménard and Sébastien Francoeur shared duty as CG Supervisors, the first one taking care of the transition from previs to shots, setting up the tools for layout, animation and crowds, the later focusing on look dev and lighting with his amazing eyes. Shading was overseen by the mega talented Jean-Sebastien Guillemette. Compositing was supervised by Patrick David and Andréane Dodier-Villeneuve. For the most complex animation shots the team benefited from the expertise of our animation supervisor, Yvon Jardel. The FX work was significantly bigger than I suspected. James Dong led the effort like a champion. I wish I could include everybody's name here, it was the absolute dream team, with ultra-skilled, diverse and complementary profiles. Thanks to all of them the process from previs to post-vis, concept vis and shot production was very fluid and linear. Kudos also to the fantastic production team expertly led by Marie-Cecile Dahan, my VFX producer for the past 5 years, and kick-ass project manager Wassila Lmouaci.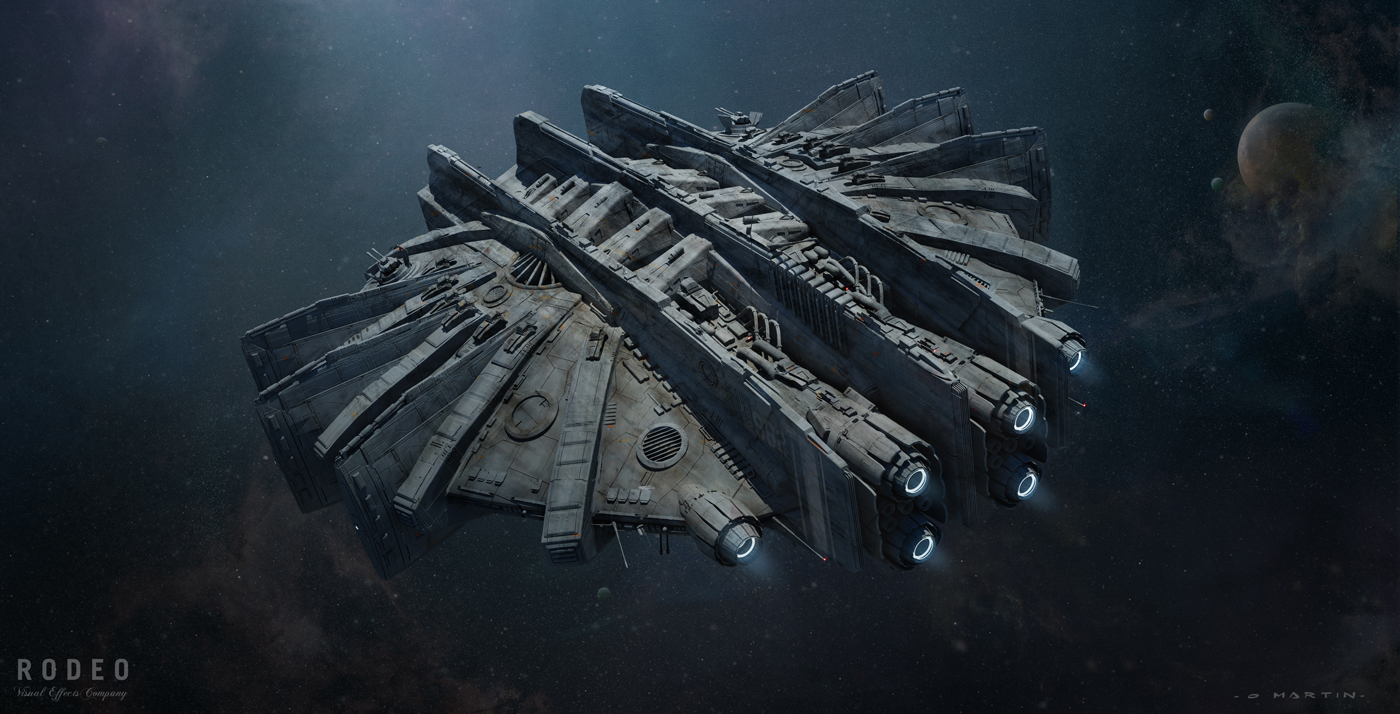 VALERIAN is one of the biggest show ever at Rodeo FX. How did you adapt your pipeline for it?
At first I was very upfront with Sophie and Scott : we were not ready, we did not have the pipeline, and it would take a leap of faith from them, because it could be months before they would see any actual results. And they were like « Ok ! ». It was very scary, and very exciting. With my associate Peter Nofz we looked at different options, but at that same time Rodeo needed to transition from Softimage Xsi to Maya immediately. There were many in-house tools that we had developed in Xsi to generate large scale procedural environments, set dressing and nested assets, that had to be ported into Maya. The process was frustrating at times, because we were not getting great performances at first. Our publishing system also required a major update. In fact a great deal of code had to be re-written or created from scratch specifically for this project, that now benefit to the entire company. We also made some major breakthrough in compositing, thanks to our workflow supervisor Sebastien Jacob who came up with some truly genius ways of dealing with multi-channel EXRs. A fair amount of time was spent in optimization and by the end of the show we had a very efficient pipeline. During the last months of production we were able to migrate all of the set dressing / procedural stuff into Houdini and the lighting in Katana, which made everything much smoother.
Can you tell us more about the previs process?
The previs started in march 2015, under the supervision of Alexandre Ménard. Usually we would start from the storyboard, when available. Eric Gandois, who story-boarded the entire show, is a friend of mine, so we had the chance to talk with him directly whenever we needed to understand the thought process behind any particular drawing. The previs was not intended to look sexy, it was very minimalist. We were not trying to pitch ideas to a studio, we were already crafting shots, working with Luc to define the structure, the timing and the beats. Luc operates the camera himself, so he gave us very specific indications for composition, camera moves and choosing the appropriate lens. We rendered the full length of every action beats seen from the different camera angles, and put together a rough assembly, just to check internally the continuity and pacing. The best takes were then sent to Paris, where Julien Rey, the editor of the film, would trim or retime the shots and send us back a polished cut, along with Luc's notes or requests for additional material. It still blows my mind when I compare the previs we did in early 2015 and the final shots two years later. Besides some minor lensing adjustment, the shots are almost 1 to 1!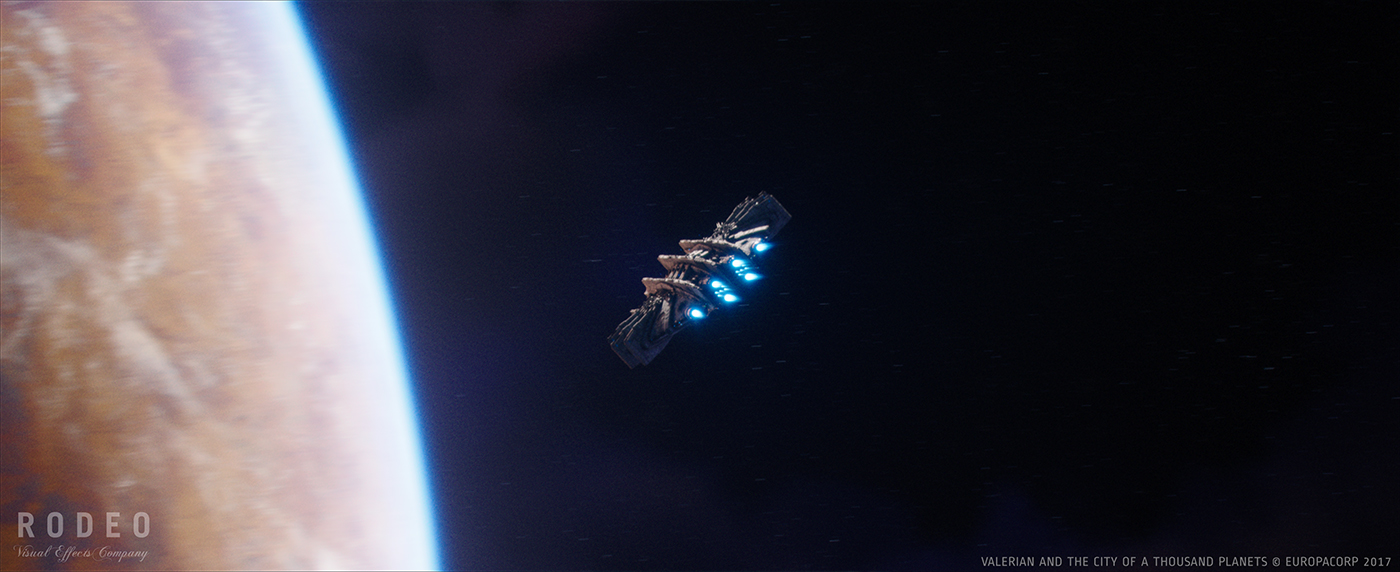 How did you work with the art department to design the Planet Alpha?
As I said before, Luc had already locked most of the designs in pre-production, so there was no back and forth with the art department. That being said, our internal art department played a crucial role interpreting and building upon the original concepts. There was a lot to extrapolate from, and Luc gave us free rein with some of the environments featured in our full CG shots.
 
Can you explain in details about the creation of this huge environment?
We spent a long time analyzing and breaking down the concept arts, extracting individuals bits of architecture that we could start modeling right away. We also referred back to the comic books more than often. By analyzing it, it became quite obvious that Mézières took inspiration from his travels. His take on Alpha is a crazy mix of real world places and pure fantasy. So we did the same and used existing buildings as a starting point. References would include Kowloon, Cappadocia, Angkor, Shanghai, Barcelona, oil refineries, Art Nouveau, Neo-Byzantine buildings… A very eclectic combination! Another thing we did was to extract hero frames from the previs as a basis for « concept vis », using a combination of CG and Photoshop to show where we wanted to take the shots. Once we got a buy-off from Luc on these proof of concept images, the road map was pretty much laid out for every department.
We got a big kick in the butt when we had to deliver some visuals for Comic Con 2016, few weeks after wrapping principal photography. So we had these couple of one-off shots that we needed to fast track, showing very distinctive parts of Alpha. And as we were crafting these individual sections we started building what would become a very large library of CG props, buildings and architectural elements. Hats off to Colin McBain who spent months and months modeling thousand of modules without loosing his mind. Later on in production, when we got to the most challenging sequences, we already had all the « lego blocks » needed to build the environments. Every spaceship and building was designed and built in a modular way, so that we could take 10 individual modules and assemble them into hundreds of different looking combinations.
How did you handle the lighting of Planet Alpha?
Scott had put together for the vendors a selection of frames from principal photography, which he called the « style guide ». Super useful. When you look at the built sets you'll notice that they're mostly monochromatic with some distinctive color accents, like a metal gray corridor with a couple of deep blue props, a pale green wall with some red decals, etc. And the lighting from DP Thierry Arbogast obeyed similar rules : a very dominant wash from the key-light, and then some small pockets of lights with lots of saturation and variations. They used a system on set that was totally unique : you could control and program the intensity and color of hundreds of LED sources through a single DMX console. I think it is the first time I've seen this on a movie set, with most of the lights being integrated into the design. We basically followed the same approach.
I soon realized that some of the assets we had developed in the early days, before principal photography began, where way too colorful, and would always stand out whatever the lighting was. So we decided to go with an almost neutral gray palette for everything, and deal with the color entirely through lighting. That was a very bold move, it put a tremendous artistic responsibility in the hands of the lighters, but it was probably our best decision on the show. The final look was 80% there in the raw renders straight out of Arnold. A strong directional key-light, with high contrast and deep shadows, almost no atmosphere. Pockets of architectural lighting bringing the color, and very high frequency emission maps. The colors of the tiny sources on the surface of the ships, or through the windows of the building blocks, were made richer and more complex in comp using some P-Noise mapped through refraction and emission maps. Although the process took a while to get accustomed too, especially refraining from using atmosphere / aerial perspective, we are extremely proud of the results and I believe it looks really gorgeous and unique.
The environment is full of activity. Can you tell us more about this aspect?
While I was attending principal photography in Paris, Scott had organized a small shoot of extras that we could comp as sprites into one of our shots. On that day 4dMax captured scans and textures of the extras in costumes, and we used these to generate a CG crowd to populate some of the views inside of Alpha. They were all plugged into our biped rig, and we used in-house mocap data to generate animation loops. We also had a crowd system for the spaceships traffic, that would follow some very basic behaviors (all done in Houdini). Everything close to camera, ships, drones etc… was of course key-framed.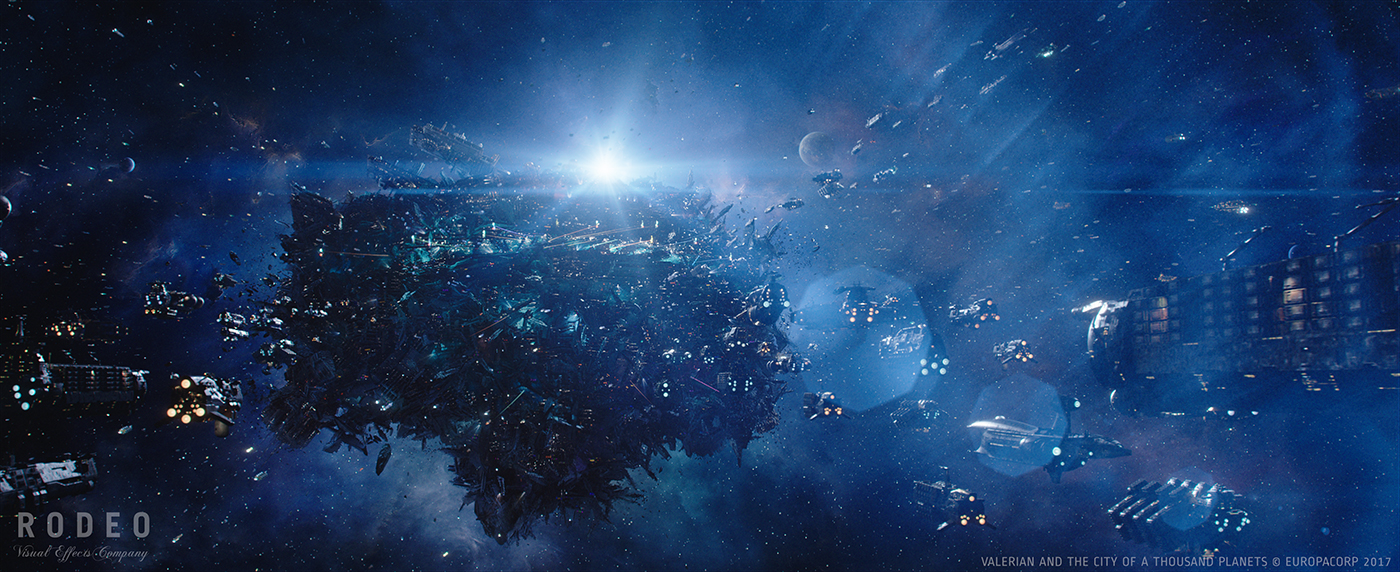 How did you shared your assets with the other vendors?
It's not uncommon these days to share assets and shots with multiple vendors, and it can be done in a rather smooth way. But nonetheless it's almost guaranteed that you will run into scheduling issues at some point, and potential frustrations because of the discrepancy between pipelines. Sophie and Scott really tried to keep asset / shot sharing to a minimum, so the work was split really cleverly.
The Intruder had to be passed on to ILM, once approved by Luc, and it went smoothly, except for the added pressure on the artists (because, you know, ILM). We had a few shared shots with Weta, were we would give them a fully rendered environment (BG plate and 360 HDR) and some portion of geometry for them to integrate their creatures. Again very smooth, just that little extra pressure (because, you know, Weta). We also packaged them a human Cruiser ship and the Alien Mother Ship for the shots were they crash on the surface of Mül planet.
The motion graphic work in Alpha Control Room needed to be shared with Mikros. Since we had already designed a first version of most of the UIs, we packaged a Nuke Script that would embed all of the screens from that set into one scene, with animation loops linked to each individual screens. This allowed them to re-use our elements directly, when required for continuity, or augment with their own design while making sure the overall look and color palette remained consistent.
Can you explain in detail about the design and the creation of the iconic The Intruder and also the Skyjet?
Luc called the Intruder the 3rd main character. Its design needed to be an homage to the comic book look, but modernized. The production had already done some initial concepts but when we modeled it and put it in context we realized it was too blocky. Its symmetrical nature made it difficult, when seen profile for instance, to differentiate the front and the back.
Olivier Martin made a fantastic job at refining the design. And instead of submitting turntables he came up with some great single frames showcasing the model in very dynamic angles. Luc loved it.
Mathieu Phaneuf was in charge of final modeling, which needed to hold up to extreme close up. Romain Coté took care of the textures. As with most of the assets on this show, it was mostly monochromatic, rough and aged. Color accents were introduced by decals and lots tiny light sources distributed inside various emission maps.
The Skyjet was a collaborative effort. The original design was done by Ben Mauro. Production designer Hugues Tissandier had 2 full size versions of it built on set. We had a small chunk of the cockpit mounted on a gimbal for Dane to interact with on set, that also served as guideline for framing. When motor manufacturer Lexus came on board they asked for some design tweaks. The final version, which was modeled by Wayne Kresil, incorporated these changes will remaining consistent with the on set prop, adding elements on top, fusing the Lexus signature design with the Valerian look and feel.
So for a few shots we ended up augmenting the practical Skyjets seen inside the Intruder. Other than that, during the chase sequence, the Skyjet is fully CG.
How did you created the digi-double of Valerian?
The model and textures for the digi-double were given to us by Weta, and they sent us everything so that we could replicate their shading perfectly (our digi-double shots had to cut directly with theirs).
It was the full suit with helmet on, but without Dane's head, so we built a replica of his face and hair, based on 4dMax excellent scans and texture surveys. The body and suit were fully rigged, but the face only used a couple of blend shapes, matching performance of the actor that we shot using a multi-camera rig. We used the CG face as little as possible, relying on plates of Dane composited within the CG helmet whenever we could.
Can you tell us more about the big chase sequence around and inside Planet Alpha?
This is the sequence that scared me the most, because the camera was traveling a lot, and very close to the surfaces, so we had to build huge and super detailed CG environments. The great thing is the scene was pretty much locked in previs and Luc gave us all the time needed to complete the shots. We went through the process of concept vis I described above, breaking down the environments and color scripting into small chunks (12 different sections if I remember correctly). After a first pass of layout, we spent time doing per shot set dressing, adding architectural elements and traffic to create the desired visual complexity. Sometimes Luc would ask for specific props to be added close to camera, to enhance the sense of danger. Some of them had to break / interact with the Intruder and the Skyjet. The main Pearl ship breaking apart into hundreds of smaller ships was the subject of many internal discussion, on how the small ships would tesselate inside the larger one. But what Luc was after was super simple, and it ended being a 2 frame transition between the assets. This was probably the most exciting sequence to create, and we had fun populating it with an insane amount of details and pushing the limits of our render engine.
How did you approach and created the various screen contents?
I always enjoy dealing with motion graphics, because there's a great deal of narrative involved and you can get really creative on how to convey information through design. We created all of the UIs for the Intruder and the Skyjet, the navigation systems, holograms, hud, brain wave analyzer, video communication, etc… The second large piece was the screens inside of Alpha Control Room, with more than 30 different monitors displaying various statistic, survey informations, maps and tracking systems. We tried to give everything a 3 dimensional feel with a rather constrained color palette.
Can you tell us more about the motion design work?
I've been a fan of Paul Beaudry's work for a while, so I was super excited to have him on board. He was responsible for all of the motion designs on the show, his taste is exquisite and Luc always responded really well to his ideas. Mostly the notes we got back were about story point that needed to be displayed in a more explicit manner, but the designs themselves were approved v1 most of the times.
Paul also designed animated billboards that we used everywhere inside of Alpha. Etienne Garon-Vincent was Paul's side kick for the duration of the show, taking care of animating the designs and rendering shot specific elements. Everything was done using a combination of Cinema 4D and After Effects, plus a bunch of plug-ins. Individual layers were exported to Nuke, with a couple a mattes and gradients to dial the color and depth in comp.
The space battle involved an impressive number of ships. How did you created them?
The space battle previs was done by Halon, and it really looked like they tried to cram as many spaceships as they could into every single shots. But yet the choreography was very pure and readable, with the blue trails of energy, the long takes, the swirling camera moves. It felt like a ballet. Luckily we had direct contact with Brad Alexander at Halon, and after a bit of clean-up (because previs artists often cheat a lot) we could use their scenes as a starting point. First of all we refined the models of all the ships. The gigantic cruiser ships needed to be seen very close from every angles. We did a lot of tests to figure out the flying behaviors and mechanisms of the smaller fighter ships.
The alien armada represented an interesting texture and shading challenge, they needed to look sort of organic, with bio-luminescent veins under the shell. The environment was very straight forward, a space sky-dome populated with gas and constellations layers, plus a few spheres for Mül planet and its moons.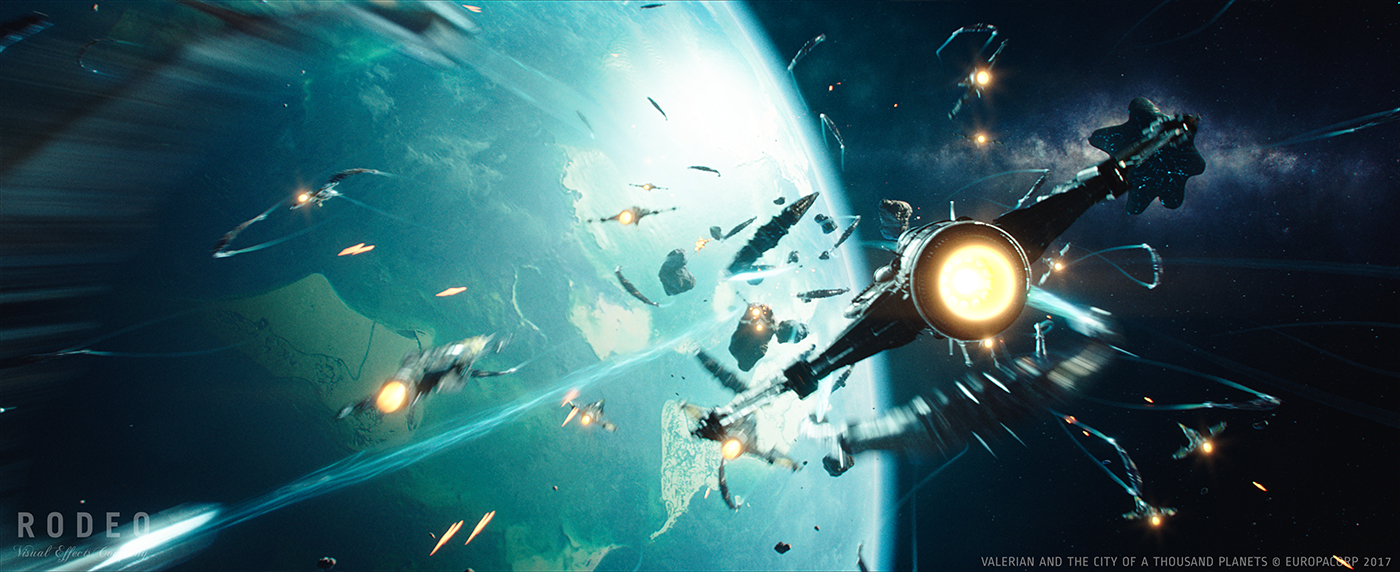 How did you handle the animation of so many elements?
Everything background was done using a flock system in Houdini, with a couple of scripted behaviors. All of the hero ships were hand animated. Air resistance (in space, yes, I know) was sometimes achieved by just adding noise to the animation curves. But again : it was meant to look like a ballet, so we didn't really care about the physics!
Can you tell us more about the FX work on this sequence?
FX intensive sequence indeed. The blue trails of energy coming out of the alien fighter ships : that took quite a lot of iterations. In the end FX rendered various noises and patterns following the flow lines and the final look was achieved in comp by maestro Sebastien Veilleux. A simple tube with the proper color was sent to lighting so that they could get the interactions and reflections right. The various energy shields followed a similar method, with a bunch of concept arts helping to define the watery / electric look.
The scene also feature lots flaks and explosions, which were grounded on real life references, built in Houdini and deep rendered in Maya along with everything else. The grand final is the destruction of Mül planet, a large fracturation system with very fine detail, the initial cracks in the surface sucking the oceans under the surface to meet a lava layer and generate sub-fracturation, land masses collapsing inside before the core of the planet eventually explodes, pushing everything into outer space. All of the above happening in less than 5 seconds !
What was the main challenge on this show and how did you achieve it?
The technical aspects were challenging, since our pipeline and infrastructure had to evolve drastically to support the scope of the work. It's worth mentioning that we relied heavily on Google Cloud for our rendering needs. Shaping the aesthetic was a massive artistic undertaking from our art department and the entire team. I'm extremely proud of what they have achieved.
What is your favorite shot or sequence and why?
I love the opening sequence, because David Bowie. I'm very proud of the chase sequence. The space battle is unlike anything I've seen before. Not to mention everything else on this show, I mean : what Weta and ILM have achieved is ground breaking and just plain beautiful! So no, sorry, can't choose.
What is your best memory on this show?
Walking into the office everyday and seeing how much fun the artists were having, nothing can beat that. That's the reason why we're doing this job, because it should be, and it can be, fun every day.
Probably the best experience of my career. Being on set with Luc, especially watching him operate the camera, was also memorable. And regrouping at FMX this year with Sophie and Scott, Martin from Weta and Philippe from ILM, was a heart warming conclusion to this amazing ride.
How long have you worked on this show?
2 years and a half.
What is your VFX shots count?
360 shots – around 30 minutes of screen time.
What was the size of your team?
120 artists, plus 30 people for support and production.
What is your next project?
Just started working on JUNGLE BOOK, really exciting and complex creature work. And of course I dream of VALERIAN 2 !!!
A big thanks for your time.
// WANT TO KNOW MORE?
Rodeo FX: Dedicated page about VALERIAN on Rodeo FX website.
© Vincent Frei – The Art of VFX – 2017