James Etherington-Sparks began his career in visual effects nearly 20 years ago at Cinesite. He then worked in many studios like DNEG, The Mill before joining Union VFX in 2017. He has worked on many projects such as CAPTAIN AMERICA: THE FIRST AVENGER, TOTAL RECALL, MAN OF STEEL and DUNKIRK.
What is your background?
I loved animation from about the age of 4 and was really into making super 8 stop-frame animations.
I attended the BRIT School for Performing Arts and Technology and studied Art and Design before heading to Plymouth College of Art and Design where focussed on Media Production, specialising in Animation. I thought I wanted to be a 3D artist, but found I really enjoyed compositing and so focussed on that.
How did you and Union VFX get involved on this show?
We were approached by Post Production Supervisor, Siobhan Boyes who had an established relationship with one of Union's founders, Tim Caplan, through working with him on MAMMA MIA! and GLORIOUS 39.
How was the collaboration with director Guy Ritchie?
Most of our earlier reviews were with Editor James Herbert who has been working very closely with Guy since REVOLVER in 2005. Guy came in more as we got closer to delivery. I really liked working with him. He likes things to move at a pace which kept me on my toes, but delivers really clear notes.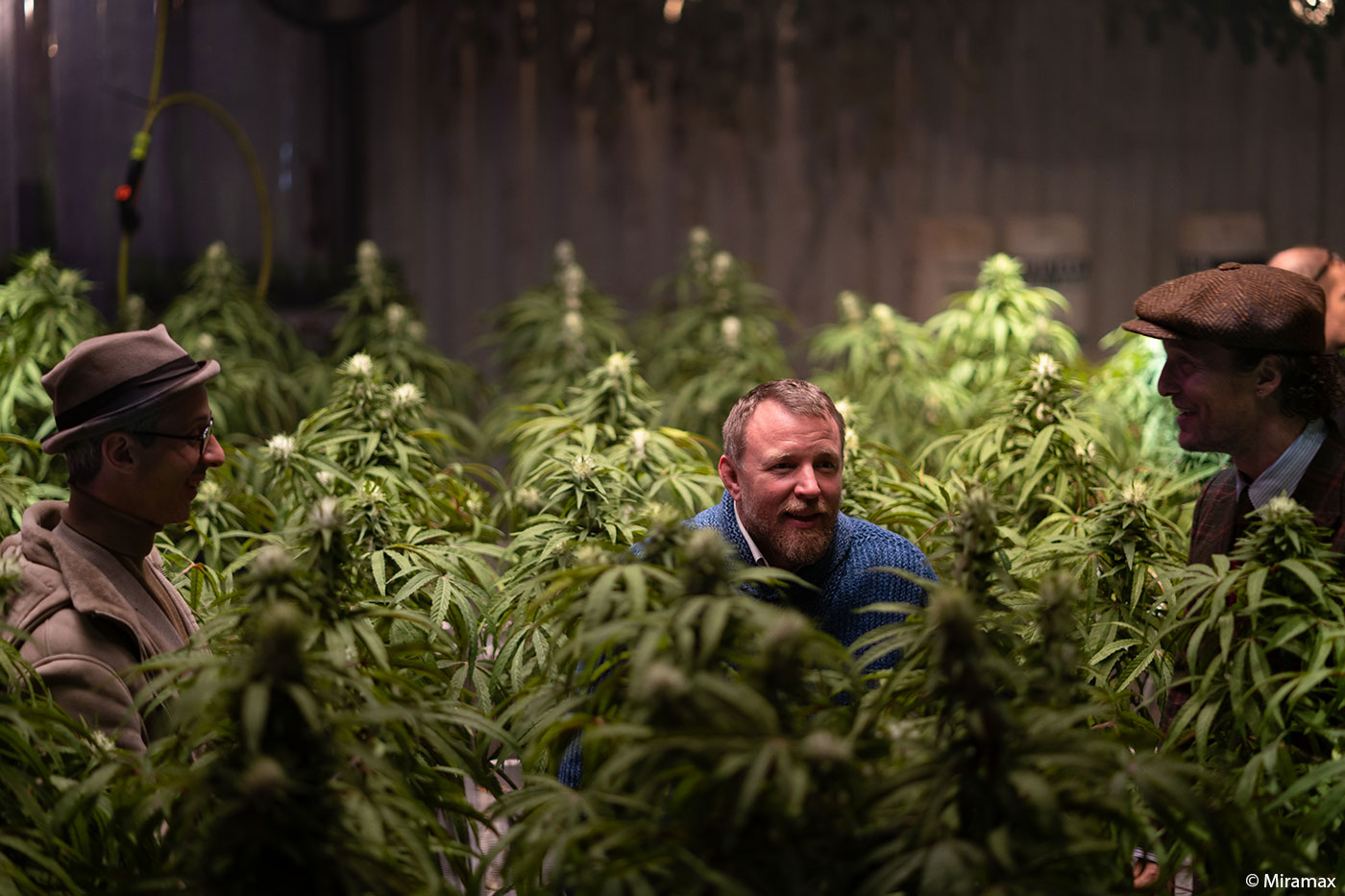 What was his expectations and approach about the visual effects?
THE GENTLEMEN is very much an Invisible effects film and so, with a clear brief, we were trusted us to get on with it. Guy was looking for realism, so that was where we focussed.
Can you explain in detail about the matte paintings work?
The huge skunk farm is actually a complete 3D build because of the parallax of the shots. The plants would have felt very cut out if we'd gone with a 2.5D approach. We were challenged with creating the scale of this vast, underground farm.
The practical set gave us the first few rows of plant-filled tables, which really helped and we worked on extending back from there. We had to pay particular attention to randomising the placement of the tables and the plants as they would have looked fake if we'd lined them up perfectly.
We also added a few CG gardeners in the distance tending to the plants and a lot of CG, animated fans to provide some more movement and interest.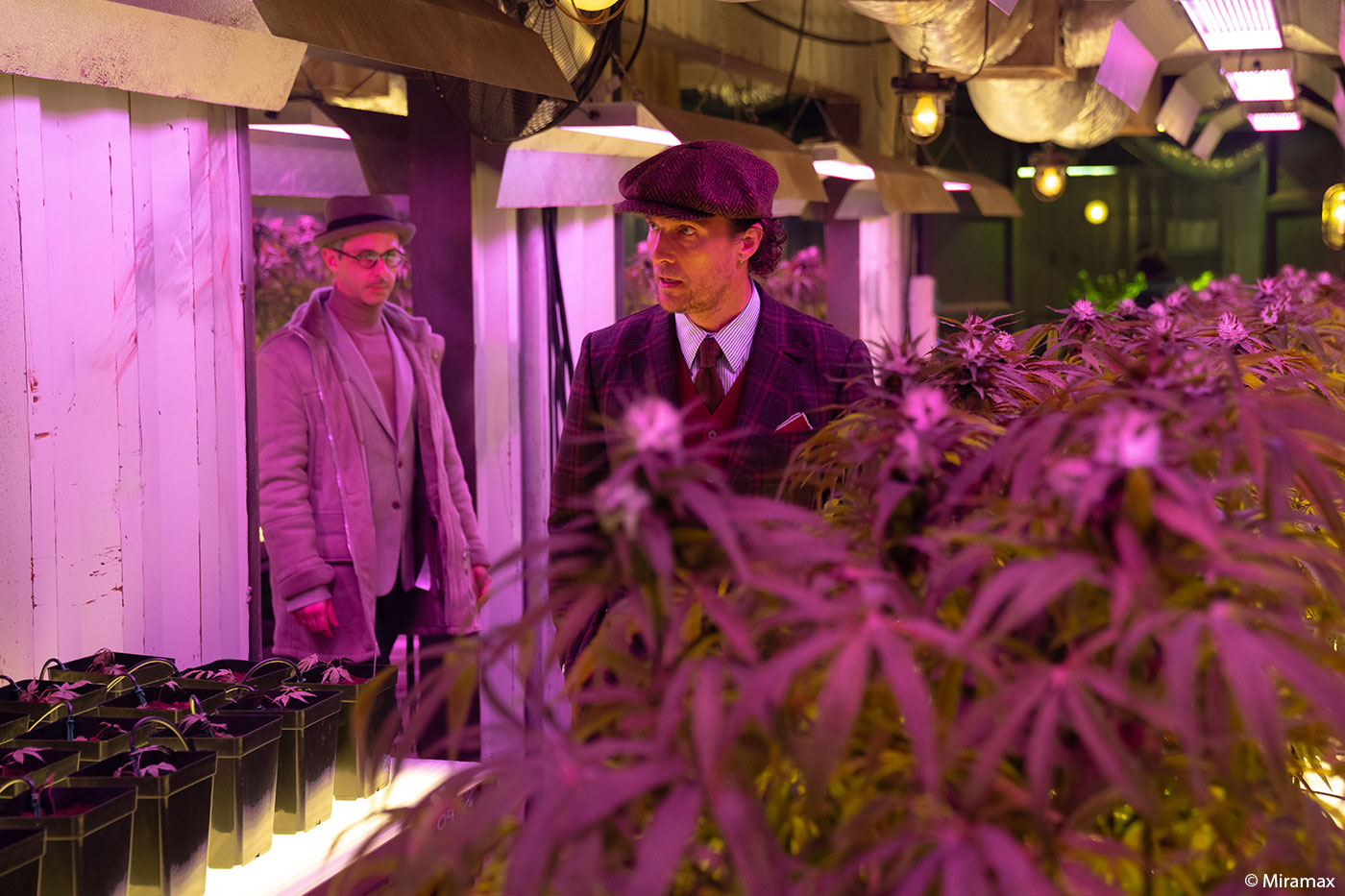 Can you explain in detail about your work when the young guy falls from the window?
That was all SFX.
Can you elaborate about your work on this car crash?
We went to the location and did photogrammetry of the T junction and built it in 3D and added the CG truck. To get some really helpful reference James returned to the location in Acton at 6 am on a Saturday morning with 2D Lead Iain Reid and did some filming.
James drove the route the car takes in the film with Iain filming him from the passenger seat with one of Union's Blackmagic cameras. We then tracked the camera shake from that shoot onto the green screens from the main shoot back at Union to great effect – particularly when Matthew McConaughey slams his foot onto the break before the impact of the truck.
The team also filmed plates at the location with Lester Dunton from Dunton Projection FX using a rig of 4 Alexas and added glass elements, light and reflections to the sequence.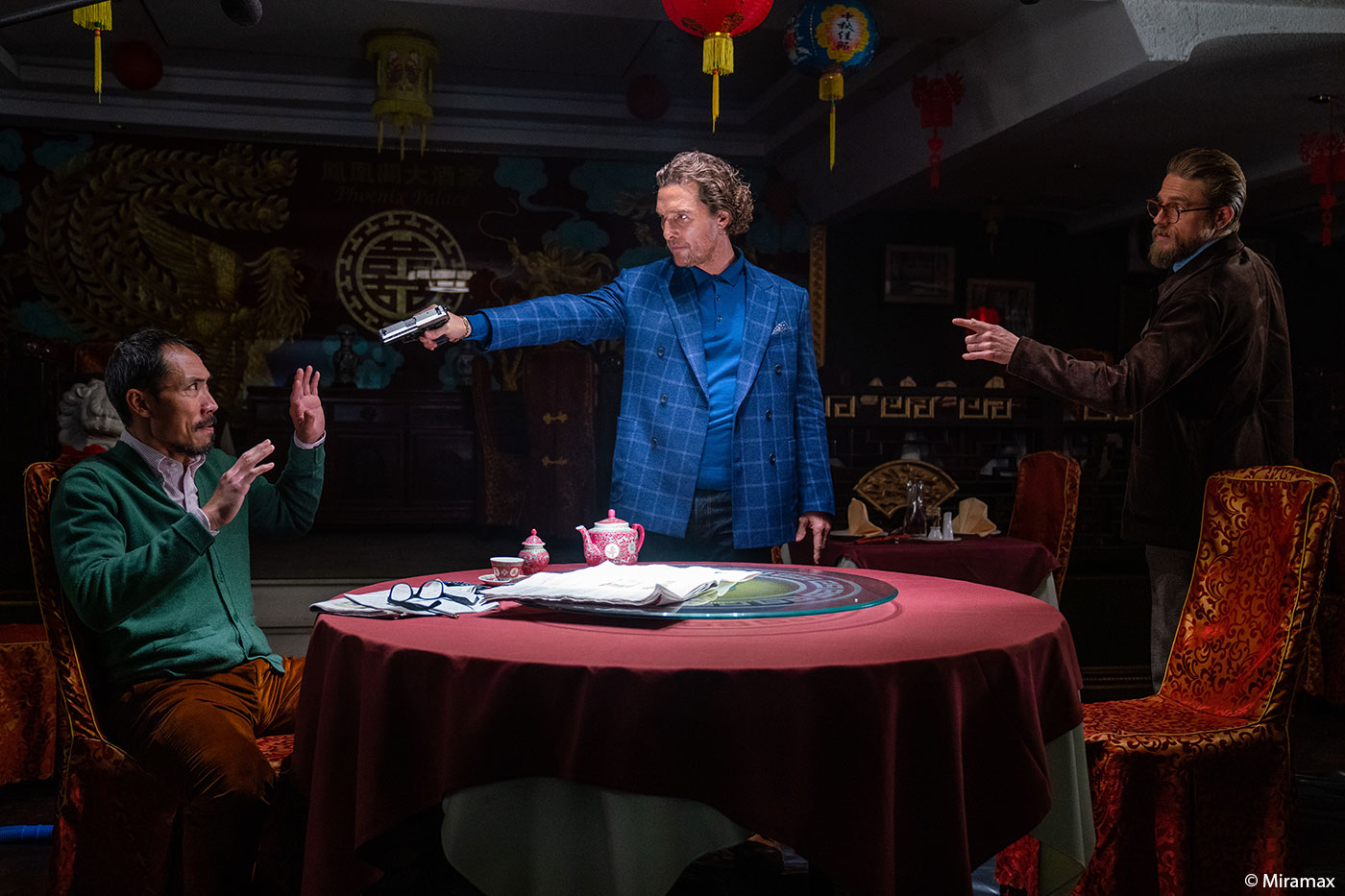 Did you want to reveal to us any other invisible effects?
I'm really happy with the sequence in the film where Hugh Grant is using a long camera lens to spy on a conversation in the opposite stand at the Emirates Stadium. The plate was shot with an empty chair and then Hugh against a green screen, and then we also added the long lens, twitchy camera move and vignette to his POV shots.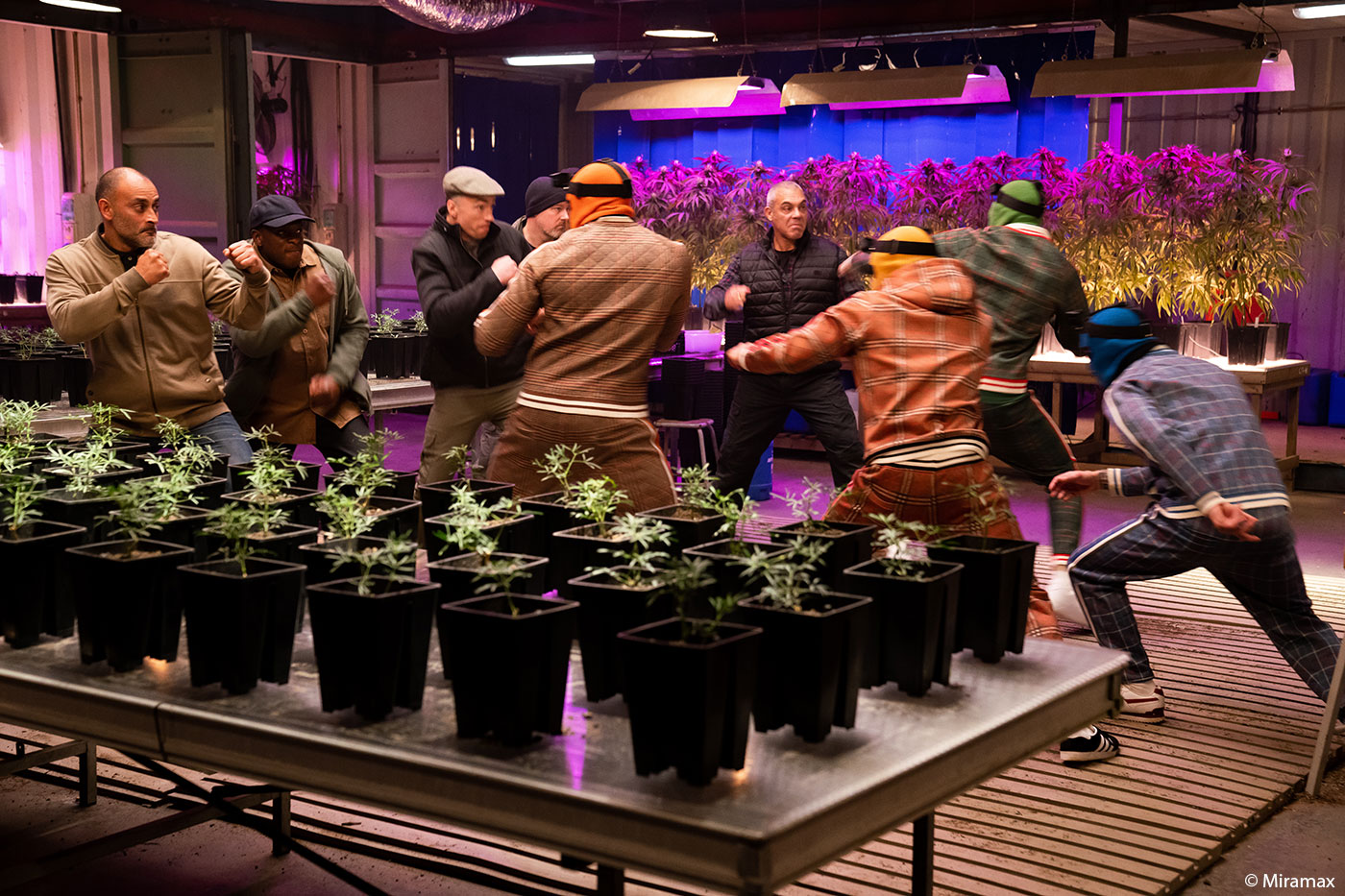 Which sequence or shot was the most challenging?
The two we've discussed – car crash and skunk farm.
What is your favourite shot or sequence?
At one point a group of young men known as 'The Toddlers' film themselves breaking into the skunk farm and fighting the older men they encounter. As they upload this onto YouTube they employ graphics to introduce themselves. We had a lot of fun creating these stylised graphics – particularly the one for Ernie that takes the form of a gold knuckle duster.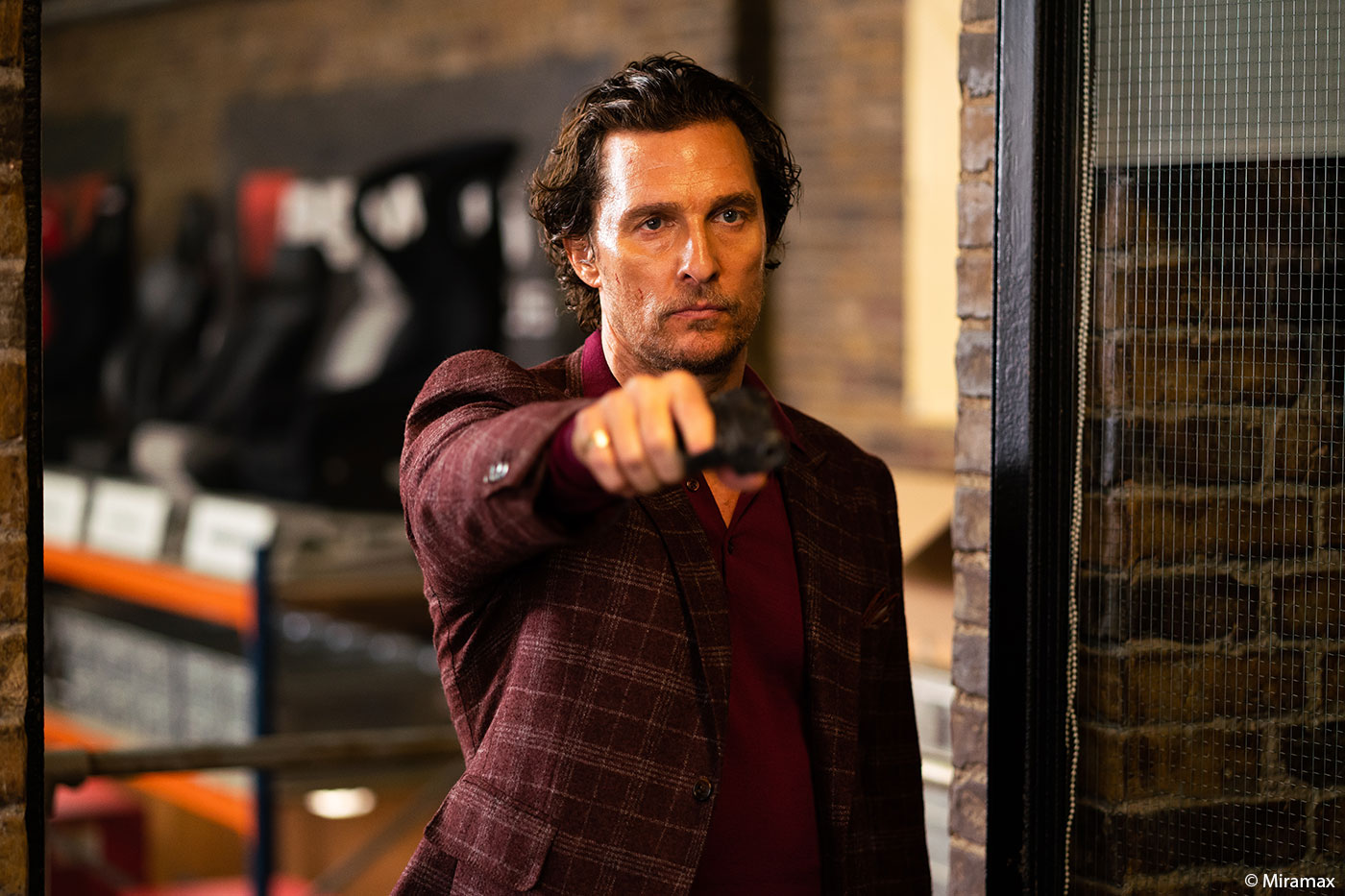 What is your best memory on this show?
Reviewing with Guy. It was fast-paced, so we needed to be on our A-game.
How long have you worked on this show?
7 months.
What's the VFX shots count?
153 shots.
What was the size of your team?
33.
What is your next project?
I'm currently working on a remake of BLACK NARCISSUS in which a group of nuns face challenges in the hostile environment of a remote old Himalayan palace that they wish to make into a convent for BBC and FX and a Netflix film called THE DIG which tells the true story of an archaeologist as she embarks on the historically important excavation of Sutton Hoo in 1938.
What are the five movies that gave you the passion for cinema?
1. ROCKY
2. RAGING BULL
3. SWINGERS
4. REQUIEM FOR A DREAM
5. Every Wes Anderson film ever made.
A big thanks for your time.
THE GENTLEMEN – VFX BREAKDOWN – UNION VFX
WANT TO KNOW MORE?
Union VFX: Official website of Union VFX.
© Vincent Frei – The Art of VFX – 2020