In 2012, Andrew Booth had detailed to us the work of Blind Ltd on SKYFALL. He then worked on projects like CRYSIS 3 THE FIFTH ESTATE and JACK RYAN: SHADOW RECRUIT.
How did you get involved on this show?
Originally we approached MARV in pre-production to offer our services on set however very early on it was decided that the screen graphics were going to be resolved in post production. We kept in contact with production and we got the call once principal photography was completed. As these graphics were all to be completed in post, we then had to pitch with other agencies to win the work. At this point we were asked to conceptualize our take on the designs for the show.
How was the collaboration with director Matthew Vaughn?
Great! I had wanted to work with Matthew Vaughn for a long time. He's an incredibly versatile director / producer and his approach to making films is very different from the current studio model. KINGSMAN was initially wholly financed by MARV and therefore is a very British film. All our meetings were conducted within the edit suite with Matthew, Eddie Hamilton (editor) Dave Reid and Adam Bohling (producers). It was very collaborative with a lot of free forming ideas on what the graphics should look like. Obviously part of our job is to offer up designs and very early on we had suggested there should be 2 distinct styles for the screen graphics. Matthew was really open to ideas during these development stage discussions. We were invited very early on to see the film in its rough cut form to get a real sense of what Matthew was aiming for.
What was his approach about the visual effects?
Matthew's approach for the screen graphics as a visual effect was less is more / he really didn't buy into the fashionable complex UI. Some of our early designs for KINGSMAN were over complicated however our original concept for Valentine table was spot on. We did explore other options as the table was a very bold concept. Again it came down to the best way to convey and support the story with the added ingredient of have some FUN!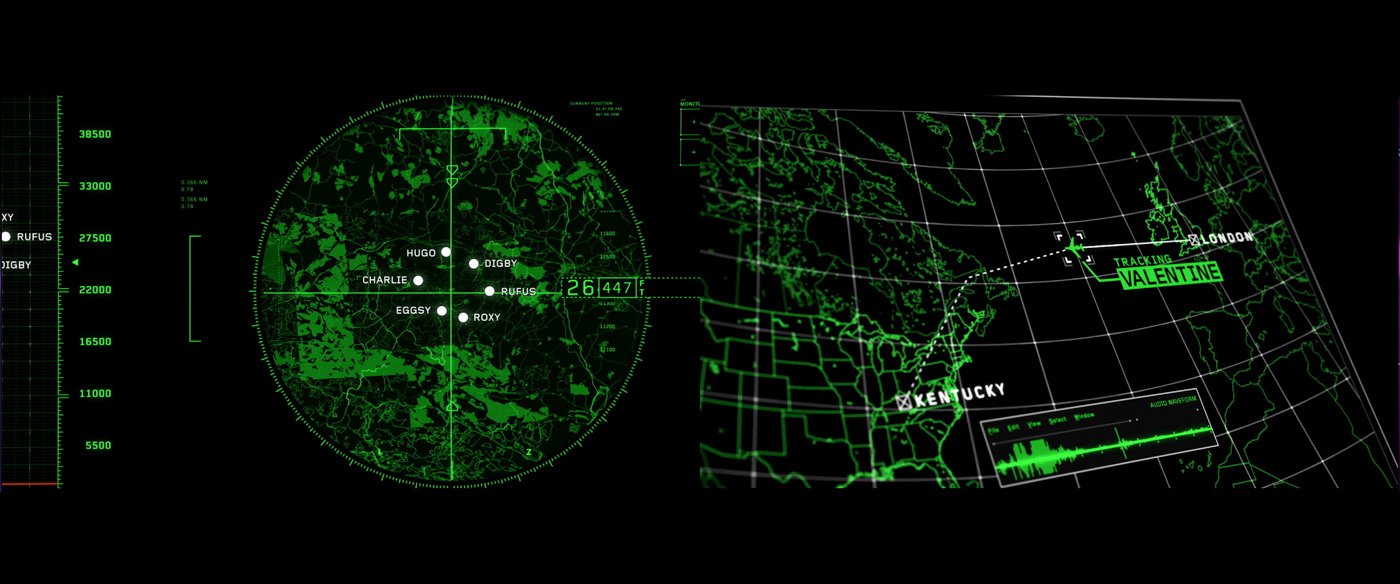 How did you work with Production VFX Supervisors Steve Begg and John Bruno?
Very good both Steve & John trusted our judgment, and as we were bought on specifically to do the screen graphics our interactions were with Matthew Vaughn directly.
What is the work done by BLIND LTD?
All the screen graphics in the film are created by BLIND LTD. We had full ownership of the User interface design and animation within an original film.
Can you describe one of your days on-set and then during the post?
Like JACK RYAN: SHADOW RECRUIT the screen graphics were created in post. With the added difference that no on set graphics were shot during principal photography. There's a delicate balance when you are dealing with post, it's about conveying the information in the most direct manner, sometimes within the smallest number of frames.
What references and indications did you received from the director?
We talked about the graphics in TOP GUN and ALIEN, not about the design per se, more about how the graphics conveyed the story to the audience. Matthew wanted things to be simple. We responded by being fairly pragmatic with our approach to the Kingsman (antiquated) and being all out (crazy) with Valentine's UI!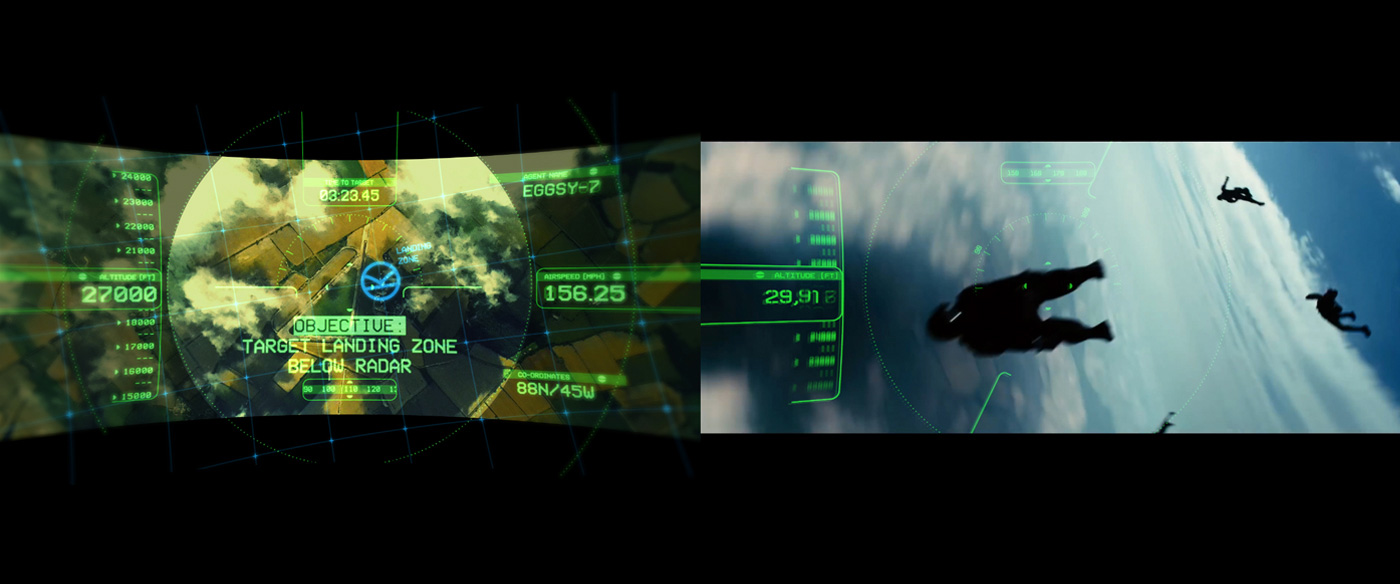 How did you approach the Valentine logo design and creation?
We inherited the Valentine logo from production. We played to the design by animating it in a cool way, it's so over the top (as is the character) you just have to go with it 😉
How did you create the hologram look that we see through the Kingsman glasses?
We didn't create the hologram look. We conceptualized the Kingsman glasses HUD with its simple hard-edged vignette and a small amount of text. It was our idea to have the graphic HUD reveal to sell the transition from the empty table to the holographic Kingsman agents so our element is integral to these shots. When they put on their glasses in the dining room and view vital information in the mirror, that's all our work.
How did you choose the colour palettes for each protagonists?
Early on we established two factions – the good guys are rather Civil Service, and therefore have military spec-looking UIs, hence the Kingsman graphics are green-accented.
Valentine, however, is a megalomaniac bad guy who eats McDonald's and wears loud colours – pinks and purples. We used similar bright colours for his interface. He has this great big table – a huge touch screen – and we gave him slick-looking graphics. It was a little bit crazy with things flying all over the place.
Can you explain in detail about the animation of the various screen content?
Well that really depends on the scene and whether it's story specific as this generally dictates the design and the animation. They each have there own set of challenges. This show allowed us to explore a different facet of film user interfaces and because this was all in post we could have some real fun with the animation. For Valentine it was about him looking cool, and having cool things happening on his screens. I'm happy with this approach as long as it serves the story. And for the Kingsman it was a more pragmatic thing – things had to look like they were military and had a function.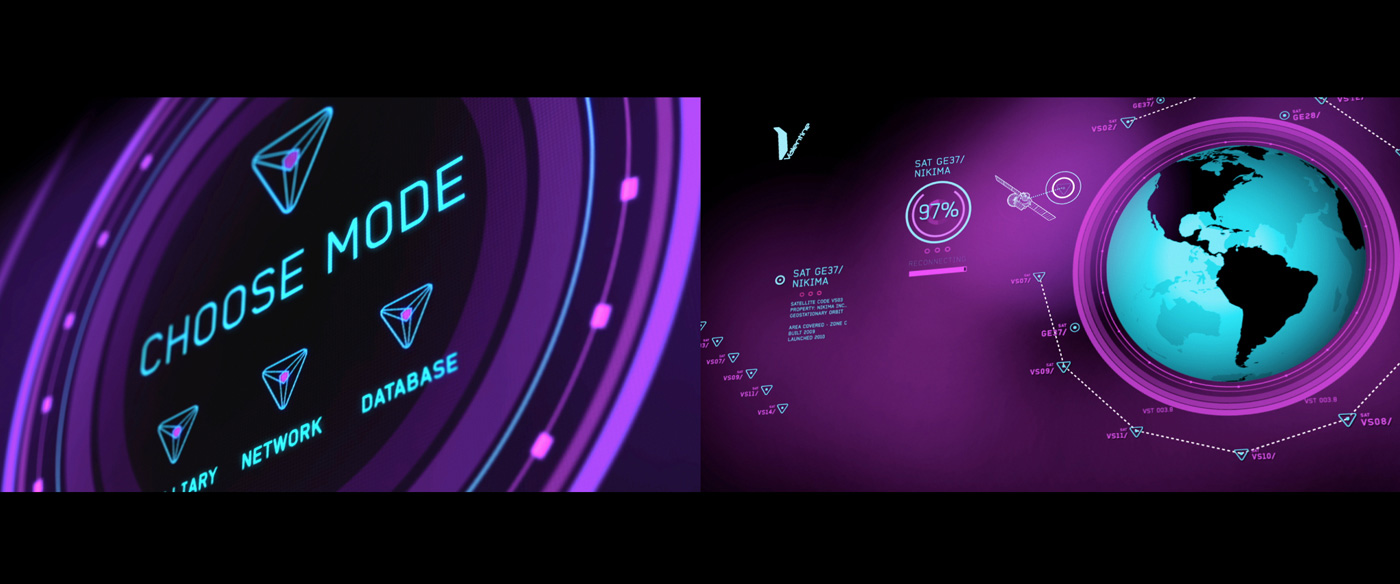 How did you handle so many elements in your animations?
Each shot – and there were lots – is a VFX shot and treated as such. For the more malleable story driven elements we tended to work to the cut and create a timeline that reflected the action on screen. In terms of how we handled the animations – it was down to careful planning, sharing resource and working as a team.
What was the most complicated design to create and why?
The most complicated design was Valentine's table. Not difficult in terms of overall design (we nailed that pretty early on) it was more about how does the table work, what is it doing? We also had to match actor's performances on set, their moving hands and other interactions with the table. The table always had to feel alive, like an extension of the Valentine character.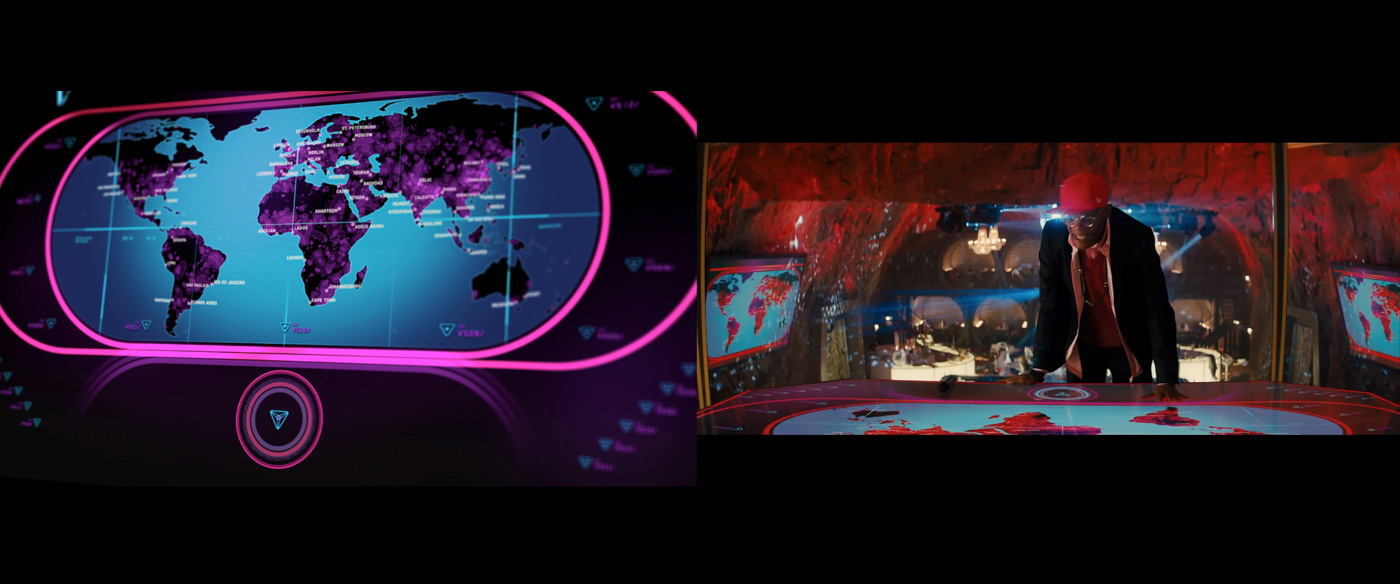 How did you organize the work amongst your team?
We had two teams: one for the Kingsman UI designs and one for Valentine's table and lair. Each team knew their shots inside out, they took responsibility for what each shot needed to convey and what worked for their story beats.
What do you keep from this experience?
I get to keep the signed poster from Matthew Vaughn, Colin Firth, Samuel L. Jackson and Taron Egerton on the studio wall 😉 I also get to keep the experience of doing something different with a distinctive energy. We were thrilled to work on it.
How long have you worked on this film?
We worked on this from March 2014 through to September 2014 and delivered well over 300 shots.
What was the size of your team?
We had 8 people within the team.
Big thank you to the following: Helen Baker, Yugen Blake, Steven Bussey, Fredrik Nordbeck, Ernesto Porto, Ian Sargent, and Matthew Tsang.
A big thanks for your time.
// KINGSMAN: THE SECRET SERVICE / UI Reel
// WANT TO KNOW MORE?
– Blind Ltd: Dedicated page about KINGSMAN: THE SECRET SERVICE on Blind Ltd website.
© Vincent Frei – The Art of VFX – 2015