James Fleming started his career at Framestore and has since worked on many films such as GRAVITY, AVATAR, THE GOLDEN COMPASS, and JOHN CARTER. As a VFX Supervisor, he took care of effects for movies like MALEFICENT, THE MARTIAN, GUARDIANS OF THE GALAXY and KING ARTHUR: LEGEND OF THE SWORD.
Chris Lunney joined Nvizible in 2014. He has worked on many productions such as EDGE OF TOMORROW, JASON BOURNE, FANTASTIC BEASTS AND WHERE TO FIND THEM and THE COMMUTER.
What is your background?
JF: After completing a masters degree in digital effects I started my career at Framestore, where I worked my way up to a lead/senior artist on shows such as GRAVITY and AVATAR. Since becoming a VFX Supervisor and also working at other companies, I have supervised VFX on numerous shows such as THE MARTIAN, GUARDIANS OF THE GALAXY, KING ARTHUR, MALEFICENT, until most recently JURASSIC WORLD 2.
CL: My introduction to film was via the Art Department, where I worked as a Graphic Designer – creating physical props, logos and signage for on-set use. From this I started into designing and animating screen graphics from within the Art Dept, before finally moving into VFX.
How did you get involved on this show?
CL: We were contacted in Pre-production by Neil Floyd, the Art Dept graphic designer, who initially asked us to animate some of his designs for on-set, and the job grew from there. It was a bonus for us that we already had a working relationship with Dan Barrow (VFX Producer) and his team from previous projects.
What was your feeling to be in the Jurassic Park universe?
JF: Amazing! I still remember going to see the first JURASSIC PARK movie at the cinema with my father when I was younger and being completely blown away, to be supervising on a Jurassic sequel later in life really is a dream come true.
CL: The original was such a big deal as I was growing up, so it was exciting to finally be part of the process.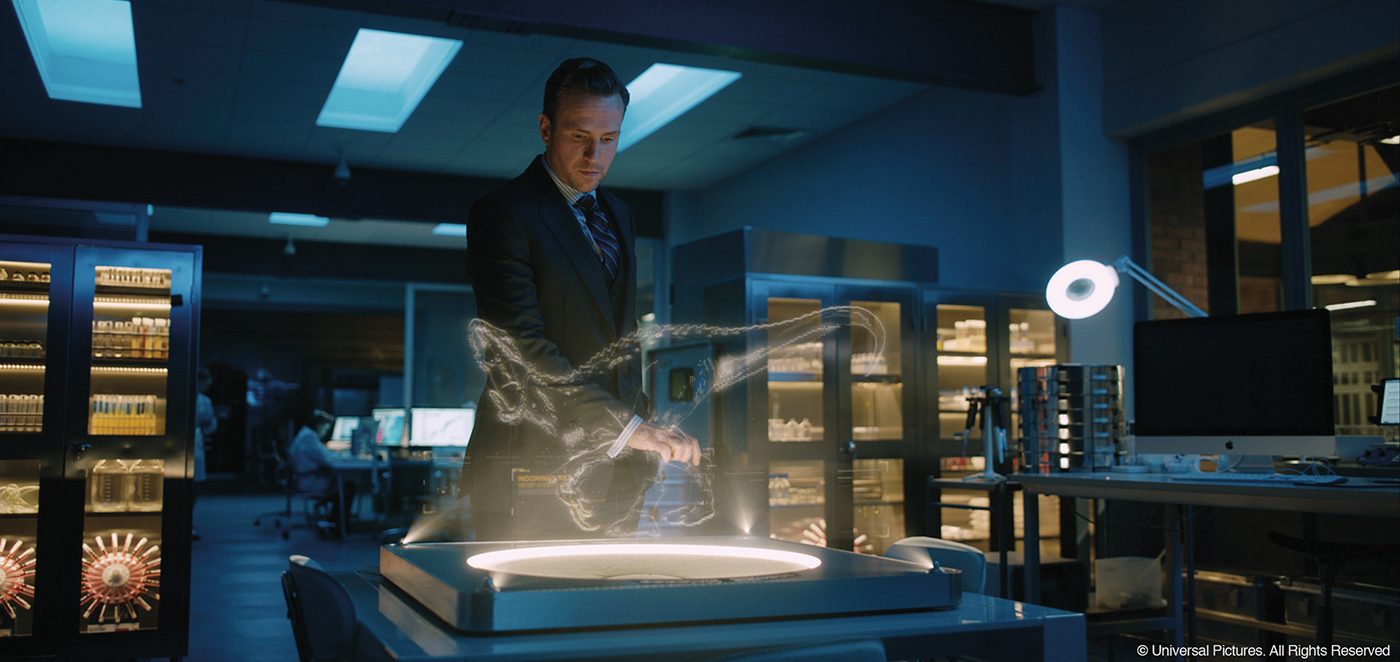 How was the collaboration with director J.A. Bayona and VFX Supervisor David Vickery?
JF: It was great, I really enjoyed working with David, I like his sensible and pragmatic way of dealing with problems we had to face, and he was always approachable. J.A. was lovely too, you could see the passion he had for every single shot.
CL: Working with David was very rewarding. He strived to make each shot or graphic better and more effective, but still always made it feel collaborative. Each time we met with JA he was really friendly, receptive to new ideas and generous with his time.
What was their approaches and expectations about the visual effects?
JF: We would have an initial brief beforehand of all the shots with David and Dan, then we would present early tests to check we were all on the same page. Once we had a concept working it would be case of finessing it toward the final look, generally things were pretty straight-forward and smooth, and any times the brief did change for various reasons it was all very fair and reasonably dealt with from their side.
How did you organize the work with your VFX Producer?
JF: We had a shot list that Bee and I prioritized and divided up between the artists, depending on how creative the shot was we would try to attack those early to get all the questions out in the air. As we got closer to the end of the show we broke it down into the dates we wanted to present as final and kept to them, thankfully all went smoothly and we found the client VFX production on the whole were very organised.
What are the sequences made by Nvizible?
JF: 3D Dinosaur Holograms, Mills' Interactive Table, Glass Lens and Reflection additions for empty spectacles on actors, Monitor graphics creation (for on-set and post-production), and other general hidden VFX composite shots.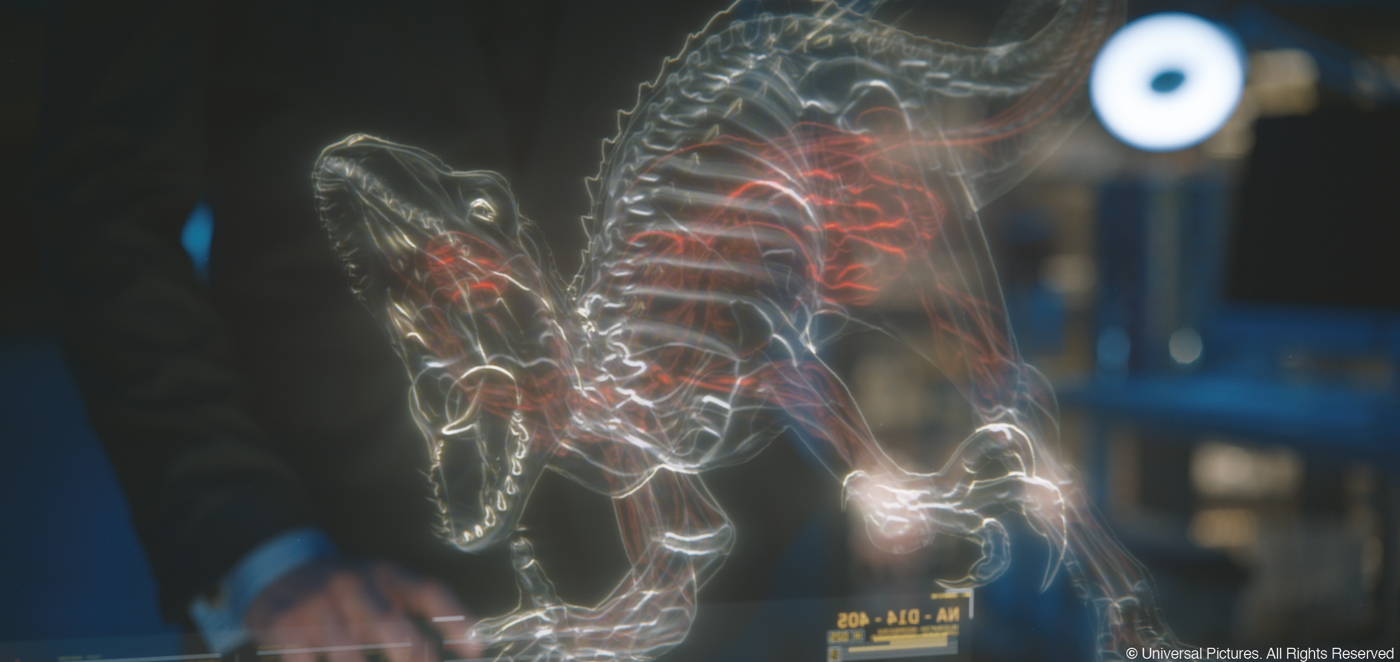 What references and indications did you received to create the various graphics and holograms?
JF: For the holograms we researched many films with similar effects including of course STAR WARS, and also EDGE OF TOMORROW that Nvizible had previously worked on.
CL: A lot of the references for the on-set graphics came to us via Neil Floyd. For the Park Bunker screens we referenced the first JURASSIC WORLD, minus some of the more sci-fi elements to make it feel more real world. A lot of the other screens Neil would send to us fully formed and ready to animate, which was great. For Mills' Table we researched the latest crop of touchscreen tables, but also looked into e-ink technology to try and get a more tactile feel for the digital paper on the table.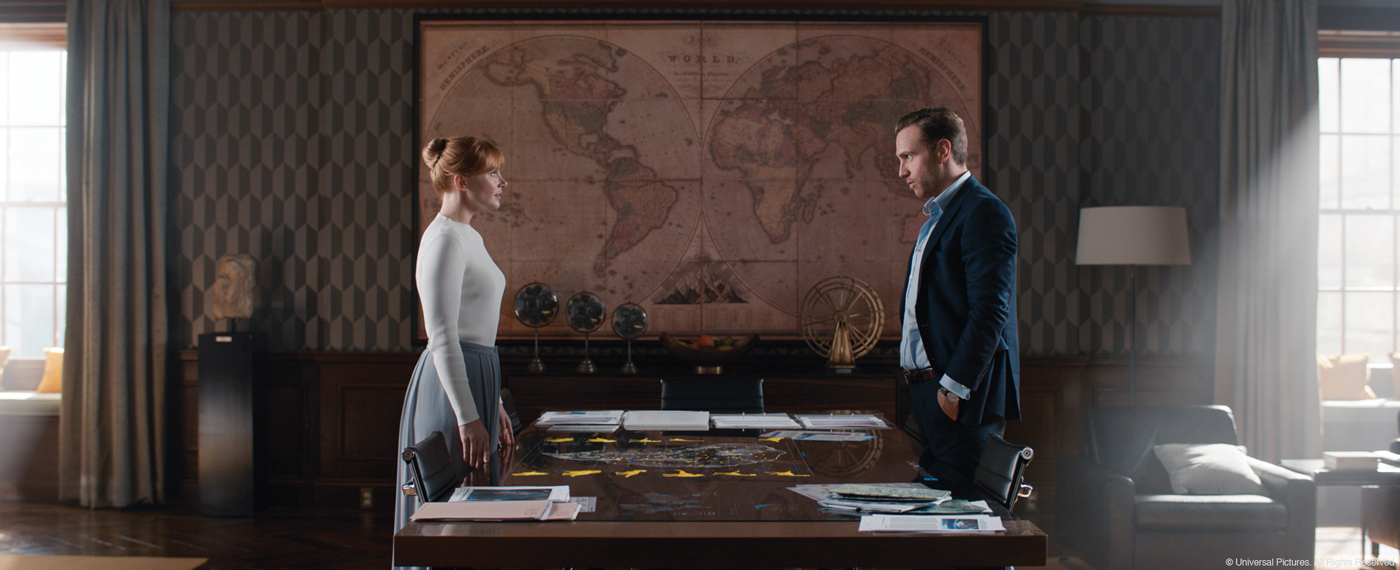 Can you explain step by step about the creation of these graphics elements?
JF: The hologram sequence we created mainly in Nuke with some 3D support from Maya, Z-Brush and Mari. The models were given to us by ILM and we converted them to Alembic files after some specific UV'ing for manipulation in Nuke's 3D system. We took the verbal brief and blocked out some timings and positions for David to look at, and then we step by step adjusted this with his creative input to help tell the story, all the while adding piece by piece the layers of our holographic effects on top.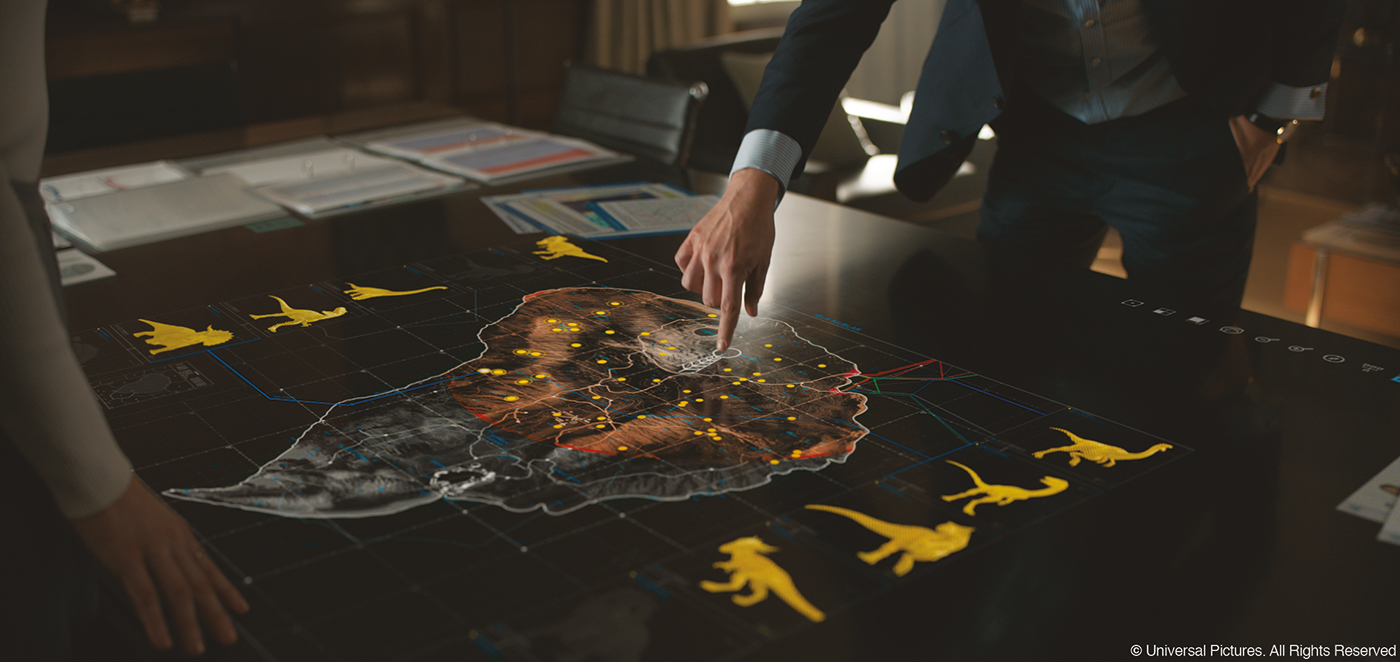 Mills has a really cool interactive table. Can you tell us more about its design and creation?
CL: For the interactive table we worked through some ideas ahead of the shoot – how it would look, and most importantly how it would function. David came up with the idea that the table would appear to be a busy desk full of paperwork, which when pressed revealed itself to be a giant desktop screen. We did some proof of concepts for this idea and it worked well.
We created a series of test animations of the table which then once signed off by JA and David informed the performance of Rafe Spall (Mills) on the day – he had a series of marks to hit on the table in a specific order which followed our approved sequence. It worked well.
Once into Post-production we then worked on some temp comps (using our tests as a starting point). From there we slowly refined each element, tweaking the details and animation frame by frame to get as much story as possible out of each shot.
JF: The plates needed some tricky tracking to get them to sit properly, we also needed to keep all the nice reflections from the original photography and allow the fingers to interact realistically, overall we are really happy with how they turned out.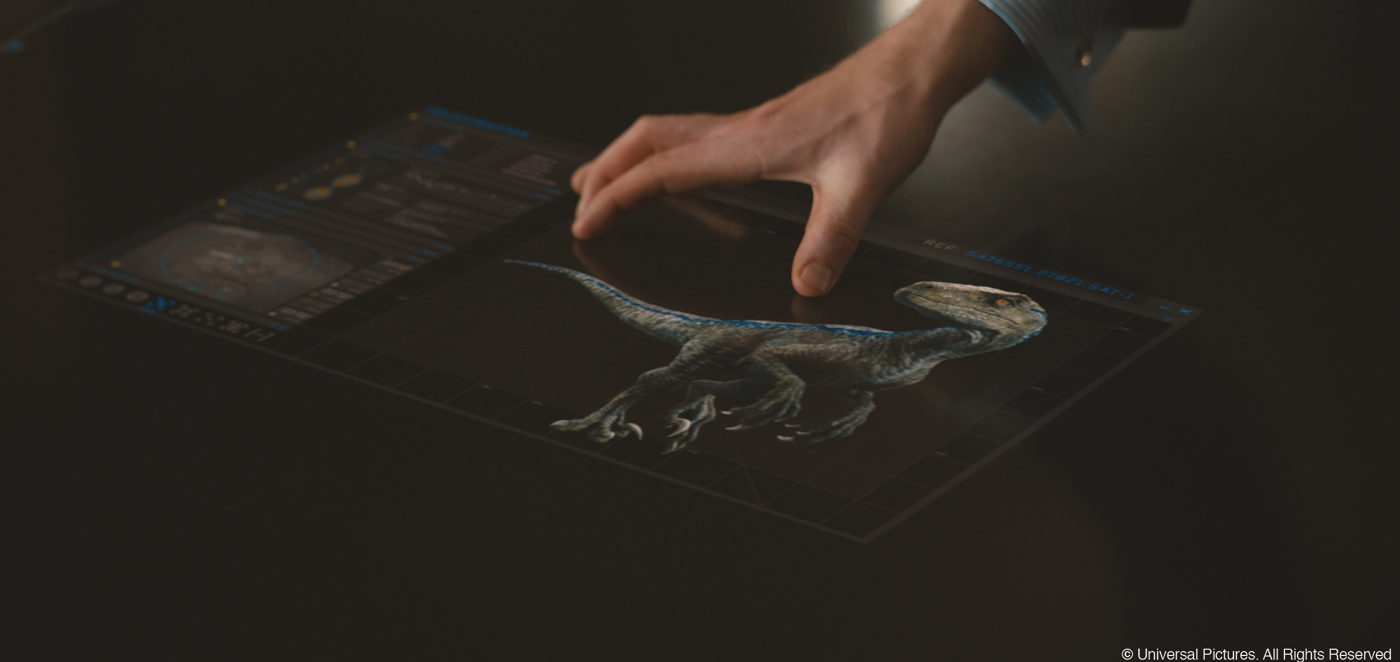 How did you manage the graphics animation on the set?
CL: Once we had sign off from Neil and JA, we would get together with Compuhire who would take the files and program them to respond to various cues. We would discuss exactly how each screen would be seen and how it would be used, and they would build in the necessary amount of interactivity – Mark Jordan and his team at Compuhire are so experienced they often would bring their own ideas and solutions to the table. Once on set they would run the screens remotely from the side of the stage, working closely with the Assistant Directors to trigger screen animations at the correct times.
How did you create the Indominus Rex and Indoraptor for their holograms versions?
JF: As touched on before the models were provided by ILM to us and then we used Z-Brush/Mari to optimise them for Nuke. We then used Maya to model veins and internal organs (brain, heart, intestines, lungs and kidneys). We also had various other layers we used including bones, teeth, claws and skin which all helped to build up the multi-level feel for the animated transitions.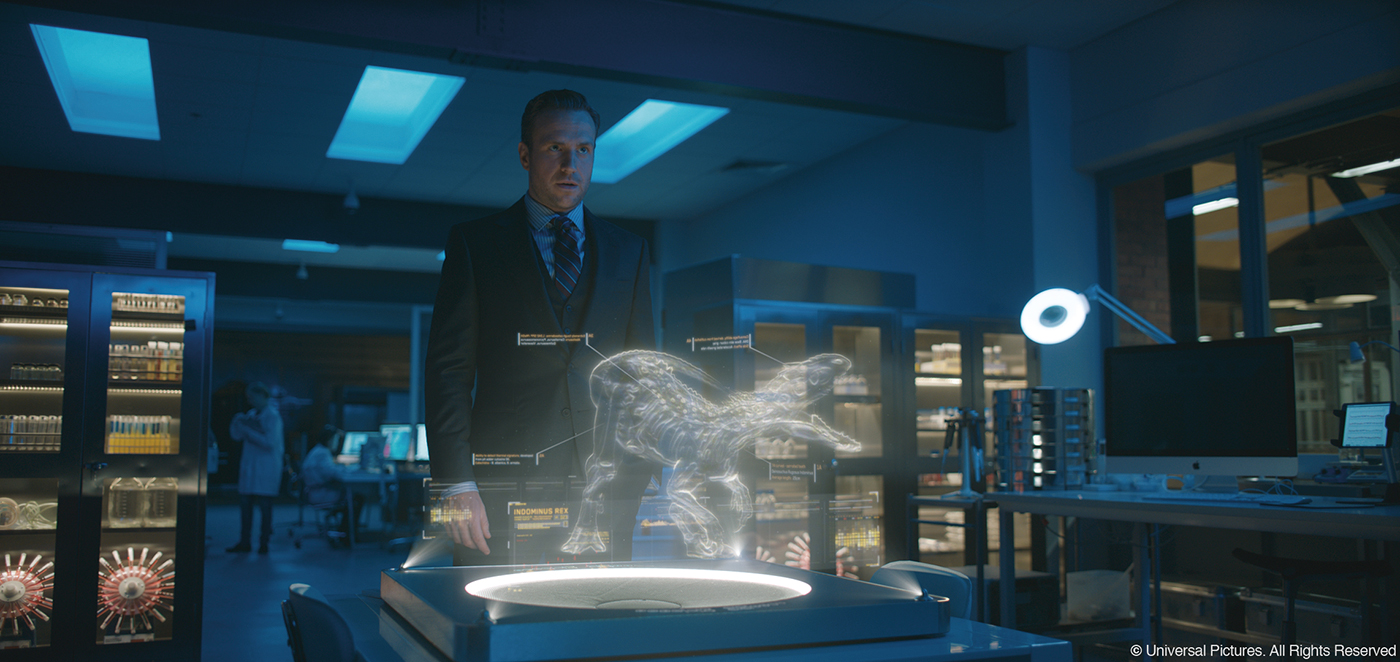 How did you handle the interactive light of the holograms?
JF: The interactive light and the 'x-ray' hologram effect was a combination of Fresnel based passes and Nuke compositing including in-house proprietary nodes. We took our cues from the plate table lighting which was already set up nicely, and continued from there to enhance the overall effect.
What was the main challenge on the show and how did you achieve it?
JF: Probably getting the story and the look to work for the Hologram Sequence, and was basically achieved by coming up with creative ideas and chipping away together a piece at a time with David until it all clicked together.
CL: The main challenge for us was keeping on top of the on-set screen requirements during the shoot – it's not uncommon for last minute script and schedule changes to pull the rug from under you, so we always had to be able to react quickly.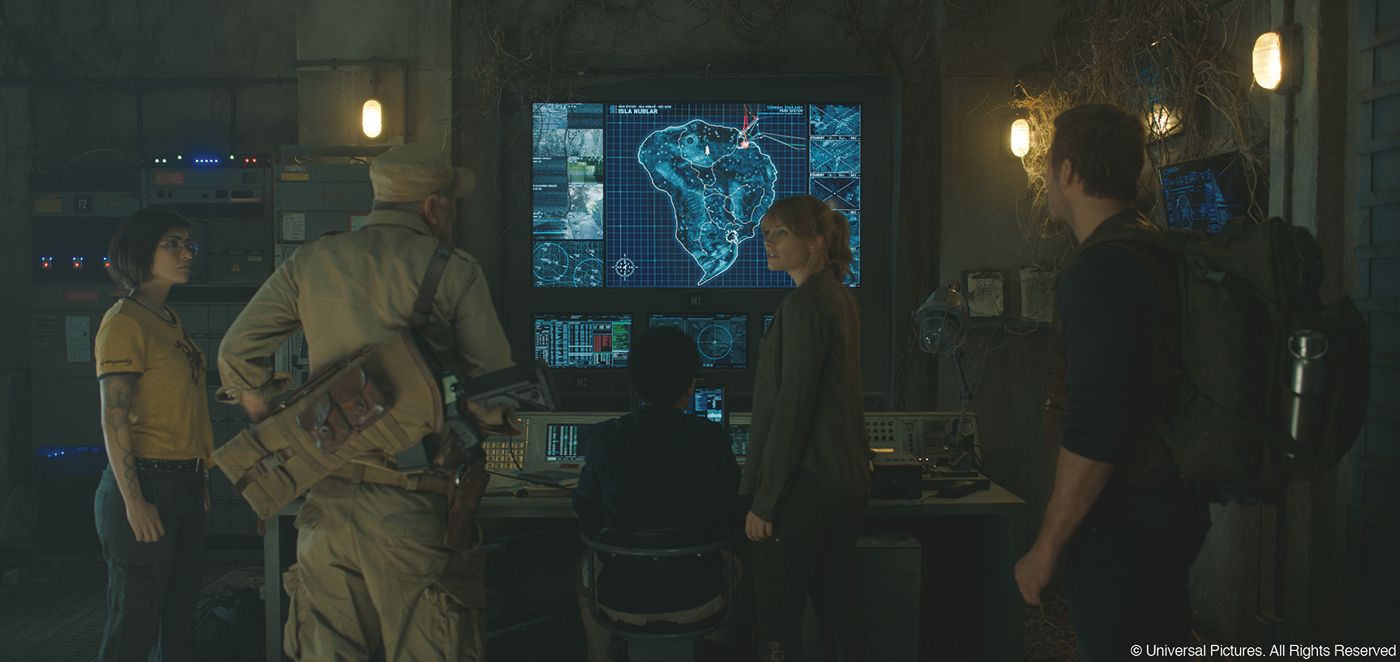 Which sequence or shot was the most complicated to create and why?
JF: The very last hologram shot, it was difficult mainly due to the needs of the story versus the filmed camera move of the shot. The idea was they needed to see various aspects of the Indoraptor at certain times, but the framing of the shot made posing it tricky. We got there in the end via multiple pose variants, re-racking the camera and having different parts fading or appearing in stages, and we were really happy with the final result.
Is there something specific that gives you some really short nights?
JF: Not really actually, happy it went to plan most of the time, and was enjoyable too.
CL: Likewise, this job was a genuine pleasure to work on.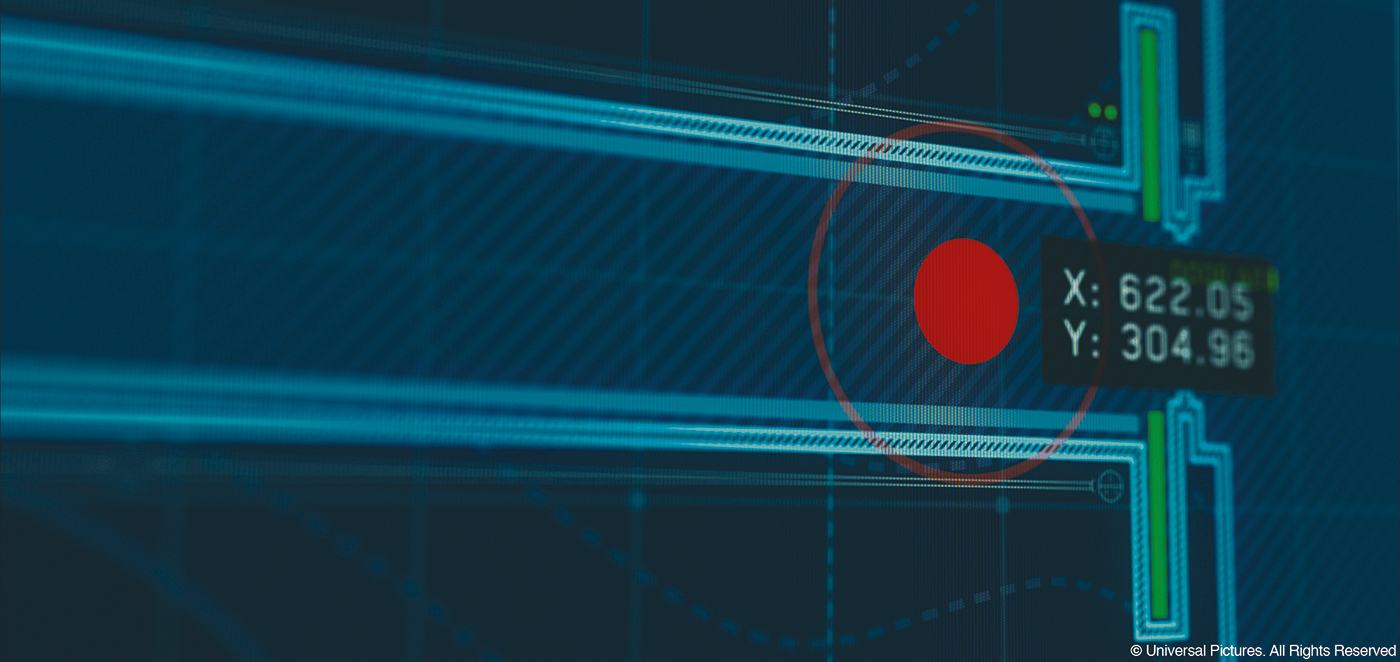 What is your favorite shot or sequence?
JF: The Dinosaur Hologram sequence.
CL: I'm pleased with how the table sequence worked in the end, as we did a lot of advance planning with David and I feel it paid off.
What is your best memory on this show?
JF: Has to be the day we got the call that all shots were final approved on time and we had avoided any major disasters!
L: My favourite moments on most shows is when you start to see the graphics work in the context of the cut, and how it enhances the storytelling – so getting some of the early rough cuts of sequences containing our work was quite exciting.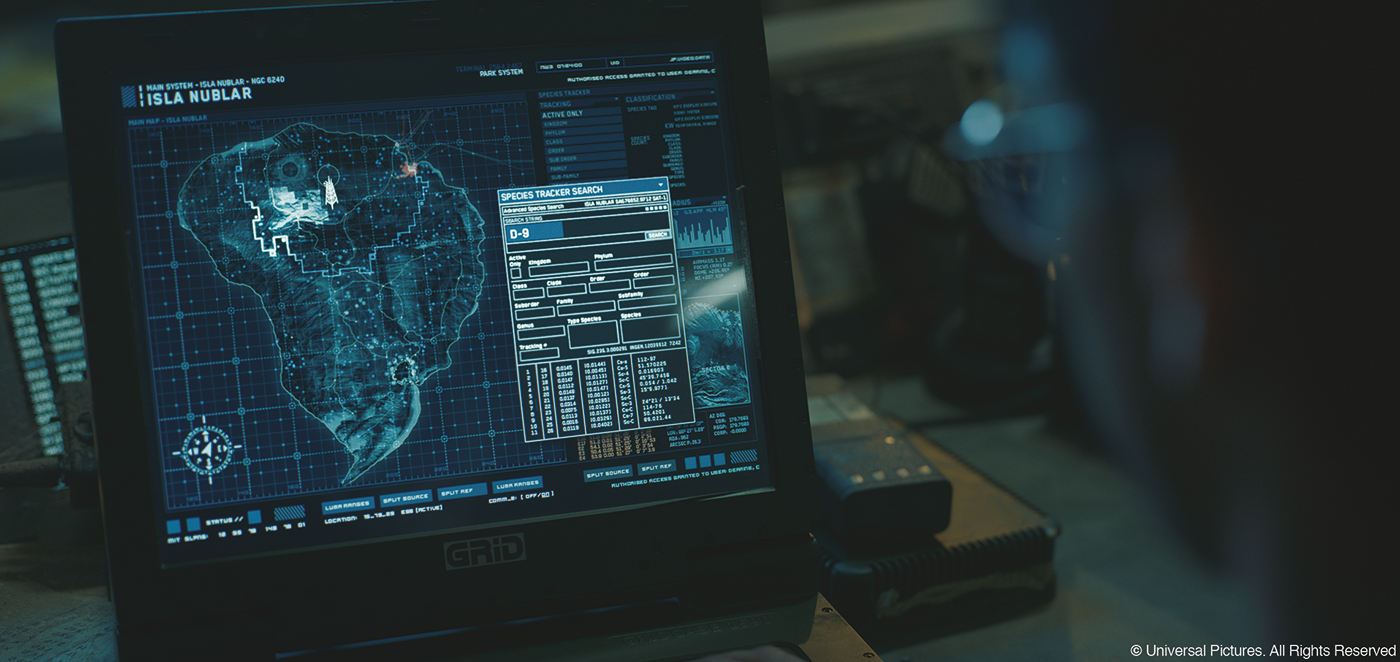 How long have you worked on this show?
CL: We started in January 2017, so 15 months in total.
What's the VFX shots count?
JF: Around 60 VFX shots.
CL: We also did over 120 screens for on-set across 13 sets.
What was the size of your team?
JF: Around 20 worked on the show at various points.
What is your next project?
JF: Confidential I'm afraid!
CL: I'm working on a few things at the moment, including ARTEMIS FOWL for Disney.
What are the four movies that gave you the passion for cinema?
JF: TERMINATOR 2, JURASSIC PARK, THE MATRIX, STAR WARS.
CL: ROBOCOP, ALIENS. (I can only think of two)
A big thanks for your time.
// WANT TO KNOW MORE?
Nvizible: Dedicated page about JURASSIC WORLD: FALLEN KINGDOM on Nvizible website.
© Vincent Frei – The Art of VFX – 2018