Janelle Croshaw Ralla has over 20 years experience in visual effects. Her filmography includes many films such as Captain Marvel, Black Widow, She-Hulk: Attorney at Law and A Man Called Otto.
In 2016, Jonathan Rothbart explained the visual effects work on Deadpool. He then worked on The Predator.
How did you get involved on this show?
Jonathan Rothbart // I met Chad Stahelski many years ago when we were working on After Earth together. We had stayed friends ever since, but the timing had never worked out for us to collaborate. Fortunately, our schedules met up and I was lucky enough to get to be on JW4. It's always amazing when you get to work on a show with friends. Movies are always a grind and difficult, so I love it when you get the opportunity to do it with people you really enjoy spending time with. Because you do spend a lot of time with them.
Janelle Croshaw Ralla // I came on in post and saw through to delivery. I was working with the EP and Chad Stahelski's right hand, Louise Rosner, on a Man Called Otto when she asked if I'd be interested in John Wick 4. Admittedly I had never seen any of the John Wicks but was intrigued because of the mystique surrounding them, the fact that post was 2 miles from my house in Manhattan Beach, and because it sounded really fun to work on a bad ass project. When I first met with Chad he walked me through the film and I was sold. The footage was incredible and iconic. The meticulousness in which he described and knew what he wanted was music to my ears.
What was your feeling to be enter in this iconic universe?
Jonathan Rothbart // It was so exciting to be involved in a John Wick movie. I love the world Chad has created. We always talk about how he really has made a sci-fi movie that just takes place in the world around us. By that, I mean the world is completely manufactured with its own rules, characters and weapons. There is such world building going on, that it is the same process as a sci-fi movie. Since I love working on sci-fi films, it was fantastic. I also love to work on films that are really grounded. So getting to work on this film, where we tried to do as much as possible in camera really speaks to my sensibilities and interests as a supervisor.
Janelle Croshaw Ralla // I was really excited to get to know the John Wick universe. I knew of the almost cult like following of John Wick but hadn't dove in to it myself. Super violent films aren't usually my style but I'm a sucker for Keanu Reeves. The Matrix was the catalyst for me getting in to visual effects. After my meeting with Chad I went home and did a marathon John Wick screening and was hooked, at that point I got what the fuss was about.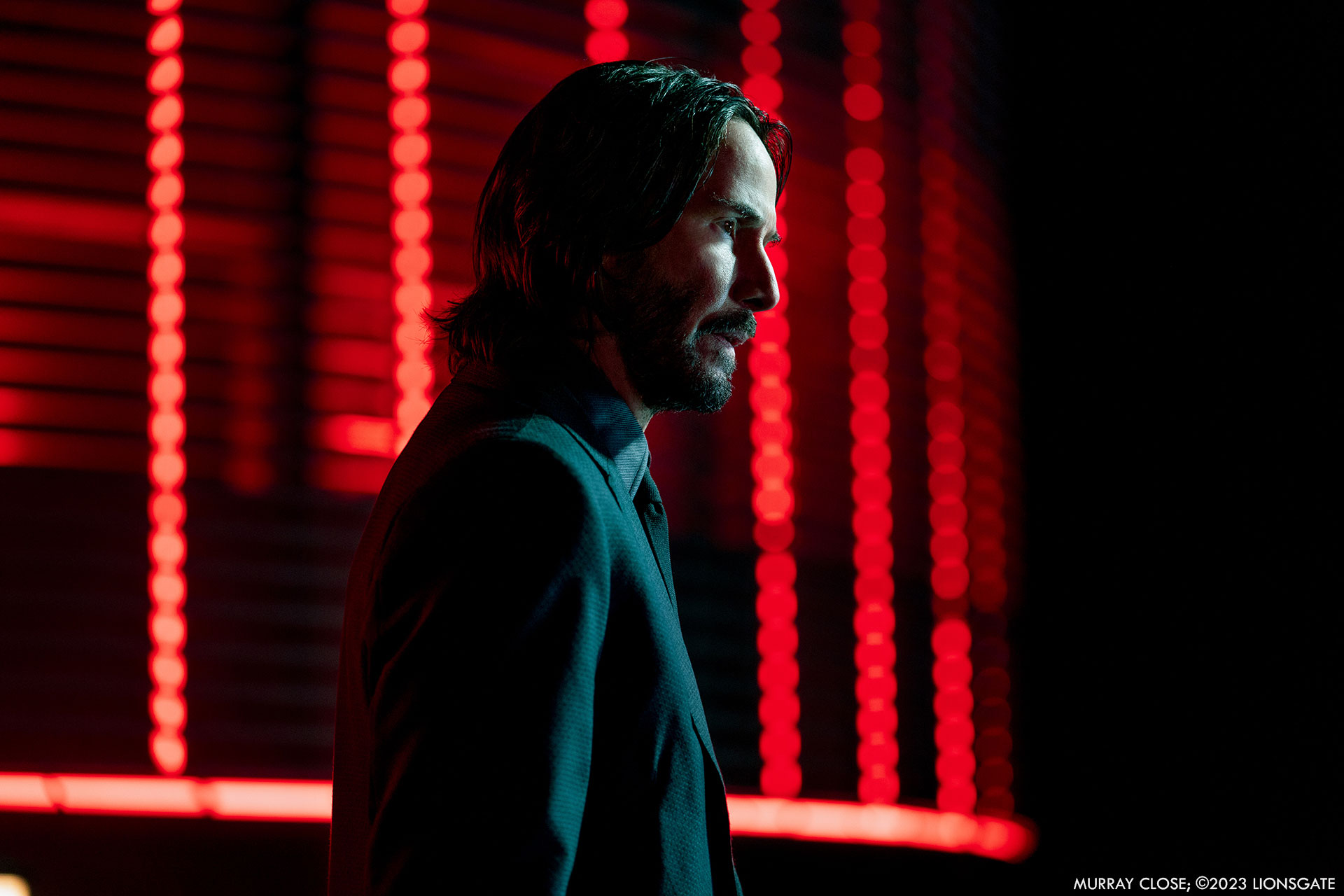 How was the collaboration with the Director Chad Stahelski?
Jonathan Rothbart // I loved working with Chad. He has such a great attention to detail and really knows what he wants. He is one of those directors that can visuals what he wants to see in the frame and is able to articulate it really well. That is a huge benefit for VFX. Chad is a real film buff and loves to talk movies, scenes, character and lighting. I'm pretty similar so we had a great short hand when talking about what look or effect we were going for in the film. It was super helpful that we had that understanding, because while we were shooting, it was pretty intense and there wasn't much time to problem solve, having that shorthand was a huge advantage when designing the visual effects. Many of them being worked out on the fly while on set.
Janelle Croshaw Ralla // Chad likes to be very involved and he is a perfectionist. It's our job to get to know the filmmaker, cater to their style and then produce the content. This was a hit the ground running kind of job. Chad is a walking encyclopedia and he never forgets the notes he gives and his direction rarely wavers. For me it was an exercise in cramming as much in to my head as possible as fast as possible to get up to speed. He's the guy that will win everyone in trivia, I'm that gal that loses trivia every time, haha. Luckily with VFX I manage to retain enough of the important info to hopefully be a good liaison and guide for our vendors.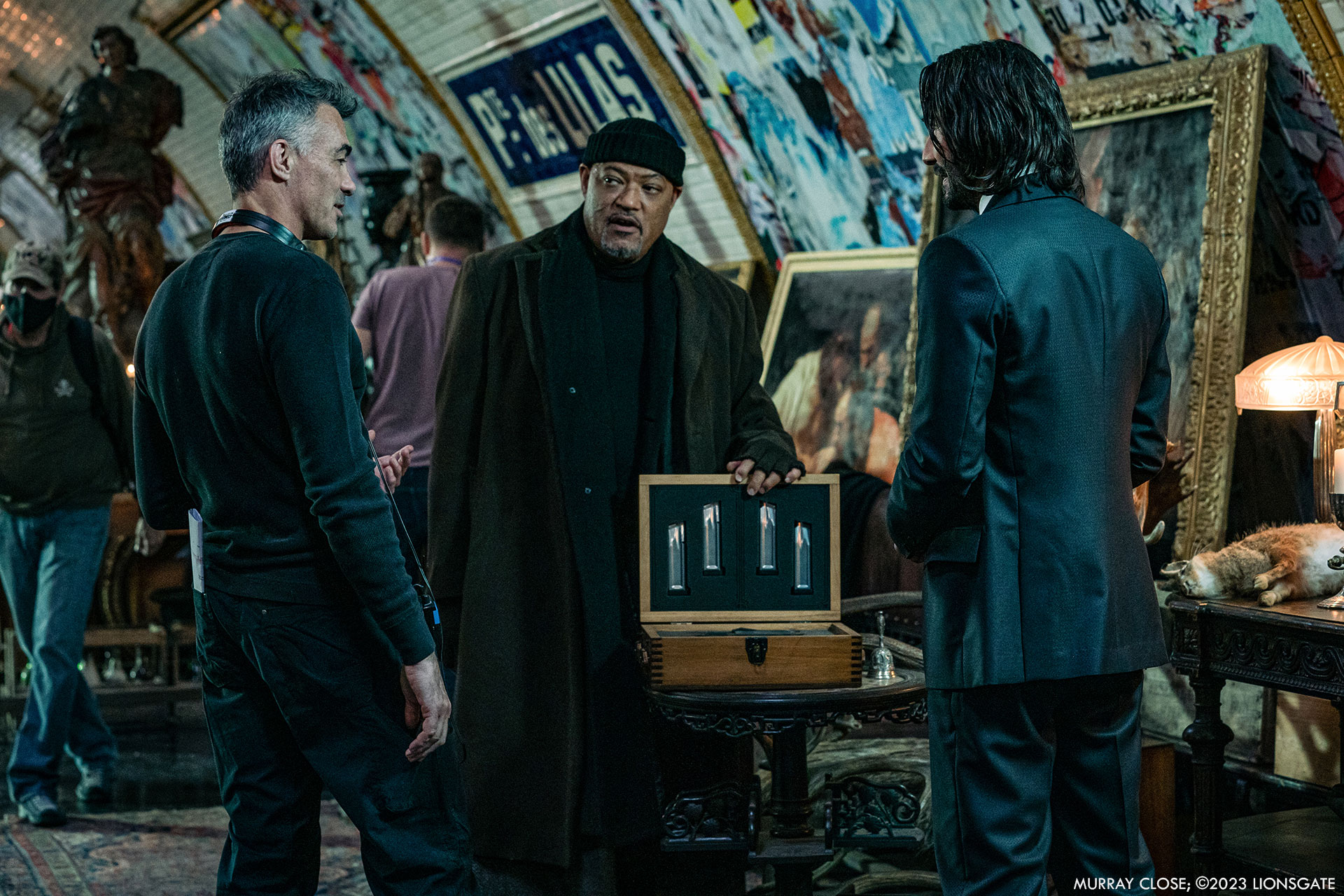 What was their approach about the visual effects?
Jonathan Rothbart // Well. As I said earlier, Chad is a big fan of getting it in camera, whether it be the environment, stunts or effects. So we spent a lot of time devising ways to get as much in camera as possible and supplementing it with VFX. However, there were definitely situations that called for heavy lifting from the VFX department and I spent a lot of time working with the DP, FX and stunt teams to come up with the best approach on set. We would always ask ourselves what could we get in camera and then work from there. But, I knew that we never wanted to do a shot where we didn't have something real in the plate. "Just make it CG", was never the answer.
Janelle Croshaw Ralla // When I started much of the show needed to be awarded and turned over so we spotted every sequence with Chad and Nate, the editor, recording the sessions. Those spotting sessions were sent to the vendors bidding the show and when the work was awarded we spotted again with the vendors on the line with Chad. It's important for the vendor sups, who become our partners, to have face time with the director, especially when the instruction is as detailed and concise as it is from Chad.
Can you elaborates about your role on this show?
Jonathan Rothbart // Well. As VFX sup. I have many roles to play. In prep, I am involved in problem solving, planning and designing a number of the action sequences. On John Wick 4, there were so many big action sequences that needed a lot of interactivity with either digital or semi-digital environments. I spent a good deal of prep helping figure out how people would crash into elements that didn't exist and would need to be filled in later, such as in the exhibition hall fight, where we had many glass elements that needed to be CG to create the level of interactivity that took place in the movie. This sequence was particularly complex (like many sequences in JW) because the lights in the scene are constantly moving. So you couldn't just use traditional light sampling procedures that you do on something with static lights.
Additionally, there was a ton of work to solve the many car hits and driving stunts that took place in the Arc de Triomphe. We shot this scene on an airplane runway in Berlin and then had to create the Arc environment in post. To make the scene believable, there was a lot of back and forth with both stunts, lighting and camera departments to make sure everything we captured in camera would translate later into the environment. Additionally, we have many car hits, that Chad was adamant would need to have real people getting hit in camera. The issue was how do we have multiple people hit in one take and make the impact powerful enough to be believable. We ended up create this sled system that Keanu and the stuntmen could fight around and get thrown into that were safe enough and could later be replaced with CG vehicles. There was extensive back and forth between stunts, the practical FX team and VFX to make the whole scene work.
While we were on the shoot, I did typical on set VFX supervising work, however, on John Wick, there are a lot of things that are thrown at you right before shooting, so each day I needed to walk onto set readying myself for what cool new ideas Chad was going to throw at us and have to figure out how to achieve the effect while we were standing there on set readying to shoot. It is a pretty stressful part of the job. It's never fun to have the director, DP, stunt coordinator and producer standing there staring at you waiting for you to problem solve a complicated VFX while everyone is prepping to start shooting for the day.
Janelle Croshaw Ralla // I was the Visual Effects Supervisor for post. Jonathan Rothbart was the Visual Effects Supervisor for pre-production and the shoot. When he and I handed off there were three vendors that had been going on the show on key shots and assets, Rodeo FX, The Yard VFX, and One of Us. We immediately brought on 10 additional vendors. It was a divide and conquer situation.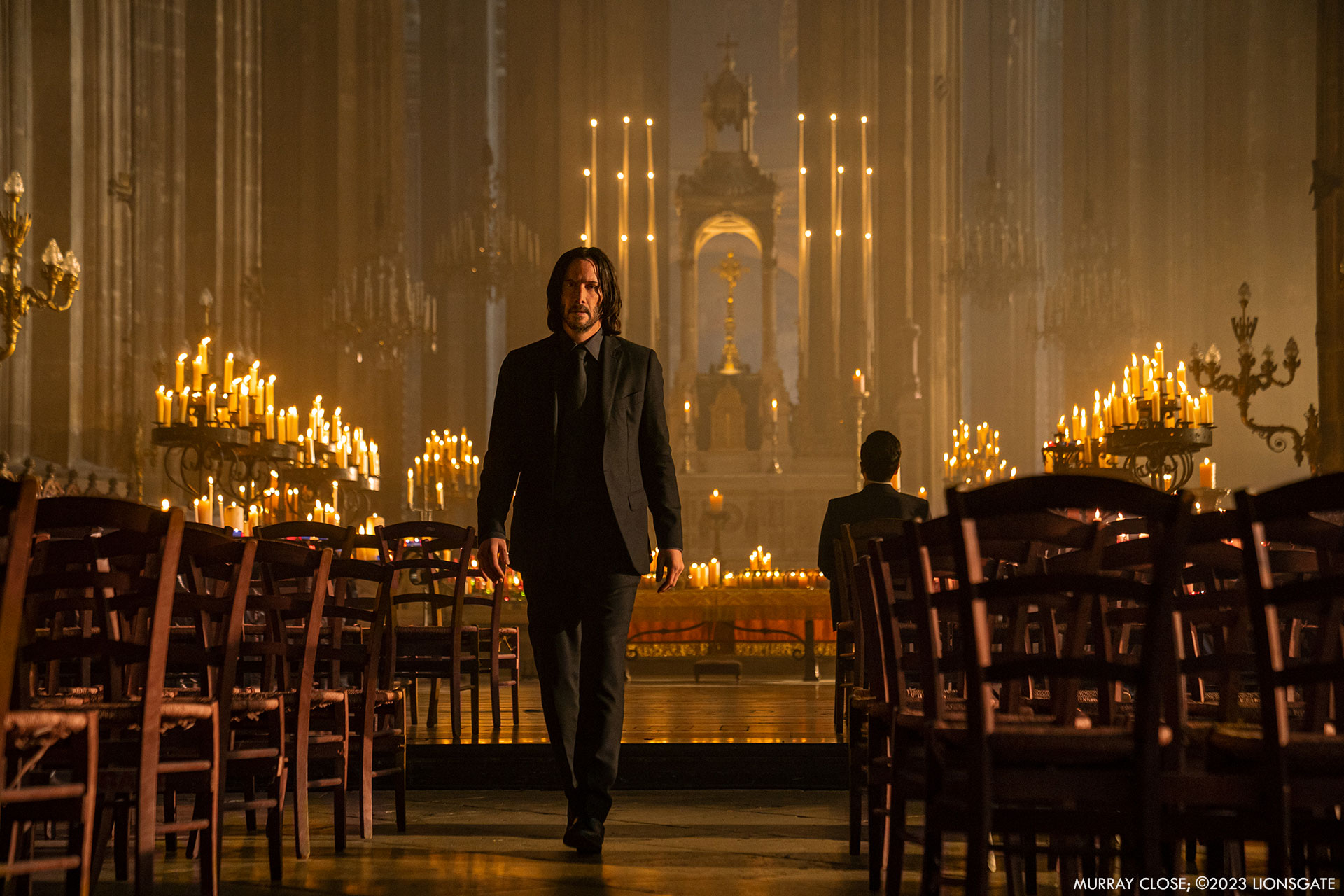 How did you choose the various vendors?
Jonathan Rothbart // We had initially brought on Rodeo to handle the big Arc de Triomphe sequence as well as the Top Shot. We also brought in One of Us and The Yard to get going early on developing the look of the water in the club and the look of NYC out the Marquee's window. Later, we brought on many other vendors in post, but I can let Janelle speak to that
Janelle Croshaw Ralla // Several vendors were recommended by Lionsgate and several were companies that I know and love from past projects. A few companies were recommended by the visual effects producer. Budget was a real factor and the vendors hit aggressive numbers to take on the show.
Can you tell us how you split the work amongst the vendors?
Janelle Croshaw Ralla // Below are our vendors and their most notable contributions to the film.
In House (Huey Carroll) –
70 shots – Our one man band. He and his pup Comet were there in the beginning and the last ones standing.
WeFX –
140 shots – Caine's eyes, the Osaka Continental bamboo forest environment, our muzzle flash, blood and kill look setters, outside of the Berlin club environment, the cemetery
Light –
183 shots – CG dog shots in the Arc scene, the stairs fight enhancements, graffiti on the trains, the opening desert scene, the hardest finger removals
Rodeo –
178 shots – Arc de Triomphe CG environment, the top shot, the Osaka rooftop scene
133 shots – Barracuda chase environment, the subway, jumping out of the window, the sister top shot
One of Us –
53 shots – CG waterfalls in the Berlin club, Killa digi double dying
The Yard –
59 shots – Aerial of Continental blowing up, Marquis office windows, smelted gold and branding
Tryptyc –
118 shots – The Bowery King fire, Inside the Eiffel Tower, Charon's grave scene enhancements
Boxel –
44 shots – CG arrow fight in the kitchen, Tracker's hand stab
47 shots – The Trocadero environment enhancement
211 shots – The Museum room at the Osaka Continental (the nunchuck fight, glass)
179 shots – Sacré Coeur
134 shots – finger removals
Fotokem –
31 shots – cleanup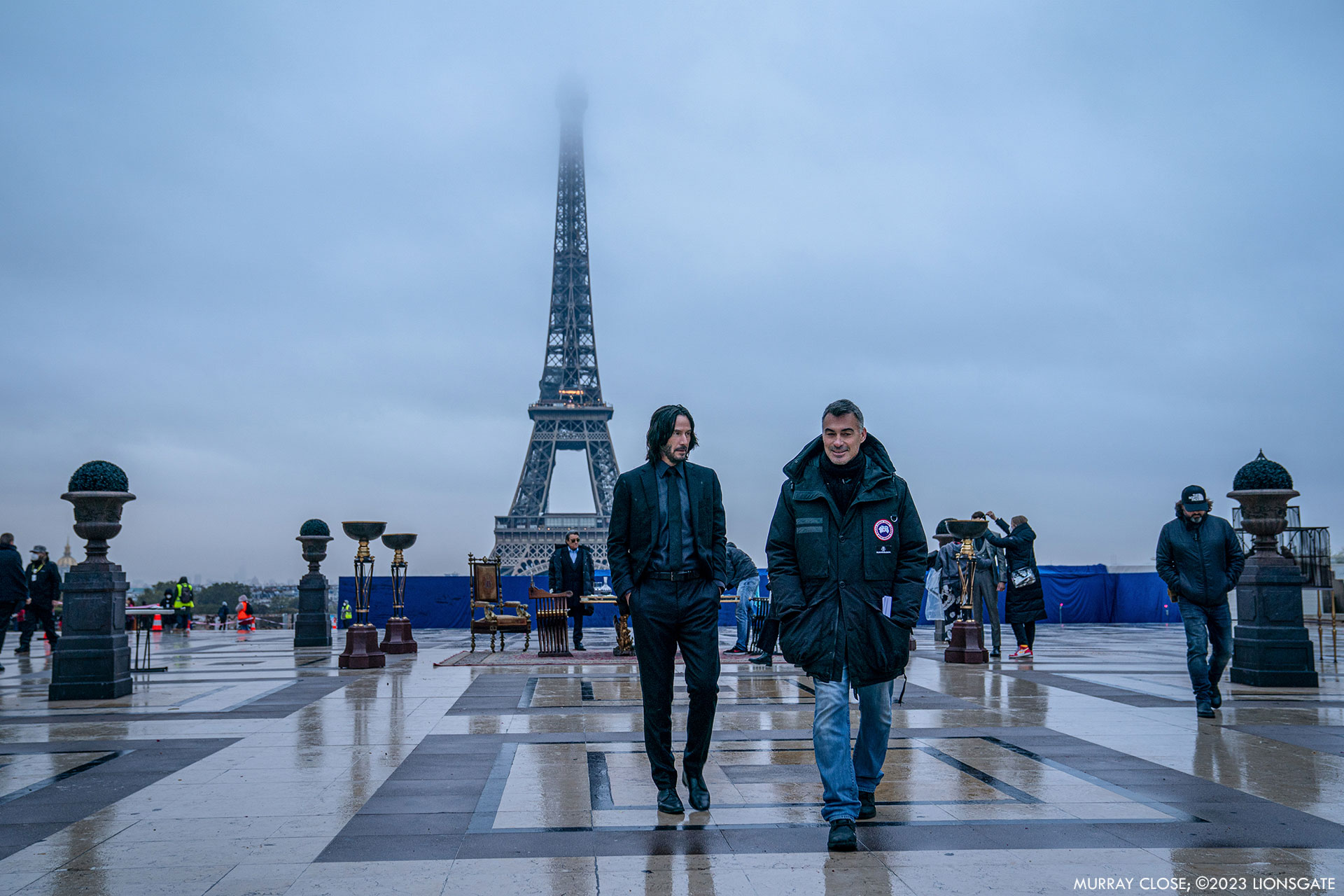 Can you detail a typical day for you during the preproduction, on set and then during the post?
Jonathan Rothbart // Preproduction is always and investigative, learning and planning stage of the process. I always say, it is where we planing everything to the greatest detail, only to have it all go to shit as soon as we start shooting, but at least we start from a plan. For the Arc sequence I spent a lot of time working with stunt coordinator Scott Rogers, prevising and planing how the cars were going to drive around the Arc and interact with each other. We needed to determine which cars would be practical and could have Keanu interact with on set and what needed to be CG. We also spent a lot of time working on the interactive sleds and how they would integrate within the fight. We had created a sled system that for guys to get hit with in the middle of the fight and then we would replace them later with CG cars. The fight coordinator, Jeremy Marinas worked out moves to have people thrown into the cars as they approach at the right speed and hit at the right timing. We also had to design the sleds to fit the proper profile of specific car hoods as well as make them safe for the stuntmen to be hit a high speed. We realized after our first night test that we also needed to add headlights in the sleds so that they would properly lite up the actors as the cars approached and then hit them.
Another big sequence was the top shot. That is a sequence in which we did extensive Previs in prep. I was very excited when Chad came to me with the concept and we discussed how to design the space so we would have lots of opportunities to show gun hits and burn elements with the Dragon's Breadth rounds. It was super complicated and we had to shoot in multiple passes and then line them up later. We positioned additional cameras in the various mirror locations so we could create CG mirrored glass later, that would eventually be smashed or shot up. It was one of my favorite sequences to plan out and execute as it was so unique. I don't think we have every seen something like it before. When we were shooting the sequence, the camera had a number of problems, so we ended up needing to do a lot of patch work in post along with all the other interactive and muzzle flash elements. It was a crazy dynamic scene and super fun to create.
Janelle Croshaw Ralla // Jonathan Rothbart has many amazing stories about that time and the rollercoaster ride of a John Wick shoot. I was grateful to get to spend time with Jonathan getting to hear the history of the fourth film. As for a typical day in Post, we had vendors around the world. We worked out of Manhattan Beach Studios. Chad's home is Manhattan Beach, and he insists on working from MBS, which was a dream for me because I was only minutes away from home and my kids. We were in the same building as editorial. Chad has an avid in his office. He loves to dig in to it all.
When not on vendor calls I was either in our little screening room going through shots, in editorial, in with the Visual Effects editors Ryan Turner and Matt Parenti, or in Chad's office. This film was unique in that we had the opportunity to start color very early on in post so I spent many days in post at Co3 or logged in remotely to a Clearview session. Chad's colorist Jill Bogdanowicz is a busy lady and the end of her year last year was jam packed. For that reason, we started color months and months before delivery. This was ultimately a blessing. We were spoiled being able to review visual effects at Co3 so early on. The color on John Wick is out of this world so being able to see where they were taking the final grade was really important. The dailies grades were often dark, neutral and natural but in DI they exposed up adding tons of contrast and opposing colors saturating the heck out of everything. It was important for the vendors to see this transformation of the imagery. Chad uses mattes in DI extensively. So he had a matte for every muzzle flash, blood hit, CG, arrow…… you name it he wanted a matte. It was great to realize this early on so vendors could get into that mindset. I'm often opposed to messing with VFX shots with mattes in DI but Jill and Chad have a system and it works. She has such a great eye.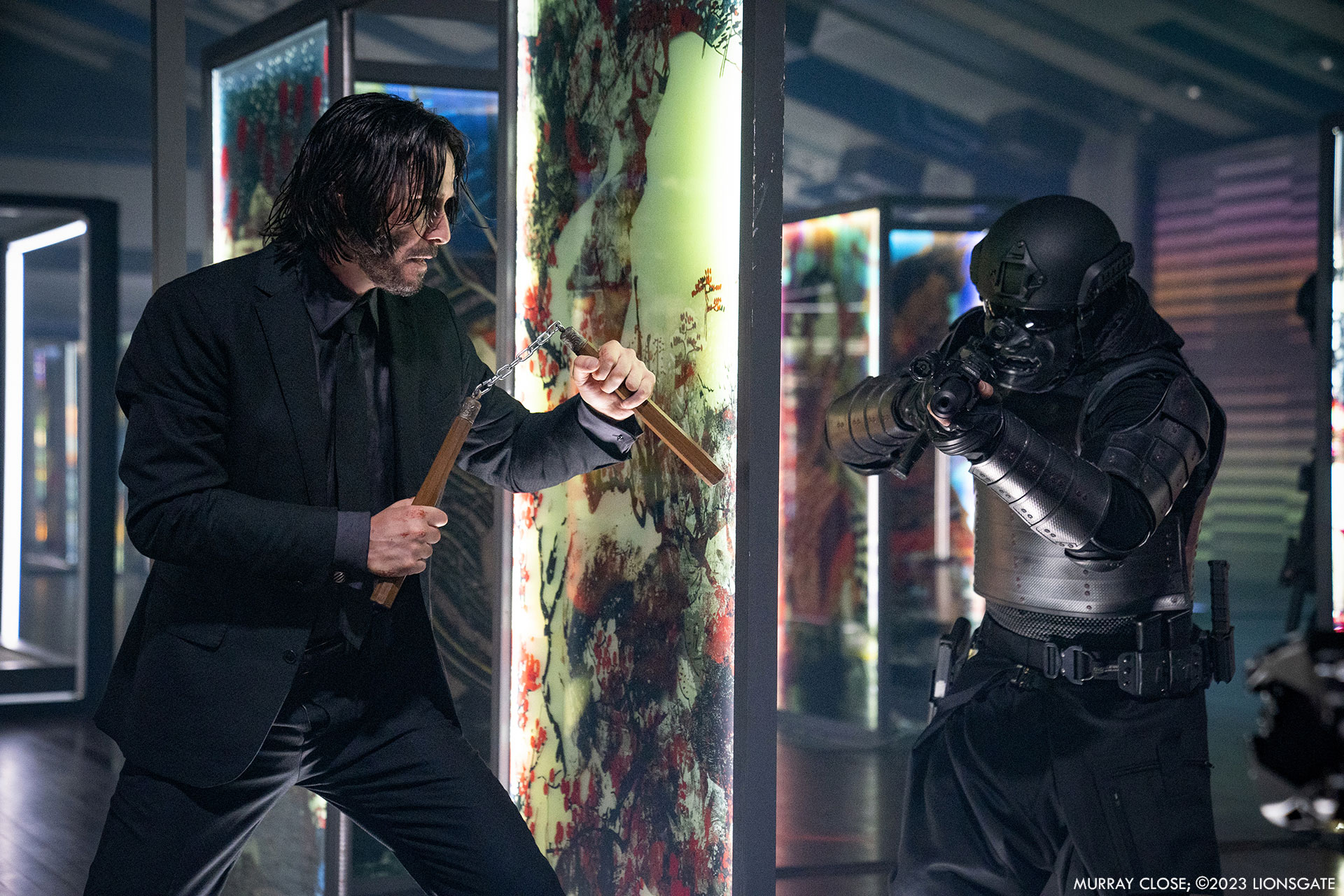 Where was filmed the various exterior sequences?
Jonathan Rothbart // The majority of the movie was filmed in and around Berlin, with many locations doubling for either NYC or Paris. For example, we shot the Paris street fight in Berlin and then augmented the buildings and skyline to look Parisian. We also shot briefly at Babelsberg studio outside of Berlin. There wasn't much stage work done on the show as Chad prefers to shoot at locations. Which I loved as JW has so many amazing scenes that show off the scale of the world. I don't think you could pull that off with sets on a stage. We did shoot the Top Shot as well as some of the Japan scenes on the stages in Berlin. When we were in Paris, Chad really wanted to take advantage of the iconic locations, so we were all over Paris. The thing you have to get used to while shooting a John Wick film is NIGHTS. We spent 90% of our shooting days shooting at night. At one point, we had been shooting 13 straight weeks of nights. You definitely have to embrace that lifestyle while on the show. We did shoot during the day while we were in Jordan. We shot in the Wadi Rum, a spectacular desert environment. It was stunning to be out there every day. We wanted to a ton of low sun shots, so we were always ready to start shooting at sunrise and wouldn't stop shooting till we got our sunset shots at the end of the day. We also spent a short time shooting in New York. When we shot the subway scene, I think that was one of the coldest days I have spent on set. It would pretty rough. Due to Covid, we couldn't initially go out to Japan, So I ran a plate unit from back home. The Japanese crew were awesome and we had worked out how to scout the sites remotely and then shoot a ton of background plates for the exteriors. It was definitely a unique experience.
What was the main challenge to filmed in Paris and its iconic places?
Jonathan Rothbart // Well, I will say that Paris is not the easiest place to shoot. There are a lot of restrictions and it does make for tricky shooting. We had major issues with places like the Arc de Triomphe (which we shot the action entirely in Germany) and Sacré Coeur, where there were a lot of complications and restrictions that forced us to have to compromise during the shoot. Because of this we ended up having to re-create and augment the location with a CG environment. This became a very complicated sequence and required a lot of design work in post to make it work. However, we did shoot the majority of the film in all the amazing locations you end up seeing on screen. It is always a cool experience, as you get a very unique access to locations. It's pretty amazing when you are somewhere like the Louvre without anyone from the public and you can just wander over and stare at the Mona Lisa all by yourself.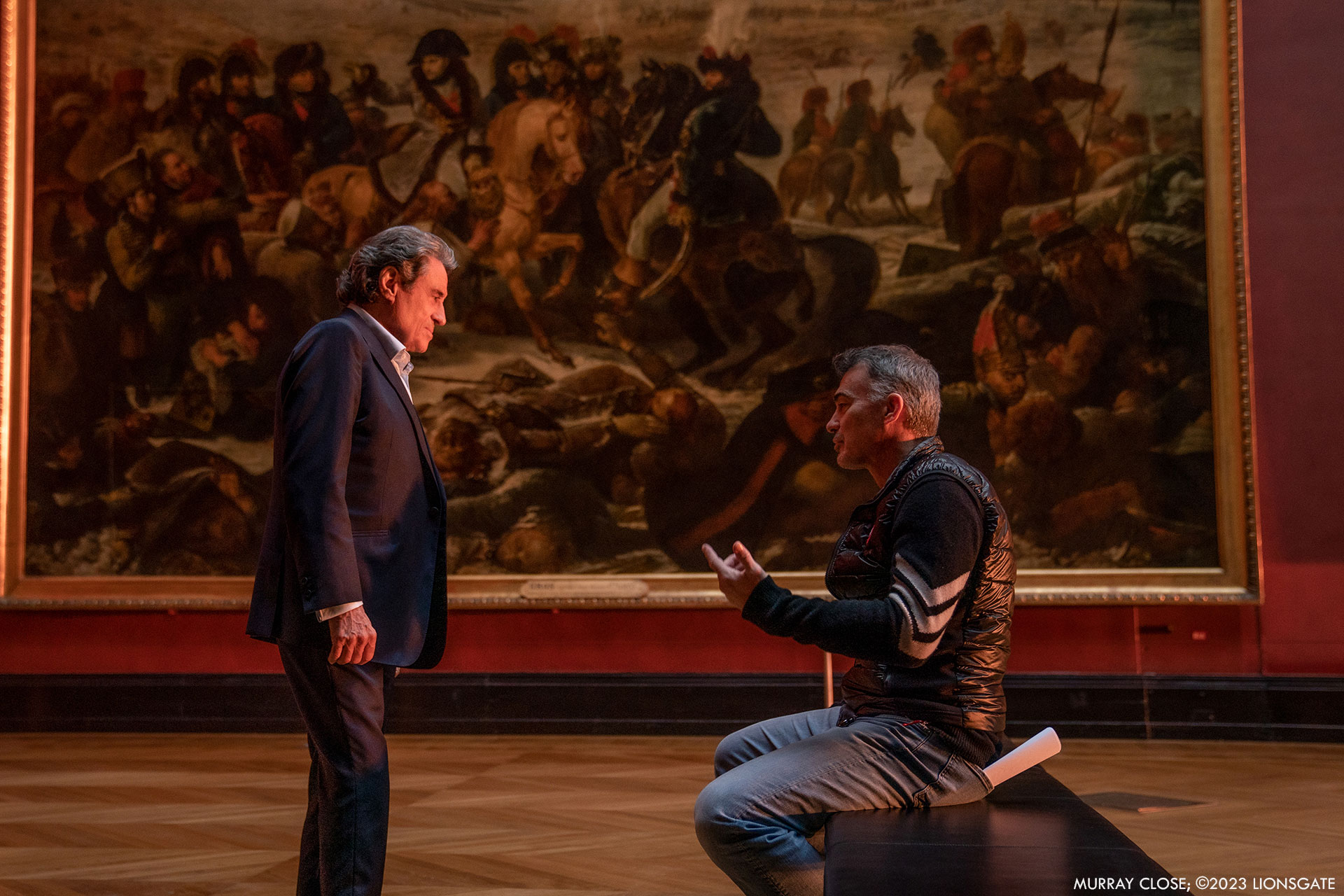 The movie is full of impressive locations and environments. How did you enhanced them?
Jonathan Rothbart // It was a pretty broad range of work done by VFX. Some locations needed simple clean up while others were full CG environments. That being said, Chad is a huge proponent of being on location and shooting in real world situations, so we always strived to have as much of the real location as possible. The big outlier was the Arc de Triomphe. That was shot in Germany on an abandoned runway and we then created a digital Arc location. However, we still worked with tons of real cars that crashed and dodged and drove around Keanu. We also set up a sled system to actually hit all the various stuntmen. We wanted to stay away from digital doubles as much as we could.
Janelle Croshaw Ralla // Often times it wasn't enhancing as much as fixing. For instance at the Trocadero in Paris there was construction going on in the background so a bluescreen had to be put up. Then the public needed a walkway on the side so another bluescreen had to be put up. Halfway through the scene a heavy fog rolled in. Chad loved the look of the top of the Eiffel tower being engulfed by fog but at the first preview a few people in the audience actually thought that the VFX team forgot to put on the top of the tower. So we added a VFX top of the Eiffel tower back on.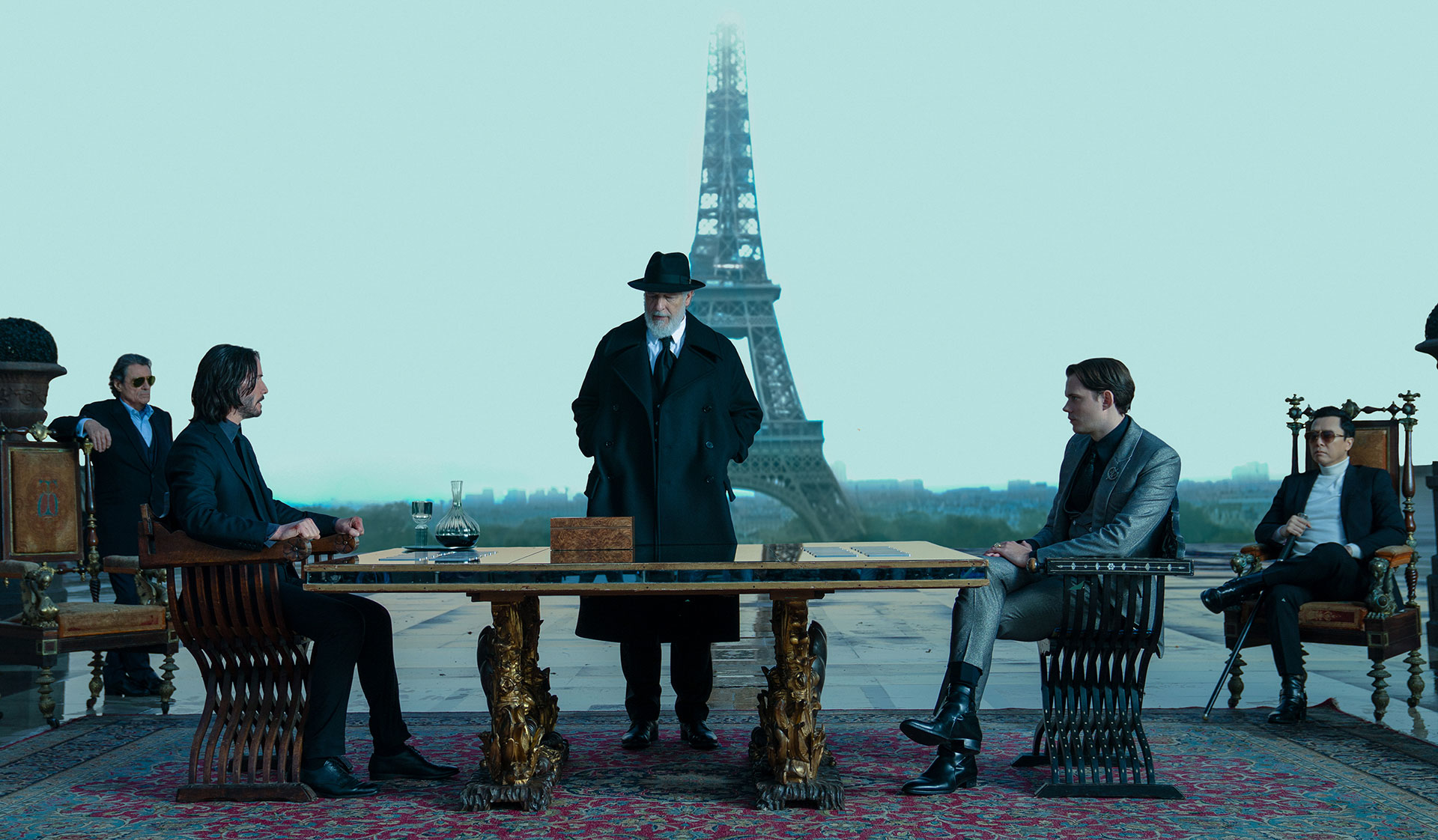 Chad likes things very clean and often symmetrical so a decent amount of cleanup would go in to the locations. For the stairway fight at the end he didn't want the trolley metal structure and track to take away from the action so DMP work went in to keep it old concrete, trees and opening up the view adding in Sacré Coeur in the BG.
A lot of scenes contain little Easter eggs. In the Paris subway when the King brings John his suit and the Pit Viper gun the train was too white and clean. We added graffiti to the train. Similarly the neon sign was added to the Osaka rooftop, carvings were added on the stairs John walks up when going to Charon's grave. There's an homage to Buster Keaton in the Osaka subway.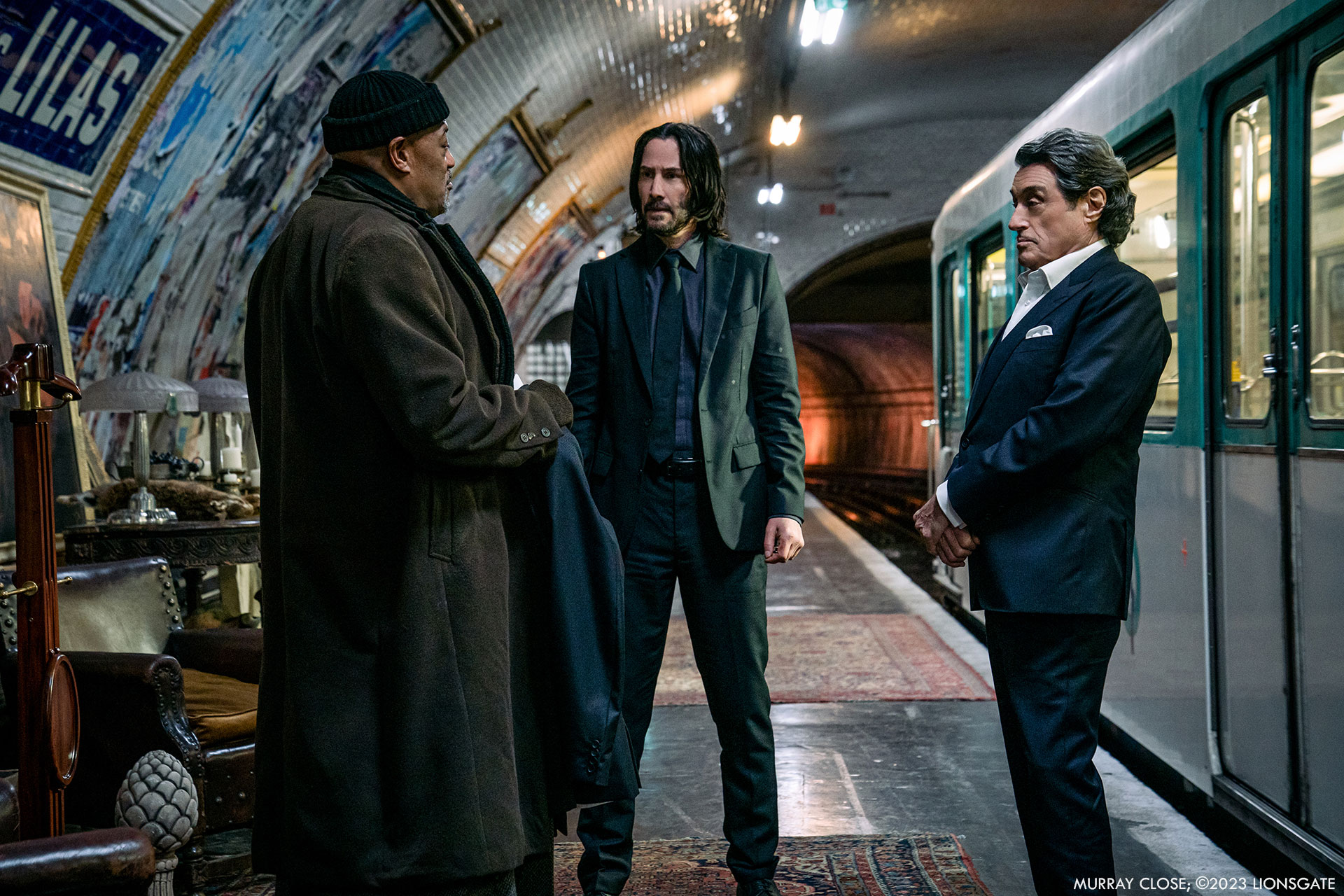 Which location was the most complicate to create and why?
Jonathan Rothbart // The most complicated location was Sacré Coeur. We hadn't intended to create much visual effects at that location, however, do to some production issues and the difficulty of shooting in Paris, we ended up having to be more involved than we had originally conceived.
Janelle Croshaw Ralla // So many scenes had their own unique challenges but the Arc was the most complex. Jonathan laid the groundwork, setting up a template of the Arc location at the Tempelhof airport in Berlin, where the scene was shot. Javier Roca and the Rodeo team took the footage shot at Tempelhof and beautifully transported it in to their Arc de Triomphe world. Their environment was phenomenal down to the last cobblestone. It was imperative that we didn't degrade the original footage keeping Keanu, the Barracuda and other stunt drivers and cars in tact. Rodeo was able to mix the concrete into the cobblestone in areas to avoid needing cg wheels or cg broken glass or to save practical water spray. CG cars had to seamlessly blend together with the practically shot stunts. Late in the game aerials were added that were inspired by stock shots but ultimately had to be all cg to fit in to our world. One of Chad's favorite references is the shootout scene in Heat. On top of the environment, CG vehicles and digi work were the hits, muzzle flashes, sparks and paint chips.
A few months before delivery it was decided we would go for the dog getting hit by the car. Amazingly, Chidi was able to swing Britta, the dog, around because once she latches she's not releasing so there was an amazing plate of Chidi swinging Britta round and round. But of course she then needs to get hit by a car. Antoine and the Light FX team made a cg Britta replacing her in the plate and made her get hit in to the CG car. The closeup of her getting up and growling was shot over bluescreen during reshoots. Rather than growling she was quite proud of her performance being the good girl she is and her tongue was hanging out, she wasn't as angry as she needed to be. The motion of Britta diving and rolling and scrambling to her feet was priceless to capture practically. We animated on top of that and ultimately replaced her with our CG dog. The first time Light showed us their cg dog over the bluescreen we didn't know what we were looking at because we thought it was Britta, it looked awesome. From there we knew it would work and we layered in the aggressive growling performance, drool, and comped in the environment.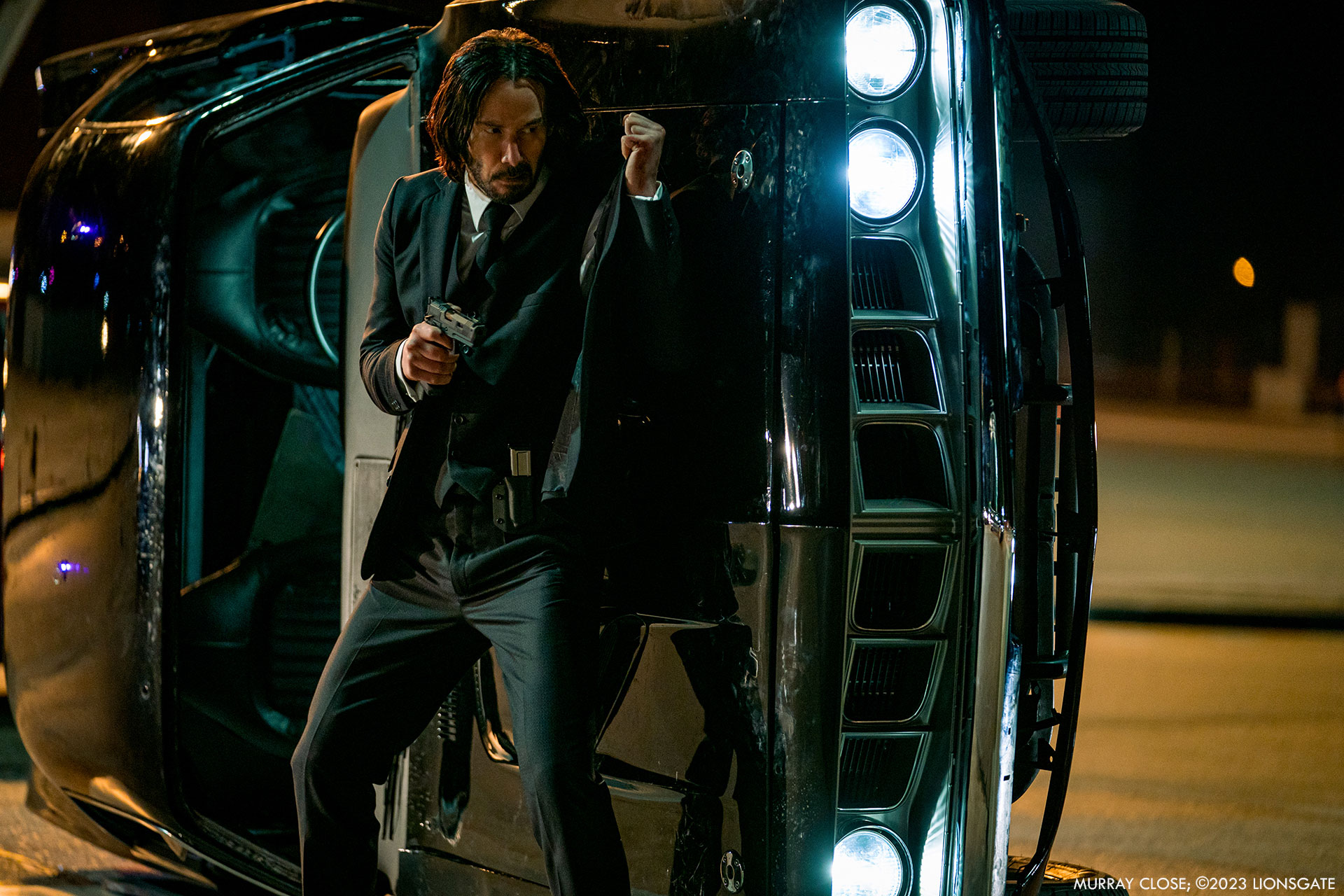 Can you elaborates about the destruction of the Continental (in NYC)?
Jonathan Rothbart // This is big story point in the movie, but talked to Chad about it during prep, we had decided that we didn't want it to be like something you would in a Mission Impossible film. We wanted it to happen from the perspective of Winston and have it feel more personal rather than feel like a spectacle. We also discussed how the Marquee would have had his people set the charges, so we wanted the explosions to start from the ground floor and then rise to the upper floors. I think it played really well in the end. It ends up being more of an emotional moment rather than a VFX moment.
Janelle Croshaw Ralla // The Yard did the aerial shot of the Continental with the explosions going off. It was important that Winston could rebuild the Continental so we couldn't completely demolish it. Harry Bardak and his team put great care in to the amount of detail in the explosion all the way down to the pool furniture getting blown off the roof. The buildings in the aerial shot were art directed and recreated around the Continental to help with composition for this important moment.
For the ground level shots of the destroyed Continental when Winston and the King are talking, Rodeo built the asset and initial environment. Chris Kesler in Germany created a phenomenal matte painting on top of that work, based on some photos of the real location Matt Pascuzzi took on a rainy day in New York. It was a group effort in the end with a cameo from Blur and WeFX pulling it all together for final. Group effort.
How did you work with the SFX and stunt teams?
Janelle Croshaw Ralla // Jonathan can speak to this. The SFX waterworks at the Berlin club are most impressive. The epic stunts throughout the film speak for themselves.
Jonathan Rothbart // Working with the other departments, those two in particular, was critical in the film. As I mentioned, we wanted as much to take place in camera as possible, so there was a lot of back and forth with both FX and stunts to create the most seamless effects possible. We really wanted it to feel like hidden VFX on screen. Both Gerd and Jeremy are so great at their craft, I just had an amazing time working with and learning from those guys. The two biggest sequences where we had to do a ton of planning was the Car work in the Arc and the streets of Paris and then the top shot. We spent a lot of time planing out all the car hits and gun play to make sure that they were as impactful as could be in camera. We did extensive Previs on both those sequence. For the cars, it started with myself and Scott Rogers using matchbox cars at my desk to work out the action and using our iPhones to figure out the angles. We then gave that to Previs to put it into actual shots. It was a cool process.
Which stunt was the most complicate to enhance?
Jonathan Rothbart // To be honest, we didn't have to do a ton of enhancement when it came to the stunts. This is a John Wick film and stunts rule. I learned so much on this film when it comes to stunts. They really do push the envelope on what the stunt guys can actually do. Even the car work was mostly practical and Keanu definitely did all his own driving. He was probably the best driver on set. It is pretty amazing.
Janelle Croshaw Ralla // Killa falling over the ledge was a tricky one. A stunt actor was on a wire falling over the railing but the timing and motions of the stunt actors shot by second unit weren't quite working for Chad. Dominique and his One of Us team replaced Killa with a digi double to really get that hit in to the railing from John barreling in to Killa before he falls over the edge arms flailing. The camera move had to be reconstructed to look more natural and work with the new animation. Sound was the cherry on top to make that effect work.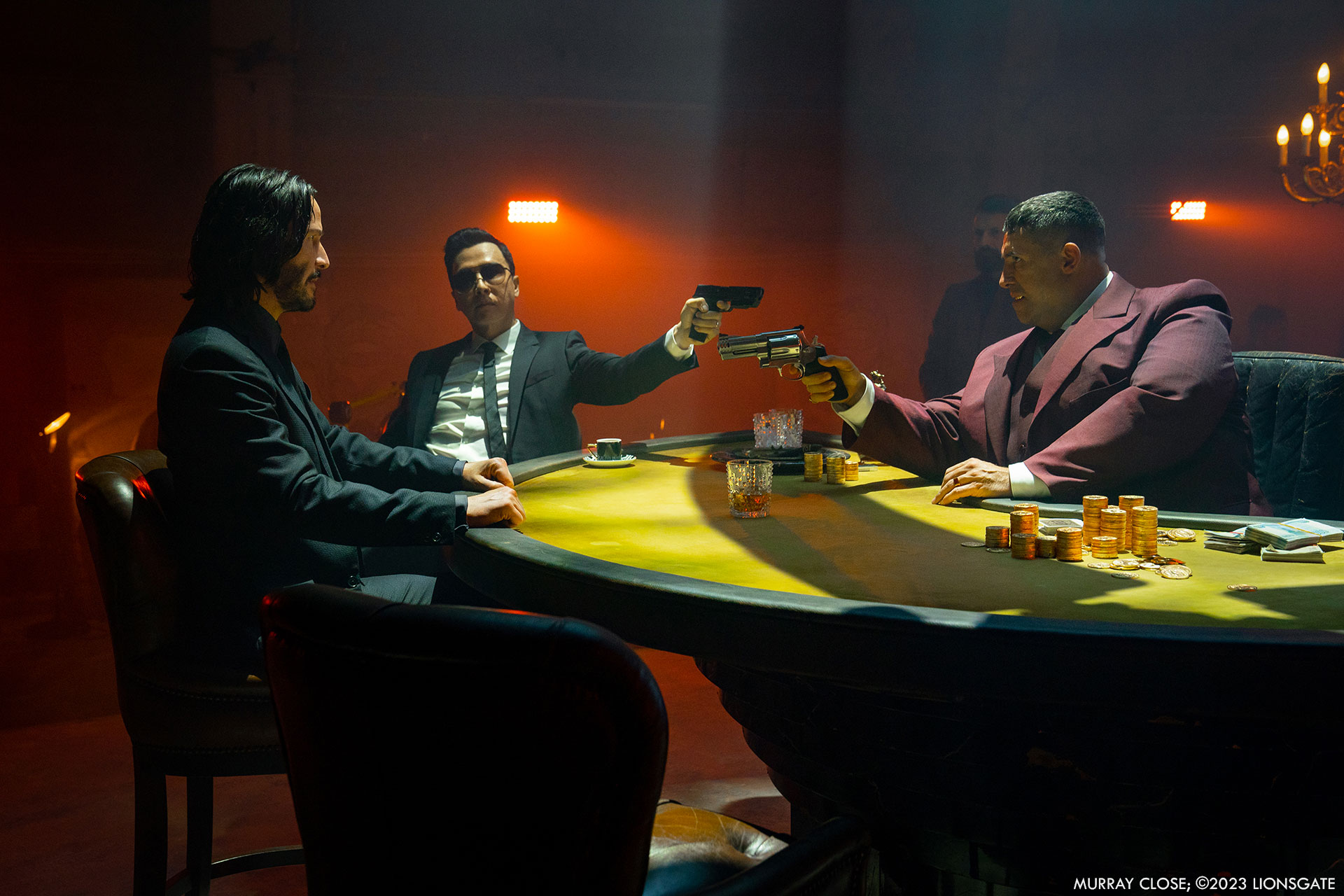 How did you create the various digital doubles?
Jonathan Rothbart // We didn't need to do too much double work. It was mostly to link action between two stunt gags. For example, when JW jumps out of the window of the apartment building onto the van, we had a stuntman actually jump out the window and he crashes down into a pad of boxes. We then moved the van into place and had him land on the van from a lower distance. We used pistons in the van to create the compression and then VFX married the two and added glass getting blown out to help sell the impact. This is just an example of the extents we went through to make sure we did as much work practically as possible. I can image many films would have just punted and done the jump and fall with a digital double and/or a digital van.
The movie is full of long continuous shots. Can you elaborates about them and your work on it?
Jonathan Rothbart // There is not much to say from a VFX standpoint. Keanu is a beast and he would go through insanely long takes fighting all the way through. He had to be in tremendous shape to even be able to attempt all that work. I felt tired just watching him.
Can you tell us more about your work on the two action scenes seen from above?
Jonathan Rothbart // Sure. The Top Shot (which takes place in the apartment building) was something Chad came to me with early on. He had showed me some reference of something similar and we talked about how we could pull it off in a real scene. There was a lot of planning and Previs that went into the action moments and where JW would move and all the bad guys would attack from. It was very choreographed. We then worked on what types of things could fill in the space to show of the impact of all the gun fire and specifically the Dragon's Breadth rounds he shot. We spent a lot of time developing the look of the rounds and figuring out the spacing in the scene so it would feel realistic when people were hit. We also worked with the production designer to figure out the designs in each room to make sure John Wick had lots of things to hide behind and jump on. We wanted to make sure there were moments where action or elements moved vertically towards the camera and not just live in a horizontal spacial motion. Chad and Kevin Kavanaugh (production designer) planned out the floors and colors for each room so you could feel the transitions between rooms and make sure that the actors popped instead of blending into the set. The thing we were most concerned about is how it would appear viewing from a top down perspective, given that we were technically inside a floor of a building. We had many discussions as to how high the camera should feel and what we would see when we look at the top of walls and doorways. Overall, I am super happy with the final result.
The final sequence is taking place in front of the Sacré-Cœur Basilica. Can you elaborates about its creation?
Jonathan Rothbart // This was probably the most complicated and problematic sequence in the film. We hadn't intended to shoot the sequence needing VFX support, but do to Covid and other production complications of Paris, our department had to get heavily involved in the final product.
Janelle Croshaw Ralla // The final duel was shot night for day. There was limited time at Sacré-Coeur so the mediums and closeups were shot over greenscreen. We knew it would be a huge challenge to make it a beautiful sunrise given the nature of the photography. Michael Ralla joined the film as an additional Visual Effects Supervisor and orchestrated a much needed plate shoot of the sunrise at Sacré Coeur. Using Google Earth to digitally scout the area we found a rooftop terrace nearby where we could film the sunrise. Light FX became our team on the ground in Paris and Michael supervised them remotely for the shoot. We shot with the Sony Venice 2 to get 8K resolution and minimal distortion using modern Angenieux lenses. It was winter so we didn't exactly get that amazing sunrise we were after but the moving footage of the city coming alive and the light changing on the city was what we needed to bring the south angles, looking out at the city, come to life. Jill and Chad spent extensive time in the grade subtly changing exposure for the rising sun. It was a challenge until the very end trying to dial in those shots, almost 200 of them. It also became a group effort with Tryptyc, Pixomondo, WeFX and Queen joining Mavericks to finish the scene.
How did you handle the changing and beautiful light?
Jonathan Rothbart // The constantly moving light sources looked amazing, but definitely created a unique issue for VFX. So many of the sets had multiple light sources moving all the time, it made it impossible to acquire traditional light samples. We ended up doing a combination of classic HDRIs, but holding on all the different light positions (this was not popular given the time it would take to do this process) and using the GoPro 360 Max. We figured out a way to use the GoPros at three different exposures to give us a broader range for the video HDR and then provided that to the vendors to create a moving HDRI that could match the lighting in the scene. It did sacrifice some resolution as it reduce the amount of stops we were able to capture, but did allow the vendors to get an accurate sampling of the all the moving lights in the scene.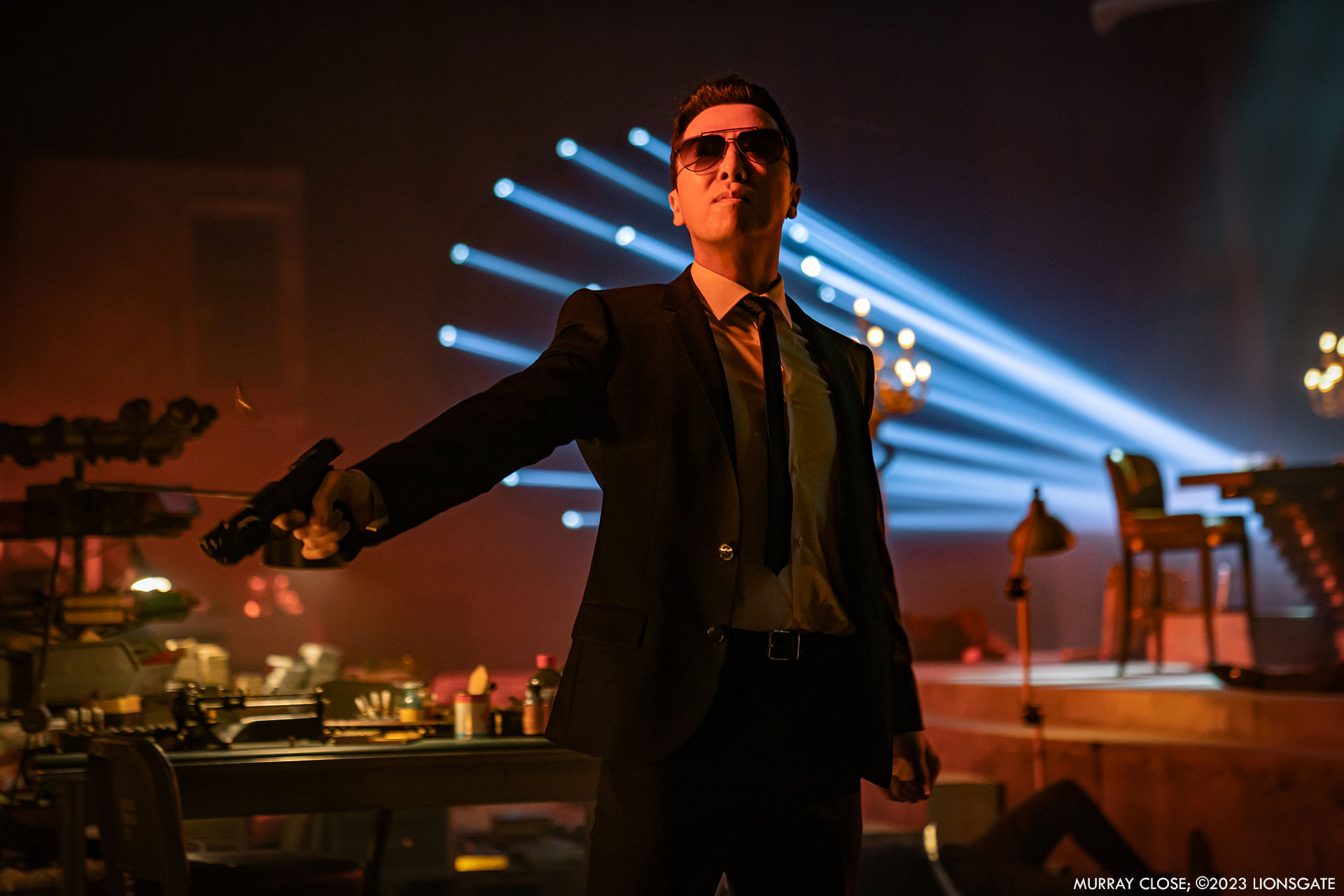 Did you want to reveal to us any other invisible effects?
Jonathan Rothbart // Well. I will say that we never fired and actual gun and no one ever had blood on them in a shot. We handle all that in post.
Janelle Croshaw Ralla // We worked on 1532 shots in total, which is a lot for a movie that is not meant to be a VFX-film. Technically, every shot should be invisible. I have a lot of favorites….. adding the fire in the King's Lair at the beginning of the film, the Osaka Continental rooftop fight, the Marquis office out the windows, the shots in the desert opening that were shot in Riverside turned in to Jordan, the Barracuda chase through the "Paris" streets (originally Berlin), the Eiffel Tower stage shoot where we added Paris out the windows, the iconic top shots in the abandoned apartment leading to JW jumping out the window and hitting the van, Caine's blind eye look, the bamboo forest Caine and Shimazu fight with greenscreen in the bg and Osaka Continental exterior architecture is CG, the museum hall nunchuck fight glass, Tracker's hand stab, the Berlin nightclub aerial entrance and interior waterfalls, the smelted gold and branding. Don't forget painting out his finger and adding a nub every time we see his ring finger and every muzzle flash, blood hit and fabric squib.
Which sequence or shot was the most challenging?
Jonathan Rothbart // Of the sequence we planned on doing I would have to say that the Top Shot and Sacré Coeur were the most work and design intensive, both in production and post.
Is there something specific that gives you some really short nights?
Jonathan Rothbart // Nah. I love VFX and I liked to see all problems as opportunities to do something cool. I'm a grinder, so you just keep at it until you get it figured out.
What is your favorite shot or sequence?
Jonathan Rothbart // I really love the Top Shot sequence. It is so unique and we definitely had a lot of people who didn't understand what we were trying to accomplish while making it. Chad's vision of what it wanted to be was clear to me and I knew if we pulled it off, it would be something unique and original.
What is your best memory on this show?
Jonathan Rothbart // I wasn't kidding when I say I love VFX and film making. I am the guy who can't wait to get to set and shoot some cool stuff. I also love working with fun, smart people who are at the top of their game. We had so much of that on the movie, I have to say, I just looked forward to working with all of them and going through all the tough times and amazing moments together. We shot something like 97 nights and thirteen weeks straight of nights at one point, so you were definitely tested. There were a lot of cold rainy nights where we all just pushed through and embraced the suck. But, we felt like we were in it together and it had such a family feel. That's what I loved. Movie making is always hard work, so you want to be spending all that time with great people and doing cool shit. That's what makes it rewarding. And of course working on a bad ass movie.
Janelle Croshaw Ralla // There are too many memories to list. Reviews with Chad will forever be burned into my brain. During reshoots, watching Keanu Reeves come to an epic skid stop on a horse after riding all day being chased by bad guys. He calmly walks over, sits down and pulls up his pant leg, it's bleeding all over the place raw from riding. He calmly asks for a cloth to clean it up. He is truly a legend.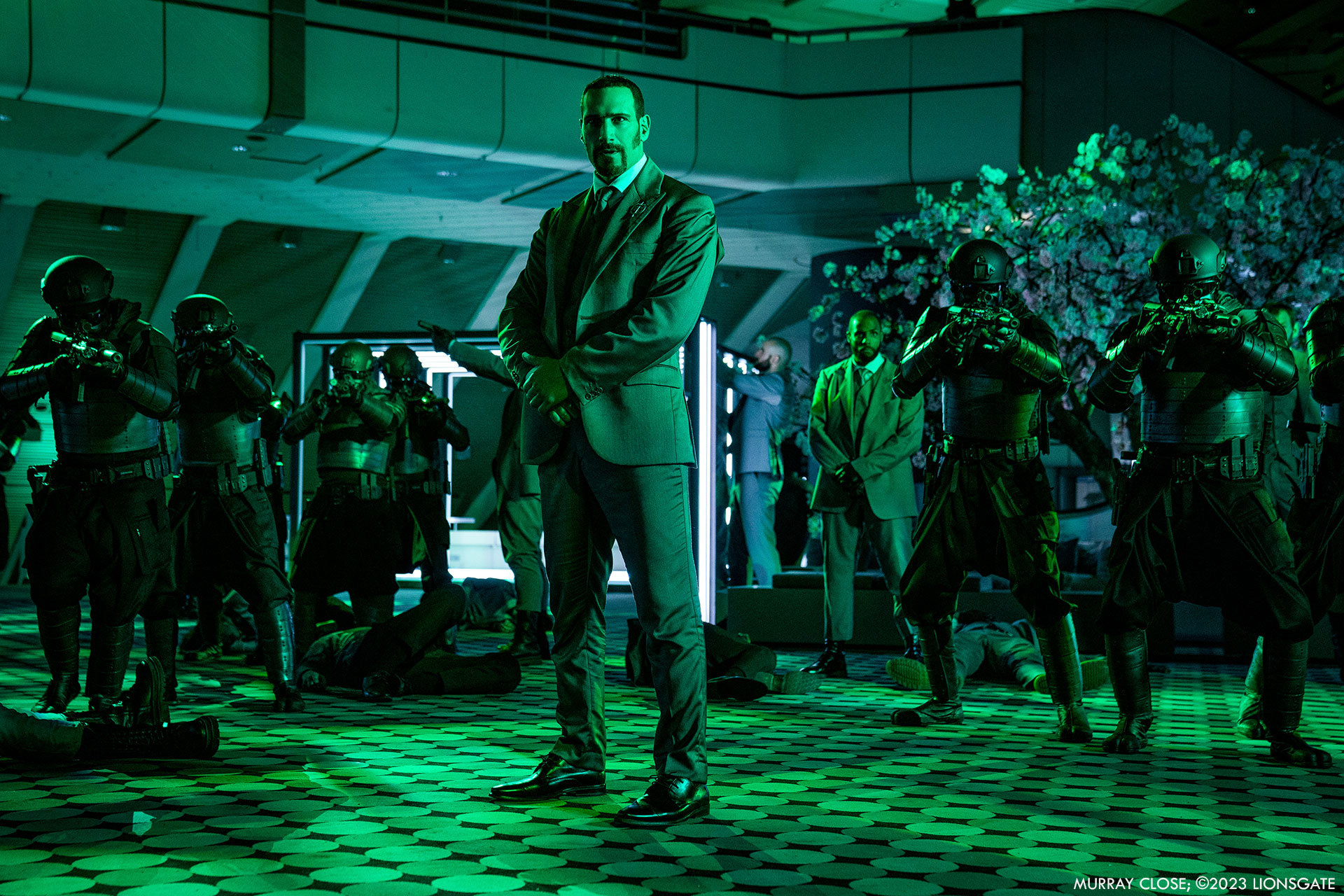 How long have you worked on this show?
Jonathan Rothbart // Around a year and a half.
Janelle Croshaw Ralla // Since May, 2022.
What's the VFX shots count?
Janelle Croshaw Ralla // 1523 shots ended up making it in to the film.
What is your next project?
Jonathan Rothbart // SLEEP
Janelle Croshaw Ralla // I've teamed up with VFX producer Bryony Duncan again (A Man Called Otto) and am working on a Netflix film.
A big thanks for your time.
WANT TO KNOW MORE?
Atomic Arts: Dedicated page about John Wick: Chapter 4 on Atomic Arts website.
Light: Dedicated page about John Wick: Chapter 4 on Light website.
One of Us: Dedicated page about John Wick: Chapter 4 on One of Us website.
Rodeo FX: Dedicated page about John Wick: Chapter 4 on Rodeo FX website.
The Yard VFX: Dedicated page about John Wick: Chapter 4 on The Yard VFX website.
© Vincent Frei – The Art of VFX – 2023