Back in 2018, Nicolas Chevallier explained Framestore's work on Fantastic Beasts: The Crimes of Grindelwald. He then worked on Timmy Failure: Mistakes Were Made. Today he tells us about his work to bring to life a super cute squirrel!
How did you and Framestore get involved on this show?
We have been working closely with Disney on multiple projects lately including Timmy Failure: Mistakes Were Made. Flora & Ulysses has a similar vibe. Naturally, we had been contacted to meet the team & start the process of designing the character.
How was the collaboration with Director Lena Khan and VFX Supervisor Daryl Sawchuk?
Most of the interactions were with Daryl Sawchuk on our side during the production. Also I got the chance (pre-pandemic) to go on set and meet with the whole team. This gave us an opportunity to be able to talk to Director Lena Khan to understand the mood of the film.
What was her approach and expectations about the visual effects?
There was a bit of a learning curve on both sides to tone our instruments. Daryl & I went methodologically through all the steps of the process and clarified all the milestones we were going to achieve. That way, everybody was on the same page. All the technical aspects put aside, Lena could focus on directing a talent. The expectations regarding the acting of Ulysses were very high. Capturing emotions was emotion.
How did you organize the work with your VFX Producer and amongst the Framestore offices?
Massimo Meo was our internal producer and Framestore's office in Montreal was the main studio involved, with some outsourcing for specific departments.
How did you work with the art department to design and create the super cute Ulysses?
One of the key components was to find a squirrel! We had an early concept provided by production, but based on previous shows, we have proven that finding a living animal to start from is best. We basically did a worldwide scooting for red squirrels. It was challenging as these are an endangered species & it was a breeding period at this time.
We contacted a photographer in north Sweden who was a red squirrels specialist (https://geertweggen.com/). We shipped equipment & also had multiple calls with him to describe the material required. He provided us with amazing pictures & high speed footage as well as technical references (hdri, photogrammetry,..). One picture got the attention of Lena. She said "That's Ulysses!"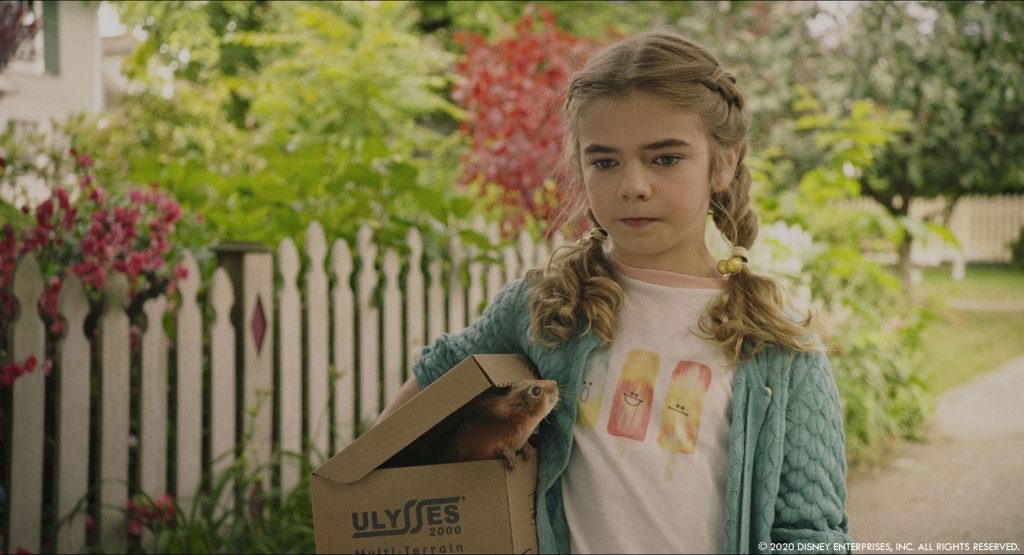 How did you use the huge experience of Framestore for the creatures?
We developed a process and protocol to create the polar bear on Disney's Timmy Failure: Mistakes Were Made. Pierre-Loic Hamon (head of creatures) & I refined the approach, matching poses & animated clips to catch the essence of squirrel's likeness & behaviour.
Can you explain in detail about the creation of Ulysses?
We started with anatomy drawing & pictures to create the skeleton (making sure we had a good base regarding proportions). The modeling of the body envelope comes next in combination with the groom to assess how the fur is in every part of the body. Then muscles were designed to allow for realistic creature dynamic simulations. Rigging gathering all these elements to handover to animation to test motion & match selected references. These clips were used down the line to calibrate textures, lookdev & lighting.
Can you tell us more about his rigging and animation?
The rigging department designed a specific rig with shape controllers, dynamic weight compensation & auto breathing (Squirrels breathe a lot!). The shape controllers were really helpful to define outlines straight from animation & sometimes guide the creature dynamics.
What kind of references and influences did you received for Ulysses?
We received an early concept of a red squirrel that helped us find a real squirrel to use as a reference.
Can you elaborates about Ulysses animations and especially his superheroes poses?
This is really part of the storytelling Lena came up with & comic books are present across the movie. Also, looking at many squirrels references, they can achieve some incredible superhero moves.
How did you create his beautiful fur?
Groomed one by one. Just kidding. Our lead on the show designed the groom with our in-house tool. There was a lot of back & forth for positions, width, length & color.
We developed a specific tool to allow us to paint on the hair in depth. This is a common thing in mammals; the hair coloration depends on the region of the body but also differs in time.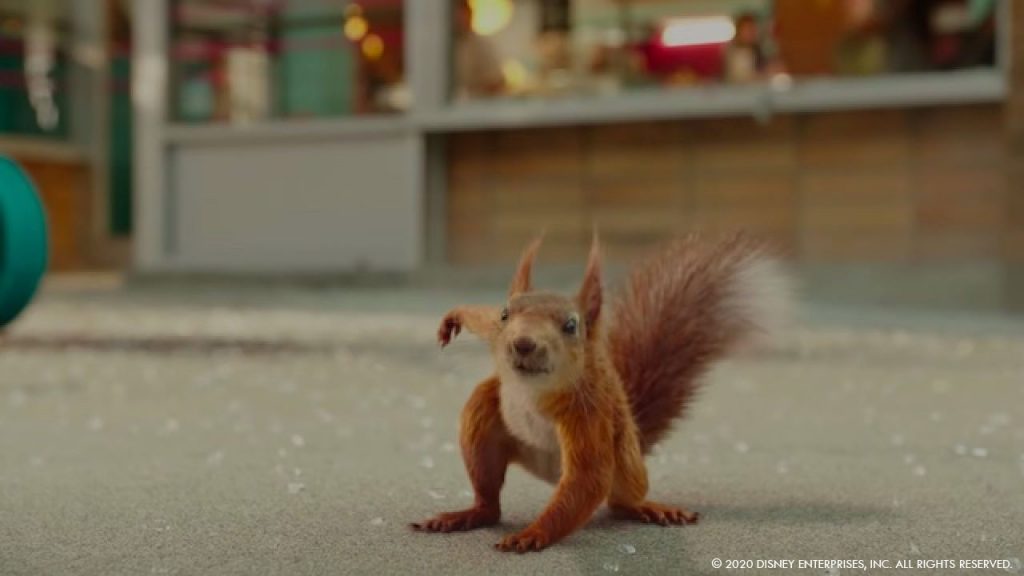 Can you explain about the lighting work?
One of the biggest challenges was all the interaction between Ulysses and other characters & environments. We did a lot of body tracking with some of them including a dash of shot sculpt. We started off by using the HDRI provided by the client & added the cg prop. We then made the scene's physical lights within our lighting tool, adding some beauty light as needed. Most of the time, we paid a lot of attention to have really accurate lighting before going to compositing. It was really challenging on the comp side to integrate Ulysses in all sorts of situations.
How was simulate his presence on-set to help the crew and the cast?
All sorts of props on from a heavy black bag with tracking markers to a fake stuffed squirrel.
How does the super slow-motion shots affects your work?
The challenges with super slow motion were mainly related to the simulation from creature dynamics & Fx; all the parameters needed to be adjusted & tweaked to give the right feeling. There was one specific shot that required a lot of work from animation as well. Animating in slow motion requires a first pass in real time (for physicality) then going to slow-motion and finally adjusting to varispeed.
Which sequence or shot was the most challenging?
The dinner sequence was definitely a challenge with the character interactions & the donuts "explosion".
Did you want to reveal any other invisible effects?
During the pandemic, production couldn't reshoot so we had to create a few plates that were full cg which included Flora.
Is there something specific that gives you some really short nights?
The pudding sequence
What is your favorite shot or sequence?
Flora petting Ulysses and him brushing his nose back on her finger. I think Ulysses is acting with the right tone!
What is your best memory on this show?
Everything from this show was a good memory. We had a great relationship with the production & also a real bond within the team. We started at the office then moved home but kept our spirits lifted..
How long have you worked on this show?
Approximately 14 months.
What's the VFX shots count?
434 shots.
What is your next project?
I'm working on an undisclosed project for Disney.
A big thanks for your time.
// Flora and Ulysses – Official Trailer – Disney+
WANT TO KNOW MORE?
Framestore: Dedicated page about Flora & Ulysses on Framestore website.
Disney+: You can watch now Flora & Ulysses on Disney+.
© Vincent Frei – The Art of VFX – 2021