Vincent Cirelli and his brilliant team atLuma Pictures are back on The Art of VFX. After given life to the impressive Destroyer on THOR, Vincent discusses his work on the super-heroes of X-MEN FIRST CLASS.
How was your collaboration with director Matthew Vaughn and VFX designer John Dykstra?
Vincent Cirelli, VFX Supervisor // We worked primarily with John Dykstra on the film. This was actually our second time working with him, as we also teamed up for HANCOCK a couple years ago. John is one of the top minds in VFX for a reason and it goes beyond pure technical capability and creative vision. He has such an understanding of both the studio side of VFX (managing expectations, etc.) and the way in which effects houses have to work that he kept the relationship very comfortable throughout the process. He would always see the greater good in how to execute workflows and find viable solutions to get around certain roadblocks. We were also impressed with how John was always on the same page with the director.
Payam Shohadai, Executive VFX Supervisor // Dykstra really went out of his way to articulate his ideas in a way that was easily understood. In VFX, concepts can be very nebulous at times and John did an excellent job finding the best way to communicate what he needed from us.
How did Luma get involved on this film?
Vincent Cirelli, VFX Supervisor // Luma was tasked by FOX to work on X-MEN ORIGINS: WOLVERINE a few years ago and we picked up 120 shots, including character work, for the film. The high quality of the work and quick turnaround (about 5 weeks) must have made an impression, because FOX came back to us again to animate the snakes for Uma Thurman's Medusa character in PERCY JACKSON & THE OLYMPIANS: THE LIGHTNING THIEF. The relationship has kept growing from there.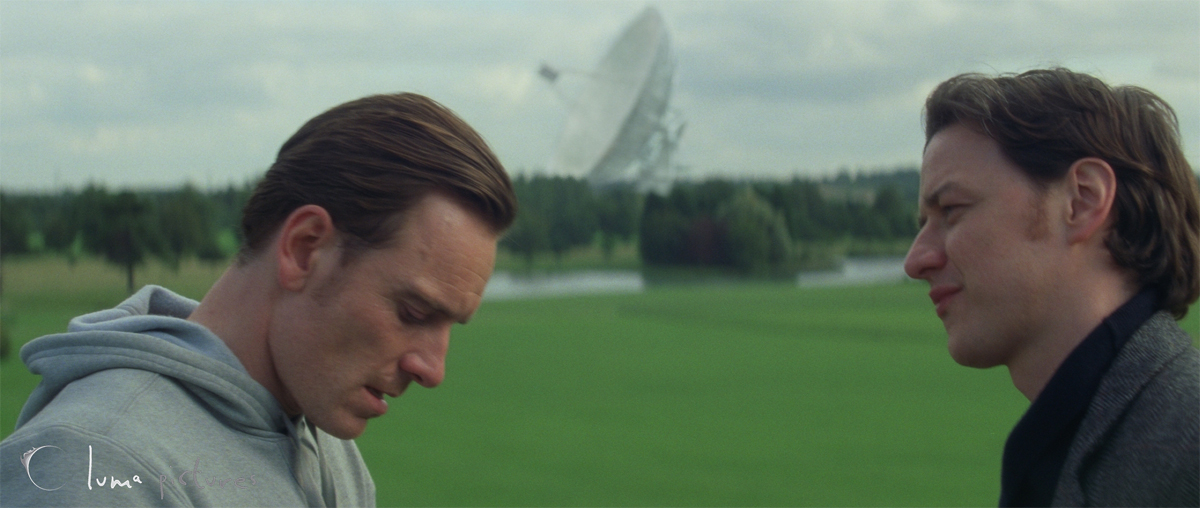 What are the sequences made by Luma?
Vincent Cirelli, VFX Supervisor // Luma worked on several sequences for the film: character design and animation, green screen work and also set extensions. We designed three characters for the film, working with the studio, John Dykstra and our in-house designer, Loic Zimmermann on Banshee, Havok and Darwin.
Richard Sutherland, CG Supervisor // One of the larger set extensions that we worked on was a giant radio telescope. We were able to reuse this asset across multiple scenes taking place near the X-mansion.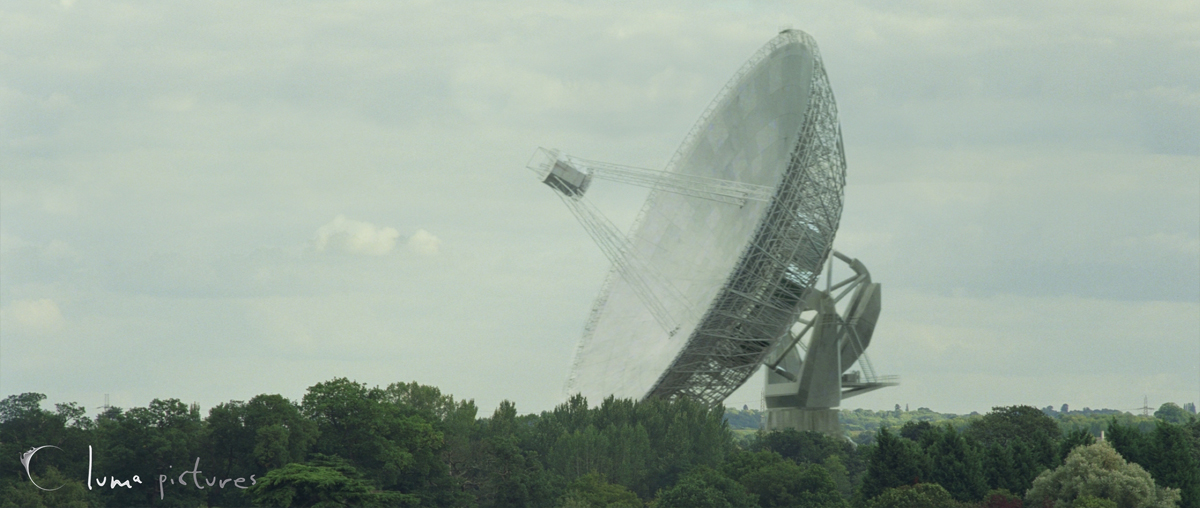 Can you explain to us the creation of Havok effect?
Raphael A. Pimentel, Animation Supervisor // We were a part of the design process from the beginning, long before receiving any plate photography. We hired a body double that resembled the actor playing Havok in order to get a representation of the physical movements involved during his energy ring attack. By looking at that early on we could realize the full impact and pitch the concept to the studio in the preliminary stages.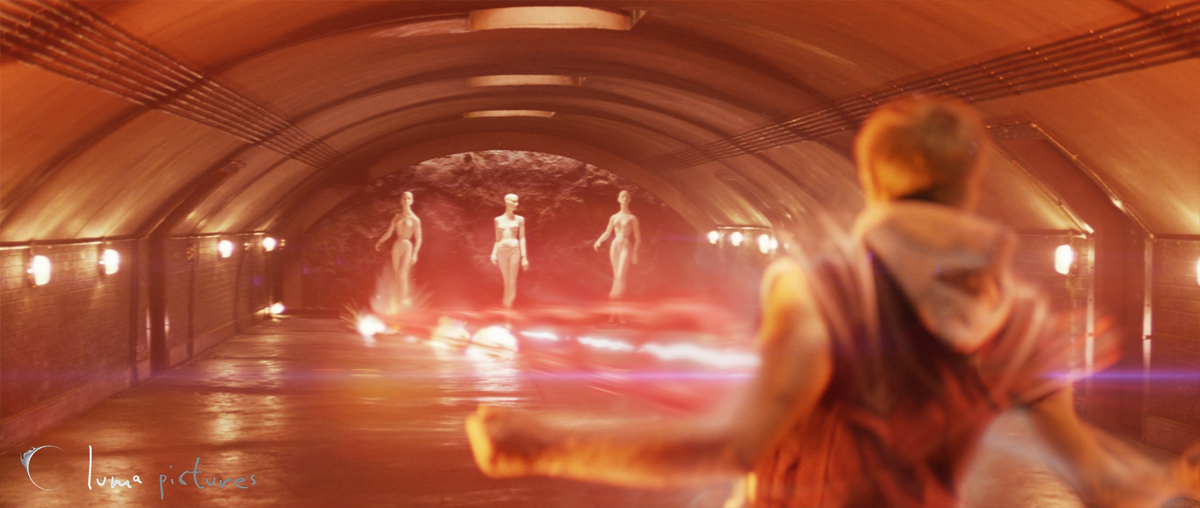 What references have you received for Havok effect?
Vincent Cirelli, VFX Supervisor // John Dykstra was intrinsic in the development of Havok's energy rings. He suggested we add heat spots to the rings, which would spin and create a feeling of motion as they left Havok's chest. This element turned out to be a cornerstone of the effect.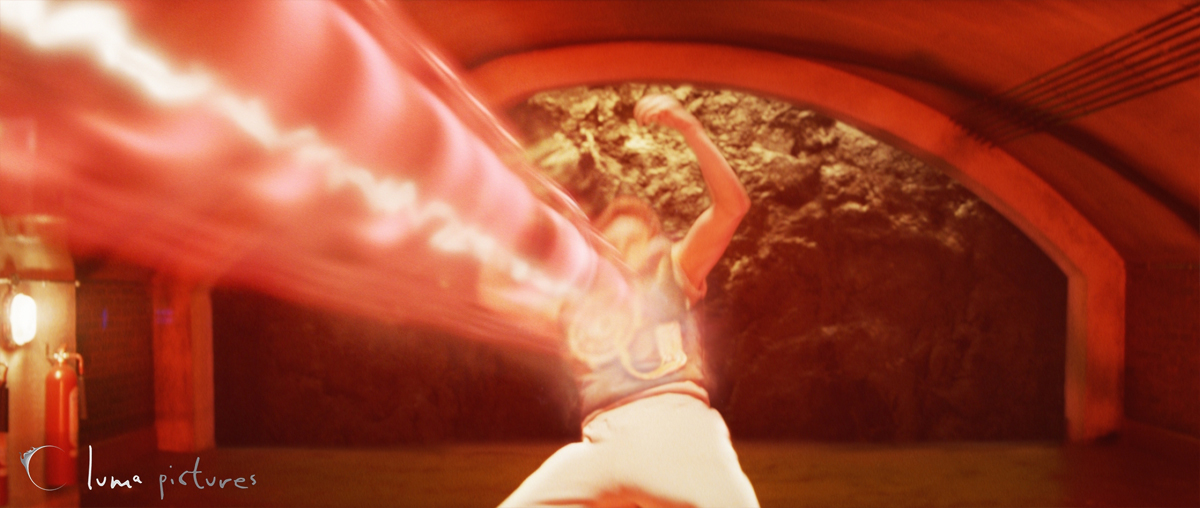 How did you create the gigantic dish?
Richard Sutherland, CG Supervisor // We looked at radio telescopes from around the world. The foundation of the design came from scopes we found in New Mexico. However, the film needed something much larger than most of the reference we came upon, so we ended up taking design cues from the New Mexico dish, but looking to large scale structures like bridges for proper architectural scale modeling of the dish that you see in the film.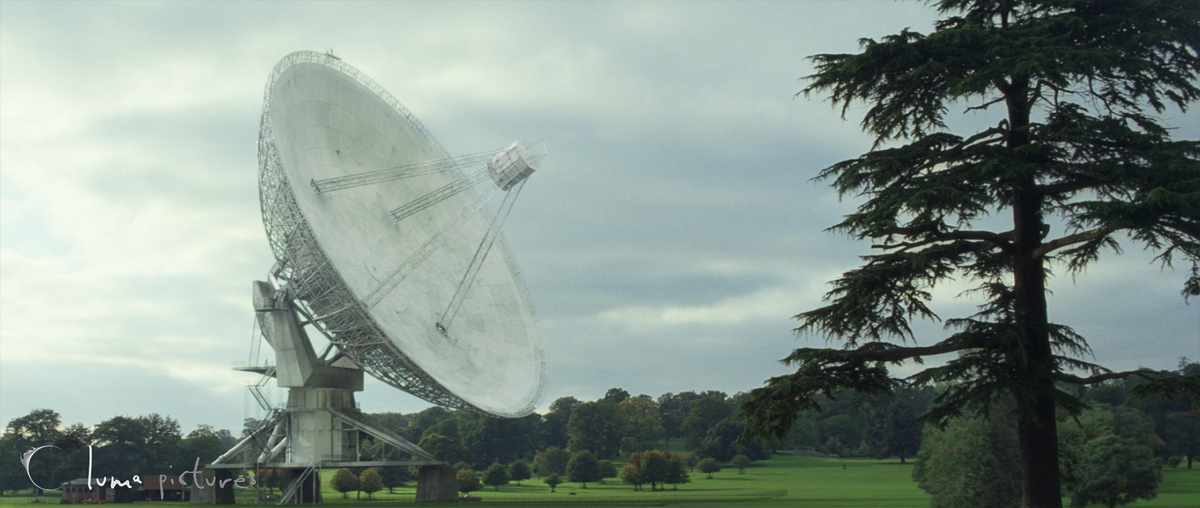 How did you create the scenes of flying Banshee?
Richard Sutherland, CG Supervisor // For Banshee's flying scenes, we had to take two different tacts. For shots where the character is at a distance from the camera, we created a digital double for him that we could then manipulate. For shots that were closer in, we worked with green screen elements and altered plate photos to maintain the flying effect.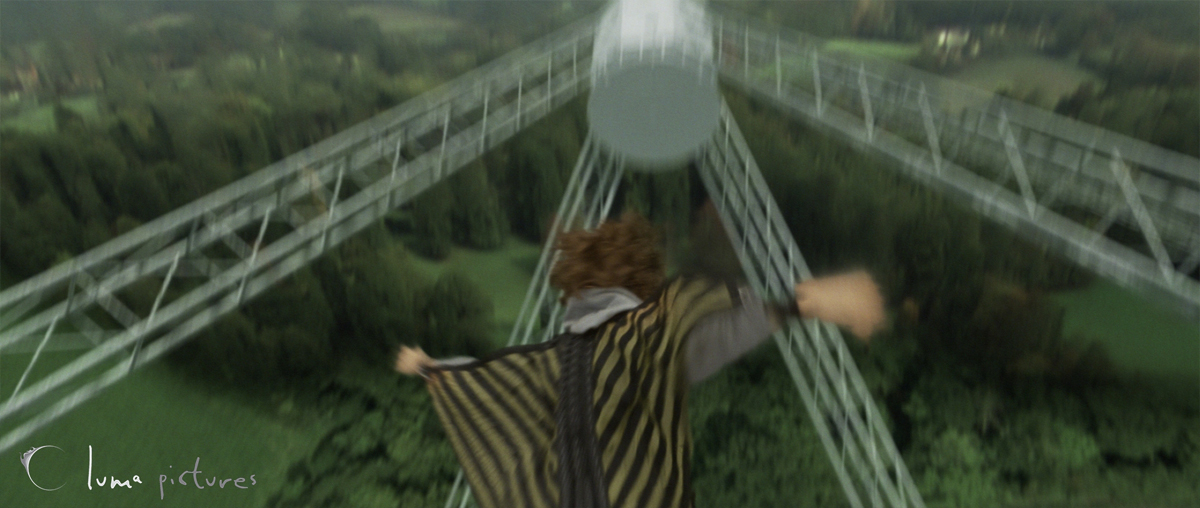 Can you explain the creation of Banshee sound wave?
Vincent Cirelli, VFX Supervisor // The waves of sound that Banshee creates had a few different inspirations. The primary influence came from physics renderings of sound wave movement through space. Luma then developed toolsets designed in-house to create the geometry for the effect and then combined with it fluid simulations inside of Maya. We also looked to nature for the scenes where Banshee is underwater, drawing insight from the way in which dolphins blow out rings of bubbles.
Have you created digital doubles for your mutants?
Raphael A. Pimentel, Animation Supervisor // We created a digital double for Banshee, but the more interesting double from an artistic standpoint was Darwin, a shape-shifter whose ability is that of reactive evolution, or almost instantaneous mutation into various forms to protect him from harm. Because of the changes in Darwin's physical appearance (growing gills, sprouting a tortoise shell and turning into molten metal) every scene required a new, precise digital double and plate replacement. We had to pay special attention to the actor's facial expressions to make sure they translated in a believable way through the myriad effects.
Can you explain in detail the creation of the magnificent shot of Darwin's death?
Richard Sutherland, CG Supervisor // Working with Darwin our lighting department generated a complex system of 3D procedural textures to transition between a digital human, fire, metal, and molten rock that maintained the actor's subtle performance while morphing from one property to the next. In order for the Darwin's effect to feel more realistic and complex than a simple wipe across his surface, we developed a series of data passes which allowed us to transition between varying materials in a truly 3D volumetric way. Since the final image is created using multiple 3D data passes inside of Nuke, it gave us the latitude to make timing changes, design tweaks in a very efficient way.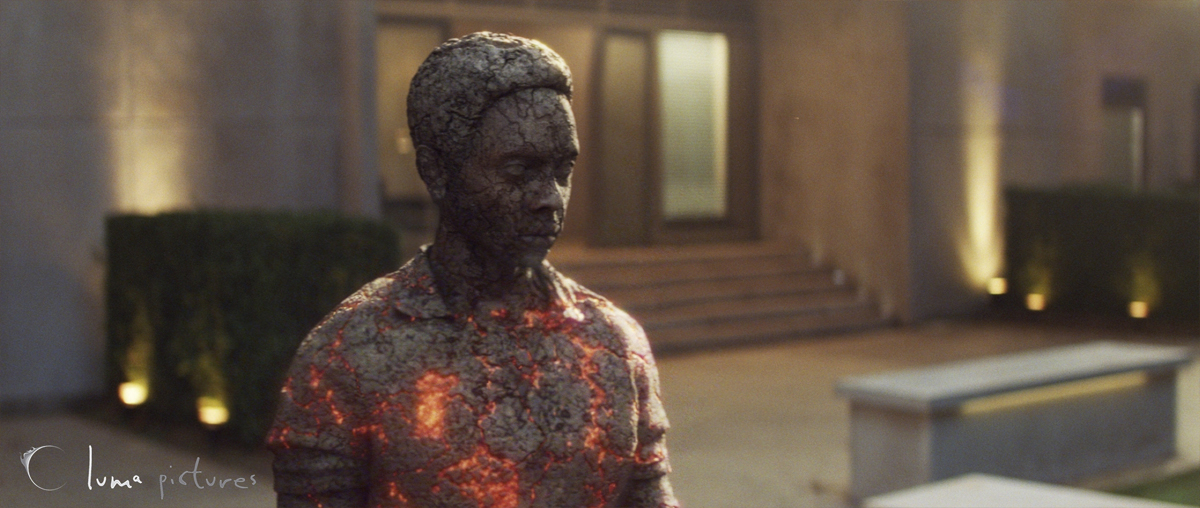 What was the biggest challenge on this project?
Vincent Cirelli, VFX Supervisor // The Darwin character was by far the biggest (but also most rewarding) challenge, as he took the most effort due to all his transformations. However, we also had the most leeway to have fun with that character and play with his look and the effects more than with the other characters.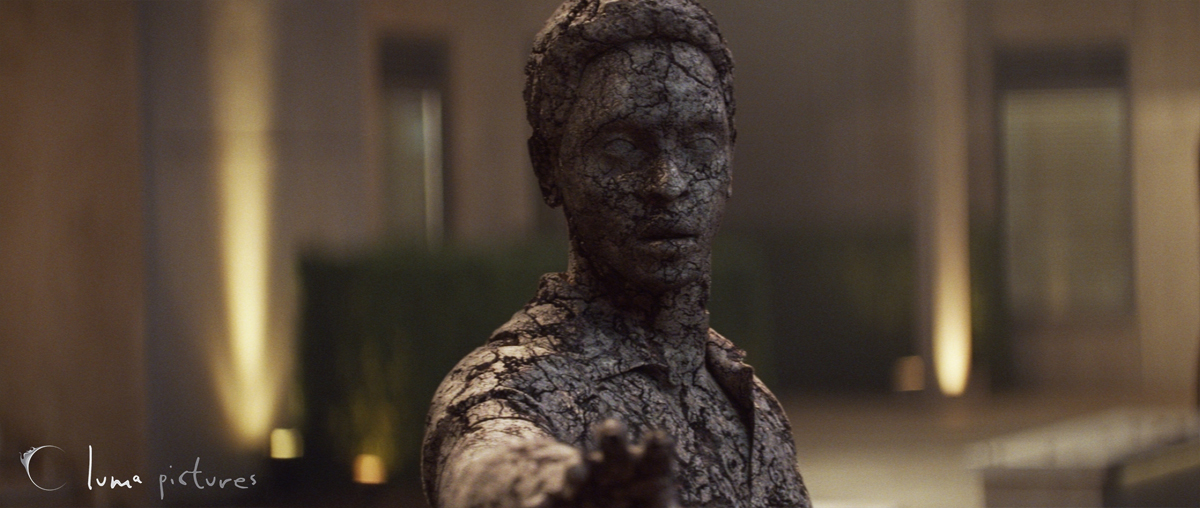 How long have you worked on this film?
Steven Swanson, Senior Producer // Because of how involved we were in character design, Luma was already working on this as far back as about eight months. Five months were spent in character renditions, concept art and lighting before the heavy lifting was started. Once shot execution began it was roughly three to four months.
How many shots have you made and what was the size of your team?
Steven Swanson, Senior Producer // 95 shots, 60 crew.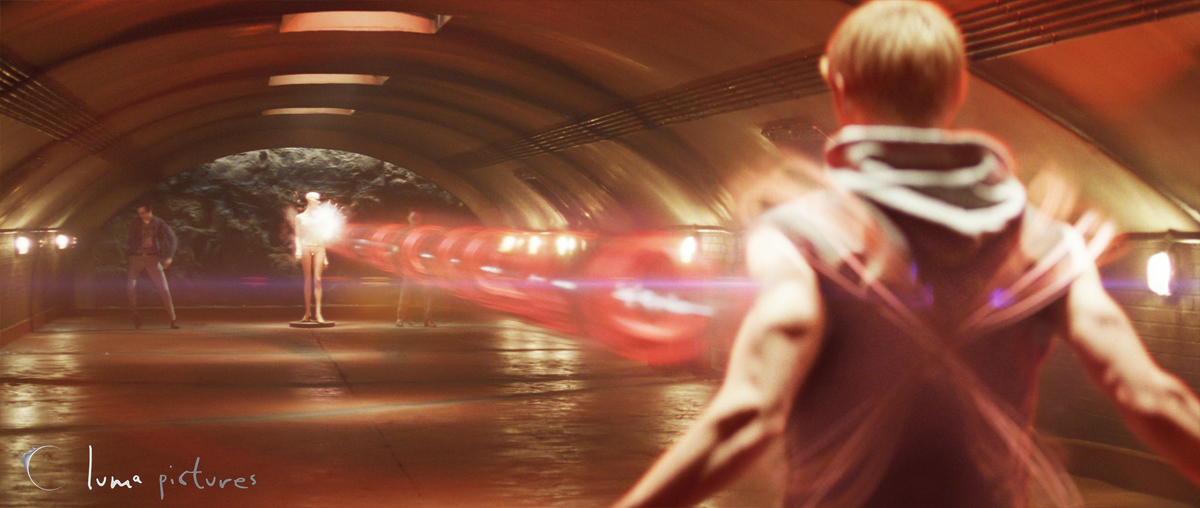 What do you keep from this experience?
Vincent Cirelli, VFX Supervisor // Everything we work on brings an evolution in the techniques we use from a creative standpoint. What we find though is that due to advancing technology, the changing art directors, etc., we are usually forced to develop new tools on every project, creating a new way of working that best fits the needs of the client and our own. That being said, from a technical standpoint, our arsenal of weapons continues to grow. We have a robust software development team at Luma that is expanding our toolbox with every project, inventing new workflows that help us execute shots faster and better than on the previous one. So we can always take that with us into the next project.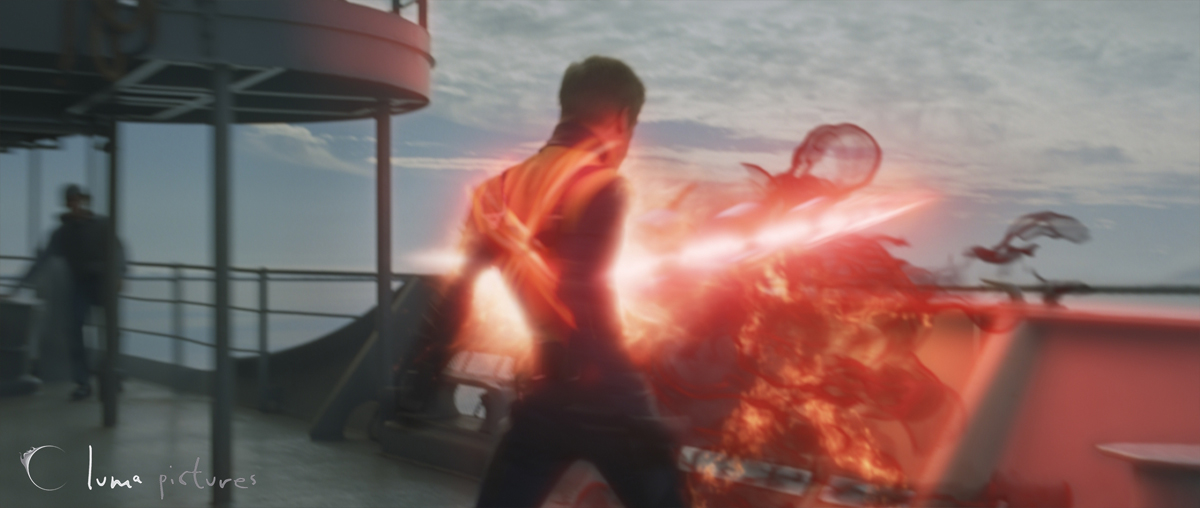 What is your next project?
We have just delivered CAPTAIN AMERICA: THE FIRST AVENGER and are currently in production on IN TIME and UNDERWORLD 4: NEW DAWN.
A big thanks for your time.
// WANT TO KNOW MORE ?
– Luma Pictures: Dedicated page about X-MEN FIRST CLASS on Luma Pictures website.
© Vincent Frei – The Art of VFX – 2011