Loni Peristere is a TV series director (he won an Emmy Award) and is the co-founder of Zoic Studios. He has directed episodes for many series such as BANSHEE, OUTCAST, A SERIES OF UNFORTUNATE EVENTS and AMERICAN HORROR STORY.
Nathan Overstrom started his career in visual effects in 2004 at Zoic Studios. He works on many projects like TERMINATOR: THE SARAH CONNOR CHRONICLES, THE GREY, NOAH and HOLD THE DARK.
What is your background?
Loni Peristere //After college, I worked my way up in the visual effects department for Joss Whedon on BUFFY THE VAMPIRE SLAYER. Joss and I worked together for 11 years. In 2002, I co-founded Zoic Studios with Chris Jones, Andrew Orloff and Tim Mcbride. That same year, we won the Emmy for FIREFLY. I became a full time director in 2009, and went on to produce and direct many amazing series including American Horror Story, Banshee, A Series of Unfortunate Events, and now WARRIOR.
Nathan Overstrom // I was the VFX Supervisor for WARRIOR Season 1. I have been a traditional artist for all my life, and joined Zoic as a compositor in late 2004. I stayed with Zoic through 2012, working my way up through Lead Artist and then 2D Supervisor on shows such as PRISON BREAK, DRIVE (for which we received an Emmy nomination), TERMINATOR: SCC, V, and THE GREY. I moved to the East Coast and worked for Look! Effects as a 2D Supervisor on NOAH and a few other shows. In 2014, I rejoined Zoic as a VFX Supervisor to open a NYC branch of Zoic Studios. Our NYC office has worked on quite a few shows and films as well, such as MAN IN THE HIGH CASTLE (for which we also earned an Emmy nomination), BANSHEE Season 4, HOMELAND Seasons 6 and 7, Season 1 of Marvel's IRON FIST, Marvel's THE DEFENDERS, Darren Aronofsky's MOTHER and Season 1 of WARRIOR.
How did you and Zoic Studios get involved on this show?
Loni Peristere // Jonathan Tropper met with Justin Lin, Shannon Lee, and HBO two and a half years ago and began the creative journey of taking Bruce Lee's writing and developing Warrior. Jonathan called Zoic shortly thereafter and began talking to us about the project. We worked with Jonathan to plan the budget and execution of the series' visual effects.
After having worked with Jonathan on BANSHEE as a director, as well as with Zoic on the VFX, it was a natural fit that we would all collaborate again to bring this story to life.
Nathan Overstrom // Jonathan Tropper and Zoic Studios have worked together for several years, stemming from three seasons of BANSHEE. Between the period authenticity and set extension work that we have been exhibiting for the past several years, and our familiarity with the Tropper's creative vision when it comes to action, WARRIOR felt like a perfect fit for us. Zoic co-founder Loni Peristere also has a long relationship with Tropper, having directed multiple episodes of BANSHEE, and been slated to direct multiple episodes of WARRIOR.
How was the collaboration with showrunner and Executive Producer Jonathan Tropper?
Loni Peristere // It's extremely fluid. Nate would iterate that this relationship is built on a creative partnership and trust that goes beyond mere storytelling–it's also a friendship. The world of Warrior is a world that Jonathan has opened to collaboration with Zoic, Nate, and myself. As a result, we feel like we built the world together with him. He's a true creative partner.
Nathan Overstrom // Jonathan Tropper is a great collaborator. We met with him multiple times, and during several spotting sessions. He provides a lot of room to be a creative partner in the process, and is open to new and alternative ideas as long as they serve the story points.
What are the advantages to be the director on some episodes?
Loni Peristere // I directed four of ten episodes and served as a Consulting Producer. Advantages are opportunities. When the crew came together for season 1 in Capetown in January last year, we set the looks for Chinatown and greater San Francisco with DP Ed Wild and Production Designer Andrew Laws. As the director of the first block, we worked together to develop a template for the series, from setting the lenses and camera style, to initiating a color palette. We locked down tone and pace. In addition, we worked with Zoic and the local visual effects Supervisors to plan a virtual backlot for the season, which allowed us to play greater San Francisco.  All of this work, in addition to initializing a big scale production process, is what became the working mechanics for the series. When I returned to direct the last block, the work we did in the first allowed us to stretch the canvas and make an epic season 1 finale.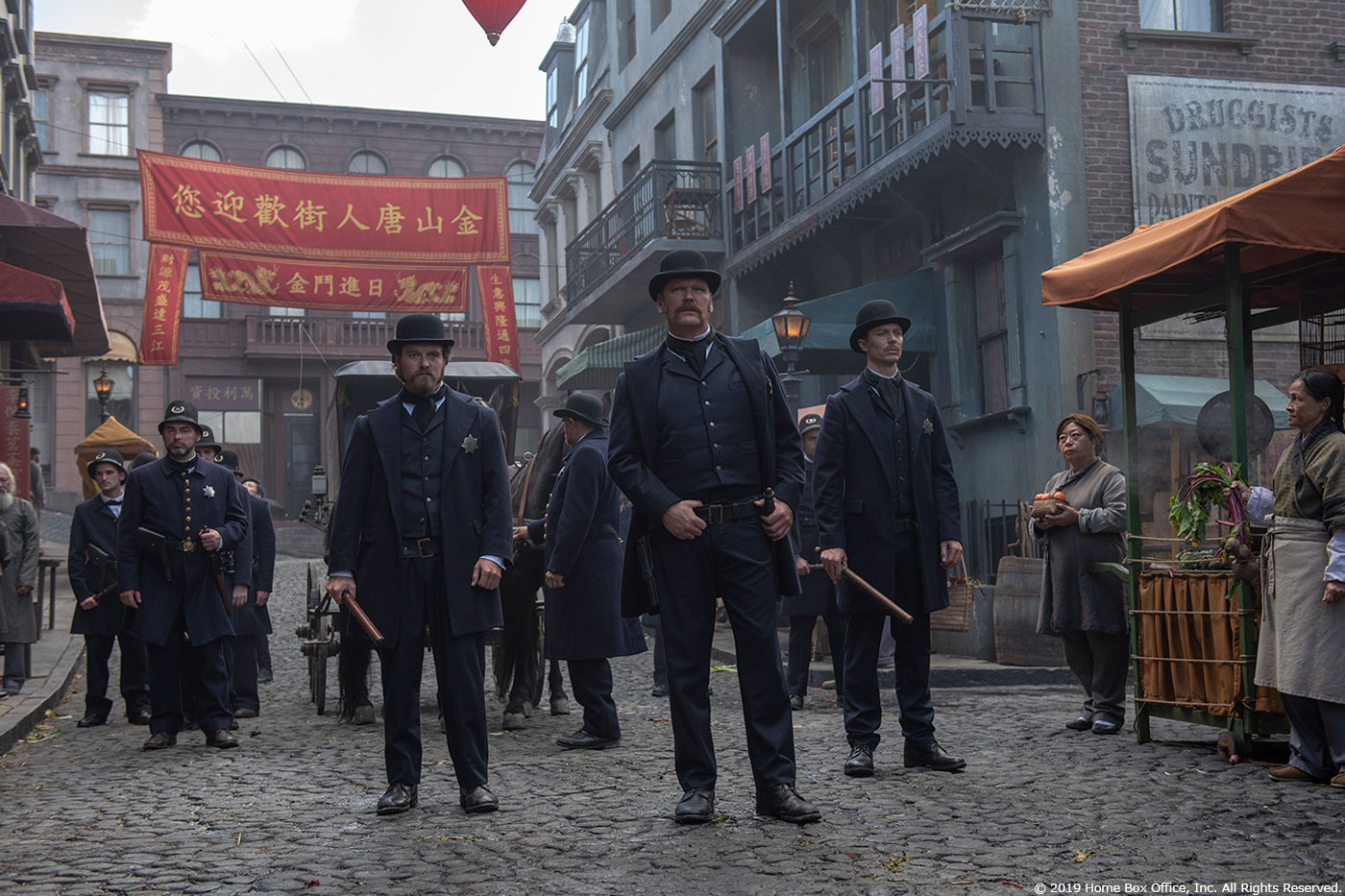 How did you organize the work with your VFX Producer?
Leah Orsini, VFX Producer, HBO // As far as organization goes – Zoic was involved starting at production prep all the way through final delivery. We used Shotgun, and a whole lot of detailed communication between the team at Zoic, myself, and our supervisor in South Africa, where production was based.
Nathan Overstrom // We had a great relationship with our VFX Producer Leah Orsini. We worked together and with the on-set VFX Supervisors to define the scope of work from script through shoot. Once edited, we met for spotting sessions to see how things changed or stayed the same, and set up a schedule to get it all done. Leah organized all the feedback and kept information running smoothly between our offices.
How did you split the work amongst the Zoic Studios offices?
Nathan Overstrom // Aside from some 3D tracking assistance and digital crowd work during the pilot, Zoic NYC was responsible for the entirety of the show.
What are the main challenges on a period series?
Loni Peristere // Period series challenges are in making sure that the set, landscapes and layout of the area is accurate. In regards to Warrior, we live in a world of photo-realism. To reflect this, we made decisions like bringing up moonlight at night a touch, or flares during the day to create a slightly heightened world, although I think the world looks best in the dirt of 1895. We also had to make sure we had enough of a world to create. We had six blocks total, for Chinatown, and San Francisco.
Nathan Overstrom // The main challenge with period shows is expanding the world in a believable way, but while also serving the unique creative voice of the project. The obvious examples are the set extensions, where we research and reference historical material whenever possible and mash it together with concept art and designs from the art director and production designer to create the unique world of WARRIOR. We also tried to stay accurate to the vision even down to the VFX muzzle flashes we added in.
Can you explain in detail how you created various environments, and especially San Francisco?
Loni Peristere // When we went into block 1, moving forward past the pilot, Andrew Laws, Jon and myself referenced a footprint map of San Francisco during that period. With that map, we could determine in every direction what we should see in any shot that would be relevant. This reference and the photographs we collected to support it became the foundation of our set work both practically and in VFX.
Nathan Overstrom // The production designer and art director in South Africa had assembled a thorough image library and created a lot of concept art to guide the look and feel of the environments we created for the show. We wanted to make sure that the scale of the environments were correct even out into the distance, so we created as much as we could do efficiently in 3D, even for pieces that became matte paintings. We used the shape and silhouettes of the concept art to build out land masses, populated with proxy buildings. Once our layouts were approved, we either painted over the layout in matte painting, or built out the environment in CG. We spent quite a bit of time developing a library of different types of 3D buildings to fit the different types of environments the show filmed in; upscale homes and business fronts, government buildings, tenement buildings, and buildings set in the more ramshackle Irish and Chinatown areas. We had a loose map of where each area was located, and populated the areas appropriately. Closer parts of the extensions had extra detailing work, and additional props added in. The compositors spent a lot of time and energy layering in atmospheric elements, dirt, grime, and manipulating the renders to feel organic and lived in. We added in a lot of extra 2D elements, people shot on bluescreen, and props to help our digital world feel dense and populated.
What kind of references and indications did you receive for San Francisco?
Loni Peristere // What's amazing about the period is that San Francisco and south of San Francisco were the busiest trading hubs in all Western America for all Asian material goods. As a result, there is a lot of documentation of the immigrant experience. Production designers pulled hundreds of daguerreotypes, photos and illustrations of early San Francisco. Because of the San Francisco fire, a photographer shot hundreds of daguerreotypes of San Francisco, to truly see what was happening pre- and post-fire. Lots of those photographs actually documented Chinatown. They are an incredible reference for early Chinatown at this time. We were able to dress the hatchetmen based on actual turn-of-the-century photos.
Nathan Overstrom // Between the research the art department did, and our own, we ended up with a library of historical photos and maps.
Can you tell us more about the shaders and textures work?
Nathan Overstrom // The shaders and textures work varied by asset and artist. Some of the environments were matte paintings projected onto low-res geometry. Some of the pieces were textured in photoshop, and shaded in Maya. The big paddlewheel steamship in the first shot of the pilot was shaded and textured in Substance Painter. Almost everything was rendered in VRay.
What was the real size of the sets?
Loni Peristere // They're actual size, as everything is practical and physical. One of the most difficult challenges we faced last year was creating a look of filth and dirt in San Francisco. We hadn't anticipated that we would need to add an additional layer of grime to the city in VFX, because no matter how much physical dirt we added to the buildings and threw on the cobblestones, it all looked new. In postproduction, we had to make things look dirtier. Ironically, when we came back this year, everything looked amazing after spending a year sitting in the elements.
Nathan Overstrom // Production built out a pretty sizable backlot that had streets and sections devoted to each of their main areas.
The city is seen in various light conditions. How does that affect your work?
Loni Peristere // That affects everything greatly. One of the first things we did for the show is light studies on every corner of San Francisco–not just for VFX, but also for production, to understand when 3/4 backlight hit each area and looked best, and when toplight happened. We created a complete study and toolset for Nate, which affected our work because we had to match it.
Nathan Overstrom // This, more than anything was the reason we built out as much as we did in 3D. If we saw the same location more than once during the show, it was way more cost effective to relight the scene. If the environment was a matte painting, even a 3D projected matte painting, we would paint it out primarily as an ambient, overcast day, then color correct it and paint in shadows to match the practical footage.
How did you populate and animate the streets?
Nathan Overstrom // We created a digital crowd for parts of the opening shot to the series. Most of the elements we added to the environments were from footage of costumed extras against bluescreen. Production had provided multiple elements with different lighting conditions and angles.
How did you work with the stunt and SFX teams?
Loni Peristere // I'm a huge fan of planning. I learned how to do this on Banshee–Greg Yaitanes said that if you want something to look big and play awesome, to practice it a lot. Early on in the production, we implemented full-time stunt coordinator Brett Chan, who is the show fight choreographer and is amazing. We allowed Brett to bring in an extraordinary amount of very talented martial artists who we worked with in the script phase to develop the elaborate fight sequences you see. As he designed them, we would create several levels of pre-visualizations.
In the first level, we made what we would call "iPhone pre-visualizations." We took the script and acted out fights in our working gymnasium. In South Africa we have a football field-sized full gymnasium where we used boxes to recreate set environments. Brett worked with the stunt coordinator Johnny Yang to do a rough pass of what the fight might look like while recording with an iPhone. They would edit the footage together in Adobe Premiere and present the first-pass pre-visualizations to us as concepts for fights. Jon got those, I got those, we all looked at them, gave Brett notes, and he adjusted based on our notes. Those became a distribution video and the template for how we were going to shoot that fight in the real space. When we met about how makeup and VFX would work together, we used the pre-visualization as a template for what we were going to do. We would have a « Wounds and Kills » meeting to talk about different makeup and VFX wounds, which always featured a review of that iPhone pre-visualization.
In the second level of action design, we trained the actors to do what the stunt team did. First, we re-shot the pre-visualization with an Alexa and the camera operator on set. We did a dry run with just with bare bones: the camera, stunt team and actors, no crew. It's all rehearsed in advance of production. This footage is also cut together to give us one more bite of the apple.
By the time I got to set with the whole crew, everyone had run through it four times. The process happens in a very smooth way. As a result, we can shoot big action sequences in a short time frame, because we decided what to shoot on that day by the numbers weeks in advance.
We really wanted WARRIOR to have real actors doing real fighting with real people. We wanted to convey it on screen with the least amount of cuts. Our goal was to cut less for fewer, better shots.
Nathan Overstrom // The stunt and SFX departments would work with the On Set VFX crew to establish the action. They worked hard to get as much in camera as possible, which helped VFX along immensely.
Which stunt was the most complicated to enhance and why?
Loni Peristere // From my point of view as producing director, it was staging the 35-minute tournament in episode 9, which was a bloodsport between two of the series' best martial artists. The staging was pretty extraordinary because the fight takes almost half the episode. That's what I was most proud of in Season 1.
In terms of enhancing that, they did one amazing shot in sequence. I don't like using slo-mo typically, but when I do, I want to use it for one shot as opposed to 50. I used a phantom shot at the end of the fight where Li Yong brakes Ah Sahm's nose. You see his fist hit his nose and break it, which was done using a prosthetic nose and CG replacement on-camera, and it looks amazing.
Nathan Overstrom // During the end of the pilot, Ah Toy surprises and kills two men. The second shot has her burying her sword into the man's gut, then wrenching it out and stabbing it through his neck/jaw and up into his skull. While filming, she used a half-sword with a retractable end piece to be able to make contact with different places on the body. We needed to paint out the stunt sword, replace it with a CG sword, and then add in all the blood. It was challenging to find and manipulate all the various blood elements to behave correctly and look like one unified event. We added blood running out of his gut, down the length of the blade, spurting out of his neck, running down his neck, etc. We also had to alter the timing and motion of the stabbing actions to create additional resistance to her movements.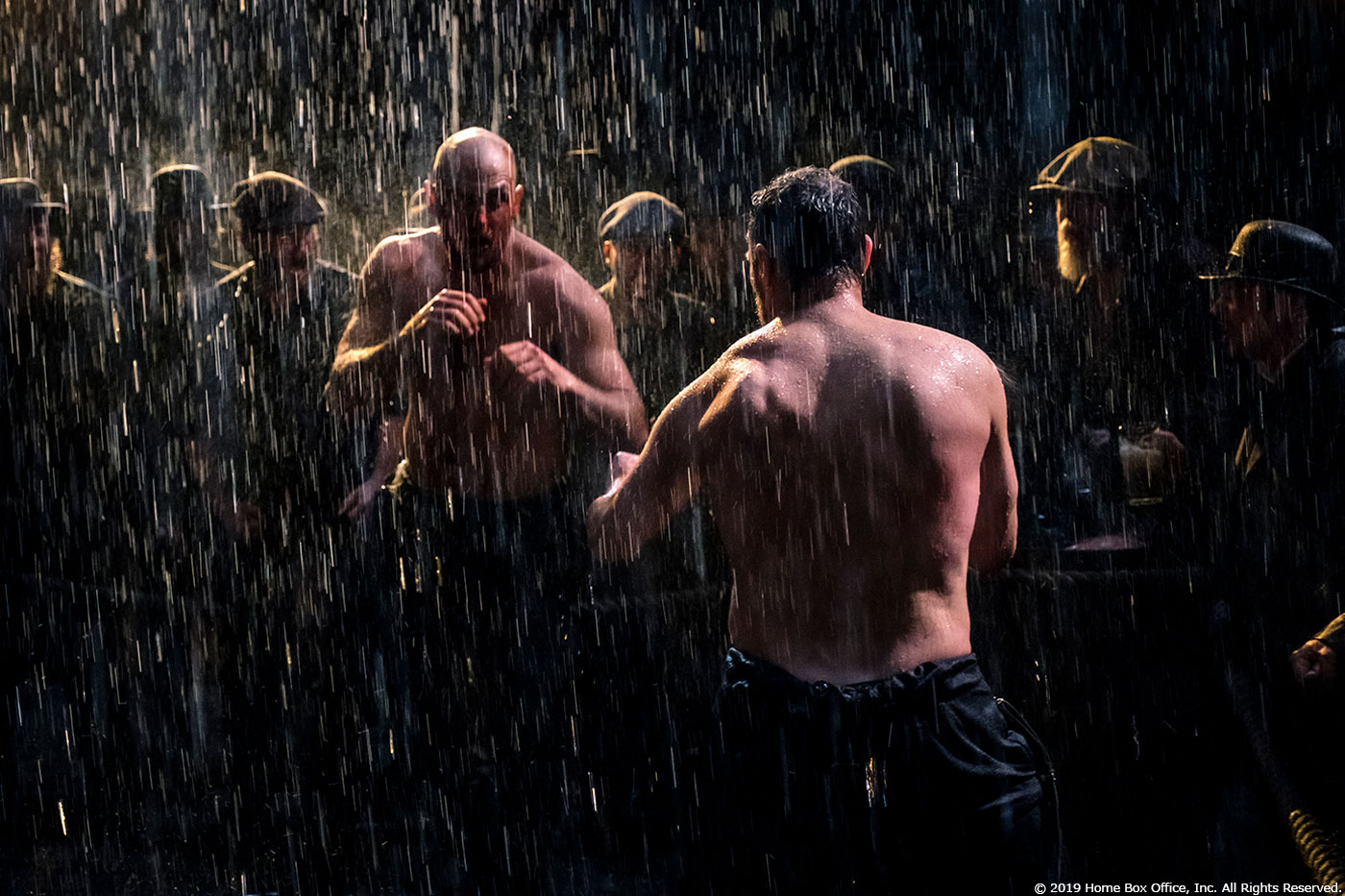 The series is really gory. How did you enhance this aspect?
Loni Peristere // The series has gone through many machinations. Jonathan didn't want to turn away from the gore. You'll see early on this season there's a lot of that. We didn't shy away from the practical effects and from enhancing the in-your-face violence. We did that working closely with Nate and with Zoic all the way through. It's not absurd violence. We talked a lot about that. We did three days of gore tests to show to HBO, to determine the level of blood everyone wanted. We landed somewhere in the middle of the tests ranging from minimal to DJANGO UNCHAINED. It's grounded in reality, but doesn't look away from what's actually happening. In episode 2, Young Jun rips out someone's throat out on-camera, and one of the guys looking on says, « I think he's dead. » That turned it into a joke.
That's kind of what Jonathan was always going for. You can have the gore, but you also have to bring the funny. Jason Tobin had a fake blade to jab into the neck, then we had a neck appliance on the actor that would bleed on-cue. We painted out the split made by the appliance, which you could visually see. So, we had Tobin stab the neck with no knife, then he would push the bladeless knife out. In post we added the blade digitally and removed the slit the blood spilled from. This was achieved by a combo of props and VFX.
Nathan Overstrom // I like to look at the scene overall, see what the characters are doing and use gore to accentuate the general feeling of the moment. For this show in particular, it's not about just adding blood. What blood elements we use, how visible they are, and the timing and action all help punctuate the action. We have sword and knife stabbings, gun shots, hatchet hits, decapitations, throat slits, and a brutal bloody hand-to-hand showdown, and we try to craft in these moments to make them memorable.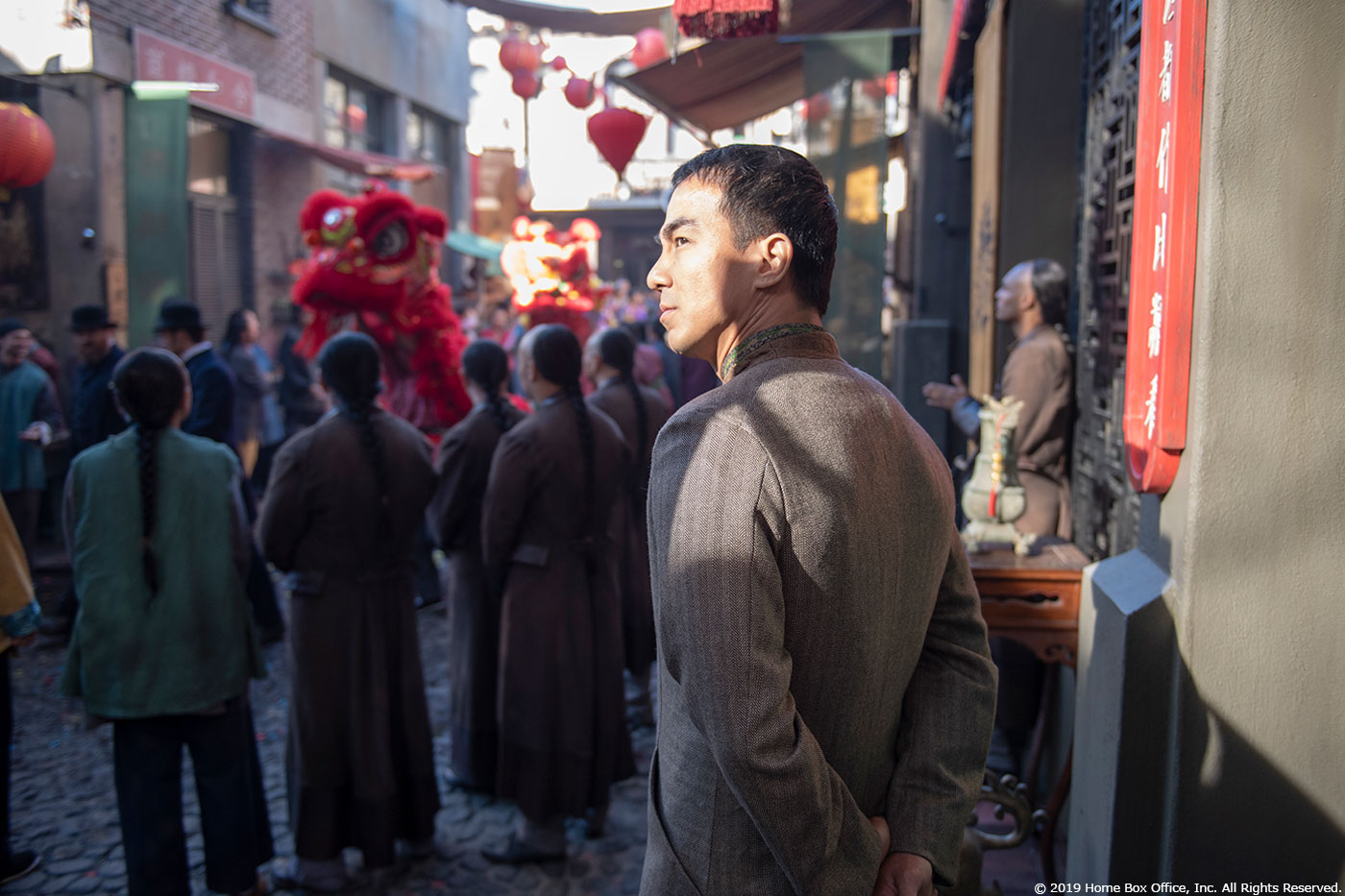 How did you use the Zoic Studios experience on other gory shows for this series?
Loni Peristere // I have a few hours of AMERICAN HORROR STORY under my belt. The coolest thing about working with Ryan Murphy is that he wants real blood and real horror in-camera. He fights tirelessly to give Eryn Krueger, Mike Mekash, and Michelle Ceglia the power to use as much of the blood and gore effects on-camera. Having done six years of AMERICAN HORROR STORY made me familiar with complicated blood rigs. We pushed the team in Cape Town to develop these tools, which I've seen work really well.
Nathan Overstrom // Having been part of shows like TRUE BLOOD and BANSHEE have definitely influenced how I approach the direction of enhanced gore. TRUE BLOOD was truly over the top with its grossness factor, but it taught us a lot in how to extract blood elements and craft together a pretty horrific image for the viewer. BANSHEE was similar, but the type of gore was more realistic; no vampires, werewolves, and melting heads, though we did dismember bodies and set someone on fire.
Can you elaborate about the creation of the various weapons?
Loni Peristere // We developed different tongs, about five different tongs in Chinatown. Each one of the tongs we defined by wardrobe, but also the weapons they carried and the historic nature of who these characters really were. We tried to look into the history of each kind of individual and worked with props to see what the tong weapons actually looked like.
We built various weapons in cooperation with VFX. A single hatchet would be created realistically–so a sharp hatchet, for example, made by a blacksmith that looks photoreal. We used those photographically, in shots where the camera pans over a person holding the weapon. Then we made a « dull » weapon, where the actual blade is dull and can't cut you. Then we made a « rubber » weapon, painted to look like the hatchet, but something you can hit someone over the head with. From there, we made a « half-hilt, » which is a handle with a tracking marker for VFX instead of a blade. You can bury it into someone's head safely. Some half-hilts are planted with special FX blood rigs and sponges; if I jam that handle into your head, it'll spill blood all over the side. We built different weapons to do different things at different times.
The weapon we used most was actually the rubber. 70% of action scenes in film and TV are usually rubber weapons.
Nathan Overstrom // All of the digital weapons were created using photographic reference from real props. We developed two or three different varieties of hatchets, one curved Chinese sword, and several daggers. As the stunt players used half-weapons, retractable blades, or blade-less weapons, we tracked and animated the blades into the scenes, sometimes painting out the practical weapon to replace with a fully 3D one.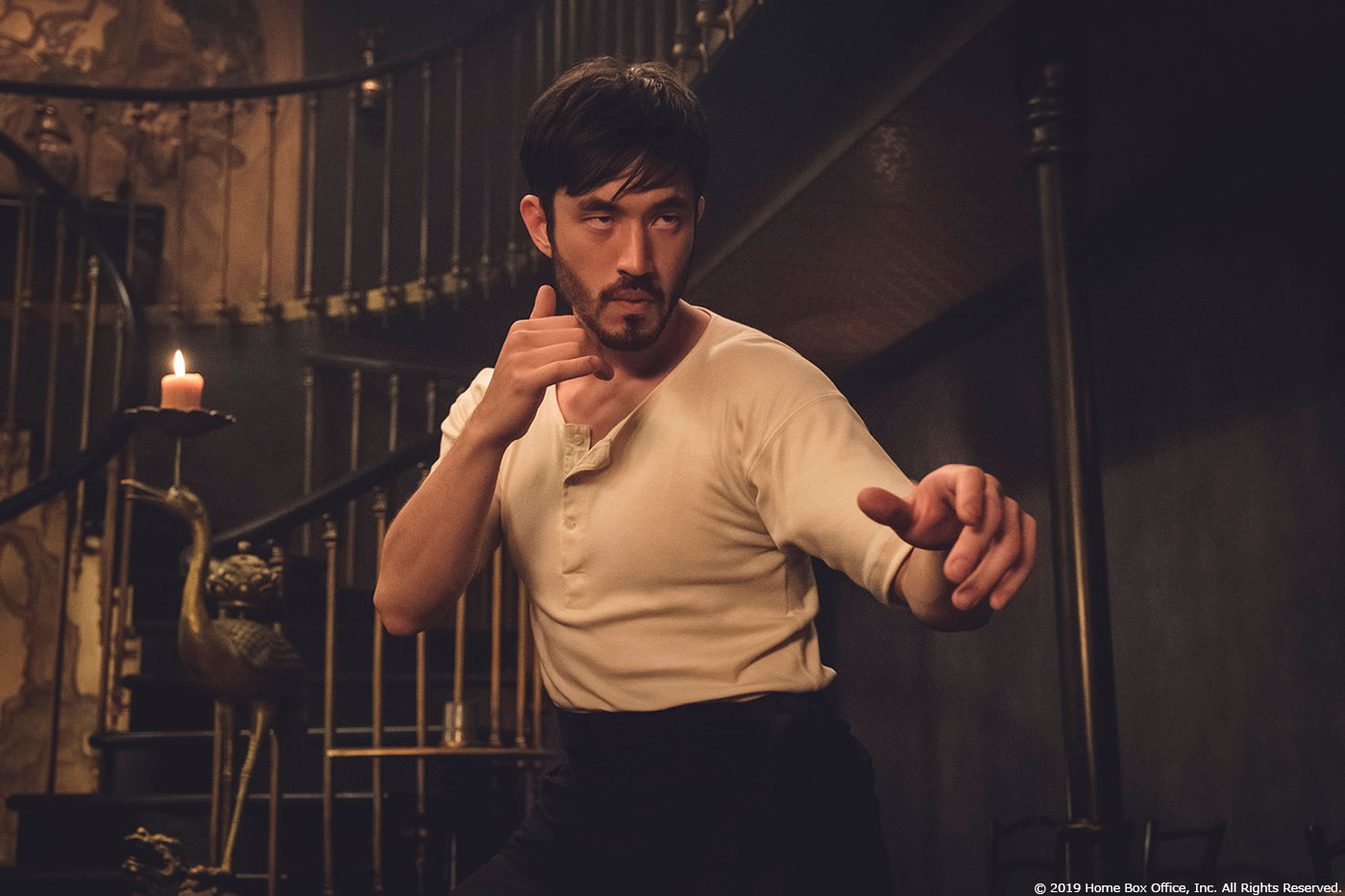 How did you create the digital doubles?
Nathan Overstrom // We were provided 360 scan photosets from our on-set VFX supervisors of various extras in costume. Considering the limited scope that we would be exposing these digi-doubles to, we kept our asset work to a minimum. We have a library of motion capture movements, and used MiArmy to develop agents to stroll around the areas we needed them to.
Is there any other invisible effects you want to reveal to us?
Loni Peristere // I think the show is pretty seamless. Most of the work is invisible. As a secret story, the patina and aging of San Francisco is invisible in that you don't know we added it in post. We added lots of age to the set that wasn't there.
Nathan Overstrom // If you can't see it, then we did our job.
Was there a specific aspect of working on the show that you lost the most sleep over?
Nathan Overstrom // Not really. The length of the schedule, and our relationship with the client allowed us to set expectations and keep our days running smoothly. The only late nights we experienced were right before a couple of deliveries. Otherwise the whole project ran really well.
What is your favorite shot or sequence?
Loni Peristere // The super-punch.
Nathan Overstrom // The opening scene of the show really helped establish this world. We spent the longest time on the opening shot, and we had the opportunity to pack as much visual complexity into it as we could.
What is your best memory of this show?
Loni Peristere // I would say the table-read of the final hour of Season One, having come through nine hours of the season and having made some of the best creative relationships of my career.  Having worked with very young actors that had never been the lead of any show, coming together to make something, you could feel the energy. While reading episodes 9 and 10 of the season–having been part of both successful shows and shows that were duds–I just knew. I could feel the love and passion in the room for what we were doing, in what ultimately came before the hardest 27 days of production. To have that room be filled with electric energy led by Jonathan Tropper, I knew going into those long hours we were working on a hit show.
Nathan Overstrom // This whole project was really just one of those projects where everything hit its stride. We had a great relationship with the client, we had enough time in the schedule to create great visual effects, and we had a fantastic team of artists who hit every shot out of the park.
How long did you work on the show?
Nathan Overstrom // I worked on the show from the first VFX meeting during the pilot, through delivering the last shots of the final episode.
What's the VFX shots count?
Loni Peristere // 300 shots.
What was the size of your team?
Nathan Overstrom // Our team fluctuated depending on the episode, but we had 12-15 artists working at any given time.
What is your next project?
Loni Peristere // I'm doing CASTLE ROCK next, which is pretty awesome. The show stars Tim Robbins, Lizzy Caplan and now Elsie Fisher from Eighth Grade. I start that in June.
I just worked with Lizzy Caplan on TRUTH BE TOLD, an upcoming drama series starring Octavia Spencer. I'm excited to go back to work with Lizzy.
Nathan Overstrom // Funny enough, we're currently moving right onto Season 2 of WARRIOR!
What are the four movies that gave you the passion for cinema?
Loni Peristere // RAIDERS OF THE LOST ARK, BLADE RUNNER, THE SHAWSHANK REDEMPTION and FIGHT CLUB. Those are the movies I watch repeatedly. I watch SHAWSHANK because I think that's what great character-driven movies are like. They capture our humanity on a basic level. RAIDERS makes me laugh, makes me cry, keeps me on the edge of my seat, and I still have a good time. BLADE RUNNER changed the way everyone looked at cinema forever. And FIGHT CLUB because that's the first time I saw what psychedelic cinema could really be. David Fincher at its finest.
Nathan Overstrom // CLASH OF THE TITANS (the original), ALIEN, JURASSIC PARK, and APOLLO 13. As a growing artist, these movies pretty much blew my mind and really got me thinking about how people made these impossible things come to life.
A big thanks for your time.
WANT TO KNOW MORE?
Zoic Studios: Official website of Zoic Studios.
© Vincent Frei – The Art of VFX – 2019