Esben Syberg started his career in visual effects over 20 years ago at Ghost VFX. For the past two years he has been working as a freelance VFX Supervisor. He has worked on a various shows such as Pacific Rim, Colony, The Quake and Ragnarok.
What is your background?
I am privately educated with a short half year course in 3D graphics back in the late 90's. In Denmark where most education is publicly funded it was not at the time. I learned the basics of 3DS MAX and after my half year I got an internship at Ghost VFX. It was my first choice of places to go inside the borders of Denmark and I did feel honored to get exactly that at my very first job search. It was a half year internship that ended up lasting almost 20 years before I became owner of my own one man company / freelance. I consider Jeppe Nygaard, Martin Gårdeler and Aksel Studsgarth my 3 mr Miyagi's of VFX. They have contributed so much to where I am today that I can't thank them enough.
How did you get involved on this movie?
My VFX producer friend and colleague Mikael Windelin suggested me for the job and I had a quick chat with the people at Motion Blur and that was basically it. This was almost 2 years before delivery, which is not normal in the Scandinavian industry. It is common you join late in the process, so this was extremely nice to try! This gave us extra time in development of the character which is always good when you have a chance main character.
How was the collaboration with Director Roar Uthaug?
It was great to work with Roar. In a way I had some history with Roar as I worked as a VFX artist on his first movie Cold Prey. Not sure we ever talked about it though. I really enjoyed working with him. Having « a Roar » is like having an extra VFX supervisor on the show. Extremely dedicated to VFX, super clear in what he wants and a great person. What more can you ask for! When VFX really started to push out shots, Roar was part of more or less every meeting with the VFX vendors. Overlooking everything with me and the whole VFX team. I sometimes had a feeling Roar had more hours in a day than the rest of us! And VFX people have a lot of hours in a day! Haha.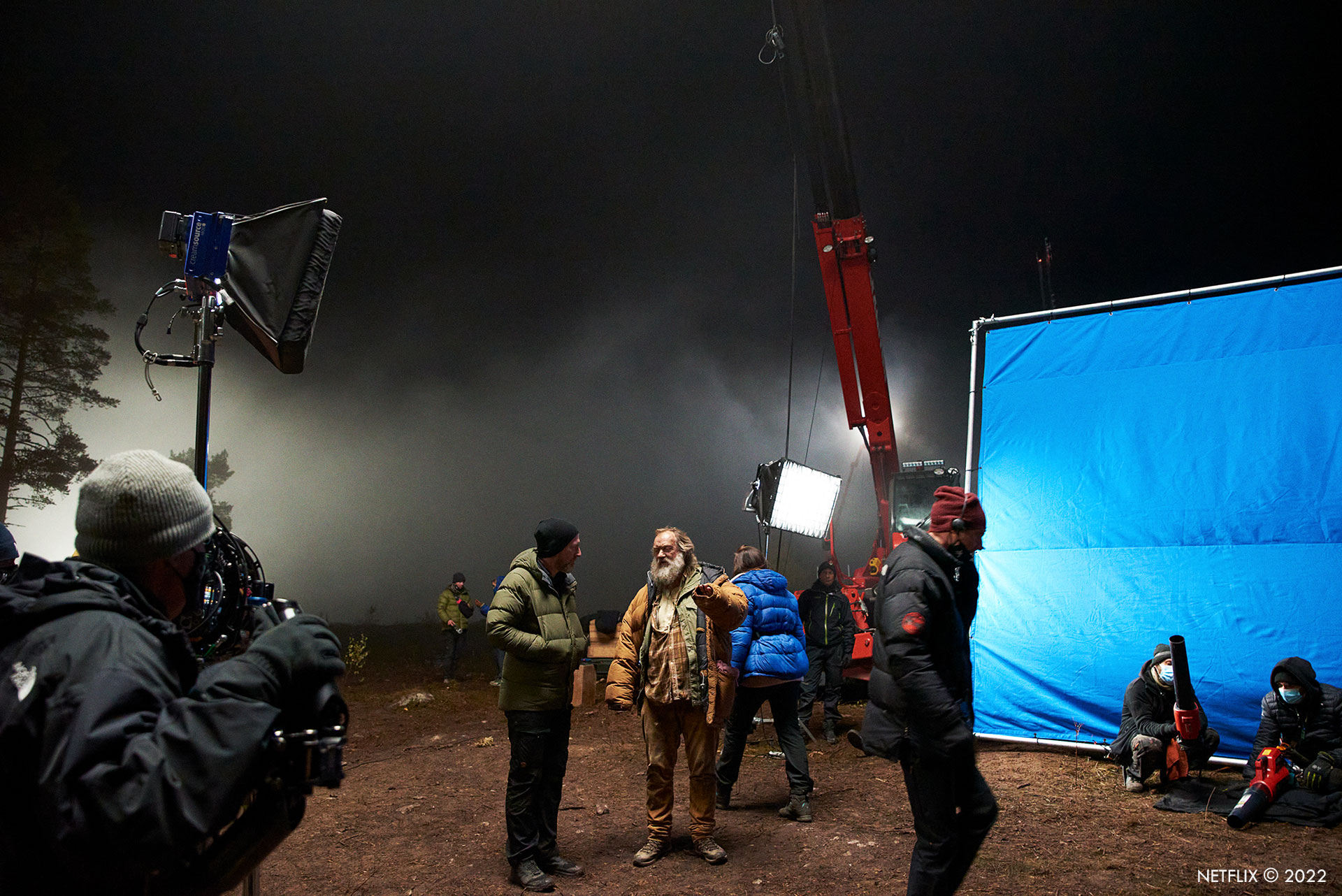 What was his approach about the visual effects?
He wanted nothing but the best! Roar was very clear he wanted the VFX teams to be Scandinavian with the ability to deliver Hollywood quality VFX shots. Luckily enough we have a few companies in Scandinavia now that can do just that. Our obvious first choices fell on Ghost VFX, Gimpville, Copenhagen Visual, ILP, Storm Studios and Swiss and Goodbye Kansas. We ended up doing the show with Ghost VFX, that also did the main Troll asset, Gimpville, Copenhagen Visual and Swiss as our main VFX vendors. For the first time ever in a Scandinavia production we did Previz for everything. Some amazing work there by Alf Løvvold.
How did you organize the work with your VFX Producer?
Mikael Windelin is a great VFX Producer and we have a quite fluid overlap of tasks. He is able to look at the creative side of things with me and I also am able to look at the financial side of things with him. Even if i don't love it as much as he does. 😉 He makes the best sheets with lots of filtering options to always have the best possible overview of where things are.
How did you choose the vendors and split the work amongst them?
Ghost VFX we felt was the strongest of our choices for the main Troll asset. They are somewhat more experienced with creatures than the rest of the vendors on our list. As I mentioned earlier I also have them as a personal favorite as they have always been very quality oriented and I did work there for almost 20 years and they have taught me so much about VFX. They are one of the best companies in Scandinavia and now all around the world!
Gimpville // Gimpville I never worked with before but their FX reel is amazing and we were not at any point disappointed. They often showed more than we were expecting in the first rounds of FX. They delivered some amazing work. Both animation and FX. If someone out there has a FX heavy show, I can highly recommend Gimpville and Lars Erik. That made Gimpville our obvious choice for the FX heavy scenes.
Copenhagen Visual // Copenhagen Visual have already convinced me that they can do a little bit of everything and the people there have for many years worked with creature stuff. They have a broad spanning showreel and we were never in doubt that they could do the job. We always knew that when some other vendor was under time pressure no matter the task we could count on Copenhagen Visuals to take in new shots late in the process and deliver.
Swiss // I have never worked with Swiss before either. But the producers suggested them and we had a few meetings and their reel showed us they could do the job. They have primarily been working on commercials before and that was something we did discuss before we started the collaboration. Swiss did a great job in the end and had quite a few very hard shots and they fought like crazy to deliver the best possible quality.
How was the collaboration with VFX Supervisors?
Overall we had a great collaboration with the supervisors. We had deep respect for their suggestions and most of all had the feeling we were all part of a big team. It is always good when that happens. We where not sitting in meetings picking out wrong pixels but rather tried to come up wit better creative solutions. The supervisor where great in that aspect and really felt ownership of their shots.
What kind of references and influences did you received for the troll?
We were inspired by a famous Norwegian drawing of a Troll on Karl Johan Street. (Troll at the Karl Johan Street – Theodor Severin Kittelsen) Roar mentioned this drawing quite a few times, as one of his big inspirations for the story. Then we had the amazing Einar Martinsen doing some concepts and designs and we also looked at some of his earlier personal concepts as a reference. Guess he loves trolls too.
We looked at King Kong! As we really wanted a troll that could show emotions at the same time as we wanted a Troll that could look evil and Troll like. King Kong was a great reference for that as that is exactly what you get when you watch King Kong. However we did not have a furry creature, which helps on the cuteness level of things. It was a challenge to get something from both worlds, we had this "rocky" creature with no fur. Fur really makes a difference in how you interpret a creature. But after a few rounds of picking the brains of Roar, we did get exactly the creature that could do a little bit of both worlds and feel with the Troll and don't just see this as a big evil creature in the end. I sure know that I felt empathy for our Troll throughout the film.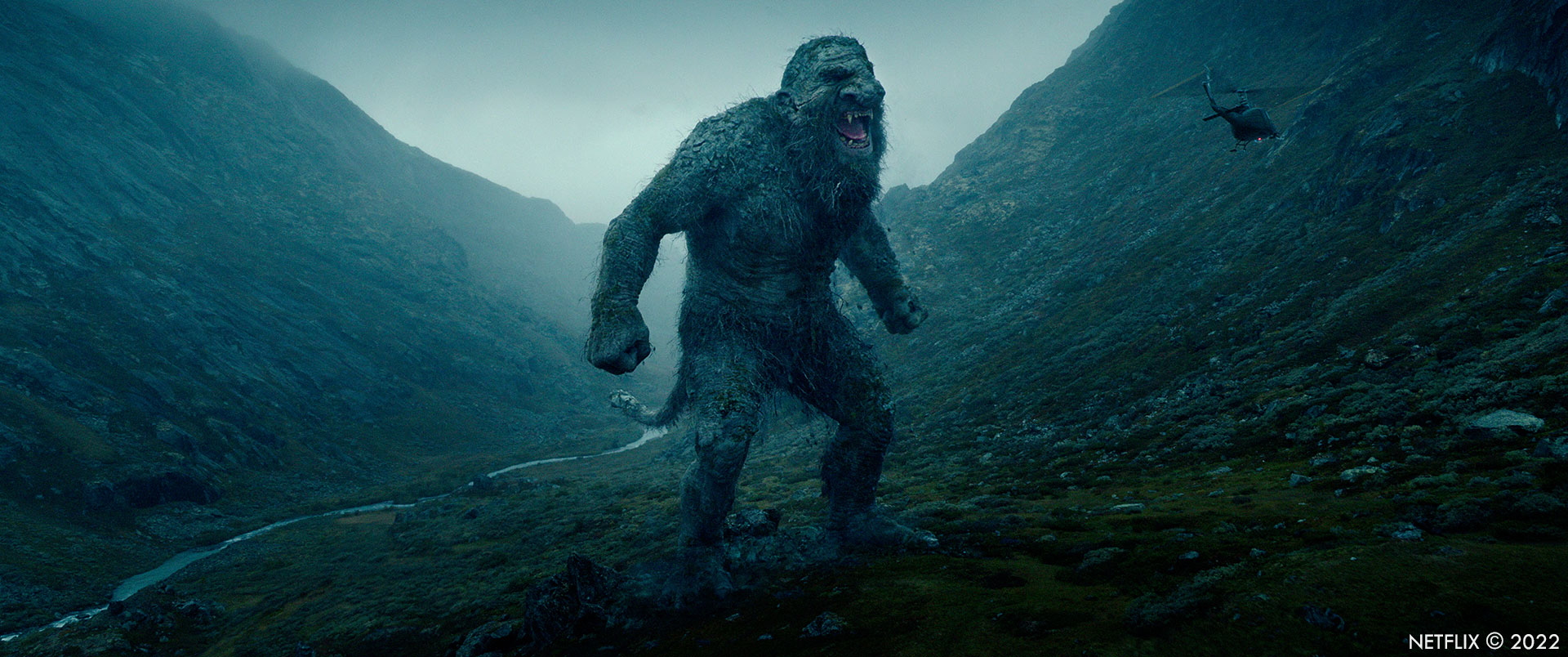 Can you elaborates about his creation?
I think Roar ended up creating a great creature that reminded him of everything he loves about trolls. I can say that I really loved the design and where we ended.
Can you tell us more about his skin and eyes work?
We used Ziva for muscles and skin. The eyes were made in a realistic manner like you mostly do today. Geometry to catch the light and the obvious coat layers. Tear canals etc.
What was the main challenges about his animation?
As always making him feel heavy. Have movements that feels realistic for such a large and heavy creature. We often talked about him as if he should move, as if he were very athletic in his primes. So kind of how Usain Bolt would run when he is 60. And then the obvious challenge keeping consistent between different vendors working with the same asset. Look of the Troll was never an issues and it did not really matter much what render engine was used. It was all pretty consistent from the beginning. Animation was more of a challenge in that aspect.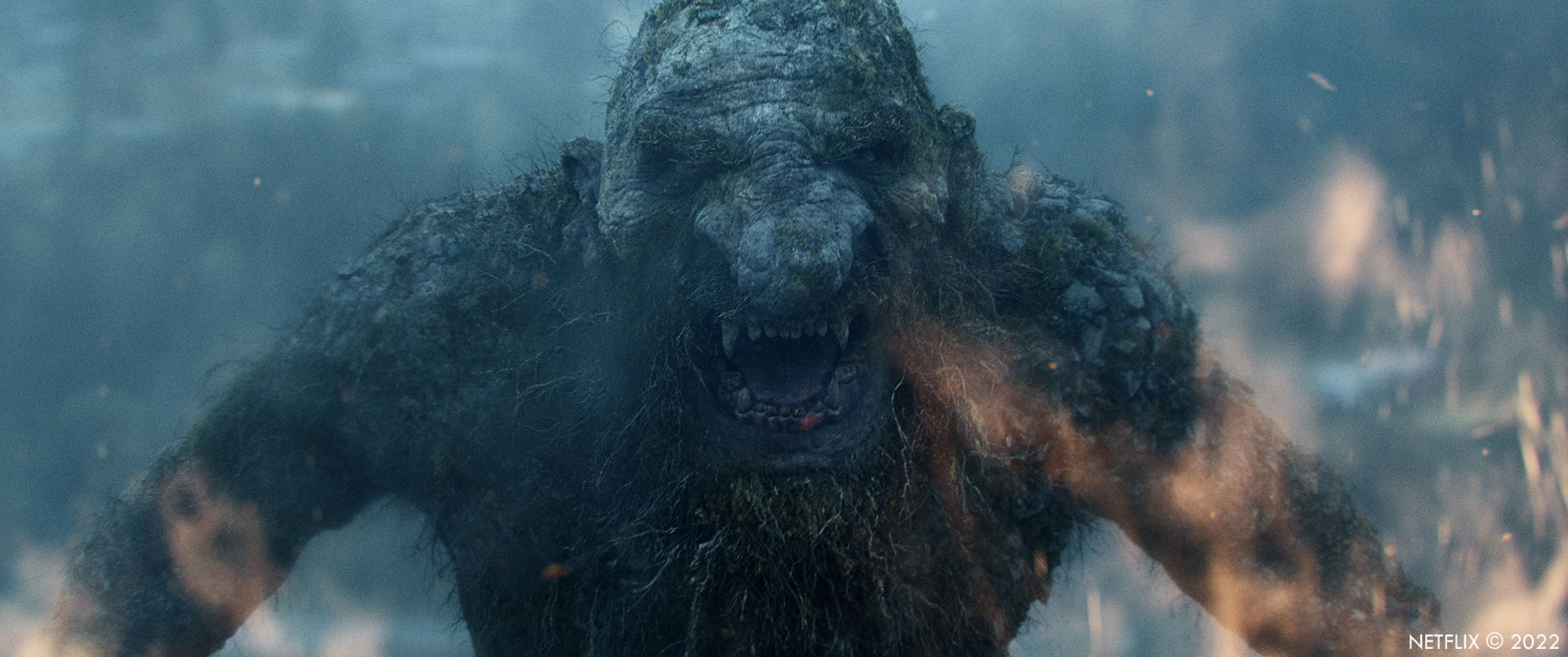 Can you tell us more about the fight choreography and especially against the helicopters?
Here we had the master of previz himself Alf Løvvold helping us out. We had a scan of the whole area and we did try to keep it simple with not much movement on the troll. Alt did some takes together with Roar and we basically ended up using this as a masterplan for the plates needed. We obvious had a few changes in the edit, and overall choreograph. But I would say that overall we where sticking to the previz from Alf. Not sure how we should have done this without Alf the one man army. I can not recommend him enough.
How does his massive size affects your work?
All the animation is obviously effected. We did see some Mocap tests early on but none was as good as the key frame animation tests we saw. So most shots are keyframe animation that really in my opinion helped get the weight right. Also filming the plates for the troll can be difficult when you can't go around a test character or a stand-in. This is where the previz was a great great help that basically gave us a list of shots we needed to bring home. And then we did have a creature that would probably create huge amounts of destruction on every step. So we did try to minimize the visibility of that and keep it in shot where we thought it would be giving us the most effect / bang for the buck.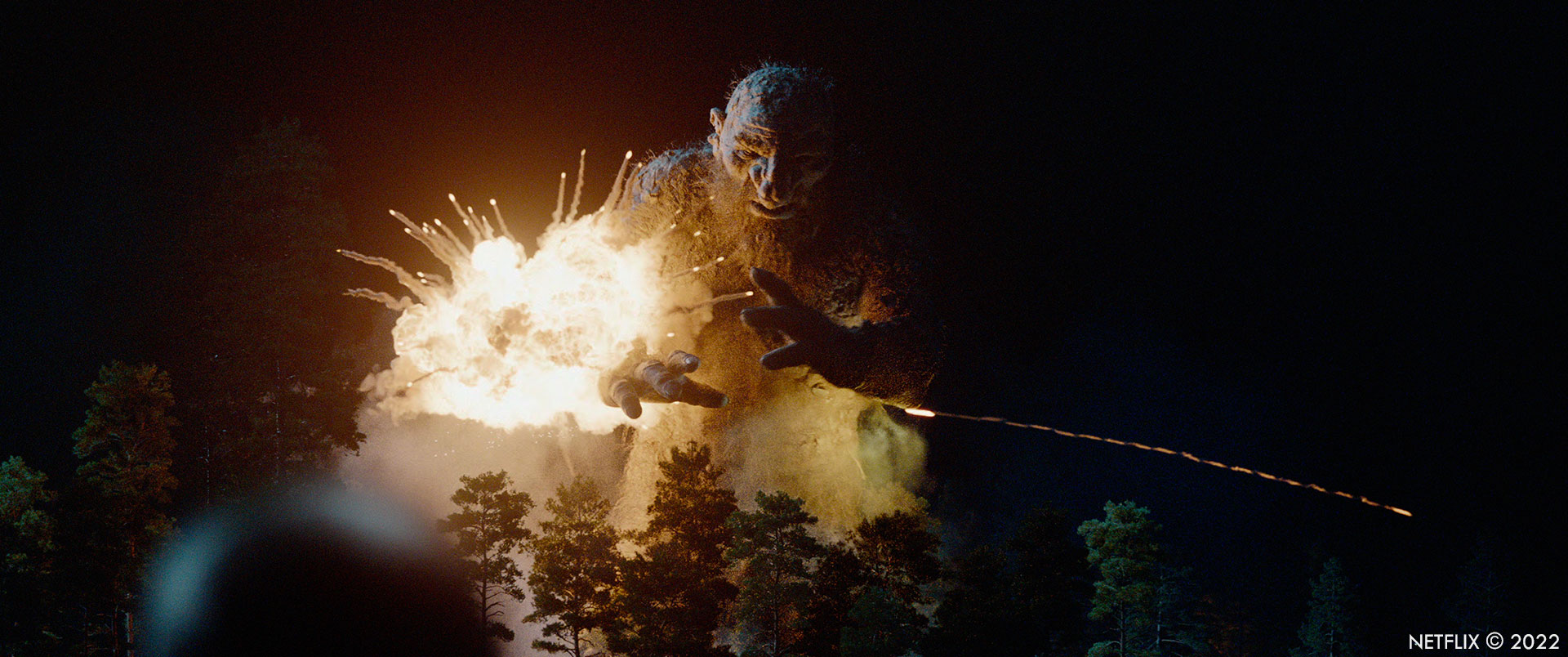 How did you work with the SFX and stunts teams for the troll interaction?
We actually did not have as much Troll interaction with something physical. So when we saw the troll most of it was VFX. Which is common on the shows I have been working on, but when working with a large scale creature like this, I do think it is a little more common to do it like that as it just gets harder to get the proper amount of help from SFX. That said we did have some stuntmen thrown through the air, Cars flying out of the great Hummer Højmarks car cannon and big explosions that were very helpful to build VFX on top of and for getting all the nice light interaction.
Can you tell us more about the environment work?
We did a drone scan of all locations. We mostly used it for tracking purposes and to make sure everything was scale correct. But we did have some elements / environments that needed modification and a complete and clean rebuild of elements for destruction. Some of the bigger elements was the Freia clock that has a lot of signal value to the Norwegians. A large bridge that needed destruction and parts of the tunnel and the entrance. A lot of the distant destruction / env work was solved purely in 2D.
Which sequence or shot was the most challenging?
We were quite challenged by the whole ending chase and the petrification of the Troll. I think it was challenging both because of the open location, the light situation and the weather was not with us when we shot it. We had some shots in the beginning when the troll wakes up that was challenging but lovely solved by Ghost and it did feel like it never really became a challenge. And then Hunderfossen and the helicopters and the placement of helicopters from shot to shot did take some time to get right too. And then the obvious shots in Oslo packed with destruction and FX work. Again I just have to give so much credit to the artists at Gimpville that really pulled it off.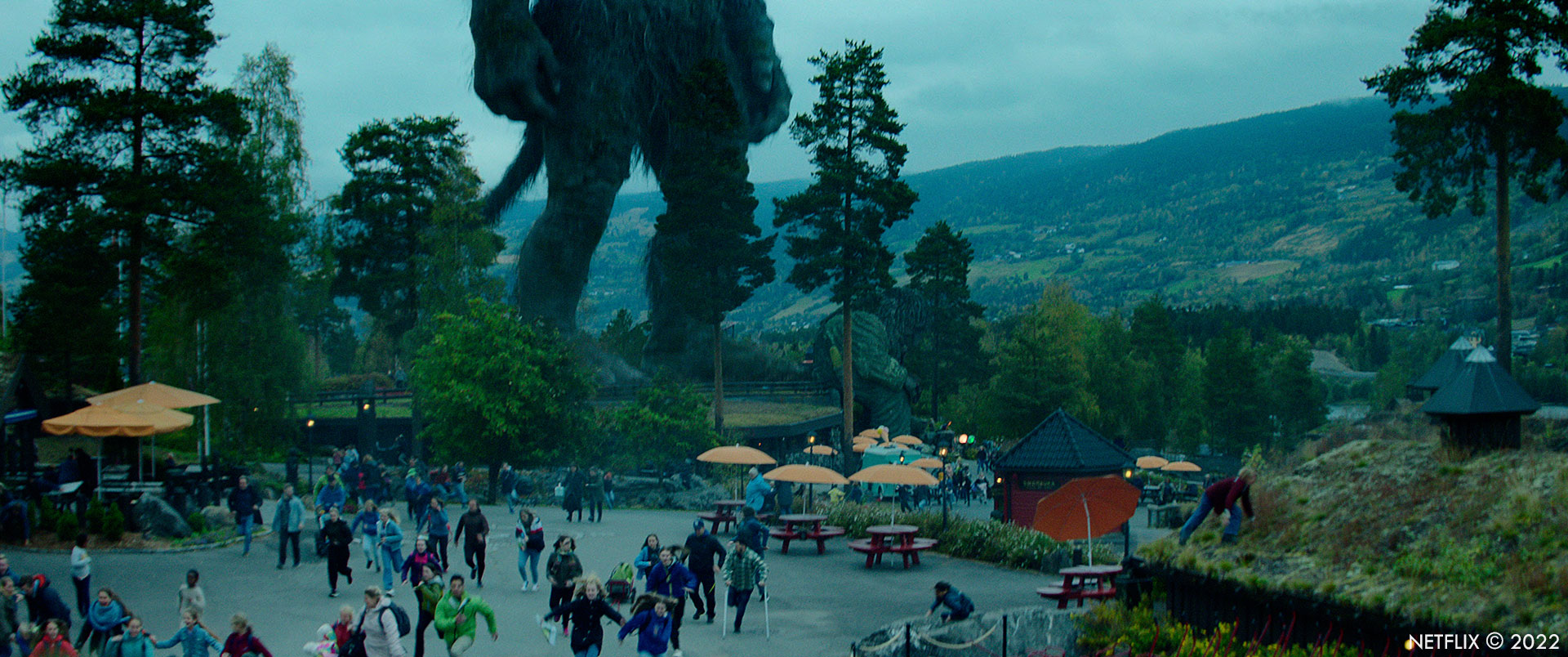 Is there something specific that gives you some really short nights?
The last scenes in the movie would probably be it. Chase and petrification!
What is your favorite shot or sequence?
My favorite sequence is the Bøverdalen sequence. This is where you see the troll for the First time. My favorite shot is probably in Hunderfossen, a Norwegian amusement park when the ice cream truck is picked up.
What is your best memory on this show?
I always love when shooting begins. You meet all the other departments.
How long have you worked on this show?
I was on the show for approx 2 years. First part of it we mostly tried figuring out how much VFX was in the script and discussing who would be the best shops to work with to keep all of this in Scandinavia.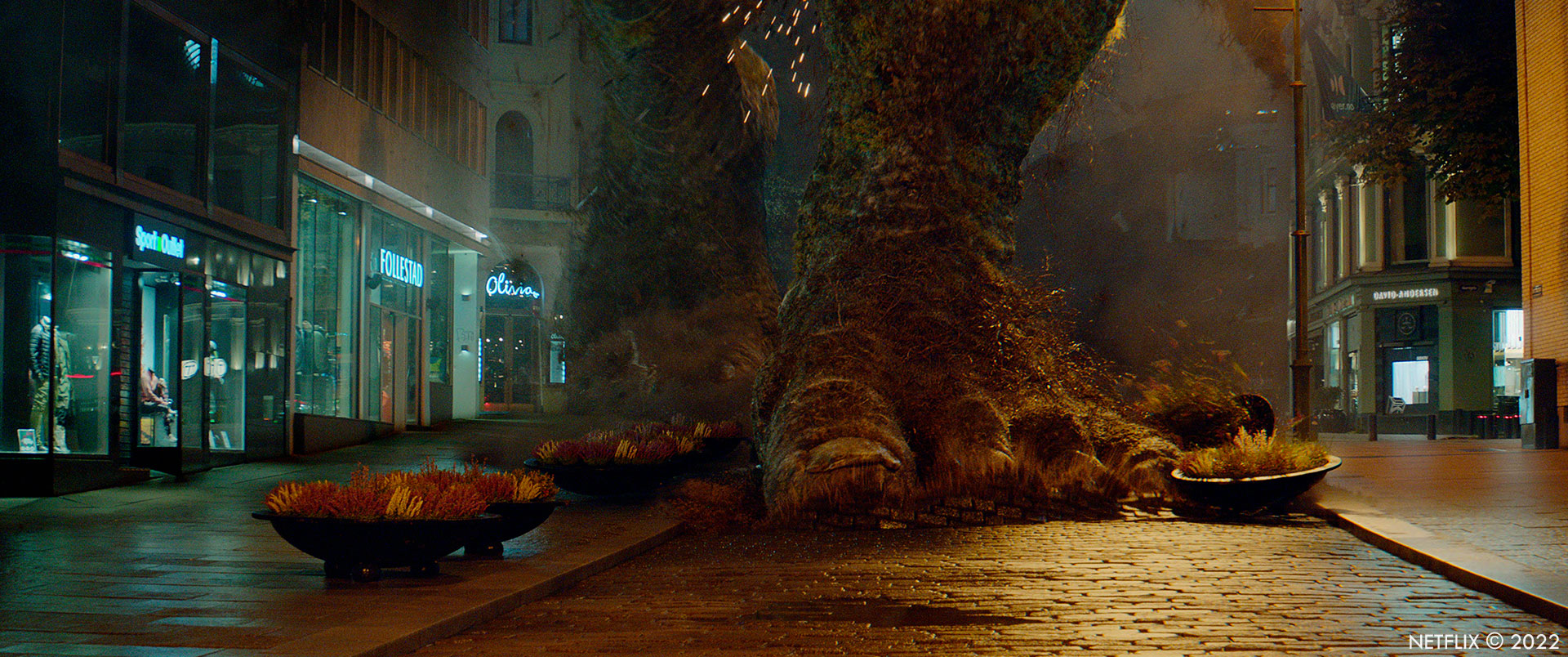 What's the VFX shots count?
Think we ended up with around 750 vfx shots.
What is your next project?
I'm currently working on the next season of Ragnarok (s3), Families Like Ours (Danish show by Thomas Vinterberg), Carmen (Danish national TV), The Fortress (Norwegian show), Quisling (Erik Poppe).
What are the four movies that gave you the passion for cinema?
That is not as easy a question as it might sound. The first movie that came my head was One Flew Over the Cuckoo's Nest it has everything I ever wanted in a great movie. Great acting all the way and even the villain is amongst the most evil villains i have ever seen! It is funny and serious at the same time. I also have to mention movies like Fargo, Indiana Jones.
A big thanks for your time.
WANT TO KNOW MORE?
Copenhagen Visual: Dedicated page about Troll on Copenhagen Visual website.
Ghost VFX: Dedicated page about Troll on Ghost VFX website.
Swiss: Dedicated page about Troll on Swiss website.
Netflix: You can watch Troll on Netflix now.
© Vincent Frei – The Art of VFX – 2023