Rick Sander began his career in visual effects over 25 years ago. He has worked on many shows including How to Get Away with Murder, Scandal, Fear the Walking Dead and Aquaman.
Note: Thomas Tannenberger was the Co-VFX Supervisor on this Netflix series.
What is your background?
I'm a photographer who started out at VIFX in Los Angeles in the 90s, where I specialized in look-dev before founding a small studio and supervising on several cool series. But I'm still a hands-on artist who wants to make really cool stuff.
How did you get involved in Tribes of Europa and what was your role?
VFX Supervisor Thomas Tannenberger invited me to Prague for a five month shoot in the Czech Republic and Croatia followed by a year in post working with the wonderful team at Cinesite, led by COO Graham Peddie and Head of VFX Technology Holger Voss.
Who was your main production contact and how did that collaboration work?
I had an unfiltered direct line to show runner Phil Koch and EPs Quirin Berg and Max Vetter – all just fantastically talented collaborators. Netflix Director, International Originals' Rachel Eggebeen and VFX Manager Urs Franzen provided invaluable guidance and never-ending trust and humor throughout. Our calls were always very lively.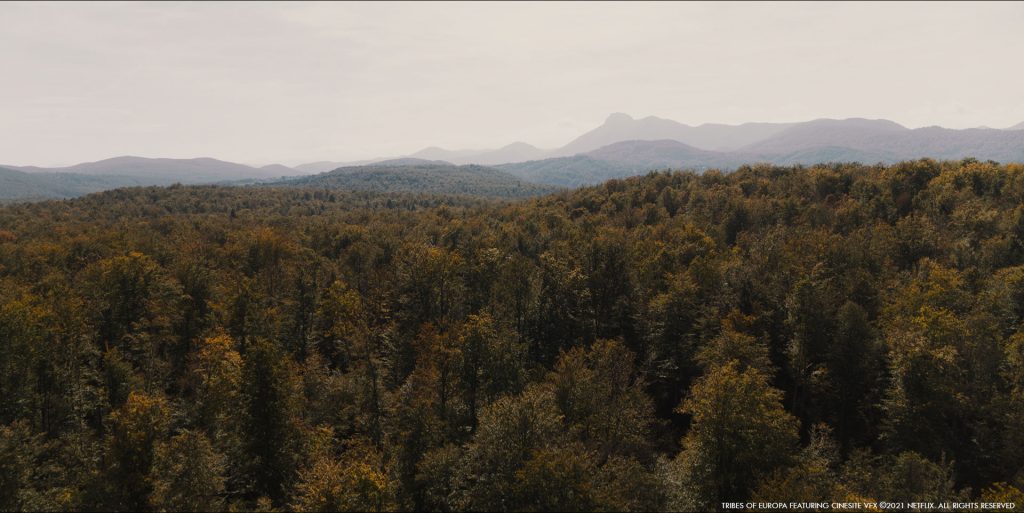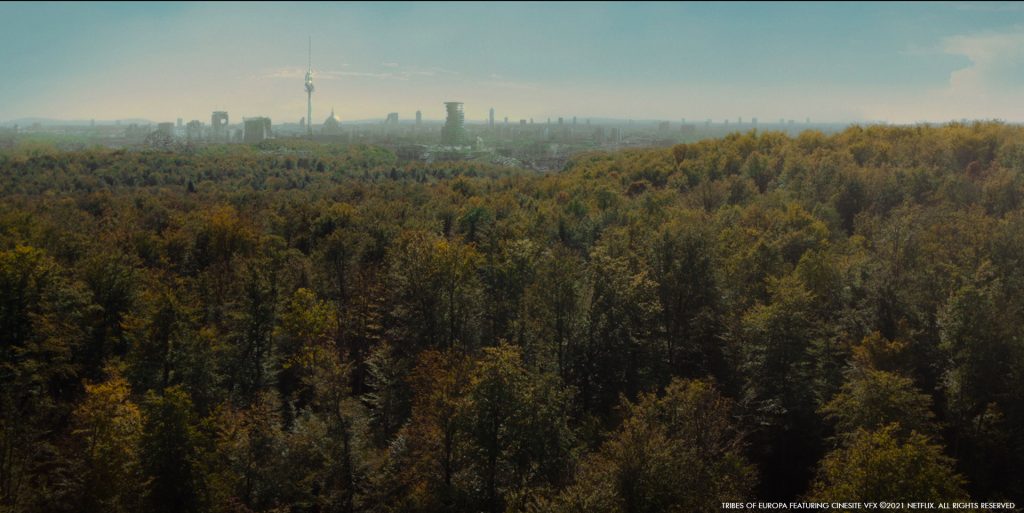 What was your approach to the VFX?
Philip wanted to see beautiful, epic places reclaimed by nature and he had a very specific intent of how the tribes' technology would work and how the environments would look. The visual effects were designed to expand the scope of the story but also to remain grounded and natural. I would develop looks based on real world reference to discuss with Philip before we began every sequence.
What kind of references did you receive from the production?
Tribes Production Designer Julian Wagner developed beautiful artwork right through post and a lot of materials came from me just walking around Old Port Montreal taking photographs that we used as inspiration, reference and elements to compliment the CG environments.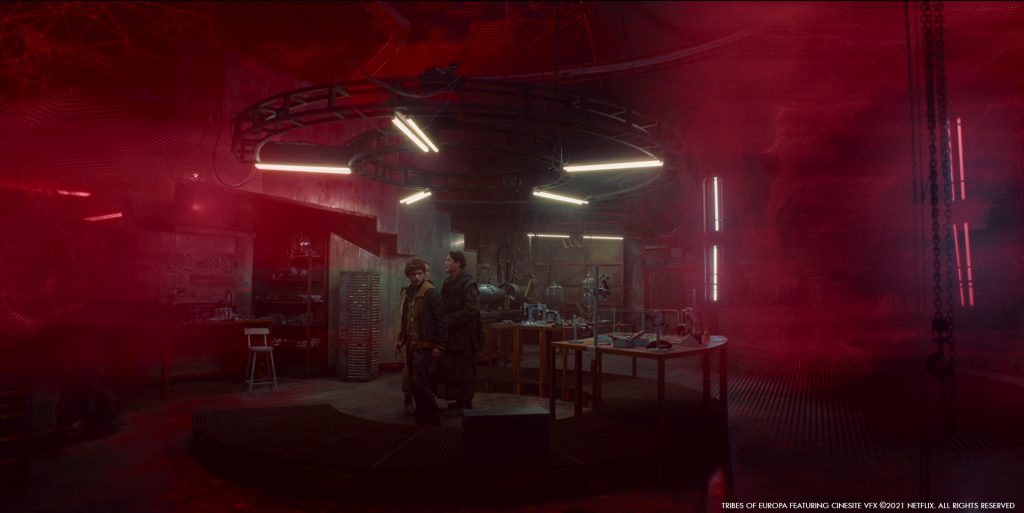 Where were the VFX sequences filmed?
We shot Tribes in ancient forests, cities ravaged by the Yugoslav Civil War, abandoned Soviet era monuments, abandoned factories – the locations were characters – very haunted and spooky. We combined shot footage of real places with fictional environments to develop new places that still look familiar.
Can you tell me about some of the environments which were created and how they were handled?
Cinesite enhanced, extended and reimagined dozens of environments, many were establishing shots but we added many full frame additions to the set builds. This not only required up-close photo realism but hand crafted translucent, hand-built structures. Then we positioned the additions to maximize the effect of lighting and composition.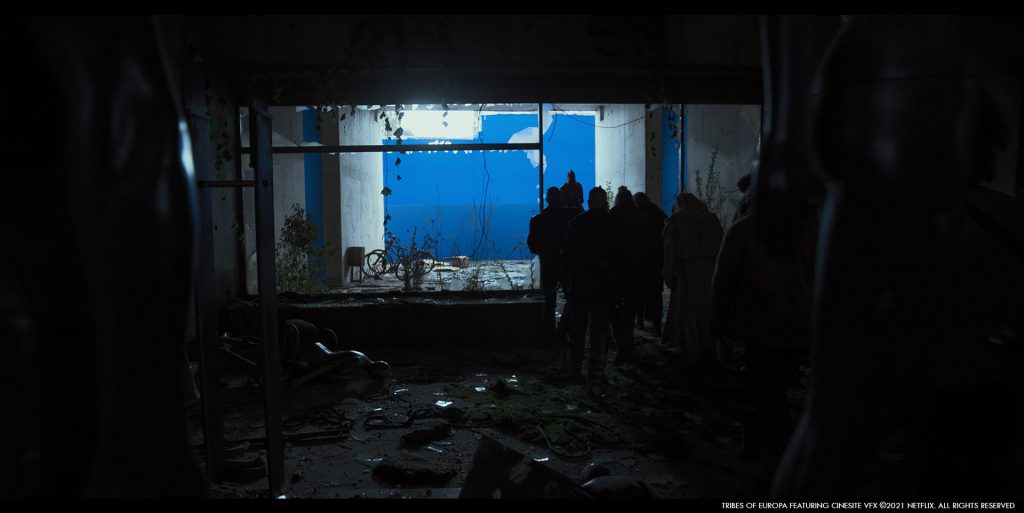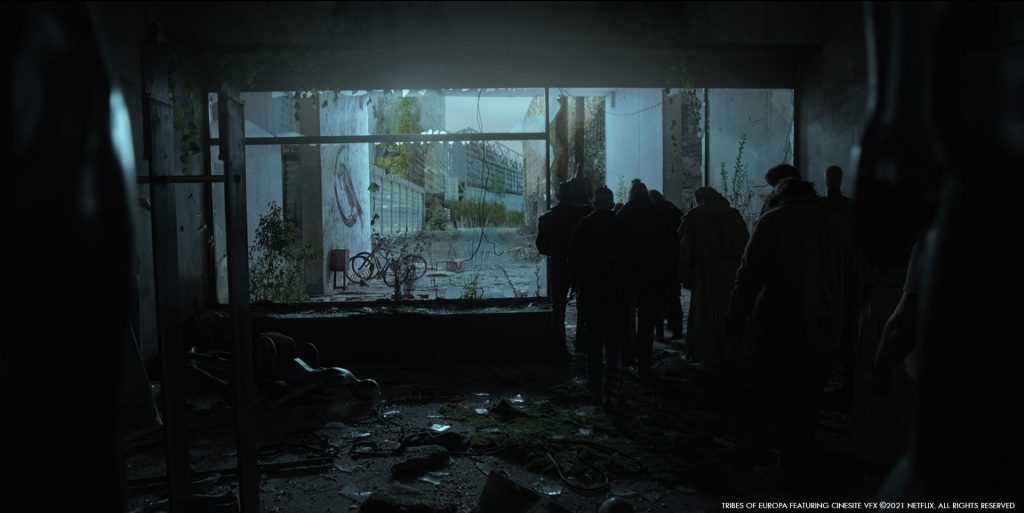 There's a particularly beautiful shot in the second episode, where we see a group of people walking towards an abandoned city, next to an overpass. Can you tell me more about that?
A lot of my work is inspired by personal photography. That cityscape started with a photo I shot 12 years ago of Downtown LA and we applied the look to real Berlin and added the extensive forested elements. The foreground buildings were shot in Zagreb and the near ground greenery was designed in Houdini.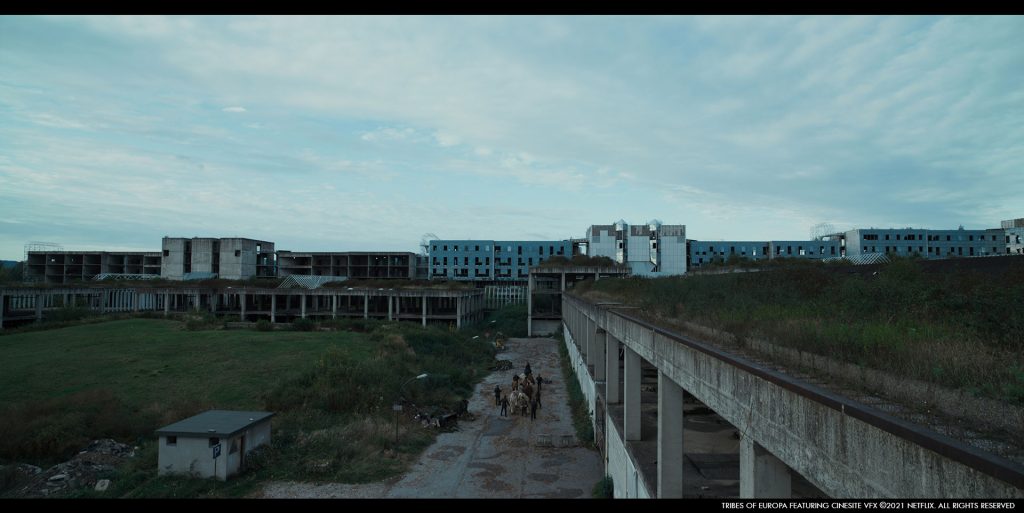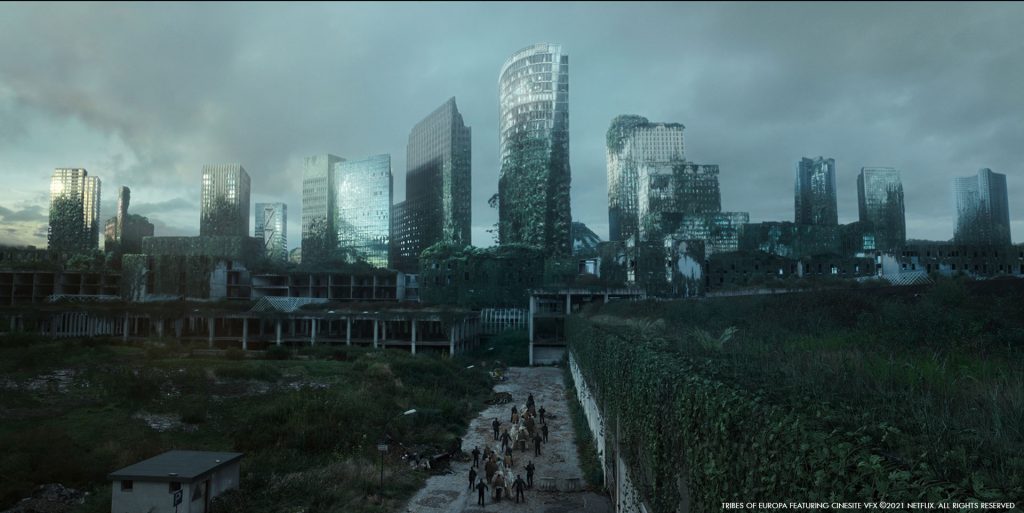 Tell me about the cube – what was the scope of Cinesite's work on that?
The original scope was mostly to augment the physical prop with glowing lights, but we eventually replaced the cube in almost every shot. We used photogrammetry, enhanced by designing the interior mechanical parts and I designed the LED glow animation with Philip. Once we hit the look, I could never tell if the cube was real or a replacement – unless it was flying around of course.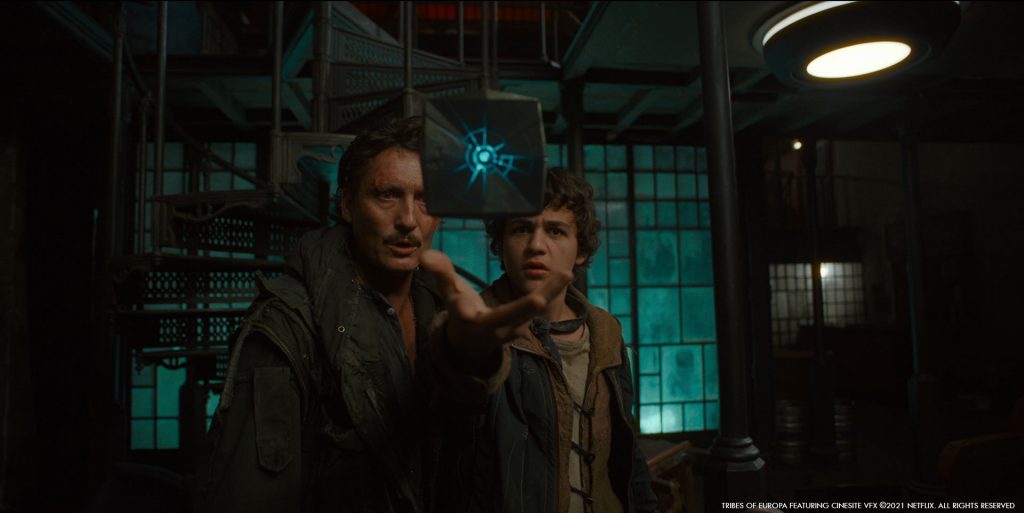 The shots where the cube projects an alternative reality – can you tell me more about those?
The cube uses a holographic projection to tease a bigger narrative. We used LIDAR scans to fill the real world set with the projection and added interactive lighting back to the set to match the animated story. We designed a creature and added an eerie glitching design. The hologram itself is a combination of environments, DMP, Houdini and volumetric glitching.
Can you tell me about Cinesite's final shots, where the cube turns into a subterranean vehicle?
We shot on the beautiful Adriatic coast where the characters begin a new adventure. To make the shots as realistic as possible, we used reference of oil rigs, ocean freighters and submarines surfacing to make the materials, textures and water interaction look beautiful but grounded in reality.
How did you extend the Berlin environments?
Berlin is a combination of filmed locations from Prague and Zagreb extended with familiar buildings from the German capital, renamed Brahtok and buildings we created from scratch. To bring these locations together, Outpost created a modified Google Earth map mixing the places we shot and extended to ensure continuity and we used a combination of photography and Lidar in Berlin – it actually all lines up very carefully. And of course, this was covered in reforestation that was a combination of Houdini, Speedtree and photographs.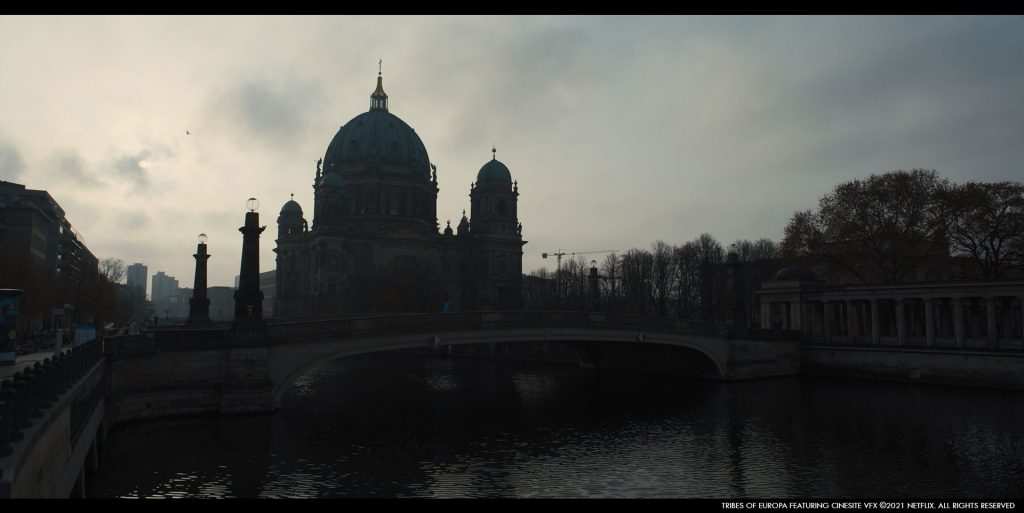 The series is really gory. How did you enhance this aspect?
Philip made sure we got great action performances and we understood the hand off to VFX – that "yank" pulling out the knife out of an eye socket, the look of surprise, things that feel authentic – no amount of VFX can help if those things are missing. For some up close stabbings, we used a combination of Houdini, and a lot of very terrible reference. I'd mock up ideas and Philip would adapt those ideas to fit the tone he wanted.
What is your next project?
I'm the VFX On Set Supervisor for Tom Clancy's Jack Ryan for Paramount Television that streams on Amazon.
Are there any other visual effects that you'd like to talk about?
My goal was always to make our work live up to the beautiful photography, sets, performances and people. This project really is about the art of VFX.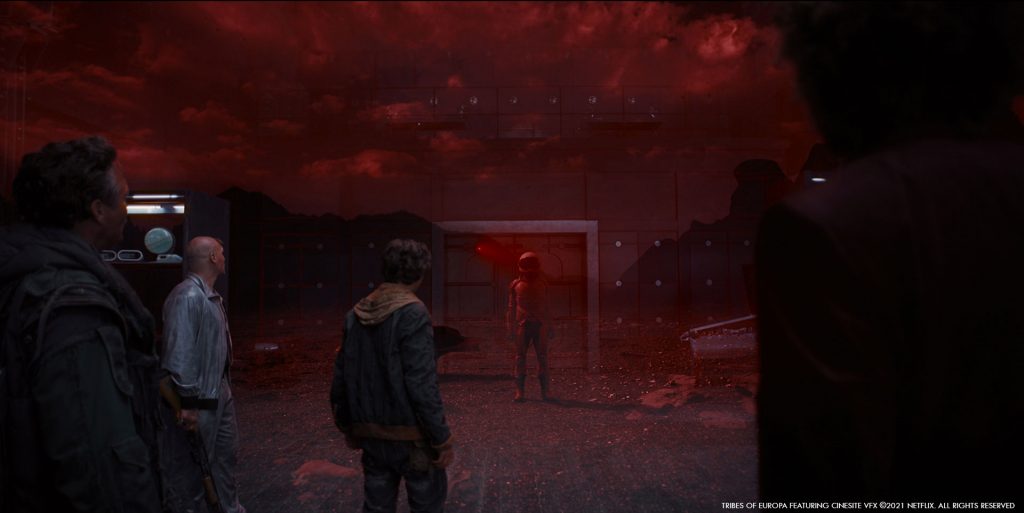 What is your lasting memory of working on the series?
The success of our work was really about the success of the client, Netflix and the Cinesite crew coming together to tell a wonderful story. The work is the product of the trust and relationships we built making this amazing series.
What are the four movies that gave you the passion for cinema?
I've always loved episodics. Jordan Peele's The Twilight Zone just kills me and Counterpart blows my mind. For cinema, I can't get The Invisible Man out of my head – it's wonderful – but Star Trek II: The Wrath of Khan was the movie that set me on my career.
A big thanks for your time.
WANT TO KNOW MORE?
Cinesite: Dedicated page about Tribes of Europa on Cinesite website.
Netflix: You can watch Tribes of Europa on Netflix now.
© Vincent Frei – The Art of VFX – 2021