The team of Whiskytree talks about the creation of the wide shots of Tomorrowland city, the bioluminescent trees and the Paris launch sequence for TOMORROWLAND and their collaboration with Industrial Light & Magic.
// Votch Levi, Visual Effects Supervisor
How did you and Whiskytree got involved on this show?
Over the years we have worked with ILM on multiple feature film projects. The work ILM presented us on TOMORROWLAND was a perfect fit for us.
How did you approach the creation of the Tomorrowland city?
ILM gave us fantastic direction and reference material for the Tomorrowland city. Brian Meanley led the team that created a master matte painting that was used in the wide and distance field shots.
Did you share assets with ILM?
We have a policy to deliver assets in any format our clients request.
For TOMORROWLAND, we delivered matte paintings, rendered elements, Nuke archives of comps, and final shots.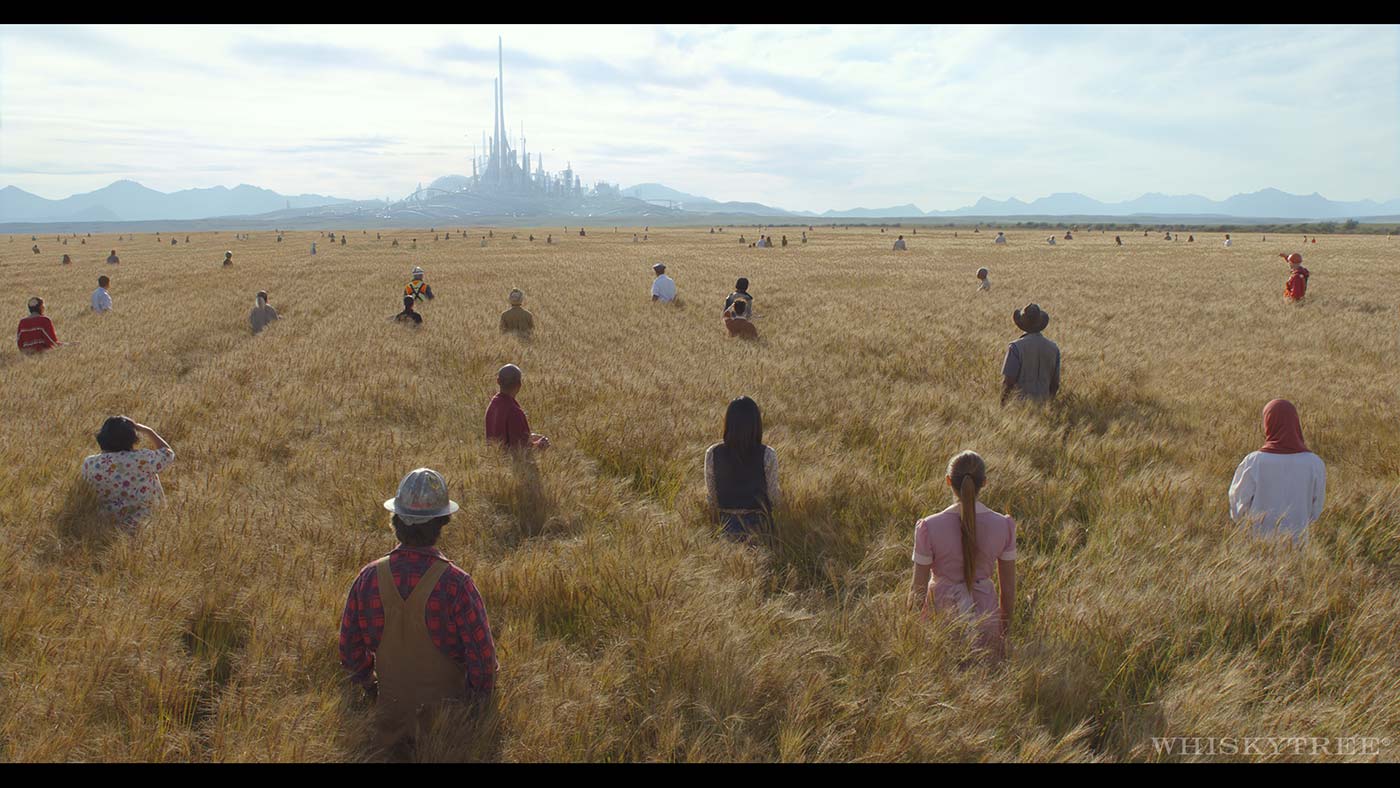 // Brian Meanley, Technical Director
What are the work done by Whiskytree?
Whiskytree helped out with a variety of sequences throughout the production; some of the main elements that we worked on were the exterior views of the Tomorrowland city (as seen from the wheat field), the bioluminescent trees at the end of the Monitor explosion sequence, the overviews of Paris during the shuttle launch from the Eiffel Tower, and the time-lapse shots of the Cape Canaveral launch structure being disassembled.
How was this new collaboration with the ILM Supervisors and their team?
Our collaboration with ILM on this show was a really great experience from the onset. With the post-production offices for the show being held up at Skywalker Ranch, our office in San Rafael was a great in-between location for ILM's Associate VFX Supervisor, Barry Williams, to stop by on his way back to San Francisco after reviews with the director. This meant that we could get immediate one-on-one feedback on our shots after reviews, and get our artists to address the notes as soon as possible.
How was the collaboration with director Brad Bird?
He had a very specific vision of Tomorrowland that evolved over time, and we really enjoyed crafting the final product.
What was his approach about the visual effects?
Brad Bird's eye for detail and ability for storytelling meant that every shot that we worked on had at least one key detail that contributed to the overall plot-line of the film. Making a pretty picture was never the only goal in our work, it was critical for us to keep in mind the overall context and meaning of the shot or sequence within the film. While there are many spectacular visuals throughout the film, we were consistently looking to real-world examples as a basis for our work.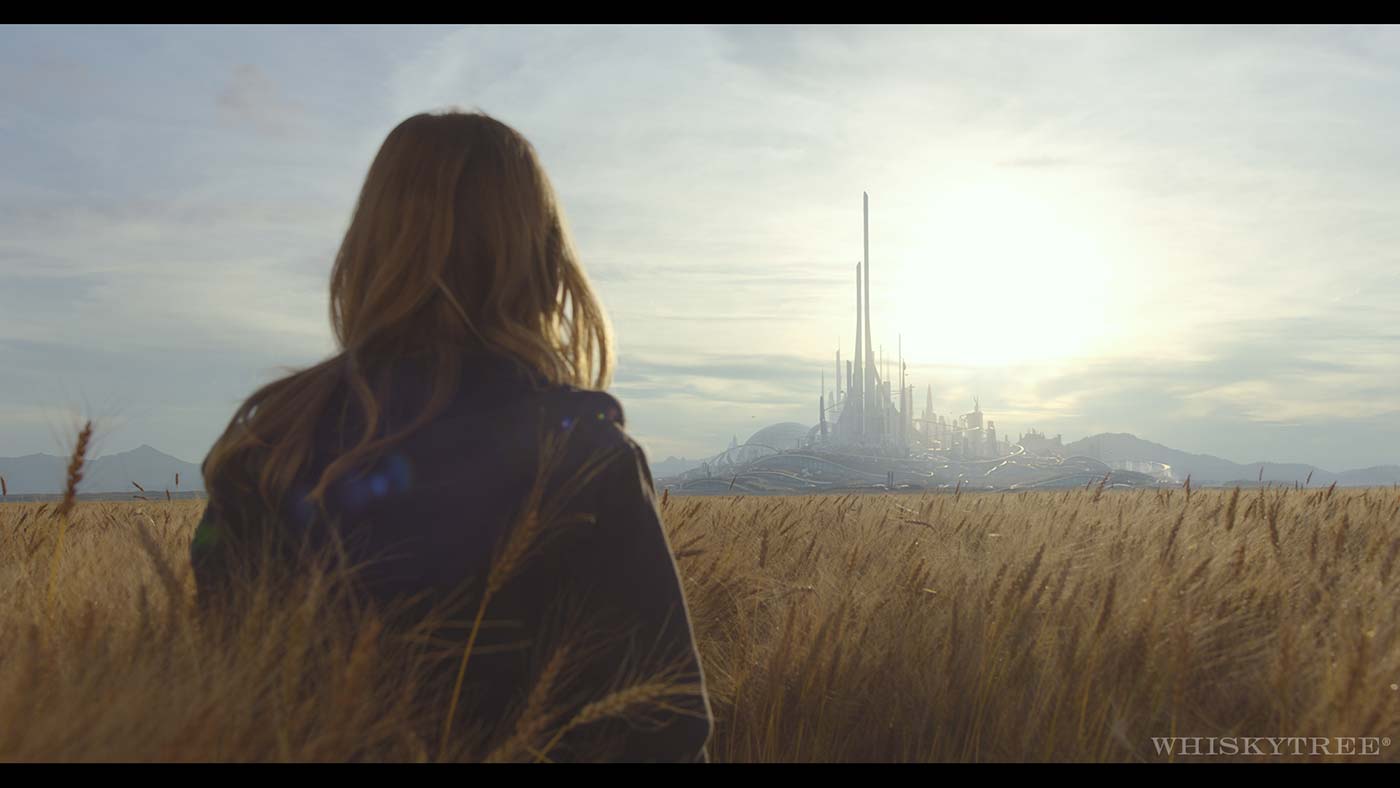 Can you describe one of your typical day during the post?
At Whiskytree, we try to keep things moving as quickly as possible at all times. This means that we like to keep dailies and other meetings with artists at a minimum, which at the end of the day, affords them more time to get their work done. Though we are a relatively small shop, we usually kept at least 15 or more shots in active production at all times. We made deliveries to ILM nearly every day throughout the project, and we held cineSync reviews with ILM usually two to three times a week. Our shots varied in scope of work, so we constantly had match-move, 3d asset generation, layout, rendering, and compositing tasks overlapping throughout the show.
Can you explain step by step about the creation of Tomorrowland?
When ILM approached us, they asked if we could help create the iconic view of the Tomorrowland city as seen from the surrounding wheat fields throughout the film. We loved the idea and knew this was a challenging task primarily because at the time that we started work, the concept art for the city skyline had yet to be approved by Brad and it was an evolving concept. Because of this we knew that we would most likely make multiple iterations of the city before getting final approval. Thankfully, our pipeline and workflows are fairly procedural in nature, and lend themselves very well to this style of work.
Starting with assets provided by ILM which included some initial geometry for buildings, and general city layouts that were used in the interior shots of the city, we were able to block out the huge city environment very quickly starting with mostly rudimentary stand-in geometry. From here, we were able to iterate on the overall silhouette and layout of the city, while continuing to build new assets, and modify existing buildings in tandem. ILM would often take our latest renders back to their concept team, and continue to re-work the look with feedback from Brad. Once they reached a point that Brad was happy with, we would adjust our layout and buildings to match. All in all, this process happened probably three or four times, until we came up with the final city that you see in the film. We generated all the elements for the city in a way that they could be re-purposed in every shot that featured the city, with only minor adjustments to lighting and integration on a shot by shot basis. There were some challenges but the entire process was a lot of fun and afforded us a lot of room for creativity.
Can you explain in details about your work on the launch sequence?
The launch sequence over Paris was quite an interesting one for us. Because Paris is so well recognized, we knew that we would have to generate a CG city layout that was as accurate and true to the original as possible. To accomplish this, we began by aggregating open source vector-based map data, we then extracted and built geometry for the city streets and buildings based directly on this data. By the end of the process we had constructed basic geometry for the entire city of Paris! This was useful to us, not only because it ensured that our layouts were as accurate as possible, but also because we immediately had enough data available to allow us to procedurally generate vehicle traffic, vegetation, and tens of thousands of CG lights throughout the entire city. We then camera projected our 2d painted textures of the city onto our geometry, and lit the environment with our CG lights. Once our renders and pre-comps were completed, our city elements were delivered to ILM for final compositing with their CG rocket and Eiffel Tower.
What was the main challenges and how did you achieve it?
One of the unexpected and more challenging aspects of the show was the variable retiming done on many of the shots throughout the film. This had the potential to turn even relatively straight-forward shots, into much more complicated tasks. At the end of the day, nearly all of these shots resorted to frame by frame paint fixes to get the job done.
Also, late in the show schedule we set out to create a time-lapse sequence for the Cape Canaveral deconstruction shots. ILM had great on-set reference for us, and when we first started discussing this sequence with them, we were all leaning heavily on using as much of this photography and approaching it as a more traditional matte-painting. However, we had already built some geometry for the launch structure for an earlier sequence, and we soon made the call to do the time-lapse fully in CG, which would take more time up front to build and look-dev the assets, but it would also give us the most flexibility in lighting and comp as the schedule came to an end. With such a heavy CG asset, our biggest challenge at this point was coming up with a simple, yet flexible animation approach. We leveraged Softimage's powerful grouping and override capabilities for this, which allowed us to setup a very simple pre-defined set of animations that would turn a group's visibility on or off at a given frame, and avoid having to set keyframes on hundreds of thousands of individual pieces of geometry. This allowed us to iterate very quickly on our animation, while our look-dev and asset generation tasks could continue to take place at the same time. In the end, we were able to finish the shots much more quickly, turning around new takes on a daily basis, and the results were fantastic.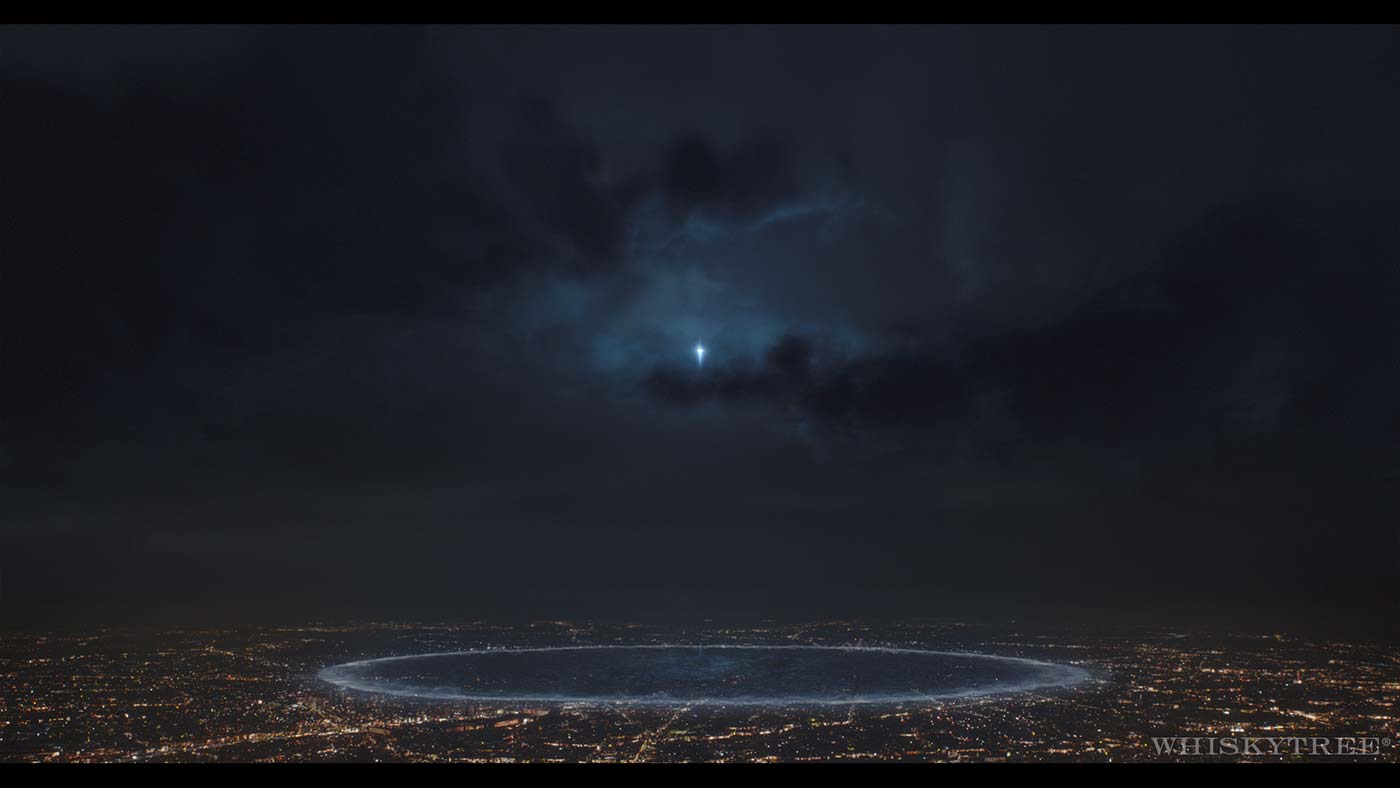 // Steven Caron- Technical Director
Can you tell us more about the bio luminescent trees?
The bioluminescent trees were pretty involved, we started generating the trees using GrowFX, a procedural tree generator plugin for 3dsmax, and then moved them into Softimage. Inside Softimage we created a semi-automated rigging pipeline for simulating the tree's motion. Those tools generated leaves and branches inside Softimage's ICE, a procedural node graph for simulation and effects. We used simple spring system which we designed and implemented. We then cached those simulations for rendering inside of Arnold.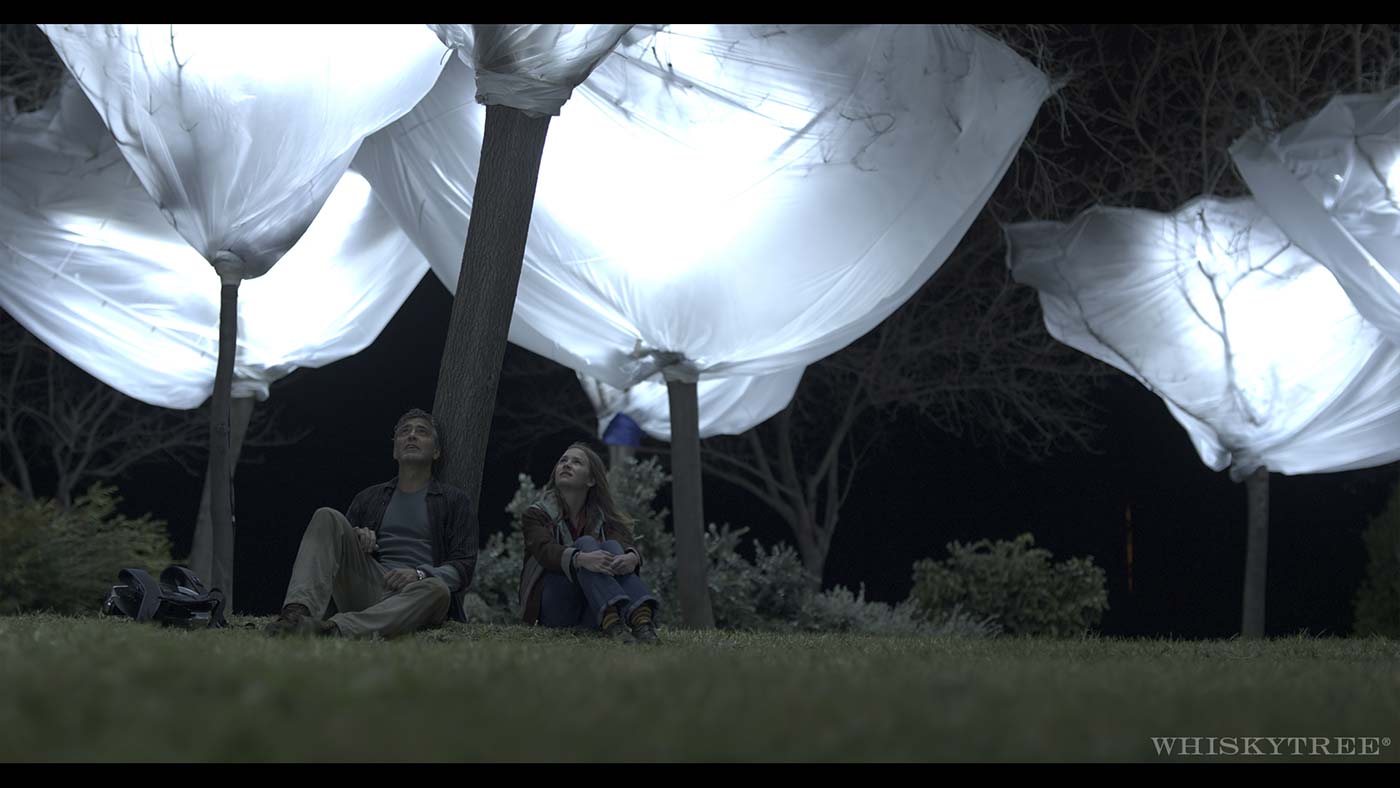 For the rendering of the trees we actually created leaves which had thickness and used Arnold's awesome sub-surface scattering to create an internal glow which was also used as secondary lighting for the other leaves, tree trunk, and grass below. There were no CG lights contributing to the lighting of the tree, all emissive lighting. It sounds a bit crazy at first, doing glowing sub-surface scattering on 20 to 40 thousands leaves per tree all rustling in the wind, but Arnold handled it just fine. We didn't have to do anything to fake this effect but we did need to be cautious with our sampling to make sure we didn't get too long of render times. Since the shots were very soft and low light anyways, a little noise in the frame was fine. We had very large ranges in render times, some 4k frames for our volumetric scattering renders got up to 3 hrs. a frame but most were 30 mins to 1 hr. The final look of the glowing bioluminescent trees was adjusted in compositing. We provided a great base beauty render passes from Arnold but assisted by many AOV and matte channels to really tweak that glowing look.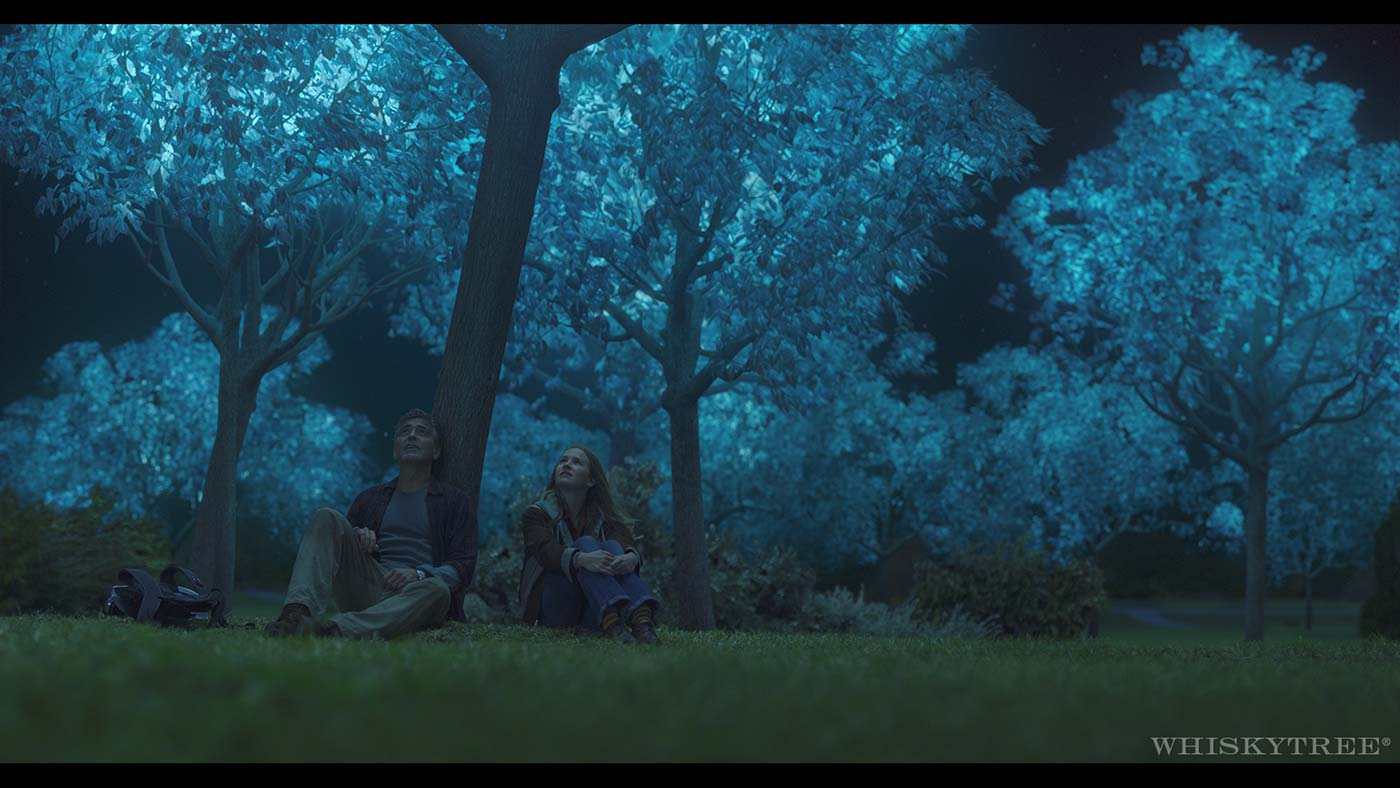 What was the main challenges for the trees?
The biggest challenge with the trees was honing in on the desired look of the leaves themselves. Iterating many times until one look catches the director and supervisor's eye. At first we avoided some of the more expensive techniques I described earlier for more compositing heavy looks but in the end a balance was struck. We also had an animation driven look to consider. Brad wanted us to add sparkling or twinkling leaves. After some back and forth, we got some reference of 'quaking aspens' from Brad. If you look closely at what was going on in real life, you could see the leaves were flipping front to back and revealing the difference between the two sides of the leaf. We decided we actually needed to add this to our simulation, and provide this as an extra matte to compositing. This allowed compositing to tweak the final sparkle amount without going back to animation. All said and done the challenges were overcome by collaborating closely with ILM, regular reviews, and iterating quickly and often.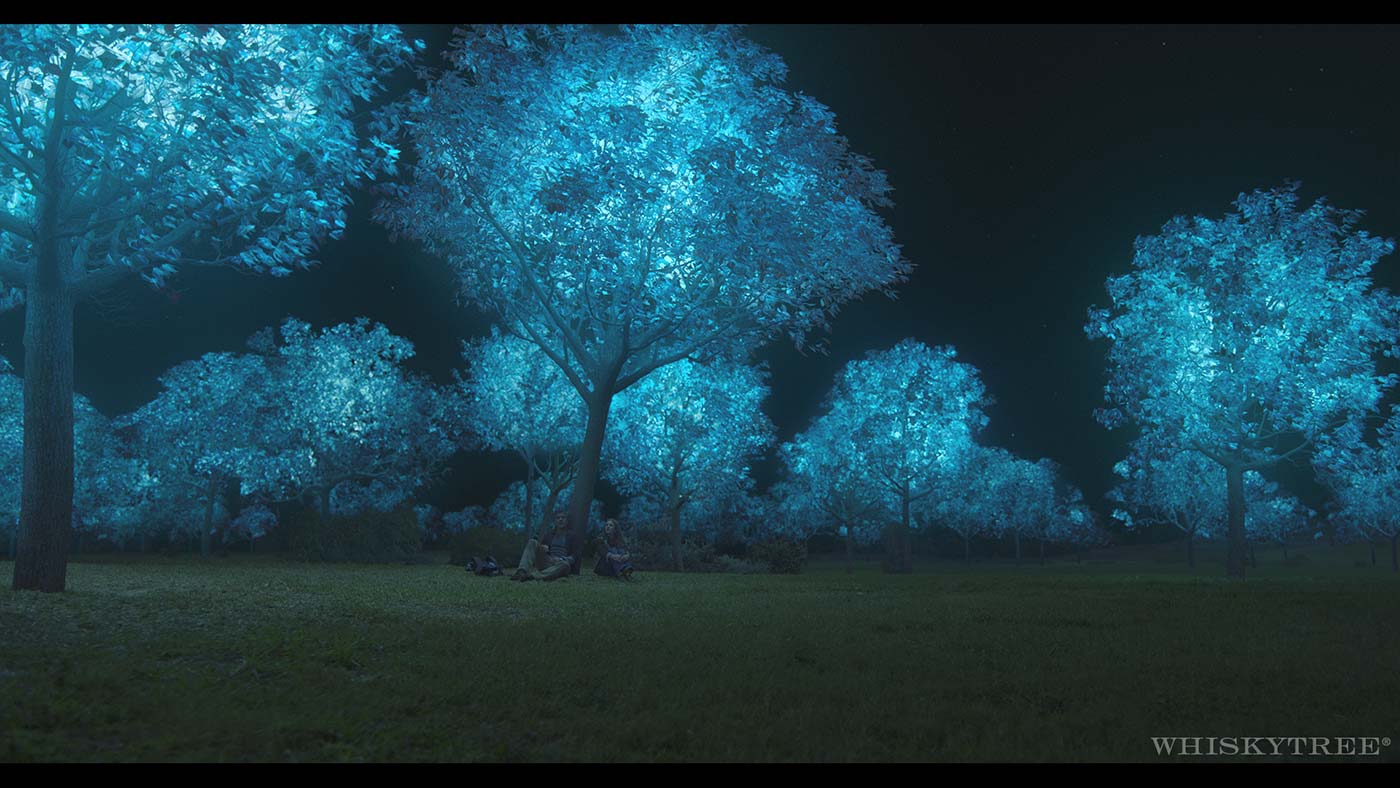 // Brian Meanley, Technical Director
Was there a shot or a sequence that prevented you from sleep?
The sequence that was probably the most challenging for us to wrap up were the bioluminescent trees at the end of the Monitor explosion sequence. Not only did the target look of the CG trees prove difficult to achieve, but also, the large amounts of fine hair detail in the plates made final compositing and integration challenging as well.
How long have you worked on this show?
We first started ingesting plates and assets for the show around the beginning of June 2014, and we wrapped around the end of Feb 2015.
How many shots have you done?
In total we did some amount of work on approximately 70 shots for the film.
What was the size of your team?
We had a total of 21 artists, at one time or another, who worked on Tomorrowland during the production.
What do you keep from this experience?
Whether we were match-moving cameras shot in a wheat field, recovering hair detail in plates without a green screen, or painting out retime artifacts, the production on TOMORROWLAND certainly posed a number of technical and creative problems to solve. Overall, it was challenging for sure, but it was also a very educational and refreshing experience for us. It was an honor to work for a director like Brad Bird, and obviously a real pleasure to work with ILM's crew on this film.
What is your next project??
We are currently working with Microsoft on the HoloLens program, producing work for an upcoming game, and have multiple commercials in production.
A big thanks for your time.
// WANT TO KNOW MORE?
– Whiskytree: Official website of Whiskytree.
© Vincent Frei – The Art of VFX – 2015