Nick Crew began his career in visual effects in 2003. He worked on films such as G.I. JOE: RISE OF COBRA and PERCY JACKSON AND THE OLYMPIANS: THE LIGHTNING THIEF. He joined Scanline VFX in 2010 and works on HEREAFTER, BATTLESHIP, FURIOUS 7 and BATMAN V SUPERMAN: DAWN OF JUSTICE.
What is your background?
While attending Loyola Marymount University's Film Program, I interned on the film CONSTANTINE with their VFX team as a runner and general department assistant. After seeing how integral the VFX process was to the final product of a film like that, I was absolutely hooked. After graduation, I was fortunate enough to make a living as a client side data wrangler and coordinator on a variety of projects.
I moved to facility work after meeting VFX Supervisor Bryan Grill on the set of G.I. JOE: RISE OF COBRA. Bryan thought my knowledge would mesh well into the environment department at DD. During my time there, I became familiar with Nuke, Maya, and 3D environment workflow.
I joined Scanline in 2010, as an Environment and Integration Lead on HEREAFTER, which earned Scanline its first Academy Award nomination. After that, I advanced through Compositing, Look Development, and Comp Supervision, eventually serving as VFX Art Director for Scanline's work on BATMAN V SUPERMAN: DAWN OF JUSTICE. I was also an Additional VFX Supervisor on FURIOUS 7 and BEN HUR before assuming the roll of Head of 2D at Scanline, helping all Scanline productions with show staffing, workflows, and look development. That then led me to my role as VFX Supervisor on TOMB RAIDER.
How did you and Scanline VFX get involved on this show?
Paul Linden (VFX Supervisor) and Scott Shapiro (VFX Producer), together with Dean Wright at MGM, approached Scanline to do testing on a few development plates they had shot during pre-production. We were trying to help inform them on methodology for a few scenarios, as well as help evaluate some camera tests. I supervised those tests and transitioned into supervising the show for Scanline once it awarded a few weeks later.
How was the collaboration with director Roar Uthaug and VFX Supervisor Paul Linden?
The collaboration with Paul and Roar was a very cooperative, positive experience. At times Paul was very specific about what he and Roar were looking for, and at other times he would give us a frame work that gave us a lot of latitude to experiment.
What was his approach and expectations about the visual effects?
From the outset, the filmmakers were very explicit that the primary goal for the VFX was to feel as gritty and realistic as possible. They tried to get as much in camera as they could, and when that wasn't an option it became our job to make the audience believe it was.
Both sequences started with at least partial set and/or location work. Although we ended up taking over most of what was shot for our sequences, being grounded to this material and lighting design really helped ground our digital work into reality.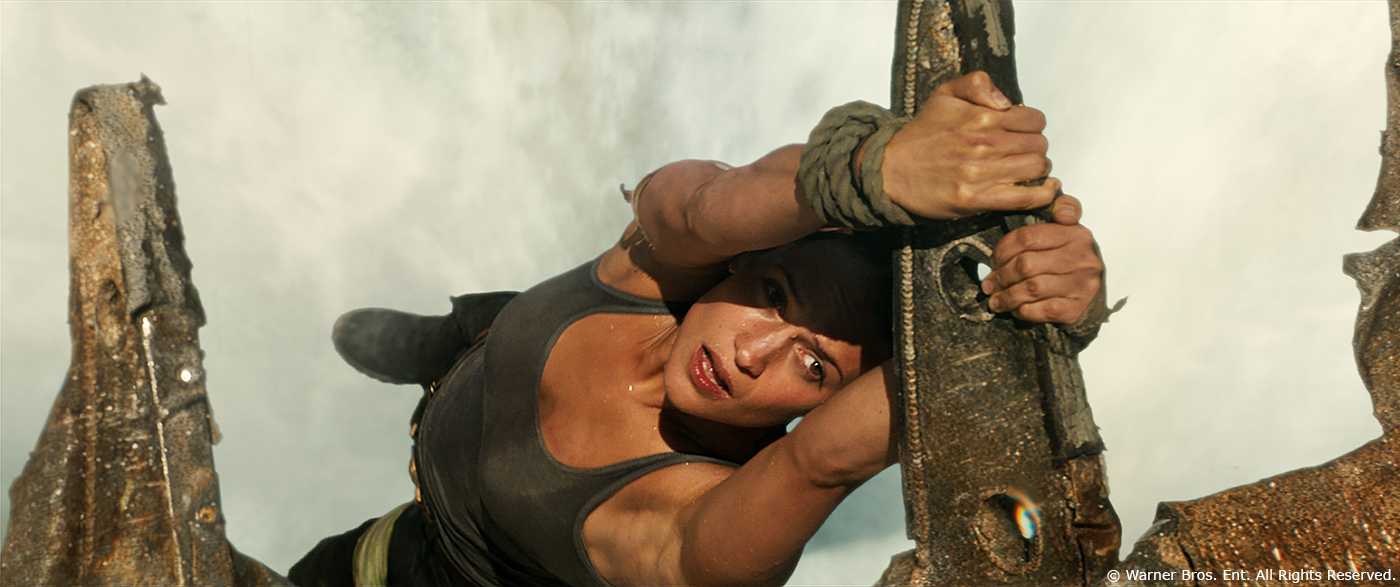 What are the sequences made by Scanline VFX?
We worked on both the Endurance Shipwreck and Japanese Bomber sequences, totaling about 300 shots.
How did you organize the work with your VFX Producer and at Scanline VFX offices?
Scanline has really been pushing its cross-facility workflow in the last few years and this project was really a test of that. Lisa Spence (VFX Producer) and I are based out of Scanline's Los Angeles office, but the majority of our artists and department supervisors were based in Vancouver. In addition to a few visits, we used a proprietary high-defintion teleconferencing system called 'Eyeline' on this project that allowed us to have face-to-face production meetings, dailies, and reviews.
We did get some much needed help from our Munich office, who helped with the interior fuselage portion of the Japanese Bomber sequence. That team was supervised by Roland Lanschwert.
Can you tell us more about the previz work?
The original Previs was done at The Third Floor prior to Scanline's involvement. Once principal photography began, we took over some previs for the parachute beat of the Japanese Bomber Sequence, as well as some re-working of the Endurance Shipwreck sequence.
What was your approach with the impressive shipwreck sequence?
The Endurance Shipwreck sequence was really kicked off by real world reference that Roar and Paul gravitated toward — mostly big waves and night fishing footage. With this as a look and few key previs shots, we started some initial animation, simulation and look development tests to try and match the look and feel of the real world photography, while still being true to the story beats desired.
After the the plates came in, the challenge became trying to marry our wide CG world into the live action, and vice versa.
How did you work with the SFX and stunt teams?
Not directly. At the beginning of the shoot, Paul and I discussed on-set environmental conditions that would be preferred on our side, but Paul really drove the on-set part of our work with SFX and Stunts.
Can you explain in details about the creation of this sequence?
The first things Justin Mitchell (CG Supervisor) and I started trying to sort out were wave height, boat motion, and ocean design. Justin developed a few different wave sets based on client feedback and reference, and from there we did a few animation studies for both all CG shots and ones that are plate based. After working with Paul on dialing in the look and feel for a few look dev shots, and being given the road map for this sequence, Ashley Blythe (Layout Lead) and Bill Bridges (Animation Lead) and their teams did a fantastic job locking in the camera and boat animation for the sequence. The further we progressed the more we began replacing more of the boat's set dressing, to really give the look and feel of a boat out of control on the waves.
After getting the layout and animation locked in, Say Rintharamy and the Flowline team took over creating some active, dynamic simulations of 3D surface. After coming up with a desired water surface, we further refined with splashes, mist, and rain to really add the appropriate detail that would be needed for believable composites.
To put the finishing touches, out comp team, led by comp supervisor Micah Gallagher, our lighting team all did a fantastic job of adding detail and realism to the scenes.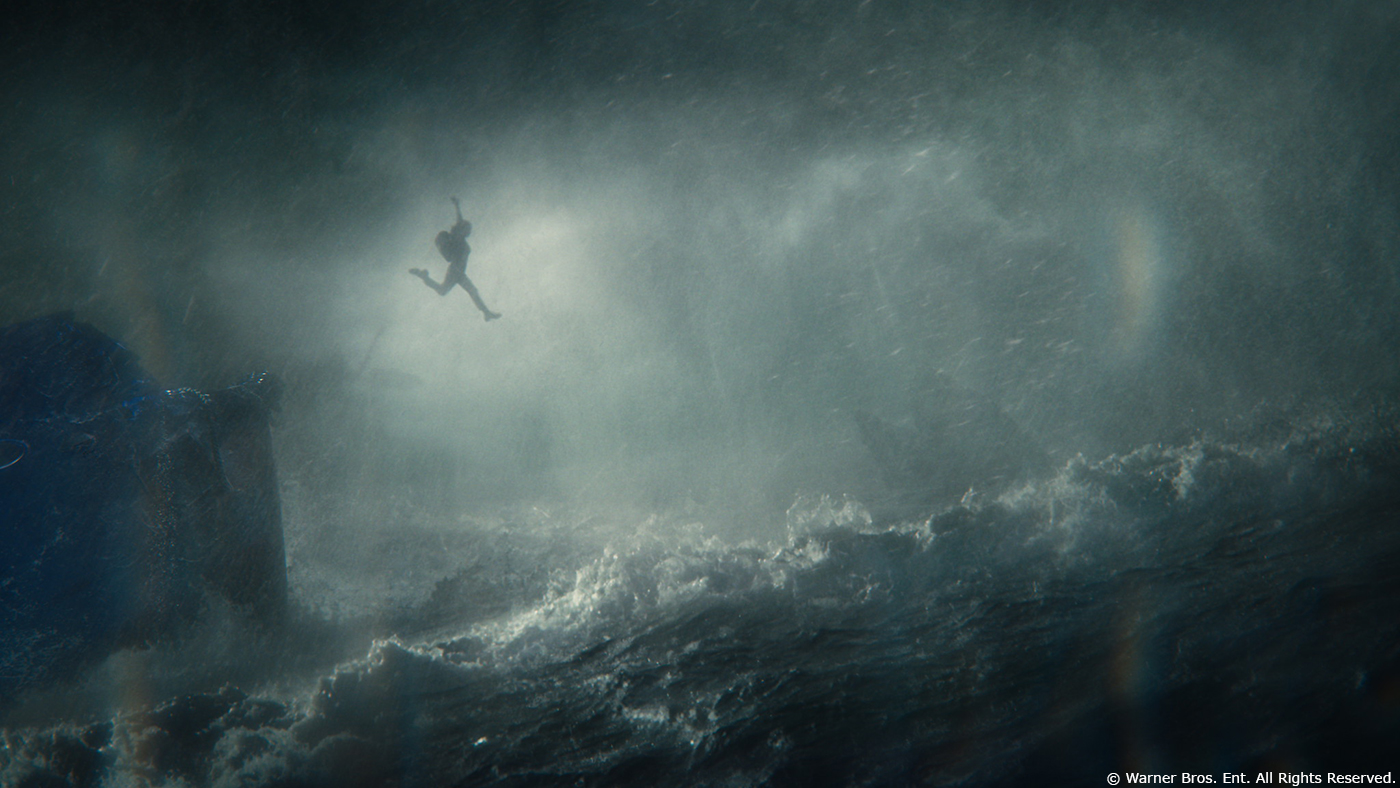 The sequence happens during the night. How does that affects your work and the lighting?
We realized very quickly that an overcast storm wouldn't really let in any moon light — so we needed to justify the light in the scene somehow. After some different concepts and look dev tests we ended up deriving most of the lighting from the lightning as well as the lights casting from the Endurance.
How did you handle the various destructions of the ship Endurance?
This was an interesting challenge as the damage of the boat really does evolve through five major events. Since what the damage should look like was creatively undefined, our first step was concepting out the different events for general damage scale and look. We did a few rounds with Roar and Paul on these concepts. Once we had buyoff, we moved it into CG.
After some discussion, we ended up figuring out that what we really needed to have happen was a comprehensive, multi-stage plan of the different destruction events using the approved concepts as a guide. Justin Mitchell, our CG Supervisor, did a fantastic job organizing this work between multiple modelers and texture artists. From that road map, our FX team, led by Jono Freisler, did an amazing job in simulation to make these different destruction beats believable.
How did you prevent your render farm not to burn with so many destructions and water simulations?
Timing wise it was a bit tricky as we were delivering our work on BLACK PANTHER very close to our delivery date. Luckily, Scanline's render farm is quite robust and our Render Wranglers are always on top of things.
How did you create the digital double for Lara Croft?
Production provided us with great photogrammetry scans from Clear Angle, as well as additional texture photography of Alicia Vikander. Matt Bullock's modeling team created an extremely accurate model and texture and shading artists Jami Gigot and Ken Lee helped complete Lara.
How was filmed the Japanese bomber sequence?
Alicia Vikander was filmed primarily on blue screen in South Africa when Lara is on the bomber wing and in the fuselage. For Lara in the parachute harness, GS elements were shot in the UK. For shots where she is struggling in the river, her element and the water immediately surrounding her were also shot in the UK, at Lee River Valley.
In addition to Lara's elements, the Production team gathered reference plates, texture photography, and Lidar scans of Karkloof Falls in South Africa, and that helped with our CG build. By the end of film, nearly all of the environment and water for this sequence was taken over with CG.
How did you create the Japanese bomber and the waterfall environment?
The first draft of the environment layout really came from The Third Floor previs and served as a great starting point and was guiding production. Once we started receiving plates and scan data, Ashley Blythe (Layout Lead) and his team did a great job at further fleshing out our layout into an environment that could actually encompass the different action beats for Lara. After the layout was completed, Matt Bullock and his team of modelers ended up using the Karkloof scans and photographic reference to sculpt in fine rock detail to the canyon, rock bed, and cliffs.
In parallel to detailing out the model, our Flowline artists got underway creating some truly incredible river and waterfall simulations. In my mind, this is what really made this sequence both distinctive and believable: having naturalistic water sims through the environment tying the forest, cliff, and Japanese Bomber together.
The finishing touches on the waterfall environment were the foliage. Using Karkloof reference, we created many different varieties of trees, shrubs, vines and plants. Our generalists then used a variety of tools to scatter this foliage into the scene to make it look as natural and photo real as possible.
What is your favorite shot or sequence?
I'm really proud of all of Scanline's work on this film. But if I had to pick one section, it would probably be the area of Lara on the wing. The Environment, Waterfall, and Bomber ended up being 100% digital. I might also say the final blow to the Endurance, just before it goes under. It's hard to pick!
What is your best memory on this show?
I have many great memories from the show, most of them involve getting to work with the talented artists, production people, and supervisors at Scanline. It was also a genuine pleasure getting to solve problems with Paul, Scott, and Roar as they came up during production and in post.
How long have you worked on this show?
I was on the show for just over a year.
What's the VFX shots count?
We completed just under 300 shots for this film.
What was the size of your team?
I would estimate that we had right around 80 crew members that came on and off throughout the project.
What is your next project?
I just started work on CAPTAIN MARVEL.
What are the four movies that gave you the passion for cinema?
If I narrowed it down to four, I think they would be: INDIANA JONES AND THE LAST CRUSADE, THE SHAWSHANK REDEMPTION, TITANIC, and THE THIN RED LINE.
A big thanks for your time.
// WANT TO KNOW MORE?
Scanline VFX: Official website of Scanline VFX.
© Vincent Frei – The Art of VFX – 2018