Interesting making of by PostPanic about their work on this TNT commercial: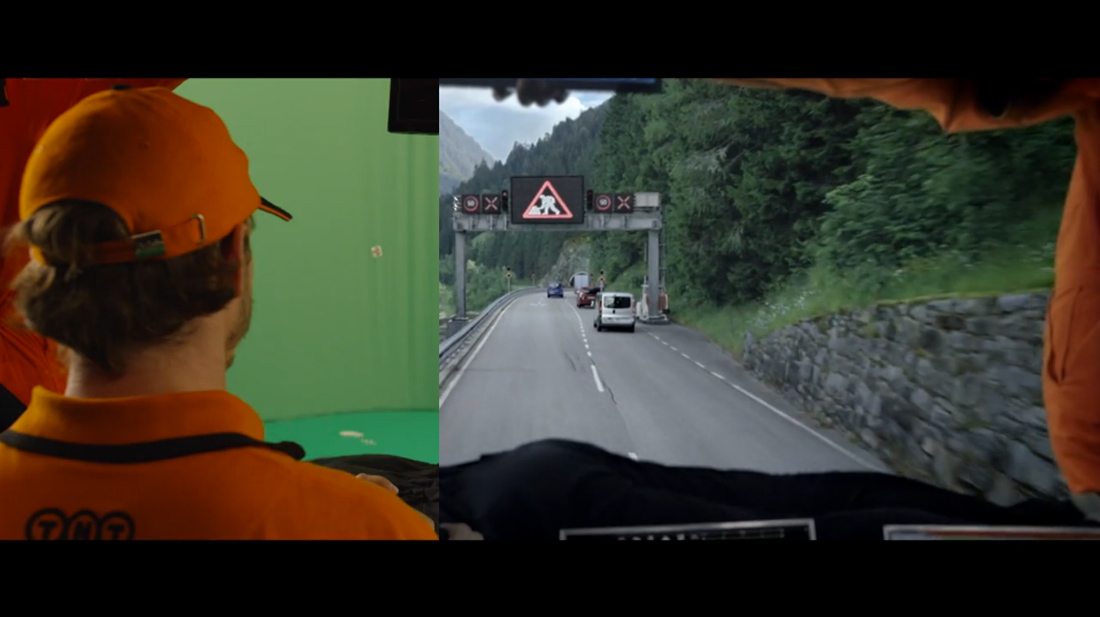 TNT – The People Network
TNT – The People Network – directors cut from PostPanic on Vimeo.
CREDITS
Agency: Etcetera
Concept : Peter van Leeuwen, Markus Ravenhorst
Art Director : Peter van Leeuwen
Copywriter : Markus Ravenhorst
TV-producer agency : Robert Roosenstein
Date shoot : July 2014
Locations/Studios : Prague, Austria, Belgium & Amsterdam
Film / Video-Material : digital (Epic Red Dragon)
Production Company : PostPanic
Director : Mischa Rozema
Executive Producer : Jules Tervoort, Annejes van Liempd
Producer (Liege) : Liene Berina
Production Assistant : Kristian Stoykov
Post Production: PostPanic
Head of PostProduction : Ivor Goldberg
Supervisor on set : Chris Staves, Matthijs Joor
Line Production Company : Savage, Prague
Executive Producer : Klara Kralickova
Line Producer : Vojta Ruzicka
Art Direction : David Baxa
Stunt Team : Filmka stunt team, Czech Republic
Stunt Coordinator : Jiri First
Making of : Jan Svejkar
D.O.P. : Jon Gaute Espevold
Grading : Scott Harris @ Glassworks
Off-line edit : PostPanic
Editor off-line : Benjamin Putland
On-line edit : PostPanic
Music composition & Sound Design: Pivot Audio / Guy Amitai
Sound Mix: Lawrence Horne
Stills
Photographer : Jiri Svorc
Image manipulator : Nick Strong
Cast
Marek Zelinka : TNT driver, Daan Daams : wink guy, Sabina Feldmanova : customer woman, Petr Kocourek : truck driver, Mikulas Matous : Kid 1, Matej Splichal : Kid 2
Post Production team PostPanic
VFX Supervisor : Ivor Goldberg, Chris Staves
Assistant Post Producer : Liene Berina
3D & VFX Artists : Matthijs Joor, Jeroen Aerts, Chris Staves, Marti Pujol, Dimos Hadjisavvas, Juri Agostinelli, Dieuwer Feldbrugge, Guido Ekker (intern), Francois Heysen (intern)
2D/3D Artists : Doma Harkai, Erwin vd IJssel, Stefano Paron, Donat Aron Ertsey, Hubert Heutinck (intern)
Matte Painting : Marco Iozzi, Marti Pujol
Tracking & Match Moving : Giso Spijkerman
Additional Post Production:
Additional VFX support : Andrea Staiano, Thiago Porto, Dennis Volkerts, Glassworks
Rotoscoping : Dot VFX, Roto Art Studios
Motion Capture : Stepan Kment, Bohemia Interactive a.s.
© Vincent Frei – The Art of VFX – 2014