Geoff Scott has over 20 years experience in visual effects. He has worked in many studios such as Toybox, Mr. X and Intelligent Creatures. He has worked on various shows such as Battle: Los Angeles, Snow White and the Huntsman, Orphan Black and Wynonna Earp. He talks to us today about his work on the Snowpiercer series.
What is your background?
My background is pretty simple really. When I was four my parents took me to see Star Wars and that was it I decided to spend the rest of my life making monsters, aliens, robots and spaceships. As for my career path I started out as a freelance classical animator and did not have the patience for it so that didn't last very long. I then saw Jurassic Park and I realised it was the future. I went to college for computer animation and the rest is history.
How did you get involved on this series?
For 5 years I worked with Graeme Manson on his show Orphan Black. He asked me to help out and come on board. I happily backed up and moved to the West coast.
How was the collaboration with the Showrunner and directors?
To be honest it's a fantastic experience. I have worked with Graeme our showrunner for so long and we have a great rapport. Our Producing Director, Christoph Schrewe, joined us on season two and he's fun to work with. He's very creative and judicious. We always sit down when possible and work through shots and he often brings detailed schematics and has a preliminary layout for our scenes.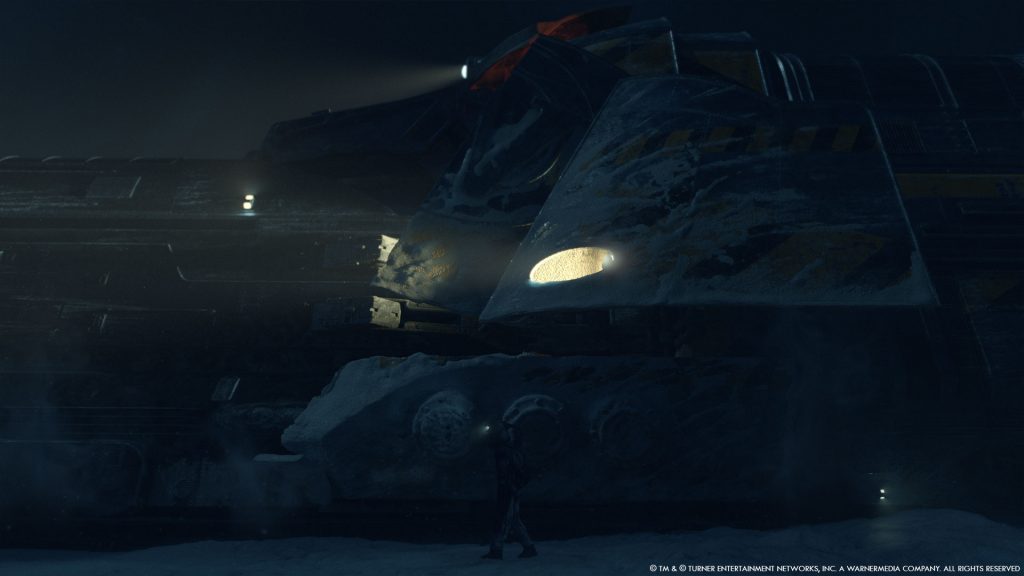 What was their approach and expectations about the visual effects?
Initially, for season one the plan was to use visual effects more sparingly. By the end that changed. So, for season two the expectations are immense. But that's the way it goes, season two the expectations are always double season one.
How did you organize the work with your VFX Producer?
My VFX Producer is Darren Bell. We've worked together on and off since 2009. Essentially each season we outline who we want to work with and what the distribution of work would be. We always try to measure where we are and assess ways to try and improve.
What are the main changes you have made since the first season?
Season 2 the use of our train is more story driven. In season one we'd often use the train as a means to establish where we were in the world. In season two the train is often pivotal to the story telling.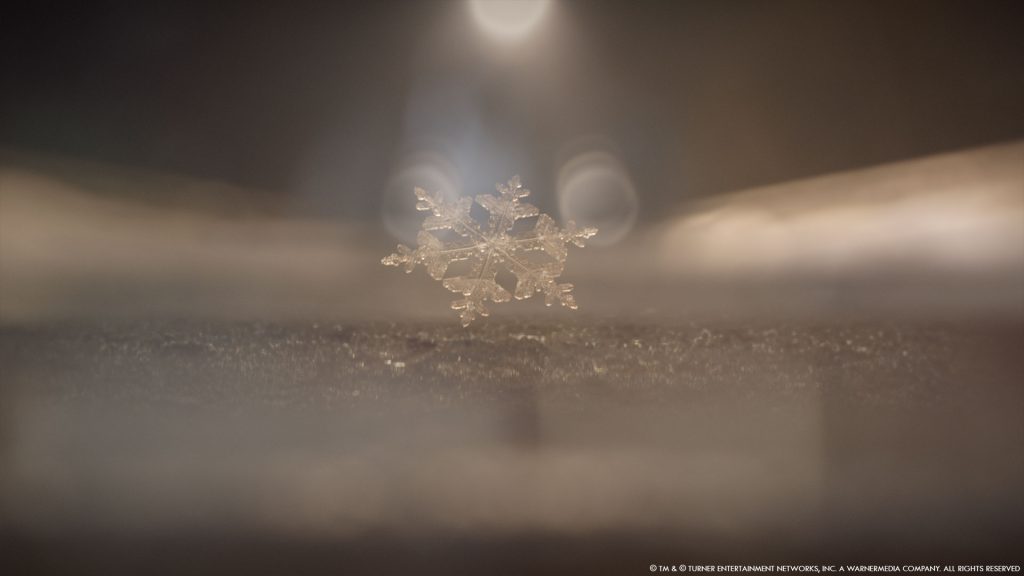 Can you explain in detail about the creation of the two trains?
When I was initially contacted about Snowpiercer I hired a small design team out of Toronto to put together some concepts. Eventually I hired Alex Nice, an amazing concept artist and he knocked it out of the park on his first pass. When it came to designing Big Alice.
Can you elaborate about the new train?
The new train, Big Alice, was conceived as the prototype for Snowpiercer. She needed to have some aspects that felt inherently Snowpiercer but not be a clone. As for her use she was designed to be a restocking car, many of her cars designed to be more like warehouses on wheels. There's also the Connector car named so because it was designed to connect onto the tail of Snowpiercer. Our inspiration for how the connector car latched on came from the mouths of the Bobbit Worm and the Sarcastic Fringe head fish. Although it was purpose built and supposed to connect with Snowpiercer, we still wanted it to still have a violent quality when they latched on.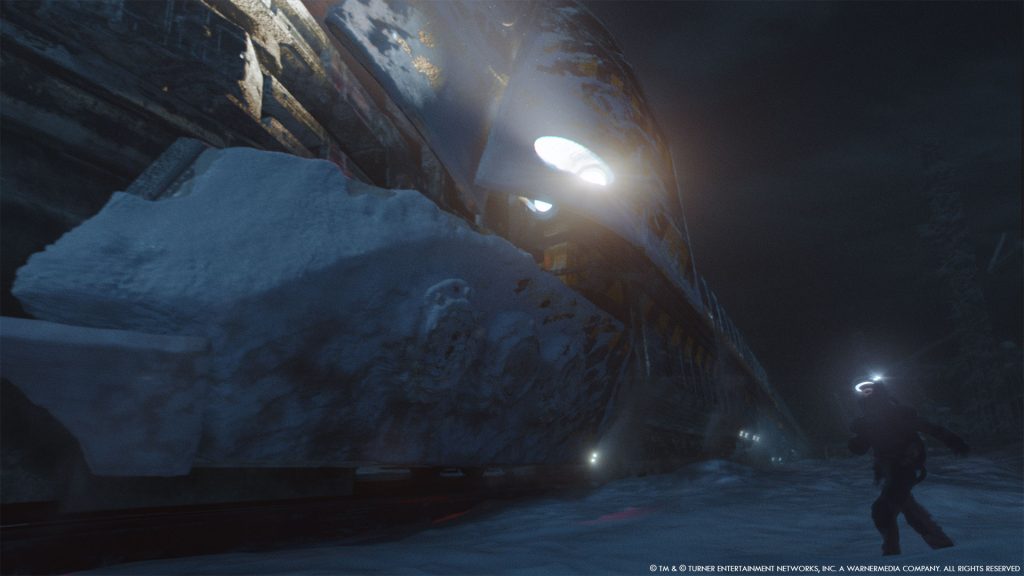 The trains are really long. What was the main challenges with so many train cars?
Scale. Scale is the biggest challenge. It's very hard to get your head around just how long the train actually is. Our train is so long that we have to take into things like the curvature of the earth when designing shots. We finally did a shot in season two where you could see the entire length of Snowpiercer and the camera is 35'000 feet in the air.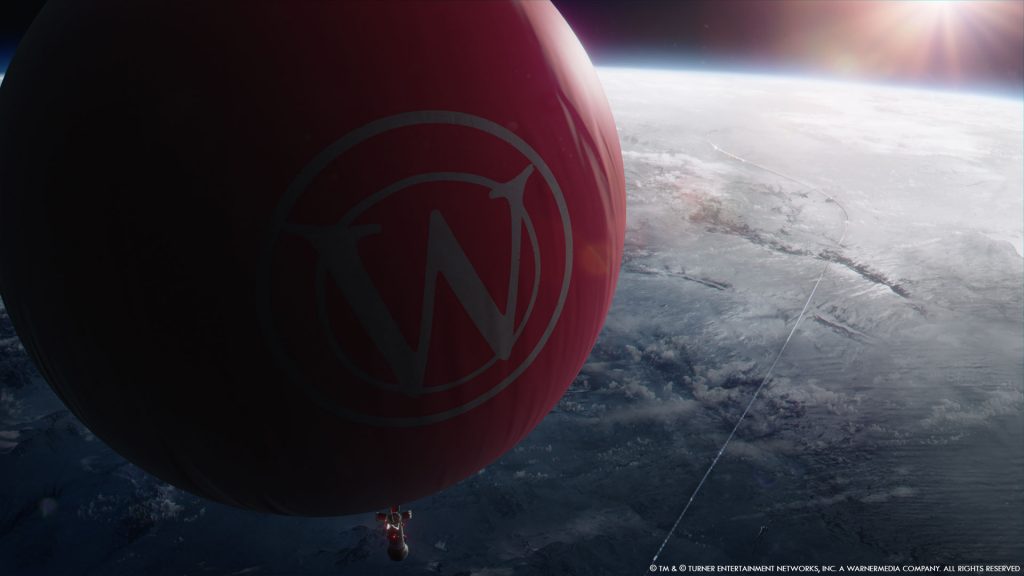 What was your approach to create the massive frozen world?
Biggest challenge for us was to always connect our train to the world that was. Initially we focused on the different types of snow and being geographically accurate but it wasn't until someone said "I'm missing the connection to the world that was." (paraphrasing) when the penny dropped. Suddenly I realised it was important that when we saw the world outside of Snowpiercer that we included something from before the world was frozen over.
How did you work with the art department to visualize the frozen world?
Graeme and Christoph trust me to design and execute the exterior world. It's a huge responsibility and privilege.
What was your references and influences for the frozen world?
I'm from Ontario so it comes naturally. All kidding aside we always reference the real world. With climate change being a reality finding reference is, unfortunately fairly straight forward. Extreme weather and areas covered in snow that shouldn't be are becoming a regular occurrence.
Which location was the most complicated to create and why?
We always try to incorporate real world locations into our shots. In season 2 we were tasked to find a volcano in a very specific part of the world. Our producing director Christoph Schrewe was the real hero and found a location that is perfect.
How did you handle the challenge with the harsh daylight on the frozen world?
We just made sure we referenced the real world. Often the urge is to go very blue with a shot to emphasise the cold. In reality more often the coldest days are bright and have very yellow, warm sunlight.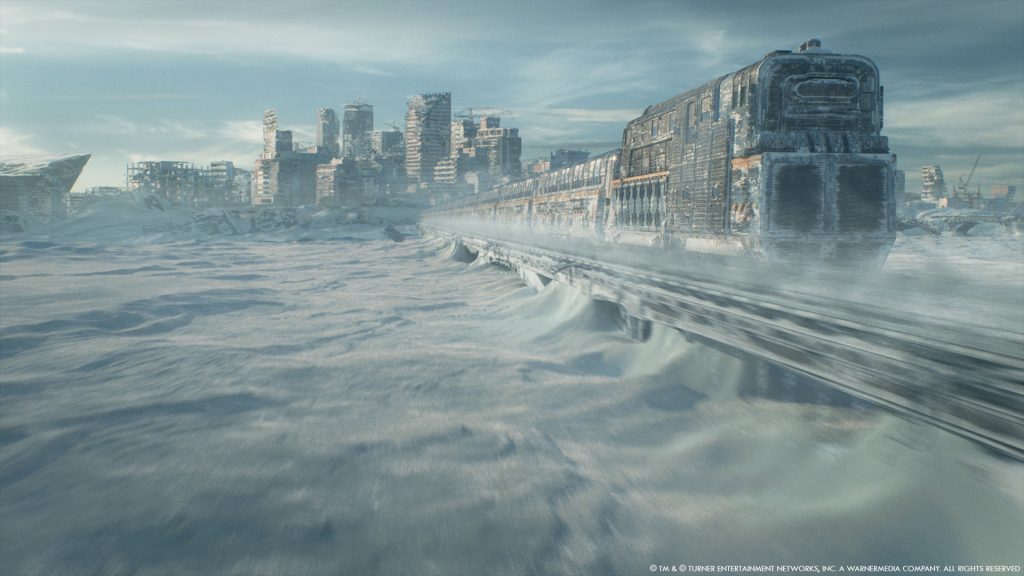 Which sequence or shot was the most challenging?
The opening sequence was very challenging. We had a lot of close up work with Jennifer Connelly and a fully CG train. While we had a practical set built in the end replaced nearly everything that was filmed with our digital train.
Did you want to reveal any other invisible effects?
We connect the train. Most of our cars are not connected on the set and we use VFX to connect them. So far no one has really noticed them so far and that's really great.
How did you choose the various vendors?
With FuseFX we had worked with on season one and they came through with some great work. They did a lot of heavy lifting in the end when we were in a bit of a time crunch. So, we had them do more elaborate shots in season 2 which was a great. Image Engine came onboard later on in the season and between their hard surface and work it was an easy choice. They've been great too.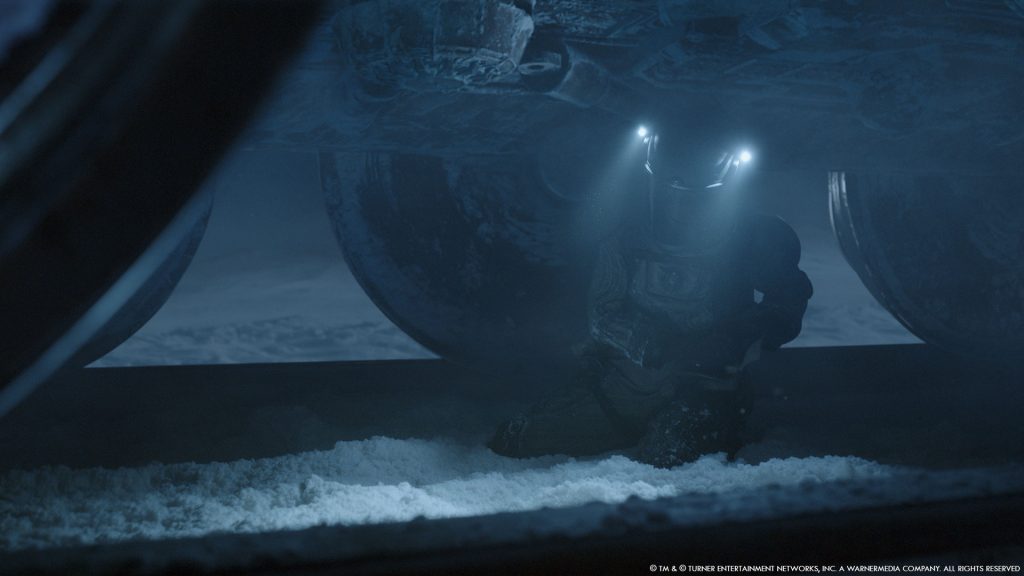 How was the collaboration with their VFX Supervisors?
Great. Both companies were easy to work with. On season one of Snowpiercer I rarely did an in-person meeting with FuseFX, so in our post Covid-19 world the communication flowed effortlessly. As for Image Engine, I one day hope to meet their team in the real world. I've had the pleasure of working with them now for approximately 6 months and have no idea what they actually look like.
Is there something specific that gives you some really short nights?
I get a little anxious before filming a big sequence. Especially if it's something I've never filmed before. But I was given some great advice years ago. "Whatever happens here it's your decision to make, your decision to live with ultimately yours to fix and you can fix anything." So if I ever get a little stressed I try to remember that conversation.
What is your favorite shot or sequence?
My favorite shot in season 2 comes in episode 10 so I can't really say what it is yet. But I pitched it to Graeme Manson when we were halfway through post on season 1 and I'm very excited for the audience to see it.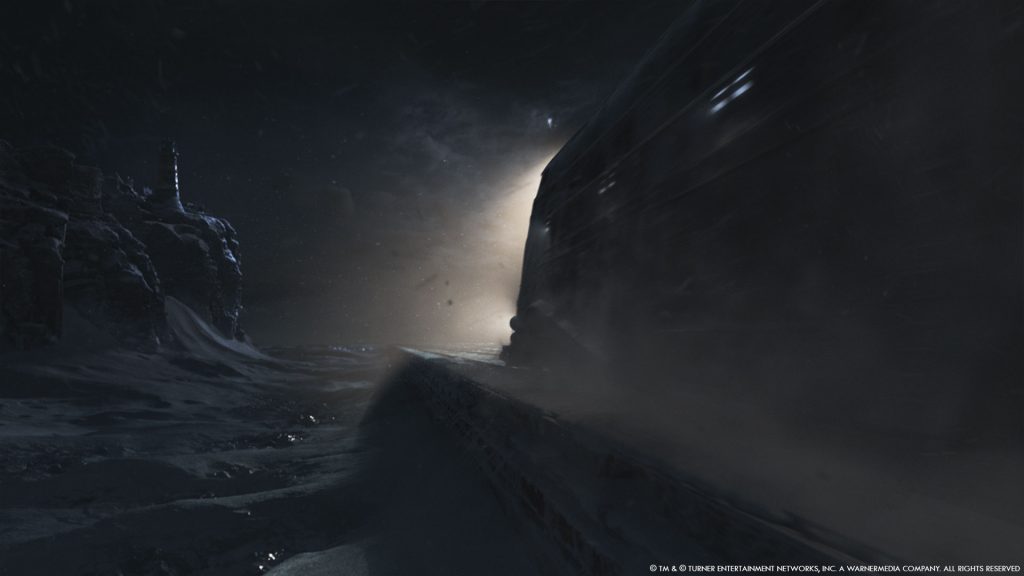 What is your best memory on this show?
To be honest after so many years I have a lot. It's probably cliché but the comradery I feel for a lot of people on this show is my best memory.
How long have you worked on this show?
I started working on Snowpiercer back in 2019.
What's the VFX shots count?
Season 2 has approximately 1450 shots.
What was the size of your team?
Internally I have a half dozen artists working for me directly and have employed 4 different companies FuseFX, Torpedo, Mr. X and Image Engine.
What is your next project?
I'm currently prepping Season 3 of Snowpiercer and that is plenty.
What are the four movies that gave you the passion for cinema?
Star Wars: The Empire Strikes Back
Blade Runner
2001: A Space Odyssey
E.T.
A big thanks for your time.
© Vincent Frei – The Art of VFX – 2021