Joanna Davison started her career in visual effects in 2005 at Framestore. She joined the Weta FX team in 2011. She has worked on various shows such as Avatar, Iron Man 3, The Hobbit trilogy and The BFG.
Tim Walker has been working in visual effects for over 16 years. He has worked at numerous studios such as Fuel VFX, MPC and Framestore before joining Weta FX in 2013. He has worked on films such as Prometheus, Avengers: Infinity War, Mortal Engines and Eternals.
How did it feel to be back in the MCU universe?
Tim Walker (TW): Great! I've been working in the MCU back-to-back since about 2017. Weta FX has a longstanding relationship with Marvel, so many of the team also continued their involvement with the MCU. I believe the last time we worked with Thor was during the third act of Avengers: Endgame. It was great to revisit our previous work but on a much larger scale and, of course, with Mighty Thor this time!
Joanna Davison (JD): My previous show was Shang Chi and the Legend of the Ten Rings so the MCU is a familiar place for me. Marvel movies always provide an exciting challenge and a fun team, so I was looking forward to some more Marvel action!
How was the collaboration with Director Taika Waititi and Production VFX Supervisor Jake Morrison?
JD: Taika is an amazing creative force with his classic Kiwi humour. Jake had a great relationship with 'T', as he called him, and did an amazing job of taking that epic creativity and corralling it into actionable VFX guidance for us all to turn into pixels on the screen
TW: It was a lots of fun, Taika and Jake were both great to collaborate with. Jake brought great insight into the Thor franchise from his longstanding collaboration with Taika and Marvel. One of our VFX Supervisors Luke Millar joined our Previs Supervisor Marco Spitoni early in the project to collaborate on ideas before principal photography took place. We extended this by providing extra comp support in the post-vis stage to help build upon the previs work and bring fresh ideas to the client-side team. Comp is not often involved in supporting the previs/post vis work, so we found this quite rewarding to be a part of.
What were their expectations and approach for the visual effects?
JD: The expectations were definitely high as Weta had the epic third act battle of the movie and the pivotal moment where (spoiler alert!) Jane decides to sacrifice herself for the good of the Universe. The VFX were a large part of the storytelling throughout so as the edit was tweaked, the VFX went along for the ride. This meant we were wrangling quite a few changes late in production, but I think ultimately it all paid off and made for a better movie and storyline for our heroes.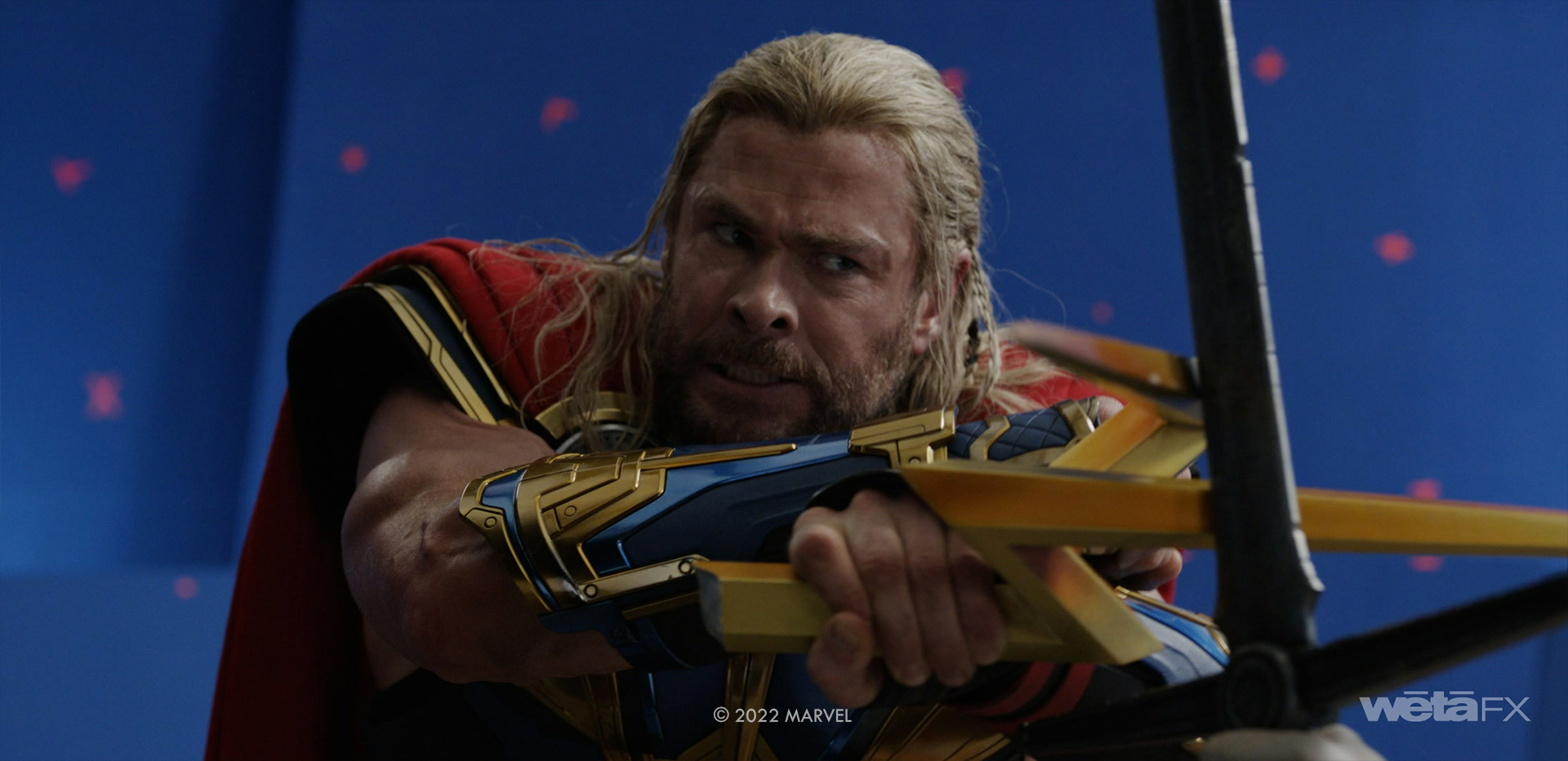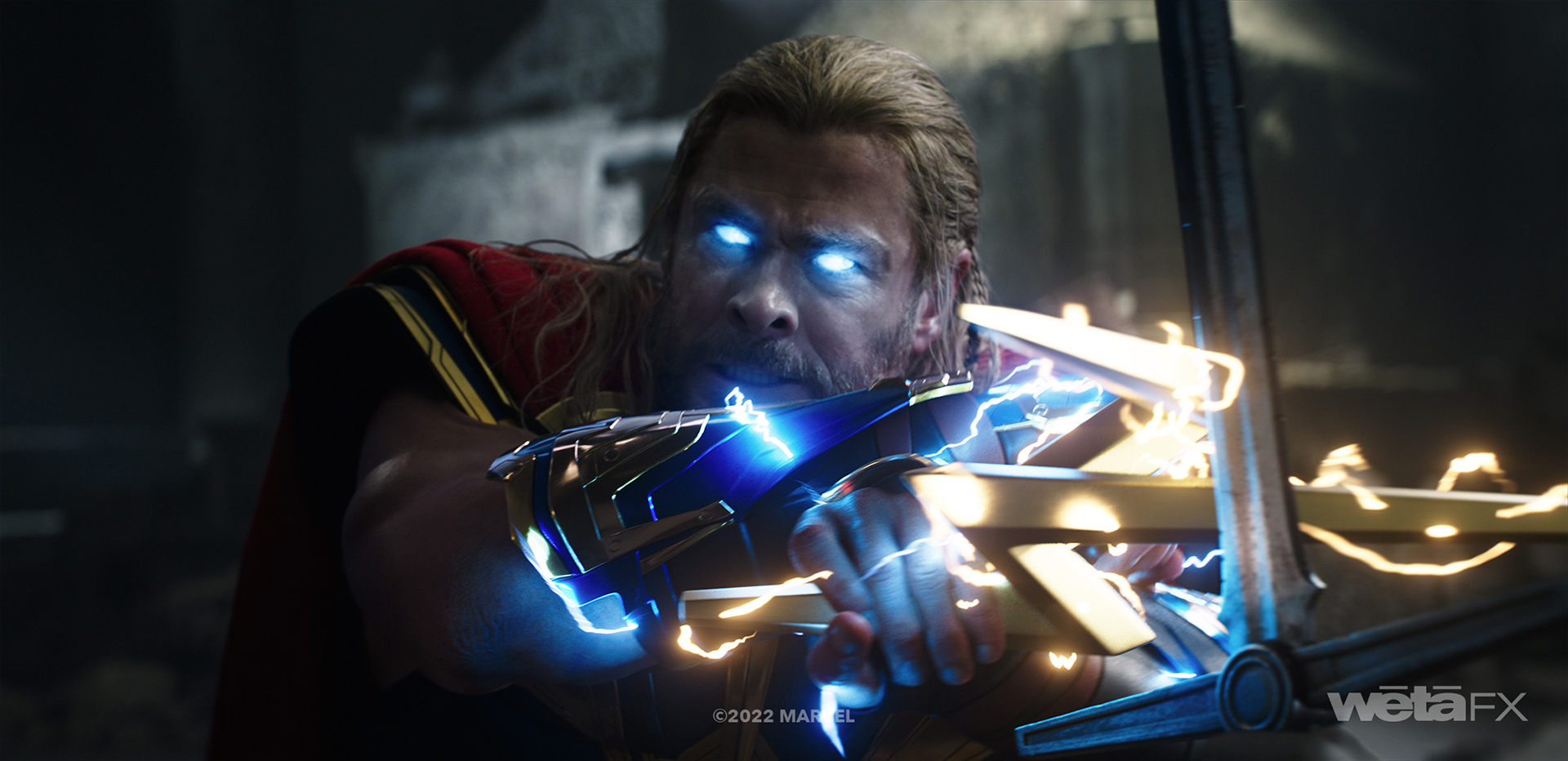 How did you organize the work with your VFX Producer?
TW: Tom Greene, our VFX producer, worked closely with the VFX Supervisors Luke Millar and Ken Mcgaugh to help break down and plan the work for the project. Tim Hope, Weta's Production Manager, worked with all departments internally and liaised with the client-side production team led by Lisa Marra. We had a great production team on the show!
What are the sequences made by Weta FX?
JD: Weta handled the epic third act in the Battle Hall between the God Kids and the Shadow Monsters while Gorr attempts to bore through the Gate of Eternity to get to the other side. We also handled some shots in New Asguard as the ship departs over the water on a rainbow bridge, pulled along by the hilarious giant goats.
How did you help Thor and The Mighty Thor with their powers?
JD: Weta's VFX work gave both Thor and Mighty Thor their powers, along with the God Kids who are given (for a short time only) the power of Thor. Jane wields Mjolnir – a sore point for Thor as it used to be his weapon!. Its power is represented by blue lighting and a forcefield effect, which was simmed against the environment creating a volume of light and electricity that demolishes any enemy in its path.
Thor's axe has a similar power effect, although Gorr has taken it over for evil and uses it to bore through the gate for most of the battle – this results in a complex multi-coloured beam of moving light that our FX & Lighting teams did an amazing job of simulating and rendering.
The God Kids with the power of Thor are enhanced with golden lighting, which had to be procedurally generated with match-moves for each child that was shot in the plate, then hero simmed for combat moments. On top of all these effects, there was a lot of Compostiting work done to make everything work with the live action characters and the CG digi-doubles. And of course all of these superpower effects cast light on the environment, adding another level of complexity to integrate into the overall look.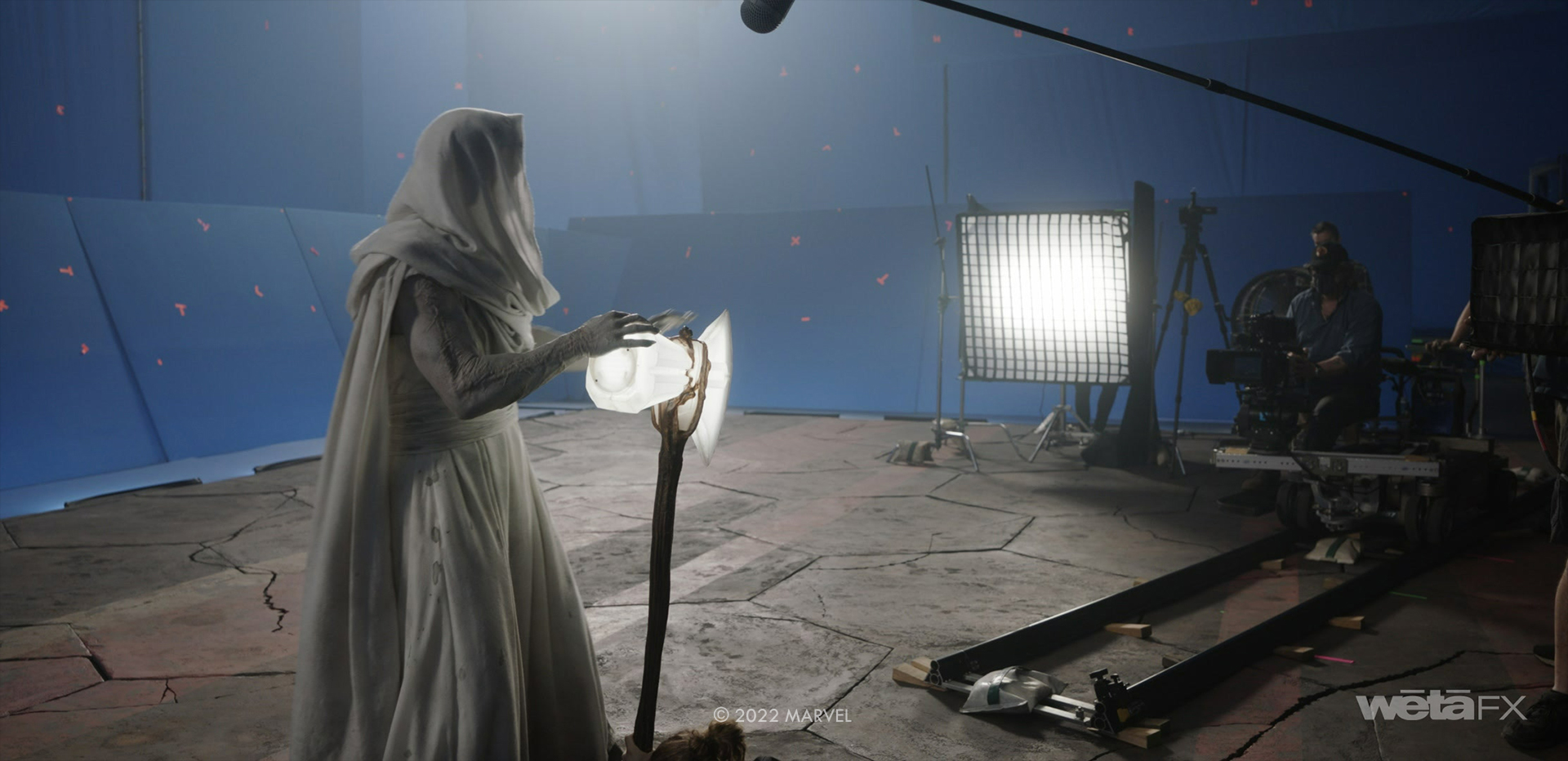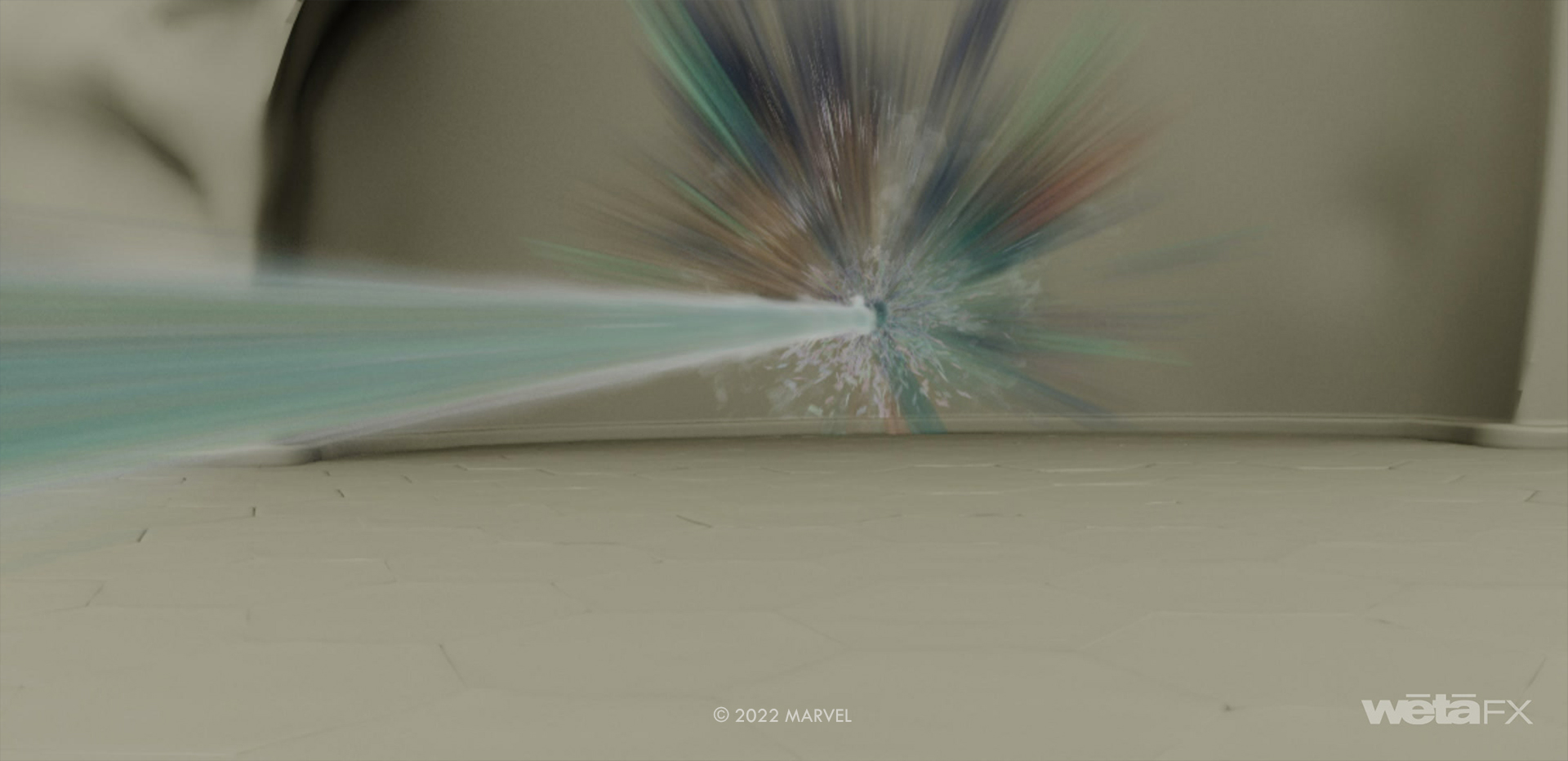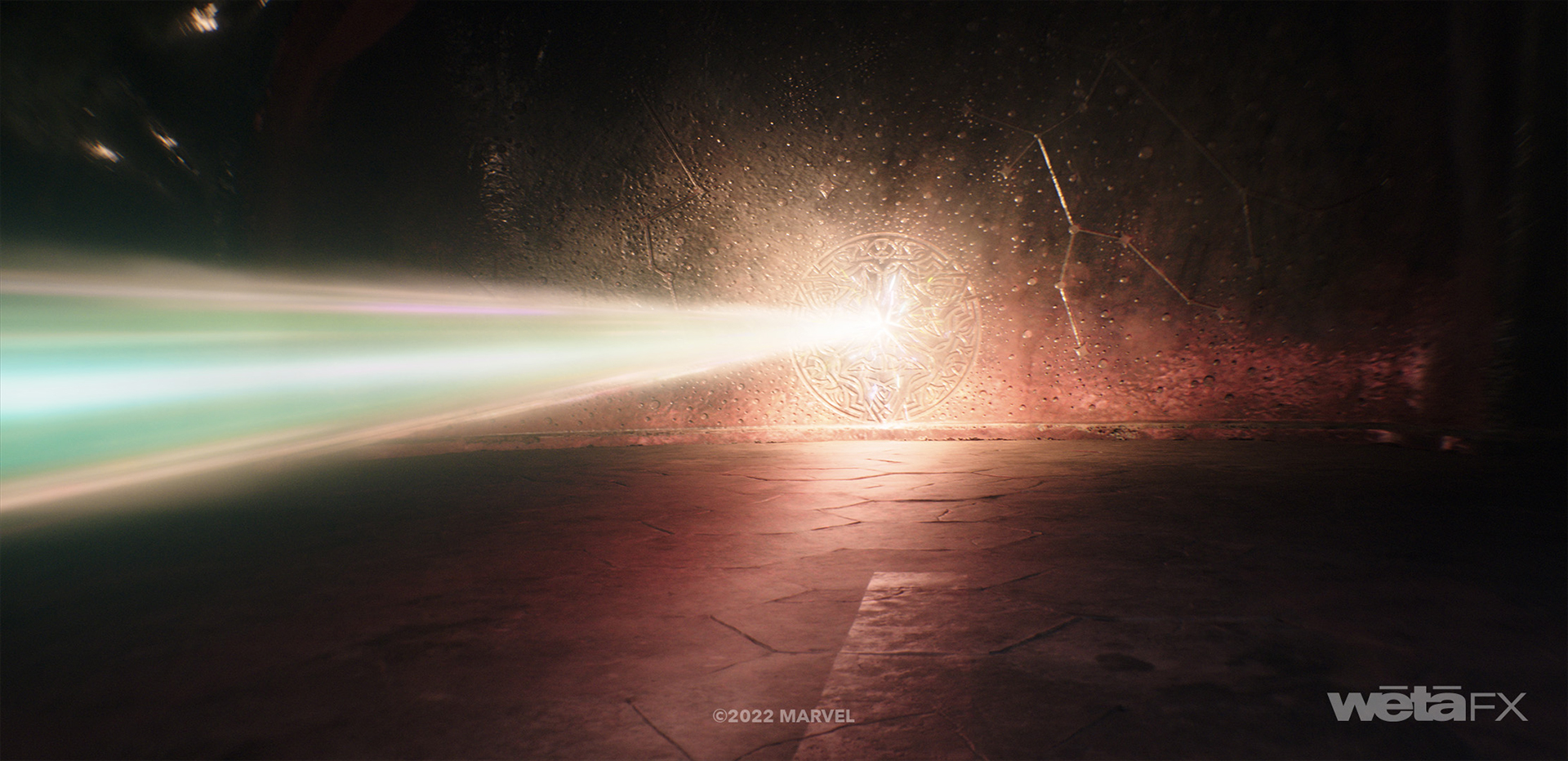 Can you tell us more about the creation of their armours and helmets?
TW: A lot of the design for The Mighty Thor's helmet came directly from the plate or via reference from other vendors. We built a solid deep workflow for integrating the helmet on the comp side. Head match-moves were used as initial holdouts for the helmets and we fully leveraged our deep tools to incorporate extra roto detail into the holdout. Refining line-up/holdouts could take place directly in comp, without the need to feed mattes back to the render to bake in as holdouts.
How did you handle the cape challenges?
JD: Capes are always a special kind of challenge. On set they used 'shorty capes' – capes that look like regular capes at the top but are cut off around the actor's shoulder blades. The idea is that the top of the cape can be used from the plate and split into a CG plate seamlessly, thus avoiding the need to simulate hair that would sit over the cape. For the most part this holds true, but as soon as the actor enters a moment of action or combat, the shorty capes fly around and cover their heads, creating a gnarly integration challenge that sometimes calls for a full digi-double replacement with hair sim.
TW: Having a real cape draped over their shoulders was super helpful, especially when it interacted with Chris's hair, as Jo mentioned. For the extension work, we match-moved the shoulders of Chris and Natalie before simulating a new cape, sometimes manually adjusting the sim in CG as a post pass to line up closer to the plate cape. We then refined the final integration with a pass of warping / translating different areas in comp.
How did you handle the light interactions?
JD: Most of the plates were shot on blue screens, meaning the light interaction between the lightning bolt and the environment could be rendered as part of the CG Battle Hall we created. The same was true for any CG kids or hero character. Things were a little tricker for characters shot in the plate, so we relied on our awesome camera department and their contact critical match-moves. This meant we could render out a light interaction pass of these characters that could then be integrated into the plate so the characters felt like they were truly in the lightning battle.
TW: We had a few different approaches when integrating interactive light from FX elements for the sequence. As Jo mentions, our standard approach was baking interactive light into the CG renders. The lighting team put a lot of work into ensuring this balanced out to be just right based on the FX. We then used this as reference for any manual plate grading work that needed to be completed on plate characters and the set where needed. The kids were given portable LED weapons for their fight sequence, adding an extra layer of natural interactive light across the performance and set.
The most exciting approach was using Jake's high frame rate 'plate light' passes that were set up for the film. His team built a system that would trigger individual lights to sync with a high frame rate camera. This sync/trigger resulted in multiple separate light passes per frame of final retimed photography. There was a little work required to align each light pass with a centre registration frame, however once this was complete, we could use the different plates as lighting AOV's to change or add lighting to plates on the fly. I wish we had more of these plates to work with as it was a refreshing solution to managing lighting manipulation of plates!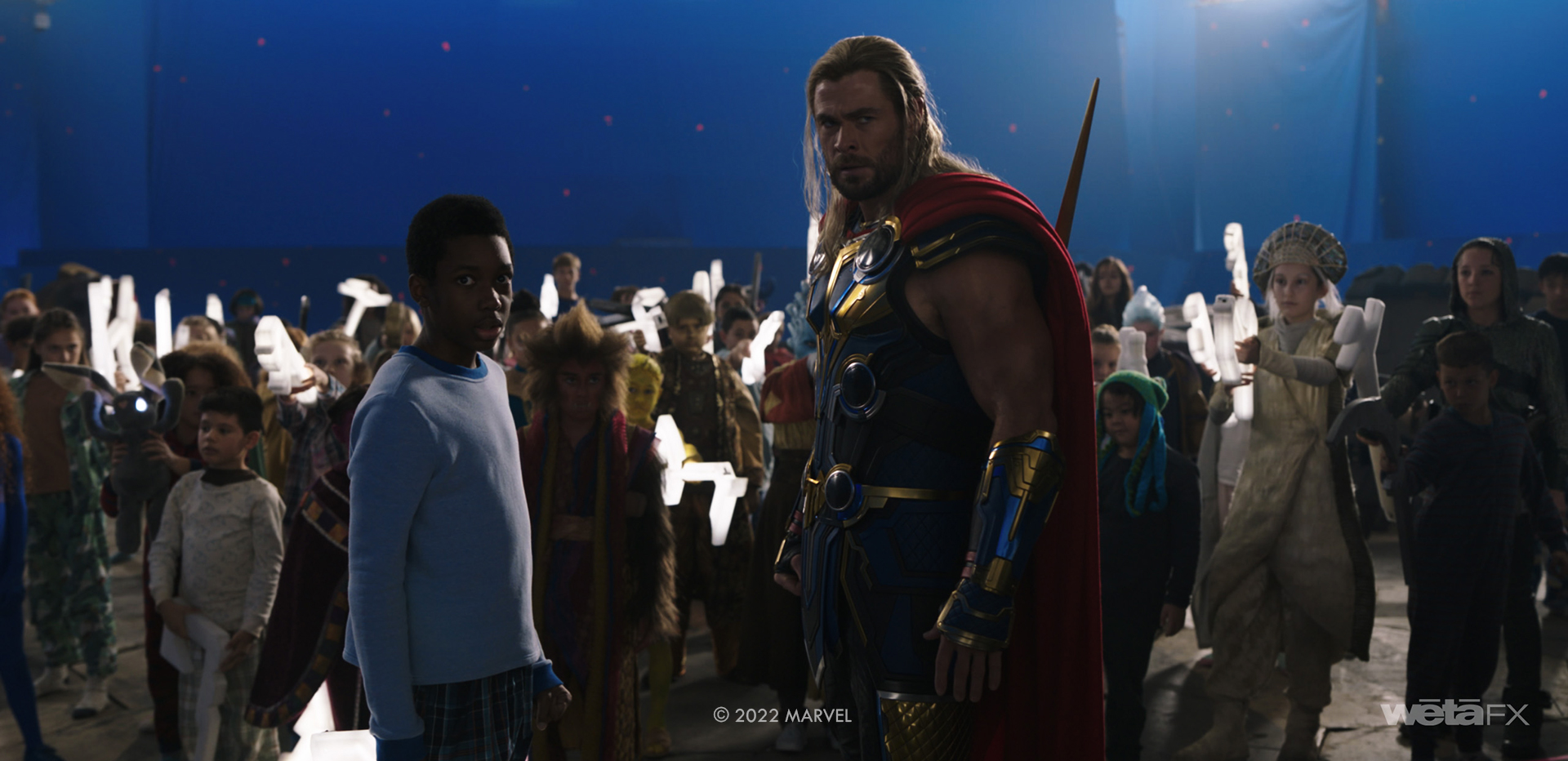 Can you tell us more about how you directed the FX and the lightning?
TW: There was definitely no shortage of lightning in our sequence, that's for sure! Our FX Supervisor Jason Lazaroff had his work cut out for him, building multiple setups to cater to all the lightning requirements in the sequence. Lightning wrapped to a background character's body was very different from the bespoke work needed for our foreground hero moments. He had to cater for everything! We also made sure to tie into the language and look of the lightning established in previous films. We built a set of passes and AOV's that our lead compositor Ella Boliver used to line up with the established look, adding extra details in the process.
Can you elaborates about the design and the creation of the Shadow creatures?
JD: To get inspiration for the shadow creatures, the production team asked the crew's kids to draw the monsters they saw in their nightmares. The kids did an amazing job and the results were terrifying! These drawings were then worked up by concept artists and that's what we based our builds for the shadow creatures on. So, for each piece of concept art that was sent through, there was a corresponding children's drawing shown next to it. Kids' creativity is the best – I wish we could do that kind of thing more!
Once we knew what these creatures should look like, our Animation team, lead by Nick Craven, created some super creepy walk, run, and fight cycles that really conveyed the personalities of these evil beasts and the horror of them all both singularly and as an army.
How did you manage the challenge of their shaders and textures?
JD: The shadow creatures were very unique in that they were meant to represent shadows and not really react to light. To achieve this but still be able to read the battle action, we created very high detail geometry with a very dark diffuse and a complex specular component. The result was that we could edge and backlight the creatures and get a complex light and surface result that picked out the action clearly, but kept them looking scary and other worldly.
TW: We had a collection of shots where the creatures reveal themselves from the environment shadows that were baked into either the CG or the plate. We needed to find an approach to blending creatures into the shadowed world of the environment. If we were working with low dynamic range images, the treatment and approach would be trivial given the lack of detail in the lower end of the image. The production photography preserved a wide dynamic range so our balance and alignment of creature to shadow had to be pretty precise. We looked into building procedural approaches to these blends, but for the most part it came down to a lot soft blending and manual adjustments in comp.
How did you create the enormous environment?
JD: The environment originally started out as an open environment with infinite space and star fields and nebula on all sides. We then went through a huge creative change where it landed on an enclosed environment of cathedral scale, but with the moody lighting of a tomb – not an easy thing to convey as one is huge and open and the other dark and claustrophobic. Taking inspiration from grand spaces such as cathedrals including the vaulted ceiling, we built the environment initially as low res geometry to define the scale of the main shapes and columns, before building detail on top to give it a feeling of grandeur. We played off the dark lighting by adding a complex specular component and metal details to pick out details with edge lights and volumetric shafts of light from above.
TW: Our comp team also used fog to their advantage when trying to sell the scale of the environment. We received Deep Fog renders, lit by interactive elements in the environment that we balanced to push that sense of scale. The shaft lighting from the roof was crucial for layering in the plate elements, as these were more lit than some of the darker areas of the environment. We put a bit of time into balancing these levels per shot to sell that sense of scale.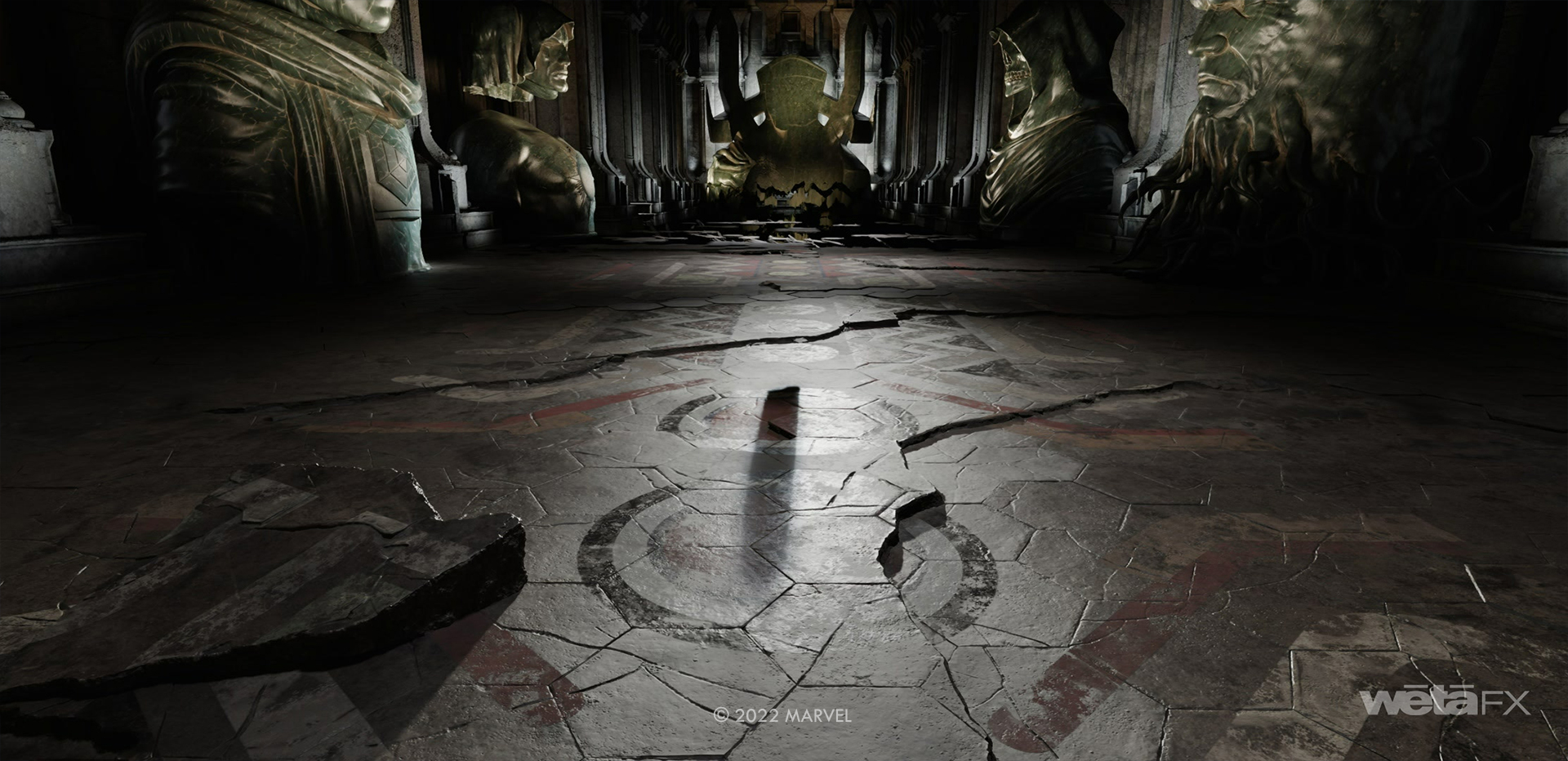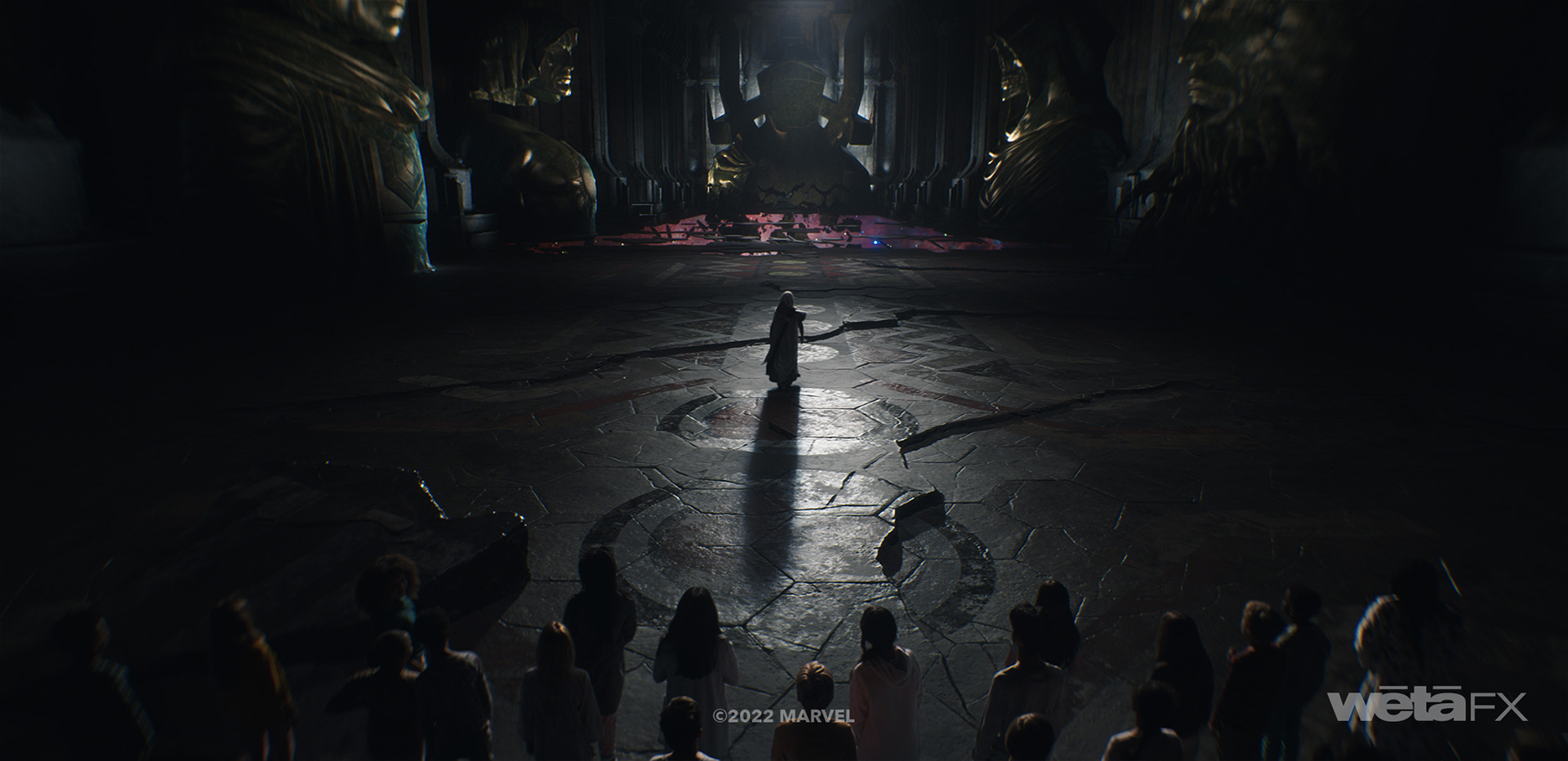 What kind of references did you received for the environment?
JD: The reference for the environment was initially green marble or schist for the material, later shifting to a white veined marble. Reference for the scale and lighting of it was taken from multiple environments including Egyptian monuments, ancient tombs, and archaeological sites.
Which shot or sequence was the most challenging?
TW: I'd say the first shots of the crowd of kids running into battle with the shadow creatures were probably the trickiest, purely from an integration perspective. One of those shots had upwards of 50 kids in frame at any one time, all requiring lightning eyes, body lightning, and CG weapon replacements that crossed over one another through a big camera move! Shout out to Simon Taua'i and Ricky McMahon from our roto/paint team who helped streamline the planning and delivery of elements to our Senior Compositor Angelica Perez. Angelica had a lot of work on her plate to get all elements layered in a useable way, but through a combo of some neat Deep Comp tricks and some hard work, she got it sorted!
Was there something specific that gave you some really short nights?
JD: The rainbow bridge that the goats run along with they leave New Asgard. That was tricky and one of the first – and one of the last – shots we worked on. A few weeks out from delivery we were still going through creative iterations regarding what it should look like. I think everyone cheered when that one got finalised!
TW: A couple of the crew also became parents for the first time during the project, so I think for them sleep was pretty limited! We had such a great group of artists and the production team were fantastic too. Their enthusiasm and commitment to the work kept those sleepless nights to a minimum.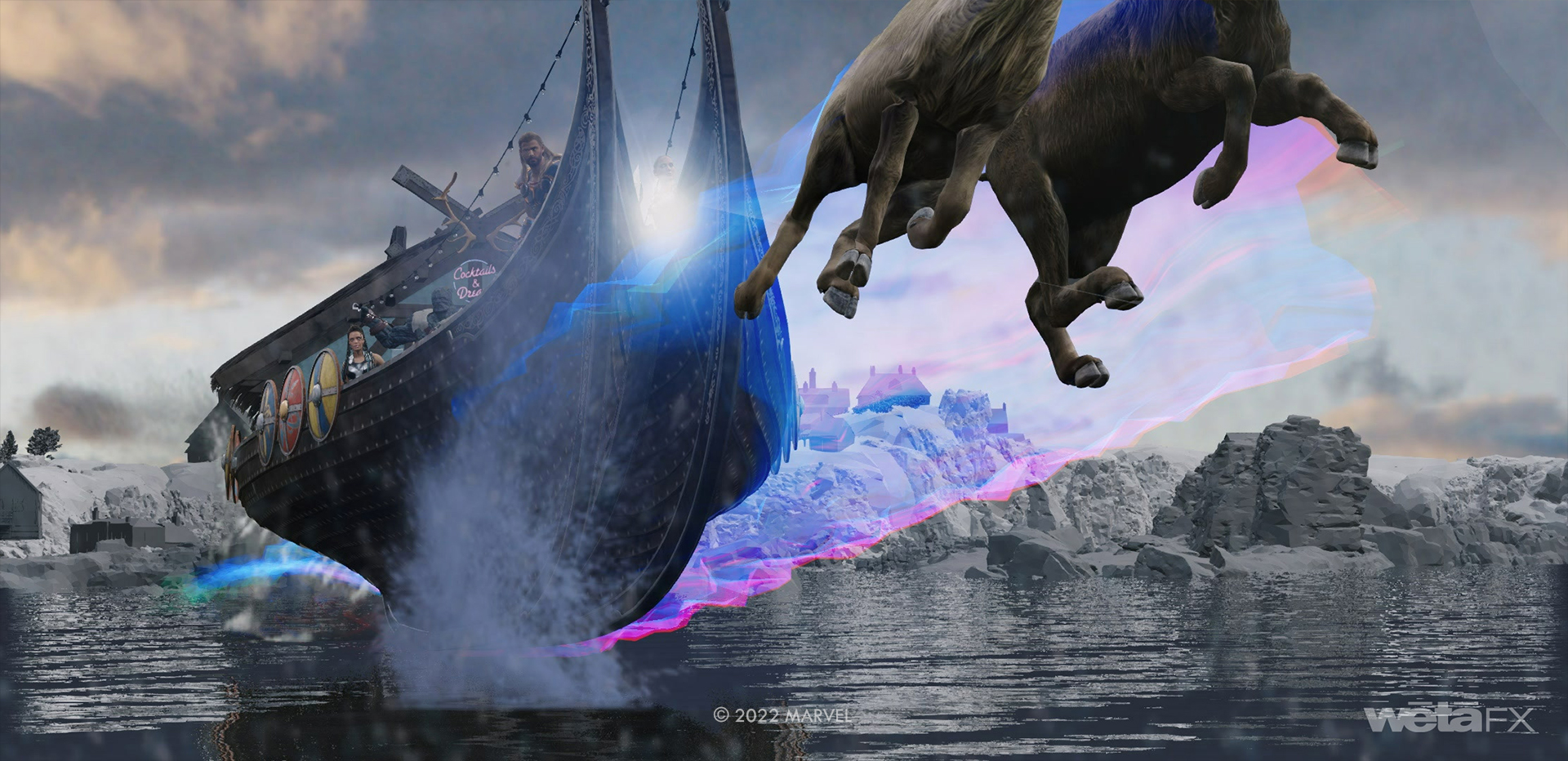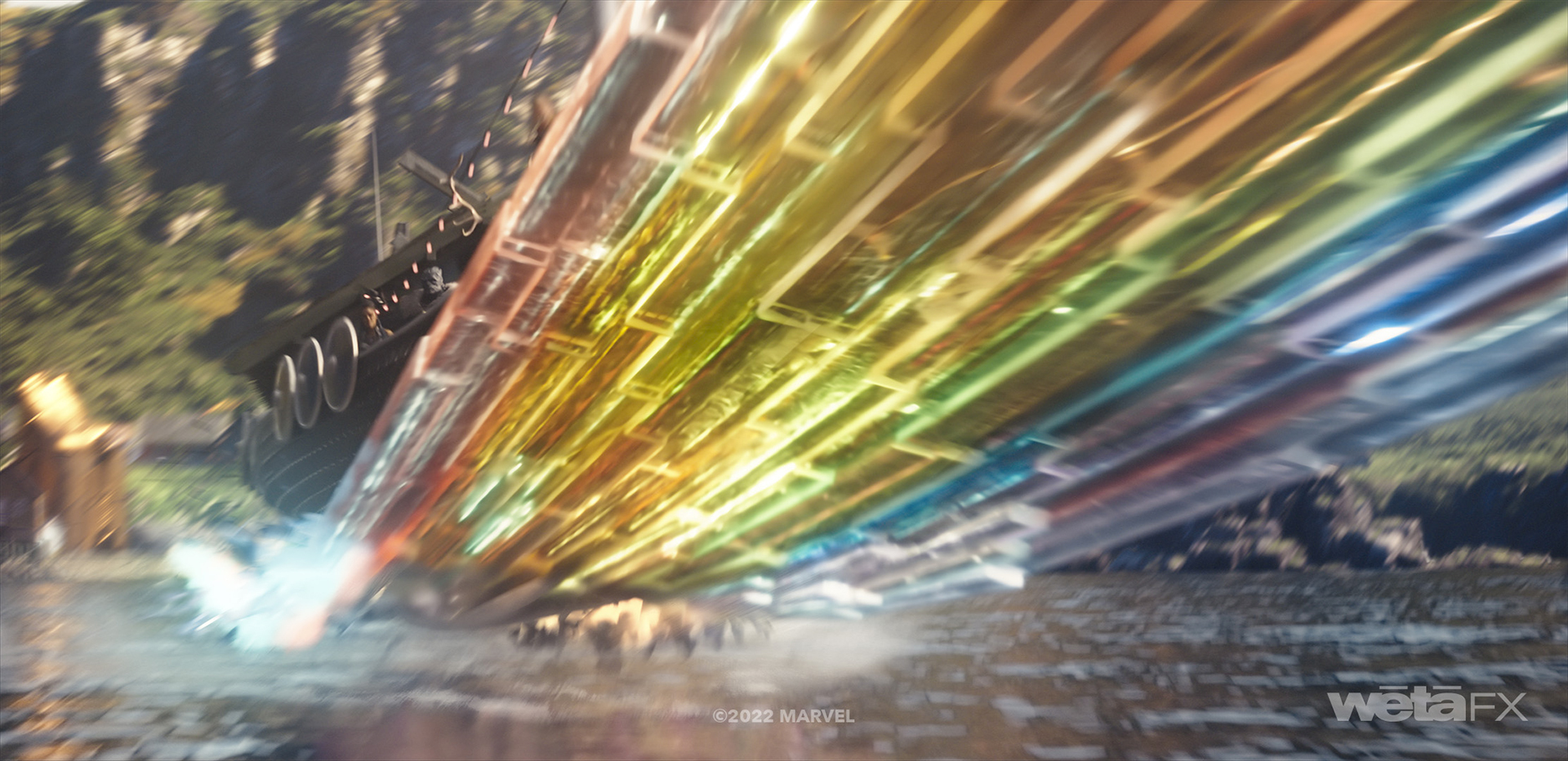 What is your best memory on this show?
JD: A bunch of our crew on this show got stuck overseas thanks to Covid, so there was a week where suddenly everyone was back on site and it felt like the team were back together again. Such a lovely moment after such a challenging time!
TW: I loved watching the full sequence back with the final DI Grade and soundtrack. That Guns and Roses tune just made everything so much more epic!
How long have you worked on this show?
Both: Around one year in total
What's the VFX shots count?
Both: We landed around 300 shots in total.
What is your next project?
JD: I'm back in the MCU working on an upcoming Marvel film.
TW: A project called Better Man which we are working on quite closely with Australian director Michael Gracey out of Weta FX's new Melbourne facility.
A big thanks for your time.
WANT TO KNOW MORE?
Weta FX: Dedicated page about Thor: Love and Thunder on Weta FX website.
Jake Morrison: Here is my interview of Jake Morrison, Production VFX Supervisor.
Disney+: You can watch Thor: Love and Thunder on Disney+.
© Vincent Frei – The Art of VFX – 2022