In 2013, Jeff Campbell explained the work of Spin VFX on AFTER EARTH. He then worked on many shows including GAME OF THRONES, JOHN WICK, FEAR THE WALKING DEAD and THE SHANNARA CHRONICLES.
What was your feeling to be back on THE UMBRELLA ACADEMY?
First of all, I was honored to be a member of the team again and even more so that this season we worked at an increased capacity. This expanded VFX role entailed Art department support, onset supervision support, and being the sole scanning vendor for the show. Coming from a great season 1 with and an Emmy nomination, I was even more motivated to rock the VFX.
How was the collaboration with the various directors and VFX Supervisor Everett Burrell?
Since we were awarded the big 2-minute opener in Ep01, we worked closely with Director, Sylvain White and Cinematographer, Neville Kidd on the development of the sequence. We also collaborated with director, Ellen Kuras for the B/K shots and the boardroom massacre. All Directors were terrific and very supportive.
Everett and I have worked on many successful projects in the past. His involvement with our team is extremely collaborative and respectful. Everett is a pleasure to work as he is very engaging and hands-on and has a unique way of using humor to ease stressful situations. We all have a lot of respect for him
What was their expectations and approach about the visual effects?
Their expectations were high of course. The clients wanted mind-blowing epic superhero cinema work that honored the story and fans of THE UMBRELLA ACADEMY. So, they obviously wanted the VFX to look photoreal and the visuals compelling. Considering the steaks were high this season, as we were dealing with a lot of full CG characters with heavy FX in CG environments, it meant extensive planning and support was imperative.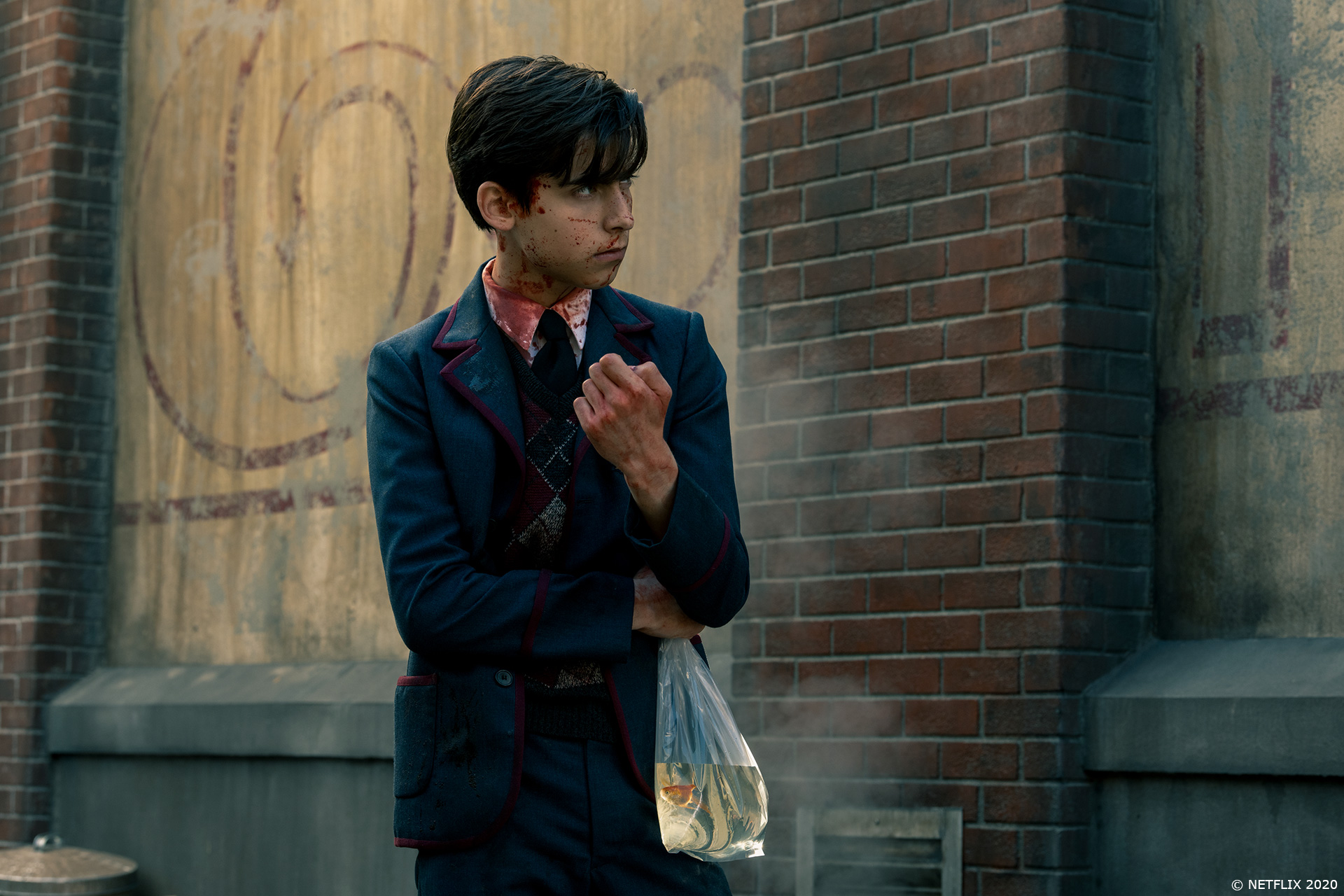 How did you organize the work with your VFX Producer?
I usually get a bid package from production with reference material, quick times, and a shot breakdown. After reviewing the material we would have a call with Everett to discuss the shots. My amazing senior producer, Carrie Richardson (whom I've enjoyed working with for years), sends me the breakdown in our own internal format. I then add numbers and notes after consulting with the team throughout the bidding process.
What are the sequences made by Spin VFX?
Our main challenging sequence was Battle Dallas (ep01 opening sequence), the BK sequence shots (when Ben takes over Klaus' body), and the final agent battle in Ep10.
The Boardroom massacre in Ep07 was also ours in which we did a lot of previs and techvis to figure out how to pull it off (another oner).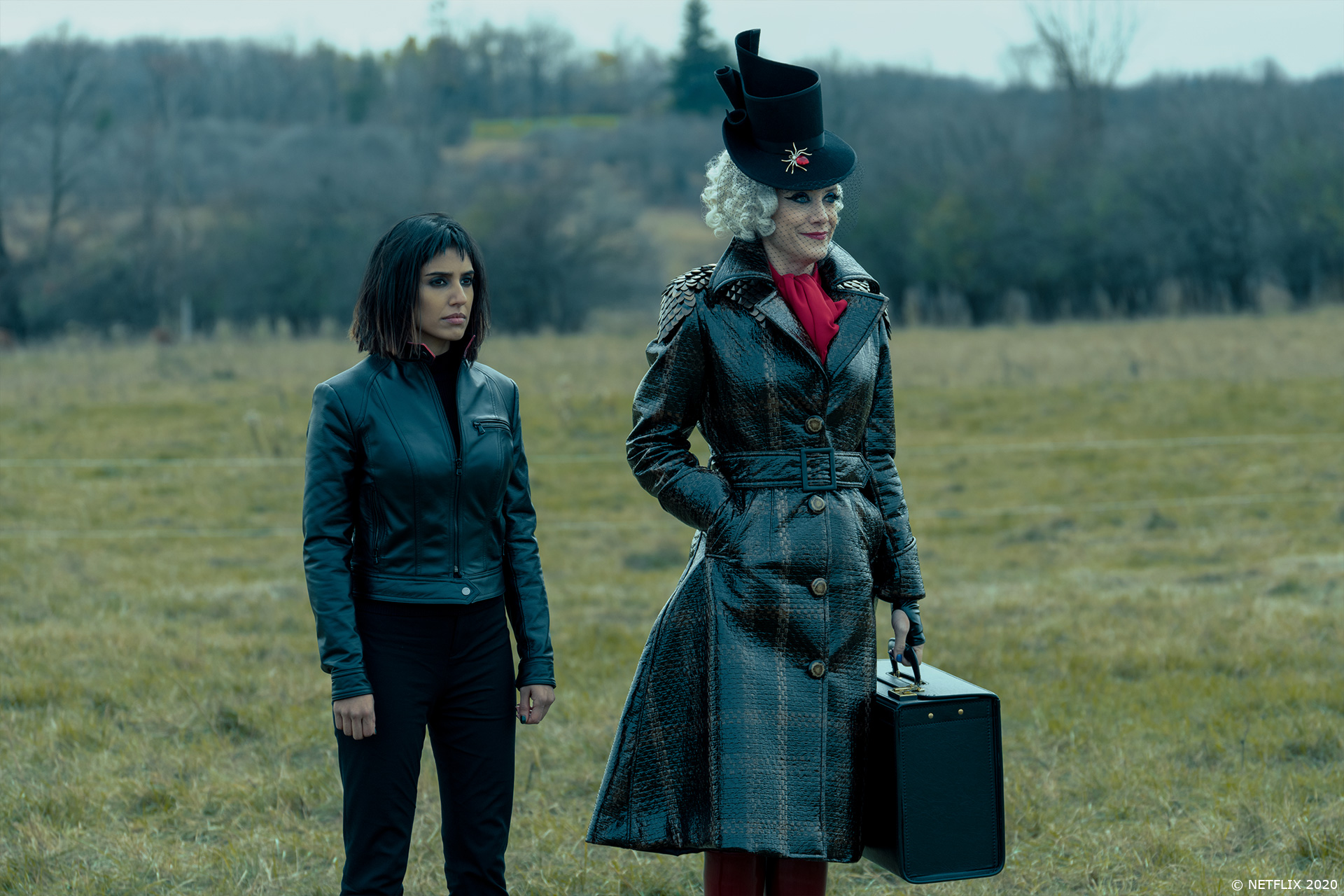 Can you elaborate about a typical day on-set?
These would have been the days that I would cover for Everett if he was away. On those days, I'd have a prior briefing to get updates on any shot details that I may not be aware of. I'm pretty familiar with everyone on set from season 1 so working with a crew of seasoned professionals makes my day so much better. From there on its just coffee and donuts, ha, ha, just kidding.
The series starts with an impressive opening scene. How did you approach it?
Upon being awarded the entire 'Battle Dallas' sequence we started building assets well before the shoot date. We planned on pushing the sequence along to alleviate our bandwidth to take on more creative shots.
Once we had an approval of the prevised scene we then determined where our boundaries were. Based on these boundaries, production built, on top of cargo containers, a 360-degree bluescreen that stood about 15 feet tall and dressed the ground to look like a battle zone. We rendered a birds-eye view of the previs for an onset set guide so we could better determine where and when our action would happen.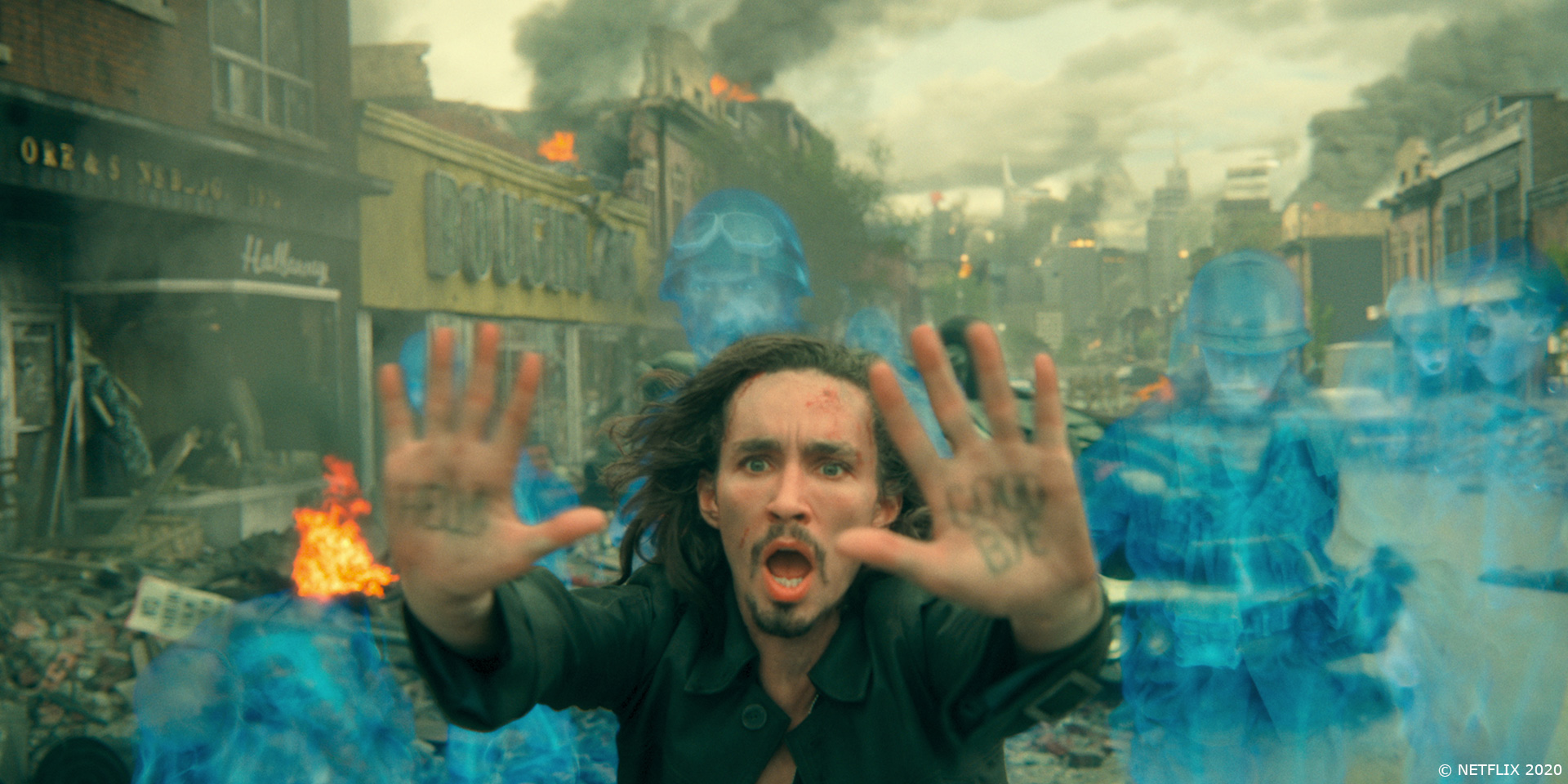 Can you explain in detail about your work on this crazy scene?
We were provided a rough cut to start but we had to smooth out the transitions between all the setups. Next, we would do a temp with rough animation with the CG buildings blocked in. We cut the shot up into 7 manageable chunks and pushed them into the pipeline. This temp went very well, I think there were only a couple timing changes.
Since we couldn't destroy the actual street location in Hamilton, Ontario, the decision was to dress the road surrounded by bluescreen. We sent out our guys to scan around 4 blocks and process it to use for previs and techvis. The collaboration with Art director, Mark Steel involved using our street scan to accurately build and visualize the signage, colour schemes, and set dressing to suit the story and the 60's time period. We would later do a final scan of the city strip when it was camera ready and fully dressed. Our Asset department built all of the street buildings and then added major battle damage, which involved building revealed interiors and smashed window dressings. Since the set was in a Blue screen box, we had a lot of roto to do because of the dark corners and shooting off-screen. The tank was practical except for when it fires to give us control over recoil and dust interaction. Following the tanks projectile, we went all CG except for Vanya who was shot high-speed on the Phantom. Our animation crew was on set capturing mocap suit data for Klaus' CG army of the dead and for Ben on the rooftop. We did a lot of projection work in Nuke to smooth between camera setups. Five and Hazel were shot on separate days making them split screens, which thought worked out very well. Our main pipeline is Houdini for FX, Maya, Katana, and Renderman.
What are the main challenges with a 2-minute sequence?
Making sure all 7 segments would all cut back together, especially since we never did the obvious full-frame object wipes to use as cut points. Dan Cohen our Comp Supervisor had done a great job making sure the artists tools and scripts where cross utilized in order for all the shots to cut together seamlessly in the edit.
How did you enhance the various powers since the first season?
Their powers are fully maxed out but this season they are more controlled.
Can you explain in detail about the creation of the Klaus/Ben shots?
Starting with scans of the two actors, we animated a previs performance based on director Ellen Kuras' vision. This would be used as a reference on set to motivate the actors' performance. We also did some Houdini fx lookdev for the intersecting areas of the two bodies. Using HigX, which is a point renderer for Nuke, we built the surface energy effects.
How was filmed this kind of shots?
We used our wireless mocap bodysuit on location, worn by the Klaus (Robert Sheehan) under his clothing. We covered any visible trackers with flesh coloured tape, I was surprised to say we didn't have to paint any out. Klaus' performance was all adlib, we just made CG Ben work with his performance, I was expecting to replace more of Klaus' arms to accommodate CG Ben but we only had to do one shot when his hand is pushing Bens' face away. We also did a plate pass on Ben mimicking his reaction to Klaus trying to force him out of his body for reference.
Can you elaborate about your work on the end sequence?
Because of a freak snowfall, our work description drastically changed. So in the majority of our shots, we had to remove the snow, which was not just patches, rather, it blanketed the whole scene. As well, all the aerial shots had to be full CG as the plates provided were also covered in snow. What a great example of supporting VFX! We also did a full CG Vanya coming out of a CG barn and also her smashing into the barn. In addition, we did a CG flying Rumor who then lands in a hay wagon.
The end sequence involves an impressive amount of agents. How did you create and animate them?
We scanned dozens of agents, masks and guns. We gathered a library of mocap data from our animation team's performance to be used in Massive. Simon Milner our CG supervisor used Massive to simulate 5000 agents charging with guns and briefcases. We also had the challenge of figuring out how many agents could randomly appear through time portals within the simulation. For any front line hero agents our animation team, lead by Peter Giliberti, did an amazing job of animating Hi-res agents. They also posed groups of dead agents for closer to the camera details and the more distant ones using Massive.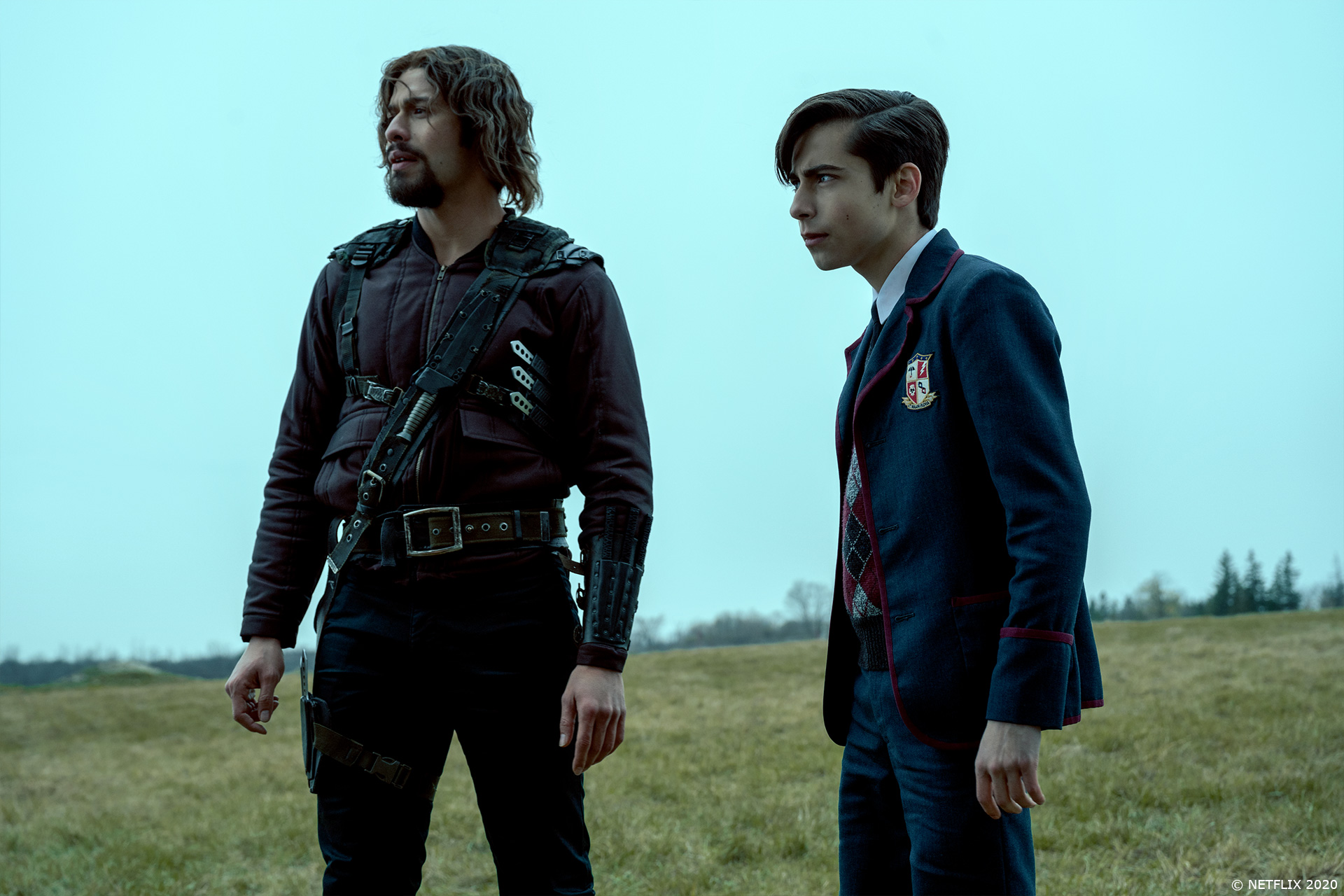 Can you explain in detail about the creation and animation of the giant shockwaves?
To start we would animate a 180 deg. dome to represent the leading wave face throughout the sequence. Once approved, we shared this with the FX department to be used for collisions in the Massive simulations and for the ground kick-up of dust and snow. The wave surface energy effect was achieved using HigX, which is a point renderer for Nuke.
Can you tell us more about the scanning process and the assets sharing?
SpinVFX provided high-resolution, hero scanning of characters and assets with our fully mobile 144 DSLR Camera rig. The truck was always with us on location. We used our Lidar scanner for sets and locations. Our scanning experts took care of all of the scanning and data processing for all production vendors.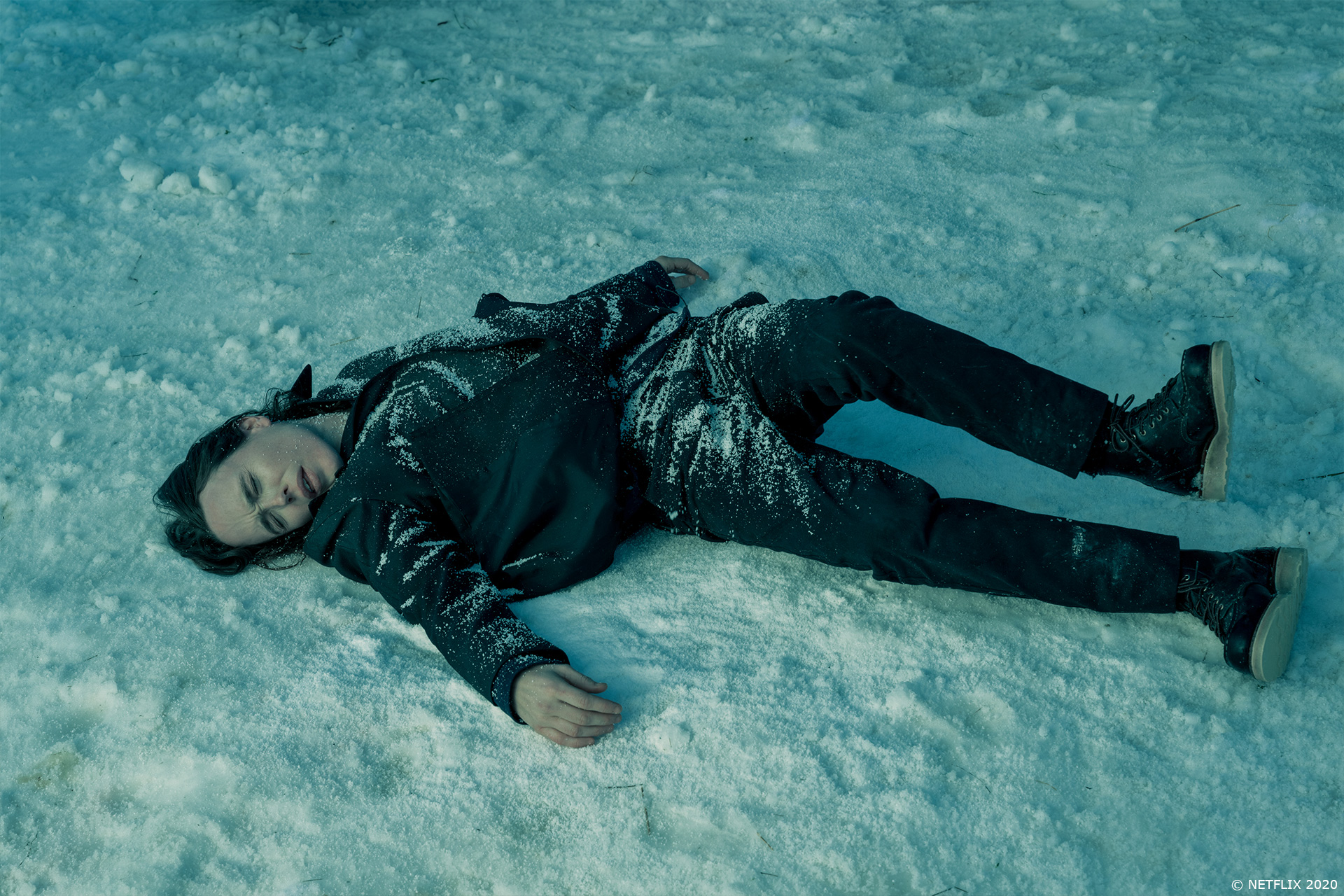 Which sequence or shot was the most challenging?
Battle Dallas.
Is there something specific that gives you some really short nights?
Nothing usual. I'm always going over shot ideas and procedures in my head at night that keeps me awake. It's usually when I come up with my best stuff.
What is your favorite shot or sequence?
Battle Dallas for sure.
What is your best memory on this show?
Changing the whole team over to a remote workflow because of how proud I am of the collaboration, resilience, and efficiency shown by all.
How long have you worked on this show?
March of 2019 to June of 2020.
What's the VFX shot count?
350 shots
253 scans
50 characters
40 buildings and sets
13 vehicles
101 props
Number of good times? countless
What was the size of your team?
190.
What is your next project?
I'm currently on LOVECRAFT COUNTRY and THE STAND.
A big thanks for your time.
WANT TO KNOW MORE?
Spin VFX: Official website of Spin VFX.
Everett Burrell: Here is my interview of Everett Burrell, Senior VFX Supervisor, Co-Producer and 2nd Unit Director.
Netflix: You can watch THE UMBRELLA ACADEMY on Netflix now.
© Vincent Frei – The Art of VFX – 2020