Everett Burrell began his career in visual effects more than 20 years ago. He has worked on numerous projects such as SIN CITY, HELLBOY or PAN'S LABYRINTH. As independent VFX supervisor, he was took care of films like MAX PAYNE, BATTLE: LOS ANGELES, WARM BODIES or A GOOD DAY TO DIE HARD. In 2013, he joined Look Effects as Senior VFX Supervisor.
What is your background?
I initially built my reputation and a business creating make up effects for such features as George Romero's THE DARK HALF and Tom Savini's remake of NIGHT OF THE LIVING DEAD in the 1980's. I then joined Flat Earth Productions where I was instrumental in producing digital visual effects for television shows that included HERCULES, ALLY MCBEAL, CHARMED and the highly-praised mini-series, DUNE. Seeing that I had a knack for digital production and understood the needs of practical, I went to work at Café FX, where I supervised impressive visual effects for BLADE III, SIN CITY, HELLBOY, THE MIST and the award-winning PAN'S LABYRINTH. My credits as an independent VFX supervisor include: MAX PAYNE, BATTLE: LOS ANGELES, PROMETHEUS, WARM BODIES and the highly-demanding work load of A GOOD DAY TO DIE HARD. Following my work on FAST AND FURIOUS 6 and WARM BODIES, I joined Look Effects as their Senior VFX Supervisor.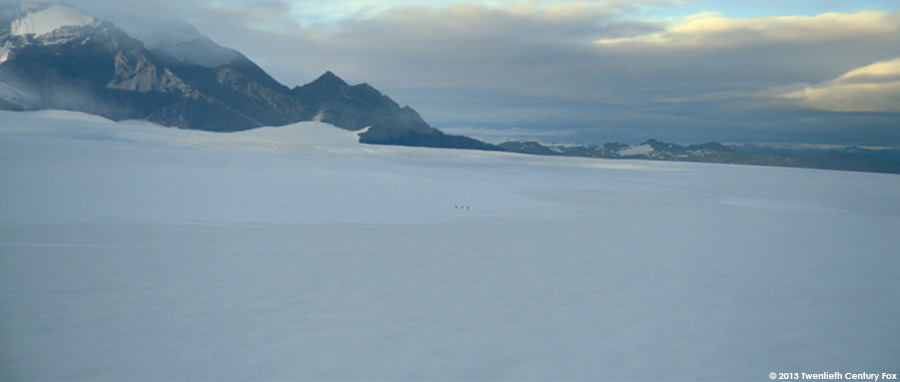 How did Look Effects get involved on this show?
I'm not sure how we got involved because I wasn't part of that. Our EP Steve Dellerson has long-standing relationships with the studio and Look has done a lot of work for Fox over the years. So I'm sure that had something to do with it. I also have a relationship with Fox from other projects I've done with them.
How was the collaboration with director Ben Stiller?
Ben was great to work with. We had not worked with him before and we needed to become familiar with his process. What made the project really positive to work on was the fact that Ben had a very clear vision of what he wanted. So we just had to do lots of iterations on our shots to get him what he was looking for.
Initially, because we didn't know what Ben wanted, for the first pass, we went really broad to show him against the vast expanse of the mountains. Once we showed it to Ben, he wanted it scaled it way back. Ben had a distinctive taste and vision. Because we had not worked with him before, we had to do a lot of versions to get what he wanted.
What was his approach about the visual effects?
Ben wanted everything to be very photo-real. As I said before, this meant we did a lot of iterations to get him what he was looking for. But that was fine because he gave us very explicit feedback, which made it easy for us to get him what he wanted.
How was the collaboration with Production VFX Supervisor Guillaume Rocheron?
Working with Guillaume was great. He showed us a lot of confidence in what he felt we could do and he was very helpful. So working with him was a pleasure.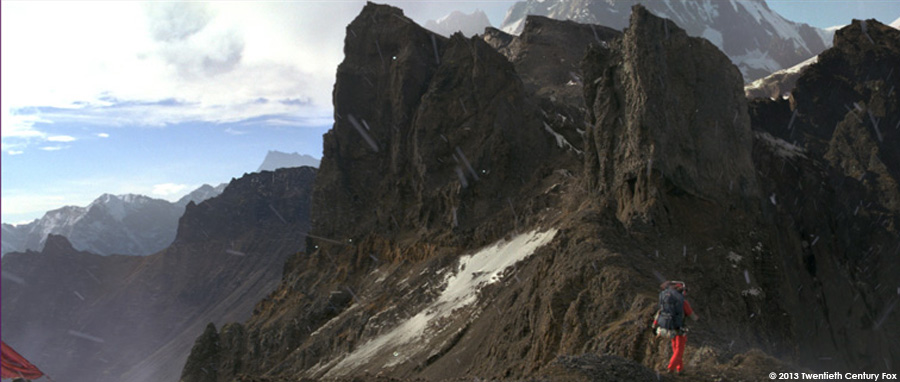 What have you done on this show?
We did about 75 shots for the film. Primarily we put Walter (Ben) in the Himalayas. All the footage for the Himalaya sequences was shot in Iceland. So we had to make Iceland look like Tibet. We also created and comped in the golden statue in the fountain in New York. That was a 3D statue with live action fountain.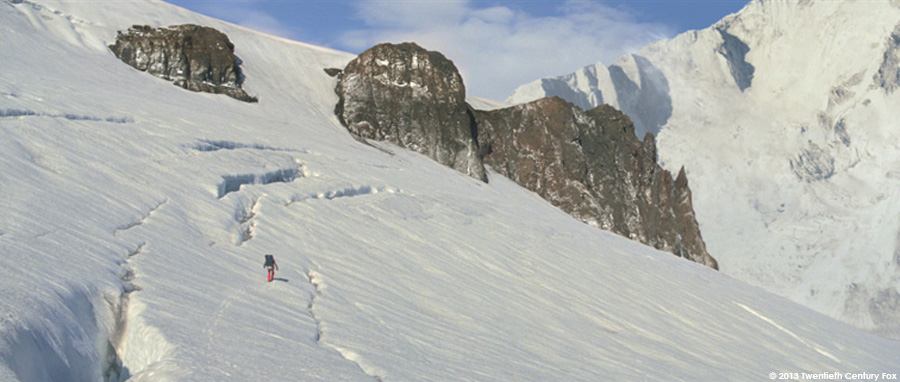 Can you describe one of your typical day on-set and then on post?
We flew to New York for reshoots in Manhattan for the golden statue scenes in the fountain. Production was really good at giving us the necessary time on-set to get what we needed to do the effects they wanted. It was great because they really respected us and what were doing.
How did approach the recreation of Himalayas?
As I said, all the footage for the Himalaya sequences was shot in Iceland. Not a lot of really tall, snow-capped mountains there. So we used the foreground of those shots and completely replaced the backgrounds. Fortunately for us, one of our artists, Alex Nice, had recently vacationed in Nepal and had taken some wonderful, hi-res photos. We were able to use those for our Himalayan backgrounds.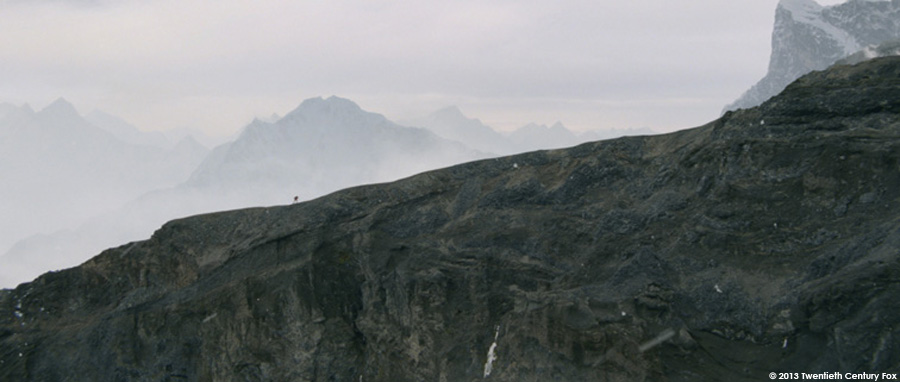 Did you received specific indications and references from Ben Stiller?
Every other day we had a cineSync session to go over all the notes and get specific feedback for the changes that Ben wanted. Their directions were very clear. As I said earlier, Ben knew what he wanted; he had a very clear vision in mind. So production was able to give us precise directions. Even though we had to do a lot of versions to get to where Ben wanted it to be, we weren't having to second-guess what he wanted.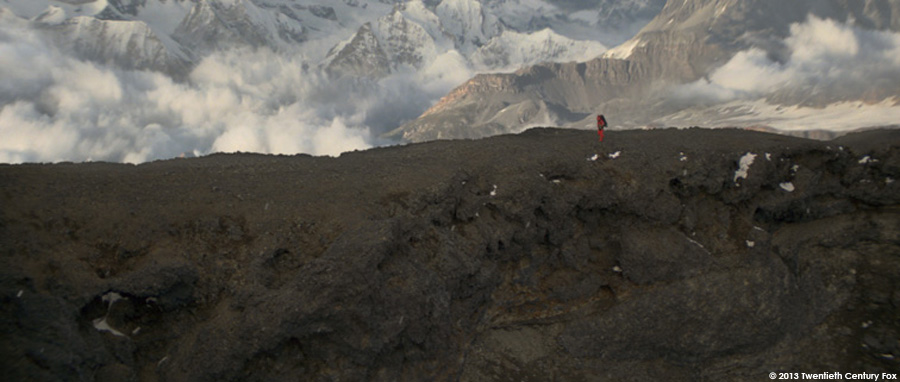 How did you proceed to create the Himalayas?
Since the footage was shot in Iceland, we had to look at what was usable and what needed to be replaced. Almost all of the backgrounds had to be replaced. We had to roto Ben out and put him in entirely new backgrounds. A lot of this work was really painstaking. There's a couple of long shots that took our artists months. We did a lot of matte painting and projected backgrounds.
Have you created digi-doubles for specific shots?
Nope. Ben was always Ben in our shots.
How did you handle the CG snow?
Once had the background replaced, we added atmosphere and snow using particles in Maya.
Can you tell us more about your atmospherics work?
A lot of the atmospherics we did were done with matte paintings. And some particles in Maya.
What was the biggest challenge on this project and how did you achieve it?
The biggest challenge? Making Iceland look like the Himalayas! Nothing technically ground-breaking here, but the work required lots of experience and know-how to make sure we made the effects seamless, invisible and photo-real. This was not the type of work that could be slapped together. We had some very experienced artists working on these shots for many, many hours. But the outcome was well-worth the effort.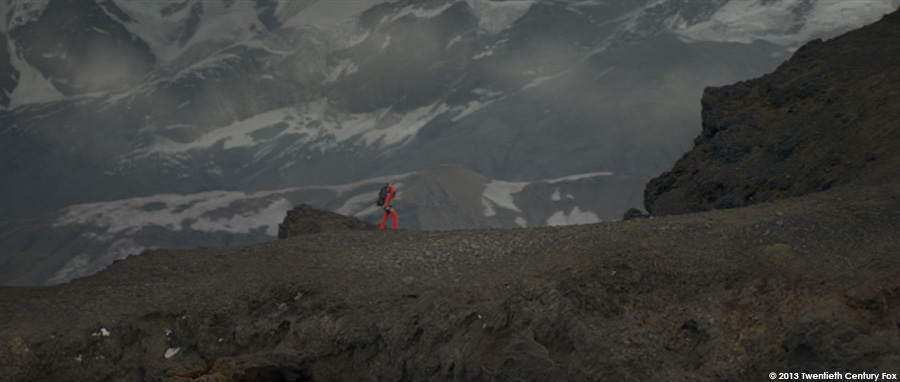 Was there a shot or a sequence that prevented you from sleep?
Not really. This is the type of work that Look specializes in and we were pretty confident that we could do what needed to be done. The challenge was that Ben had a very specific vision in mind and it took a lot of iterations to get what he wanted.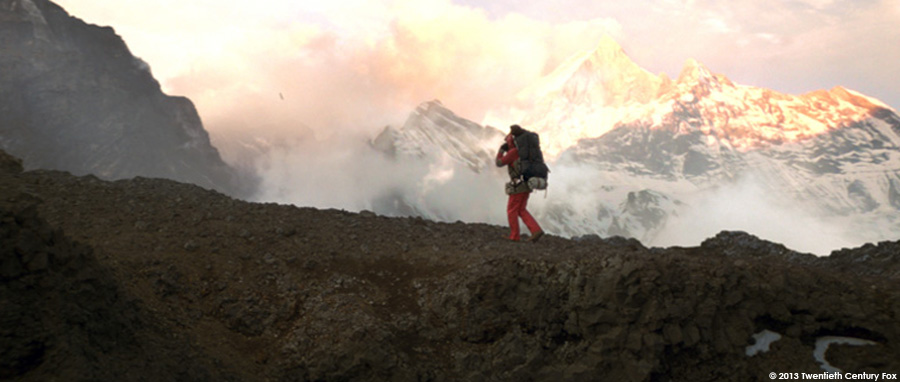 What do you keep from this experience?
How much I miss Life Magazine! Honestly, it was great to because no one will ever know that our effects are visual effects. They will never know that it wasn't shot in the Himalayas.
How long have you worked on this film?
We were on the project for a total of about 6 months.
How many shots have you done?
We did about 75 shots in all.
What was the size of your team?
We had five artists in LA, three in New York, a producer and me. Small, but effective team.
What is your next project?
We're currently finishing up Wes Anderson's THE GRAND BUDAPEST HOTEL and Darren Aronofsky's NOAH. We're working on our ninth season of BONES and a new show by BONES creator, TURN, which is about espionage during the American revolution. We're starting FURY and have some other projects that I can't talk about yet.
What are the four movies that gave you the passion for cinema?
Let's see: the original KING KONG, THE SEVEN VOYAGES OF SINBAD, STAR WARS, JAWS and CLOSE ENCOUNTERS OF THE THIRD KIND. I know that's five, but which one could I leave out?
A big thanks for your time.
// WANT TO KNOW MORE?
– Look Effects: Official website of Look Effects.
© Vincent Frei – The Art of VFX – 2014