In 2012, Ajoy Mani talked to us about his work on THE EXPENDABLES 2. He then took care of the visual effects of movies such as HOMEFRONT and THE EXPENDABLES 3.
How did you get involved on this show?
I have done a lot of features with Millennium Studios and was already slated to be on the show since pre production. I met with producers from Millennium in Los Angeles as I was delivering THE EXPENDABLES 3, to talk about the project, and sign me up. I went to Thailand mid August 2014, three months before principal shoot to start pre production and prep for the show.
How was your collaboration with director Dennis Gansel?
It was a pleasure to work with Dennis Gansel who is a director from Germany. The DoP, Daniel Gottschalk and Production Designer, Sebastian Krawinkel were also from Germany. We were joined by Vic Armstrong, Second Unit Director at the start of principal photography. I worked with both units to oversee all the VFX. I found an instant rapport with the core team and we were very much in sync throughout the shoot.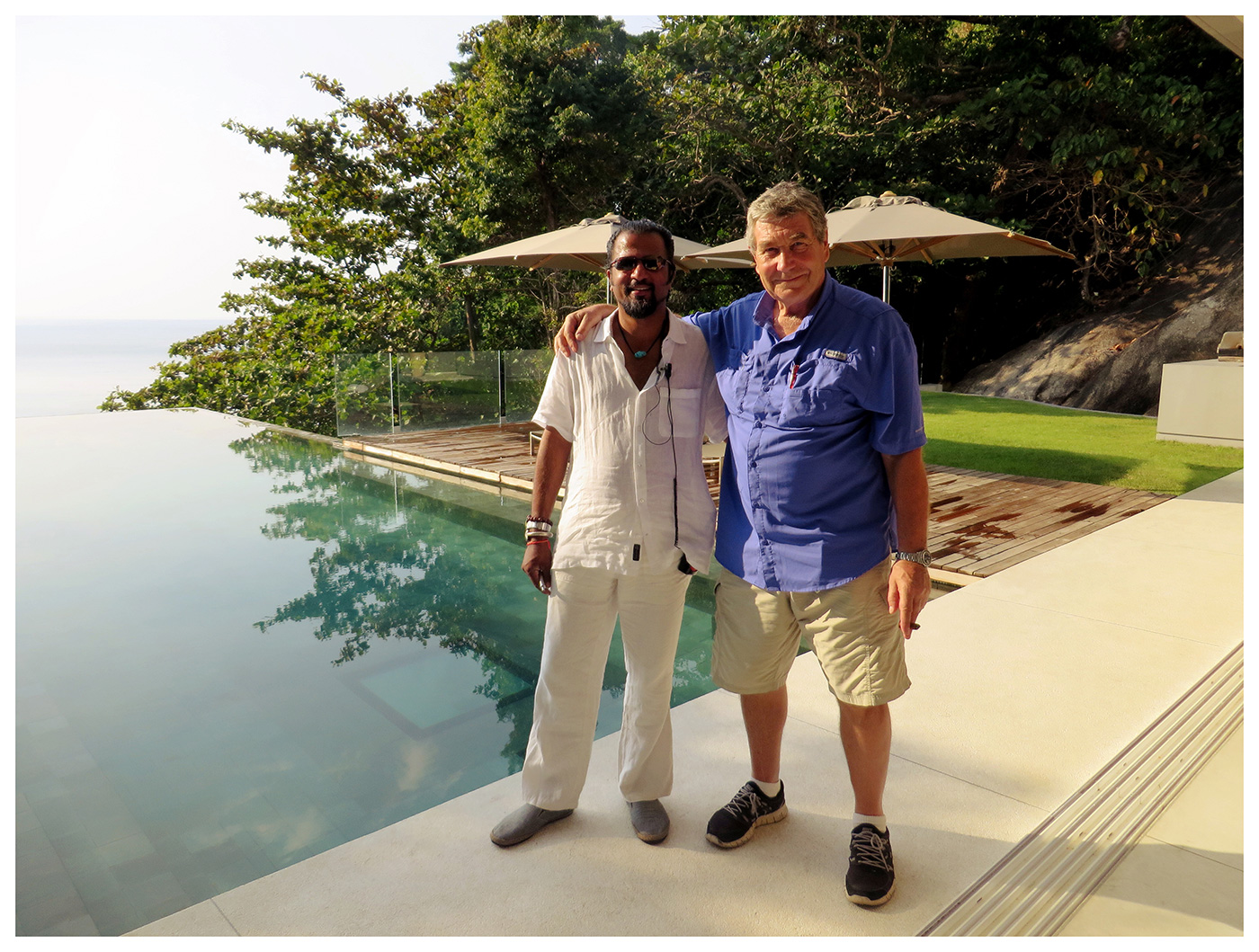 Ajoy Mani (left) with 2nd Unit Director, Vic Armstrong at Villa Amanzi, Phuket, Thailand.
What was his approach and expectation about the VFX?
This was by far Dennis' biggest VFX movie. The show has 1134 shots in it, which makes it a VFX heavy show. I was fortunate in that Dennis trusted me from the start, and let me manage VFX with his full support. All the VFX for the show was serviced through Worldwide FX (WWFX) in Sofia, Bulgaria
How did you work with the supervisors and teams of Worldwide FX?
I had previously worked with WWFX on eight features, and Dennis recognised my relationship with the whole VFX team there and was fully aware of our advantages and restrictions from the start. WWFX sent one of their VFX Supervisors, Alexander Valev to Thailand during principal photography. I had designed and prepped the VFX scope for the show by the time Alex and two data wranglers joined us from WWFX. Our seasoned wranglers trained additional local wranglers in Bangkok to our workflow. WWFX's Facility Supervisor Stefan Tchakarov and I have worked together on numerous shows, this really helped keep communication clear from the top down. It also helped that Alex who was overseeing 2nd unit supervision was there during principal photography, this helped the rest of the crew back at WWFX well oriented.
The whole show was delayed by over a year due to various issues, which included a reshoot in Bulgaria. Due to the delay, my primary involvement with the show stopped after the director's cut and plate shoot in Rio and Sydney. The show was completed at WWFX in Bulgaria over a period of six months under WWFX's Facility Supervisor, Stefan Tchakarov and sequence lead supervisors, Vesselina Georgieva, Jivko Ivanov, Nikolai Gatchev, Stanislav Dragiev, Alexander Valev.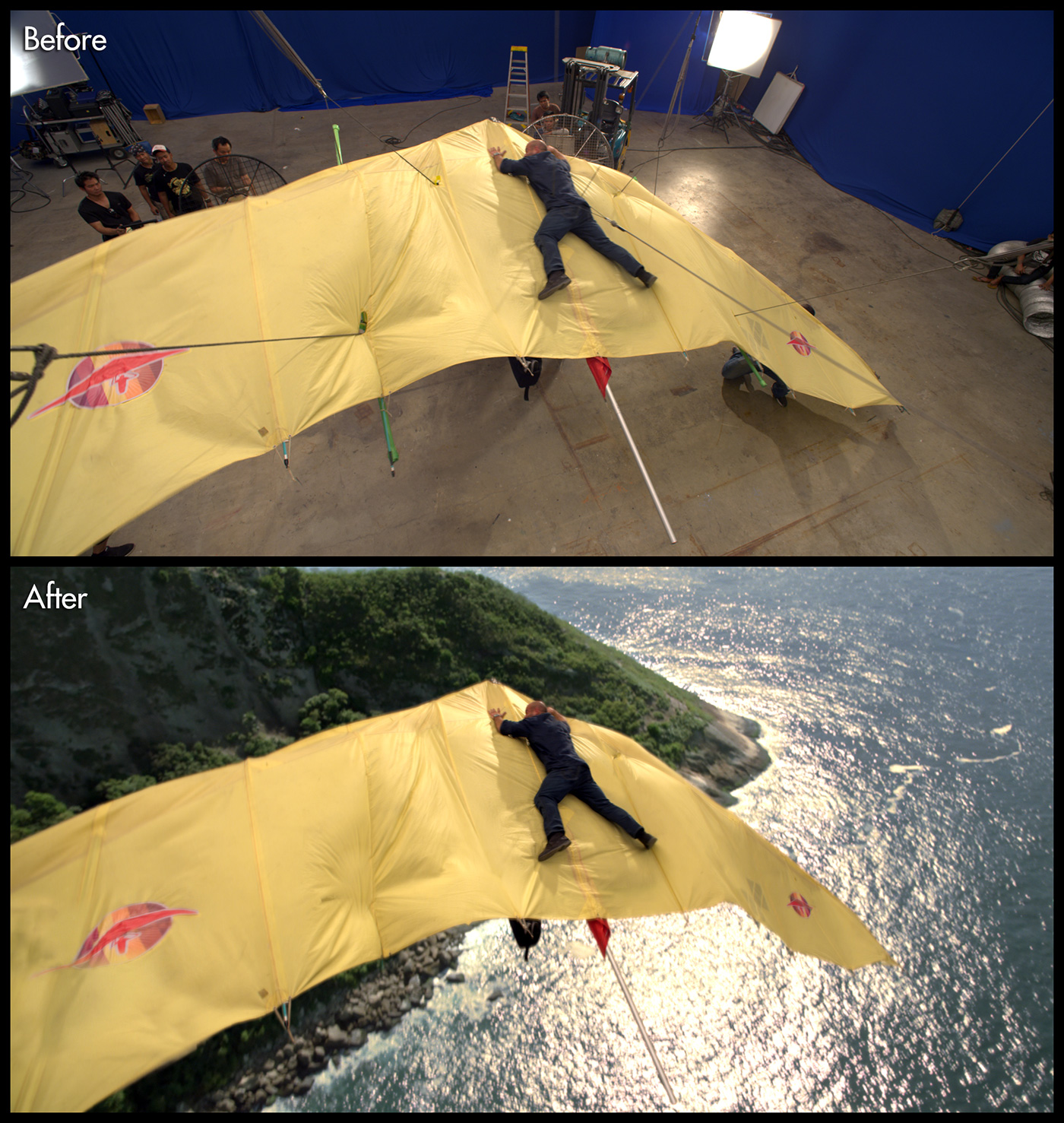 How did you work with the stunt team to enhance their work?
There was very little that was typical on this shoot. The exotic locations and logistics meant a lot of improvising and adjustments happened on a daily basis. However, the core design of VFX was solid and we worked around the issues.
The director's cut happened in Berlin where the director, Dennis Gansel resides. I was in Berlin with Dennis and his team for the director's cut to demarcate all VFX post work. The studio cut and finish was at Nu Boyana Studios in Sofia, Bulgaria.
It was easy for me to work with the stunt team, as I had worked with most of them on other action features including THE EXPENDABLES 2, HOMEFRONT and THE EXPENDABLES 3. I had previously worked on other features with Stunt Coordinators, Allan Poppleton and his team, and JJ Perry. A lot of the procedures are very much the same, and helps to have the tested relationship and trust with the stunt crew and knowing what they can do and what their restraints are. Stunties are some of the most level headed folks on set, and jiving with them goes a long ways to getting spectacular results.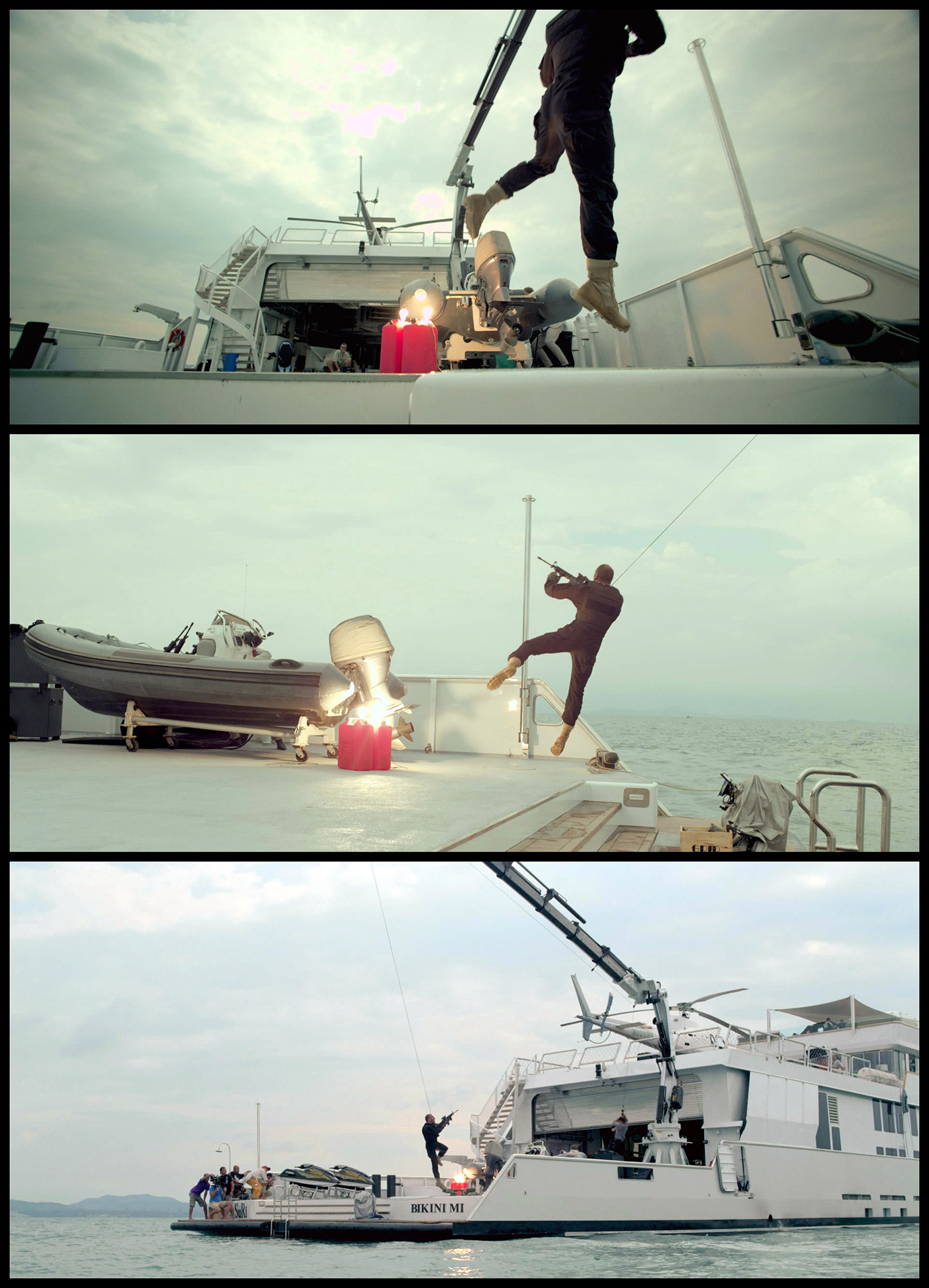 Plates for explosion on the deck of the Suri. Shot with flash trays for interactive lighting.
The movie takes place in various and exotic locations. What was the main challenge with that?
This was by far the biggest VFX solution and why the movie is so VFX heavy. Due to actor availability and a short four month principal photography span, the vast majority of the movie was shot in Thailand. The actors were never in Sydney or Rio. I designed a detailed plate shoot plan for Rio and Sydney, which was shot during post production. I matched camera angles, matched sun angles to shoot time for both locations for every shot which was integrated in post.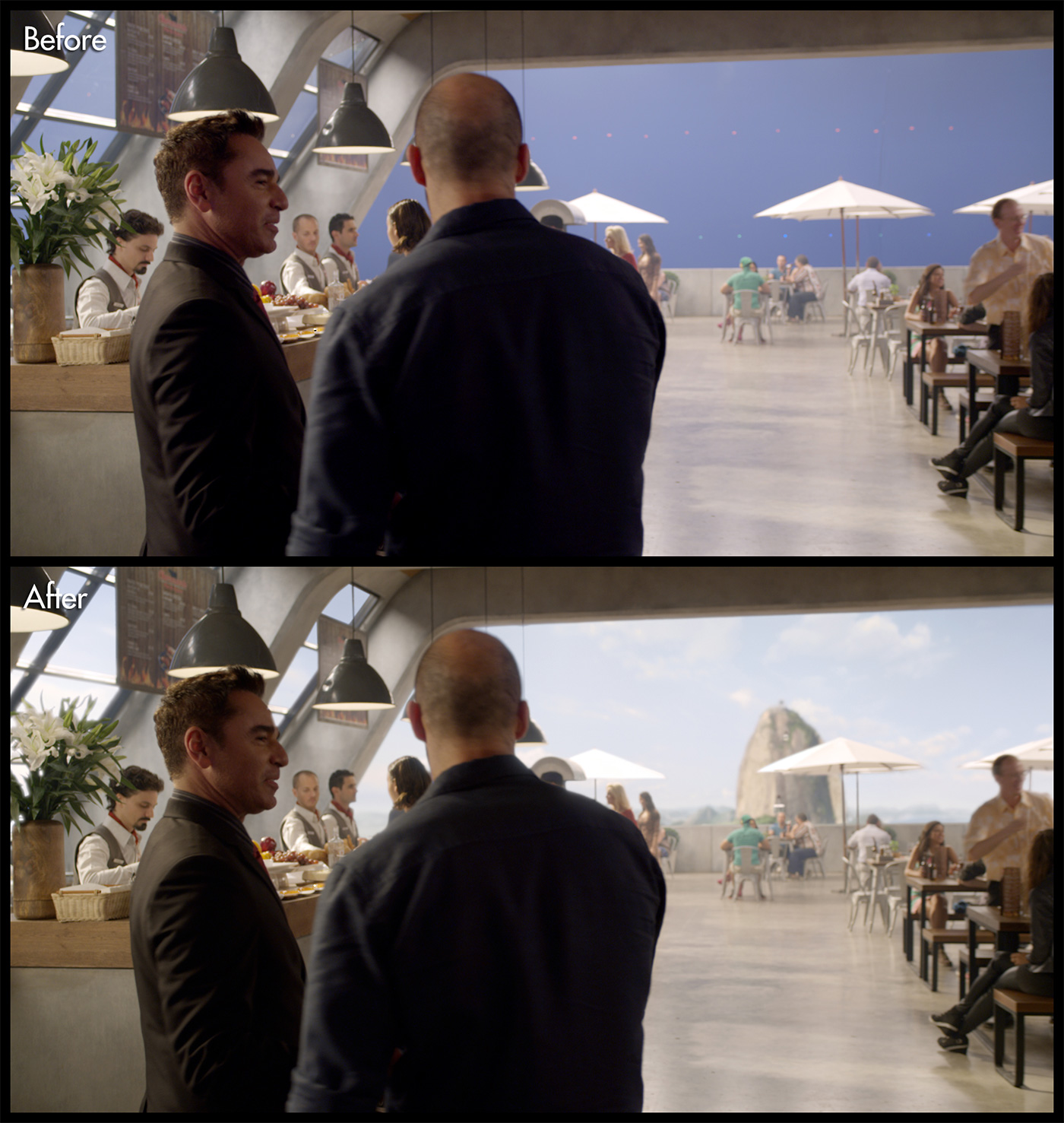 Which references and indications did you received from production to create these locations?
Production Designer, Sebastian Krawinkel had a precise vision for the look of the whole movie. I was provided very detailed illustrations and look development images to match to. Art Director, Aaron Haye was formerly a modeler at ILM before transitioning to Art Direction, which was really helpful for VFX. He would provide me with basic models in scale for all our major building and DMPs. Sebastian and Aaron have a lot of experience working on VFX heavy movies, so designing and working with them was a pleasure. This really helped to carry the production design to VFX post production.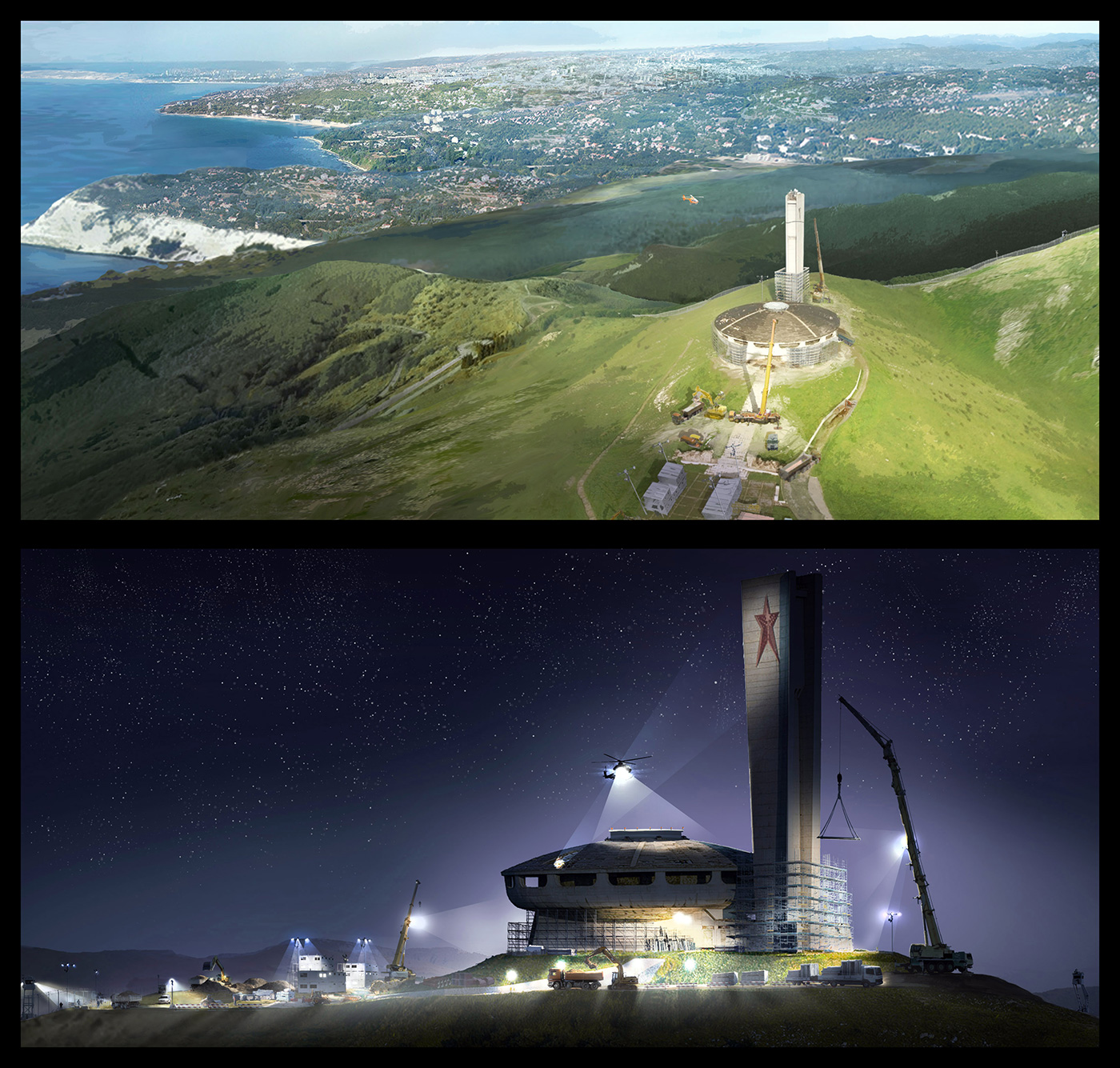 Max Adam's HQ, Varna, Bulgaria Concept Art. Production Design by Sebastian Krawinkel. Concept Art by Aaron Haye.
Which locations was the most complicated to created and why?
We had four very complex locations. The Max Adams' (Tommy Lee Jones) headquarters in Varna, Bulgaria; Sugar Loaf Mountain in Rio, Adrian Cook's Roof top glass bottom pool apt in Sydney and the Prison Island off Penang, Malaysia.
They were all Frankenstein operations! Max Adam's headquarters in Varna is a real Cold-War era monument in Budludzha, Bulgaria, all the way up in the Balkans, nowhere near the coast. We sent a team up there to take detailed pictures and measurements as best as they could. Its only accessible a few months of the year as its snow clad most of the year, and dilapidated and dangerous to be inside. We then used a combination of DMP's, drone footage and 3D models to place Budludzha on the coast of Varna to match production design as close as possible.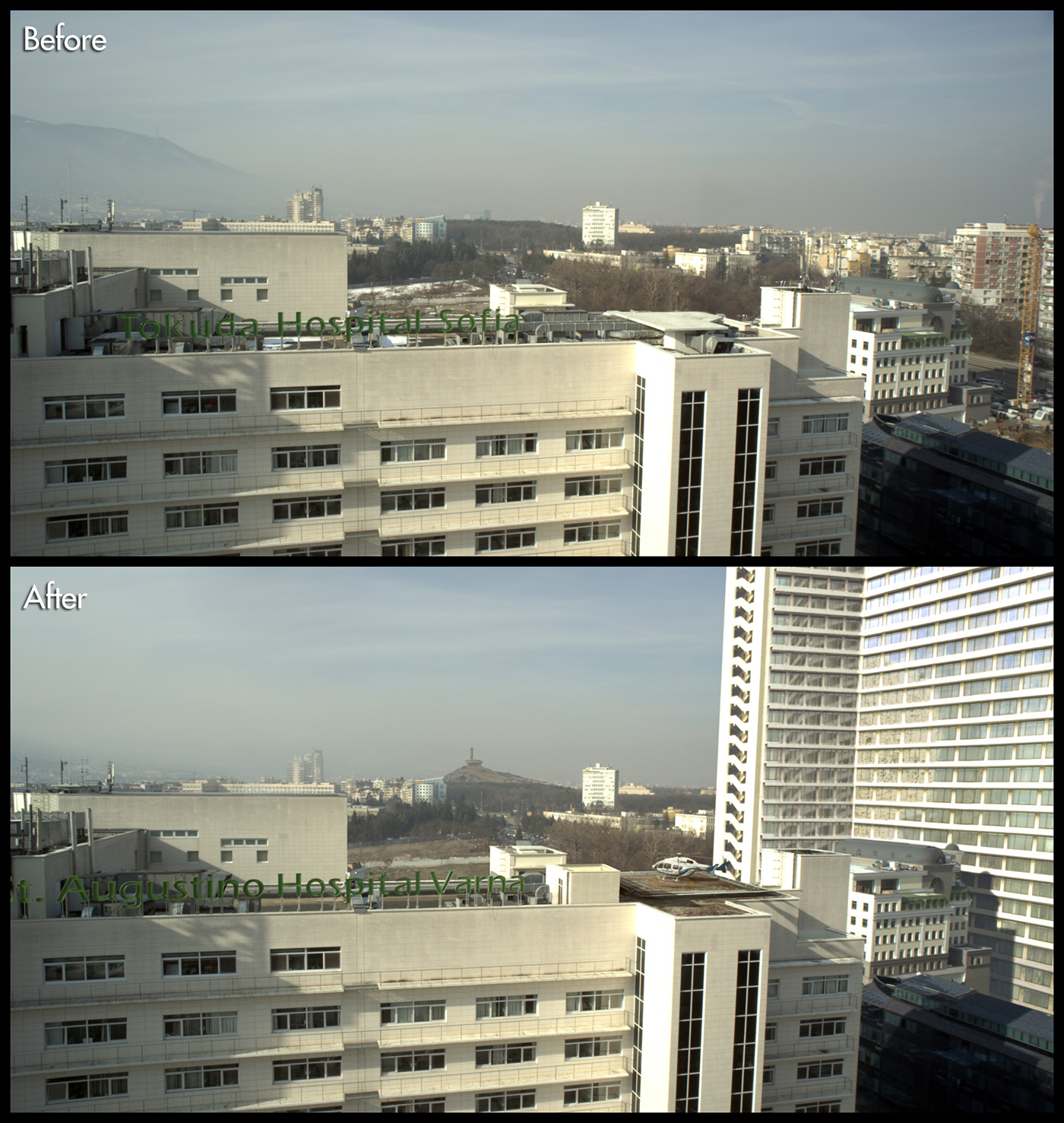 For Sugar Loaf Mountain, Sebastian Krawinkel cleverly placed the BBQ bar on top of the second cable car station. This does not exist in real life. We had a set built for the bar on a blue screen stage that was the approximate size of the top of the cable care station. Using a combination of a plate footage and photography, we placed the bar on top of the cable car station.
Adrian Cook's apartment in Sydney Harbour was particularly taxing. Location of the building is where the AMP building is in Sydney. On top of it, we attached a famous sea side villa over a cliff called Villa Amanzi in Phuket, Thailand. We then had to change the bottom of the pool to a glass bottom.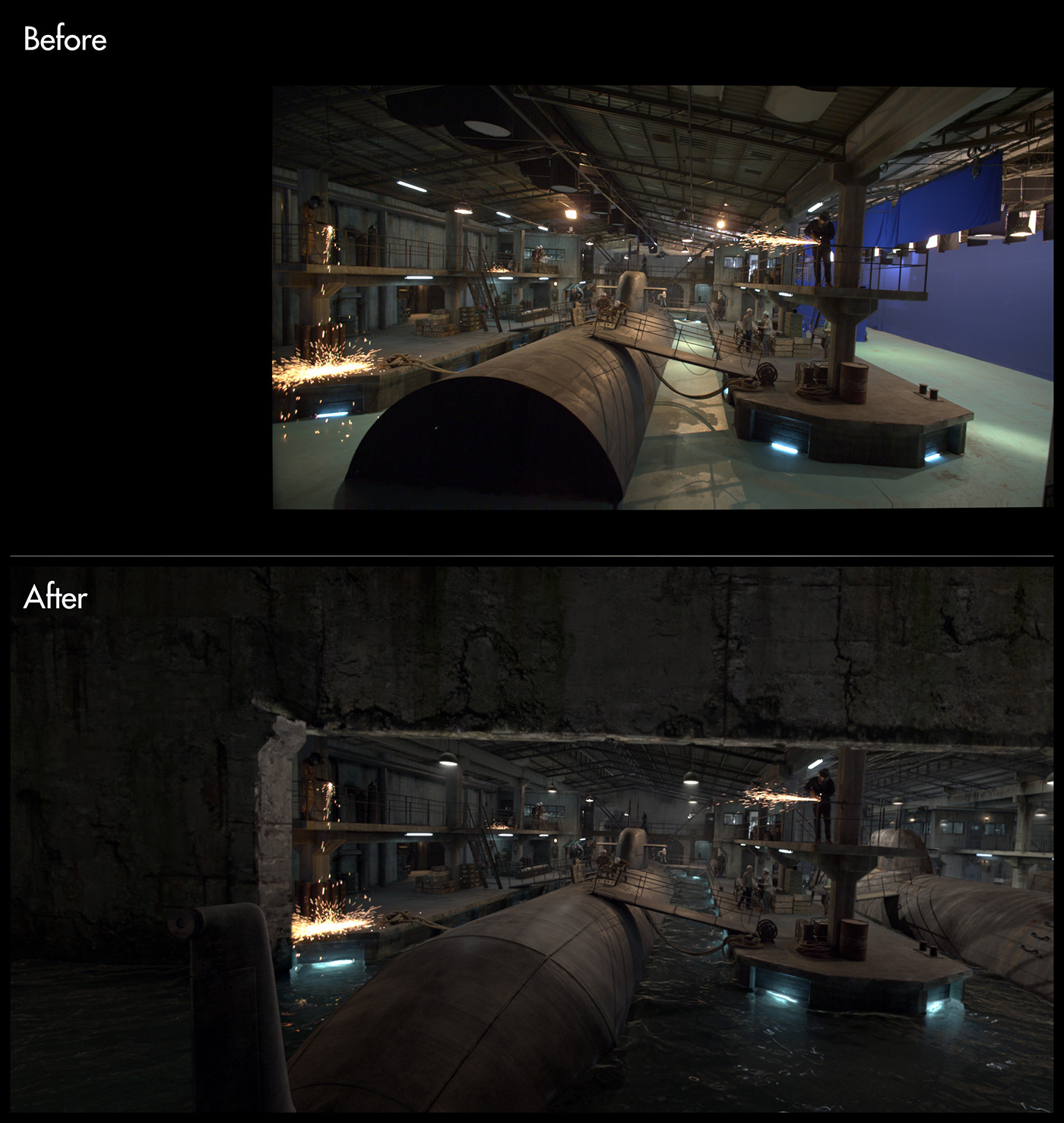 The pool mission is a great sequence. How did you approach it?
Adrian Cook's apartment features a novel glass bottom pool. Sebastian, found a real building that features a glass bottom pool as reference. The apartment at the top of the building in the movie is a famous house overlooking the sea called Villa Amanzi. This was a true Frankenstein operation. We had to place Villa Amanzi from Phuket, Thailand on top of an existing building in Sydney Harbour, with a protruding glass bottom. This was done with a combination of plates shot on top of the AMP Building in Sydney, plates and CG models of Villa Amanzi in Phuket, and conversion of the pool at Amanzi to a glass bottom to meet the storyline. In addition, the entire AMP building had to be clad in glass to match the production design for the building.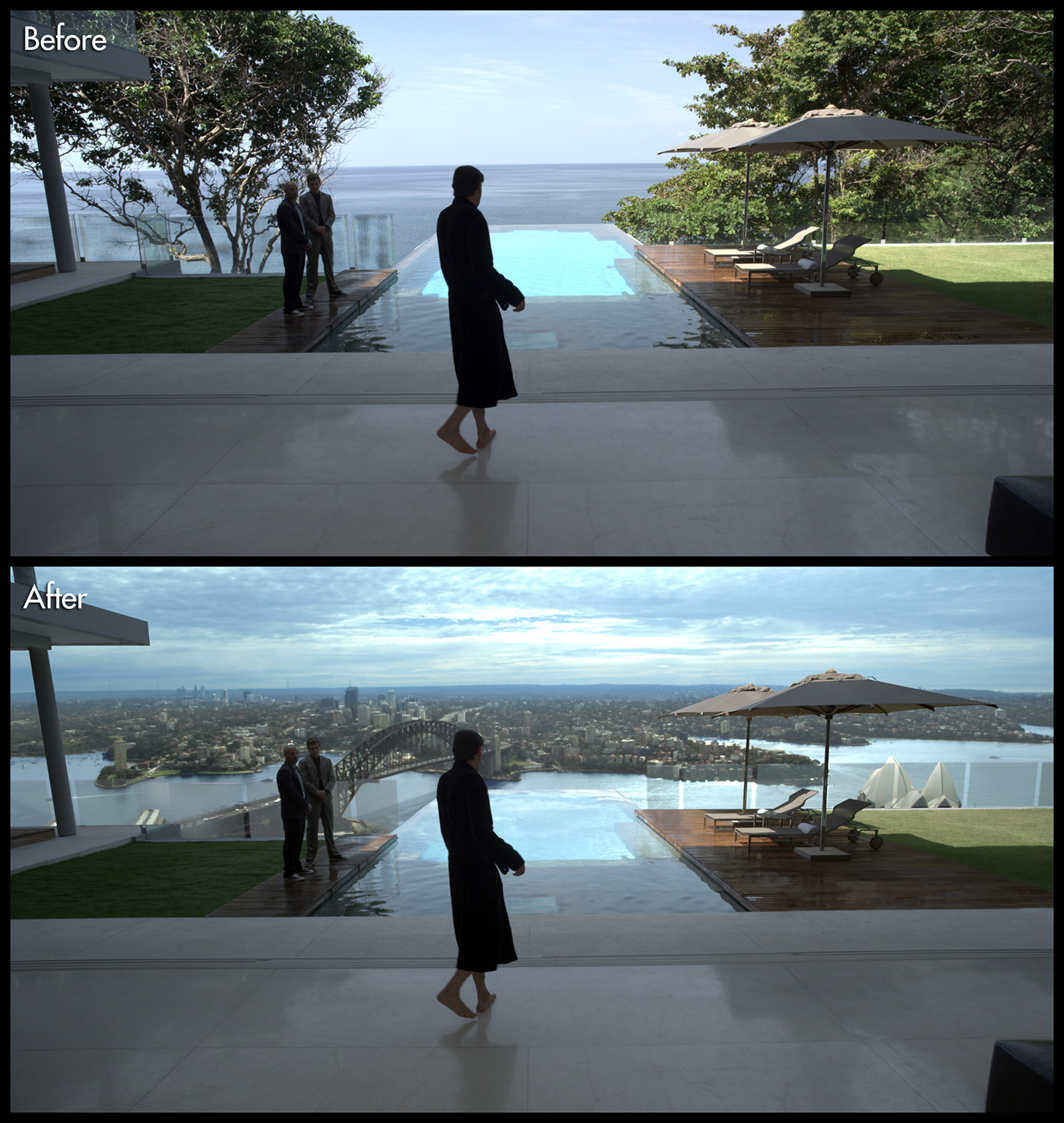 Can you tell us more about its filming?
The film was particularly taxing as there were a lot of moving parts and a script that was adapted a lot to location and actor availability. We had a truly international team from four continents and a tight shooting schedule. The miracle of film making for me is how it all finally comes together in the end.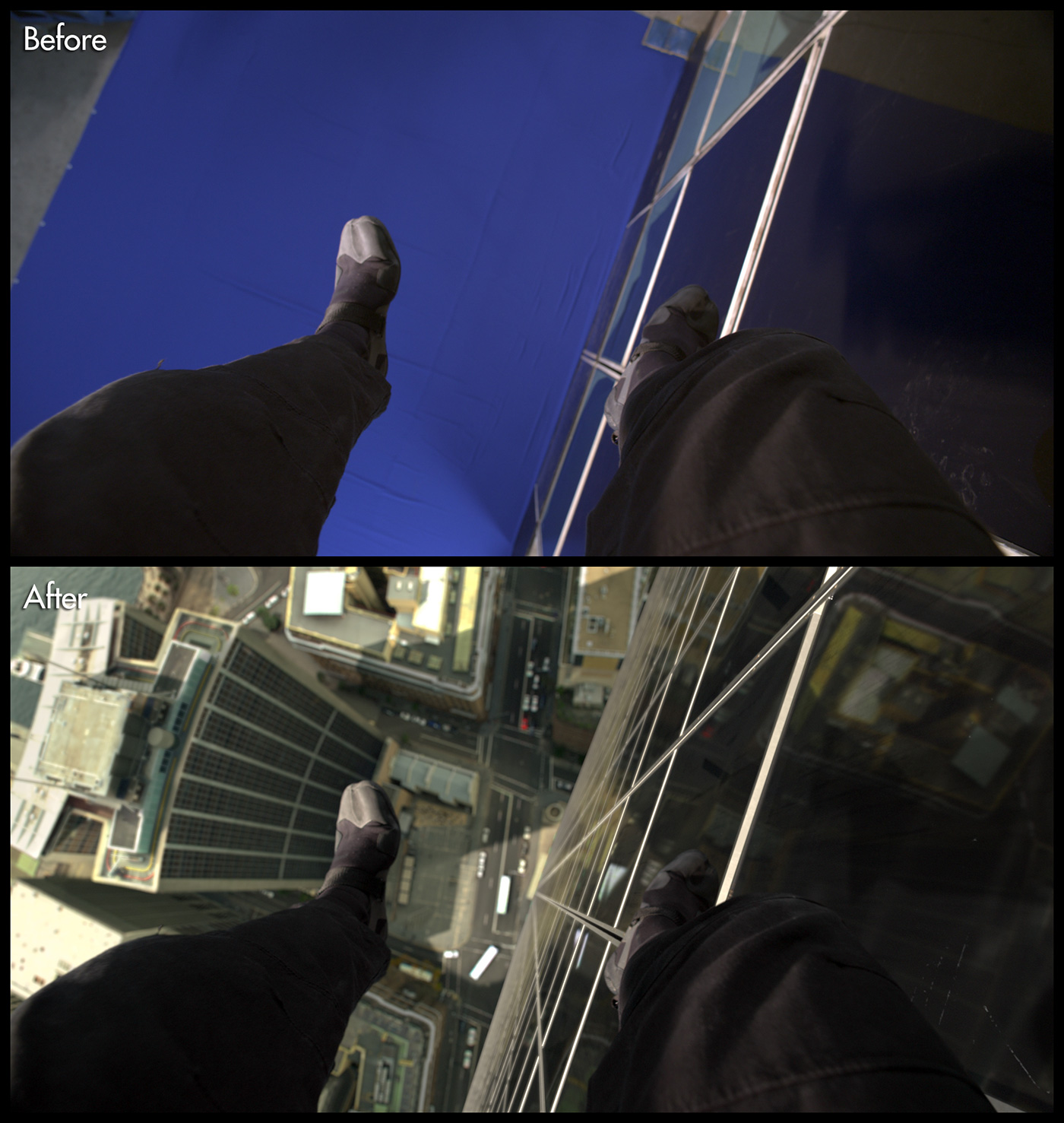 How did you created the Tower and the Sydney environment around it?
The Sydney Tower is totally fictional. I worked with art department to find the location to fit the script, and we locked onto the AMP building in Sydney Harbour. On top of this we placed a cliff side house with a protruding infinity pool called Villa Amanzi in Phuket, Thailand. Additionally, we had to change the building to have a glass bottom pool, which we shot separately on a blue screen set. We used blue screen as opposed to green, as its better simulates the reflected outdoor lighting with water.
I matched the time of principal shoot on location in Phuket, with time and day at the time we shot plates atop AMP Building in Sydney, to match lighting angle as close as possible. I built a detailed shoot window in Sydney to be as close as possible. Plates, HDR's and 360 panoramas for reflections were shot in Sydney six months later, which worked well because the southern hemisphere has a matching lighting during this period.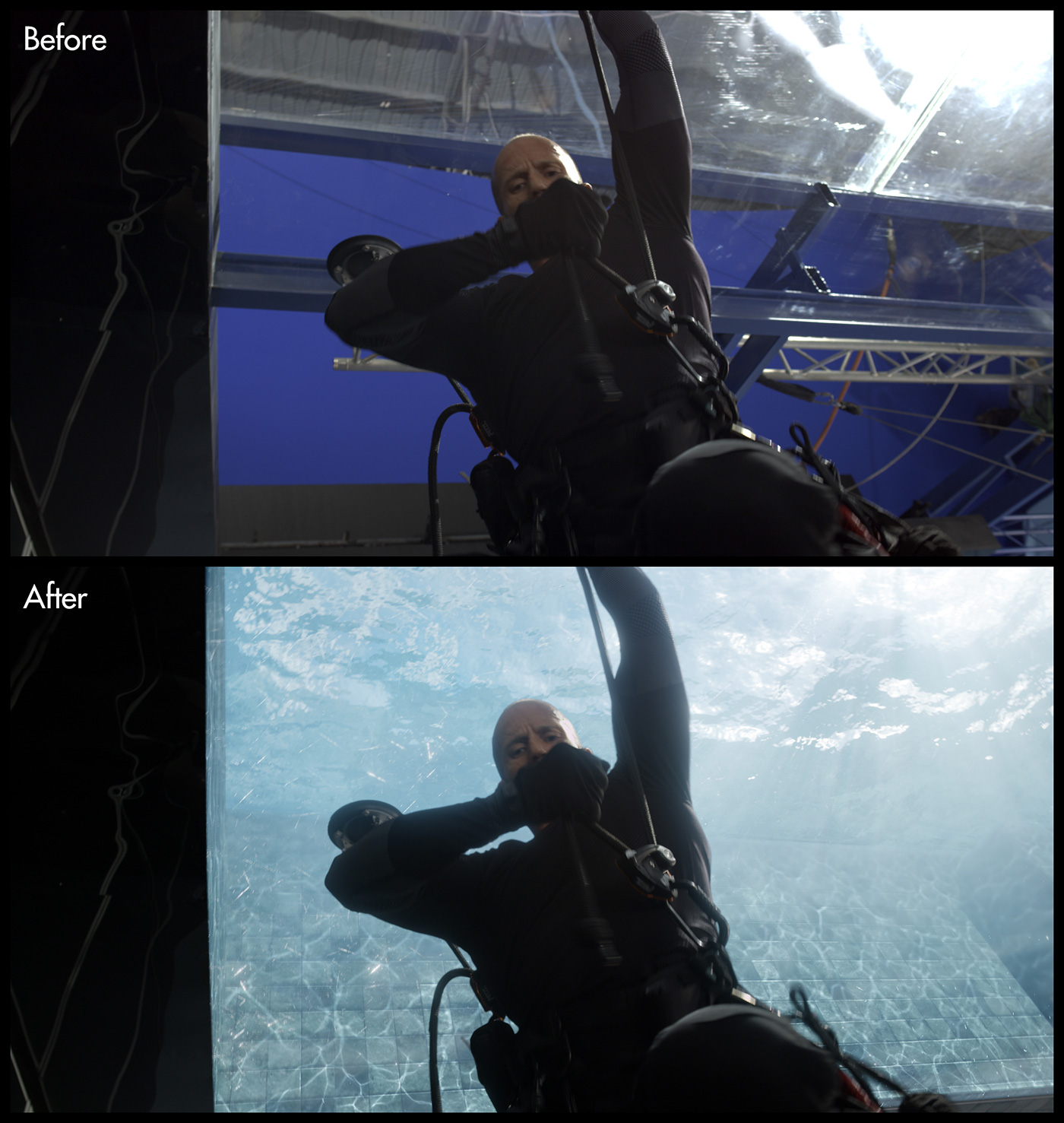 Many sequences happens on a yacht. How did you created the ocean?
The yacht was particularly difficult. We had exactly ten days on a yacht called the Suri, which happened to be retrofitted in Bangkok, Thailand at the time of our shoot. We had a very strict time schedule to get it done before it had to travel out to meet its mother-ship. The Suri is a shadow boat to a much larger yacht. Suri, is a 208 feet ship that was converted from a 1970's ice breaker. It was extended by an additional 36 feet with a glass bottom. It is essentially a toy garage for its mother ship. She has on board two sail boats, three motor launches, a sea plane, a helicopter, four Quad-Skis, four 255 hp SeaDoos, two race bikes, two BMW dirt bikes, two Sea-Bobs, a custom submarine and a crane to get all the toys to water. Not to mention, kayaks, wind surfs and other water toys that would be the envy of most resorts.
We didn't have enough time to get all the shots for the final sequence for the movie in the time allocated. So we had to build the back section of the Suri from detailed measurements, shoot part of it in Thailand and ship it to Bulgaria for the reshoot. I oversaw drone shoots throughout our shoot on the Suri, and pulled plates from it. Additionally, we shot a lot of plates of the sea in Thailand to match lighting for plates shot later in Bulgaria on the Black Sea.
As a drone pilot and involved in drone photography and measurements for the past ten years, I directed all the aerials for the film. Only exception was in Sydney where we used drones and a helicopter for aerials due to air restrictions at some locations.
Talking of water, the most complex water and extension work was done in the submarine pen. The set was a partial set with only one partial submarine in there. The set was built inside a massive warehouse in Bangkok. As per the production design, the submarine pen is a massive enclosure in a cave that housed four submarines. The floor of the set was painted an aquamarine colour to get the right reflective light. All the water in the submarine pen was added later as CGI using an array of tools at WWFX.
The show has many explosions. How did you enhanced and create them?
For obvious reasons, we couldn't have a lot of the explosions where they ought to be. So the explosions were shot separately on land, matching angles and light. I used flash trays on the boats to get interactive lighting from the explosions to help the comp. The Suri is a multi-million dollar boat that can't have explosions, and the explosions in the marina couldn't happen as there were a lot of private boats around. All these were meticulously measured, matched and shot against blue screen later, and comped in. The explosions were done with a combination of VFX tools including Maya, Houdini, Mantra, Katana, Zbrush, Nuke and quite a few proprietary tools at WWFX.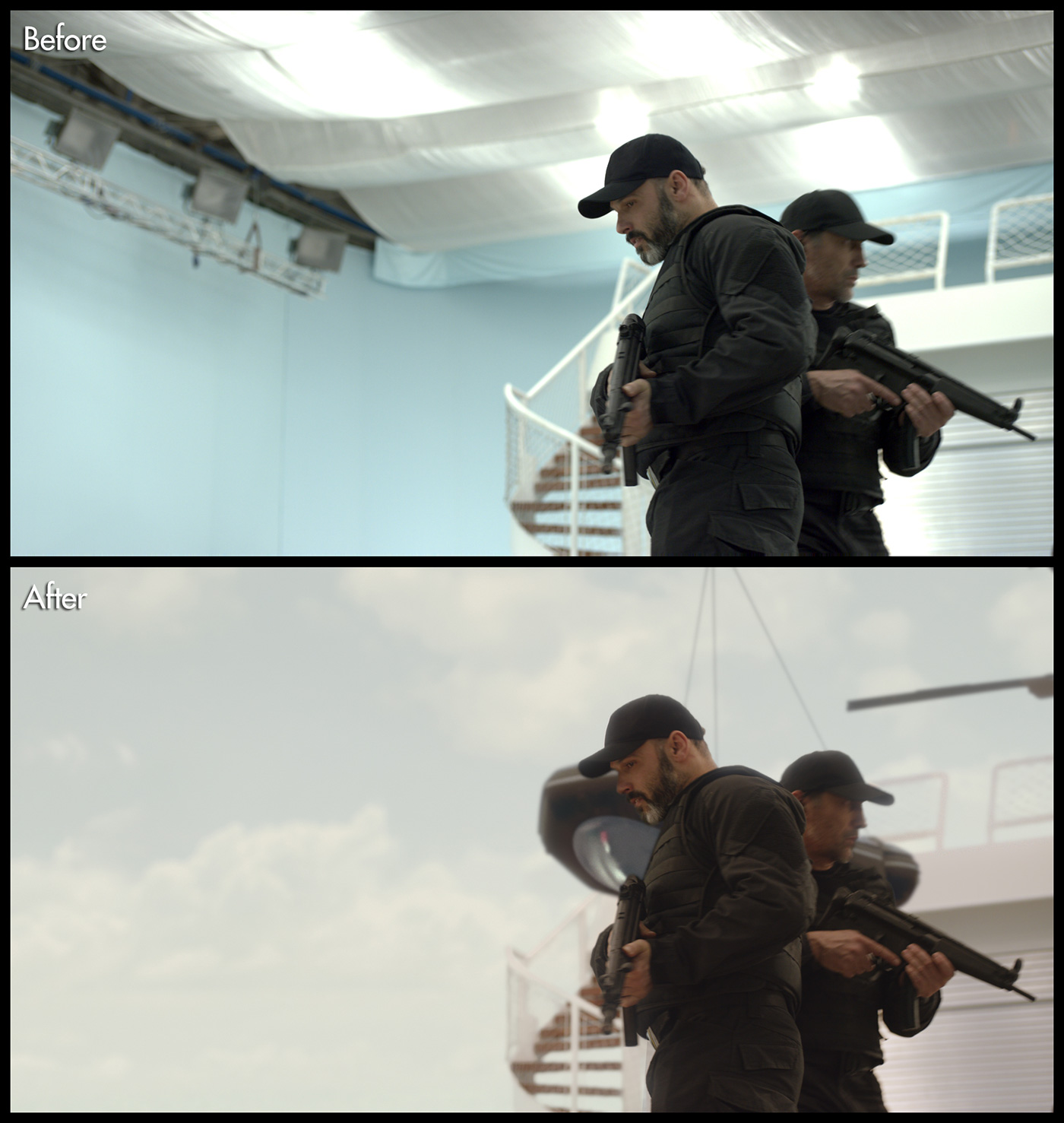 Is there any invisible effects you want to reveal to us?
Considering the massive « Frankenstein » nature of the entire movie, all of it was designed to be invisible given the extreme circumstances with location and logistics changing constantly. Keep in mind there are 1134 shots in the film, that is approximately half the movie.
The submarine pen was particularly hard as it was a massive set extension with CGI water.
What was the main challenge on this show and how did you achieve it?
The biggest challenge for the whole movie was how often the script changed to accommodate locations and actor availability. Often times, months of pre production work was thrown out because of lack of location clearance or the availability of new assets like the Suri that enhanced the movie. It was a very organic process, constantly evolving to maintain the availability of locations and resources to our strict shoot schedule and budget, yet staying true to the core of the storyline.
What do you keep from this experience?
MECHANIC 2 had more moving parts than any other feature I have worked on. What it did most for me was to learn to be extremely flexible to changing scenarios, yet stay on budget and scope.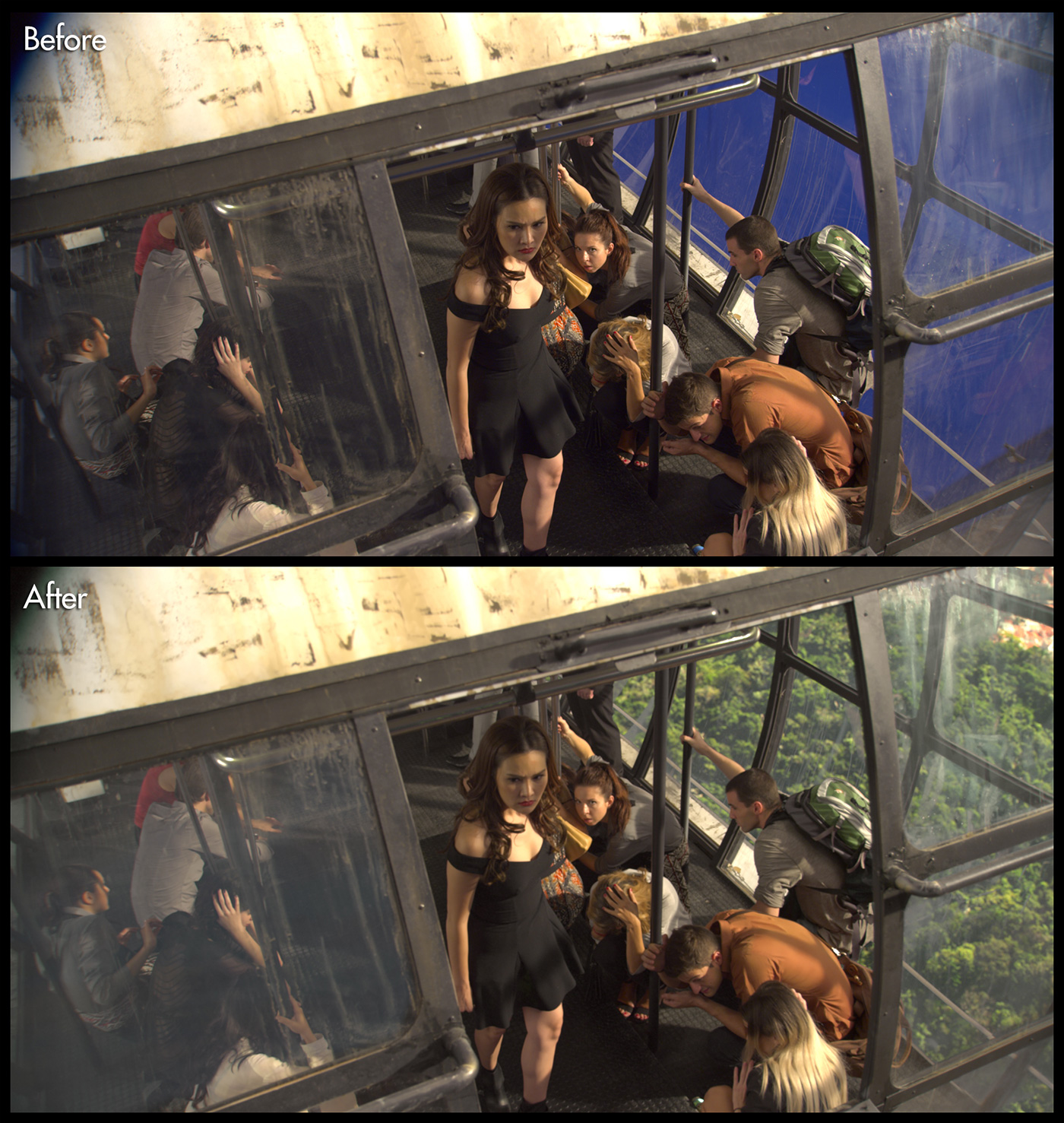 How long have you worked on this show?
I worked on MECHANIC 2 from August 2014, when I went to Thailand for pre production, budgeting and prep. Production from October 2014 to March 2015. Director's cut in Berlin till June 2015. The movie was delayed due to reshoot and studio cut. I designed and oversaw the plate shoot in Rio and Sydney. VFX in earnest was in 2016 for six months.
How many shots have you done?
My initial estimate for the movie was 900-1000 shots during pre production. Due to changing scope we ended up with 1134 shots in the movie, all executed through WWFX in Sofia, Bulgaria.
What was the size of your team?
During principal photography we were a team of seven. Including second unit VFX Supervisor Alexander Valev, and Lead Wrangler, Yana Georgieva who came from WWFX.
The VFX execution for the show was done entirely at WWFX, Sofia, Bulgaria. WWFX had around 100 artists that cranked out over almost 1200 complex shots in six months, which is quite impressive.
What is your next project?
I am currently finishing a US/China co-production movie I shot in spring in China called MY OTHER HOME. It is the story of NBA player Stephon Marbury who went to China and took the Beijing team that had never won to three championships in a row. We shot with Stephon Marbury, Allen Iverson and Barron Davis in China with CBA players. Its currently in post which I am completing in Beijing. I am scheduled to start a Disney feature end of the year.
A big thanks for your time.
© Vincent Frei – The Art of VFX – 2016