In 2018, Sara Bennett explained the work of Milk Visual Effects on ADRIFT. She comes back today to tell us about her work as Overall VFX Supervisor on the Netflix movie, THE OLD GUARD:
How did you get involved on this show?
Milk were approached by Jennifer Silver from Netflix during one of her visits to London and she asked me if it's something I would be interested in doing, and of course I said yes.
How was your collaboration with director Gina Prince-Bythewood?
I really enjoyed working with Gina, she was very hands on throughout the production and keen to know all aspects of the process as she hadn't worked a lot with VFX before.
What was her expectations and approach about the visual effects?
In our pre-production meetings Gina would always push for shooting everything in camera where possible as she could see it and control it, which I totally understand. My job was to reassure her by finding loads of relevant references to show that VFX could do the job needed before committing to anything.
I was able to rely on the VFX vendors early on to create a lot of quick tests and proof of concept tests at the early stages, to reassure Gina.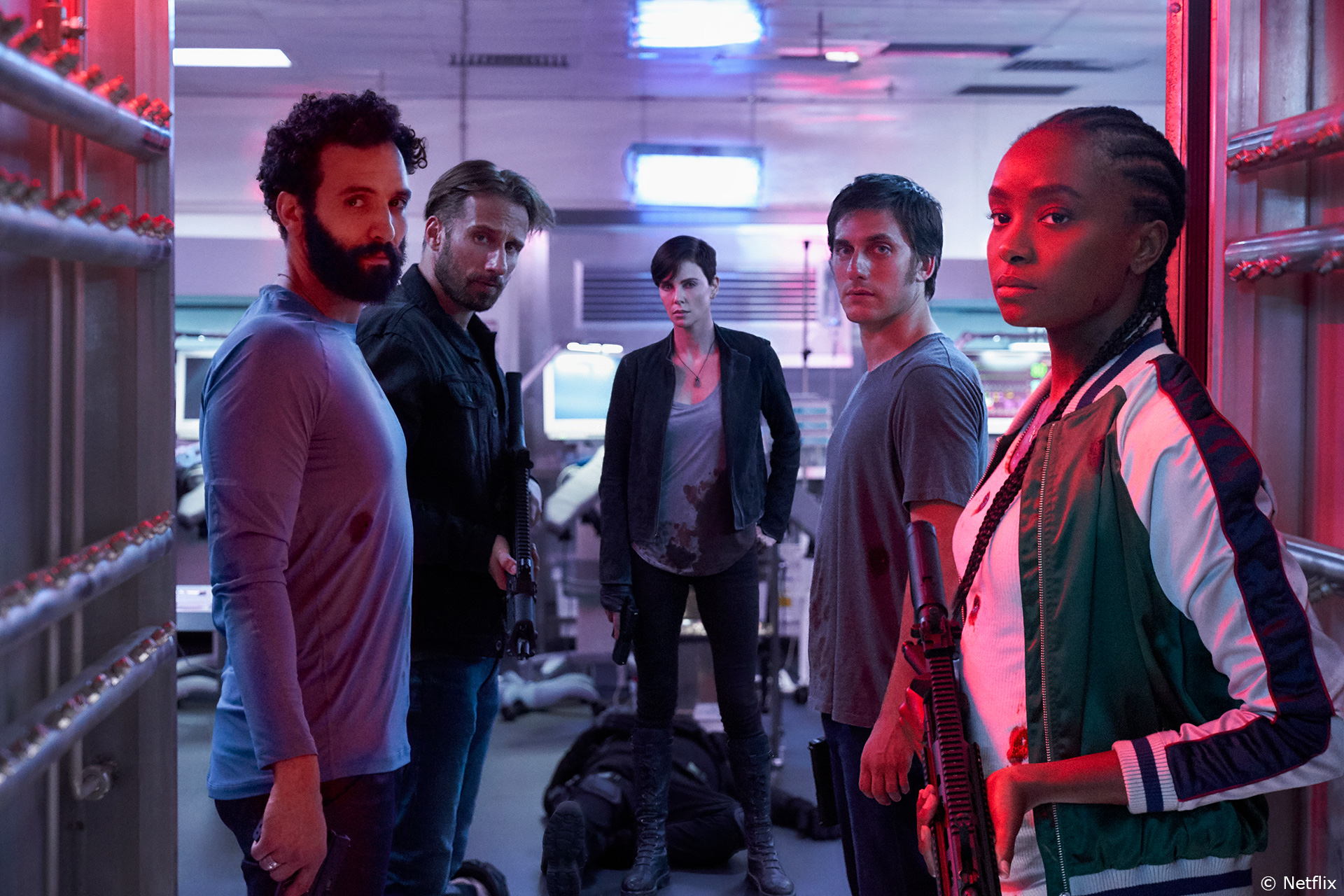 How did you organize the work with your VFX Producer?
My VFX producer was Lisa Kelly. It was really collaborative and we had a great working relationship. We put the job out to tender to the vendors we were interested in working with and whittled it down from there.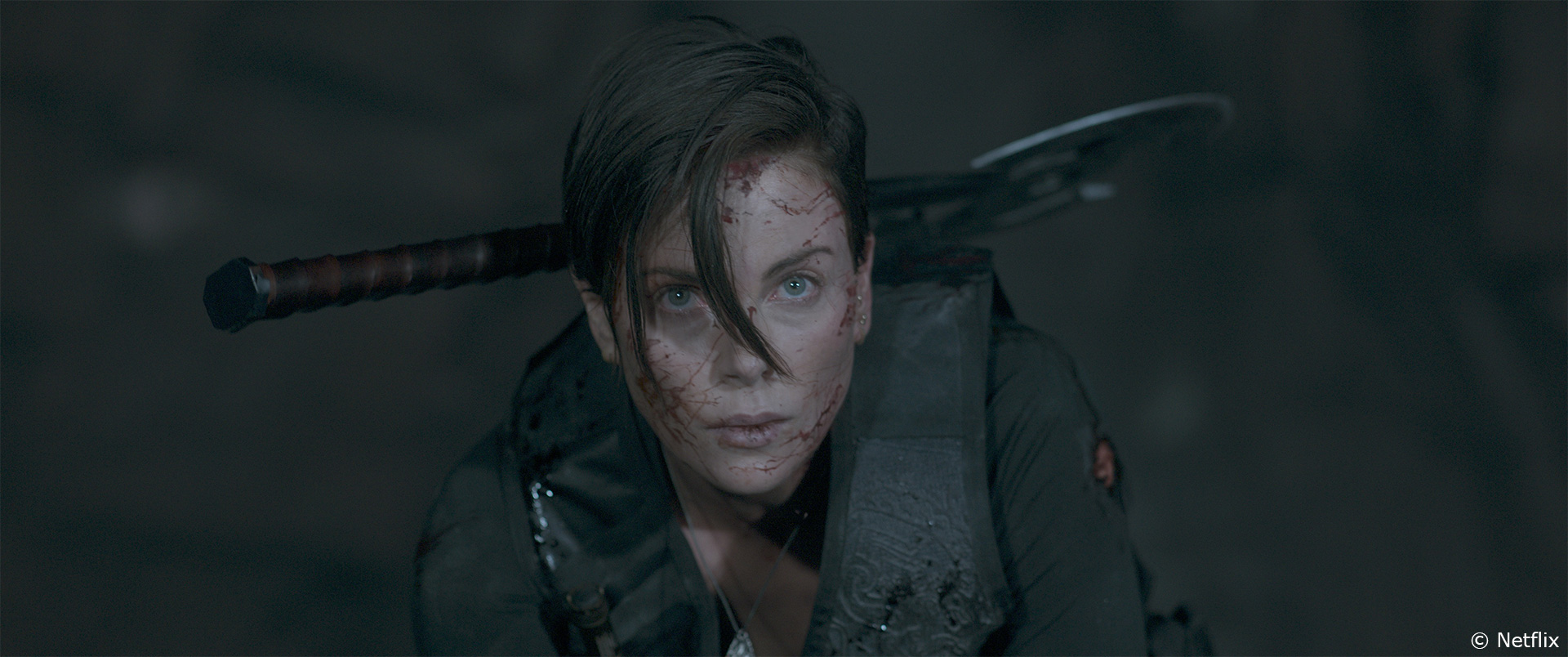 The heroes are immortal. How did you work with the art department for the wounds healing?
The regeneration concept design and development was handled by the VFX department. We found a great concept artist called Valentin Petrov who was involved in the early design stages with Gina and helped gauge how far to go. What was great is that Gina was very clear that it wasn't about the shock value – with the more blood and gore the better. What she wanted was realism, and if that meant it made you go "urgh" when looking at it, she was fine, as long as it felt real.
Can you explain in detail about the creation of the wounds healing?
I collated a library of images which included blast wounds, bullet wounds, cuts and bruises from lots of medical websites. Gina was very insistent that everything was totally 'real world' in terms of how a real wound would heal over time, and we had to show that level of detail. We found some time lapse videos of wounds healing over weeks that were very helpful in showing how the human body heals and the various stages, from the initial wounds to scabbing, newly healed pink skin and the bruising stages, (it's amazing how quickly you become desensitised to some of these images!) We then had to take all of this information and make it work over seconds; we really wanted to show all of the detail without it looking too fantasy. Image Engine was our vendor for this work, led by Hannes Poser and they did an excellent job on the final look for this work; it was always the most discussed VFX work from the start and a big story point for the film makers so we had to get it absolutely right.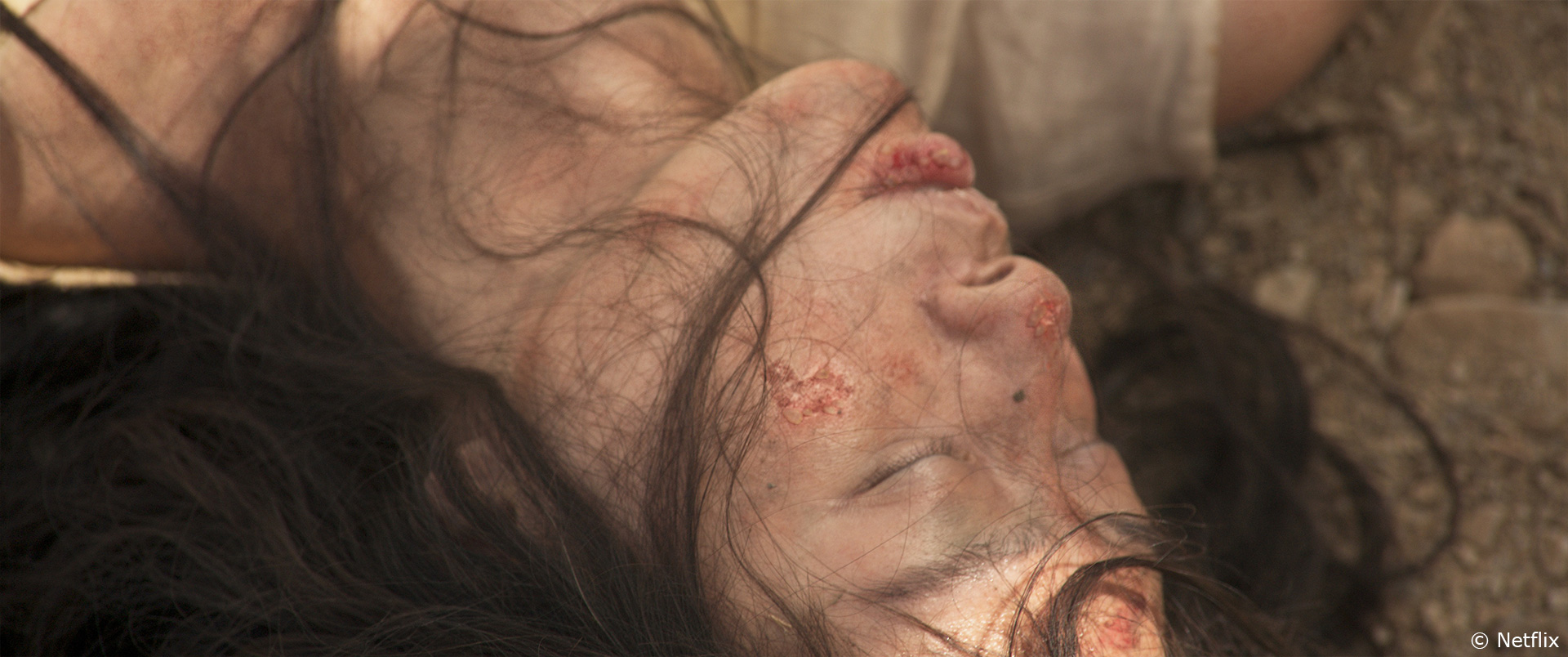 How did you work with the makeup team for those healing?
We worked closely with the make-up team led by Alessandro Bertolazzi, he did some initial wound placements and design that we used as reference for some of our final regeneration wounds, for the shoot we had these as residual blood with a marker in the centre for VFX to track to, this made the process easier when we came to create the regeneration as the placements and size were already set.
We also worked closely with the prosthetics team led by David Malinowski particularly for the Booker scene in the rectory, we had 3x stages of prosthetics we worked with as his regeneration was pretty extensive and healed over a whole scene of dialogue, having the prosthetic on during the shoot was also very helpful for the actor to work with as a tool. For the VFX it was trickier as we ended up having to replace the initial stage 1 set up as the wound is so extensive and the movement of it worked against the intricate regeneration work being done by Image Engine.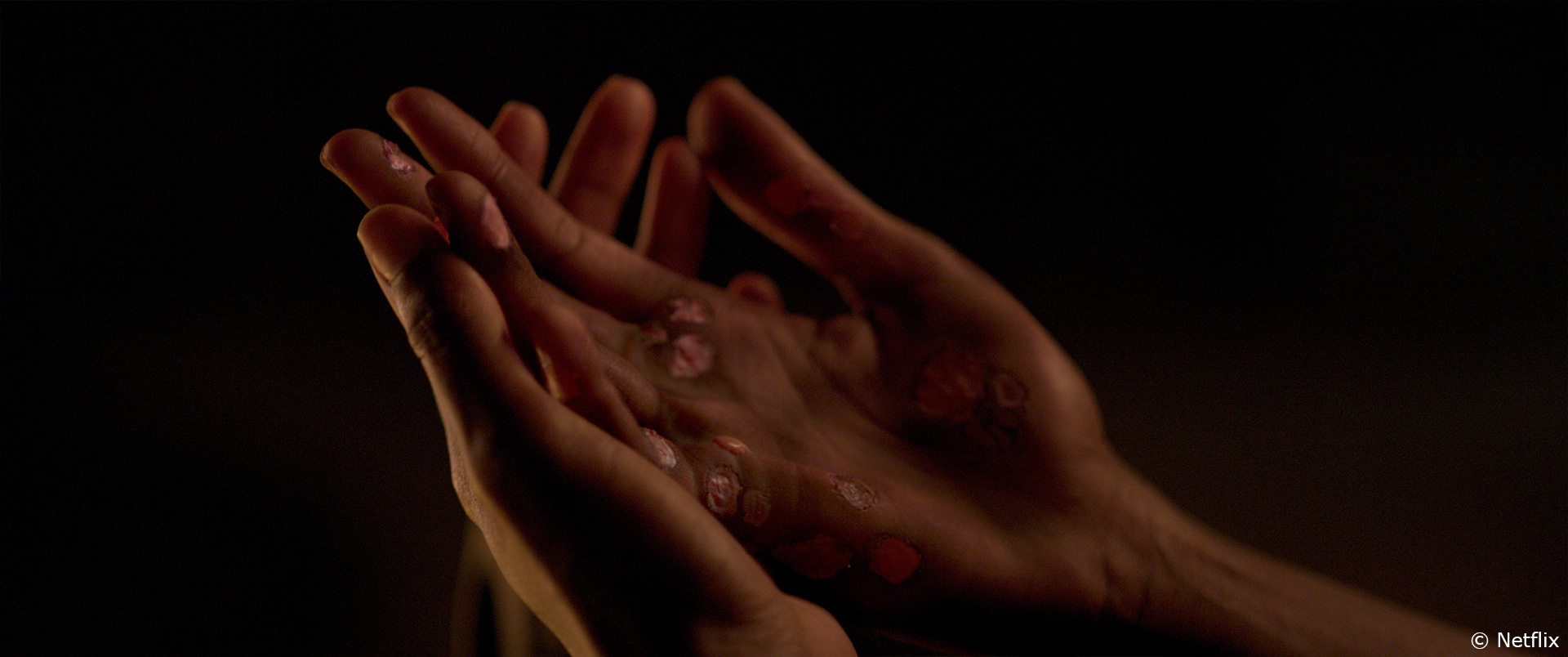 The movie is taking us to various locations. How did you enhance these environments?
One of my favourite locations was a private airfield in White Waltham, UK that we used for the Camp Leatherneck scene in Afghanistan which Milk created. The art department built an amazing set here and had to bring in tons of sand to dress the ground with, I remember having to pour sand out of my trainers continually and it was exhausting running through sand all day! We had up to 6x bluescreens attached to telehandlers that we could quickly drive onto any area of the set depending on where the camera was shooting off. So this covered simple top ups and extensions where needed.
Another scene was Shirburn castle, Oxfordshire, UK, for the exterior scenes in Paris when Nile first meets the rest of The Old Guard; we removed an old water tower and replaced it with derelict shutters. For the scenes in Afghanistan where The Old Guard arrive ahead of the Killroom scene we did a lot of modernity clean ups.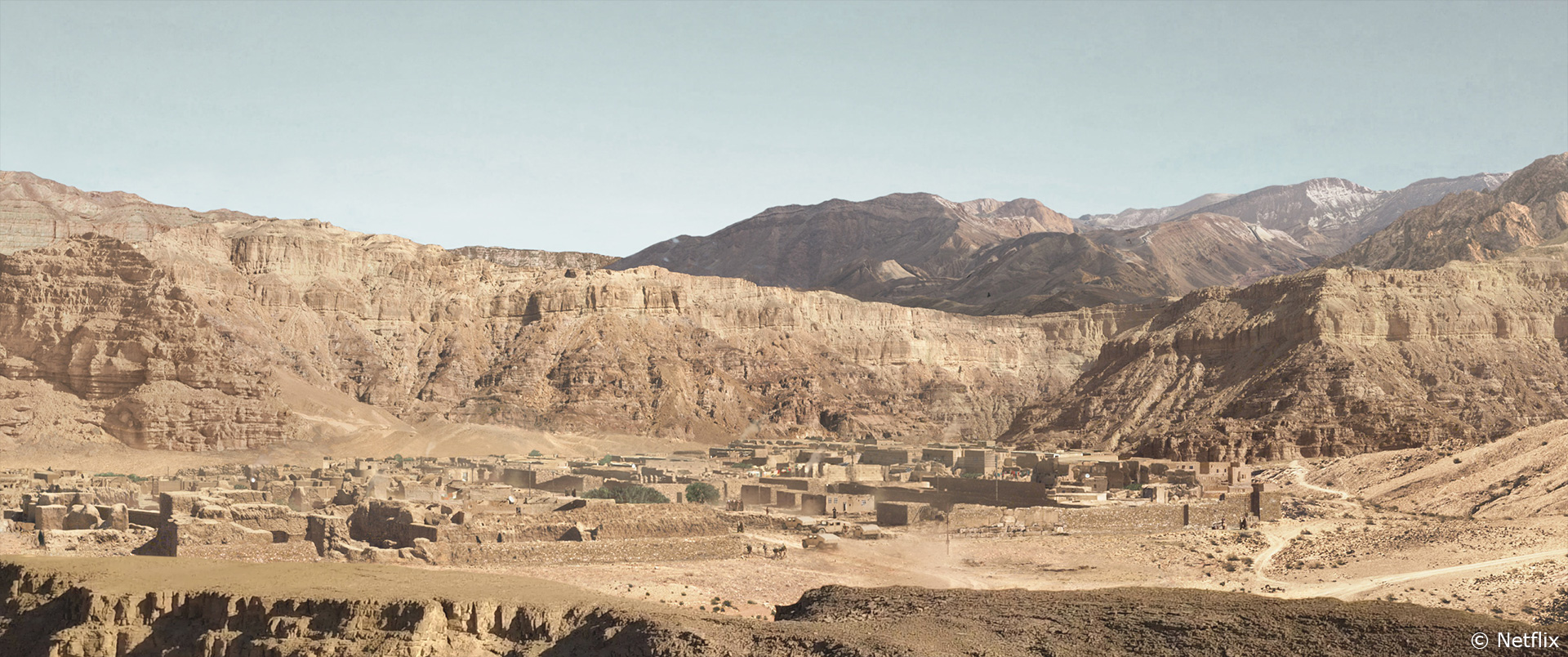 Can you tell us more about the Merrick building?
In the story Merrick's building is in the city of London and we shot the exterior shots there. But for the interior shots of the Penthouse we went to Jura House in Wentworth (UK) for a 2 week shoot. The house was surrounded by glass from ceiling to floor and we had to make it feel like Merrick was in his penthouse rooms on top of a building in the city of London. The main issues we had to deal with were crew reflections and lots of green spill. We took a lidar at street level in the city of London and also from the roof for all our views out of the window, we also shot time lapse 360 degree high res stills to gather times of the day as we came back to this scene more than once and the DOP wanted to set up the correct lighting to reflect the time of day per scene. I was really pleased with the final shots for this scene which were handled by Mr. X.
What kind of references and indications did you receive for the Merrick building?
Paul Kirby the production designer shared a lot of concept work with us for the exterior and interior of Merrick's; these gave us the designs for the exterior box-like structure we see in our Merrick establisher shots.
What was you approach for the final jump in the void?
Our approach was to shoot the actors in a controlled environment on a backlot in Shepperton against bluescreens and then add in the background which was a combination of plate photography and CG builds.
Can you explain in detail about the shooting and creation of this sequence?
We initially created previs for this scene with The Third Floor to help Gina visualise how this scene would work, based on this we planned to shoot the actors on a kuka arm using a cyclops motion control rig. We had to change this approach due to a script change and location change, what we ended up shooting with was the actors suspended on a rig against bluescreens with wind machines and the camera doing all the work which shot outside on location where we were shooting the Merrick interiors. For the background we shot plates on location in London, we had the camera on a libra head being dropped from a descender rig to capture the fall, we also took a lidar from the top of the building to show the London skyline as we first leap from the building, all of this was had to be stitched together with CG to make it feel like one continuous fall.
How did you choose the various VFX vendors?
We initially talked to around 8 vendors based on our own experiences and recommendations from the producers. We always agreed to work with just 2 or 3 vendors as we felt this would be enough, and initially we expected the shot count to be around 400 shots: this doubled in the end but we also had a great inhouse VFX team.
How did you split the work amongst these vendors?
We knew we wanted one vendor to work only on the regeneration and nothing else so they could focus on this solely, and with Image Engine's previous work on LOGAN we knew they would be perfect for this. The rest of the work was initially split by one vendor looking after all scenes to do with Merrick's – from the environments out the windows and the exterior shots of the building itself and the fight scenes of The Old Guard leading up into the penthouse, which Mr. X took on as well as some CG planes. Milk's environment team undertook the dockyard, the 'Killroom' and church fight scenes and the Camp Leatherneck establisher and extensions. The remainder of the work was picked up by both Milk and Mr. X as it came up.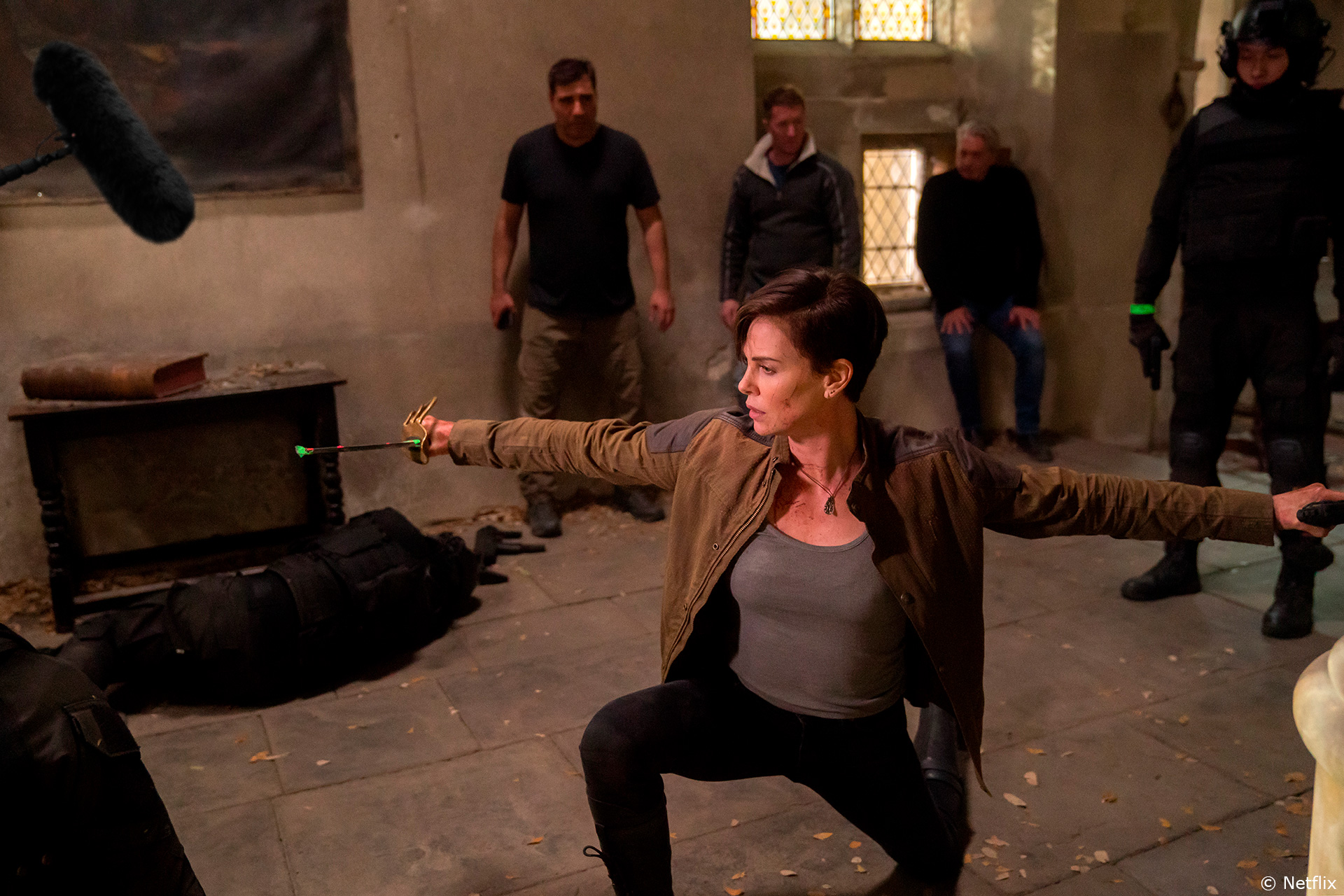 Can you tell us more about your collaboration with their VFX supervisors?
It was a real pleasure to work with such a talented team, we had Bryan Jones leading the team from Milk, Hannes Poser led the team from Image Engine and Ben Mossman led the team for Mr. X. I hope I get to collaborate with them all again in the future.
Which sequence or shot was the most challenging?
Aside from delivering the whole film during lockdown, I would say it's definitely Nile falling from the building. We did previs for this scene very early on in pre production with The Third Floor to help decide on the kind of shots Gina wanted and how to shoot them, then during the shoot, the storyline changed so we had to go back and previs this scene again. Unfortunately due to time on set and locations this changed again very close to the day we needed to shoot it, so we had to very quickly decide on how to achieve this amongst all departments in a very short space of time. Due to this we were quite limited with what we could do on the day; it took a lot of work and skill by Mr X to get this shot looking good.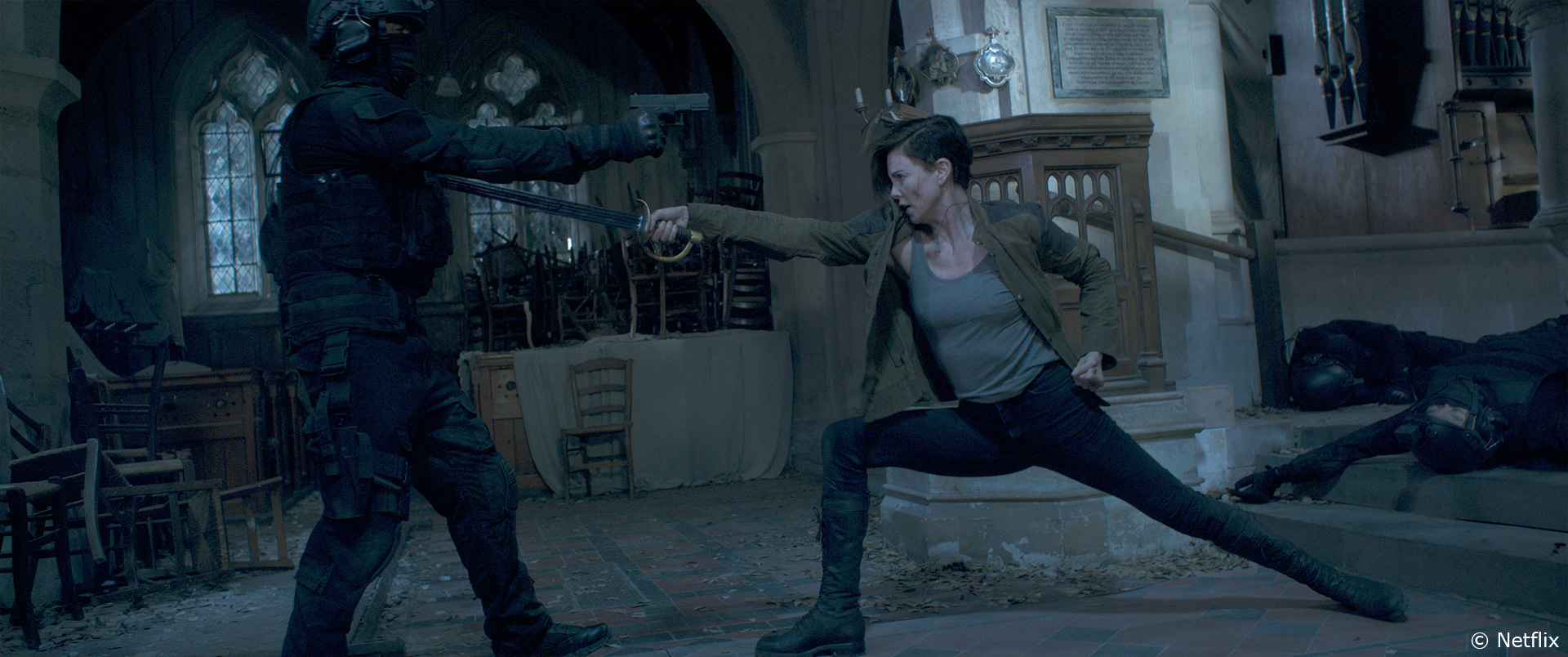 Did you want to reveal any other invisible effects?
Yes, I love these kinds of shots as they can make such a difference to a scene. In the hotel scene at the start of the film we added in the Moroccan markets to the window views which tied us into the scene better; we added in simple things like gas lights in the mine scene and simple extensions to Camp Leatherneck – changing army trucks into farming trucks. Too many others to mention here, but there were a lot.
Is there something specific that gives you some really short nights?
Yes, I think the shot of Nile leaping from the building was always the one shot that made me nervous, but Mr. X did a great job on it. Funnily enough there was one shot/scene for each of the vendors, for Milk it was the dockyard scene and Image Engine it was Andy's regeneration in the Killroom, these were the three that gave me a few sleepless nights!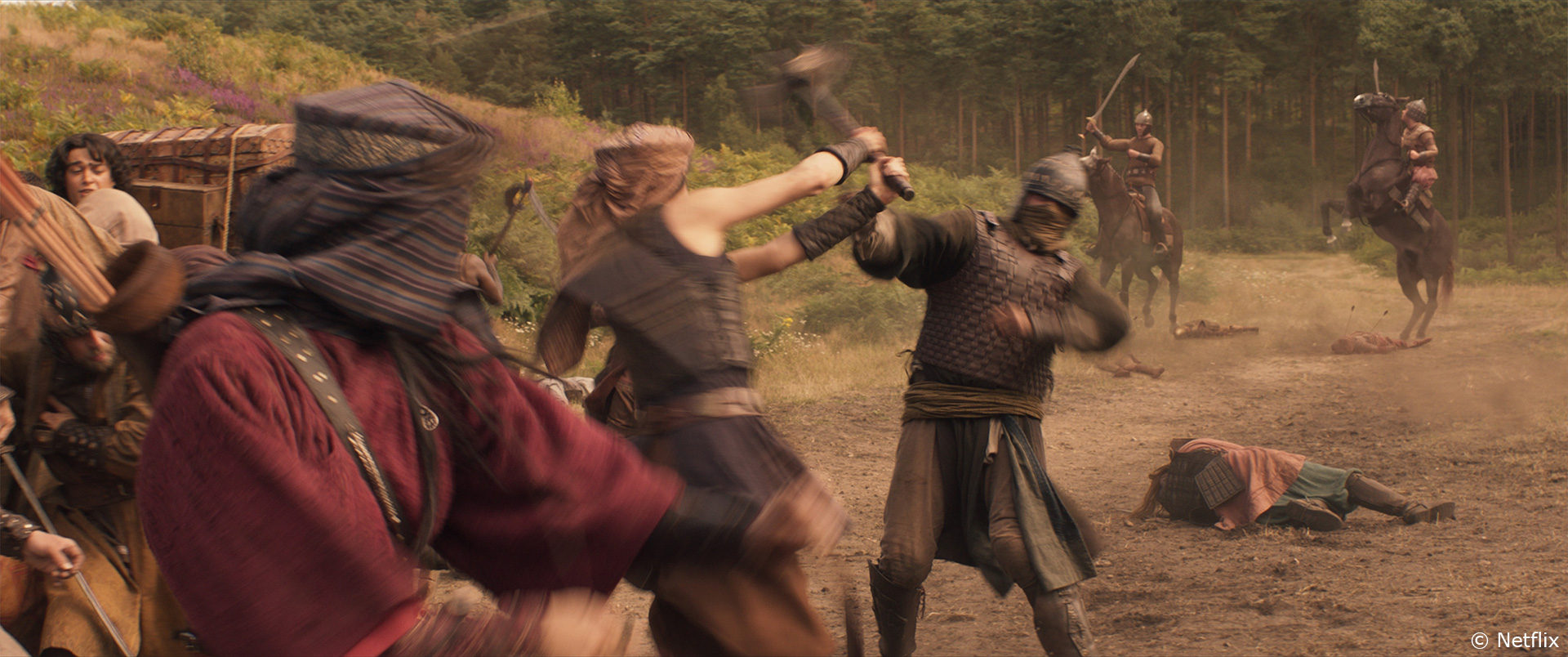 What is your favourite shot or sequence?
My favourite sequence is Nile regenerating in the car, it always felt good from the first versions we received from Image Engine and in all the early test screenings it got the best audience reaction.
What is your best memory on this show?
There are a few but I think my best ones are being based in LA with Gina and Teri and the rest of the editorial team, felt like being part of a family- which is so nice when you're away from home. We had a lot of laughs and some great food! What I really loved was every day we would all sit together round a large table in the production offices and eat lunch together so that everyone stepped away from their work and had a conversations that were not just about work, it was a lovely touch as we all usually eat when we can at our desks or on the move.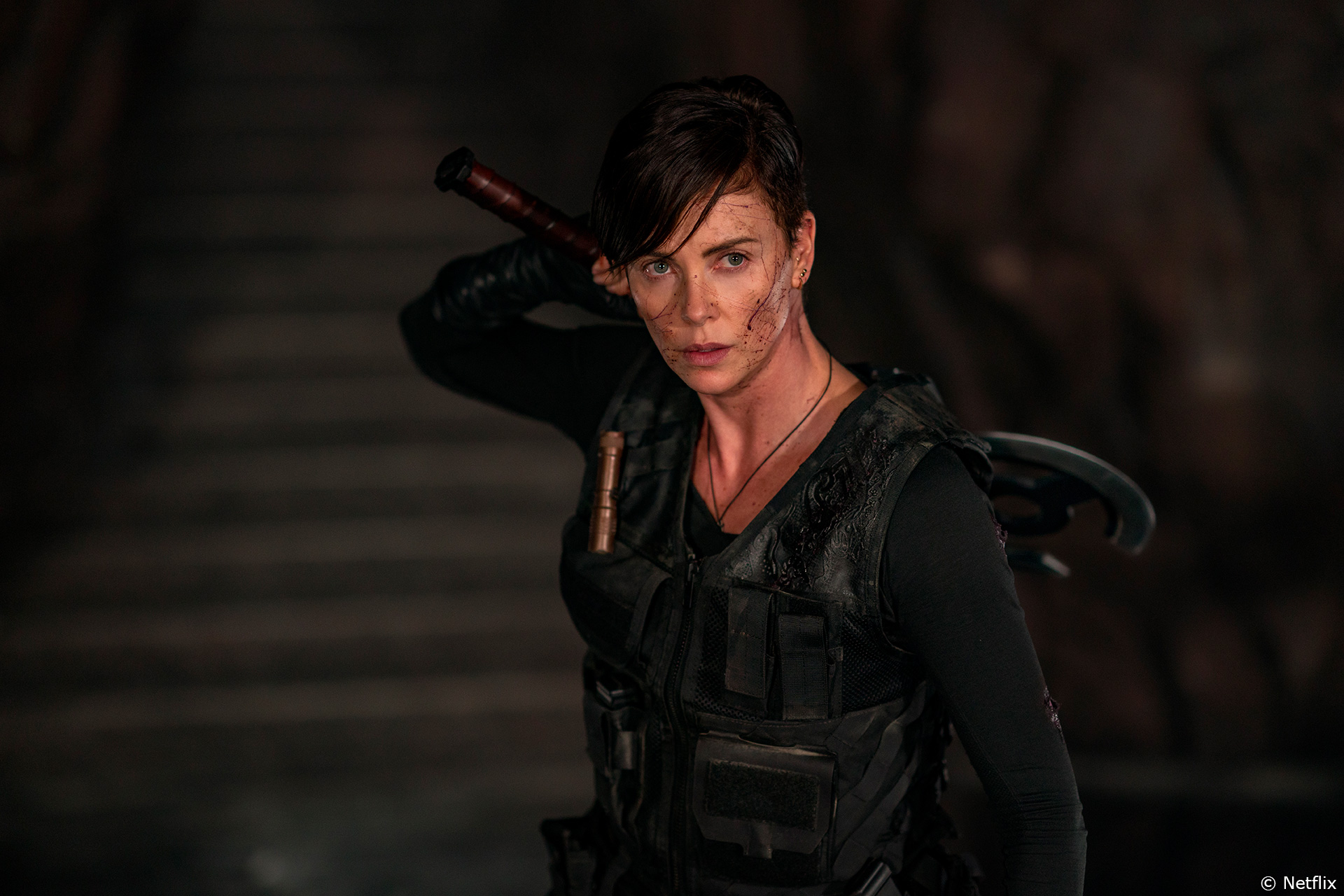 How long have you worked on this show?
I started in March 2019, and was on the project for around 14 months.
What's the VFX shots count?
We did approximately 835 shots.
What was the size of your team?
So there was myself, David Jones (VFX Shoot Supervisor) and Grainne Dooley (Data Wrangler) on the shoot, and in production was Lisa Kelly (VFX Producer), Lila Tahri (Production Co-ordinator) and Lucy Spaul-Cran (Production Assistant). Then we had a great in-house VFX team of around six people called HST led by Wesley Froud and Mike Cosgrave.
What is your next project?
I'm enjoying being back home in London and at Milk. I'm having discussions about several upcoming projects. Keeping a very close eye on the Coronavirus situation with regard to which new projects will be starting production.
A big thanks for your time.
WANT TO KNOW MORE?
Milk Visual Effects: Dedicated page about THE OLD GUARD on Milk Visual Effects website.
THE OLD GUARD: You can watch the movie now on Netflix.
© Vincent Frei – The Art of VFX – 2020