Christian Garcia has worked on a various number of projects such as HEAVY METAL 2000, PINOCCHIO 3000 or the TV series CHARLIE JADE. Subsequently, he joined the teams of Digital Dimension where he will oversee the CG on films like RED CLIFF, THE PINK PANTHER 2 or THE SPIRIT. In the following interview, he talks about the CG wolves for THE GREY.
What is your background?
I was born in Perpignan, a small town in southern France. From my 12 years, I wanted to make films in particular with special effects, so armed with my super8 camera and friends I began to write and filmed. The years passed and the will to make FX has become a dream, the famous American dream. My professional life led me to another branch more accessible and movies made me dream while I have fun with 3D software of the time trying to keep dreaming, but I always looked for ways to go to Uncle Sam and it's on my 27 years that began the adventure, a magazine « How to move to Quebec » was the front door, but nothing was gained, a year after I get my steps on Canadian soil, my job at the time did not allow me to work despite the promises that I had made, a little job to another person I met who would become my inspiration, my future wife. Discussions after discussions, I found a 3D private school, after an interview, a bank loan and a scholarship, I proudly returned to school and there I do not want to miss my luck … 6 months of study and all-nighters to complete my demo, I was able to find work in the business, just one day after finishing. What a joy!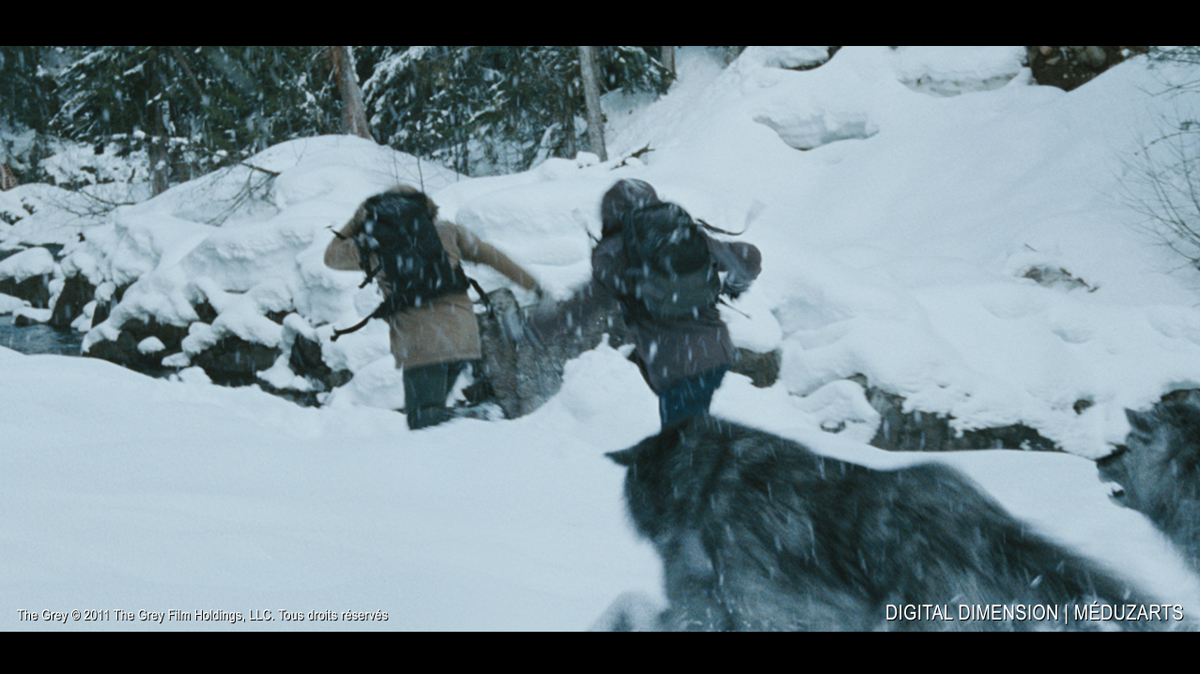 Final shot
Like any young ending his studies, I start as a junior to do what others do not want to do, it was not bad because I was about to learn, so over the years I began to lead a team of three people, then for a 2D/3D movie (HEAVY METAL FAKK2) I supervised a staff of 15, during a year, I animate, light, made a few visual effects. Then it was the turn of PINOCCHIO 3000 (in 2004) where I find myself at the head of 120 people as CG supervisor. During 18 months, I was doing less shots, too busy, but I try to stay in the game by making debugging of 3D scene by staying on the night.
Subsequently, I am involved on my first VFX, for TV series and then a series (CHARLIE JADE) which earn me a Gemini Award nomination for « Best visuals fx on a serie », it's a kind of evening of the Oscars, but in Canada.
After a while I get approached by Digital Dimension in Montreal and agree to be CG Supervisor on PINK PANTHER 2, and then it will be THE SPIRIT, the last 3 years were marked by close collaboration with Warner Games to exclusively do their highrez game cinematic, mainly LORD OF THE RING, the MORTAL KOMBAT and FEAR 3. We have simultaneously made some shots on several films.
And then came THE GREY on which Digital Dimension have made 90% of the VFX. The dream became reality …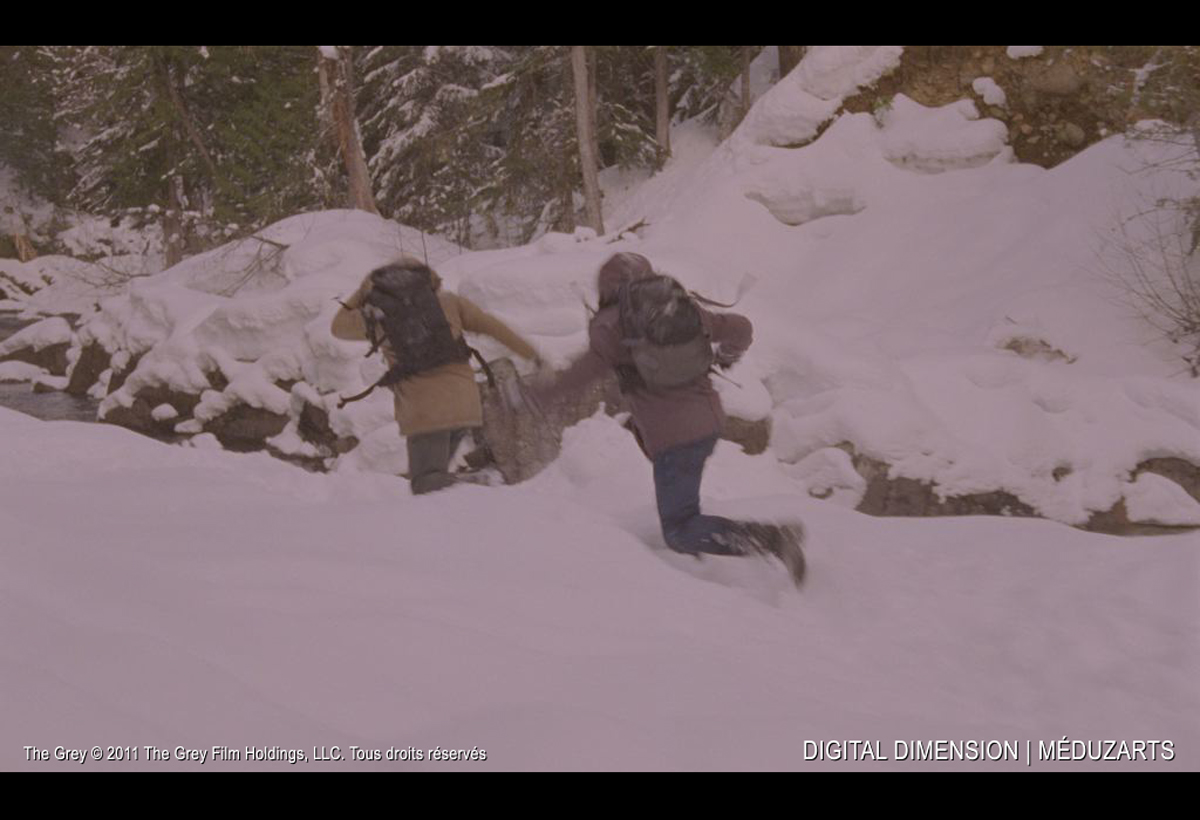 Original plate
How was the collaboration with director Joe Carnahan?
Good, Joe has an explosive character, he said loudly whenever he likes, but also the opposite (laughs). We have with him two weekly sessions on Cinesync and Skype, to show him our work and have approvals, the last 2 months it was each day.
What was his approach to VFX?
He was very reluctant to them, so at first we had to do the wolves seen far away. But during a shot, for our quality animation and compositing, we managed to convince Joe that he would need our CG wolves. Then over the shots, Joe asked more and more for CG wolves.
What did you do on this show?
I supervised about 80 artists, approved the shots before sending them to the customer, find solutions with my leads and ensure that everything happens for the best. So with 80 artists you have to forget to make shots, so in the evening hours I was doing I forced myself to have some fun to clean shots and debugging, find out why a 3D scene does not render, I love it.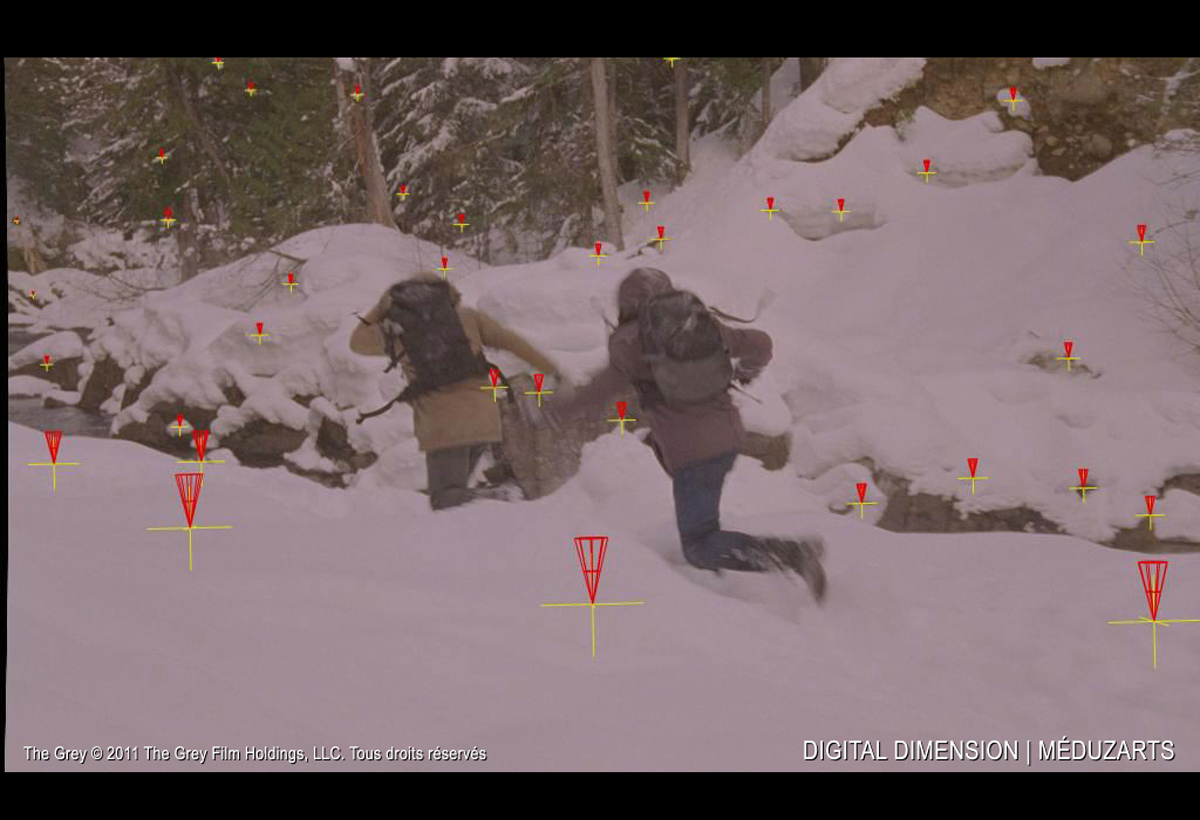 Tracking
Can you tell us about the filming of wolves sequences?
On set, although wolves are « tame », they decided to do what they want and then we see them primarily run through the forest. One scene where the wolves lurking around the body of a character has been possible thanks to the trainer of the wolves that put meat in the body of a model, one of the wolves began to play instead of pulling the body outside the frame, so they need to have a shorter cut of the shot and in order to hide the cheating we added CG snow and clear footprints in post. In fact the wolves live we have served more references than anything else.
How did you collaborate with KNB teams?
They were responsible for animatronics, on set they brought real monsters. The close-up attacks were done with puppets wolves. For shots of the Alpha wolf, we add in post, shaking their lip, blinking, swelling the pupil …
Can you explain in detail the creation of wolves?
At the beginning we had no idea of what the Alpha and other animatronics will look like, we only knew they would be big, so we started to model a large wolf, but with the characteristics of a real wolf, then when the first pictures that were sent to us KNB, it was necessary to revise our wolf, as he was not yet rigged, one could adjust without too much difficulty, modeled in Softimage, he then made a short tour by ZBrush has the Hair was designed in Softimage, and the rest of the pipeline, the rendering was done in 3Delight, we had a close collaboration with them, the renderer is very fast, allowing us to put the hair, with displacement, motion blur and the depth of field, all with very reasonable rendering times.
From the Alpha wolf was born on the wolf gray/white who is shot down at the beginning of the movie. We made 5 variations to create the other wolves in backgrounds with some modifications.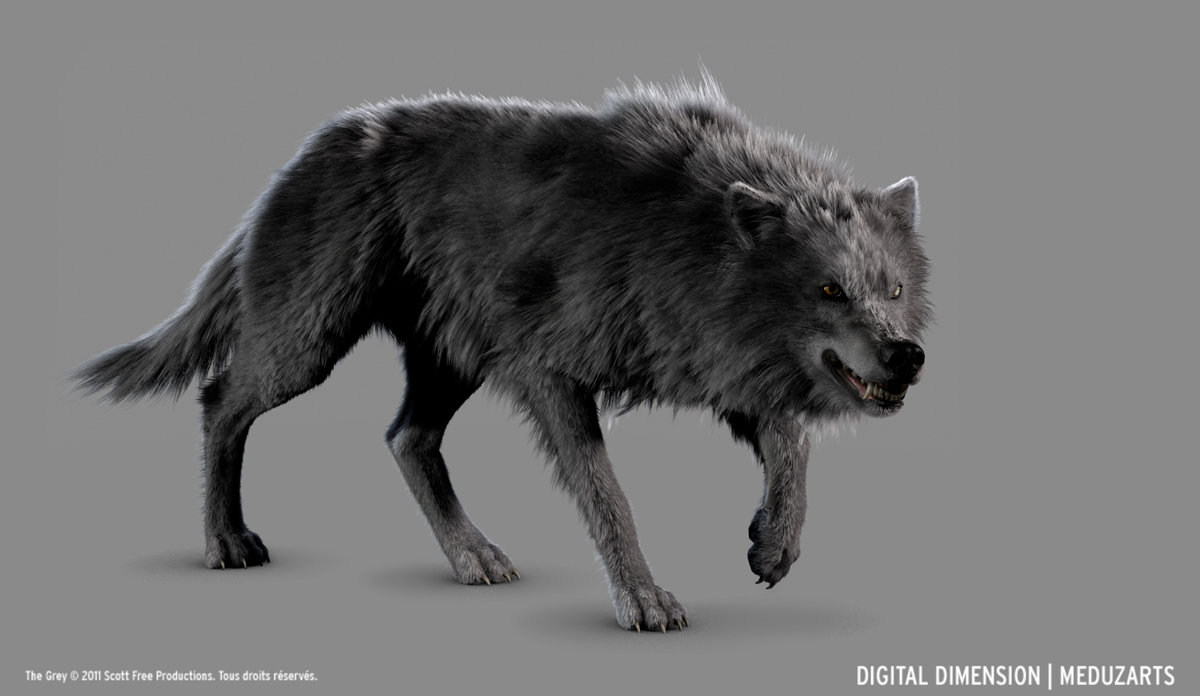 How did you rig them?
We used Softimage with our proprietary tools, we adapted our facial rig to that of an animal, our TD artists worked very well, and we made some very specific shapes for certain situations in the film. Our rig was scalable so we could easily adapt it to the smaller wolves. Our rig setup allowed us to easily transfer animations of big wolves on little wolves and saved a lot of time.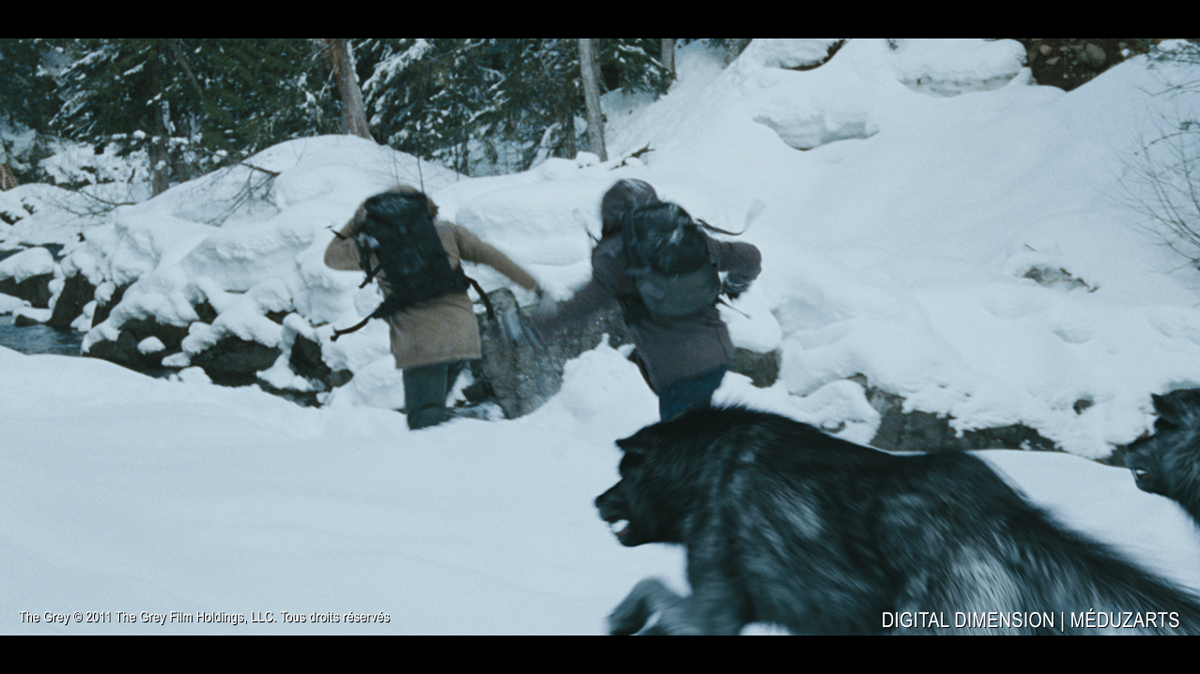 Lighting
Can you explain the creation of the Wolves' fur?
A beautiful headache when you create hair, always in Softimage, our hair expert had with him samples of hair from the Alpha (animatronic), based on reals pictures of wolf, he created a base texture to create the Hair system. After that a long process of Hair creation started, we made several touch up especially for closeup shots increasing the number of hairs or restyling.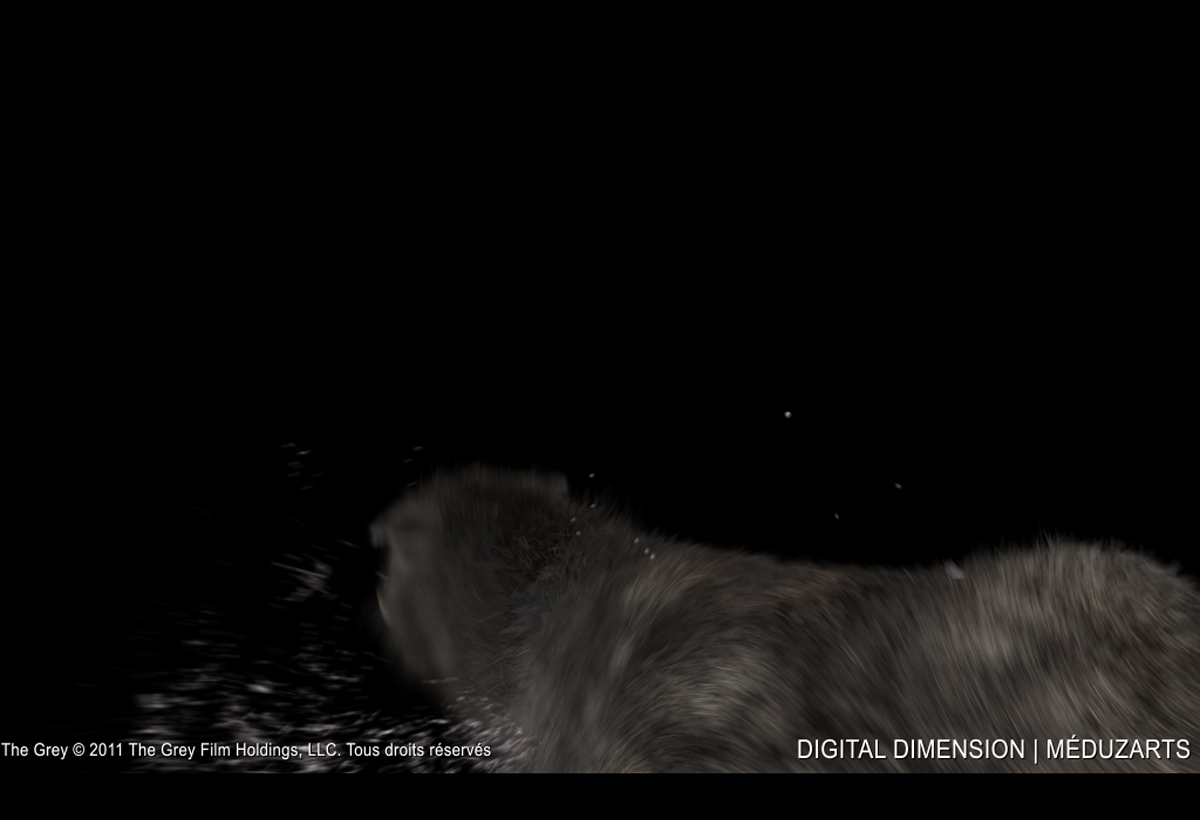 FX snow
How did you animated the wolves and the big alpha male in particular?
No motion capture in this film, only keyframe animation, we have an excellent team of animators, some of them have worked on KING KONG, PIRATES OF THE CARIBBEAN and ICE AGE. With the help of references of real wolf shot in the studio with the trainer, the animators had a period of R&D in order to control the animal.
Animation
Can you tell us more about the breaths of the characters?
There was a combination of live assets photographed on set on a black background and CG breath with which our compers played in Nuke.
How did you create CG snow?
It was a little puzzle, because each sequence and sometimes every shot had a quality and a different amount of snow. We had to play with, because this was a problem of continuity. So we created about 10 snow CG assets that have been given to the compositing department, the compers have placed on grids in Nuke with our 3D cameras. In other cases where the camera had great movement, we used full CG snow scenes.
What was the biggest challenge and how did you achieve it?
The tracking of certain difficult shots filled with snow and without markers.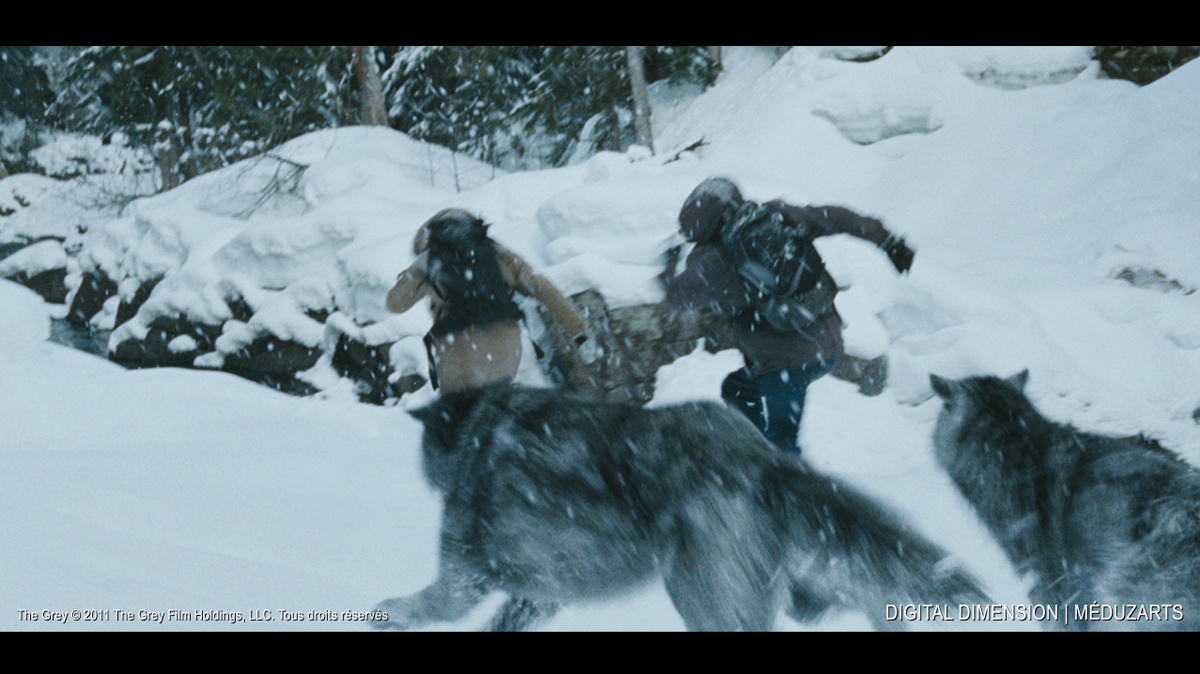 Final shot
How long have you worked on this film?
About 6 months.
How many shots have you made?
220.
How big was your team?
We were around 25 artists.
What is your next project?
A game cinematic for Warner Games, a IMAX stereoscopic film and other projects to start this summer, including a full CG feature.
What are the four movies that have given you the passion for cinema?
The first three Star Wars (Episodes 4-5-6).
SUPERMAN 1 and 2 (with Christopher Reeves).
RAIDERS OF THE LOST ARK.
JURASSIC PARK.
FIELD OF DREAMS and all the ROCKY movies for their determination to believe in their dreams and that nothing is impossible.
A big thanks for your time.
// WANT TO KNOW MORE?
– Digital Dimension: Official website of Digital Dimension.
© Vincent Frei – The Art of VFX – 2012