In 2021, Nick Crew explained the work of Scanline VFX on Reminiscence. He then worked on shows like Shang-Chi and the Legend of the Ten Rings, The Battle at Lake Changjin, Cowboy Bebop and Don't Look Up.
How did you and Scanline VFX get involved on this show?
We were fortunate to become involved in this project early in pre-production. During pre-production, Nic Aithadi oversaw explorations of initial ideas and assisted in shoot planning with the client, while Sue Rowe represented Scanline for our Vancouver shoot days. Additionally, Scanline helped step into Virtual Production support on this film, where we helped the filmmakers visualize what finished shots would look like in the Lab environment. We built an on-set, real time visualization tool that gave Shawn and his team the ability to visualize scale and scope, which helped frame shots and block the action, with consideration to what the entire environment would look like. I personally became more directly involved in the show after principal photography wrapped, right as Scanline started diving into creative effects, asset builds, and shot production.
How was the collaboration with Director Shawn Levy and Production VFX Supervisor Alessandro Ongaro?
It was a lot of fun! From the outset, the Visual Effects design process was very collaborative and open. In most cases, there were story points and/or script descriptions that needed to be respected, but aside from this Shawn and Alessandro really gave us freedom to pitch ideas. Both Shawn and Ale loved for us to push things forward before showing our initial ideas, which they could then pick and choose from. Once that direction was chosen, we would refine further with Alessandro before pitching for final.
How did you organize the work with your VFX Producer?
VFX Producer Ryan Flick and the production team did a fantastic job of keeping things streamlined and organized. Something that became clear to us once turnovers began was that we had three very specific groupings of work that three separate teams could work execute in parallel: The Backyard, The Exterior Sorian building, and the Lab. We assigned each team a Comp Supervisor, CG Supervisor and/or CG Lead, allowing each team to work independently toward various approval states. In the case of the Exterior Sorian building team, we had Scanline newcomer (but industry veteran) Boris Schmidt sequence supervise, which was hugely helpful for me as it became a very detailed environment build that needed extra care and attention.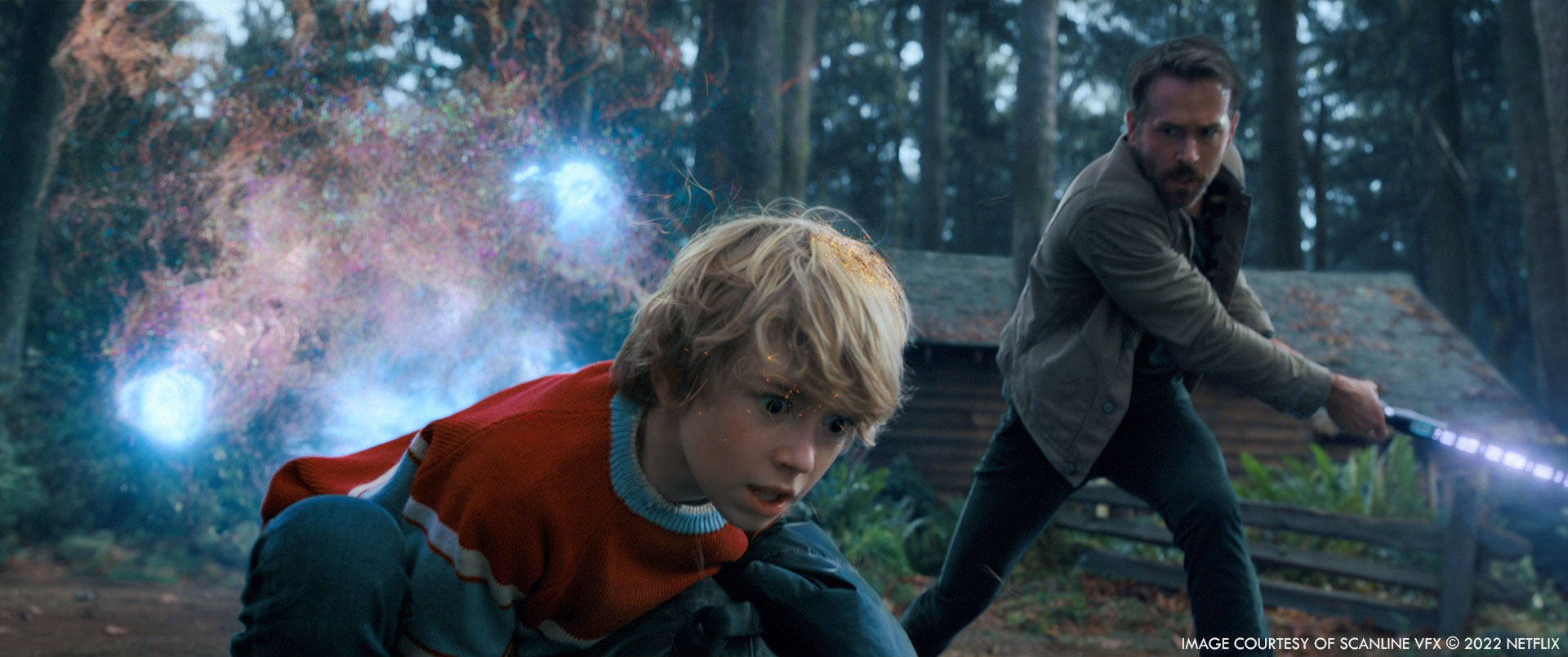 How was split the work between the Scanline VFX offices?
We actually ended up utilizing all of Scanline's locations on this one! The majority of the work was done in our Vancouver office, but we had additional support in our Los Angeles, Montreal, Seoul, London, Munich and Stuttgart locations.
What are the sequences made by Scanline VFX?
Scanline really touched A LOT Of this movie, including most of everything at Adam's house, the backyard environments, anything having to do with the 'decimations' or Magcyl, and the majority of the 3rd act which includes the approach to the Sorian building all the way through the end of the movie.
The movie is full of cool weapons. Can you elaborates about their design and their creation?
Scanline was responsible for the "MagCyl" as well as the Time Soldier weapon effects. In these cases, there were rough guidelines to follow, but Shawn and Ale really let us run with pitching how these worked. For the MagCyl, there were a variety of concepts done by the production team, which we took as inspiration for the final design. Modeling Supervisor Dylan Dunford and animation lead Bill Bridges really took it to the next level with how they refined the design and animated the individual pieces to pop and lock into place. In addition to the actual digital prop, the MagCyl's various electromagnetic discharges played a vital role in the story and action. For this, we relied heavily on our FX lead Romain Besnard's Houdini team to work with LookDev compositors Cameron Thomas and Jamie Adkins. This group would brainstorm various ideas to help demonstrate how the MagCyl could pulse energy into an environment, stop bullets via an electromagnetic shield, or help Young Adam jump two stories into the air. The final result for all of these effects ended up being a blend of multiple Houdini renders and composting passes that brought the MagCyl to life in the film.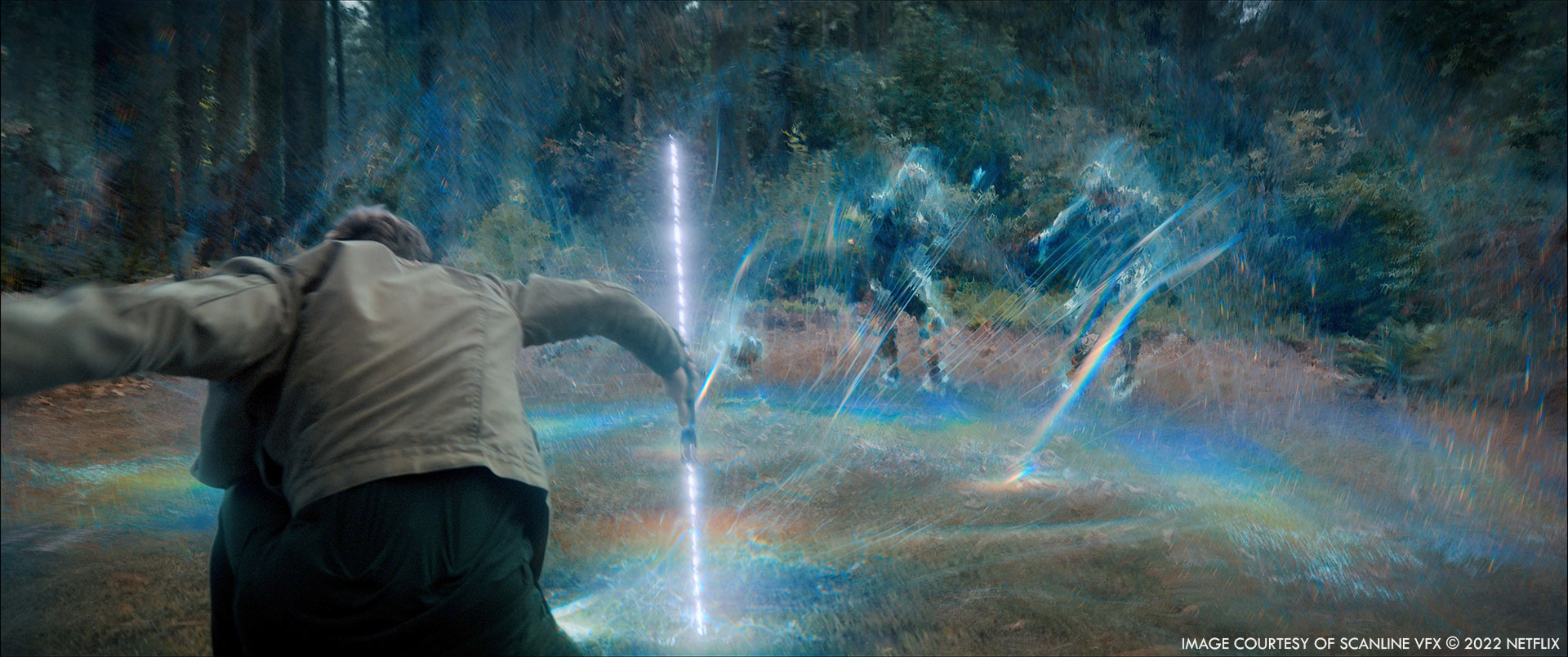 How did you create and animate the cloaking/decloaking effects?
For the cloaking/decloaking effects we explored quite a few different options before landing on what is seen in the film. We were experimenting with all kinds of ideas including holographic projections, fluid simulations and more. What ended up resonating with Shawn and Ale is what is seen in the film, which was a combination of procedurally resolving geometric shapes in combination with a light-spectrum 'membrane' ripple. It was a fun effect to design with the team!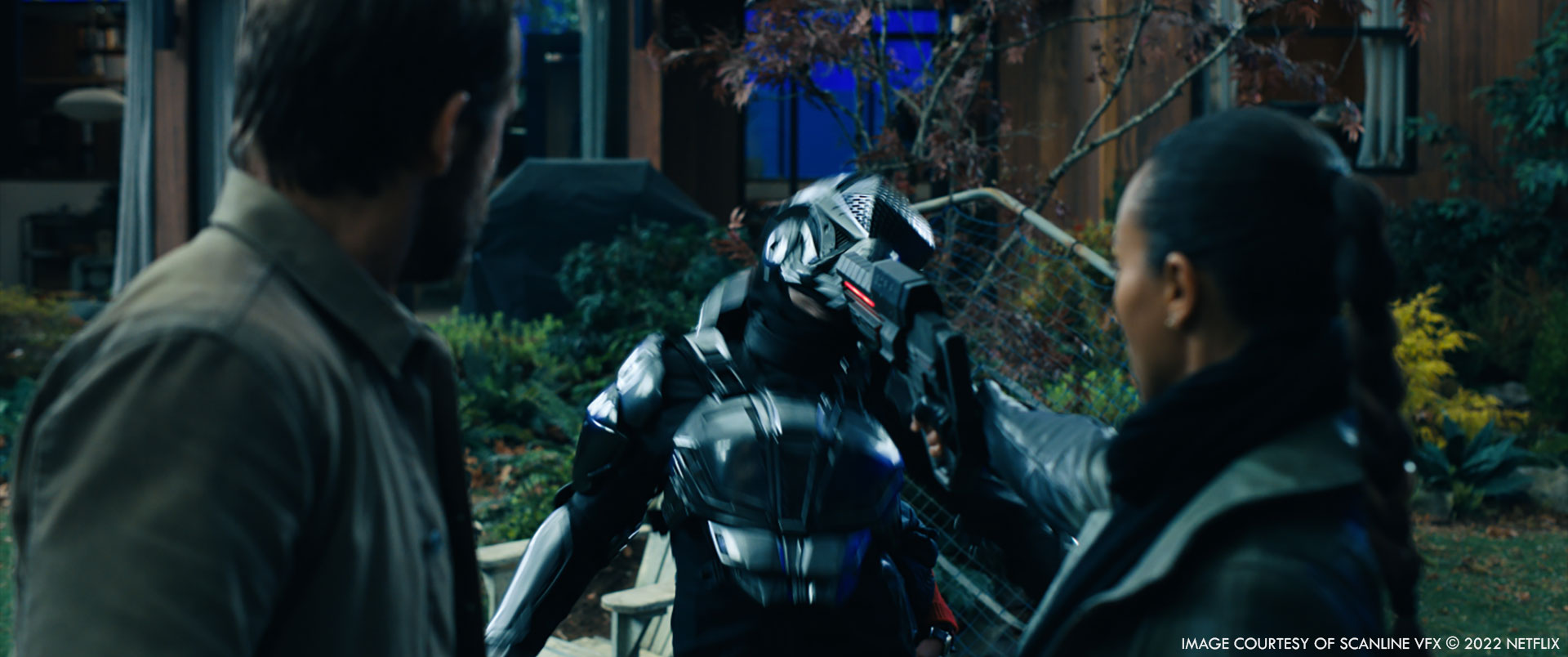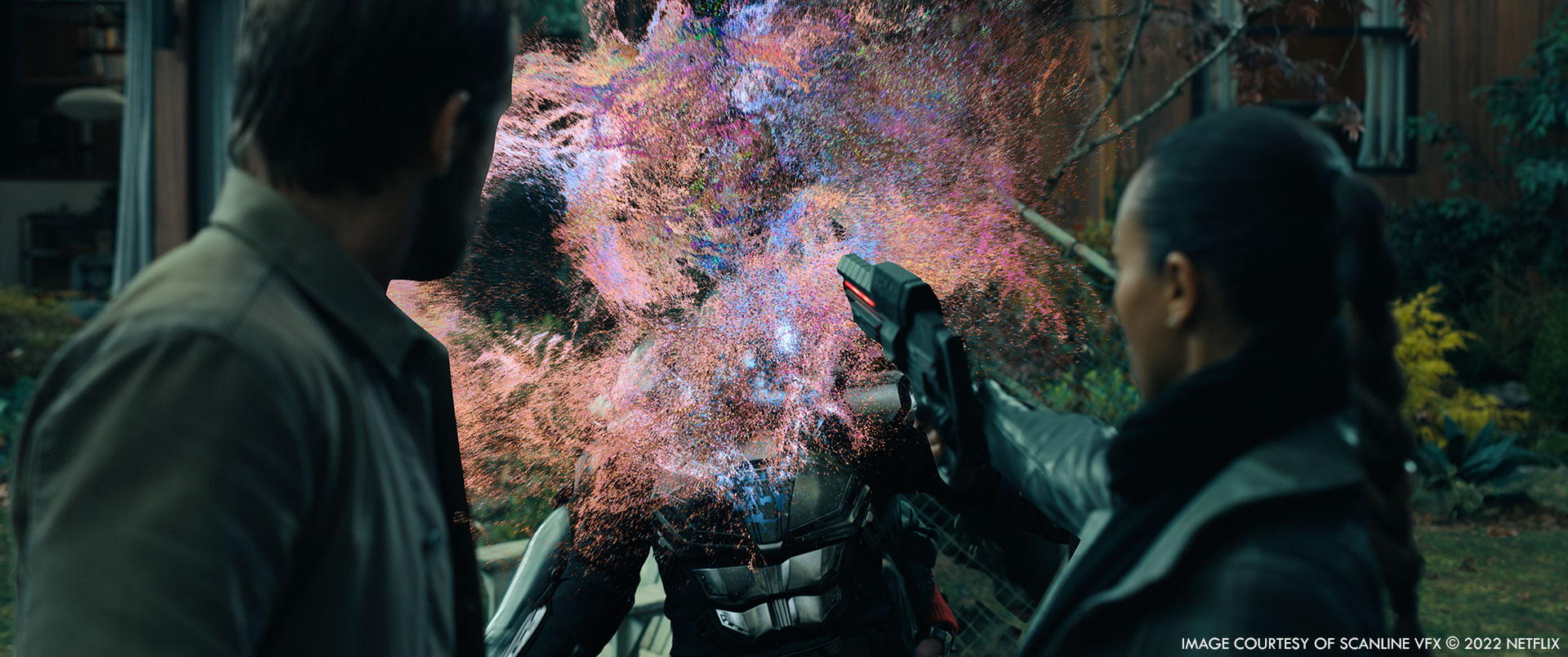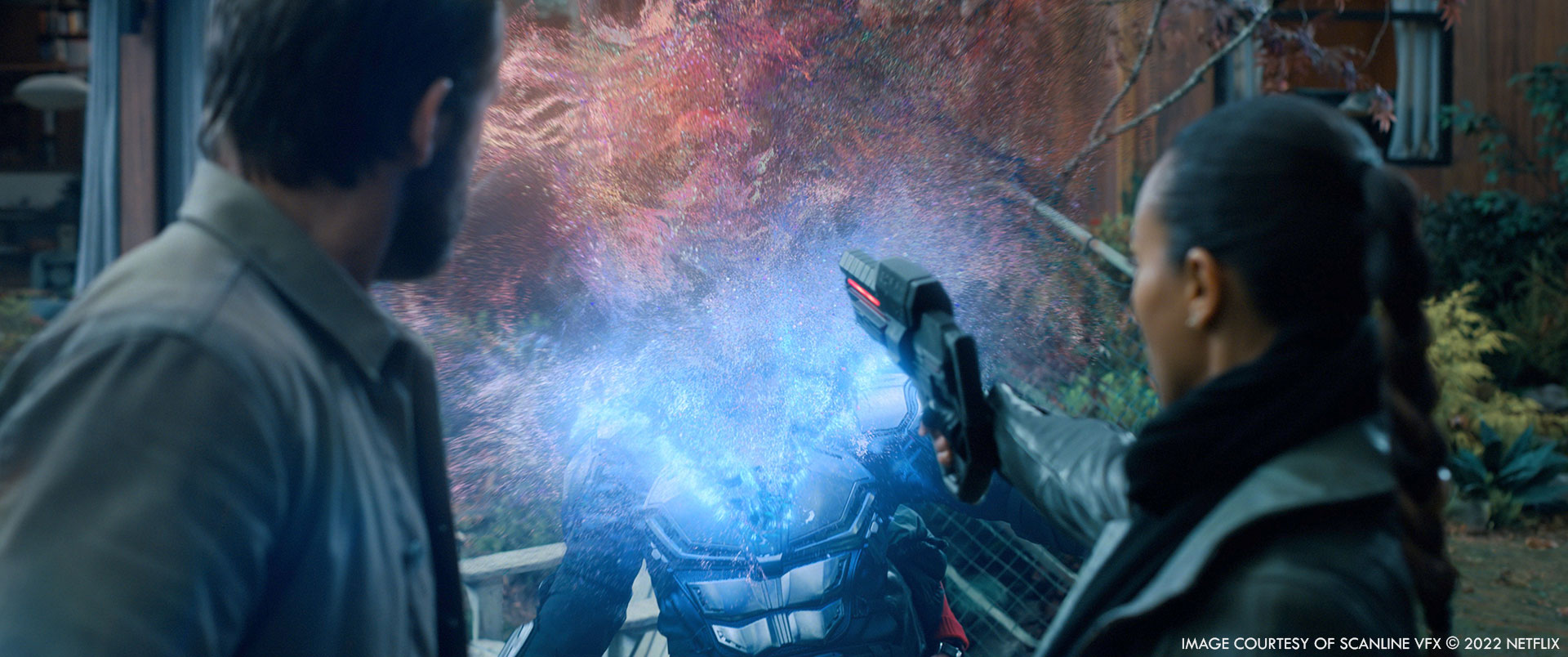 What kind of references did you received for this FX?
This was really a case where they wanted to see something that hadn't been seen before, so they really let us play with this one. We did a variety of research into camouflaging armor, holographic projections, visual distortion fields, and others. From that point we kind of jumped off and came up with some different takes that were inspired by different components of this reference.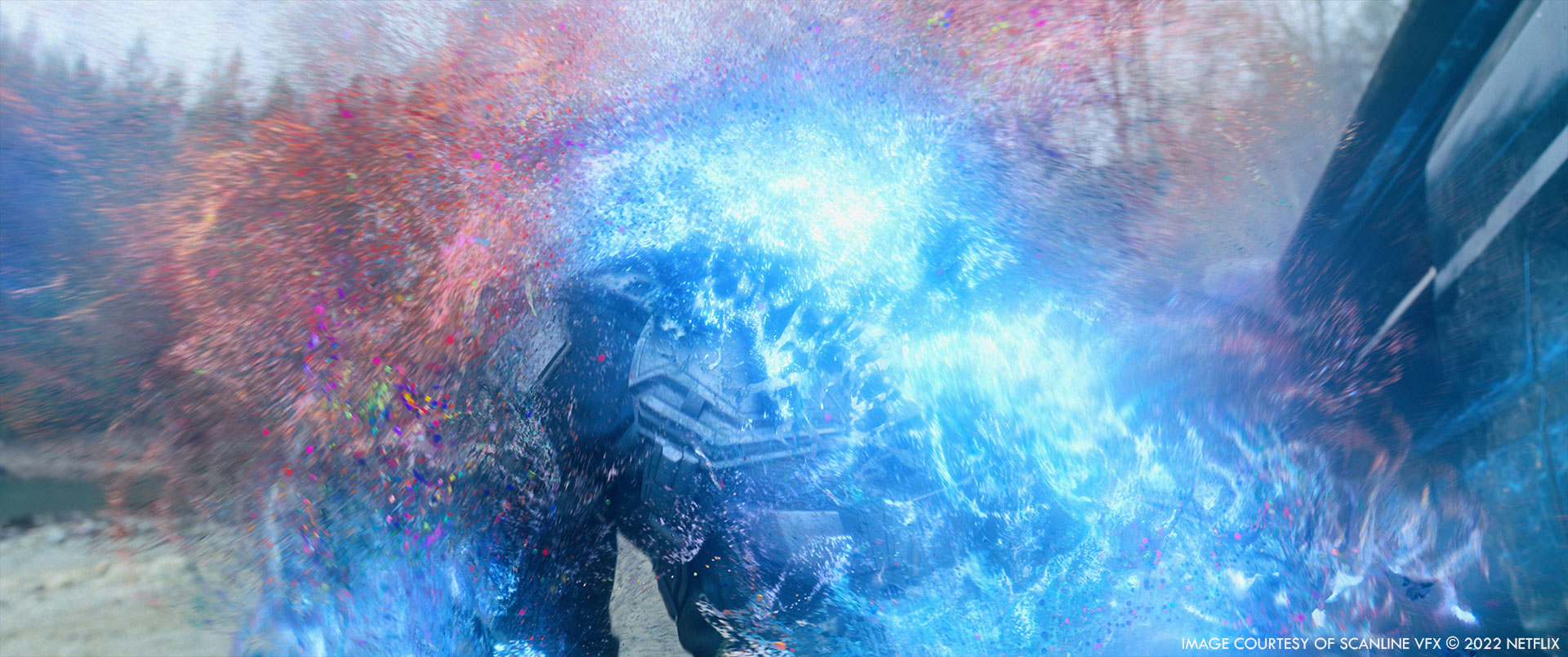 How did you enhanced the backyard environment and the forest?
The backyard environment scope ended up growing during the course of the shoot and into post-production. Originally, there was a hope we could do a 2.5D approach to the extension, but quickly the filmmakers realized a full digital build would be necessary. In addition to the forest extension, we had to develop a digital lawn replacement, as the AstroTurf ended up being something that really stood out. This ended up being one of the hardest environmental topics, as some shots required very high resolution grass scattering to make it look believable. CG Supervisor Julien Forest, Environment Lead Mohamed Abdou, and Compositing Supervisor Alan Stucchi really did a fantastic job at making this look as seamless as it did in the final movie.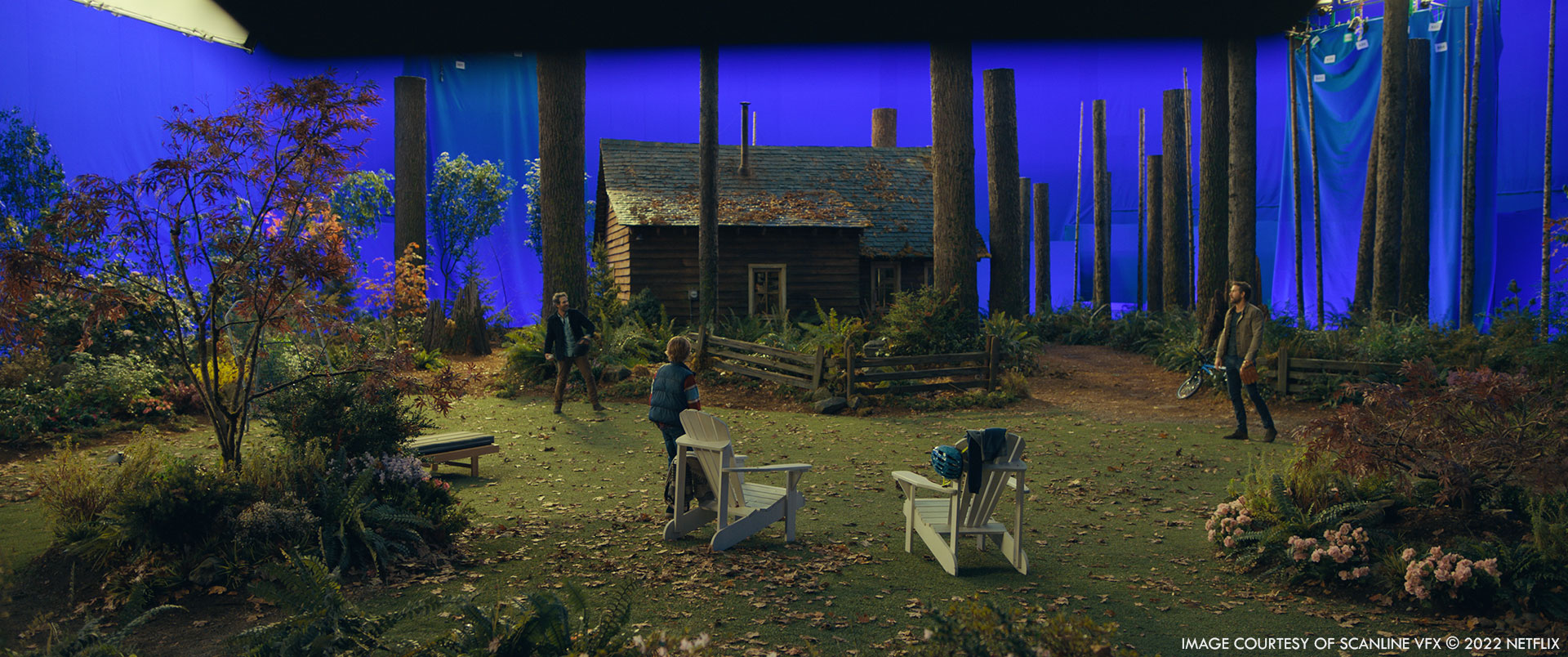 Did you use procedural tools for the forest?
Julien and Mohamed used a variety of tools for this including Forest Pack in 3DSMax for scattering.
Can you elaborates about the Lab environment creation?
The Lab went through a variety of changes from the initial concept, eventually going toward the more industrial feeling environment that's seen in the film. The final concepts came with only 4 months or so left until final delivery, so we really had to accelerate this build to get it to done on time. From the outset of this environment build, CG Supervisor Ioan Boieriu and Compositing Supervisor Brent Prevatt did a fantastic job at translating the client's concept frames into a believable high resolution environment that held up for the 300+ angles we see it in.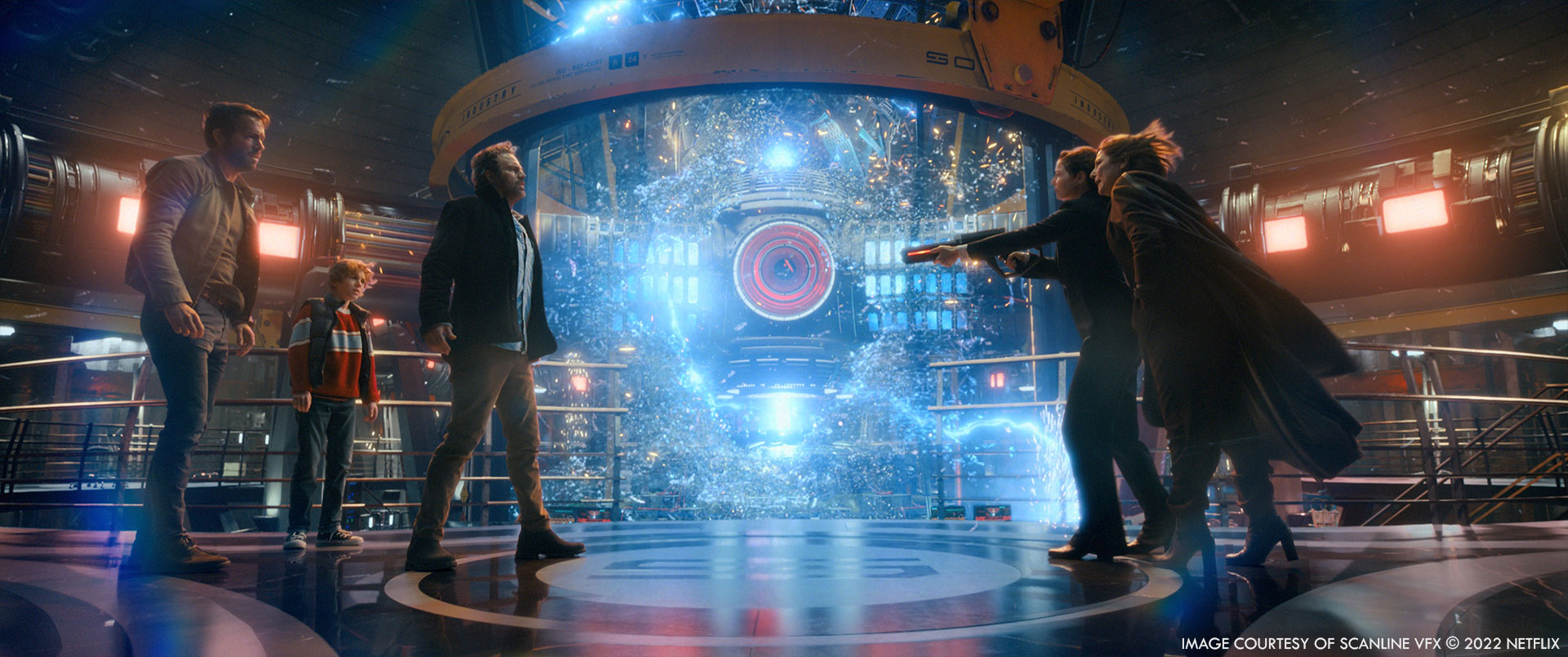 Where was filmed the exterior sequences of the Lab?
The exterior lab sequence photography took place at the Vancouver Convention Center, but as you can see, there was very little that we ended up keeping. Boris Schmidt headed up this team with help from Ioan Boieriu, to make it look like the client's concept art for the Sorian Building campus, which was a completely different building design and footprint, surrounded by trees and the Seattle skyline.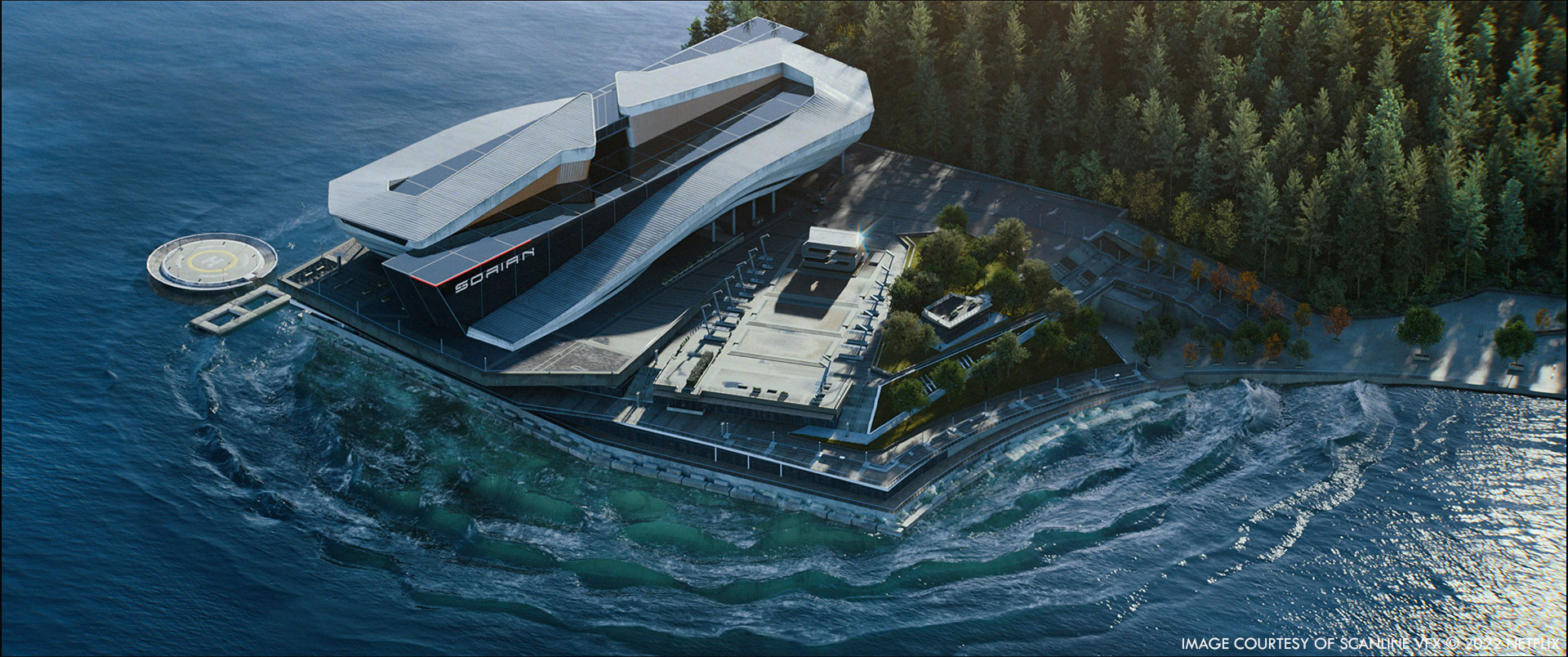 Can you explain in detail about the huge destructions of the Lab?
The Lab destruction sequence was definitely the most technically challenging sequence, due to the numerous components and story points involved. On top of the all CG build, the varying states of destruction that included electrical arcing, spark explosions, glass breaking, water simulations, rigid body destruction, and secondaries, created quite a challenge in a short time frame. I am very fortunate I had Ioan, Ivan Prvulj (FX Supervisor), and the team at Scanline with me for this, as it really was a sprint to the finish line. Our approach really had to be broad strokes. It was vital for us to block out the various destruction beats that were important to Shawn and the editorial team. These events included the initial bullet hit, the electromagnetic energy ramp (in stages), the death of Christos, the walkway tearing, and the crane crashing through the walkway. After coming up with these broad stroke versions, we propagated this tech into the surrounding shots. From that point we refined each section in stages, taking special care to make sure the audience could follow along with what was happening at each stage of destruction.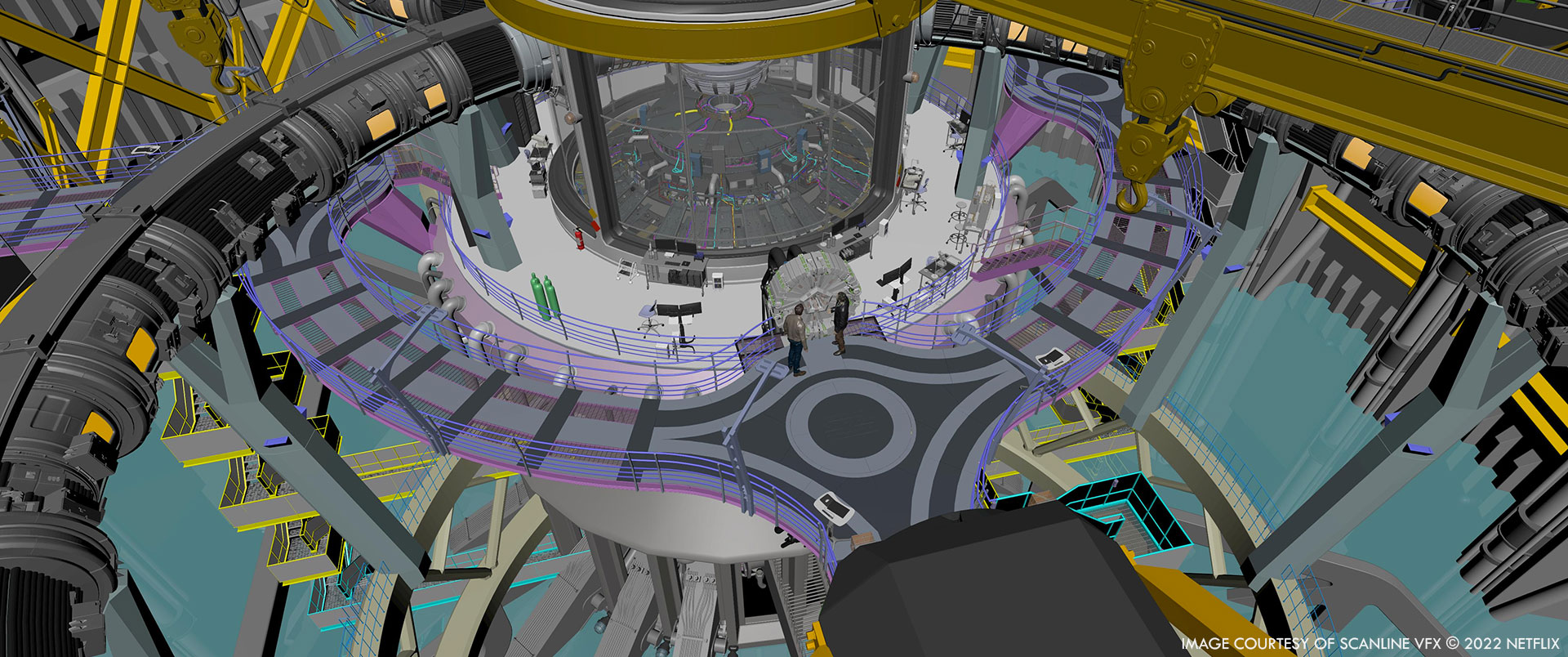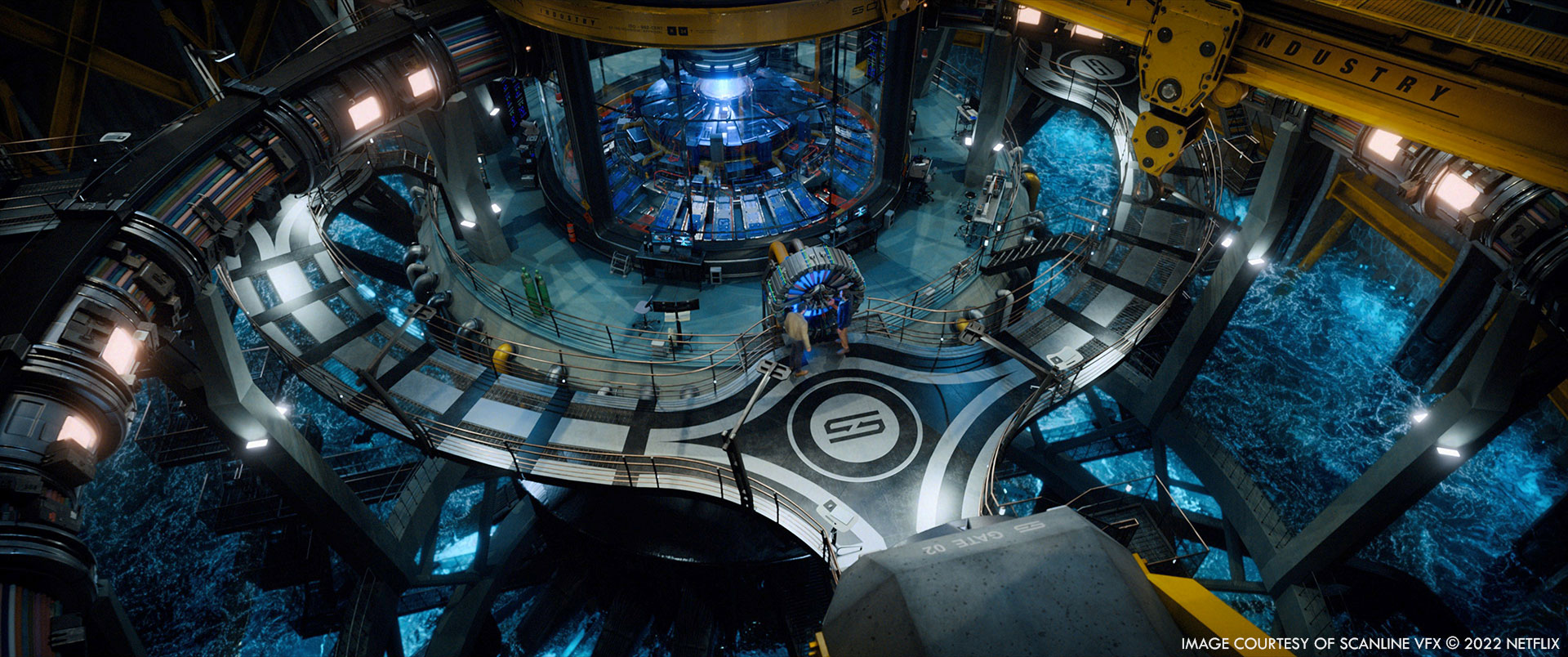 Is there something specific that gives you some really short nights?
The Lab Sequence, in particular, had some late stage creative changes that rippled through the entire 300+ shot sequence. I think it's safe to say that this caused me, Brent Prevatt (Comp Sup), Ioan Boieriu (CG Supervisor) and Ivan Prvulj (FX Supervisor) some really short nights. With that said, we were very happy with the pacing and productivity of our team as a whole, and the movie delivered without any huge concerns. I definitely think the guidance we received from Alessandro and the production team really helped make this one a smooth landing.
What is your favorite shot or sequence?
This is a hard question here, as I'm proud of all of Scanline's work on this one. I really loved watching the Backyard fight with sound FX and music, but I could say the same thing for the Lab Sequence! This is always the hardest one of your questions!
What is your best memory on this show?
I have many great memories of the show, but I think my favorite was watching the final cut of this film. I'm a huge fan of this project, and I'm really proud of the work that we contributed. I feel like everyone's work from all departments came through to make this something really special.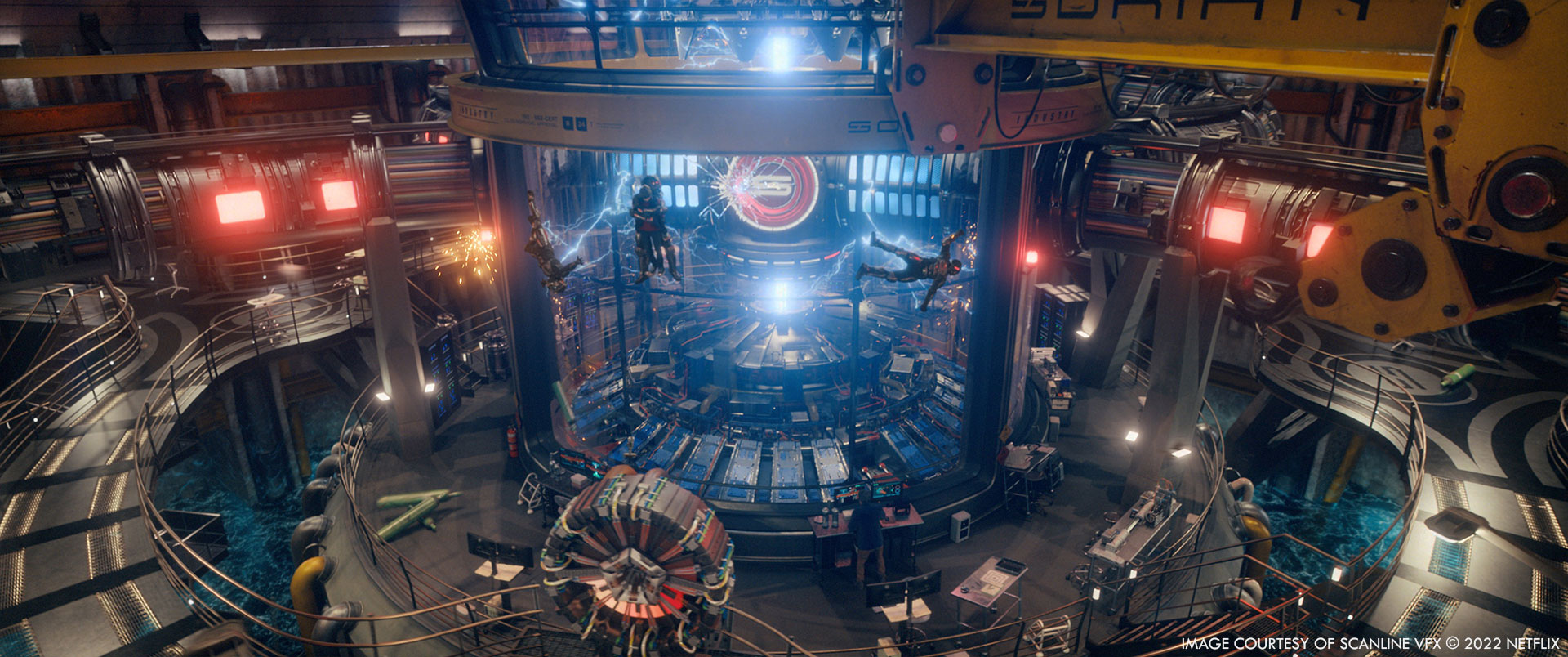 How long have you worked on this show?
I worked as VFX Supervisor on this project for approximately 7 months.
What's the VFX shots count?
We delivered just over 600 shots on this movie.
What was the size of your team?
All in, we had a team of around 400 artists, leads, department supervisors and production people.
What is your next project?
I have stepped into a new role at Scanline, as Vice President, Head of VFX Creative, where I am going to be helping to support all of Scanline's projects globally.
A big thanks for your time.
// Behind the Scenes of The Adam Project | Netflix
WANT TO KNOW MORE?
Alessandro Ongaro: Here is my interview of Alessandro Ongaro, Production VFX Supervisor.
Netflix: You can watch The Adam Project on Netflix.
© Vincent Frei – The Art of VFX – 2022