Simon Stanley-Clamp began his career in feature film at Mill Film with LOST IN SPACE. He remained there until 2003, he has supervised the compositing of movies such as GLADIATOR and BLACK HAWK DOWN. He joined Cinesite in 2003 and oversees movies like MOON or CLASH OF THE TITANS.
What is your background?
I began my career creating high-end vfx, idents and graphics for commercials and TV. My first feature film project was a pre-visualisation role for LOST IN SPACE (1998). Before joining Cinesite I was at Mill Film, where I comp supervised and digitally supervised on many films including GLADIATOR (2000) and BLACK HAWK DOWN (2001) and various HARRY POTTERS. I made the move to Cinesite in 2003 and have supervised many of the company's projects including the award-winning MOON (2009), CLASH OF THE TITANS (2010) and now PIRATES OF THE CARIBBEAN: ON STRANGE TIDES (2011).
How was your collaboration with director Rob Marshall and production VFX supervisor Charlie Gibson?
It came down to budgets really as the tax break the production received for shooting the film in the UK meant that some of post work had to be awarded to UK companies. Also Pat Sandston, associate producer, had worked with us before so he knew what we were capable of creating.
How did Cinesite get involved in this film?
We were sent the script and pitched for a large chuck of the work. In the end we were awarded about 300 shots. This was Cinesite's first foray into stereo visual effects and required building a new pipeline to accommodate stereo files. Once the pipeline was in place we did some test shots – including footage from our work on CLASH OF THE TITANS.
What are the sequences made by Cinesite?
Our main sequence was the dramatic carriage chase through London. For this we were tasked with creating large-scale photorealistic 3D environments. The complex 3D environments included full CG street builds with detailed period buildings, as well as set and background extensions. Atmospheric smoke, smog and fog were added to enhance the old London feel, with extras, shot in stereo as blue screen assets, were extracted, put on cards and placed in true stereo 3D space, to appropriately match the photography and flesh out the London street scene.
Other shots we worked on include creating Barbossa's peg leg throughout the film by replacing the blue sock Rush wore on set with a digital peg leg. And creating highly detailed CG poison dart frogs in four different colours.
Can you explain the shooting of the chase sequence in London? What was the actual size of the set and bluescreens?
The film was shot in native stereo 3D using Red One cameras and Pace 3D camera rigs. It spans across four different locations, from Hampton Court Palace through to Greenwich, Middle Temple and at the studio in Pinewood. The main part of the chase takes place in Greenwich where we replaced four large bluescreens with Digital Environments – 3D modelled buildings added in true stereo space. Two of the bluescreens were 250ft.
How did you create these realistic environments?
The buildings were realised using photographic reference from the Greenwich area and csPhotoMesh, which is our proprietary photogrammetry and 3D scene reconstruction software. Given a set of digital images of a static scene, CsPhotoMesh produces a textured 3D mesh accurately representing the scene geometry and 3D cameras matching the original photos positions.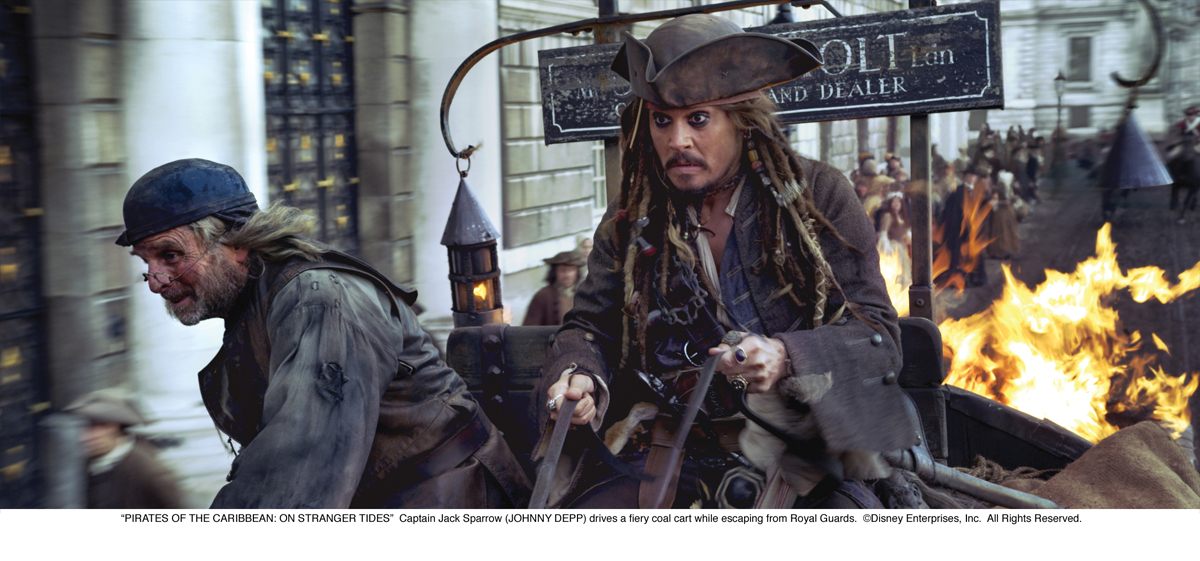 Have you created digital doubles for Jack Sparrow and to populate the streets?
We didn't create digi-doubles of Jack Sparrow. To populate the street scenes extras were photographed in stereo, on blue screen, extracted, re-projected onto cards in Nuke and placed in the 3D scene.
What Barbossa was wearing on the set to simulate his wooden leg?
To aid in the removal of his real leg he was wore a blue sock with tracking marks that were placed every 90 degrees so we could get a full track of his leg. Using Maya we created a digital wooden peg leg it's then placed back in to the scene from the 3D derived track, the leg still required some hand animation to get the movement and timing correct – the brief is for his leg to be completely rigid, but in reality, Geoffrey Rush often bends at the knee. We had a practical leg onset to shot for lighting references.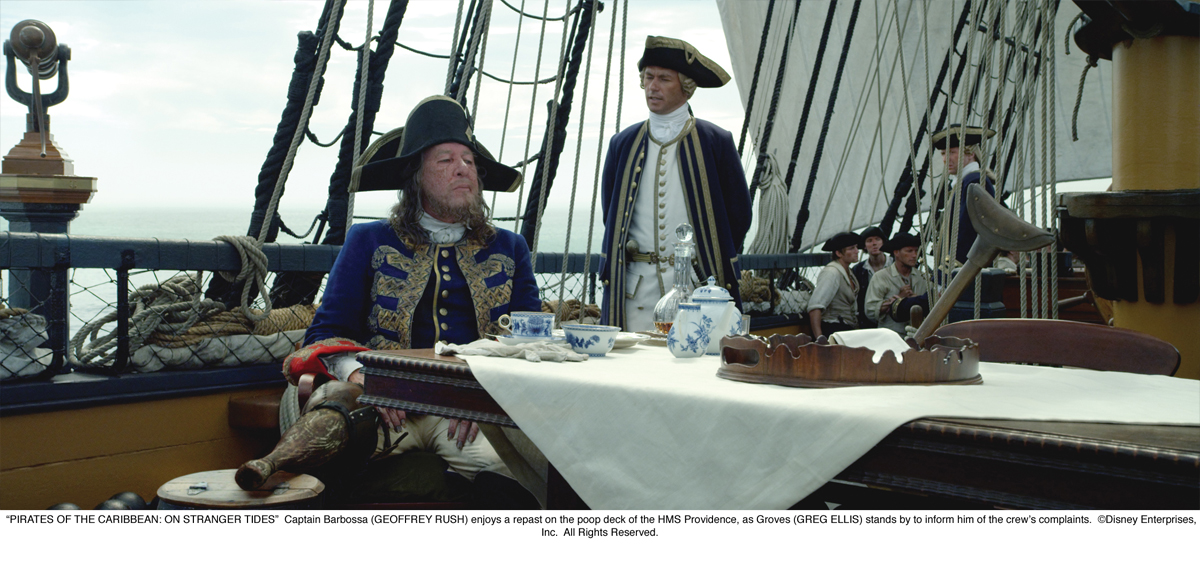 How was created and composited his wooden leg?
The peg leg was built in Maya, tracked in 3D Equaliser and composited in Nuke.
The work to recreate the scene behind the wooden leg had to be very long. How did you do it?
This was quite a time consuming task. When you think that someone's leg and foot is much wider than a peg leg, it required a lot of work to rebuild parts of the image that were covered by Rush's real leg. Details like this should go unnoticed by the cinema audience, but they're often the trickiest tasks to do. I spent time on-set taking lots of reference photos – so we were able to work from these to fill the gaps in digitally.
Can you tell us about the frog and red ones in the Barbossa jar?
We created CG frogs in four different colours and heavily textured – including details such as sub-surface scattering to give them a moist translucent look. In the film the frogs are really shrunk down so they probably didn't require as much detail, but they look great and we always enjoy creature work. They were modelled in Maya.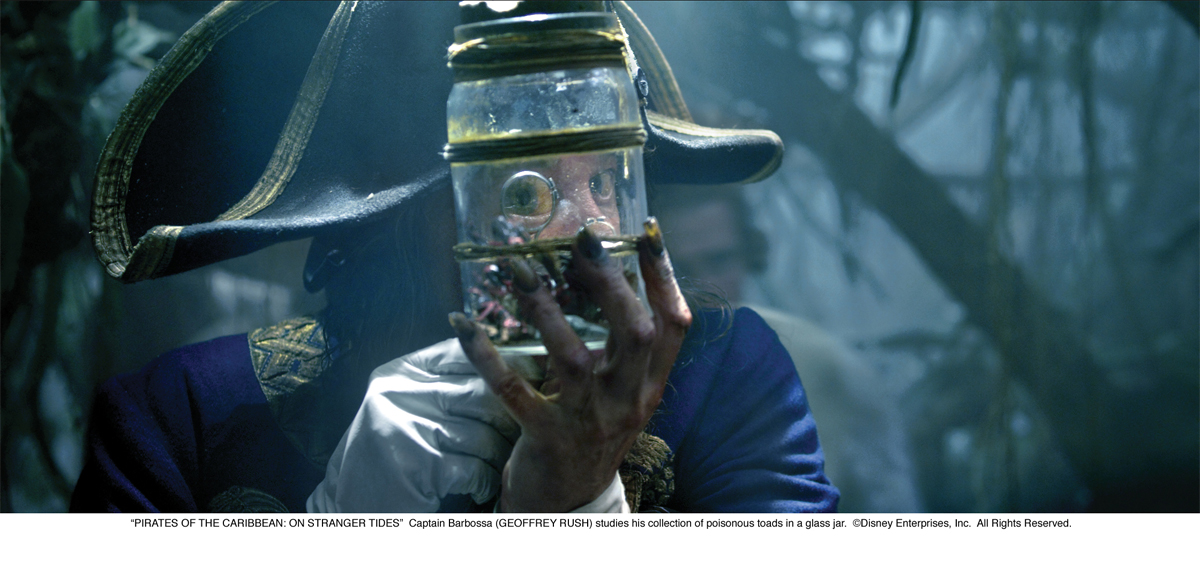 What was your feeling to be part of the Jack Sparrow saga?
It's a great feeling to be associated with such an established franchise. And it's great that the first 10-12 minutes in the film is uninterrupted Cinesite work.
What was the biggest challenge on this project?
I'd have to say that it was the tracking, it has to be spot on due to the stereo environments.
Has there been a shot or a sequence that prevented you from sleeping?
Not really.
How long have you worked on this film?
The shoot took place in October 2010 and we delivered in April 2011, so just over six months.
How many shots have you made and what was the size of your team?
We completed 300 shots and the team was 98 artists.
What do you keep from this experience?
I'd have to say to be mindful of the stereo agenda on shots and always listen to your stereographer.
What is your next project?
I'm now working on the Disney/Pixar film, JOHN CARTER OF MARS, that's due for release in 2012.
What are the 4 movies that gave you the passion of cinema?
BARBARELLA (1968)
SILENT RUNNING (1972)
DARK STAR (1974)
WITNESS (1985)
A big thanks for your time.
// WANT TO KNOW MORE ?
– Cinesite: Official website of Cinesite.
– fxguide: Article about PIRATES OF THE CARIBBEAN – ON STRANGE TIDES on fxguide.
© Vincent Frei – The Art of VFX – 2011