Sebastien Moreau began his career in the post-production in 1993. In 2001, he joined the team of ILM and work on movies like TERMINATOR 3: RISE OF THE MACHINES, STAR WARS: EPISODE III – REVENGE OF THE SITH, WAR OF THE WORLDS or PIRATES OF THE CARIBBEAN: DEAD MAN'S CHEST. In 2007, he founded Rodeo FX in Montreal and supervised the effects of films such as RED TAILS, SOURCE CODE, MIRROR MIRROR or THE TWILIGHT SAGA: BREAKING DAWN – PART 2. To discuss the work of Rodeo FX on PACIFIC RIM, he is accompanied by Matthew Rouleau (CG Supervisor) and Fabrice Vienne (Lead Layout).
What is your background?
Sebastien Moreau – Founder & VFX Supervisor // I began my post-production career in 1993 as an online editor in Montreal working on commercials and music videos. I then moved onto a Flint/Flame (from Discreet Logic) in 1995 and became a Digital Compositor working on feature films. In 2001, I moved to San Francisco and started working at ILM where I stayed until 2006. In 2003 when work slowed down considerably at ILM I was fortunate enough to be able to take 6 months off to move to New Zealand and work at WETA on the LORD OF THE RINGS trilogy. At the end of 2006, I decided it was time for me to move back to Montreal and open Rodeo FX. As President and VFX Supervisor, I am responsible for not only the development and growth of the company, but also setting the standard, the quality, and the high expectations that go into all the VFX we create.
Fabrice Vienne – Lead Layout // I have a formation in architecture. I worked in this domain during 10 years. It was in Switzerland. In 2004, I decided to make a change of career. I came to Montreal to follow a school in the field of the VFX. It was in the NAD Center. I did a training course there of one year and I found at once a place to BuzzImage Group. I have worked on several projects, in the field of the advertising and the movies. My first work in the VFX it was to animated spiders in a bed in the movie THE COVENANT. After 3 years at Buzzimage Group, I was interested in the work made at Rodeo FX. After a passage at Modus FX as lead layout on a show of dinosaurs, I was accepted at Rodeo FX. I began as all-rounder. We were two in the 3D team and it was necessary to take care so far everything. I worked on 'IMMORTALS project (rigging, animation of crowd and a hawk) and of all the movements of virtual camera. The same thing on the project MIRROR MIRROR. I realized the impressive camera pull-out of the shot of London in JACK AND THE GIANT SLAYER. I like to create the camera movement. Actually I have making a Master's degree to the University of Chicoutimi on the movement of the virtual camera.
What was your first intention when you founded Rodeo FX?
Sebastien Moreau – Founder & VFX Supervisor // Initially we started really small and wanted to combine the forces of matte-painting and compositing. When we began we were only 3 people: a producer, a matte-painter, and a compositor. We've now grown to employ over a hundred artists, and have developed into a mature VFX Studio capable of servicing every aspect of the Visual FX process.
How did Rodeo FX got involved on this show?
Fabrice Vienne – Lead Layout // We've worked with ILM throughout the years on different projects, mostly on matte painting and compositing. Our CG collaboration began with RED TAILS, where we delivered 20 or 30 shots containing CG airplanes and vehicles. I guess you could call this our starting point as far as CG goes for collaborating with ILM. It was also our first real CG challenge at Rodeo FX, the department was around a year old at that point. We then kept ramping up our CG staff, and we felt confident that we could handle more complex shots, which led us to our work on PACIFIC RIM. It was a good challenge for us, but it went extremely well.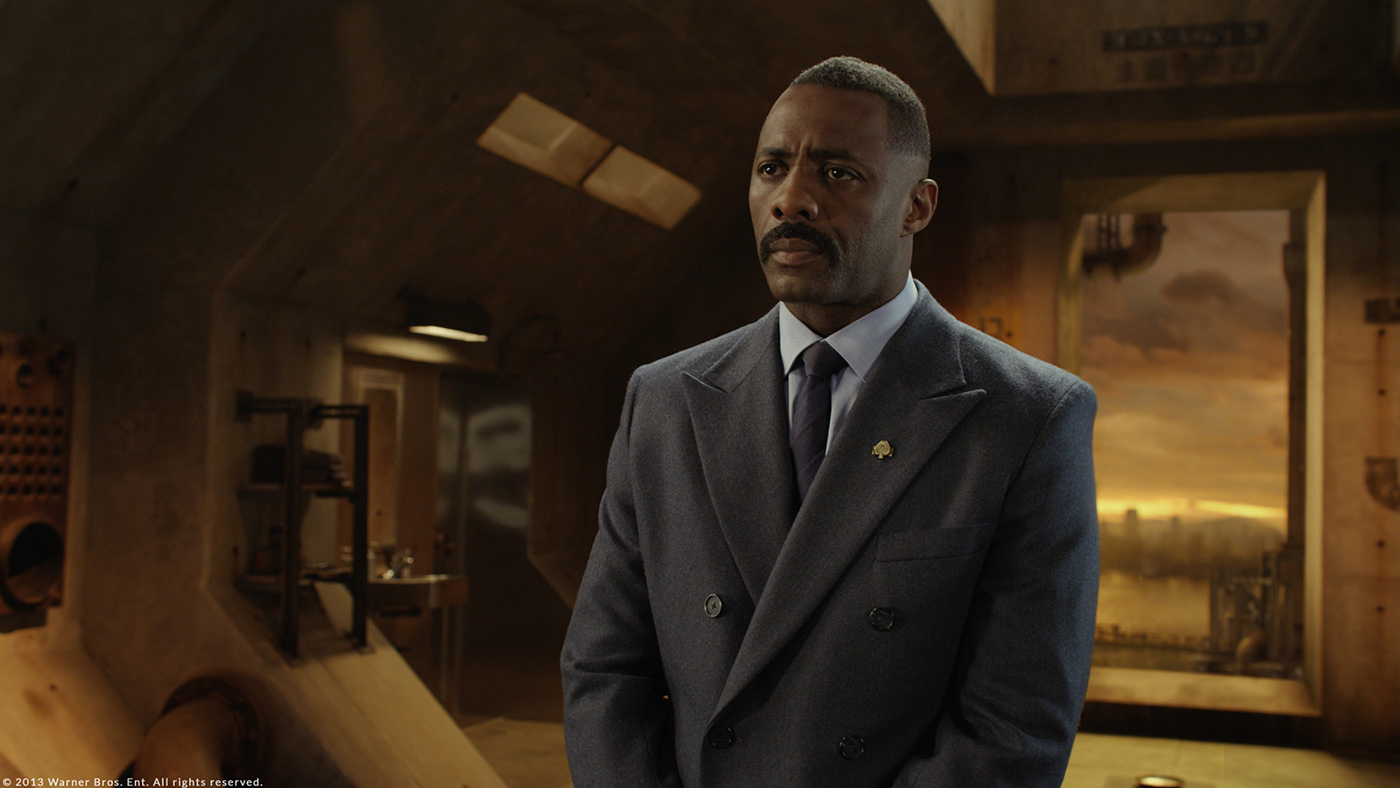 How was the collaboration with director Guillermo del Toro?
Fabrice Vienne – Lead Layout // We dealt mostly with ILM directly for the show, and when ILM felt confident that our shot looked good, it would be shown to Guillermo. The feedback he would give was excellent. We could really tell that he is a visual director, as he understood why things worked compositionally, and gave us very clear direction. It was great working with a director who understands our work and visuals in general, it made things very straightforward. He knew exactly what he wanted, and communicated it well to the team.
What was his approach about the visual effects?
Fabrice Vienne – Lead Layout // We could tell that he had great trust in ILM as a visual effects house, and many sketches were set to us as reference. We did a lot of concept work as well, and when he saw something he liked, it was work as usual from that point on. Some directors can't really tell from greyscale renders what a shot might look like in the end, and we often need to go back to the drawing board once a shot is done. This can be quite time consuming and costly to production in the end, but we were lucky on Pacific Rim, we could carry out a shot from a concept and feel confident that we wouldn't need to start over at some point. So as I mentioned, Guillermo seems to know what he likes and he understands the process quite well.
Can you tell us more about your PACIFIC RIM adventure?
Sebastien Moreau – Founder & VFX Supervisor // It was a great experience for our team as we once again collaborated with ILM on this truly epic adventure. Rodeo FX delivered close to 200 shots, ranging from moody establishing environment shots such as the shatterdome and the helipad in Hong Kong to fully animated CG creatures, helicopters, and vehicles. We were also responsible for creating the interiors of each robot head, which included creating a variety of CG digi-doubles, multiple interior CG Visors, and a huge fully animated CG foot mechanism used to control the robots movements.
Fabrice Vienne – Lead Layout // We have shared quite a few assets with ILM in the past, so we are used to ingesting their work. We usually receive a package containing a model and it's textures, and turntable renders of the final shaded asset. We adapt shading networks to our own pipeline, and rig to our specs. Then we're good to go. It's a pretty painless process.
For the foot actuators specifically, we received a low res 3D sketch from ILM that gave us proportions to help with modeling. We then had to help design the mechanisms, and modeled, textured, rigged and look dev'ed the whole things from scratch. It was a huge, very complex asset with thousands of moving pieces. The CG brain we did was similar, but we received 2D sketches only for that asset, and we built the whole thing. We did receive modeled and textured digidoubles for some shots, and a helicopter for our matte painting shots.
The department of the layout made sure that the various scenes by environments are squeaky clean. We work in REF Model, it allows us to update our assets as they progress. We verified every camera to be sure that the distortion of lens is correct.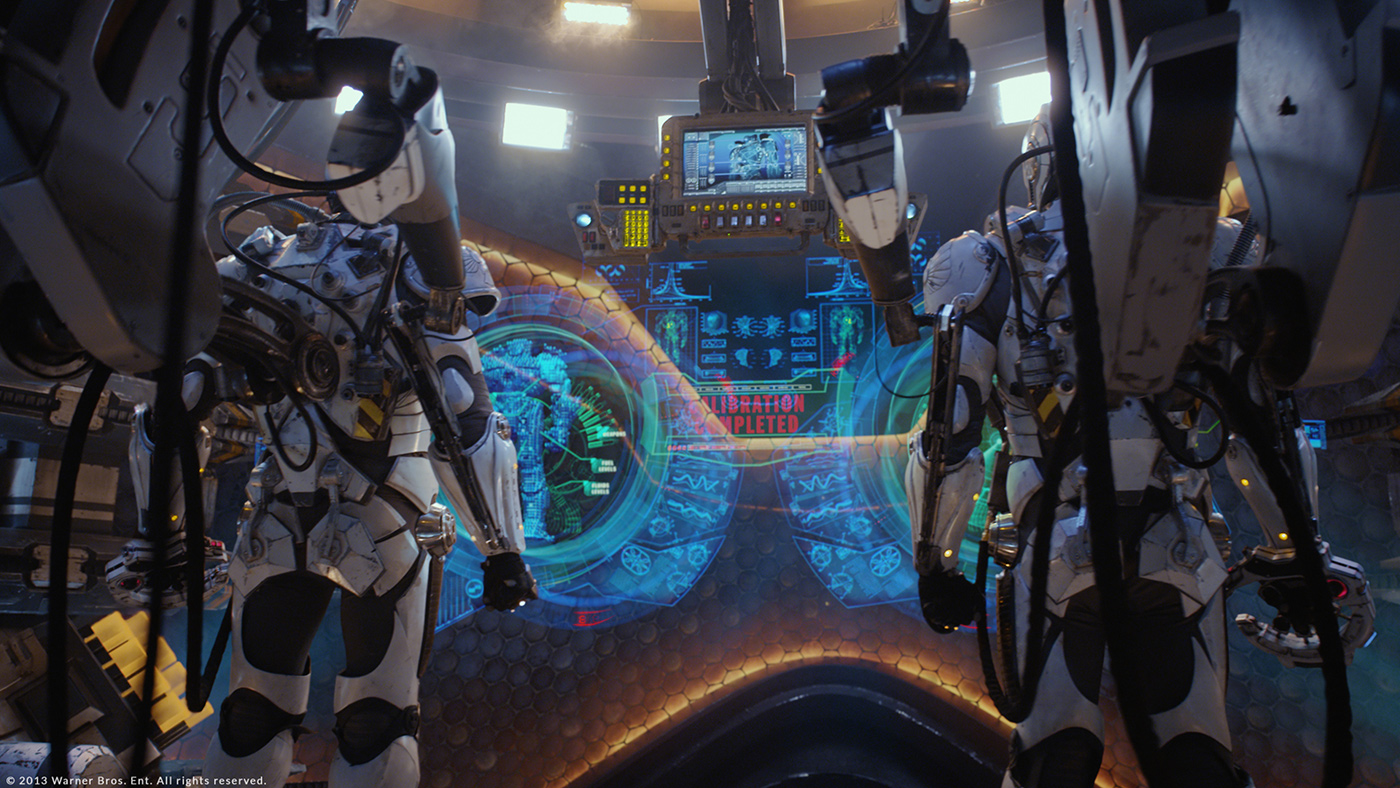 Can you describe your work process when you received the assets from ILM?
Fabrice Vienne – Lead Layout // We modelled all the assets of all the cockpits based on Lidars and the concepts received by ILM. We used Arnold Renderer for all CG renders. Matthew Rouleau assured the good progress of the quality of renders and lightings.
Work with ILM is always a real pleasure. We receive enough elements from them that we know how to organize our pipeline. And when we miss elements they let us propose. We always had an opened dialogue with ILM.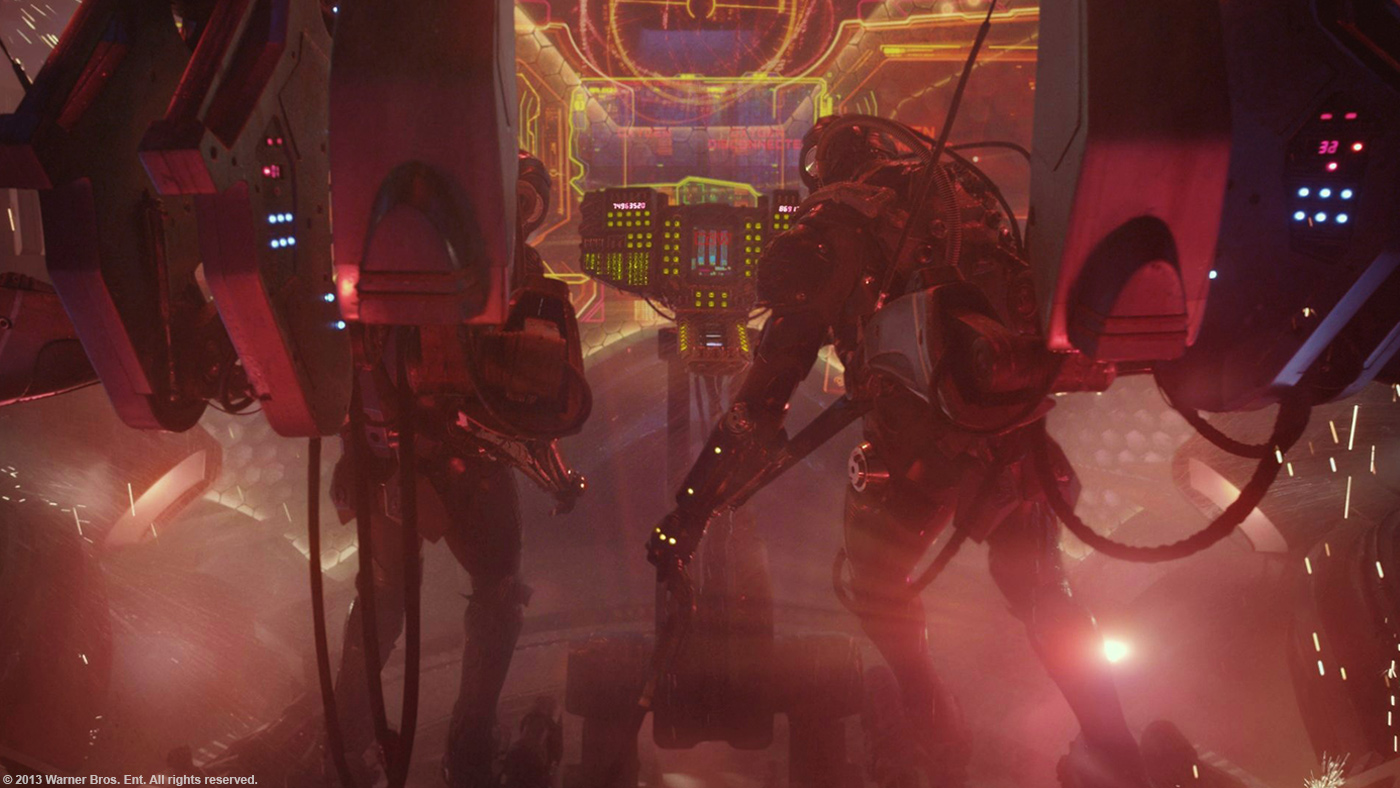 How was your collaboration with VFX Supervisor John Knoll and ILM?
Sebastien Moreau – Founder & VFX Supervisor // Normally we work directly under ILM. We would have weekly CineSync sessions with the ILM VFX Supervisor in charge of our sequences, Lindy DeQuattro. So we would send asset turntables and shot iterations that she would review and then comment directly with us (when possible).
Fabrice Vienne – Lead Layout // Our collaboration was mostly with Lindy DeQuattro, visual effects sup at ILM. It was great, again she totally understood the process and it was a joy working with her. We would send shots her way every week, and we would have cineSync calls with her and the team weekly as well. Feedback was always constructive and efficient. They also visited us a few times, it was great getting direct feedback in that way.
How did you manage the rain and reflections?
Sebastien Moreau – Founder & VFX Supervisor // Adding this wet look efficiently in many shots proved to be a very enjoyable challenge. Because we have our own in-house shooting stage, we decided to shoot these elements with our Red EPIC camera. Our VFX DP Robert Bock shot all the rain elements needed which we then blended alongside our CG FX to be used in comp. Typically, we try to incorporate lots of little practical elements with our CG as it tends to give a shot a much more photo-real quality.
Fabrice Vienne – Lead Layout // It was created by mixing some practical created inside NukeX with stock footages. Robert Bock created in setup outside of Rodeo's office and in the night he shot of the elements of rainy reference. And other elements smoke for the inside of the necks.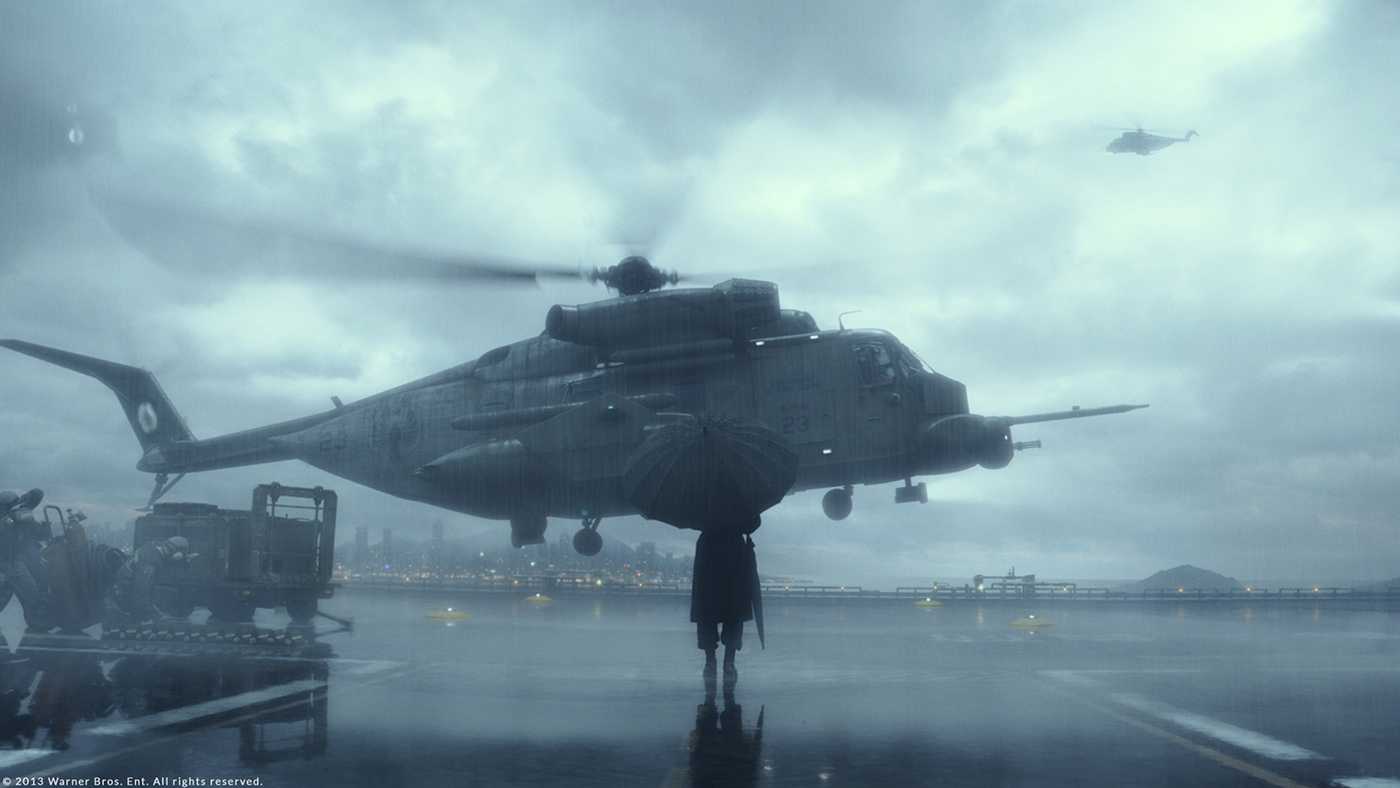 Can you tell us more about the concept part and the indications of Guillermo del Toro?
Matthew Rouleau – CG Supervisor // Concepts were pretty clear from the get go. We received a bunch of concepts from production, as well as from ILM. For the foot actuators in the robot heads, we even received a 3D sketch that gave us a general idea of what we needed to build. We also did our own concept work for all the finer details of the foot actuators, the various robot head interior visors, and most of our matte painting work. Guillermo was always very receptive to cool ideas, and that ended up becoming the general guideline for the team. If we create something that looks really cool, it usually went through the approval process with no issues. Guillermo is a very visual director, and it was a very collaborative process.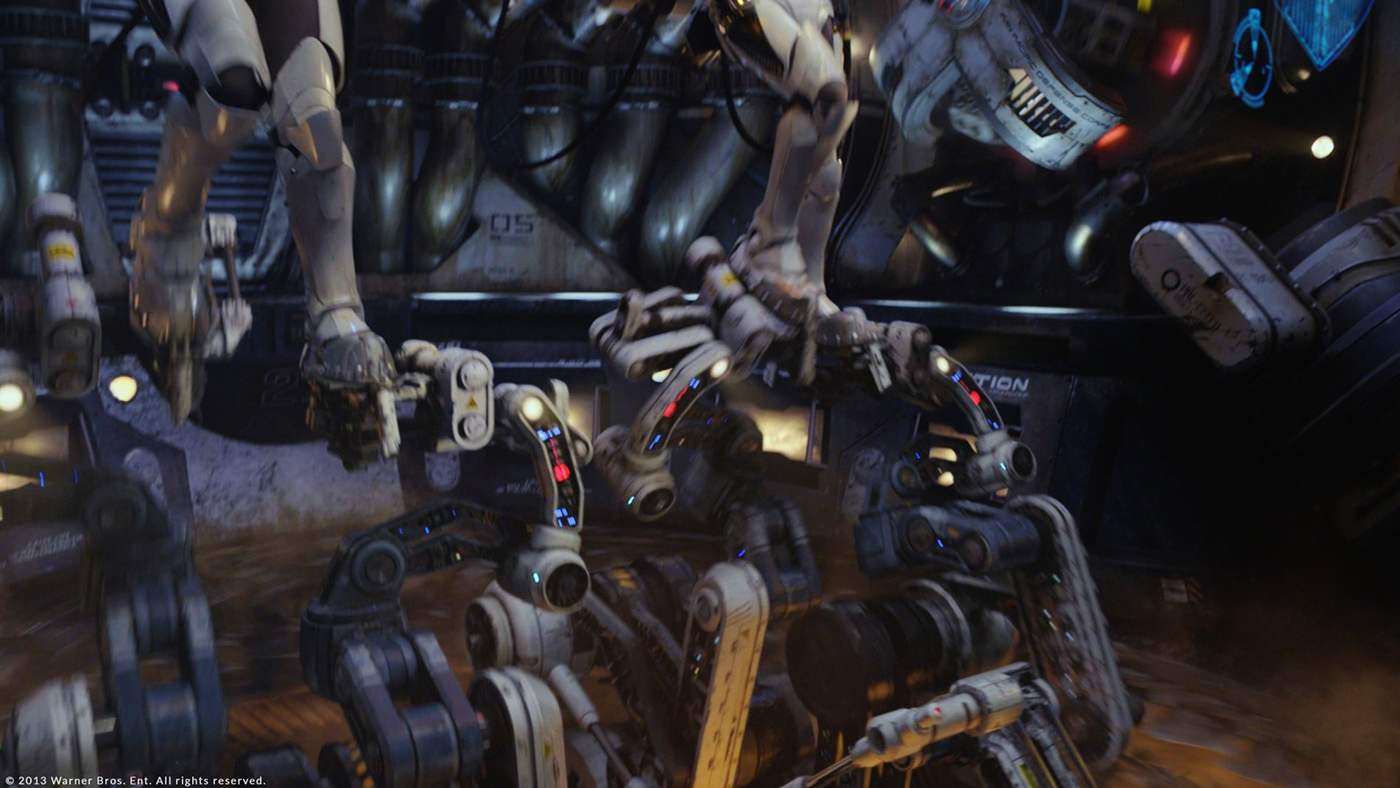 Can you explain in details about your work on the ConnPods?
Sebastien Moreau – Founder & VFX Supervisor // The ConnPods shots represented a large portion of work we had contributed to this show besides the environment shots. For every shots inside the five different robots, we were asked to extend the visors and the sets. Again, we were provided with some initial concepts from ILM that we would then build upon to get a creative buy-off from the production.
Matthew Rouleau – CG Supervisor // The production only built the back part of the robots heads. So everything else needed to be extended in CG. This also involved the mechanical and moving parts surrounding the actors. It was a lot of fun to create these interiors. For some of the shots we also removed the consoles completely from within the cockpit.
Sebastien Moreau – Founder & VFX Supervisor // The other thing we were asked to recreate is the leg mechanism. They are quite similar for the robots but each needed to have some distinguishing features to create a sense of variety. This was handled this by simply recreating them all in CG and modifying the models or textures.
Matthew Rouleau – CG Supervisor // On-set the actors were just wearing boots attached to elliptical machines, and we were asked to create everything from the floor down in CG. So we needed to matchmove the actor's feet in order to connect the leg mechanisms to them. It ended up being a big challenge to do precisely on every shot.
Fabrice Vienne – Lead Layout // We received Lidar scans of the set, and many sketches of what the extensions needed to look like. Starting from these, we built out a neck extension piece, added our foot actuator mechanism, as well as the visors we see in the shots. The visors were fun for us, we had some latitude as far as the look goes. We're all quite pleased with the results! The sets ended up being half CG half practical in the end. It was a pretty elaborate CG setup.
We had three assets main things by cockpits, the visor, the neck and stilts (the mechanism under the feet of the actors) and another asset, the floor, present on some shots. We created completely all these assets at Rodeo FX. The concept to the integration. The most complex element was stilts due to the size of the asset and the number of parts to rig.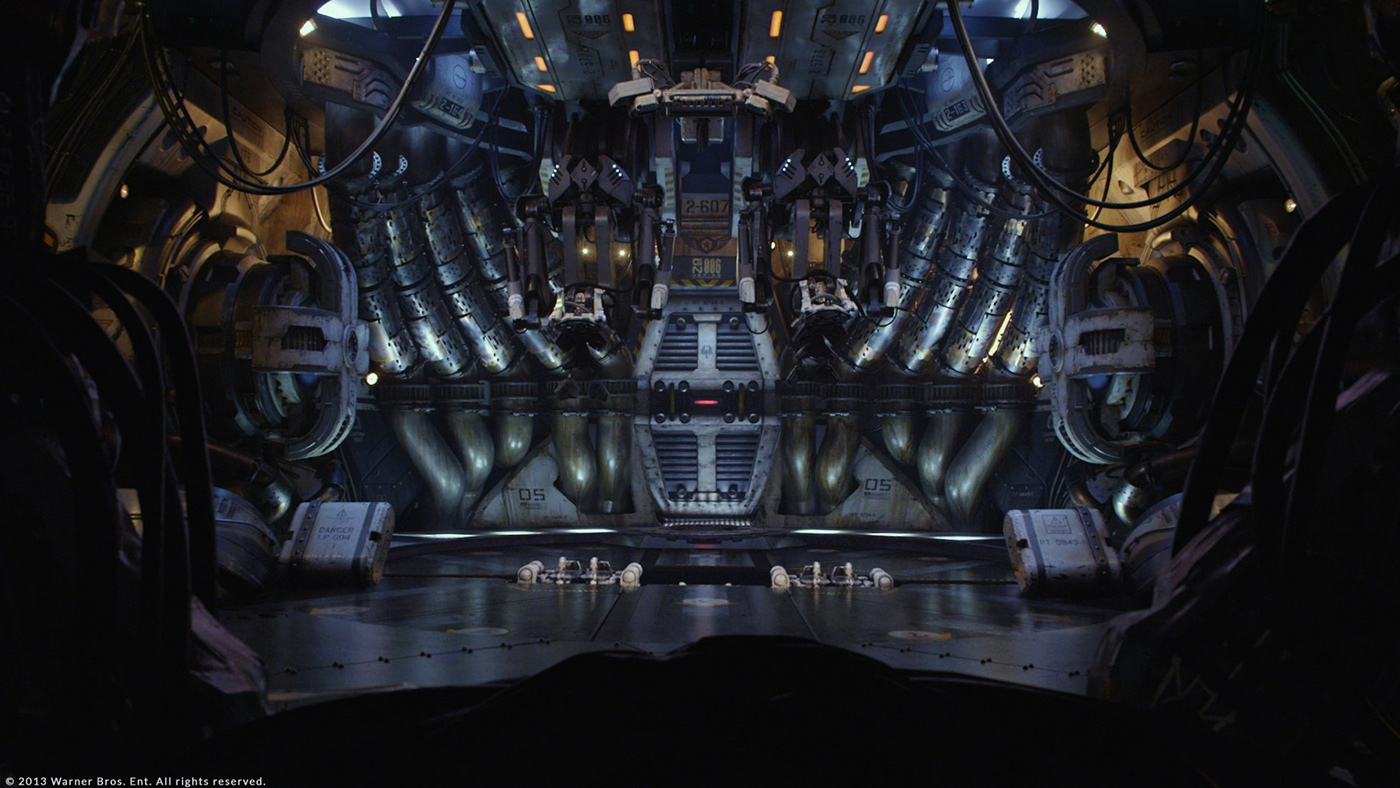 Can you tell us more about the modeling and shading part for the cockpits?
Fabrice Vienne – Lead Layout // The modeling aspect was based on sketches received from ILM, be it 2D or 3D. For the finer detail, we did sketch out quite a few images that were approved by ILM. The modeling was very complex, and one aspect of our CG pipeline here at Rodeo is we don't skimp on modeling. It's longer at that step, but you get so much more richness in lighting and shading in the end that you don't need to spend as much time on the other steps. For the foot actuators, we built up a bank of fine detail modeling, like bolts, wires, and random mechanical pieces. We then stuck as many of these details in our model to get that richness we were looking for. As far as shading goes, one of the first steps in our pipeline is to build up a shader bank specific to a project. We knew that we had a lot of grungy metal to do, so we built a bank of 15 or so shaders like iron, copper, plastic, etc. All of these shaders were built up using « tileable » textures as a basis. Once the model is done, shading is incredibly fast. We drag and drop shaders on the model, adjust the tiling and voila! The shading artist bakes out the tileable maps onto the UVs, and sends all these to texturing. We get to parallelize a lot of work and it makes things pretty efficient.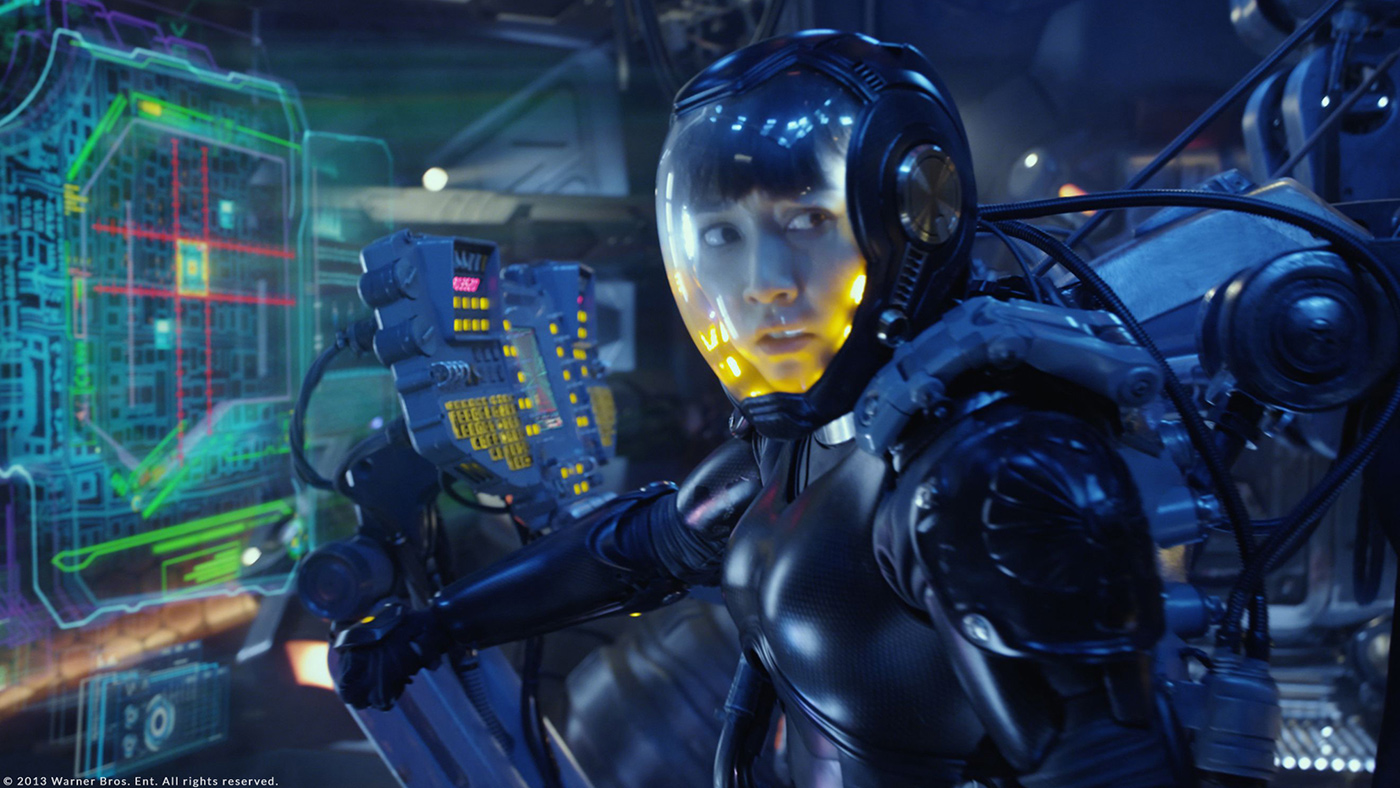 Can you explain to us more about the lighting part of the cockpits?
Fabrice Vienne – Lead Layout // We had 5 different sets to light on PACIFIC RIM. We used the Lidars and the HDR images provided to us as a basis to our lighting. We lined up and projected the HDRs onto the Lidar and used this for GI lighting. We then added a bunch of spotlights to fill things in. Once the 5 sets were prepared, they were used by our lighters and adjusted according to every shot. We were able to tear through close to a hundred shots very efficiently.
What was the most challenging aspect for these cockpits shots?
Fabrice Vienne – Lead Layout // The biggest challenge was the modeling because of the number of parts to be managed.
How did you handle this matchmove challenge. Were there trackers markers on-set?
Sebastien Moreau – Founder & VFX Supervisor // It was well planned. We received the Lidar scans for all the robots interiors which made it much easier for us to do the camera matchmove. Once complete, we then moved onto matchmoving the objects which we were able to track very efficiently because of some clever custom solutions we developed for this kind of challenge.
Fabrice Vienne – Lead Layout // The team of matchmove work on a 3D Lidar scan of the physical set had been given to us, and was use to position the digital camera perfectly within it's digital environment. This way, the virtual camera, the virtual set and the live action footage would lined up perfectly.
We did the Camera Matchmove for several scenes inside different Robot's Head, in which we took a live action actor, who had been walking on a 'treadmill'-type device on the actual set, and replaced it with complex robot mechanism. We did the critical Camera Matchmove and the Object Tracking for the feet of these live action actors who were controlling the Robots from inside its head, matching the movement of their human feet with the mechanical parts of the CG Robot's feet to coincide perfectly. Perfect integration between live action and CG elements where critical to have a believable result.
As for all of our projects, we used 3D Equalizer software exclusively to do our matchmoving, as we strongly believe this is the best off the shelf matchmoving software on the market. »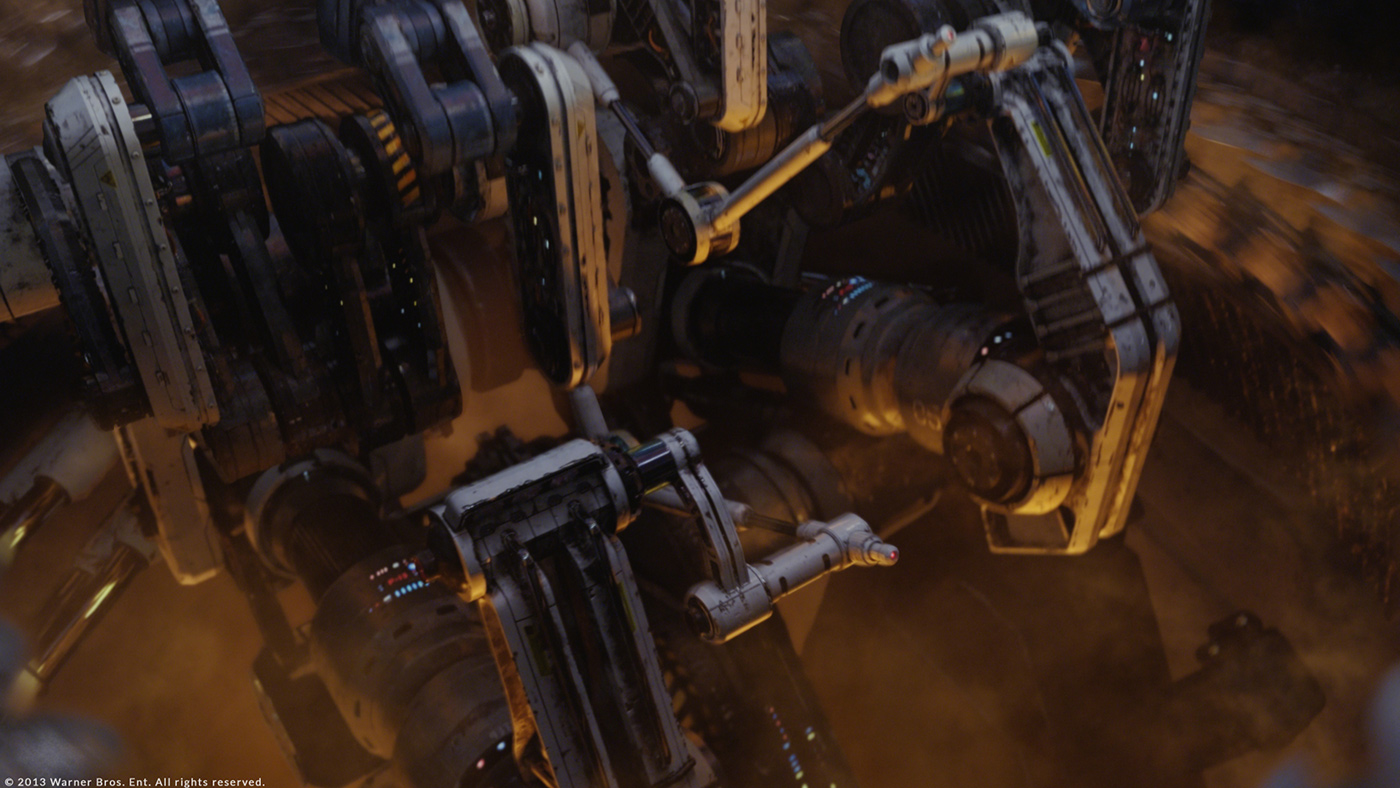 The Hong Kong Bay sequence is really impressive. Can you explain more about your work on it?
Fabrice Vienne – Lead Layout // A major part of the work in this sequence was the modeling of the 3d assets, the Shatterdome and all the surrounding elements of the Hong Kong bay, including the major helipad, the cliff and all grooming elements. It was important to model enough to get good detail without going overboard as most shots were from afar and due to the amount of elements the scenes got heavy quite fast. Another challenge was in layout, getting the huge geometry work in every shot composition wise. Matching the layout with the plate was also problematic due to the huge scale of the environment.
For the final matte painting, we spent some time gathering some good tiled textures that we applied on each assets with a simple projection, which was then used in matte painting as a base coat. Lighting was also very important in these shots, while the shots weren't all night shots , the haze and thickness of the rain really needed interaction with volumic lighting.
Finally, the projection process was quite challenging, as there were a lot of projection layers and interacting elements, the scenes got heavy quite fast. Adding cg helicopters trucks and other elements to get action on the helipad helped a lot to create the sense of immensity and life.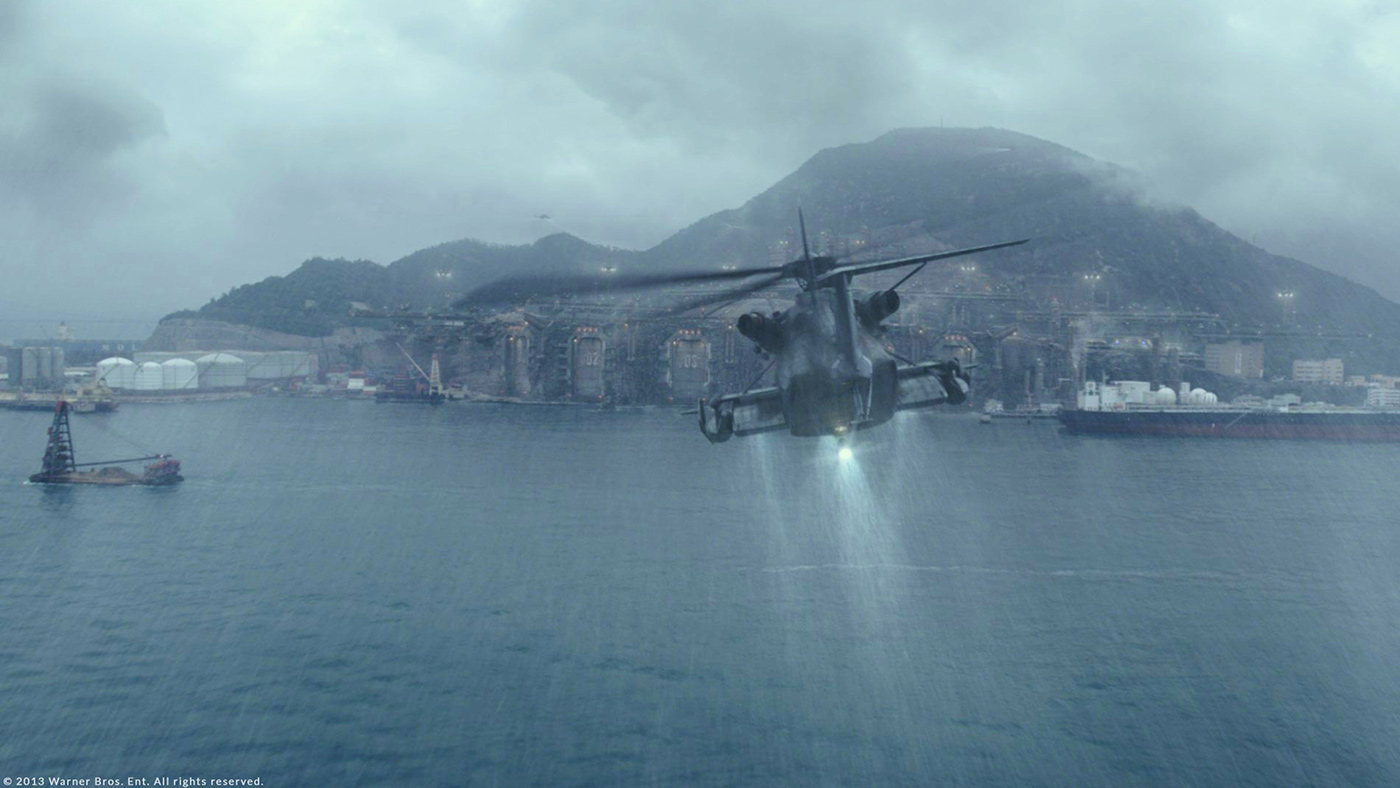 The Hong Kong sequence features many elements. How did you handle this aspect?
Fabrice Vienne – Lead Layout // Because there were so many complex elements involved in the sequence, we had to optimize our scenes by displaying only the elements seen in specific shots. Another part of the optimization process for the environment was to merge the mesh elements according to the mp layering. Using Ass file and .tx for the textures for rendering was also helpful to optimize rendering time especially in the shots which included an important camera movement.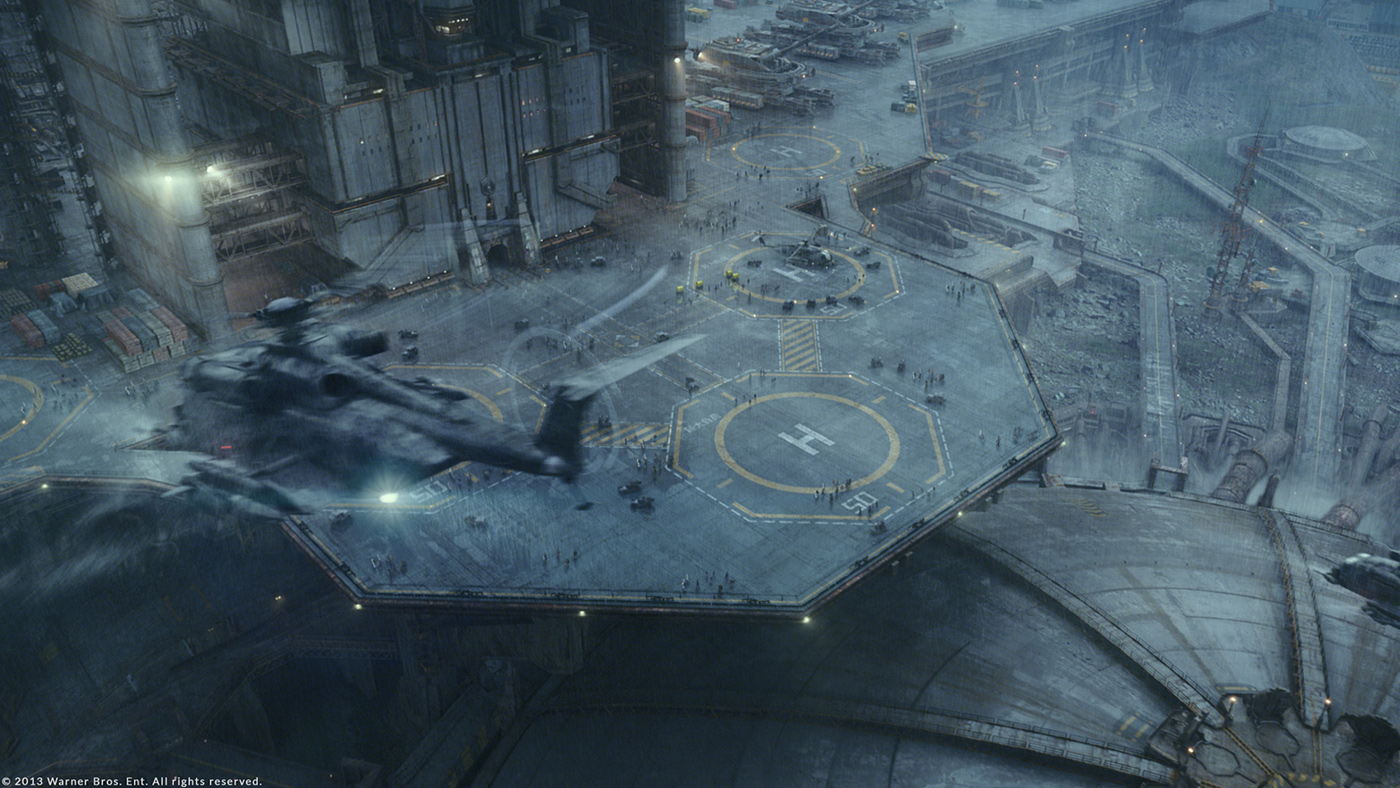 How was created the CG doubles??
Fabrice Vienne – Lead Layout // We received the models WIP from ILM and we had to finalize the modeling and get through all the pipeline to end assets.
Can you tell us more about the rigging for the CG doubles?
Fabrice Vienne – Lead Layout // In the first one, we created a rig on a model temp to be able to present as fast as possible a base of layout. And the second step we refined the envelope with the last model ready for render.
How did you manage the animation of the CG doubles?
Fabrice Vienne – Lead Layout // We made approve the timing, and scaling of the characters in the phase of layout. Afterward the animators proceeded to the final animation.
Can you explain more about the Mako sequence?
Fabrice Vienne – Lead Layout // We used the scan of the actress has reference to create an accurate 3D model of the actress. We then recreated all the textures from the different reference pictures receive from the production. For the integration of the digi-double we used lots of HDRI projected onto the Lidar scan. We also added some water droplet on some shot with ICE inside Softimage.
Could you have done more on PACIFIC RIM or was it just the perfect match for Rodeo FX?
Sebastien Moreau – Founder & VFX Supervisor // For the time we had it was the perfect amount of work for us. We worked on it for almost a full year and with a hundred people on and off. It was another great collaboration with ILM as it was our 9th.
Personally, which is your favourite shot?
Sebastien Moreau – Founder & VFX Supervisor // It's really hard to say as all the work ended up looking great and feeling really inspired. All of our artists were incredibly pleased with the final result when we took them out to see the film in IMAX 3D. They could not stop talking about the movie afterwards at the bar while drinking celebratory beers. As a company we were all really proud to have played a role in creating it.
What are your thoughts about the state of VFX in the world and in Montreal?
Sebastien Moreau – Founder & VFX Supervisor // It's hard for everyone regardless of your location. We've all had our ups and downs. The challenge is to maintain the right amount of work so we don't need to grow or shrink too much. But we are lucky that the quality of the work we deliver helps to drive the quality of the projects that we end up working on which ultimately help in keeping ourselves quite busy.
Did you loose any sleep on PACIFIC RIM?
Sebastien Moreau – Founder & VFX Supervisor // Since we were able to crew up for this project, we were able to avoid needing to work hundreds of hours a week. Of course we had overtime and some crunch time towards the end of the project. It was not too crazy, well, in my humble opinion at least (laughs).
Matthew Rouleau – CG Supervisor // It went pretty smoothly and working with ILM you don't have crazy changes that happen just before the end. It was a nice smooth process.
Fabrice Vienne – Lead Layout // In spite of the scale and the number of shots which we had to take out it it relatively well passed. The big challenge was more at the level of the rotoscopie because there was many sequence or there was some water and sparkles and intense spotlights in front of the greenscreen.
What will you do differently next thanks to your experience with PACIFIC RIM?
Sebastien Moreau – Founder & VFX Supervisor // For the interiors of the robots, we ended up spending a huge amount of time removing all the wire cables and painting out many of the elements. So for the next one, we would definitely find a more clever approach to save time for this cleanup process.
Beside the environments and robots interiors, can you tell us more about your work?
Sebastien Moreau – Founder & VFX Supervisor // One thing that we are really proud of is our first organic CG creature. ILM trusted us to create and animate a giant monster brain. We put a lot of time and efforts into it as it appeared in about 25 shots.
Matthew Rouleau – CG Supervisor // It was something to we wanted to make for a while, so it ended up being a really good opportunity for us.
Sebastien Moreau – Founder & VFX Supervisor // The scientist (Dr. Newton) created a device that can connect to the monster brain to read it's thoughts. The brain itself is fully rigged and animated with tentacles comically moving inside a jar full of liquid.
One other thing we are really proud of is that we have the equipment and studio to shoot our own practical elements. As discussed earlier, for the rain we found enormously helpful to be able to produce these various elements and blend them with our CG FX to help sell the shot. Each of our artists are encouraged to use our studio and work with our in-house DP Robert Bock to shoot the elements they might need on our RED Epic camera in high resolution and even high frame-rate when needed.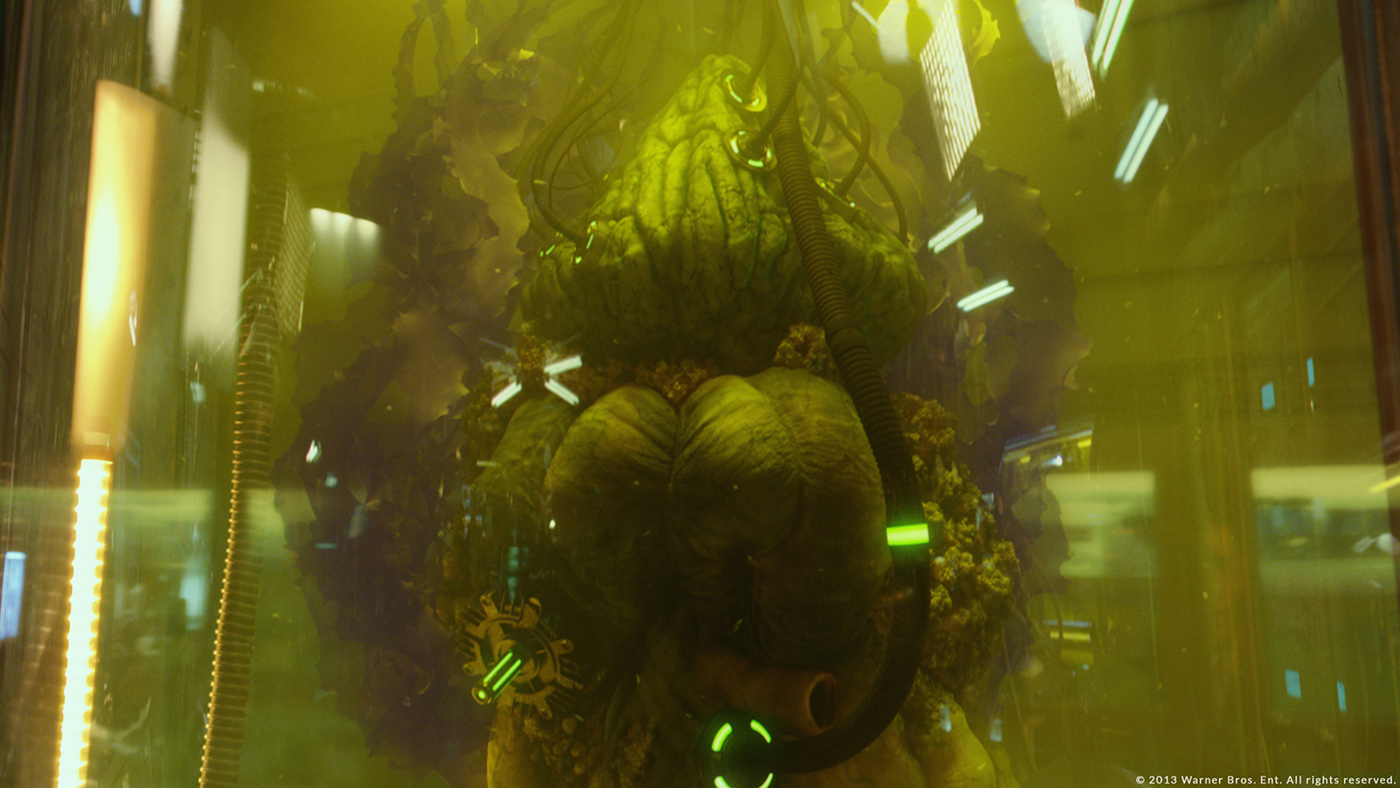 Did you transform your basement for that?
Sebastien Moreau – Founder & VFX Supervisor // Oh no, we are not in the basement anymore (laughs). We moved from our downstairs location 2-3 years ago to take over the entire second floor of the building. We have now a studio of 14'000 square feet and with a spot embedded for our practical shooting studio.
What was the biggest challenge on this project and how did you achieve it?
Fabrice Vienne – Lead Layout // It was especially the large number of shots to go out that was a challenge. But with a good preparation of assets and environments we were able to realize a large number of shot in time. Leveraging Arnold as our renderer also helped out a lot, as it handles massive amounts of data quite easily.
One of our bigger challenges however was our kaiju brain asset. It was a first for us to create an organic creature and we're really proud of it. It included keyframe animation, as well as procedural animation, tentacles, etc. It was a challenge, but very fun as well. But the most difficult and satisfying thing was the foot actuators. Such a complex model, thousands of moving parts, thousands of texture maps, complex rigging, interaction with live action actors, you name it. And had to hold up in hundreds of shots! Good fun, and very successful for the team.
What do you keep from this experience??
Fabrice Vienne – Lead Layout // It was really very exciting to be able to work on a project of this size. He allowed us to strengthen the key points and to improve the weak points. Here are three important points which release from this experience in this movie, the rigor, a good preparation of assets and a good communication.
Did you focus on blockbusters now or did you work also on smaller and local projects?
Sebastien Moreau – Founder & VFX Supervisor // We are doing a little of everything. We wanted to keep ourselves as busy as possible, so we opened an advertising division. We have produced quite a large number of print ads and now even a few TV commercials. We also have worked on the Madonna MDNA tour, where we assisted another company in Montreal (Moment Factory) to create the visuals for projection. We enjoy being involved in many different types of work and use what we learn from the different projects to build efficiencies into our pipeline.
How long have you worked on this film?
Fabrice Vienne – Lead Layout // 11 months.
How many shots have you done?
Fabrice Vienne – Lead Layout // About 200 shots.
What was the size of your team?
Fabrice Vienne – Lead Layout // Around 80 people got involved in Rodeo FX.
What is your next project?
Fabrice Vienne – Lead Layout // We are finishing working on JERUSALEM (Imax 3D) on this epic journey to the cradle of three major religions which looks amazing.
What did you think about creating your own contents?
Sebastien Moreau – Founder & VFX Supervisor // We would love to be able to do that! But that costs a considerable amount of money. All visual effects companies at some point or another have to carry some overhead. We would like to transform that overhead directly into creative content. That's something we are looking at doing, but on a really small scale. Hopefully we are too busy to have to think about that (laughs).
Any last thoughts?
Matthew Rouleau – CG Supervisor // It was a really great project for us, as Sebastien has said. On the CG side, we are a young department as we've been making CG at Rodeo for only two years. It is really interesting and quite amazing to be a part of the evolution of this department. We began on past projects as more of a support team for matte painting, and in a very short time, we were able to ramp up to around 30 people, and create more and more complex things. From creatures, to hard surface assets, to FX, we've really only scratched the surface of what we can accomplish. PACIFIC RIM was yet another step up as far as complexity, and I can't wait to see what will happen in the next year!
A big thanks for your time.
// WANT TO KNOW MORE?
– Rodeo FX: Dedicated page about PACIFIC RIM on Rodeo FX website.
Note: This interview was made in collaboration with Pascal Chappuis.
© Vincent Frei – The Art of VFX – 2013