Jeff Campbell has evolved in visual effects for 17 years as an animator, compositor, and VFX Supervisor. He has added his unique artistic vision to the benefit of numerous feature film projects such as FIGHT CLUB, X-MEN and THE CELL. He join Spin in 2003. His most recent VFX Supervisor credits include, 20th Century Fox's "MAX PAYNE" and now Sony Screen Gems "LEGION".
Hi, Can you explain your career path in VFX?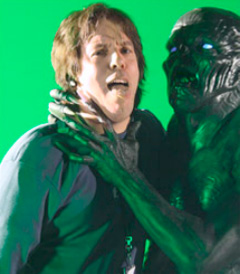 I started as an animator in 1992 at Stargate Studios in Toronto. Working in Strata Studio Pro, I was intrigued by the creativity and control of bringing emotion to a character but frustrated by the slow productivity of the hardware at that time. Especially, the time it took to do a Radiosity lighting render. I soon discovered high-speed compositing when introduced to the Quantel Harry. A strictly 2d finishing system that could play standard definition in real-time. It's not much compared to today's standards but being able to finish shots fast impressed me. I really missed the 3rd dimension. Soon enough, the answer came. Discreet Logic came out with the Flame. A 2d/3d multi-resolution high speed finishing system. I had to get on one.
I applied for a job as a Flame operator at Command Post in Toronto. They told me that Quantel is where it's at and that Discreet systems probably wouldn't last long. But they gave me a shot. Soon enough, I was doing complex and very cool 2d and 3d commercials all in the Flint. After a few years, I was the Senior Inferno Artist at Command Post. In 1999, Command Post changed its name to Toybox and dove into film.
I led a crew on David Finchers "FIGHT CLUB". In one sequence, I had been asked to create the impact and destruction of a forty-ton ball crashing through a commercial plaza and into a coffee shop. This was accomplished using 3d camera projection techniques, displacements and textured geometry all entirely built and finished in a Discreet Inferno with no outside resources.
I had demonstrated these techniques at a NAB as requested by Discreet Logik (Now Autodesk) I was also Lead Inferno Artist and Sequence Supervisor on New Line Cinema's "THE CELL"; bringing to life the rich unique imagery of director Tarsem Singh's vibrant vision.
In 2003, I joined Spin in Toronto as a Senior Inferno Artist and Partner. I liked Spin's "art meets technology" philosophy. I had a broad commercial client base but soon became dissatisfied in the lack of creativity mainly tied to budget constraints. I decided to focus strictly on film. Because of the boutique size of Spin, my duties can involve being not only VFX Supervisor, but also Animation Director and Lead Compositor.
My most recent VFX Supervisor credits include, 20th Century Fox's "MAX PAYNE" and now Sony Screen Gems "LEGION".
Spoiler warning if you haven't seen the movie yet.
How did you get involved on LEGION?
The guys from the Orphanage had seen our work on MAX PAYNE, which featured a winged demon character, and they liked what they saw. The Director Scott Stewart and VFX Supervisor Jonathan Rothbart, were partners at the Orphanage. We began work in January 2009 and in February, the Orphanage closed their doors. It was a little tense at the time because we had put a lot of work into the film and did not have a contract. Eventually Sony Screen Gems honored the same contract that we had with the Orphanage and business as usual.
| | |
| --- | --- |
| | |
How was your collaboration with the film director Scott Stewart and the VFX supervisor Jonathan Rothbart?
It's great dealing these guys with such a vast background in visual effects. They know exactly what they want and talk our language, which helps because we receive concise answers and direction. This allows us to really focus without any guesswork. I had the pleasure to work with Scott as on-set supervisor for the end sequence and it was all about trust and respect for VFX. He gave me everything I needed to get my elements and data.
It really results in a much better and efficient VFX driven production. I'm a big fan of the Orphanage and ILM so it was a great experience seeing how they work.
What sequences were made at SPIN?
Our primary task on LEGION was adding CG wings to Kevin Durand's character Gabriel and later to Michael played by Paul Bethany. The client was so happy and confident in our work that we were awarded other difficult shots including a big fluid simulation that needed to be done on the "Howard explodes" shot and the full CG shot of Gladys the crazy Granny (Jeanette Miller) who climbs the wall like a cockroach. We were also called upon for several matte paintings and set extensions
| | |
| --- | --- |
| | |
Can you explain to us the Granny sequence?
That was an all CG Granny that could climb walls like a cockroach. The CG Granny has to interact with window blinds and other surfaces and so we ended up building the whole shot in CG. This also enabled multiple camera angle options to better compliment the performance Scott did ask to put Audrey, played by Willa Holland, in the shot for continuity so, I found a take of her from another plate and managed to morph her to work with the shot.
| | |
| --- | --- |
| | |
What references were you given for the angels wings?
The director referenced eagles wings.
The look of the feathers was a difficult task. At first we were given the reference of harder leathery look to match the angels armor. The theory was that these wings have to look tough in order to repel bullets and have knife-edge primaries. When we added the feathers to the upper Marginal covert area this gave a more realistic quality we all see in wings. As a result our task was to go with a more feathery feel which involved a lot of re-texturing. I think it's hard to expect people to deviate from their perceptions of reality. If people don't see feathery wings as they know them to be, they are not going to buy it.
Your wings are really beautiful. How did you conceive them?
The guys at the Orphanage modeled them and we did the rest.
Generally speaking, we spent a lot of time getting the wings to feel natural and to really match the live action photography. It was difficult at times because these are no ordinary wings. They're armored and have blades at the feather tips. But they're also part of the character. They needed to become an extension of the actor's performance. There are some nice subtle moments when the wings reflect the character's emotions that work really well.
We are lucky to have the wing experience under our belt, as they are very challenging to do properly. They're very difficult to rig as every feather must slide upon each other during opening and closure. The geometry is also very heavy as our feathers were built double sided so they don't look paper-thin. Then, in lighting it is very expensive to render the proper transparencies needed in each feather. This all adds up to one very big asset.
| | |
| --- | --- |
| | |
Did you use digital doubles for the angels Gabriel and Michael?
Yes, for the flying shots. We ended up replacing the live stunt wire stuff with our digital doubles in order to get away from the "hey that guy still looks like he is on a wire" look. We would usually end up or start with the live action and do digi-double takeovers.
These doubles were also used to aid tracking and animations as we needed them in every wing shot in order to cast and receive shadows.
Grandma Gladys was also a Digital Double.
How many shots did you work on?
We finished 260 shots with a crew of around 50. Mainly over the coarse of a year but the end sequence was shot in October 2009 so we had 100 shots to finish in 8 weeks.
What software did you use at SPIN?
Layout used Primarily PF Track for tracking. Modeling uses 3dmax, Maya and Zbrush. Texturing in Photoshop CS4 and DeepPaint3D. Animation in Maya. Sitex Graphics Air for rendering. Eyeon Fusion for Compositing. I used an Autodesk Inferno.
Our pipeline has changed drastically since. We now have a Stereoscopic pipeline with 3D Equalizer for tracking, Nuke for finishing and rendering with Pixar's Renderman.
What was the most complicated shot on this show?
There were many complex shots in this film. But one that stands out is a moment when an army of angels descends from the heavens. The shot begins in a medium close-up of Michael silhouetted against a sunny sky. The camera then tilts up to reveal thousands of angels in formation. The angels break formation and dive in a steep swirling vortex before flying by very close to camera. The shot combines greenscreen footage with matte painting, crowd simulation, effects animation, and hero keyframe animation by Lead Animator Marc Schreiber. It was a challenge to render and pull together so many elements but in the end it turned out very nice.
| | |
| --- | --- |
| | |
Did you encounters any difficulties in particular?
As our wings shots were done over and over so you achieve an "economy of scale" by doing lots of similar shots. We were asked to do the Blue light shots were the Angel Michael, disappears. This shot took a lot of our R and D and artist resources to complete in a difficult stretch of time, when we were trying to complete 100 shots in the end sequence. This light was to radiate within the body and eventually rake over. To get this, we had built a CG version of Michael to get a subsurface light effect. The CG Michael would also be used to drive expensive particle simulations. A lot of work for one shot but we pulled it off.
How did you conceive the landscape at the end of the movie?
The ending sequence was shot in October of 2009 all on stage at Sony. I was on set VFX Supervisor along with Joe Bauer, Production VFX Supervisor taking over for Jonathan Rothbart. Jon was not available as he was working with Scott Stewart on PRIEST but managed to squeeze in our weeklong shoot. Because of the green screen stage setup, we ended up doing around 100 shots involving set extensions, full CG environments and of course, more wings.
There are some beautiful matte paintings by Juan Jesus Garcia near the end of the film, which turned out really nice. It's a slow crane shot over looking tent city. A camp at the foot of the mountains housing survivors of the apocalypse. We had green screen footage of the actors on a foreground set piece. And everything else you see is CG.
| | |
| --- | --- |
| | |
As for any productions, there are unplanned things that happen in post. What were those things on this show?
Helping the look of the set rock in the end sequence. We had to roto all the actors from the plates in order to control the look of the set in compositing. A lot of work but it really helps set the proper atmosphere.
What memory did you keep of this experience?
All great memories. When doing two features back to back involving wings, you tend to see them in your sleep. I'm not complaining, we are lucky to have these opportunities.
What is your next project?
We've got an exciting slate of projects lined up for 2010! Including another really cool project with director Scott Stewart called PRIEST. It's going to be a great year for all of us at Spin.
What are the 4 movies that gave you a passion for the cinema?
DARK CITY, THE MATRIX, FIGHT CLUB, THE CELL, BRAZIL, BLADE RUNNER. Sorry, I gave more than 4 but I have a passion for dark movies. To me, these kinds of movies really convey emotion and creativity.
Thanks for your time.
WANT TO KNOW MORE ?
– Spin VFX: Official Website of Spin.
– Defect: Blog of Eric Doiron, compositing supervisor, at Spin, he spoke in detail about the
compositing of the wings.
© Vincent Frei – The Art of VFX – 2010