Prior to founding One Of Us with Rachael Penfold in 2006, Tom Debenham and Dominic Parker worked at Framestore for many years. They participated in projects like MISSION IMPOSSIBLE II, CHICKEN RUN or RESIDENT EVIL. At One of Us, they have been working on THE TREE OF LIFE or MIRROR MIRROR.
What is your background?
Dominic Parker // I studied maths and philosophy, started playing with animation but soon noticed that traditional animators dressed in rags and begged for food, so I got into computer animation. I spent the best part of a decade at the Computer Film Company which joined forces with Framestore. I left Framestore because I was spending more time looking at spreadsheets than pictures.
Tom Debenham // My background is in fine art and photography – I got into VFX by accident! I was looking for a job as a runner in a production company, accidently got a job with CFC which turned out to be an extremely good thing. It was still a pioneering industry back then and I jumped right in on film projection and editing, loading cameras and working with a lot of the older technology. I fell in love with the projected film image, was fascinated by how you could change those images.
Can you tell us more about One Of Us?
DP // About six years ago Tom, Rachael Penfold and myself left CFC to launch One Of Us. Shortly after forming we worked on Jonathan Glazer's Motorola Red commercial which set the tone for a lot of the work that we have since engaged in.
TD // Motorola was a very blank canvas and it was technically and creatively demanding. Bringing those aspects together became a fascinating puzzle and we continued to work on things that have those very high demands and try to add an original collaborative contribution.
DP // We kept it very small and low key for a few years, mixing up commercials, music videos and small film jobs leading to work over an extended period on Terrence Malick's TREE OF LIFE. Then we decided to take on a few more people and a little more space so that we could handle more film projects alongside each other.
Over the last year MIRROR MIRROR, GAMBIT, CLOUD ATLAS, ANNA KARENINA alongside continued work on UNDER THE SKIN have kept us busy and nimble!
DP // Taking things a little further left field we led the technology collaboration for Untitled: Ladies and Gentlemen – A physical manifestation of 'Ladies and Gentlemen, We Are Floating in Space' at Coachella in 2011. Art meeting science, with a lot of people in a field….
TD // Ladies and Gentlemen was a somewhat unique project for us, in that it did not involve making images but it drew on a number of our design skills including 3D design collaborating with the architects, and from my point of view in particular, lighting design – being responsible for the sculptural light effect in the space. We were very physically 'hands on' in building the first incarnation of it in Coachella and then the subsequent version in New York, DUMBO. It was a very satisfying job – nice to do something that you can see an audience's direct reaction to, which made a difference from long hours in dark rooms crafting things that are one step removed from the audience.
How did One Of Us get involved on Anna Karenina?
DP // Tom had already worked with Jane Frazer way back on PRIDE AND PREJUDICE, then ONE DAY and GAMBIT at One of Us. This gave us our introduction. We met with the Director and Producers and a deal was done. We get a lot of recommendations and repeat business, so we must be doing something right.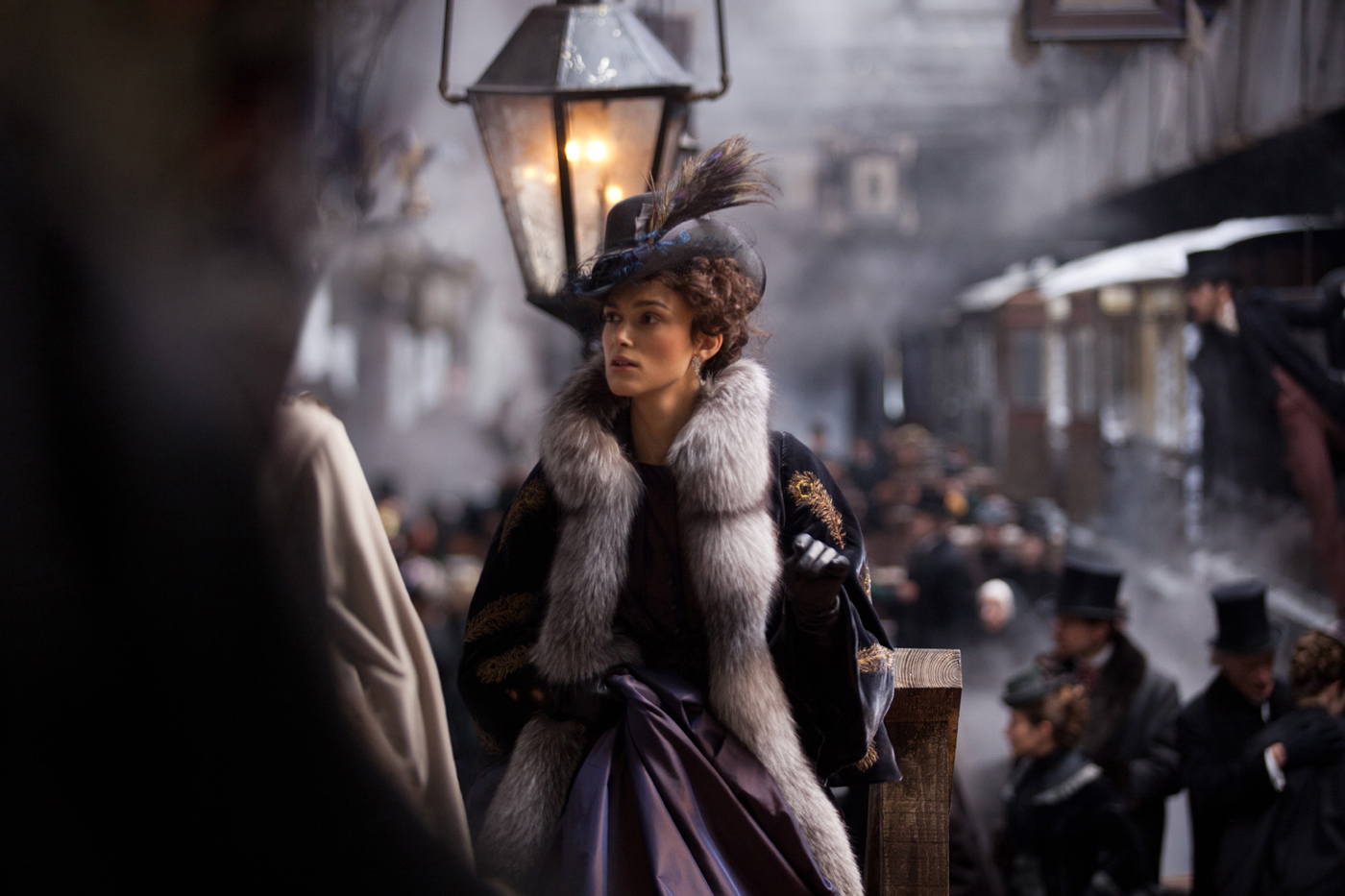 How was the collaboration with director Joe Wright?
TD // It was a pleasure, he was demanding in the right way and appreciative in good way when we got things right. I think it always felt like we were helping him tell his story and moving things forward and it was joy working with the ingredients he'd chosen, it was such a visually rich story to tell and being part of that and working with such a visually aware Director. He didn't always have the answers himself, he wasn't trying to steer us in a particular way but we were able to bring something to the party in the way we do best.
DP // Shooting is always stressful, and shooting a film as ambitious as this even more so, but Richard Briscoe, who covered on set supervision for One Of Us, had a good rapport with Joe. When the shoot wrapped he handed over to Tom and myself for the four months of post. Joe was a charming Director to work with. He was open to ideas but had a strong sense of what worked and what didn't, and when he asked for changes there was always a good reason.
How did you help the director on the VFX side?
DP // Joe didn't need a great deal of help beyond the usual role of supervisor. He is visually smart, and understands the principles of how vfx shots work. We did some pre-vis for a couple of shots where it was hard to understand the space or where he wanted to look at the implications of different camera placements. But on the whole he got the whole process. In this situation we try to stand back and let the filmmakers make the film.
TD // Although Joe's head is in the story he is very technically aware and practical about what works and what doesn't.
What have you done on this show?
DP // Joe's telling of the story of ANNA KARENINA juxtaposes the formal fantasy realm of the theatre with the reality of the world outside. These worlds connect in improbable ways – a flight of backstage stairs leads to Levin's garret, as a train pulls up into a station the platform is revealed to be the stage, the theatre serves as a cafe, an office, a ballroom hosting a fireworks display. Wherever they could be, these connections between different spaces were established in camera, but this was not always possible or practical. The visual effects work undertaken by One Of Us was entirely in the service of this design concept which frames the narrative of the film. In other words, wherever we could say 'this doesn't need to be a vfx shot' we said it.
TD // Helping to fulfill the vision of a world lived in the theatre and extending that into the real world, and making things that weren't physically possible visually possible.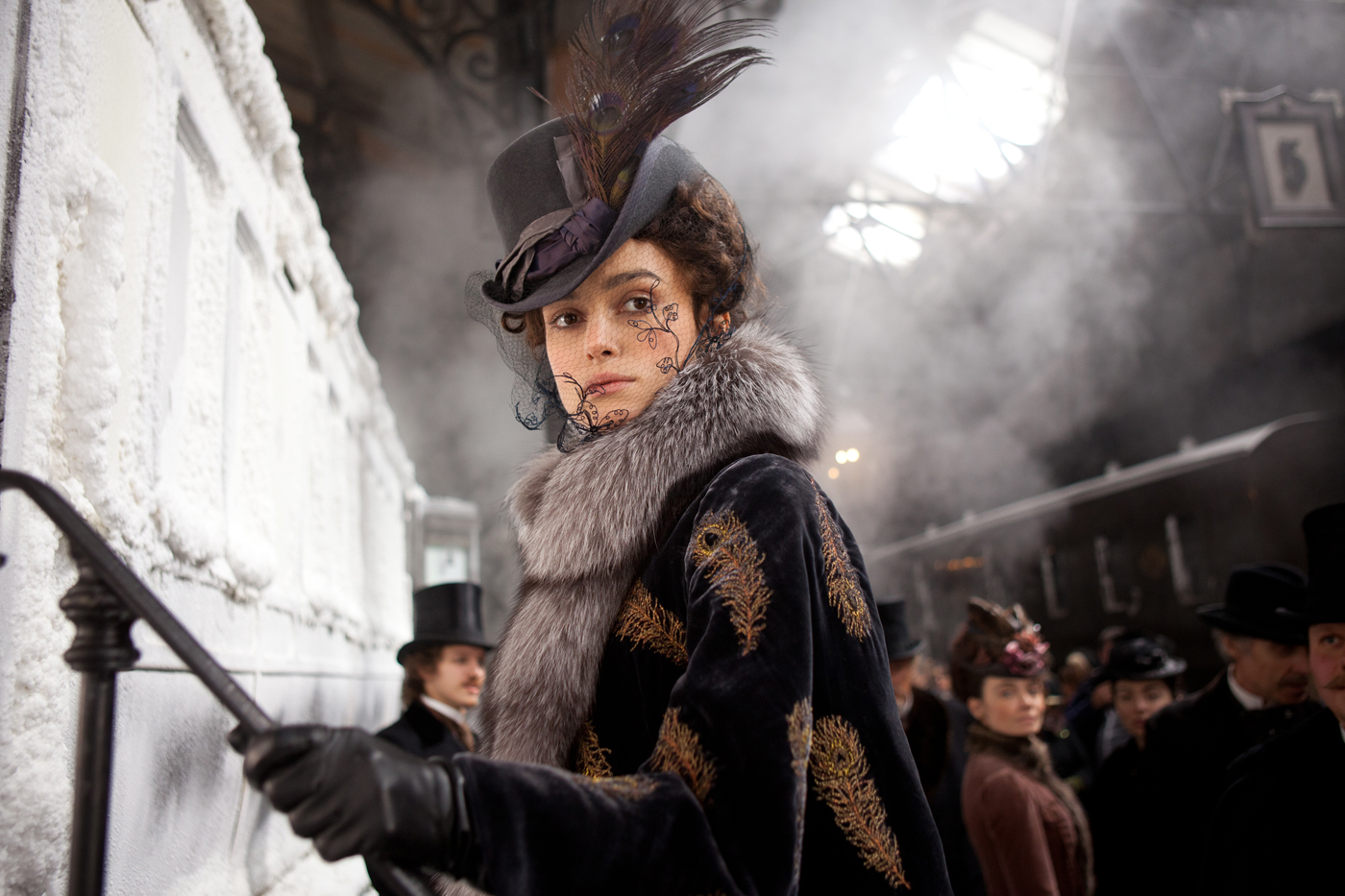 How did you create the set extensions?
DP // Set extensions were the usual routes. 2D matte paintings where possible. Then 2.5D if needed, only resorting to 3D when absolutely necessary. For example, the mechanical roof which opens during the fireworks display needed 3D. The ceiling was derived from photographs of a real ceiling at Alexandra Palace.
Can you tell us more about the beautiful sequence with the fireworks?
DP // Ah… everybody likes fireworks. For obvious reasons these could not be shot in situ. The characters at Betsy's soiree were shot with a green screen at the back of the stage. Getting the interactive light right on the shoot was important and then care was needed compositing characters with complicated dress and hair against very strong back lighting.
TD // The fireworks through the roof used real elements. We generated the roof opening to feel like a mechanical roof based on the photographs from Alexandra Palace. The work itself was not overly demanding, as there were no CG fireworks or anything of that nature but what it involved was putting elements together very sensitively and being aware of the poetic needs of the shot.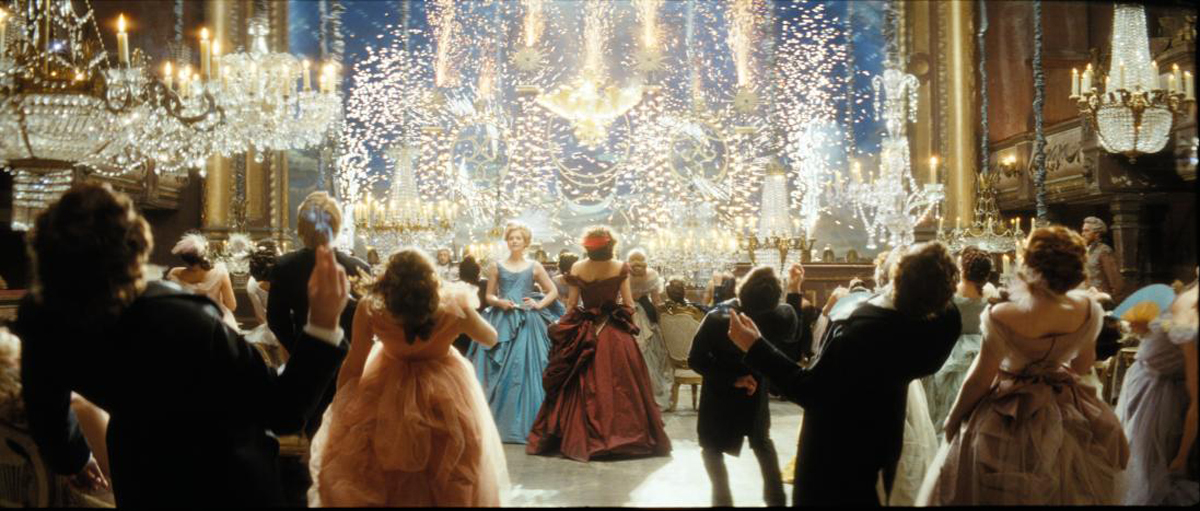 How did you create the impressive horse fall?
DP // The horse and rider were created in CG. It's a big number to have a fully CG creature and person flying toward camera. It took a couple of months to build, texture, rig and look-dev the two victims of this gruesome accident.
TD // The horse fall was a very difficult shot to work on. This was one of the situations where the physical demands of performance couldn't be achieved. There were elements shot for the horse riding across stage and coming towards camera but obviously not leaping off the stage.
DP // The animation was complicated because it had to pick up from the stunt rider, but his action and the arc of the stunt horse were not entirely sympathetic with the required crash. We also wanted to accommodate footage of Vronsky flying through the air which was shot high speed on a robot arm – this gave us reference for the costume, and also some brief moments where Vronsky's face could be used directly. The most difficult thing about this shot was not the look of the horse and rider – it was trying to convey the energy and chaos of a huge creature crashing to its knees and then off a stage.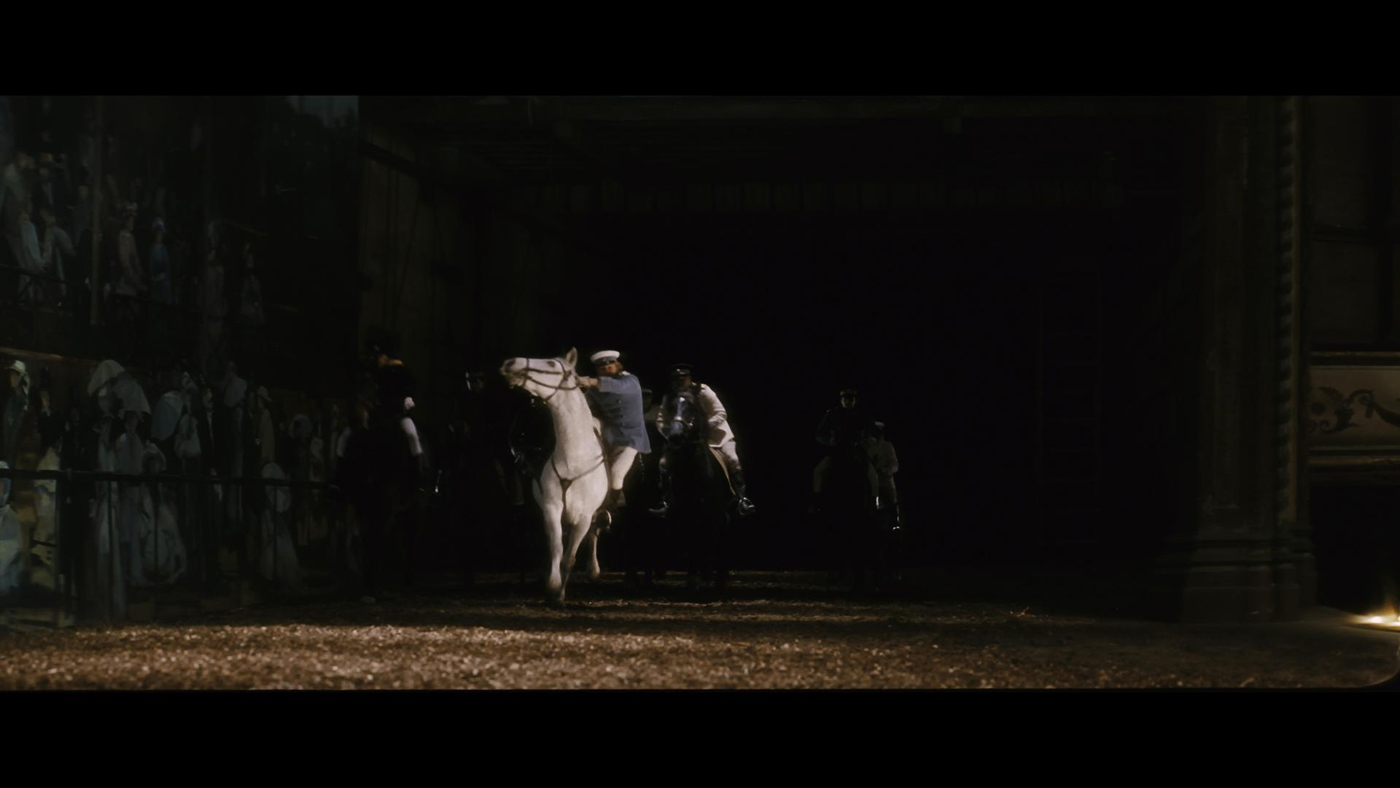 The movie features impressive continuous shots. Can you tell us more about that?
DP // An example of this has Oblonsky visiting a cafe – staged naturally in the theatre. Beautifully choreographed action and a balletic camera move, almost entirely captured in camera. A small problem – the cafe has a number of mirrors. It was a slightly tricky paint job, but removing crew reflections digitally allowed more freedom for the action – a good use of vfx. Various other long continuous shots used little bits of digital sticky tape, but others were achieved by good planning and careful execution.
TD // Agreed. I don't think we can really take any credit for any of that, it was the beautiful choreography between music, camera and action that Joe staged and Seamus McGarvey photographed.
Some sequences show the theatre full of people. How have you created this crowd?
DP // Crowd replication… It's not ground-breaking vfx work, but it is a sensible use of technology. Extras and costumes cost money. So use them four or five times to fill the space. Easy.
TD // They were relatively simple shots but there were nuances in terms of audience movement that needed to be tweaked. There were sometimes stylisations of frozen movement for example that needed to be carefully handled but essentially they were quite simple replications.
What was the real size of the theatre?
DP // I can't remember the exact dimensions of the theatre, but it's pretty much as it appears in length and width. The only digital trickery to increase the size of the space was that the fly gallery was a separate set. The two parts had to be stitched together in a couple of shots.
How did you manage the green-screen composites work?
DP // Green screens come in all sorts of flavours, but very few of them work straight out of the box. On set we tried wherever possible to make sure that green screens were lit properly – this is half the battle. But it's not always possible. And you cannot hold up the whole production, talent and crew, to save a few hours of roto… The green screens were all comped in Nuke. Happily in a lot of cases there were design decisions to be made, which keeps the shots more interesting. For example, when we see out of the windows of the carriage carrying Anna and her brother we see a stylised painting of the city, and as a fantasy element we needed to work out how this should be played – speed, scale, focus, grade. The painting, incidentally, was by Joe's mother.
Perhaps the most important green screen was Anna's death, when she throws herself between the carriages of a train.
Is there any other invisible effects you want to reveal to us?
DP // There are numerous little touches where vfx was used to mend a seam, or cover up a blemish. Reflections of lights, a little digital snow, a CG snipe shot by Oblonsky, and various others. But invisible effects are good, right?
TD // The model train in the landscape and the augmentation of the train for Anna's death are some of the possibly less visible but most impressive shots we worked on.
What was the biggest challenge on this project and how did you achieve it?
TD // The single biggest challenge was the CG horse fall. It took a long time to get it feeling right. Technically we got it under control considerably quickly but in terms of the feeling and the action that Joe wanted to tell the story and believing that took rather longer. But we got to a successful conclusion in the end.
DP // The horse crash was undoubtedly the biggest challenge. But we like a challenge, what doesn't kill you makes you stronger.
What do you keep from this experience?
DP // There was a great satisfaction to work on a show that comes together so beautifully. One tries to learn lessons from each project. Without singling out a specific shot I would say that the lesson I took away from this project was this: if one feels they are getting close to the right result on a shot, and still think they are getting close three weeks later, then maybe there is something more fundamental wrong with the shot. The benefit of hindsight…
TD // The pleasure of contributing to such a beautiful film.
How long have you worked on this film?
DP // We started a few of the builds while the film was cutting, but the main body of the post work covered between four and five months.
How many shots have you done?
Roughly a hundred and twenty.
What was the size of your team?
Team size varied between a dozen and twenty artists.
What is your next project?
TD // Alongside ANNA KARENINA we worked on a key sequence for CLOUD ATLAS, Directed by the Wachowski's and Tom Tykwer. We are currently in post production on UNDER THE SKIN for Jonathan Glazer which we have been working on for some time. We shot that before we started working on the post for ANNA KARENINA.
DP // We have various things in the pipeline. Jonathan Glazer's UNDER THE SKIN will not look like ANNA KARENINA.
What are the four movies that gave you the passion for cinema?
DP // WILD STRAWBERRIES, ERASERHEAD, Jan Svankmajer's ALICE, er…. can I just have three?
TD // BLADE RUNNER, THE EMPIRE STRIKES BACK and some more obscure films like PICNIC AT HANGING ROCK for mood and atmosphere and a Sicilian film called KAOS, which is a number short stories. I haven't been able to find it since but I saw it as a kid and it was magical, poetic and beautiful.
A big thanks for your time.
// WANT TO KNOW MORE?
– One of Us: Dedicated page about ANNA KARENINA on One of Us website.
// ANNA KARENINA – CREDITS – One of Us
Visual Effects Supervisors:
Richard Briscoe
Dominic Parker
Tom Debenham
Visual Effects Executive Producer:
Rachael Penfold
Visual Effects Producer:
Chaya Feiner
Visual Effects Co-ordinator:
Leila Nicotera
Visual Effects on-set Co-ordinator:
Ana Buckely
Supervising Lead Compositor:
Patrick Wong
Senior Compositor:
Petra Schwane
Compositors:
Andrew Hogden
Jorge Cañada Escorihuela
Jeanette Monero
Nicholas Zissimos
Artur Margiv
Julien Dias
Victor Tomi
Emmanuel Pichereau
Lewis Saunders
Lucien Fostier
Abigail Scollay
Rotoscope and Paint Artist:
Cristina Vozian
CG Supervisor:
Stephen Murphy
Senior Character TD and Animator:
Andrea Falcone
CG effects artist:
Sam Swift-Glasman
CG previs artist:
Samuel Walsh
CG previs artist:
Ernesto Herrmann
Texture Artist:
Richard Hopkins
CG artist:
Frank Engen
Visual Effects Editorial:
Kevin Mac Donald
© Vincent Frei – The Art of VFX – 2013