Dan Levitan began his career in visual effects at Cinesite Hollywood in 1994 and worked on films like WATERWORLD, GATTACA or PLEASANTVILLE. He then worked at Dream Quest Images, CIS Hollywood, Digital Dimension and Hammerhead. As VFX supervisor, he worked on movies such as SALT, THE HANGOVER PART II or FRIGHT NIGHT.
What is your background?
Prior to VFX, I was in music and television production along with freelance photography. I began my VFX career at Cinesite Hollywood in 1994.
How did Hammerhead got involved on this show?
Hammerhead was recommended to GANGSTER SQUAD by previous Warner Bros clients.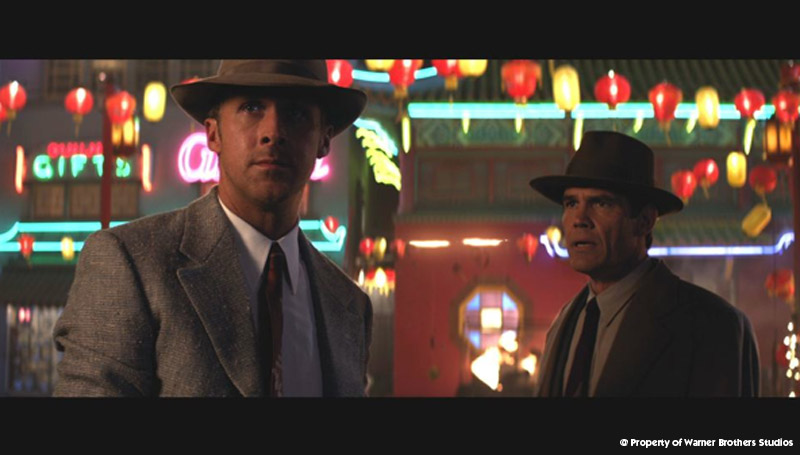 How was the collaboration with director Ruben Fleischer?
Thoroughly enjoyable. He had a clear vision for his film, while being open to our ideas. It was an artistically gratifying collaboration and I am very proud of the result. I have lots of respect for Ruben and look forward to working with him again.
What was his approach with the visual effects?
Realism. Initially, the goal was to stay away from anything too extreme or fantastic. As the film came together, there was a bit more openness to high-dynamic events.
Can you tell us more about your collaboration with Production VFX Supervisor Ariel Velasco-Shaw?
Ariel was a great partner and collaborator. He was dedicated to materializing Ruben's vision while promoting Hammerhead's strengths and designs.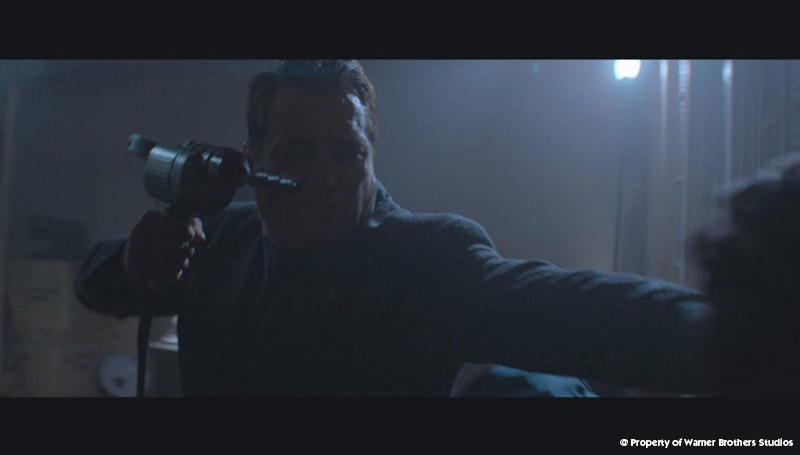 What have you done on this show?
We created the previs and all final work for the Oil-Field Car Chase, Shoot-out at Park Plaza Hotel, The ChinaTown Ambush, along with the majority of remaining VFX.
The work consisted of:
– CG (and Matte-Painted) Bullet Hits, resulting in Blood Emissions, Damage and Debris.
– CG and Matte-Painted Set-Extensions.
– Full CG Environments, Vehicles and Interactives.
– CG Glass Breakage (ex – when Sean's head gets shoved through a car window during the final fist-fight).
– Muzzle Flash addition, Pyro and Fire Additions and Enhancements.
– Green Screens
– Etc.
Can you explain to us the creation of the rocket shots?
I believe we were matching to period Navaho Missile test footage. Of course, some liberties were taken make sure scale felt right while keeping it visible and interesting.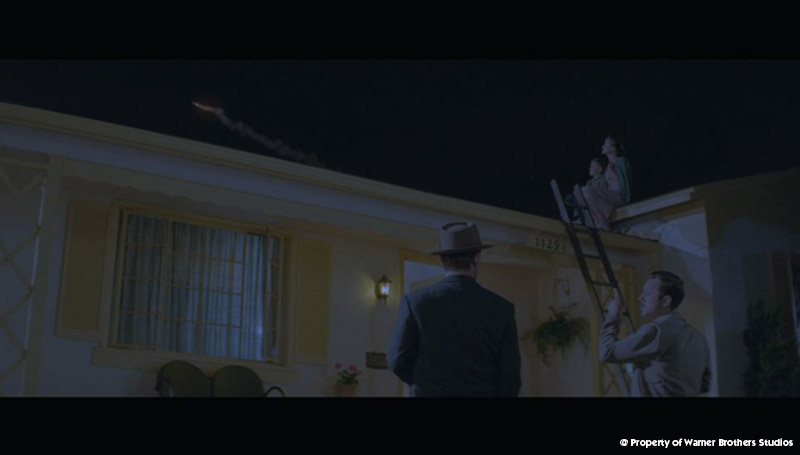 How did you approach the car chase sequence?
We began blocking this sequence well before shooting began. Previs evolved over several weeks. We collaborated with Ruben, Ariel, and the 2nd Unit Director (Terry Leonard). Eventually all blocking was approved and the previs was referenced during shooting of the entire sequence. In Post, we added CG Dust, Grenade Explosions, Interactive Lighting, and Road Noise, to tie the Green Screen material to the environment. This chase takes place on a rough dirt road, so there were lots of opportunities to introduce all types of motion and environmental chaos. The Areal Views are completely CG.
How was the shooting for this sequence?
We shot Multi-Camera-Array Stitch-able BG Plates so that Ruben would have the freedom to move cameras during Green Screen shooting.
Can you tell us more about the creation of the CG cars?
We started with Lidar Scans of the Pictured Cars used during filming. They were beautiful 1930's Fords and Cadillacs. Those early model cars have loads of chrome and detail. It was critical that we match all of that detail and capture anything in the finishes that differentiates the early models cars from todays. Another focus was matching continuity of Dirt and Dust build-up throughout the course of the chase.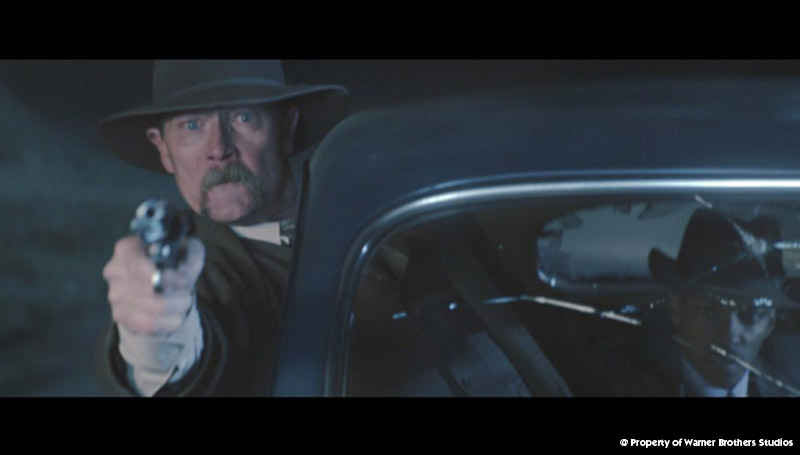 How did you manage the lighting and render challenge for the cars?
The lighting was a bit of a challenge because the sequence takes place in a very remote rural area and there aren't many obvious light sources. That said, everyone still wanted the cars and environment to look interesting and dynamic. The CG Car renders were tuned for maximum speed, stability and efficiency. Rendering was actually more of an challenge when it came to the CG Environment due to it's expanse and level of terrain detail.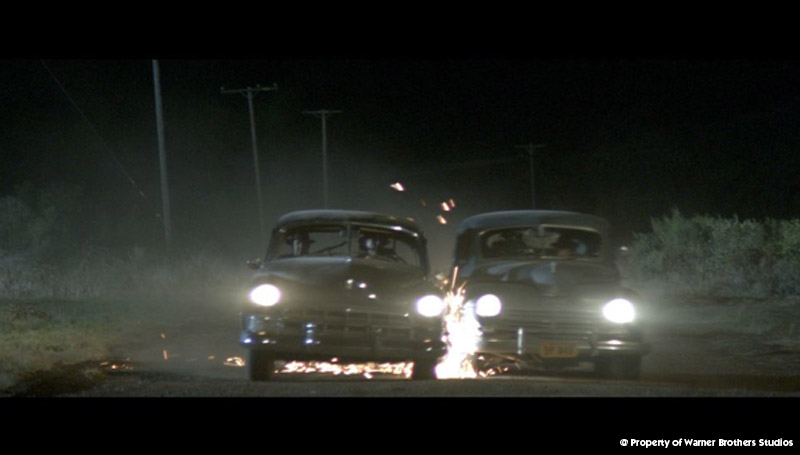 Can you explain to us the creation of the full CG shots?
We started by referencing a combination of On-Set and Satellite photography. Much care went into building a wide ranging library of Shrub, Tree and Ground Textures which would seamlessly cut with the real environment. No helicopter footage was shot at this location, so we did our best to bring that perspective with the spirit of the surrounding material. Atmospheric Perspective, Lensing techniques and Interactive Elements (CG Dust, Gravel, Light Volumes, Reflections, etc) were critical as finishing touches to bring the realism.
There is a huge gunfight in an historical building. Can you tell us more about the challenges for this sequence?
As you mentioned, this was not a studio set. The Park Plaza Hotel is a historic Los Angeles landmark, so all of the Damage needed to be CG. We built a Material Reveal System. As more bullets hit a particular area, deeper layers of building materials would be revealed. As an example – a single impact might take a chunk out of a marble column, a 2nd would reveal an underlining of stained concrete, a 3rd bullet would reveal rusted rebar supporting the concrete. The same type of approach was used on Wood-Paneled walls, Flooring, etc. Each one of those Bullet Hits and Material Reveals required corresponding CG Debris and Dust Emissions.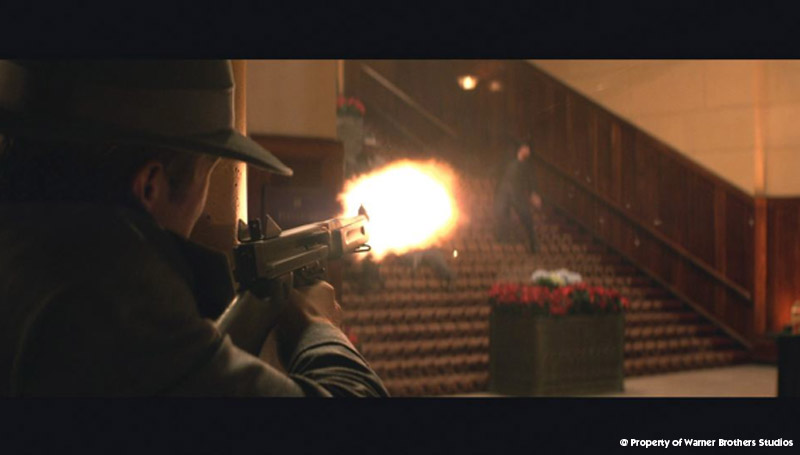 How did you create the various FX such as the bullet impacts and the blood hits?
All Bullet Impact Damage was a created using a combination of CG Debris and Dust (created in Maya) transitioning to a Matte-Painted Damage Patch. We created a Gizmo for Nuke which allowed the Compositor to choose a Material Type from a pull-down menu (concrete, wood splinters, carpet fibers, etc.), then attach the 3d camera, set the frame timing… and you'd have the animating debris emission. Any event close to camera was created per shot by our CG Animators.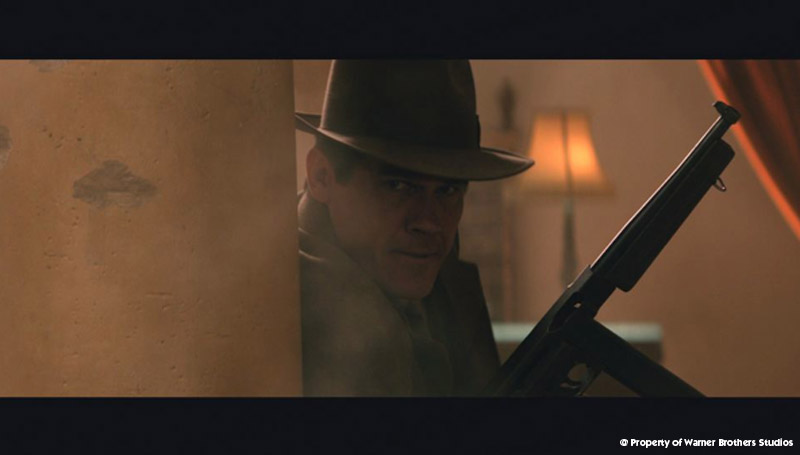 All of our Blood Hits were created using Real-Flow. Initially, there was some concern whether Ruben would feel a CG approach could achieve enough Realism. We were all very pleased with the final result.
Can you tell us more about the 1940's cleanup work?
Anything which was not 'of the period' needed to be removed and replaced with something era-appropriate. Typically, this consisted of Matte-Painted Set-Extensions, but there were a variety of approaches used.
What was the biggest challenge on this project and how did you achieve it?
I suppose it would be the damage and blood required for the Park Plaza Shootout. Once the looks were approved, tools were created, and a functioning pipeline was in place, we hit the ground running and shots were completed without much difficulty.
The Oil Field Car Chase had many challenges too, but none we hadn't dealt with in the past.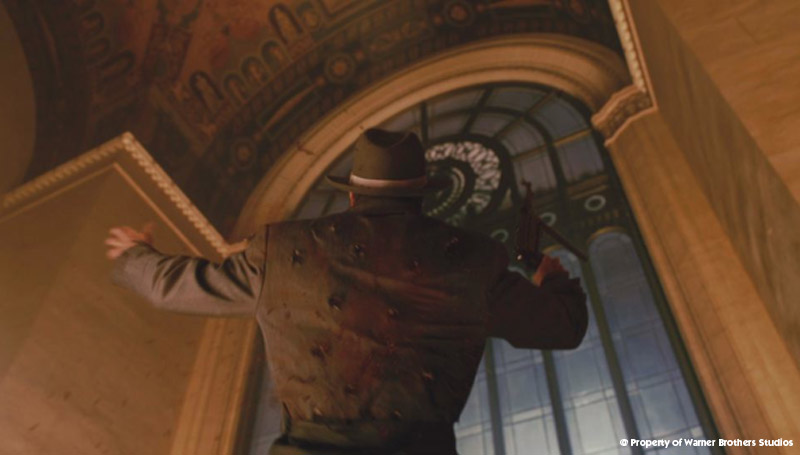 Was there a shot or a sequence that prevented you from sleep?
Nope.
What do you keep from this experience?
I had the pleasure of working with many talented people who showed immense dedication and professionalism. I learned from each of them and am extremely proud of Hammerhead's contribution to GANGSTER SQUAD.
How long have you worked on this film?
I would estimate in total, approximately 1 year.
How many shots have you done?
Hammerhead contributed around 470 shots.
What was the size of your team?
We had about 35 artists working on different stages of the film.
What is your next project?
I am currently working on THE HANGOVER PART III.
What are the four movies that gave you the passion for cinema?
That's a tough one. 2001, THREE DAYS OF THE CONDOR, SPINAL TAP, GLENGARRY GLEN ROSS and more recently – KICK-ASS, THE KID STAYS IN THE PICTURE, AVATAR, IRON MAN. What inspires me seems to change on a daily basis. Still imagery truly inspires me too.
A big thanks for your time.
// WANT TO KNOW MORE?
– Hammerhead: Dedicated page about GANGSTER SQUAD on Hammerhead website.
© Vincent Frei – The Art of VFX – 2013