In 2019, Chris MacLean had explained to us the visual effects work done by Mr. X on The Highwaymen. He then worked on Hellboy and American Gods – Season 2.
Mike Enriquez has over 20 years of experience in visual effects. He worked for many years at Stargate Studios and then at DNEG before joining Skydance. He has worked on many shows such as Heroes, The Walking Dead, Westworld and Star Trek: Picard.
How did you get involved on this project?
Chris MacLean // I had just finished season two of American Gods. The day before I flew to LA for the premiere, Michael Malone called me. We'd worked on The Highwaymen and Godless together. He said he had just been hired to produce Foundation and needed a VFX Supervisor who he could trust with something like this and would be a good collaborator. I was looking for my next project and had a few coals in the fire, but knowing how great my experience was on the two projects we did together he set up an interview for me at Skydance. Now, I love Sci-Fi but most of my ingestion of the genre is through film, TV and video games. I'll be the first to admit that I had never read Foundation or Asimov prior to that call from Michael. Toronto to LA is kind of a long flight so I picked up a copy of the first book and read it on the flight to LA. My first impression was that it deals with big ideas and the characters discuss those ideas but you never really saw what was happening. Not going to lie, I thought it was going to be something like Law & Order or The West Wing in space.
The day after the Gods premiere I went to the Skydance offices and spoke with Matt Ariail, Carol Turner and Dieter Ismagil. We had a great conversation about the show and they set up an interview with David Goyer. They gave me the first script and I left to fly back to Toronto. Before my flight, I dropped in on my mentor and friend, the late, great John Swallow. We had become close over those years we had worked together. Neither of us knew this would be the last time we would see each other but I'll forever be grateful I got to see him one last time. We talked about the projects I had lined up and who was involved. I'll always remember what he said, "I can't tell you what to do but you should do what scares you the most." We talked for a few more hours and I left for LAX. On the flight home I read David's script for episode one and was blown away. To my mind, he had cracked the nut that was how to make Foundation in a visual medium. At that moment I was hooked. A few days later I spoke with David, we hit it off right away and we got to work.
Mike Enriquez // I was finishing work on Westworld and Picard when COVID hit and production slowed down. I was starting to look for work when I received a call from Addie Manis, the VFX producer on Foundation. The show was huge and could use some help wrangling vendors and guiding shots to completion. With nearly 4000 shots in play, it was far too much work for one person. So after talking to Chris and David, I was brought on.
What was your feeling to be involved in such an iconic project?
Chris MacLean // It was exciting and nerve racking. We had most of the scripts and they were awesome, but dense. We knew we had a monumental task ahead of us. I was the second hire on the show behind Michael Malone. We were looking for a Production Designer, trying to build out a team and find Directors. You can imagine the difficulty of finding the right people for a project like this. Most people thought Foundation was too big of a story to take on. Everyone thought it was too expensive. How were we going to create all these worlds? How were we going to make it different? How were we going to tell a story that spans a thousand years? All of these questions hung over us for months.
Once Rory Cheyne was on board as the Production Designer the show took off like a rocket. We had worked together on season 2 of American Gods and I knew he had just finished Locke and Key. Michael, Rory and I spent most of the summer of 2019 on planes scouting locations, trying to flesh out the world David had written and was still writing. Iceland, Ireland, Germany, Spain, LA, back to Iceland, back to Toronto…there were a lot of flights. The whole time Rory and I were drawing and tossing ideas back and forth. We were up against a clock. The three of us dubbed it Foundation: The No Sleep Tour.
It took some time to get Rupert Sanders on board but once we had our pilot Director we were able to answer a lot of our questions. The nervous excitement turned to process and execution.
Mike Enriquez // Honestly, I couldn't believe it at first. And then I thought it was beyond me. But with a lot of hard work and great creative partners it all came to fruition.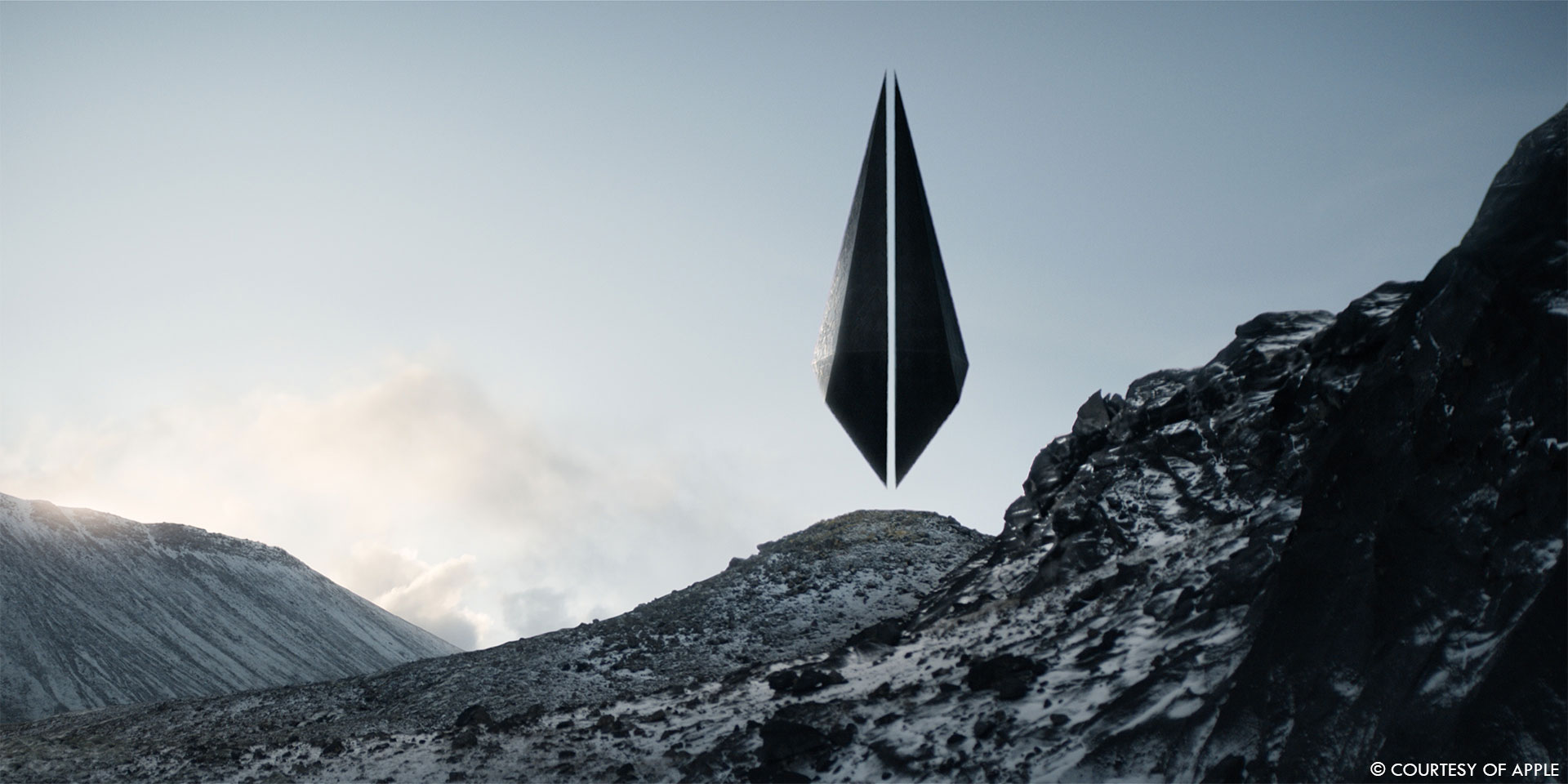 How was the collaboration with the showrunner and the directors?
Chris MacLean // David is one of the most collaborative people I've had the pleasure of working with. If you have ideas he'll listen, and if they are good ideas he'll use them. If he doesn't like your ideas, he'll tell you and you move on. We have a great working relationship and we trust each other.
We had six directors on Foundation, Including David. Rupert Sanders was our first Director. If you've seen his films you know he has a great eye for design and concept. He wasn't used to coming into a show without his people, so Rory and I had to build trust with him. We eventually won him over and ended up having a great time with him. We spent a lot of time prevising with Rupert and locking in the look of the series.
Andrew Bernstein directed episode two. Very solid director and very collaborative. He had a very steady hand.
Alex Graves was our director for three, four and five. I'll be honest, I was warned that Alex didn't have an affinity for VFX. All I have to say is don't believe everything you hear. Once you understand his process he's very easy to get along with. He is an amazing Director and crafted some of the most beautiful episodes in the season.
Jennifer Phang directed episode six and seven. She had some of the most complex and conceptually difficult episodes of the season. We spent a lot of time together going over storyboards, previs and animatics to get her heavy VFX scenes dialed in. Really got to know her well over the course of the show. She was a great collaborator as well.
Roxanne Dawson directed eight and nine. She is an amazing director and very solid on the floor. She has a great understanding of visual effects and how to shoot Sci-Fi.
David directed episode ten and he was just as collaborative as a director as he is as a showrunner. We worked through a ton of animatics and previs for his episode. He had a great process. Boards were always up on location or on set. Everyone knew what we were doing when we were shooting David's episode.
Mike Enriquez // As Chris mentioned, David has been great to work with. It's always a collaborative discussion, with no ideas off limits.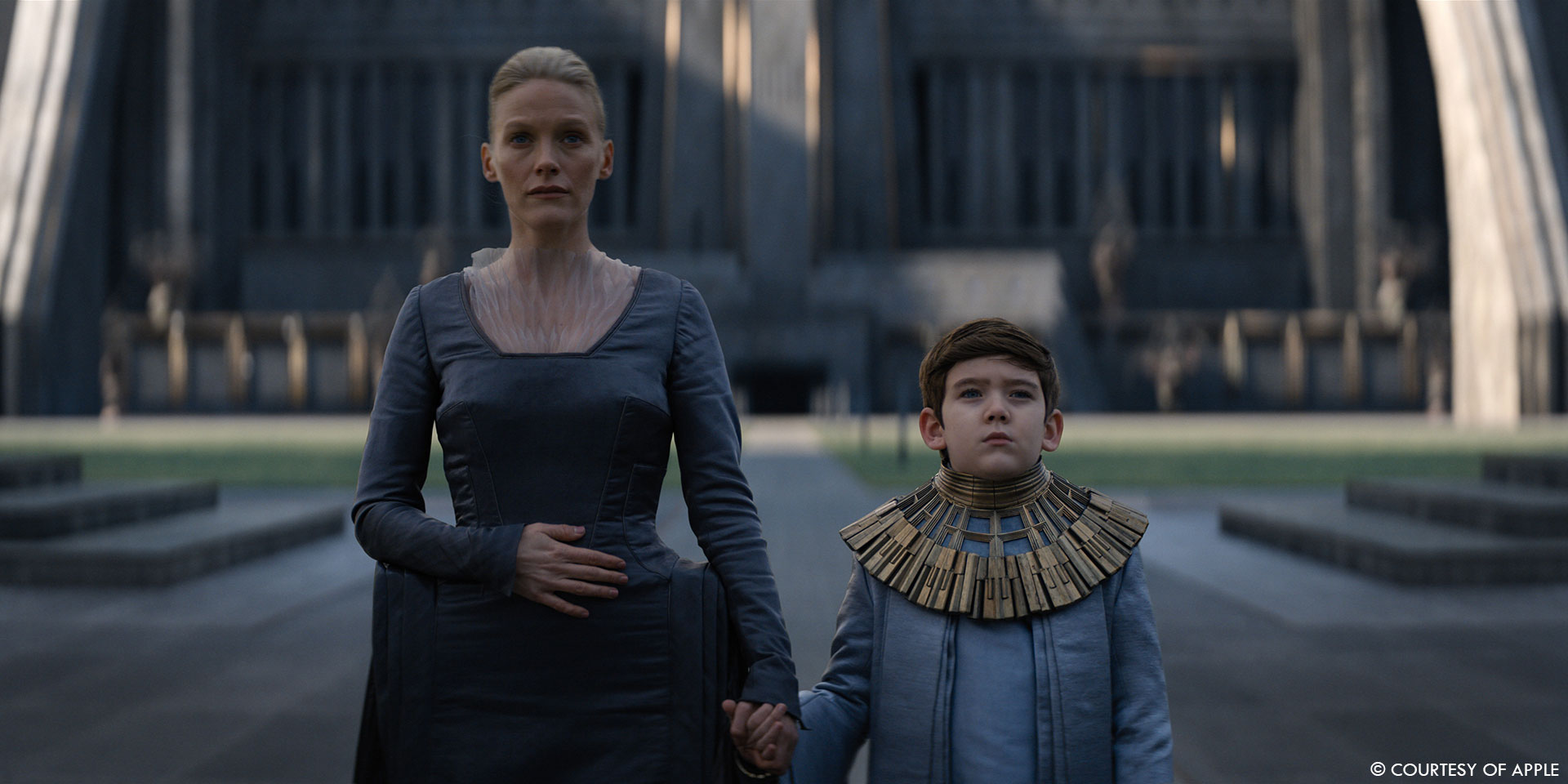 What was their approach and expectations about the visual effects?
Chris MacLean // The expectations were astronomically high for Foundation. We were inventing a new Sci-Fi visual language. What does FTL travel look like? What does the Vault look like? How do you visualize math in an interesting way? How do you make a planet look like it is completely covered in water? How do we do this within the budget limitations and not run out of money after the first episode? I know that everyone is saying the show looks like the most expensive thing on TV but there are shows out there that have less episodes, shorter runtimes and have much bigger budgets than us. 
We had to be creative and diligent with our methodology. My mantra was "keep it in camera until you can't." We knew we had these giant VFX sequences to execute and if we wanted them we couldn't blow our budget on volume heavy shot types like set extensions or cleanup. We would look at the script and if there was a dialogue heavy scene I would target those for in camera sequences. Rory gave us great sets and found locations that lent themselves to this technique. The Directors and David had to buy into this as well. For the most part, we pulled it off. We employed techniques like using longer lenses and blocking shots so that we were shooting into the location or set. If we weren't able to avoid this sort of secondary VFX shots we would reduce the number of cuts in an edit to bring the shot count down. We still had our fair share of these types of shots to do but if we hadn't set out in the beginning to avoid this sort of thing we wouldn't have made it past episode one budgetary. I think this method also helped the show, in that the VFX didn't overpower the practical elements of the show and it forced us to find practical locations rather than shooting the whole thing against greenscreen.
From the outset I had a very good idea of how to execute the show from a visual effects standpoint but also wanted to pay homage to Sci-Fi that came before us. I wanted to look at melding practical and digital elements in an elegant way. That's where we decided to shoot miniatures and cloud tank elements as a starting point. We brought Ian Hunter on to help us realize this. We wanted to design shots that felt grounded in reality and the best way to do that was to actually shoot them. Mark Maher and his team at Odyssey Studios built the FTL ship, The Rubicon, The Aegis and The Beggar's Lament under Ian's supervision. Ian then brought in a motion control team and Les Bernstein to shoot the miniatures. For me, it was amazing to learn about this process and to be a part of it. These guys are truly dedicated artists and I loved every minute of it. In the end, the footage of the ships were invaluable as shot elements but also as reference for the full CG ship shots.
I should also mention that we did use some LED volumes on the show. Knowing the limitations of the technology, i.e. you can't focus on the panels without getting moire, angular color shift, only being able to shoot with one camera at a time… not to mention the lead time to create the content, we chose to look for targets of opportunity to employ the tech. A good example of this was the elevator ride and fall in episode one. Chris Keller and the team at DNEG, created content for us that we played back for the actors and DPs. It was great for interactive lighting and reflections. In cases like this we knew we would have to replace the background. Another good example of where the LED volume worked well was the intimate mountainscape scene in episode two with Raych and Gaal. We set up an LED wall in Ireland that we played back footage on from time lapse plates I shot at Hekla in Iceland. We had very little cleanup to do on those scenes and are 99.5% in camera save for a bit of floor cleanup.
Mike Enriquez // Just to add to what Chris wrote, yes, the visual needs for this show were very complex. The show had to look real, but also beautiful and non-evocative of other sci-fi properties. There was as much scrutiny given to composition and color palette as there was given to technical fidelity. More than once I was told by a vendor that we are scrutinizing the finishing of the FX work more than the blockbuster features they work on.
And as Chris mentioned, the reviews keep talking about huge or unlimited budget, which was not the case. We worked tirelessly to get as much production value out of what we had to work with as possible. Time and money were constant obstacles.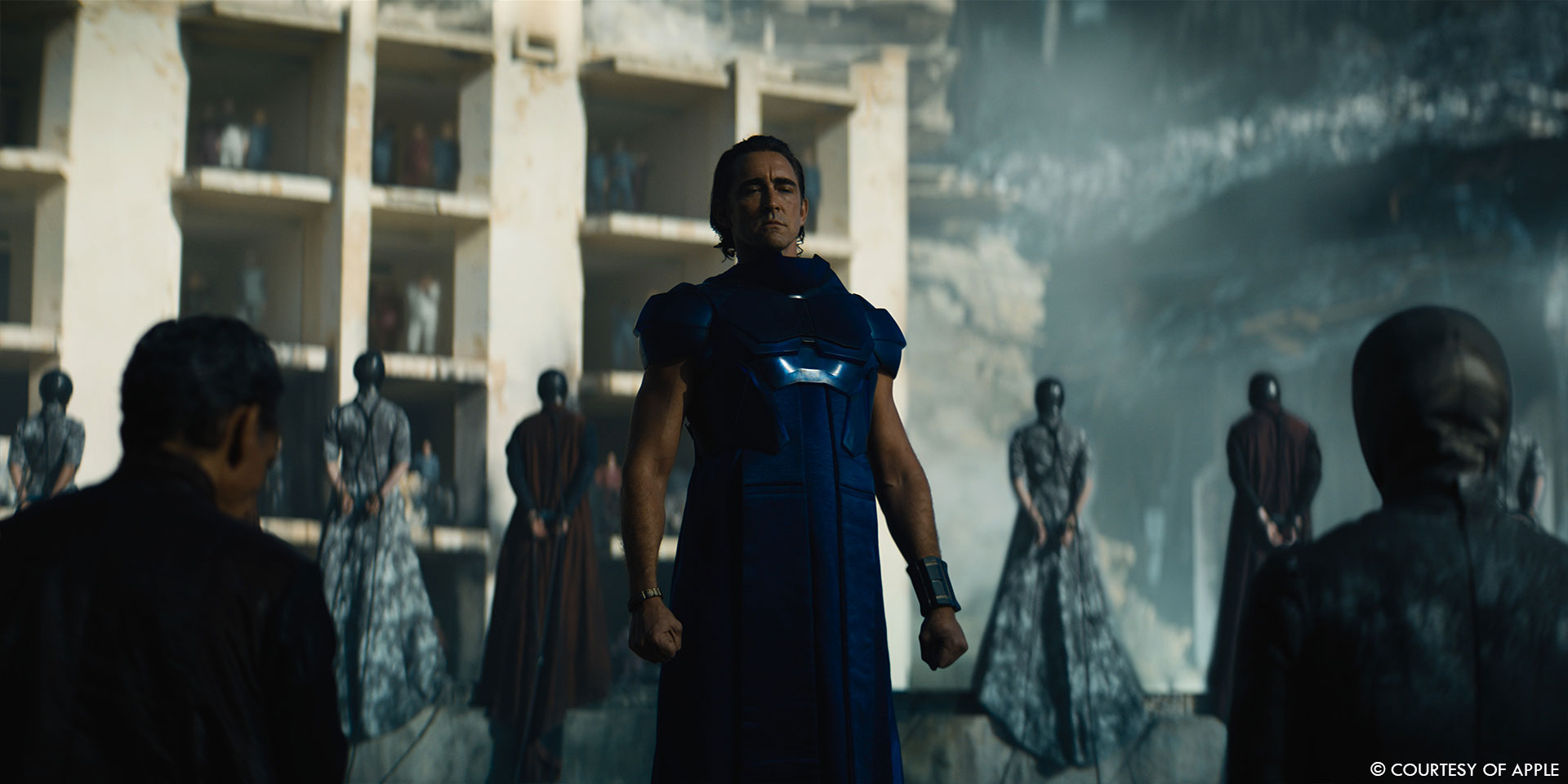 How did you organize the work between you two and with your VFX Producer?
Chris MacLean // Addie Manis, the VFX Producer, was based in LA with post and I was in Europe for the shoot. The time difference made communication difficult and we realized I needed someone with me on the ground. Pre-Covid we brought on Sarah Vinson as on-set VFX Producer to help with the day to day while Addie managed the budget and vendors back in the US. When Covid hit I came back to Toronto. Addie and I continued to work with the vendors remotely during this time. When we came back during Covid, it was difficult to travel to Europe from America, so we brought on Victoria Keeling as our on set VFX Producer. Around this time Apple asked if we could deliver early so we brought on Mike Enriquez as our Post-VFX Supervisor to get through the volume of shots. He became a great creative partner for me on the show. Kathy Chasen-Hay, the Senior VP of Visual Effects at Skydance, also played a huge role in helping get this behemoth project across the finish line.
It really and truly was a team effort and everyone involved deserves credit for their part in making the show happen.
How did you choose the various vendors?
Chris MacLean // We developed early relationships with ILP, DNEG, Mackevision, Scanline VFX, Mr. X, Outpost VFX, Chicken Bone FX and Bot. Tendril in Toronto came on early to help with design. These were vendors with solid creative teams and we knew that they could take the brunt of the work. When Covid hit, the whole industry was under immense strain. Shooting had been halted worldwide and the fear of the unknown put a lot of strain on the vendors, along with the rest of the world. There were furloughs, there were layoffs, there were forced wage reductions… a lot of people reassessed their work/life balance and left the industry outright. To put it bluntly, Covid created a labor shortage and we needed help. Thankfully Rodeo FX had capacity and was the first vendor to join the show post Covid. Then we were able to bring Crafty Apes, BUF, Rocket Science, Spin VFX and WhiskeyTree to help fill out the rest of the vendor side team. It was truly a VFX vendor effort of epic proportions and I'm truly grateful that we were able to find so many talented artists to help us.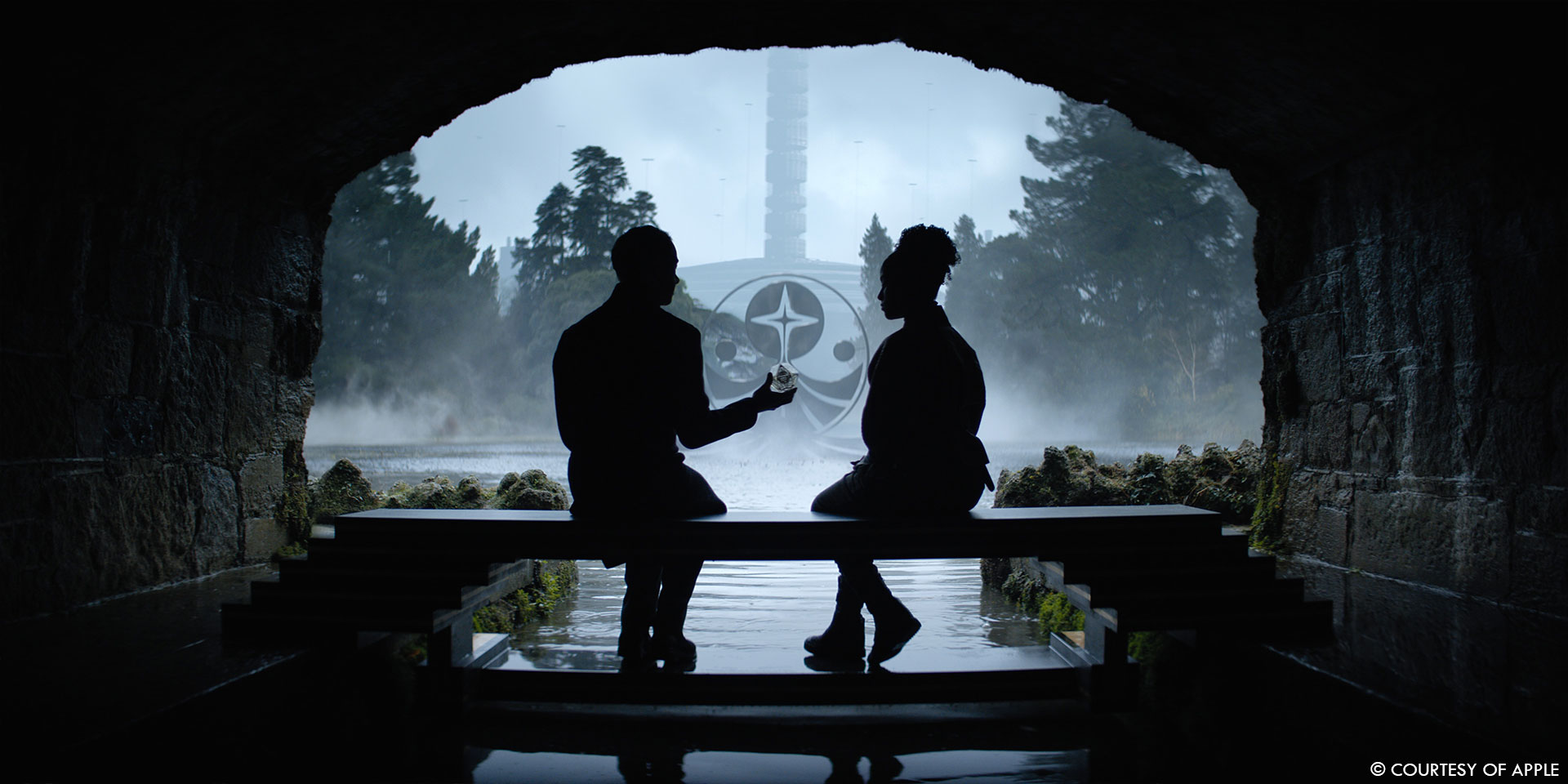 Can you tell us how you split the work amongst the vendors?
Chris MacLean // Forgive me if I forget anything…
Odyssey FX in Ireland built the miniatures of the ships.
Hires Lighting in Ireland did the LED hardware and content playback.
Tendril designed the Prime Radiant, the Psychohistory math and what we call Sandograms, which are particle based holograms.
ILP was responsible for the Synnax sequences and almost all of the water work.
DNEG was our volume vendor and did most of the heavy lifting. They were responsible for the majority of the Vault sequences, FTL travel sequence, Starbridge collapse, the Invictus, the Raven Math/Holograms, Trantor City establishers and the Imperial Palace sequences. They also executed the Psychohistory math shots and did the bulk of the Sandograms.
Mr. X did the Spacers and the bulk of the creature work, like the Bishop's Claw, the Hive Mind Lizards and the Ice Lunes. They also did some of the Terminus extension work.
Outpost were responsible for Demerzel, the Rubicon, Maiden Moon, Surrah and some of the Vault sequences. They also were our de-aging vendor.
Mackevision did the Deliverance slow ship work, Crypod and the Mural of Souls.
Scanline did most of the Terminus city work, timelapses, Helicon Raven shots and some Sandograms.
Rodeo took on the Trantor Scar, the Aegis, the Lancers and some creature work.
Buf did some of our space exteriors, the Spiral cave, Raven shots, both exterior and interior.
Chicken Bone did some Vault shots, Cleonic Aura effects, Holograms, some Synnax water work, Sandograms, muzzle flashes, and cleanup.
Crafty Apes did crowd and Vault shots.
Bot did the majority of our wire removal and paint work. They did some Terminus CG work as well.
Spin, I can't say exactly what they did because they are major plot points but they did some work involving the Anacreons and Synnax.
WhiskeyTree did some Terminus work for us.
Mike Enriquez // The only one Chris missed was Rocket Science, who did some interior Invictus work for us.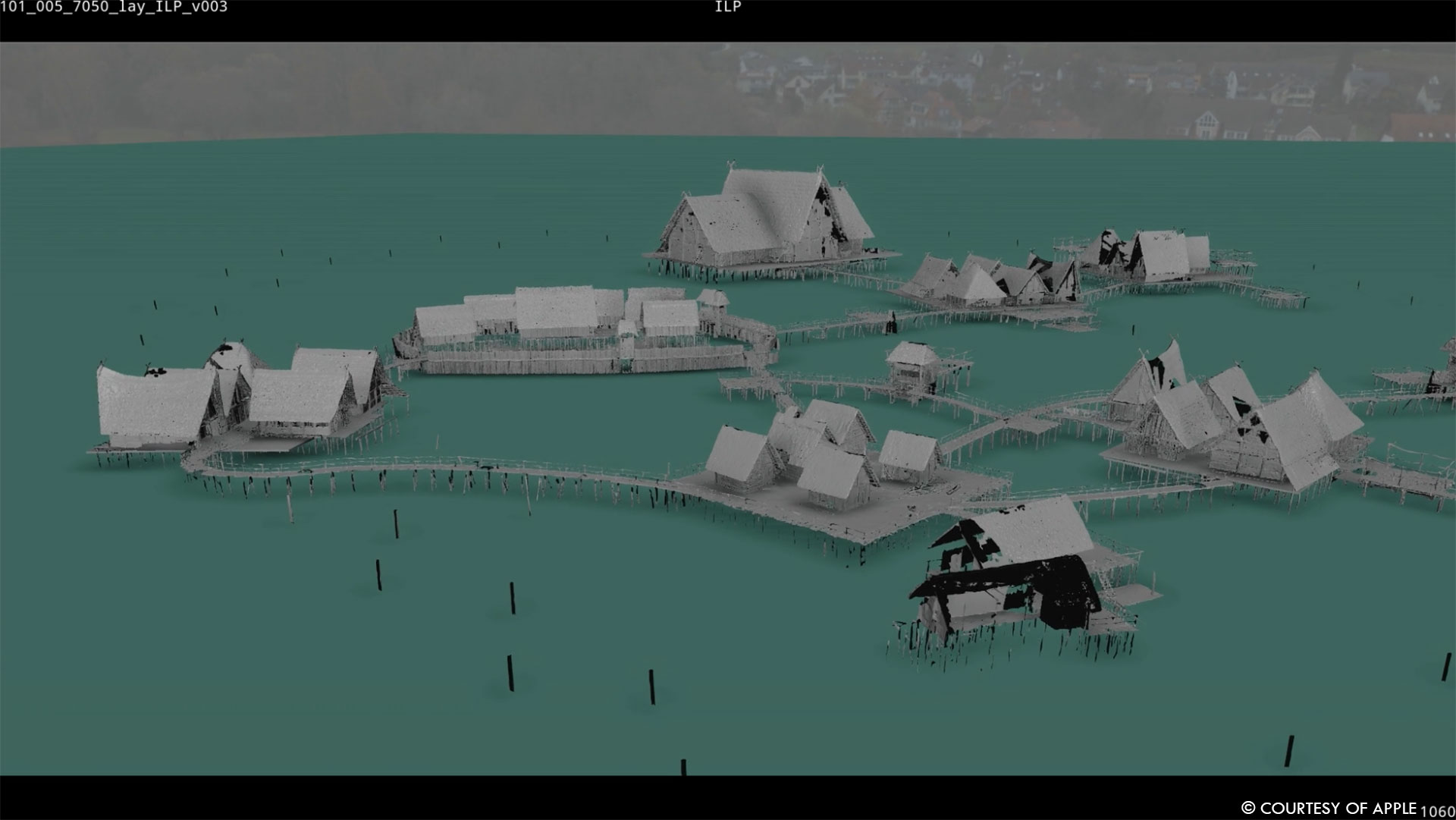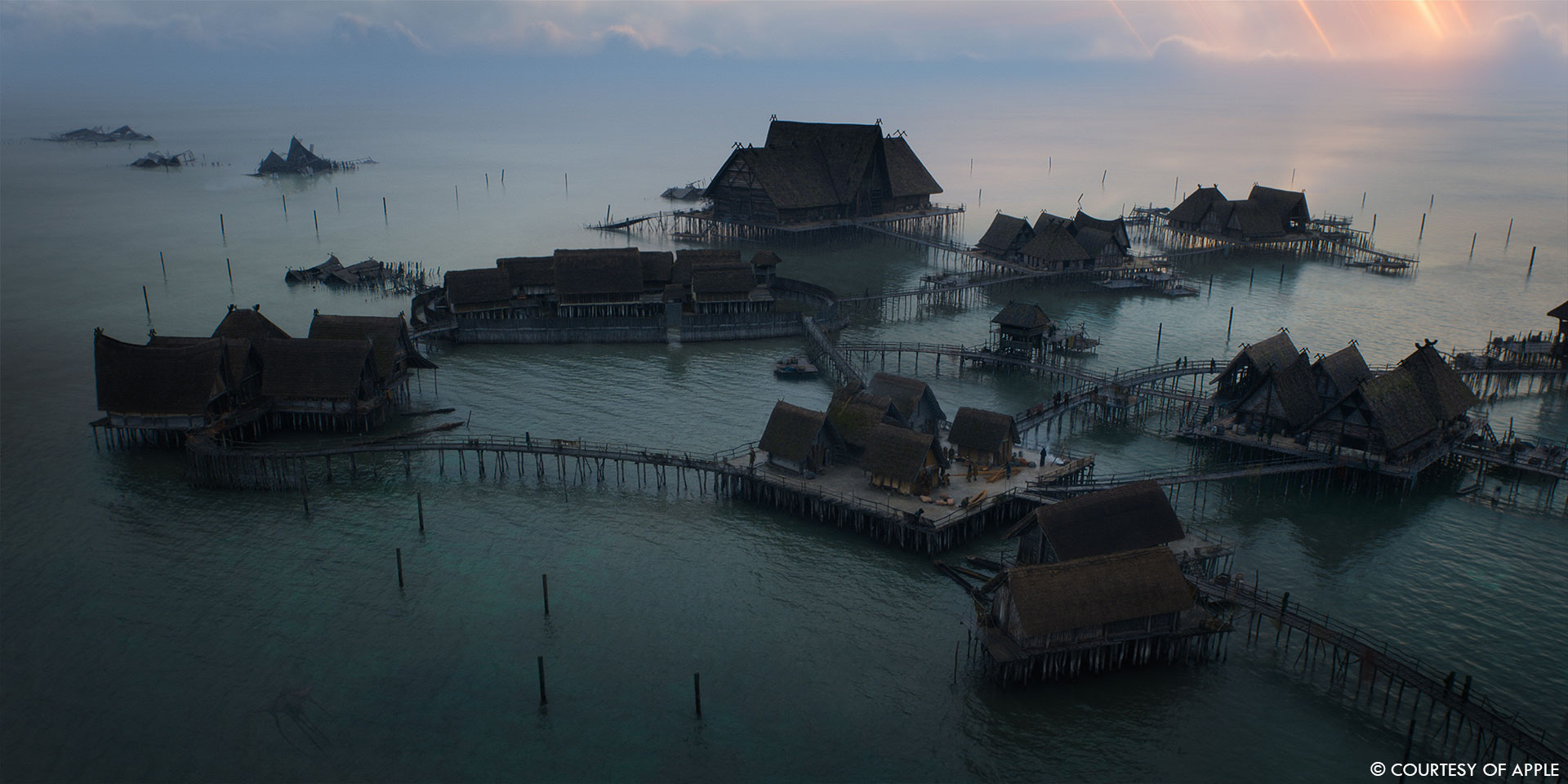 Where were the various exterior sequences filmed?
Chris MacLean // We were based in Ireland. We had our studios there and shot some exteriors in Adare and Dublin. Iceland and Canaries were where we shot Terminus, Malta, we shot in the tanks and locations there. Germany was shot for Trantor. The more we got in camera the more I could spend on the big VFX set pieces, so Rory and I really collaborated. We went out of our way to find locations that worked for the story and gave us the epic scope we were after without breaking the bank.
How did you work with the art department for the various locations and ships?
Chris MacLean // Rory and I were in lock step for the whole show, the Visual Canucks, like Bob and Doug Mackenzie in space. We scouted together, he would take a design as far as he could and then hand it off to me for our piece of the VFX puzzle. I put a bug in Rory's early on, I told him I needed designs for not just what we were going to shoot but for all of the VFX worlds as well. More times than not the visual effects heavy design falls on our plate after the fact but we wanted a cohesive world. I helped where I could and where I was needed, like the Prime Radiant, Sandograms and Vault, but Rory really took what I said to heart and went for it. We hired a lot of great concept artists, like Paul Chadeisson and Wayne Haag to help with the ships and fleshing out the worlds. 
I think one of the coolest ship design moments was when Rory and I came up with how we were going to visualize FTL travel. We were watching a lot of Sci-Fi movies at the time and we kept going back to Interstellar for how grounded it was in reality. We had an "Aha!" moment, what if the ship generates its own singularity and folds space! I took this to Chris Keller and the team at DNEG started riffing on it. It became our perfect moment to do an homage to some of the Sci-Fi visionaries of the past but also to make something of our own.
A lot of our aesthetic for this moment, and many others in the show, was based on this premise: What if we took the grounded reality of Interstellar or Gravity and then introduced the technicolor punch of a 70's Sci-Fi cover like a Chris Foss, Michael Whelan or John Berkey. For the FTL jump we were like, ok, DNEG knows how to do singularities and black holes ala Chris Nolan and Paul Franklin. Then I got thinking of folding space and kept going back to the slit scan sequence Doug Trumbull's effects for 2001: A Space Odyssey. I thought to myself what would that look like if we did that today? We shot some high speed wire wool elements that inspired some of the streamer effects. We introduced some smoky multicolored plasma. Once we put all this together… man, it was just so fucking cool. Even better, Paul Franklin stepped in to help us out with these shots. We showed this to David Goyer and he was blown away.
VFX took on a bit of the space work design like planet views from space but it was all based on discussions with Rory and buy off from David. Tory Miles and Jordan Nieuwland did some planet dev for us, like Anacreon, Thespis, and Maiden Moon.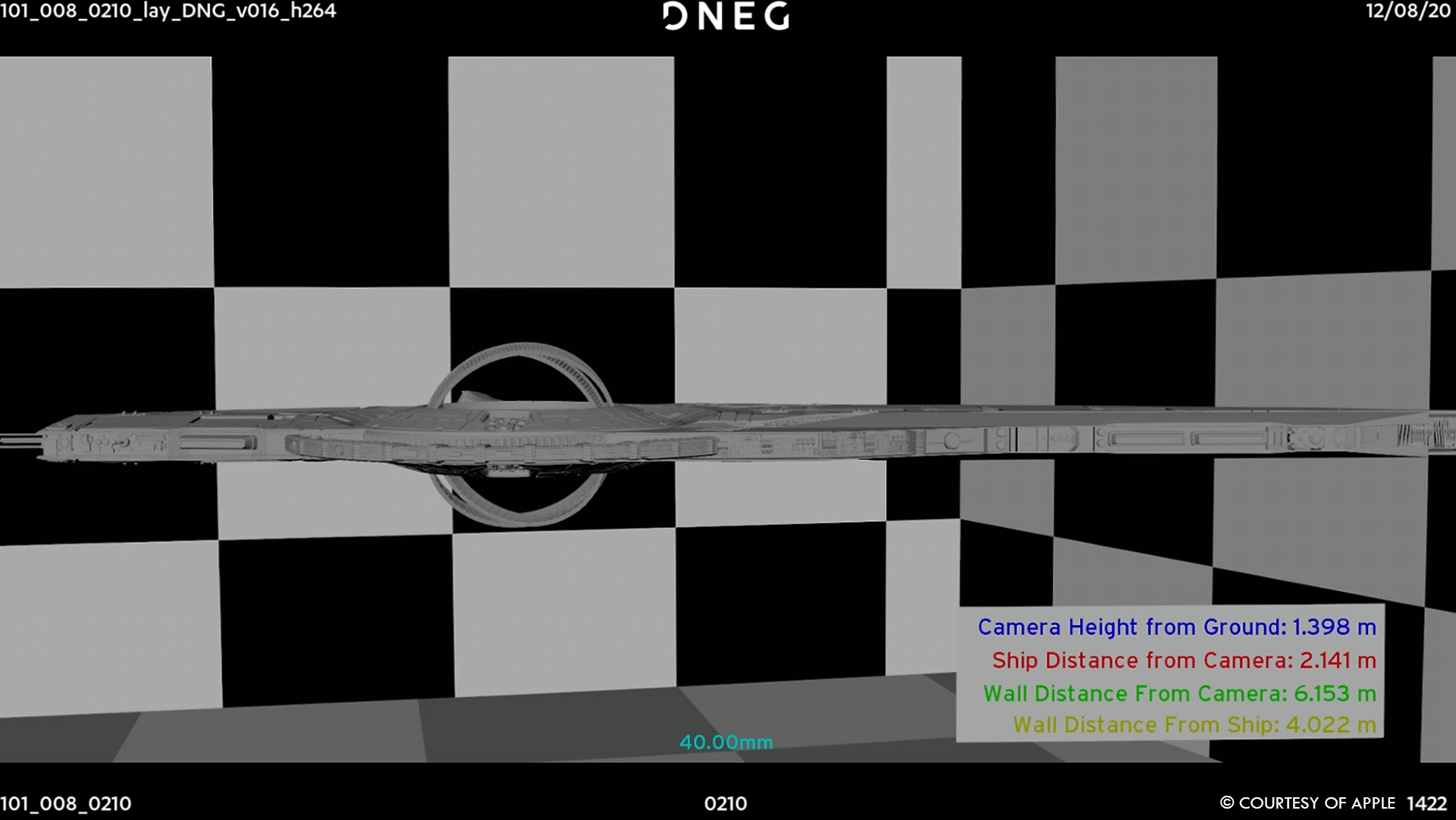 Did you receive specific indications and influences for the locations and ships?
Chris MacLean // I can't speak for Rory too much but if you look at the design language of the ships they are all based on basic primitive shapes or based on a simple idea. The FTL ships are knife blades that cut through space and time. The Beggar's Lament is a galactic bush plane, like one that might deliver people and goods to Alaska. The Invictus is three concentric rings. The Imperial Shuttle is a switchblade. The Deliverance is a long haul tuning fork. The Blue Team Shuttle/Synnax Transport is an inflated microwave popcorn bag… I made that one up but you get the idea. We would start from those simple ideas and then flesh them out from there with the concept artists and design teams.
When it came to the environments we were very much influenced by what David had written and the description of the environments. Terminus was a planet low in metals and had extreme weather. Anacreon is a jungle planet. Thespis is a planet rich in metals and palladium. We would then look for locations that worked with our aesthetic and augment them to fit our needs. Rory had a design or style in mind for every world. Trantor was brutalist. Terminus was a Western frontier town. Synnax was a mix of Bolivian Boat Culture and Neolithic Germanic Engineering.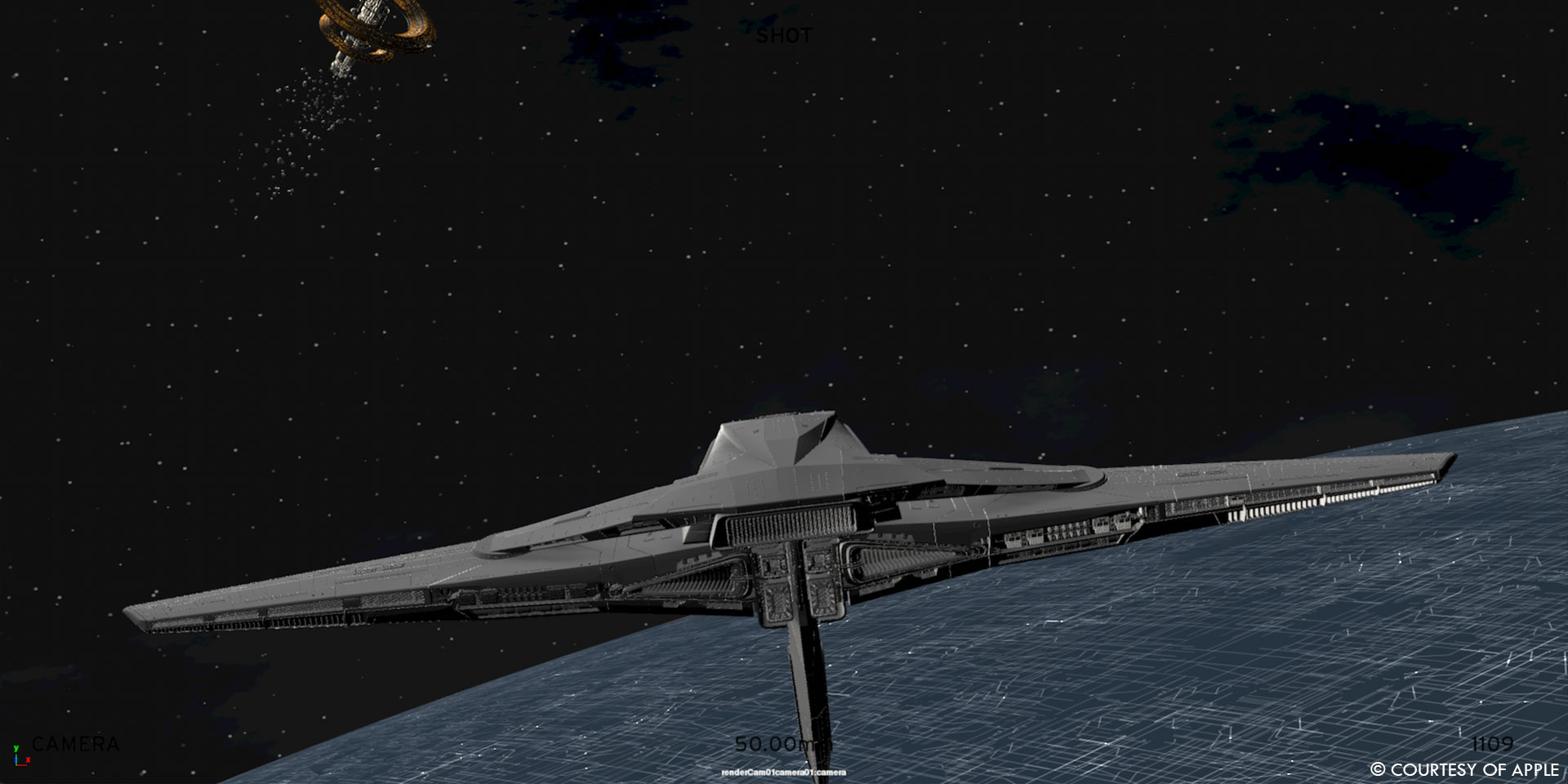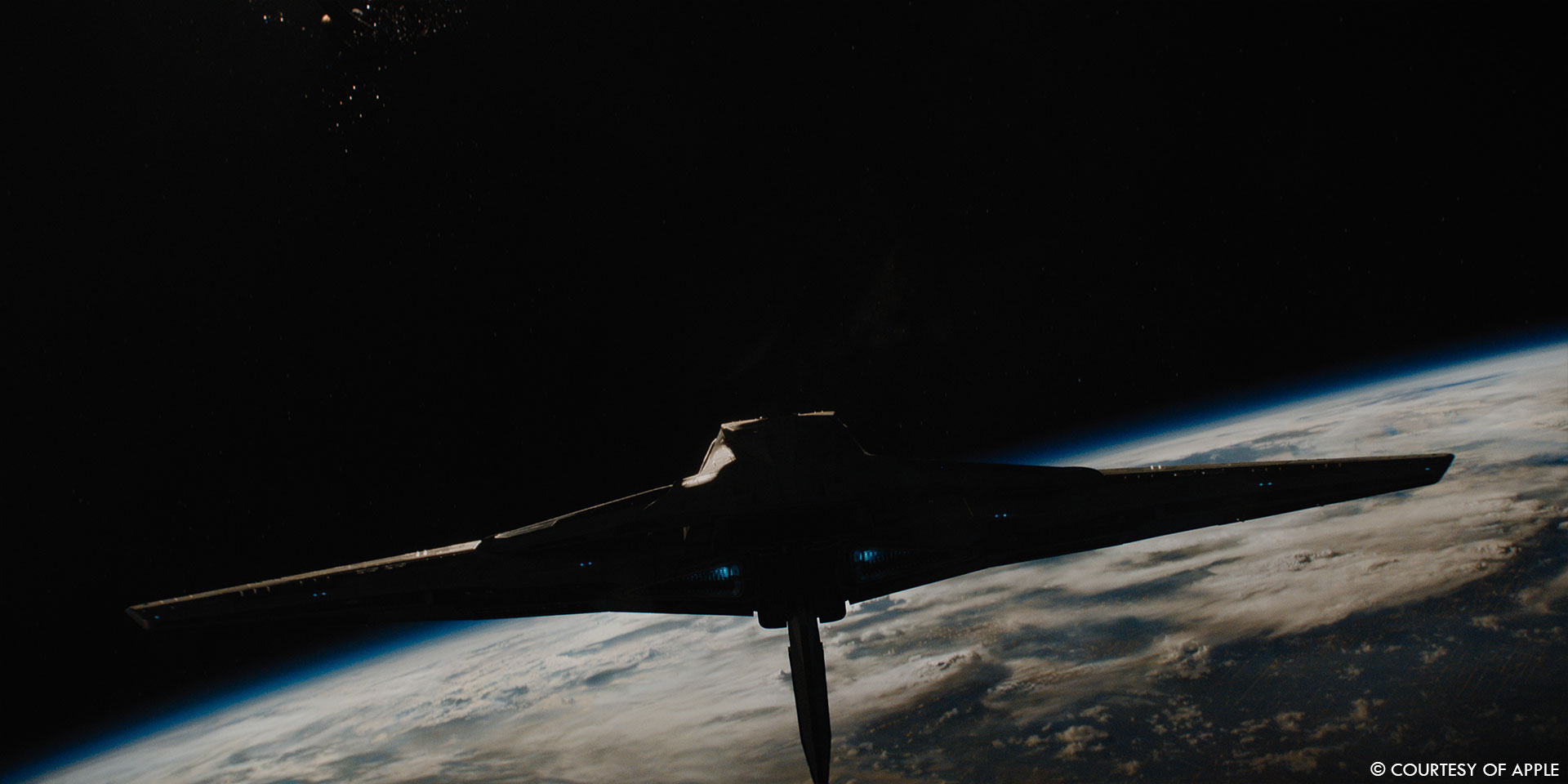 Can you elaborate about the creation of the various environments?
Chris MacLean // We spent a lot of time finding locations that worked for the story and then augmenting them instead of building the sets outright. A good example is Gaal's hotel room in the first episode. That was a floor of the ICC in Berlin. The window was there and there was that great set of cylindrical windows to the right that were in camera. Rory built the hotel room around the window and VFX scrubbed out the Berlin buildings and put Trantor out there.
For Terminus we started in Iceland based on David's description of Terminus, and then moved to the Canaries. Rory built a portion of the Foundation City there and then VFX extended it and we extended the tower. For the most part we got most of this in camera. We did a lot of in camera work there around the city as well. It kind of became our volcanic Terminus backlot. We shot a bit of Maiden Moon there as well.
Synnax was probably the most difficult VFX location. The tank in Malta faces north and you always want to shoot South to avoid squinting actors and front light so we bit the VFX bullet and decided to roto everything instead of using the one side of the tank that faced the ocean. We coined the phrase FRE: F**cking Roto Everything.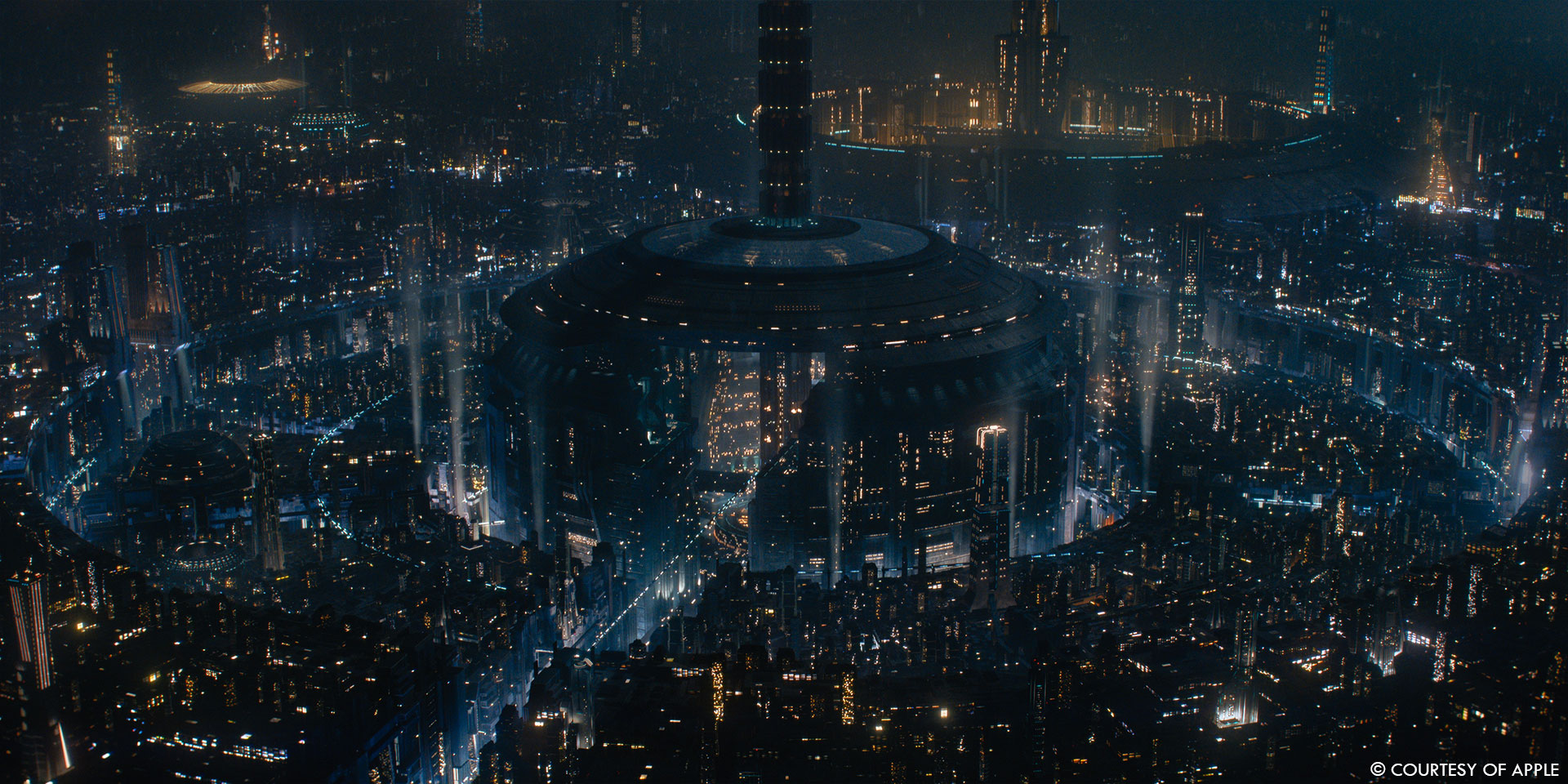 Some of the environments are really vast. How did you handle the scale challenges?
Chris MacLean // We picked our moments. One thing that we tried to do was to save the scope for when it paid off. For example, if we were in Terminus we would intro the scene with a big shot of the moons and the city and then go to medium wides and close ups. Another trick we employed was shooting anamorphic or wide open so the background fell off. Skinny focal widths are your friend when you are trying to mitigate runaway VFX shots.
The locations are seen in various lighting conditions. How does that affect your work?
Chris MacLean // Balls and Charts and HDR captures, oh my! Because we would often be running an exterior scene at a location from sunrise to sunset, we would need to collect as much lighting info as possible. Every setup we would get a set of balls and charts, or roughly every half hour. We would also take an HDR capture every half hour to hour depending on the lighting change. These were the rules we set up with the ADs and we managed pretty well. If there was a rogue cloud during a take we would make sure we got a new data set as well. Our data wranglers were champs on this show.
Can you tell us more about how the various shaders and textures work?
Chris MacLean // In general? Shaders and textures are pretty straight forward these days. PBR engines and shader unification allows us to collect and share data between multiple vendors and they can all usually get the same results, depending on artists of course. Whether it's Arnold, Renderman, Clarisse, V-Ray, Mantra, all of the render engines have started to standardize their shaders a lot more. I mean you still get differences like roughness vs glossiness or metalness vs reflection color and things like that but the science is relatively similar. Everyone still seems to have their own flavors of subsurface scattering though.
As for textures, a lot of custom paint work was done for things like the ships, creatures and spacers. Everyone has their favorite tools these days, Mari, Substance, Zbrush, Photoshop, etc. Not much has changed in that regard over the last five years save for 4k and HDR TVs which have put a huge strain on the amount of detail you need to put into your assets.
For the practical base textures a lot of our work off texture bombs of sets and locations. Drones were a huge tool for us on the show. We could scan large areas and get 3D data we could hand off for matte painting and tracking. For characters, digidoubles and crowds I built a 150 camera photogrammetry stage that we used to scan digidoubles and crowds.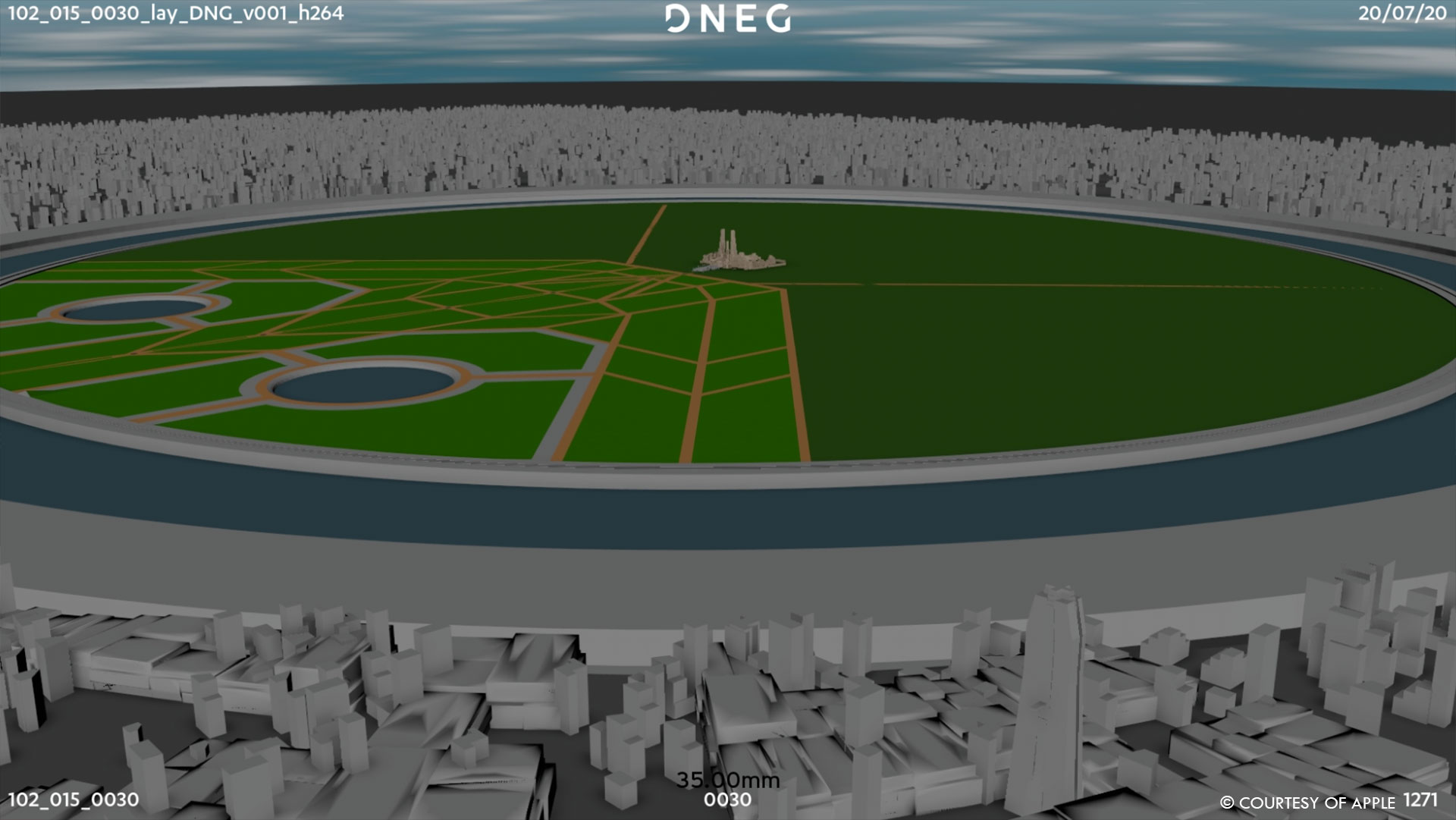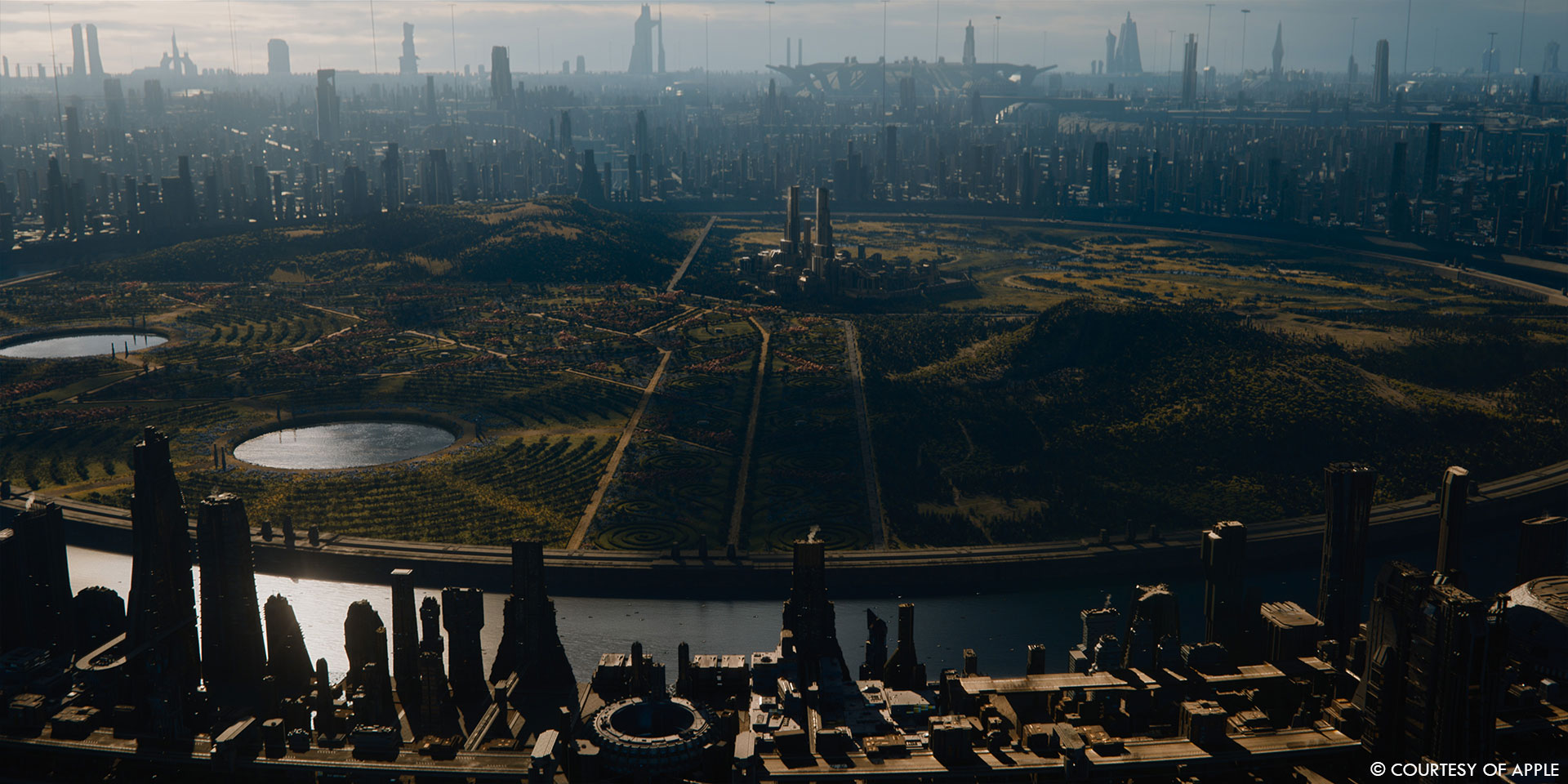 How did you populate the streets with crowd and activity?
Chris MacLean // We shot a lot of tile plates and did a bit of digi crowd work. Due to Covid we had to limit the number of extras so there was a lot more of this kind of work than we had initially planned for.
Which location was the most complicated to create and why?
Chris MacLean // That is probably a toss up between Trantor and Synnax. Trantor, because of the sheer amount of assets that needed to be created to make the city feel believable. Synnax, because we were shooting on a tank and had to seam up water with the practical.
How did you manage the impressive destruction of the city?
Chris MacLean // DNEG was responsible for this. They were involved early on with previs. We honed in on the shots and assets that we really needed for every angle and then they worked those up to be destructible. We couldn't afford to build the whole city so we had to be very pragmatic with our destruction and design these shots in a way that fit in our budget but didn't suffer from lack of scope.
Can you elaborate about the creation of the various ships?
Chris MacLean // The ships were designed and then we decided which ones we wanted to build practically and which ones we wanted to do exclusively in CG. We really wanted to do them all as miniatures but time and budget wouldn't allow for it. We also realized that given the accelerated delivery and Covid restrictions, we would have to do more digitally. The ships we did build as miniatures were 3D printed and then we lit them internally with LEDs.
We then shot them the same way you would render a shot. The vendor would deliver animation pass based on tech vis that would run the motion control camera rig and model mover. We would do a beauty pass, individual lighting pass i.e. engines, running lights, key light, back light. Then we did a utility matte pass. We got quite a bit of great footage.
We then digitized all of the practical models we built of the ships, scanned them and took texture photos. These were then given to the vendors as data sets to build the fully digital versions of the shots. Like I said, we didn't do this for all of the ships but it help keep us grounded in reality.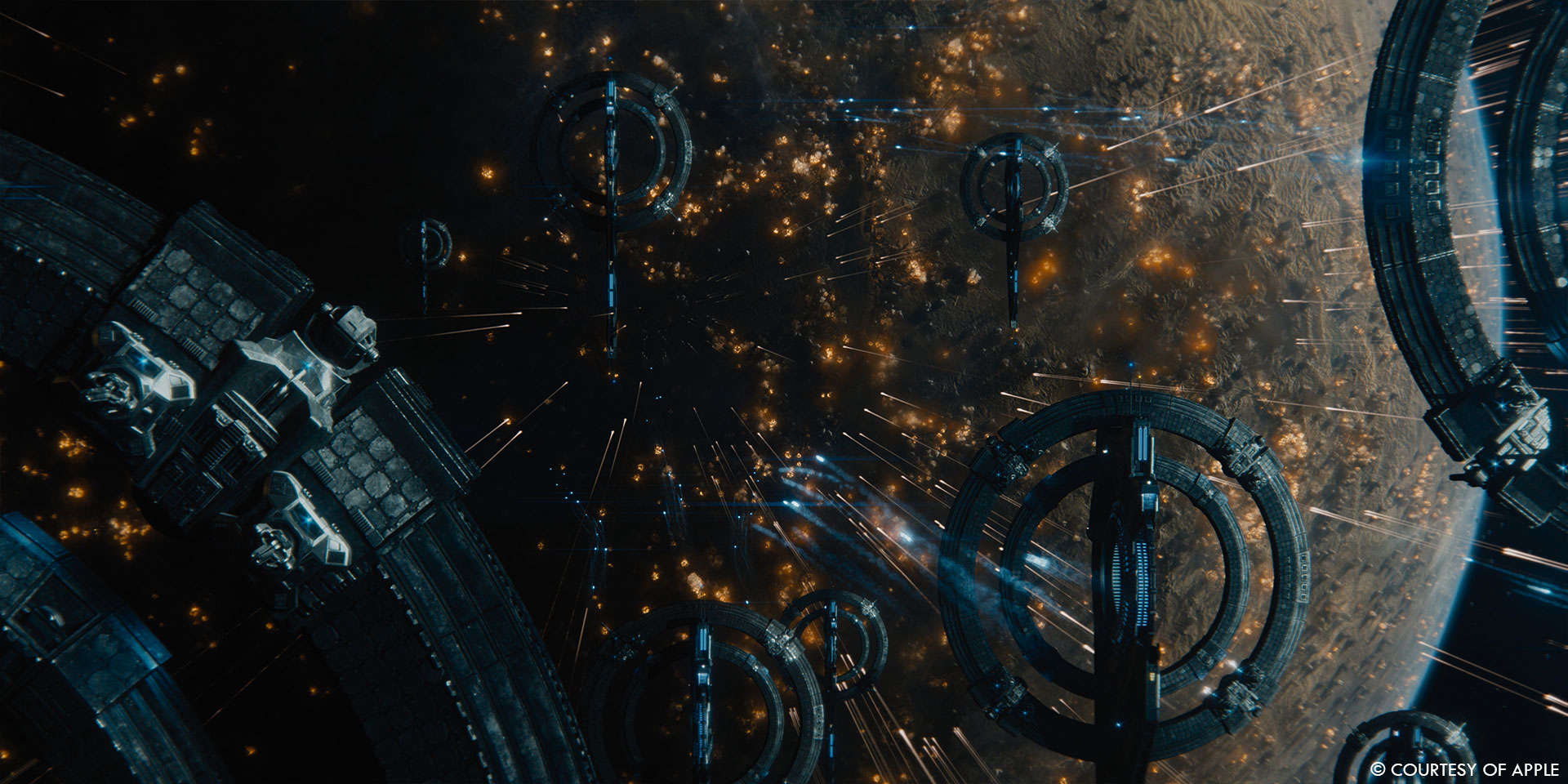 Some shots involved massive amounts of ships. How did you manage this aspect?
Chris MacLean // For the Anacreon and Thespin attacks in episode two we used a combination of CG and miniature elements to create the sequence.
Can you explain in detail about the beautiful "living" paintings?
Chris MacLean // Mackevision devved this for us and it turned out beautifully. David had written Mural of Souls as "active chroma." Rory and I pondered this for a bit. We started doing camera tests with acrylic in and ferro fluid. We mixed multiple colors together with magnetic oil and ran magnets under the basin. It looked great but we needed more texture. We both landed on the scene in Samsara as reference, where the monks are making a mandala out of colored sand and we were like, "what if the sand was magnetic? What if you stared at it long enough it started to move, like an acid or mushroom trip?" It also kind of lived with the same visual vocabulary as the Sandograms we were using for our Empirical holos. We sent the brief to Mackevision and they sent us back three test shots. David, Apple, Skydance, everyone fell in love with it. We had to pick our moments with it but it is most definitely one of my favorite effects.
Which sequence or shot was the most challenging?
Chris MacLean // Two sequences come to mind but I can only talk about one of them: The Trantor destruction sequence was definitely the most technically and budgetary challenging. We had to find a way to tell this story but keep it about the people who it was affecting. We had all these big grand VFX shots planned in previs and then needed to interweave the human element into it. We also realized early on that the elevator stalk was much too short in our initial designs so there were some pretty drastic blocking changes early in the sequence. That being said, it is one of the most satisfying to watch.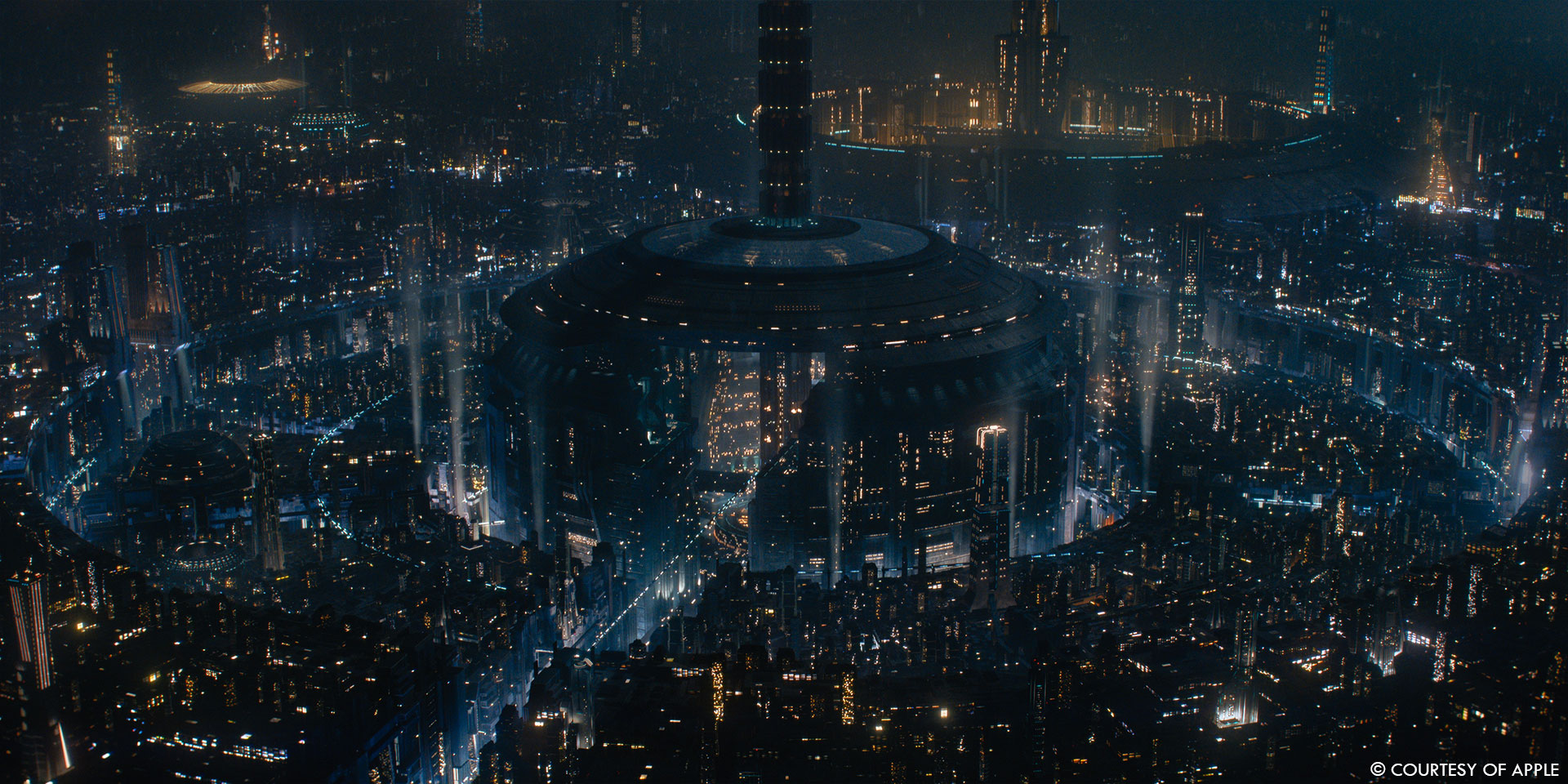 Did you want to reveal to us any other invisible effects?
Chris MacLean // Invisible effects aren't really part of the brief on this show;)
We did some de-aging on Mari and Abbas in 102 and 103.
Is there something specific that gives you some really short nights?
Chris MacLean // Early on I had a few nights where imposter syndrome kicked in a bit. Once I got in the groove with Rory though, it all became evident there was a path to making something we could all be proud of. Then when Covid hit, there were a few sleepless nights where we got to a point where we were dealing with so many vendors and so many issues related to schedule that I thought we weren't going to make it. We did though and I really do have my team and the vendors to thank for that.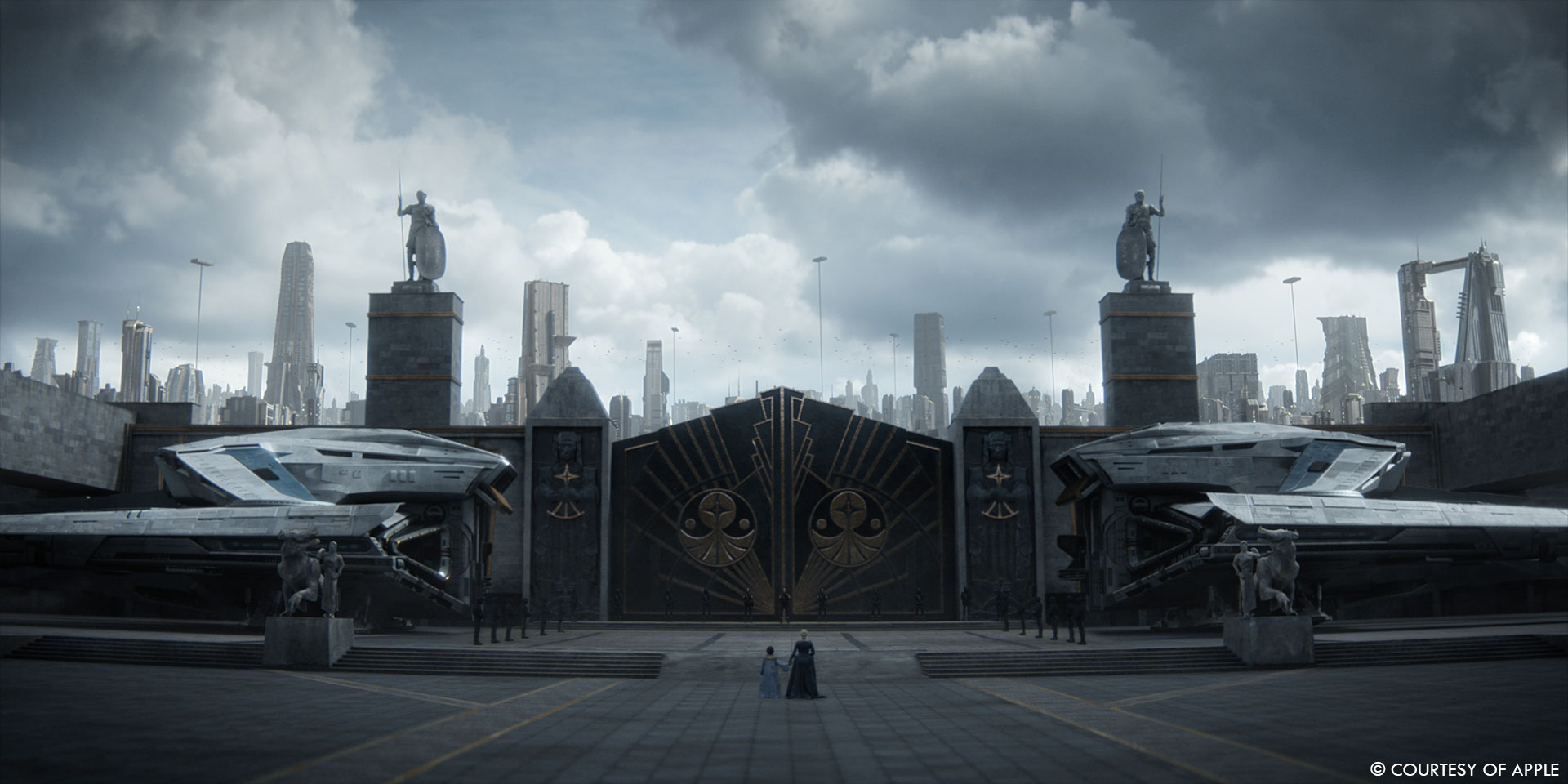 What is your favorite shot or sequence?
Chris MacLean // Visually, definitely Gaal leaving Synnax and her ride to Trantor in episode one. There is another scene with similar scope I love as well but can't talk about yet!
What is your best memory on this show?
Chris MacLean // Getting to work with some of the most talented people I've ever met. David, Rory and Michael. I've already written a novel. There are just too many to name, the cast, the Directors, the DPs, the cast, the crew, all top notch people. Also, with Covid I was very fortunate to have my wife, Stephanie, traveling with me the whole time. It was nice to have that kind of support and encouragement through all this craziness.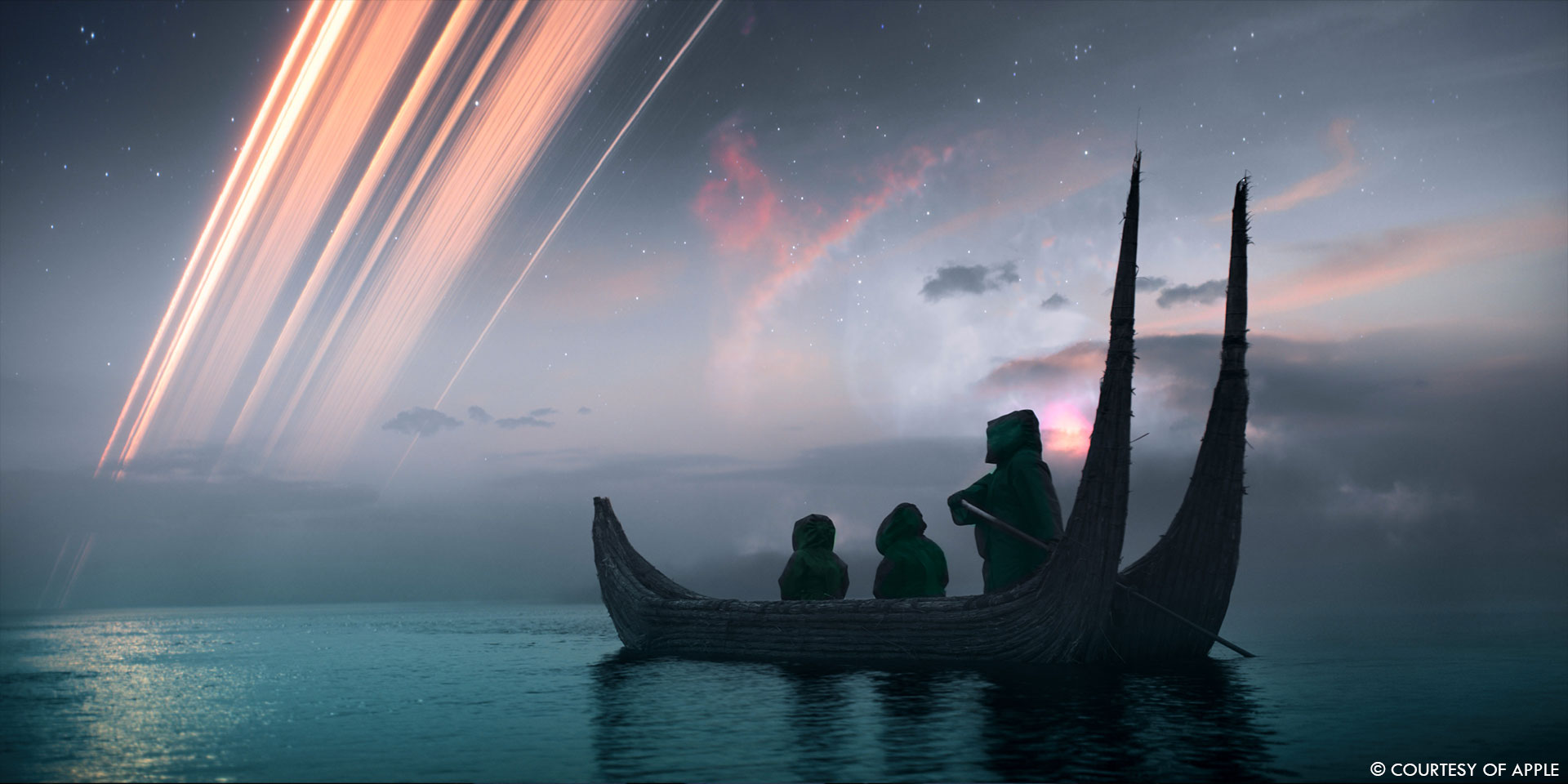 How long have you worked on this show?
Chris MacLean // I started on the show in March of 2019.
Mike Enriquez // I started in August of 2020.
What's the VFX shots count?
Chris MacLean // Exact count is pending but we are somewhere up around 3900 shots.
What is your next project?
Chris MacLean // Who knows where the galaxy will take me next.
A big thanks for your time.
WANT TO KNOW MORE?
BUF: Dedicated page about Foundation on BUF website.
DNEG: Dedicated page about Foundation on DNEG website.
Outpost VFX: Dedicated page about Foundation on Outpost VFX website.
Apple TV+: You can watch Foundation on Apple TV+ now.
© Vincent Frei – The Art of VFX – 2021