In 2017, Andy Kind told us about Framestore's work on PADDINGTON 2. He explains today his work on FANTASTIC BEASTS: THE CRIMES OF GRINDELWALD.
In 2016, Nicolas Chevallier explained the work of Cinesite on THE REVENANT. He then worked on X-MEN: APOCALYPSE, NOW YOU SEE ME 2 and BLACK SAILS. He joined Framestore in 2017.
What was your feeling to be back in the Harry Potter universe, Andy?
Andy: I really enjoy being part of JK Rowling's world. I love doing creatures; there's always a great creature to do in these films; that can be designed and conjured up. The whole Nagini snake thing caused a flurry of excitement after the trailer came out which was really exciting. These films are full of creatures that you wouldn't usually get to do.
Nicolas, what was your feeling to enter into the Harry Potter world?
Nicolas: I was really excited to come on-board. We were in a great position to tell more of a story now that the characters have already been introduced in the first film, and there was a great variety of work in the film.
What was the sequences made by Framestore?
Andy: In London, our work was set across the globe in Paris, London and a small amount of work set in New York. A large proportion of the shots take place within the Ministere des Affaires Magiques (French Ministry of Magic) which feature the Matagots' and the Zouwu. We also have various environment builds and set extension work, with the usual mix of wand fx, apparates and miscellaneous magic.
We also completed a sequence of the Zouwu in Paris, when she has escaped from the Circus and is terrifying Paris muggles. Newt comes to the rescue, using his innate understanding of magical creatures to entice the Zouwu into his case.
Another large body of work, consisted of recreating locations around London for the Newt and Dumbledore 'walk and talk' sequence. They are being pursued by aurors and continue to apparate and disapparate to different iconic London locations to avoid capture, including the roof of St Pauls, Trafalgar Square and Lambeth Bridge.
Nicolas: In addition to extensive set extensions of Paris and Switzerland landscape, Framestore's Montreal studio was in charge of thirteen creatures across the whole film. The work was very diverse including Place Cachée, the Circus of Arcanus' freak bestiary (the Oni, the Kappa, and Firedrakes) and set extensions. There, Creedence releases the Firedrakes and creates chaos leading to the Zouwu's escape.
We also had the privilege to revisit the Hogwarts Great Hall. Other creatures peppered across the movie were: two bird chicks, two Strillers, baby Grindylows, Graphorn, House Elves, Pickett and of course the Niffler! The End sequence is where Grindelwald makes a big reveal about his family origins and unleashes Creedence's powers.
What was your approach for the various environment creation?
Andy: For the French ministry, they had built a lot on set so we were extending what they had – we enclosed and finish off the dome around them, but we also had a sequences of domes that we interconnected with columns. It has a cathedral scale – they wanted to feel that sense of scale so we wanted to take the architectural feel of what they had spent so much time designing and we built the rest of it. We ended up using a lot of CG shots, to work with the camera and the animation. It was a big build; all of the shelves and everything inside had to be animated. We took the textures of what they built on set. It was a big challenge- we had to put a lot of artwork on the glass walls of this dome – there were magical beasts engraved which the Framestore art department worked on.
Can you explain in detail about the creation of London and Paris?
Nicolas: Plates were captured in Paris, but we still had to extend the city. It was a huge challenge, we had shots in both day and night settings. We used Stuart Craig's production design, original drawings of the city, references of the period architecture and LIDAR scans of Paris itself to make sure that we captured a close match.
Andy: We essentially had plates of green screen that we had to recreate London in. They shot a lot in London and shot some wides; we had to augment this to add dirt and soot so that the buildings felt period and dirty. That was lots of matte painting and lots of roto. We then added fog to everything!
Can you tell us more about the creation of Hogwarts?
Nicolas: We recreated the Great Hall entirely in CG using references of the set used in the Harry Potter films, preserved for the Warner Bros. Studio Tour in Leavesden.
Niffler is back in this new episode. How did you enhance his model since the first episode?
Nicolas: We had a chat with Tim (Burke) to discuss the later scene where the Niffler is hurt. He was to be wounded, but not be gory. To do this, we had to think about what happens when feathers come into contact with fire.
It was important to make sure that the audience understands that the Niffler is wounded, so we essentially went through a few stages: a Niffler with dust and ashes inside of the fur, a wound on the flank (missing some feathers) and curled feathers, which changes the look of his feathers reacting to the light.
Can you explain in detail about the Nagini transformation?
Andy: We used reference of a contortionist to see how she wrapped her limbs to fold into herself. The sequence was a tough challenge not only because of the long length of the single shot, but also for the compositing and creature FX teams, who worked with seven separate snakes rigged to create the illusion of the character turning into one large snake. We didn't want it to look disturbing, as though the character's limbs were being broken. We created a look where the limbs would break at the elbow to look softer and more like a coil instead of a hard joint; but it was done very subtly.
A new beautiful creature arrives, the Zouwu. Can you explain in detail about his design and creation?
Andy: They wanted to make the creatures a bit more outrageous, a bit more spectacular. With the Zouwu we went for something very visually striking. It's also one of the characters that has a narrative arc within the film which is quite unique.
The design changed a lot because we were never given a final design – there were many iterations that came through. As we moved through the course of production we found that she was becoming cat-like but also quite lizard-y. With the skins, we ended up covering her with fur over the tiger stripes- so all of that came through and was evolved throughout the process. It was important that we could adapt quickly when dealing with this creature; we knew she was going to keep changing so we had to have a process in place to reiterate quickly if we got a design change.
She was one of the most complicated creatures that I'd worked on. There was the tail, the anatomy, the fur, the tendrils of the mane; her varying bits and pieces added up to a very complex creature.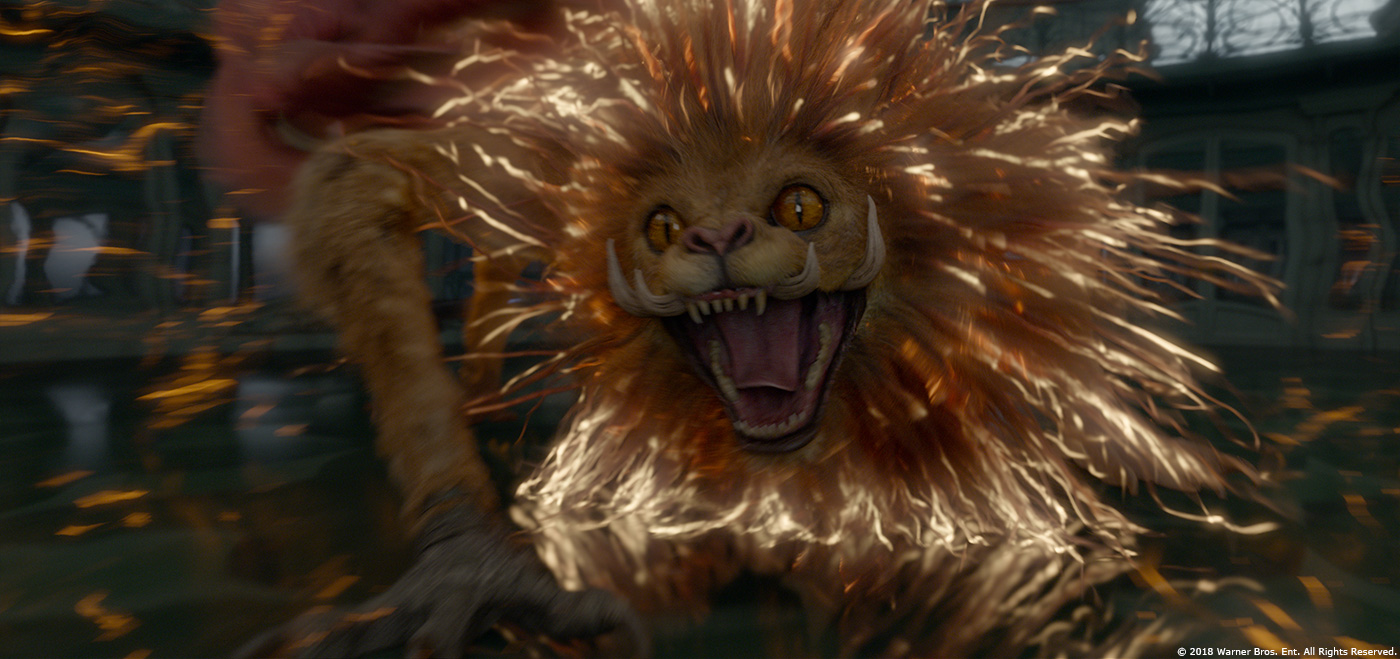 How did you handle her rigging and animation?
We had a performance test in how it could move; quite slinky and lizard-like – we were also looking at the Chinese dragon festival dances as reference. The tail was a big challenge – we had to build a rig so that the tail could scale and it makes a kind of graceful 's' shape as she moved so you could always see this curve of the tail in the shot.
Did you received specific indications and references for the Zouwu?
We had a small team stationed at Leavesden. 11 animators and a rigger overseen by Animation Supervisor Nathan McConnel. They worked on animation tests we could base the movement on.
What was the main challenge on the show and how did you achieve it?
Andy: The Zouwu was one of the most complex creature I've worked on.
Nicolas: The challenge was that the show demanded a lot of sequences, often one-off shots featuring creatures that need to be developed very accurately because they are so visible in a close up. It was a huge amount of work in prep and assets for those sequences.
What is your best memory on this show?
Nicolas: Definitely being on set with Christian while he was describing the shots- seeing the vision for the show!
What's the VFX shots count?
490.
What was the size of your team?
In Montreal: 156 and in London: 214.
What is your next project?
We can't announce this yet – but they are exciting projects for Framestore.
A big thanks for your time.
WANT TO KNOW MORE?
Framestore: Dedicated page about FANTASTIC BEASTS – THE CRIMES OF GRINDELWALD on Framestore website.
© Vincent Frei – The Art of VFX – 2018