Matt Kasmir began his career in the VFX in 1988 at The Computer Film Company. He works in the compositing and participates in many films such as KING KONG, V FOR VENDETTA or STARDUST. He joined Nvizible for GRABBERS and works on films like WRATH OF THE TITANS, SKYFALL or GRAVITY.
What is your background?
Starting as a runner at The Computer Film Company in 1988, I worked my way up to Compositor then Compositing Supervisor and then to VFX Supervisor. I did a brief stint as an FX TD after studying Computer Animation at Bournemouth in the mid 90s
How did you got involved on this show?
I have worked with Nick Davis on many previous shows, from CHARLIE AND THE CHOCOLATE FACTORY to WRATH OF THE TITANS.
As Nvizible has had a long relationship with him, we were on the show from fairly early on, as an in-house comp team, providing screen graphics, pre-vis and post-vis.
How was the collaboration with director Doug Liman?
Doug was a very hands director, so he gave us loads of ideas and was eager to see concepts as early as he could.
What was his approach about the visual effects?
He would like to see any VFX in a fairly progressed state, he wasn't a big fan of 'just grayscale', he liked to see lighting and fx to sign off animation and layout, but this gave us the opportunity to move forward with look dev quite quickly, particularly on the hologram sequence.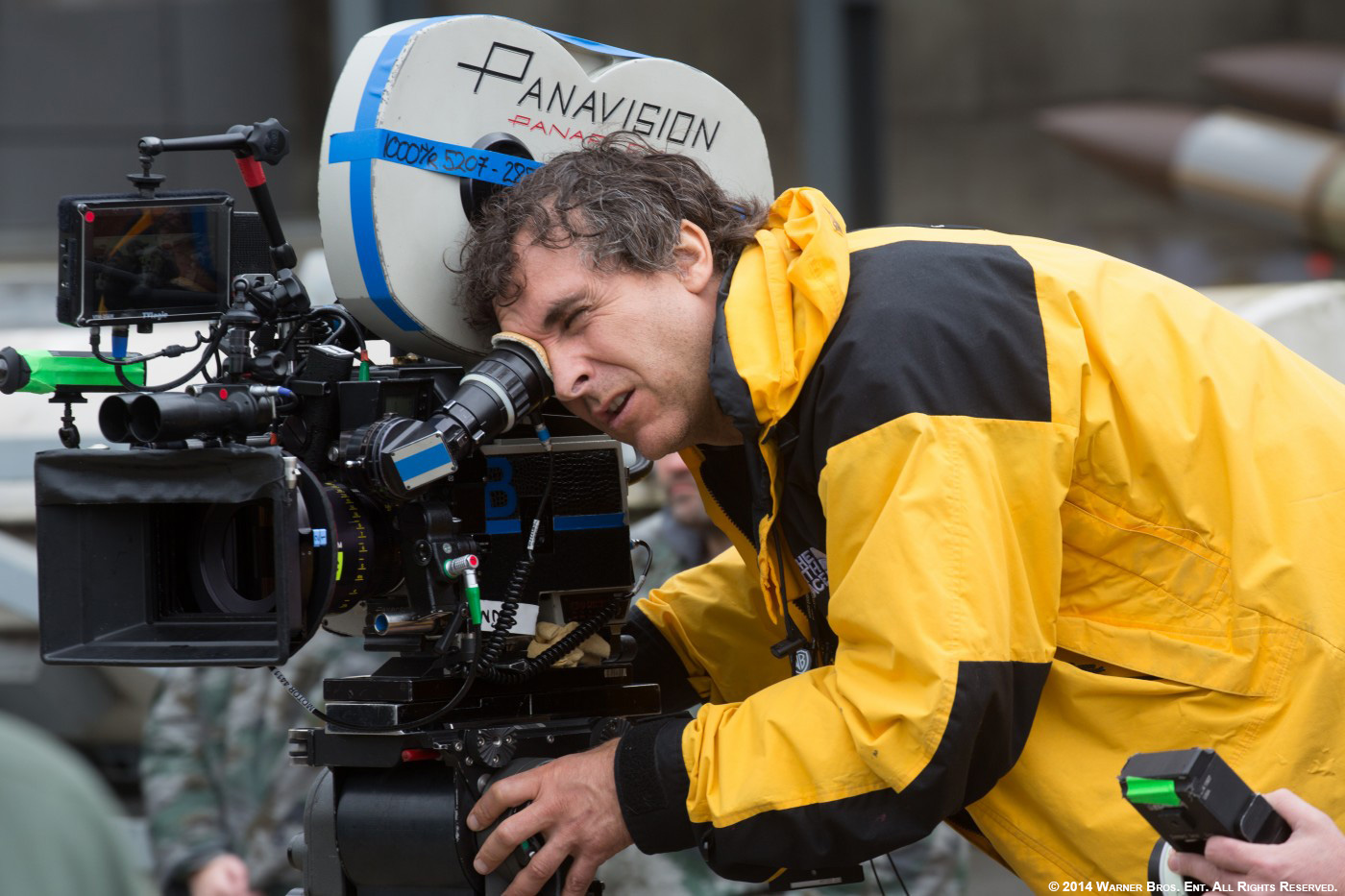 How did you work with Production VFX Supervisor Nick Davis?
Nick was very hands on, and as he was just round the corner, we had the luxury of little impromptu creative sessions, as well as the scheduled ones.
What are the sequences done by Nvizible?
We completed the VFX for the hologram table and any graphics associated with it.
A lot of the drop ship interiors.
Lots of fox hole BG explosion and missiles.
300 clean up shots and extensions as part of the in-house team
We postvised the end sequence.
Can you describe one of your day on-set and then during the post?
The back lot at Leavesden being converted into a beach was a highlight.
Can you tell us more about the postviz process?
We were supplied the model asset from Framestore, and we animated it in the the latest edit, giving everyone an idea of timing, pace and framing.
How did you recreated the various creatures?
We created our own interpretation of the creatures for the holograms from the original models. With Omega we had a lot more artistic license, because when it appears in the film as a hologram no one is meant to have seen it yet.
How did you approach the hologram creation?
We approached as a series of simple passes, an outline, a core, a pixel layer. In the end we used maybe 10 simple layers then look dev'ed these in comp.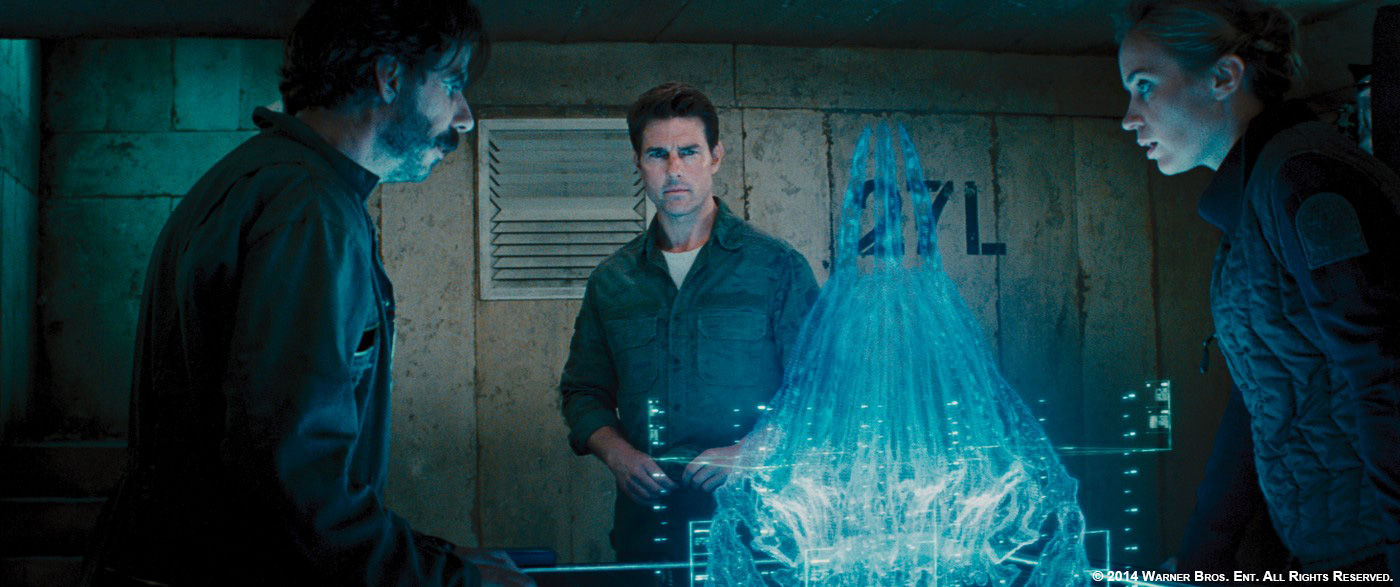 Did you received any specific indications and references for the holograms?
We had to match specific beats to match the action, other than that we drove the look ourselves.
Can you explain step by step about their creation?
We blocked out greyscale animation, so we could lock down the cut, this served to check tracks layout size and continuity. Once everyone was happy with this, the layers were rendered out.
The layers were then run through the look dev template scripts in Nuke. Later the opposite eye would run through the same scripts.
How did you manage the interactive lighting on-set?
With hindsight, we would have liked less light on center of the table so we could have kept the reflections. In the end we had to replace these. On the whole though we tried to animate our graphics to coincide with any lighting flickers and changed on set.
Can you tell us more about your graphics work?
The graphic had to tie in with the hologram, looking like they are all part of the same system. It had to look simple and utilitarian,
What was the biggest challenge on this project and how did you achieve it?
Making sure our hologram pipeline worked for stereo, as we knew early on we would supply right and left eye renders, as it is almost impossible to post convert a semi opaque object.
Was there a shot or a sequence that prevented you from sleep?
It was the opacity of the hologram, as a true light projected hologram should be transparent but this made them look too busy, so we had to cheat in more and more occlusion.
What do you keep from this experience?
Another really successful collaboration with Nick – and I'm proud to have worked on a film that I thoroughly enjoyed watching as that's not always the case with VFX heavy movies.
How long have you worked on this film?
We were on the show for just over a year.
How many shots have you done?
We had approx. 400 shots turned over.
What was the size of your team?
20.
What is your next project?
I am currently supervising KINGSMAN: THE SECRET SERVICE.
What are the four movies that gave you the passion for cinema?
A MATTER OF LIFE AND DEATH, BACK TO THE FUTURE, PARIS TEXAS and Romero's DAWN OF THE DEAD.
A big thanks for your time.
// WANT TO KNOW MORE?
– Nvizible: Dedicated page about EDGE OF TOMORROW on Nvizible website.
© Vincent Frei – The Art of VFX – 2014