In 2012, Jonathan Fawkner had told us in details of Framestore work on WRATH OF THE TITANS. He then worked on GRAVITY as additional visual effects supervisor. Today he talks about his work on EDGE OF TOMORROW.
How did you got involved on this show?
We were asked to contribute to very early script meetings. We were asked to flesh out ideas specifically about the exosuits and the aliens the start of shoot was looking and we needed to know what was going to be manufactured for that.
How was the collaboration with director Doug Liman?
We dealt more with Producer Jeff Silver in the early on and Nick Davis thereafter.
What was his approach about the visual effects?
As with the rest of the movie it was important to maintain his style of shooting and this extended to the design of the mimics and the action set pieces. Each Mimic has a specific motivation and continuity, should you have time to follow it in the hectic cut.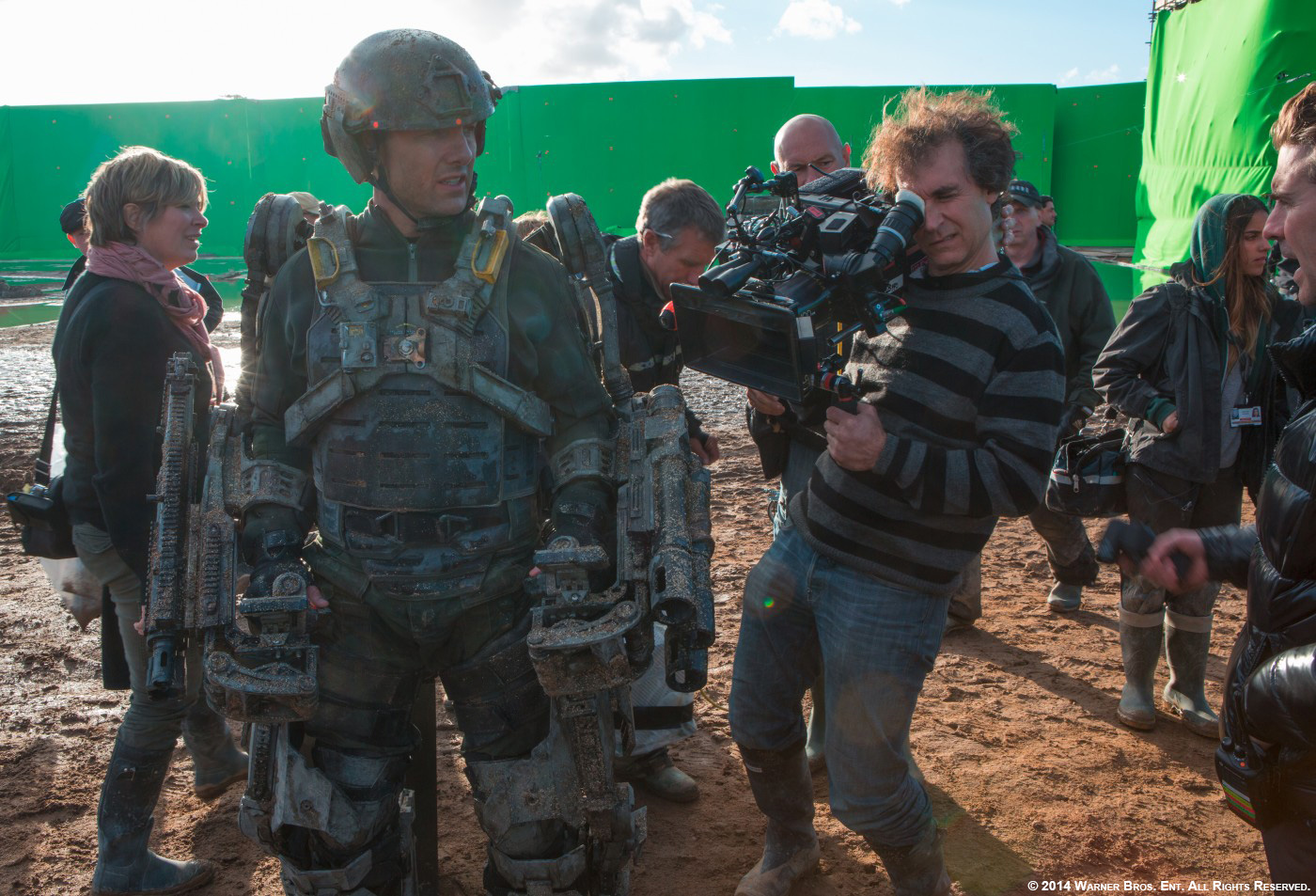 How did you work with Production VFX Supervisor Nick Davis?
Nick was available throughout shoot and post. Sometimes you only want to show off the worked up result but Nick knows the process so well that I'm always happy to air the Dirty laundry and show our mistakes and workings as it is more collaborative that way. We had live reviews with Christian Kaestner and our Montreal team using our shotreview+ platform which gives us access to simultaneous 2k playback of any version of any shot.
What are the sequences done by Framestore?
We looked after the Paris sequences except the underwater Omega and the Whitehall escape and Alps dam sequence.
Can you describe one of your day on-set and then during the post?
Well in post it is a fairly structured day with each department getting a slice f time in dailies. I like to wander around the artists and be available for impromptu reviews which is also why I traveled to Montreal frequently during post. Again, SRP allowed us to be location independent, even though it meant doing meetings at 5.30am on my hotel room laptop.
My weirdest shoot day involved chasing Tom Cruise around the set with a giant cross with tennis balls stuck to it wearing a green suit making Grrrr noises as Tom tried to shoot me (I'm exaggerating about the Grrrr).
Can you explain in details about the design work done by Framestore?
Framestore's visual development team worked on this project non stop for nearly two years.
Initially working alongside the production art department they created visuals for the beach and beach landings specifically the design of the exosuit jackets and soldier uniform. The VFX team established it's abilities and limitations. The aliens took nearly the whole of post to finalize and were a real collaboration between Nick, us, SPI, even as far as the Studio head Geoff Robinov.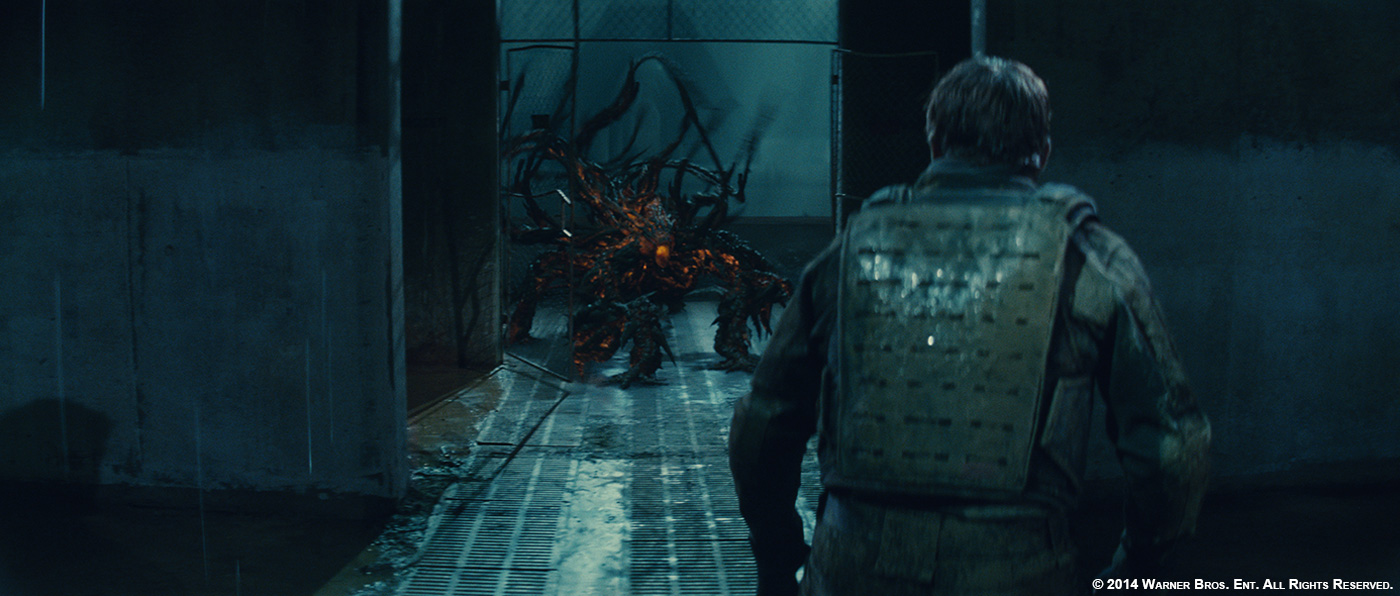 What are the indications and references you received from the Mimics?
There were numerous references both moving and graphic found often sourced by our Visual development team. Sculptures by Yong Ho Ji made out of old tyres was one that sticks in the mind but « Resonance / Deus Ex Machina » by SR Partners is a video that we found that came to embody the random and terrifying kinetics of the Mimics.
Can you tell us more about the Mimics creation?
The Mimics needed to be original of course, and so we embarked on a long process of trying to establish what would make them interesting, scary, but not undefeatable. At one point they had no head and could travel in any direction just as easily. Some of that remained in the final design, and even when they had a head it was important to Doug that just because they had teeth and looked scary, if they lead with their head they would look too terrestrial. « They don't bite! » he would often be heard to say.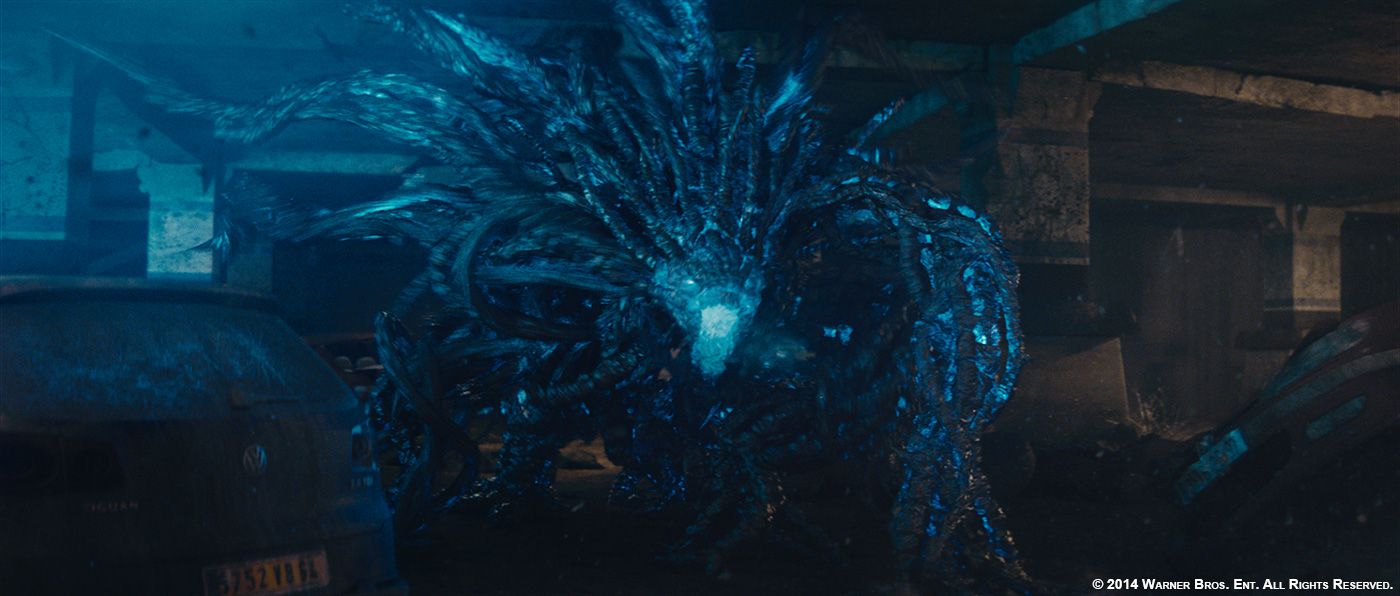 How did you collaborated with Sony Pictures Imageworks?
At a reasonably evolved stage, and because the first two acts were more settled in the edit, the asset creation moved to Sony as they would need them first. That included the Mimics. Our art department continued to work, but via Nick rather than in conjunction with Sony directly. We were able to repurpose assets pretty easily as we share similar Arnold pipelines, but our requirements were different. Our sequences took place almost exclusively at night, and our destructions were specific so there was only a certain point at which we could share.
Can you tell us more about the creation of the dam and its environment?
It was a sewage treatment plant in Essex, England, at least the top of it was. There was a crane shot over the top of the roof of this plant which was dressed to look frosted and iced, which we re-engineered to behave more like a helicopter shot extending in all directions using a 3D DMP. Once inside the dam there is a silo which we created empty with another DMP but handed to MPC to fill with a water and the Omega which was part of their award.
What was your work on the escape sequence in London?
The escape sequence involved a very short but ultimately satisfying stunt simply executed with a digital double over a couple of shots. It was a case of a good stunt, good brief, strong assets and good reference. We painted out a rig that was designed to crush the front of the car driven by Rita. We added a digidouble soldier and enhanced it with a smoky sim and interactive lighting. Lovely animation told the physics of the shot well and it's pretty hard to go wrong when everything comes together so well.
Can you explain in details about the Vision shots?
There are quite a few shots that never made it into the main body of the film but found new life in the « Vision shots ». Our team in Montreal developed a visual style to lay over material that would disorient the viewer but without confusing them. We then were able to use establisher shots from other parts of our Paris environment that had been dropped earlier in the production. It was great to give shots of the Eiffel tower and Louvre a bit more of life.
How did you approach the final battle in Paris?
We didn't know how much of Paris was going to be featured at the point that we needed to start building so we pretty much built all of it. There is no flying allowed above Paris either so we were not able to rely on photography from the right angles for the aerial shots. We needed to own the environment. We created a detailed Eiffel tower, Arc de Triomphe, Place de la Concorde, Jardin des Tuileries, Louvre Plaza as well as lower res models of Montmartre, Notre Dame, La Défense. It's all there if you look carefully. Of course it was not only going to be about building Paris, but it was also going to be about the fact that in the story the city is flooded. So these days, where there is water, there is fluid simulation and we knew we were going to have to rely on Framestore's fLush system to interact with soldiers and Dropships alike.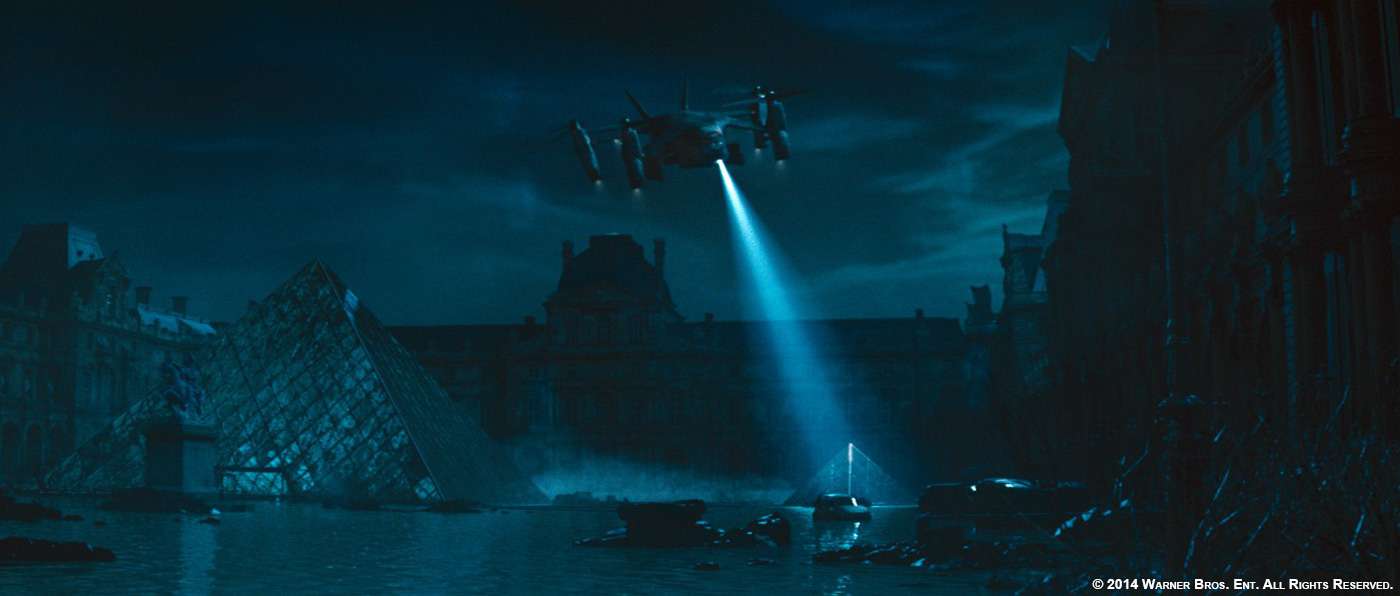 Can you tell us step by step the creation of the Louvres environment?
One thing we were able to do was get a crane in the Louvre Plaza. Amazingly, one freezing snowy Sunday morning in January, I dangled from an 300ft crane as it extended and rotated, taking still photographic reference of the whole of the front of the Louvre which was used to create a detailed photogrammetric model of the whole Plaza. We were also able to reconstruct large areas of the extended city using this as a reference and in some cases for texture. We also took detailed reference of all the Statues and surrounding streets over about a week long shoot. Once in the computer the biggest challenge was designing the Pyramid itself to at once look recognizable yet also damaged and distressed. Seeing CG building through 3 layers of CG glass and dirt poses a processor and memory load challenge for the lookdev department, which became more of an issue than purely how it looked.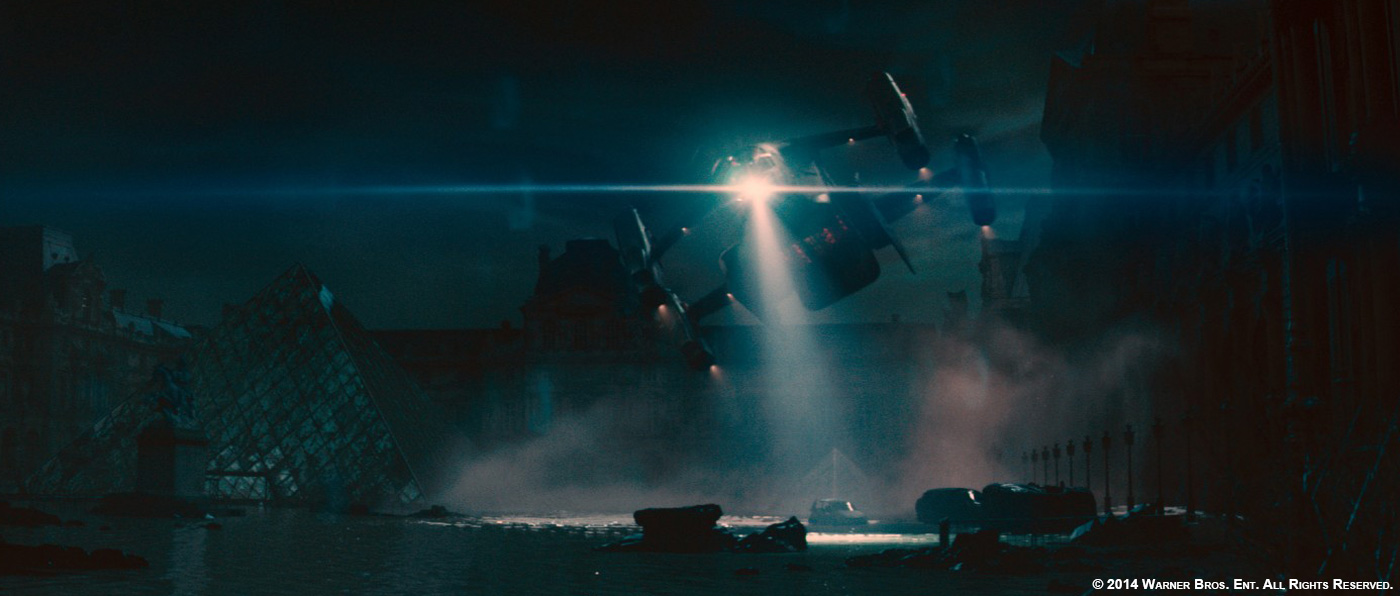 How did you manage the lighting challenge of this sequence?
Part of the problem with the Paris environment was that it was set at night in a world that had no artificial light in it. There was simply no justification for any light anywhere. So clearly no nighttime photography of modern Paris was going to be of any help. The viewer is forgiving of movie lighting on the whole when you try to sell night time, but that becomes harder when the camera is wider and further than you could normally expect movie lighting to reach. I didn't want to rely on stock photography as we were wary of a day for night look to the set extensions. We were matching into plate photography shot under lights at night and we wanted to match that look into the wider environment. Again we were reliant on our extensive Paris asset which we were able to light more in silhouette by dropping in volumes of fog and lighting that. It felt more feasible and closer to how it might have been achieved had we been able to shut down Paris for real and light the whole city.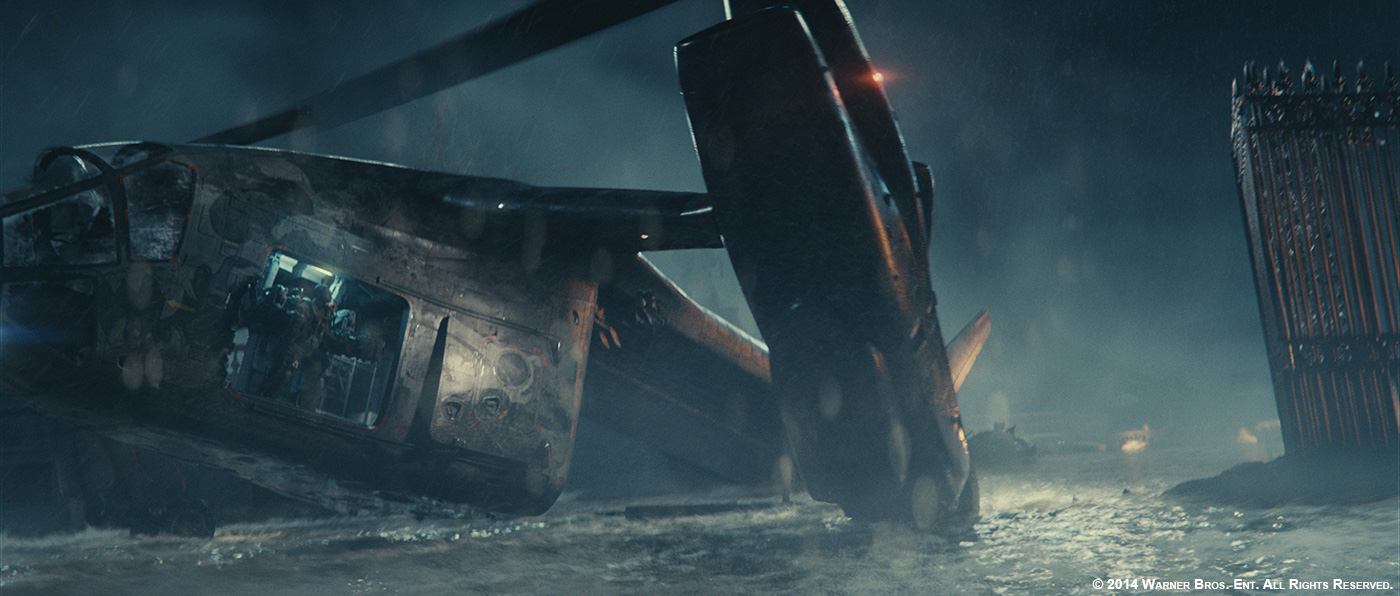 Water and fire are important parts of this sequence. Can you tell us more about their creation?
fLush does a great job with both water and fire. The tricky part for us was that these two volumes had to coexist next to one another. At one point we have fire falling onto water which is then sprayed at the camera. We were able to harness Arnold's ability to integrate multiple volumes. Ultimately everything reacted to everything and it was great to be able to use fire as a light source in an otherwise dark environment.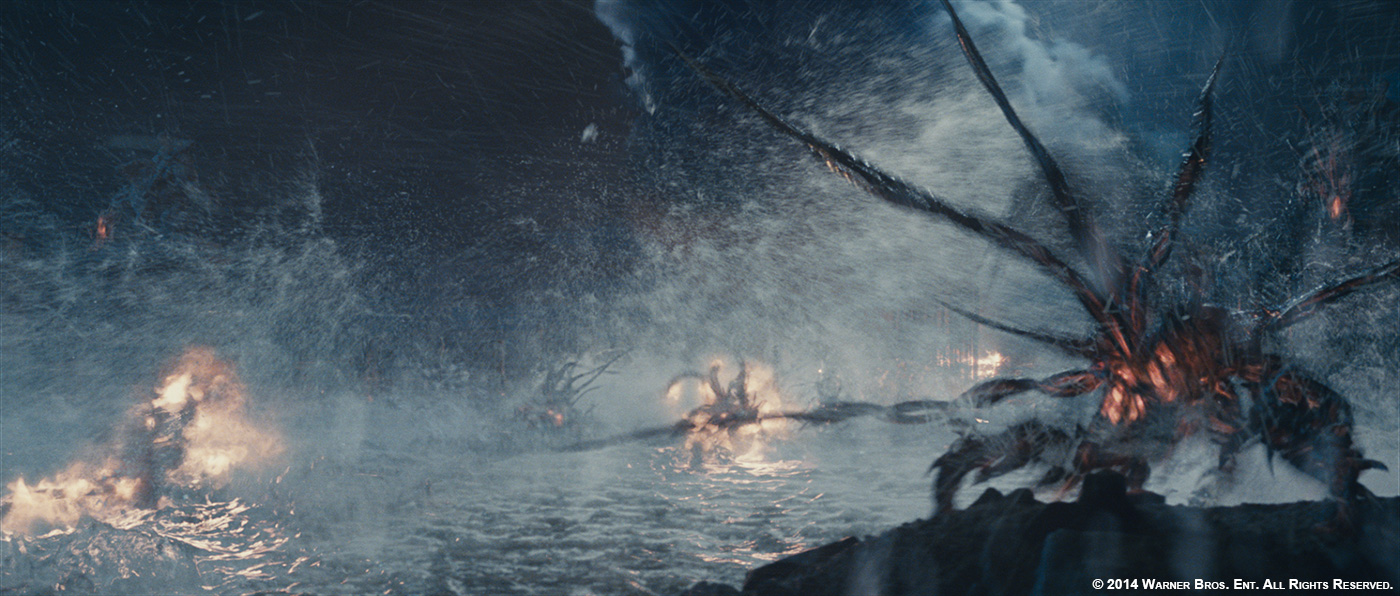 There is an impressive explosion and shockwave at the end. How did you design and created this effect?
The idea behind this was that the shockwave would be felt and not seen, so we didn't end up with a distorted warpy membrane type effect. Rather it would be a « volume » of light that would effectively rip through the world. Houdini glass and more fLush water were thrown into the air as for the last time our Paris environment came into view. It was extremely rewarding to see our precious Paris asset actually stand up to lighting in nearer daylight which is of course how we had look dev'd it. This shot came to us quite late in the day and had we not been as thorough in our preparations it would not have been possible to achieve it.
How did you split the work amongst London and Montreal?
I was delighted that we did very similar shots in London and Montreal. Our pipeline was very effective at allowing artists on either side of the pond work in the same way and produce the same look. Simply put, Montreal did the majority of the asset build for the show including Paris and the Dropship. It produced all the shots in the chase in the Tuileries and the scenes below the Louvre, building the whole of the the Louvre visitors centre and car park sets.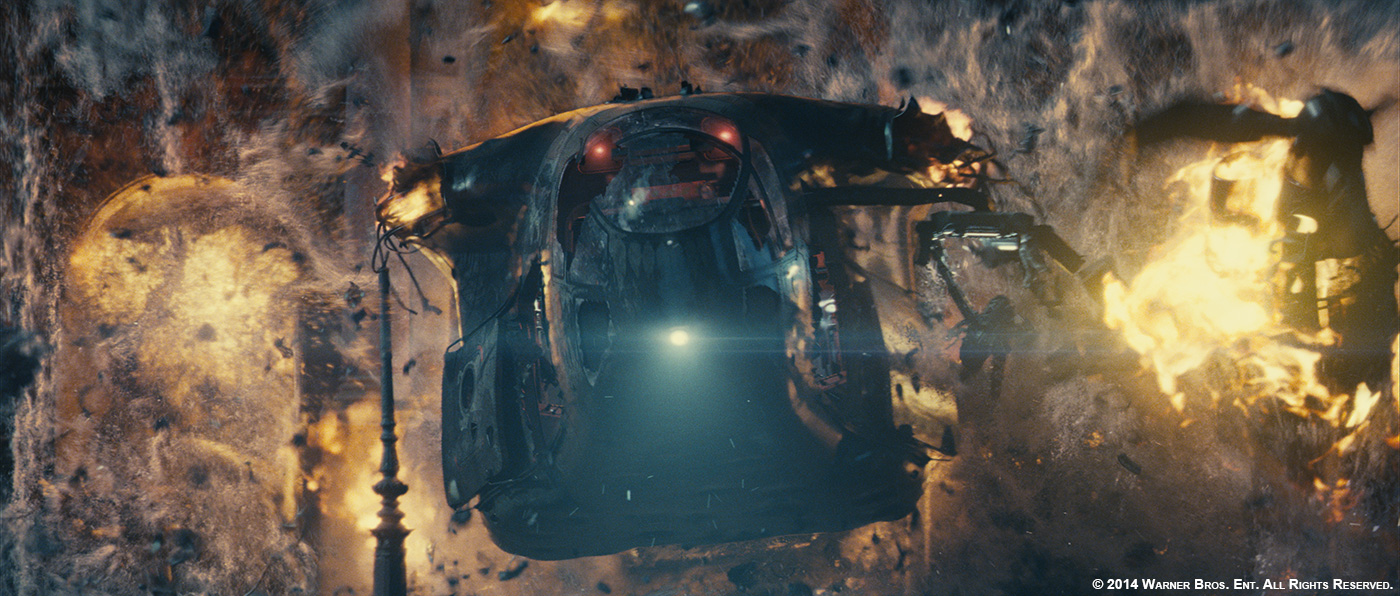 Was there a shot or a sequence that prevented you from sleep?
No. I never have difficulty sleeping.
What do you keep from this experience?
The third act might be exciting but it takes a long time to settle down in the script, on the shoot and in the cut. Avoid.
How long have you worked on this film?
About two years! I was able to squeeze a stint on GRAVITY in while we were in pre-production.
What is your next project?
Well it's GUARDIANS OF THE GALAXY for Marvel which is just finishing up now.
A big thanks for your time.
// WANT TO KNOW MORE?
– Framestore: Dedicated page about EDGE OF TOMORROW on Framestore website.
© Vincent Frei – The Art of VFX – 2014