Kelvin McIlwain began his career in the visual effects as a matte painter at Illusion Arts in 1996. He take care of the effects of CENTRAL INTELLIGENCE between two films of the FAST AND FURIOUS saga. Interesting fact: he worked on all the films of this saga!
What is your background?
I started in the film business as a lowly art department PA. Once I had some contacts in the industry I was able to parlay that into a job as an apprentice matte artist at Illusion Arts working for Syd Dutton and Bill Taylor. It was a fantastic place to learn and grow as an artist and a technician. After eleven years at I.A. I moved on to working as a freelance VFX supervisor.
How did you get involved on this show?
Michael Fottrell, the producer on FURIOUS SEVEN, asked me to do the show. I only had two days off between finishing FURIOUS SEVEN and starting on CENTRAL INTELLIGENCE. A vacation would have been really nice but I'm so happy I took the show.
How was your collaboration with director Rawson Marshall Thurber?
Rawson is a fantastic director and an all around cool guy. He hasn't had much experience with complex visual effects work so he placed a lot of trust in me on this show. My goal was to make it as easy on him as possible.
What was his approach and expectations about the visual effects?
Hah. Rawson wanted everything to look absolutely perfect and expected me to make it happen. Especially in regards to the Young Robbie work. He was concerned that if it looked bad or was distracting it would start the movie off on the wrong note. You could lose your audience from the get go.
Can you describe to us a typical day during the pre-prod, on-set and then during the post?
It was pretty full on from the beginning to the end. It was just me and my VFX coordinator Tom Rubendall. We didn't have a VFX producer so I took on those responsibilities as well. We always had plenty to keep us busy.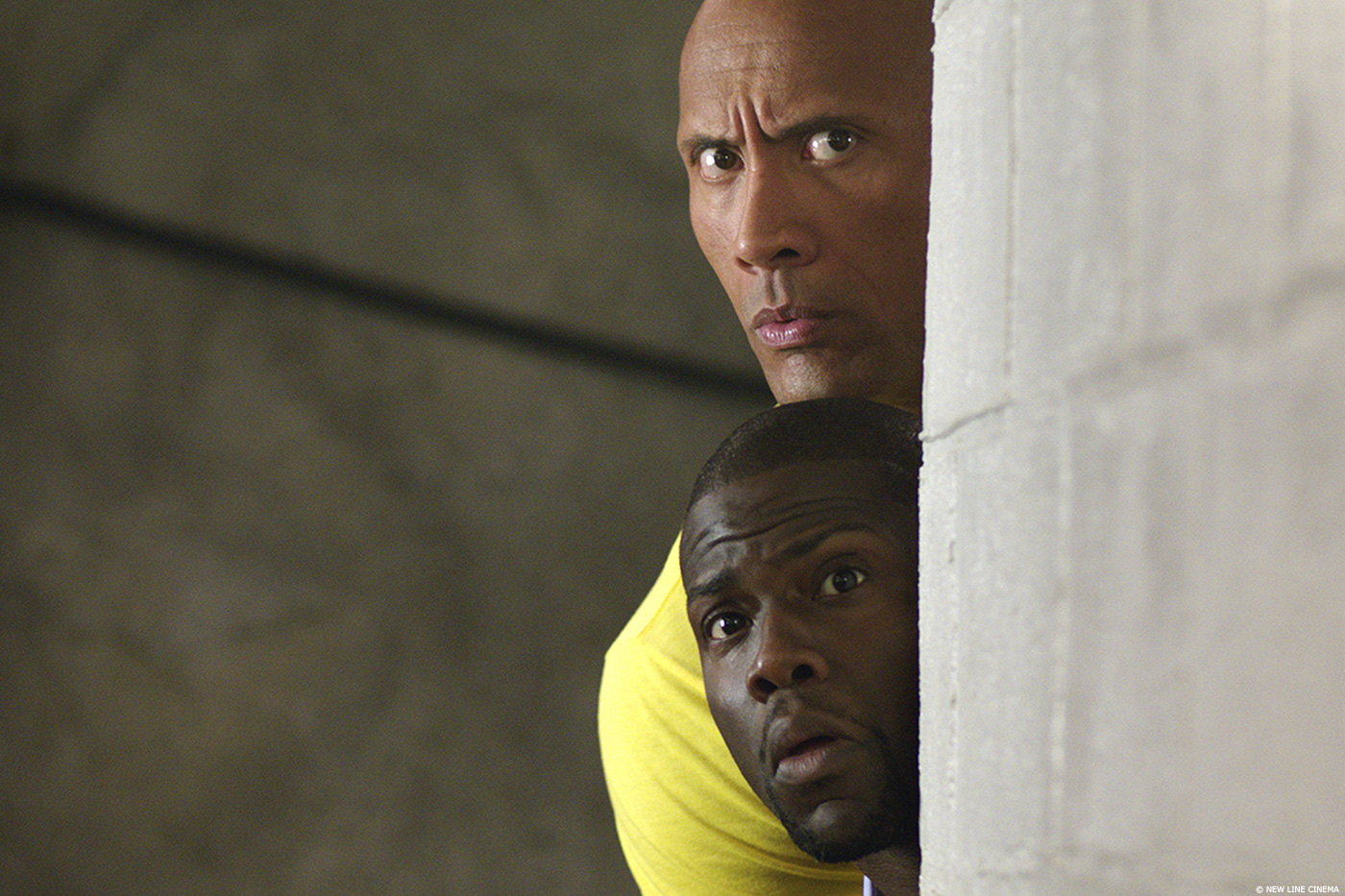 What was your approach about the young Dwayne Johnson?
After reading the script one of the first things I did was reach out to Martin Hill at Weta Digital. He lead the team that created the CG Paul Walker for us on FURIOUS SEVEN. It was pretty clear to me that Weta was the right company for the job.
Can you explain in detail about the creation of the CG young version of Dwayne Johnson?
Early on in preproduction we had Dwayne and Sione (the young Robbie body double) come to Los Angeles to do Facial Reflectance Capture sessions at the ICT graphics lab at USC. It was important to get the CG asset in the works as soon as possible so that we had a chance to make the marketing deadline for the teaser trailer in November. The studio was very excited to build this Young Robbie into their marketing campaign. Along with ICT scans we did traditional high resolution laser scans of the actor's heads and bodies. This initial package of data allowed Weta to move forward with building the asset while the movie moved into production.
How did you capture all his face expressions?
Weta had a pretty comprehensive list of FACs poses that they wanted Dwayne to hit. I think it was roughly 40 poses or so. These were captured as static poses in the Light Stage as well as through a series of motion video captured FACS sessions. We also knew early on that the En Vogue song « My Lovin' » was what he would be signing in the shower so we had Dwayne do a lip-synch session while we had him in the Light Stage. He was a very good sport about all of it.
What was the biggest challenge with this sequence?
By far the biggest challenge was finding a way to keep Dwayne's likeness while making him significantly younger and much heavier. We wanted instant recognition that Young Robbie is Dwayne Johnson. That part of the look dev process was very painstaking. Finding the right look took quite a bit of time. Rawson had strong gut reactions to the early turntables and Martin and I would spend heaps of time talking about what was working and what wasn't. Gradually it came together and everybody was quite pleased with the end result. Most importantly Dwayne loved it.
The movie have a lot of stunts. Which one was the most complicated to enhance and why?
The shot where Bob Stone takes out the Motorcycle Baddie with a piece of steel rebar to the front spokes was a bit tricky. It's three different pieces shot over separate days. There was a moment early on when it was looking like I made an error in the timing of the pieces. I feared it wasn't going to work the way I planned. Without having to resort to any major CG reconstruction we figured it out. In the end it all fit together quite nicely.
Can you tell us more about the filming of the shots with Johnson and Hart jumping off the building?
For the first part we had stunt doubles that actually jumped through glass windows on a three story tall set backed with blue screen. Having stuntmen that were willing to jump through real glass added another level of reality to the shots. At the bottom they landed on a big pile of cardboard boxes. For the rest of the fall we had the stuntmen drop next to a real building to an inflatable gorilla below. They were assisted by a device called a descender rig. It's an ingenious device that allows them to free fall until about thirty feet from the ground when it catches them rather abruptly but safely. Taking out the deceleration is necessary as well as adding a stronger sense of impact on the gorilla. Rodeo FX who did the work on this sequence also had to set extend the building and add the hole that our heroes left in the glass.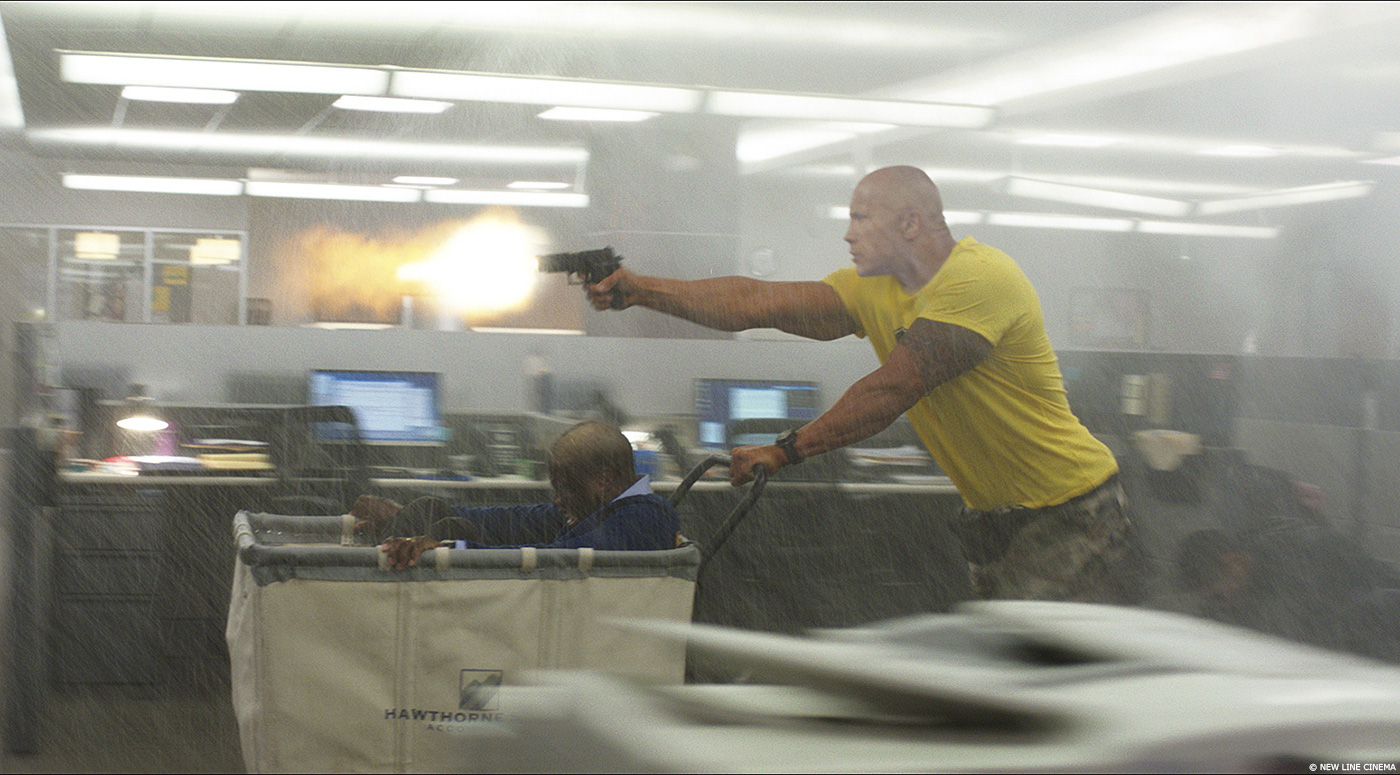 How was created the backgrounds for the various driving comps?
Pretty simple, they are photographic. For the car work we had a camera car outfitted with four Red Dragons shooting 6K. Arri 12mm Master Prime lenses gave me the field of view I needed to get full coverage on the background. The aerial work was done at night over the greater Boston area. I went up in the helicopter with our aerial DP and called out the shots I needed to create backgrounds for the sequence.
The movie features tons of bullet hits and muzzle flashes. How did you film these elements?
At the end of principal photography I was given one day with the crew to shoot all the elements I felt we needed for post production. As the movie was being shot I kept a running list of all the elements I was going to need to finish the job. We shot muzzle flashes for all the guns. Bullet hits on lots of different materials. We shot explosions, flame elements, smoke, and steam. It was a long busy day but we were able to build an extensive library of elements.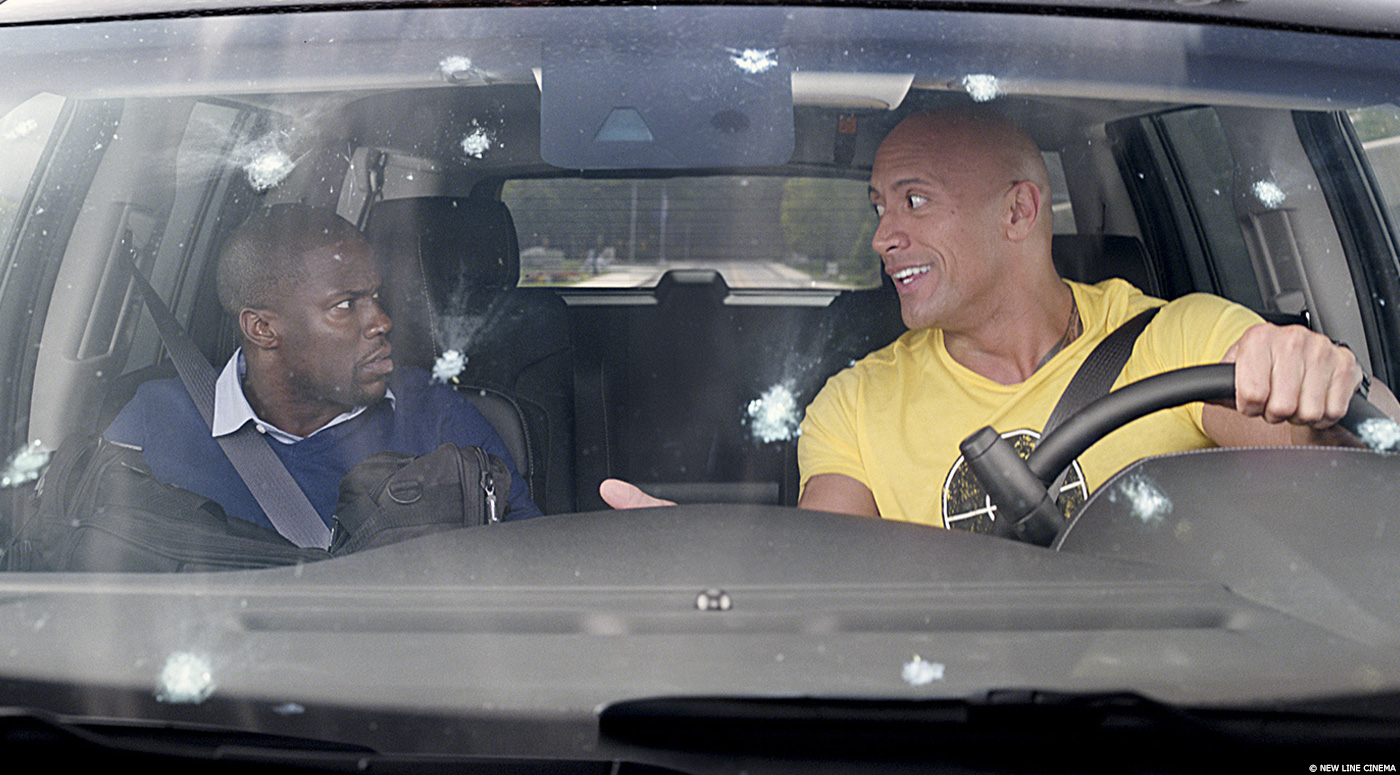 You have worked on the previous FAST & FURIOUS movies. How this experience helps you on this show?
The FAST movies prepare you for just about anything. Most people don't appreciate how much VFX work goes into them.
How did you split the work amongst the various VFX vendors?
Weta Digital and Rodeo FX did the lion's share of the work. Cantina Creative started out with a small amount of monitor graphics work and ended up doing a significant amount of work including the title sequence graphics.
How was your collaboration with their VFX Supervisors?
It was fantastic. I depend on them so heavily. All the vendors had top notch supervisors.
Was there a shot or a sequence that prevented you from sleep?
Not really, after working with Weta on FURIOUS SEVEN I knew what they were capable of doing. The rest of the work was all stuff that is my bread and butter so I wasn't worried.
What do you keep from this experience?
This show was a blast to work on. Working with a great crew in a wonderful city like Boston you walk away with a lot of great memories.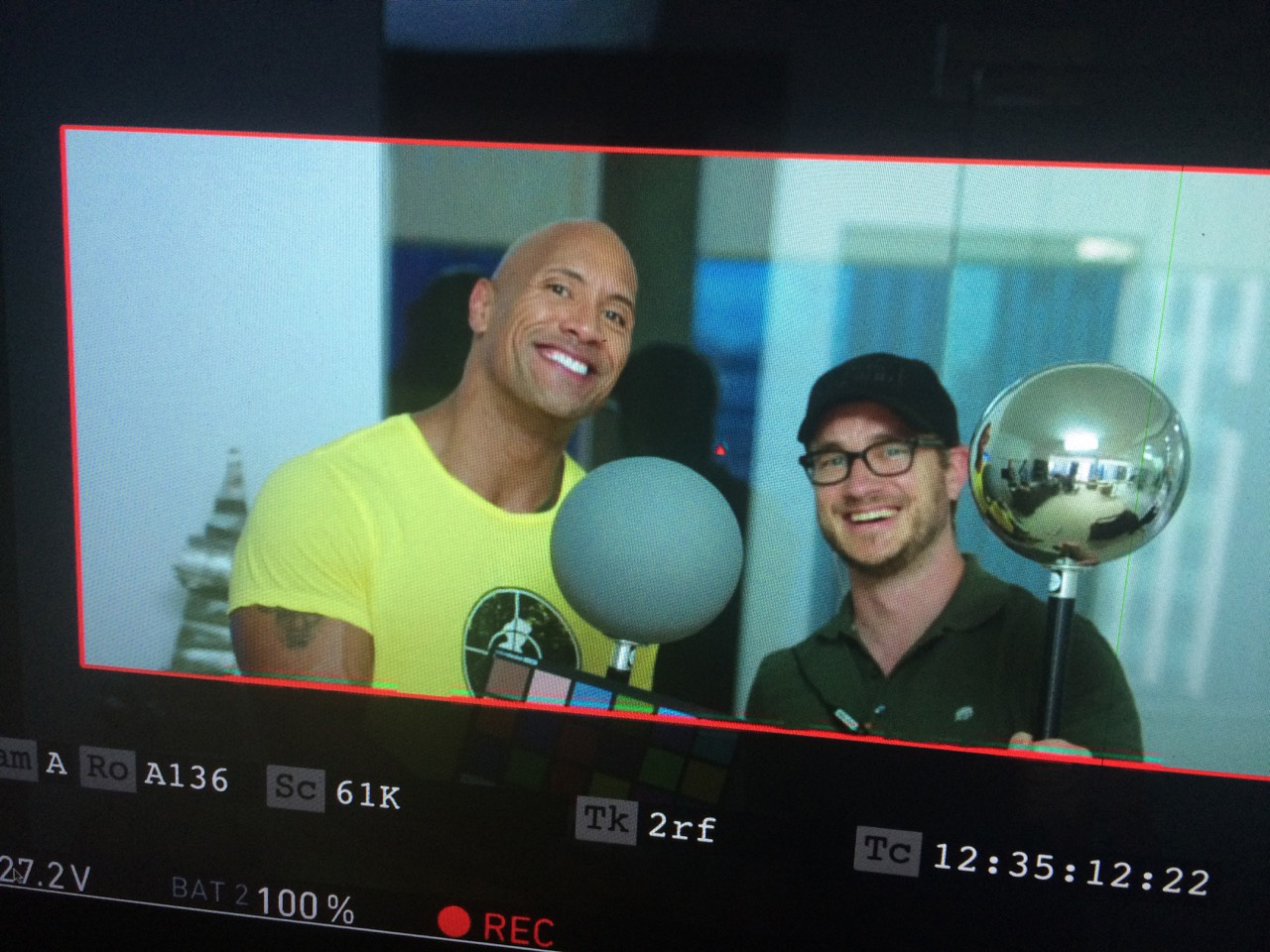 How long have you worked on this film?
I was on for about 14 months. It was a good run.
How many shots have you done?
We finished up with 589 shots as I recall.
What was the size of your team?
There was me, my coordinator Tom Rubendall, and Jeff Beattie our VFX editor.
We had a lot of on set support from the vendors.
What is your next project?
I'm on it now. FAST 8.
What are the four movies that gave you the passion for cinema?
BLADE RUNNER, 2001: A SPACE ODYSSEY, APOCALYPSE NOW and RAIDERS OF THE LOST ARK.
A big thanks for your time.
© Vincent Frei – The Art of VFX – 2016