Geoffrey Baumann worked at Digital Domain for 15 years on many films such as FLAGS OF OUR FATHERS, 2012, OBLIVION and IRON MAN 3. He then joined Marvel Studios for CAPTAIN AMERICA: THE WINTER SOLDIER in 2013 and then he works on AVENGERS: AGE OF ULTRON, CAPTAIN AMERICA: CIVIL WAR and DOCTOR STRANGE.
What is your background?
I started working in Visual Effects 20 years ago at Digital Domain in Venice California. I was there for 15 years before leaving the facility side to join Marvel Studios on CAPTAIN AMERICA: THE WINTER SOLDIER.
How did you get involved on this show?
I had just finished covering the shoot for DOCTOR STRANGE when Victoria Alonso approached me about the opportunity. I was thrilled and extremely honored to be considered.
How was the collaboration with director Ryan Coogler?
Ryan is an amazing man. His process was truly inspiring. He relies heavily on his heads of department to speak their mind. We all worked closely together as Ryan was always interested in our cumulative opinions. Everything was discussed, with Ryan always making the decision at the end of the day. You always want to do more for Ryan. I would go to the end of the earth for him. It was a privilege to be part of the process.
That's his first big VFX feature. What was his approach and expectations about the visual effects?
In order to help Ryan with this, we put together a number of before and after's from previous Marvel films. Ryan could see the original plate photography, the CG elements added, and the final composite. In addition to seeing what methodologies were more successful than others, it allowed him to make more educated decisions with regards to set construction and framing. The goal was for Ryan to feel comfortable with a VFX feature of this size, so he could focus on the characters and the story.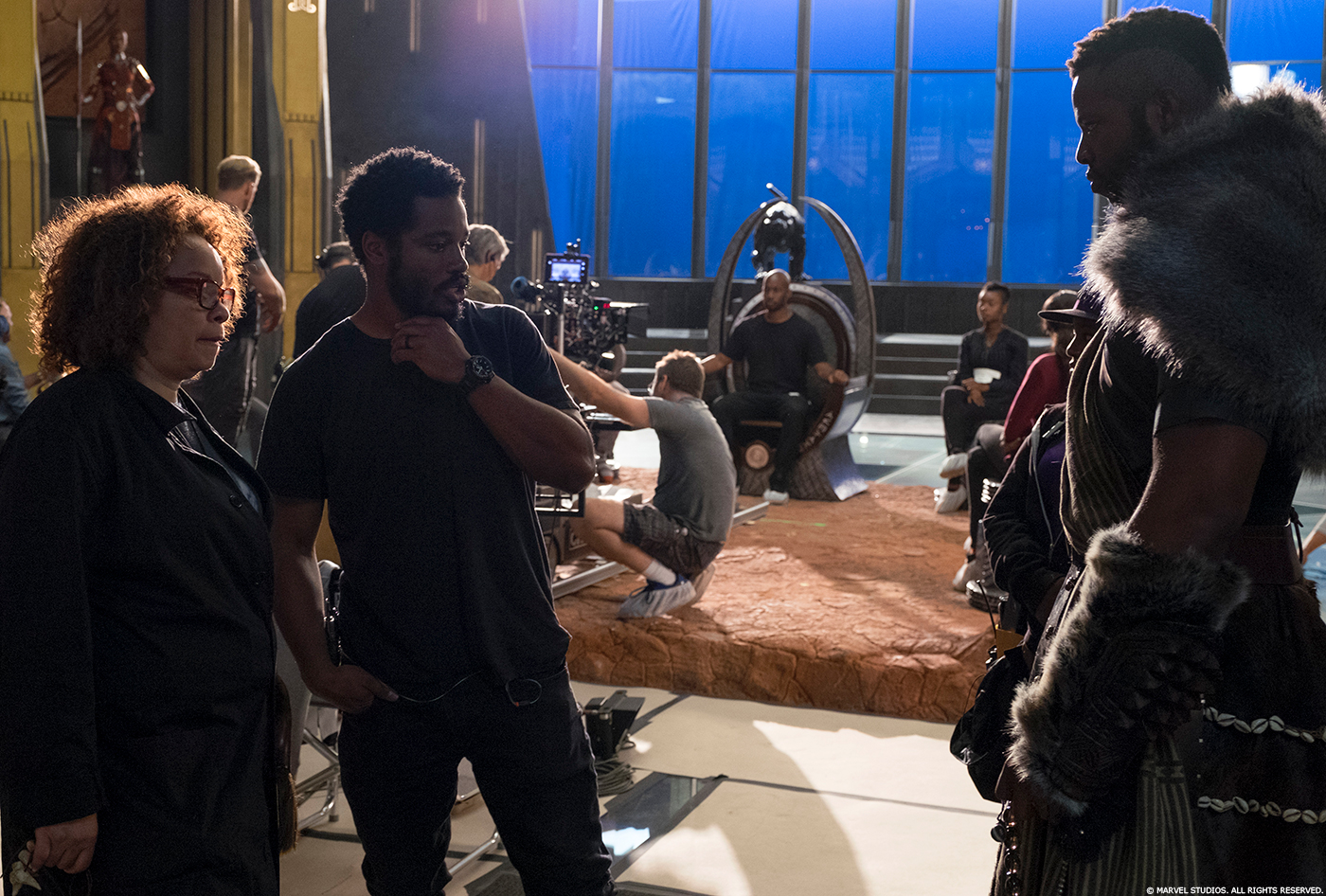 How did you organize the work with your VFX Producer?
Lisa and I tried to break up the script by environment, character, and complexity. We were a team. There is no way either one of us could have survived without the others support! The size and scope of a film like this is a financially and creatively a daunting. Lisa was always there, supporting not just me, but all of our crew, and the vendors.
Can you tell us more about the previz and postviz work?
Previz and postviz played a huge part in shaping the film. We had previz supervisors Scott Meadows and Kyle Robinson as well as postviz supervisor Kevin Williams driving the process. Under the supervision of Scott, Profile Studio built a small capture volume on one of our stages in Atlanta. Here Ryan could explore our sets virtually before the shoot day. He along with DOP Rachel Morrison used this as a tool to help create our shot lists and guide us through out the shoot.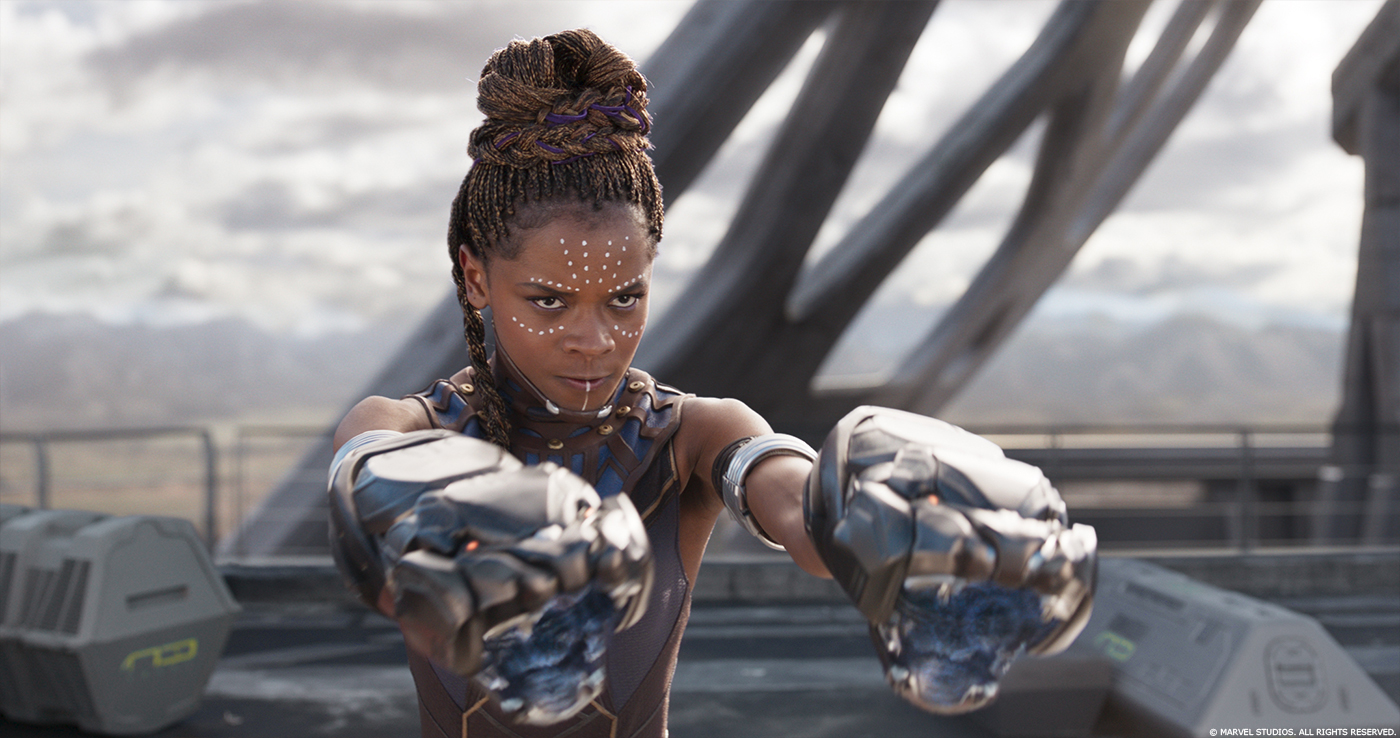 Where was filmed the different parts of the movie?
Main unit was based out of Screen Gems Studio, in Atlanta Georgia. Additionally we shot at a number of locations across Georgia and Atlanta. Our second unit led by director, Darren Prescott, and additional VFX supervisor, Jesse James Chisholm, spent a month in Busan, South Korea, shooting the car chase sequence that follows the casino scene. Jesse also went to Africa for an extensive plate and aerial shoot. In Africa he also oversaw the environment capture being done by Clear Angle Studios.
Can you tell us more about your work during the scout location and during the design phase?
We knew that we would be relying heavily on the content from our African plate shoot as it became evident that we would not be taking the cast to Africa. It was important for me to be grounded in some real world location. We could expand or alter, but I wanted to make sure that the base of every environment was connected to a practical location in Africa. From here we would follow our production designer Hannah Beachler's lead.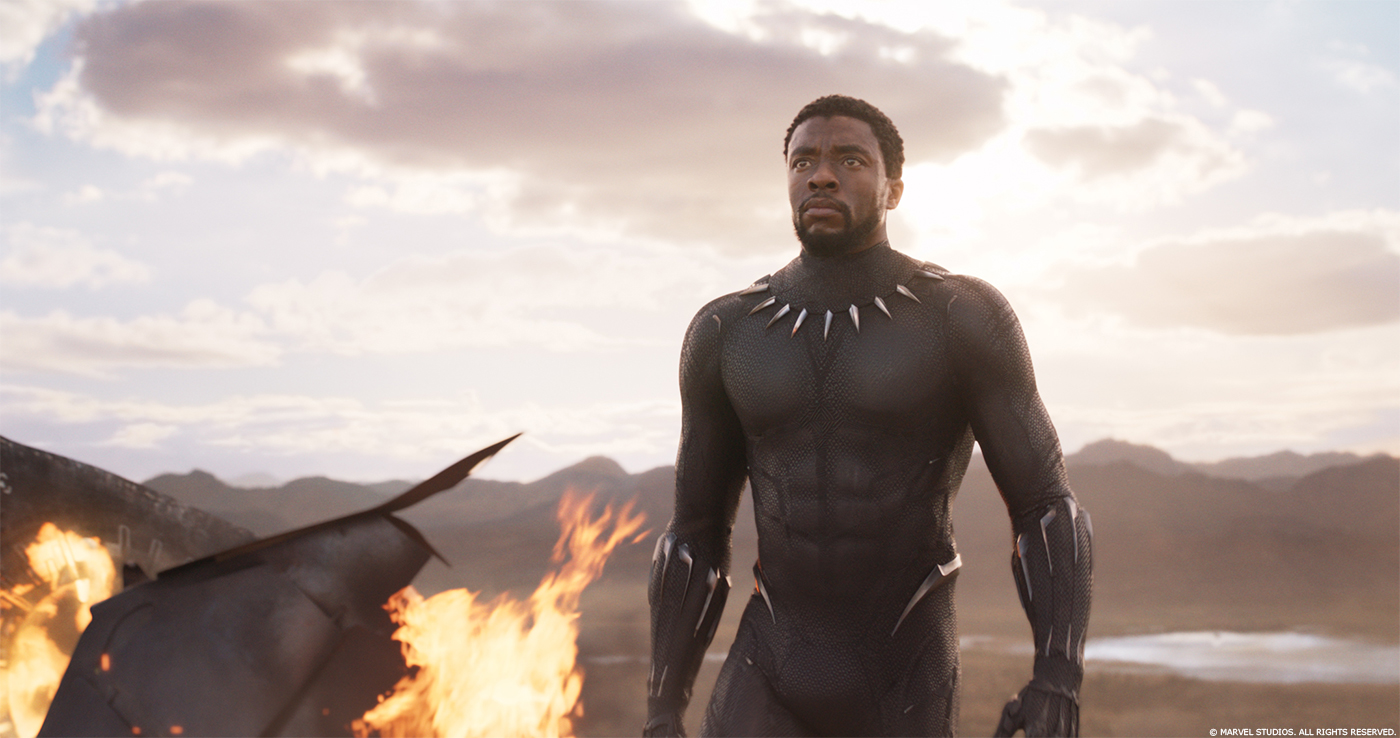 Wakanda is a beautiful full of technology. How did you work with the art department to design this place?
Hannah put a tremendous amount of time, energy, and passion into researching the who, what, and where, Wakanda. She knew that Ryan wanted to keep everything based off of something tactile from Africa. She left no stone unturned in creating everything that is Wakanda and the Golden City. Hannah's sets and designs became our base, and with the same direction from Ryan, we attempted to continue her vision into post. Ryan would often have Hannah weigh in on an idea or design through out post. It was good to be collaborating together.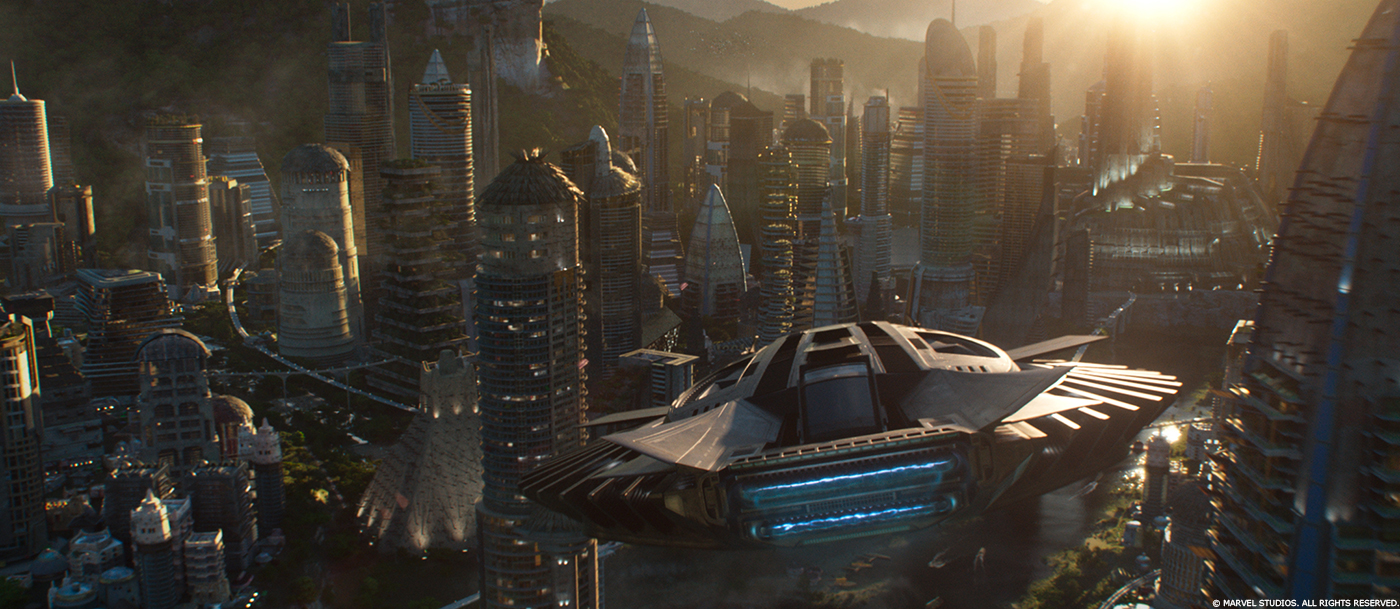 What was the real size of the various locations in Wakanda and how did you extend them?
These varied from scene to scene. The ancestral plane is an example of a smaller set. A 60'x60' square surrounded by blue. We extended this set in all directions using practical locations as a guide, but would say it ended up entirely CG. The Wakandan boarder scenes between T'Chall and Wakabi were shot at a farm southwest of Atlanta. Art department built a set in the middle of a field consisting of a few huts, set dressing, animals, and background. ILM did a phenomenal job extending this field into our selected location from Africa. Then you have the other extreme which would be Warrior Falls. A massive set and sfx build surrounded shipping containers supporting a blue screen. This we extended based off of Victoria Falls, a location included in our plate/aerial trip to Africa.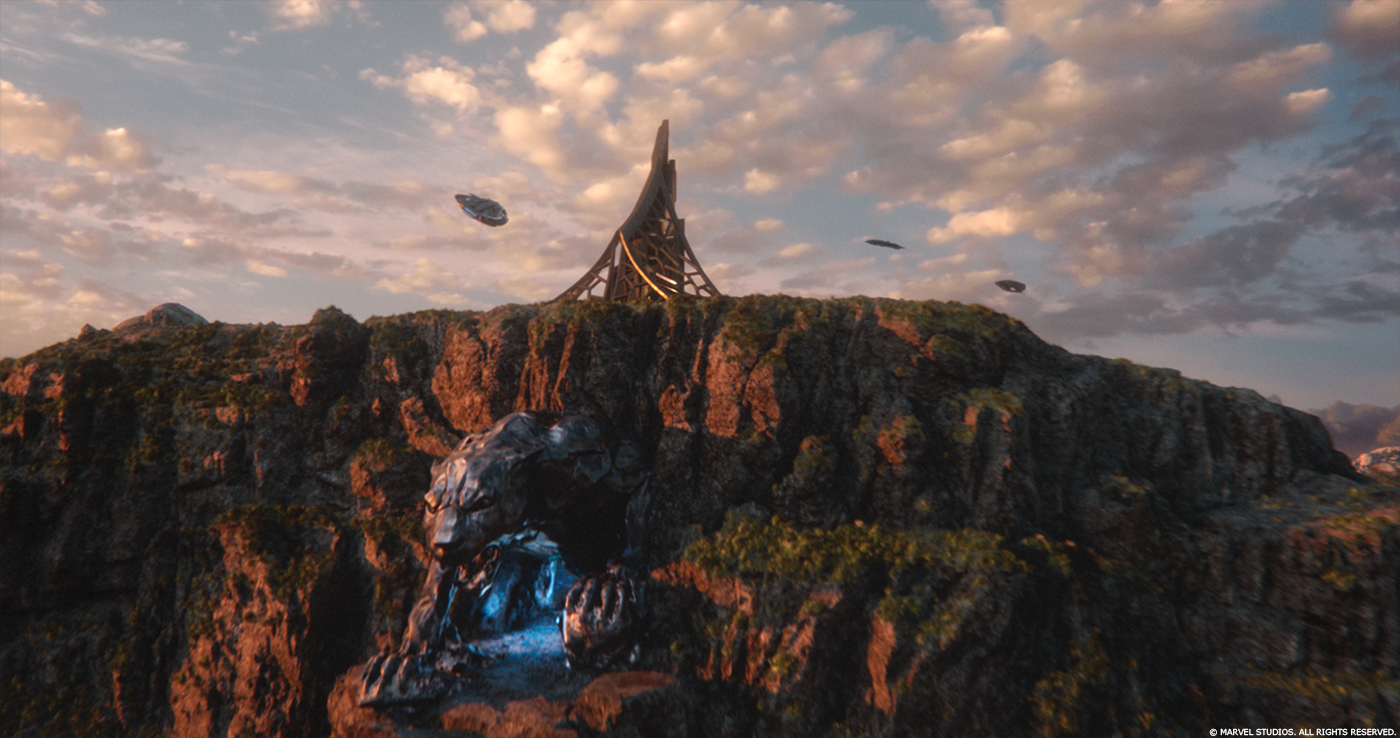 How did you handle the challenge to have a character in dark suit fight mostly in dark environments?
It was a challenge, but Ryan was okay with things being on the darker side. We would always play up the reflections off of the vibranium accents, especially from the necklace and eyes.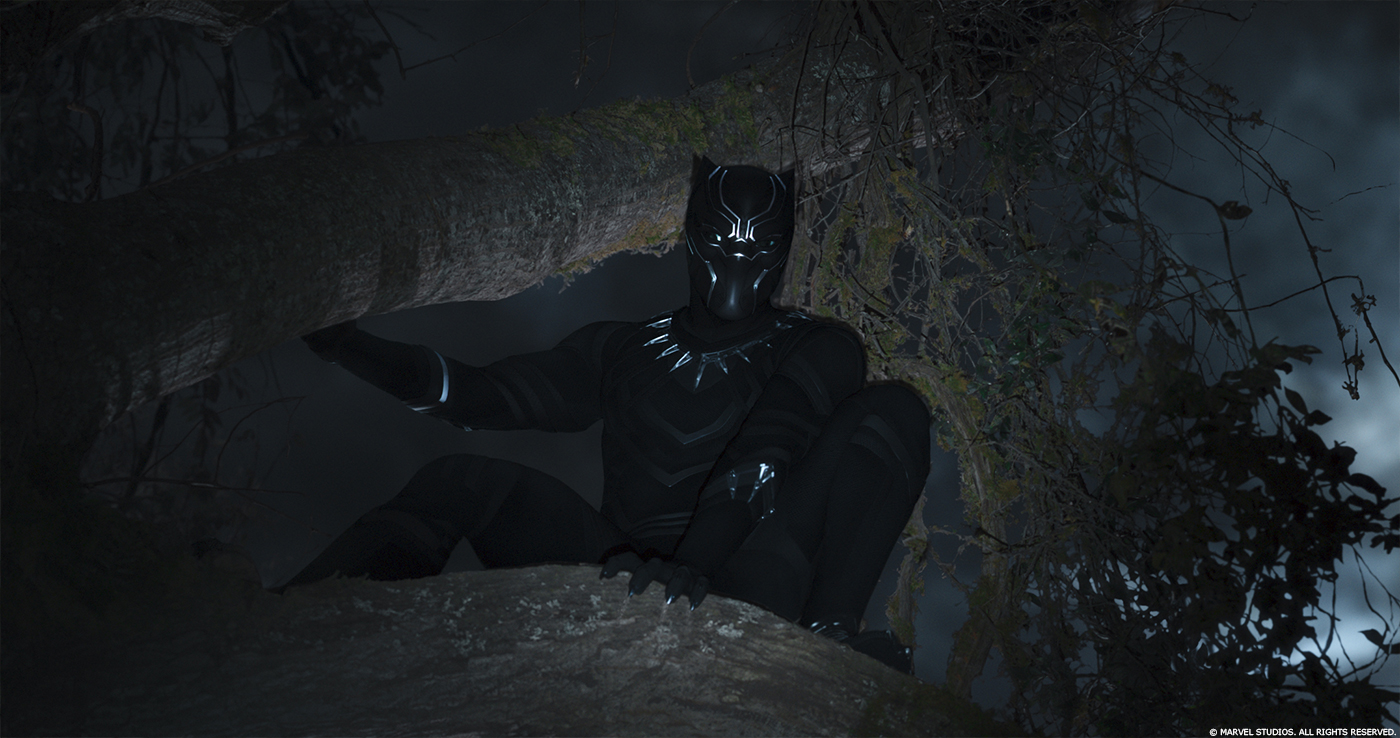 Did you improve the Black Panther suit since his appearance in Captain America Civil War?
Yes. The technology behind the suit in this film is very different than CIVIL WAR. Although still made of vibranium it is contained with in the necklace and these nano particles flow from the necklace to protect T'Challa the moment he is in danger. The suit also has the ability to absorb energy. For example the suit could absorb the energy from hits to the suit. This energy is then stored and can be released through the suit, redistributing the energy out towards your opponent or obstacle.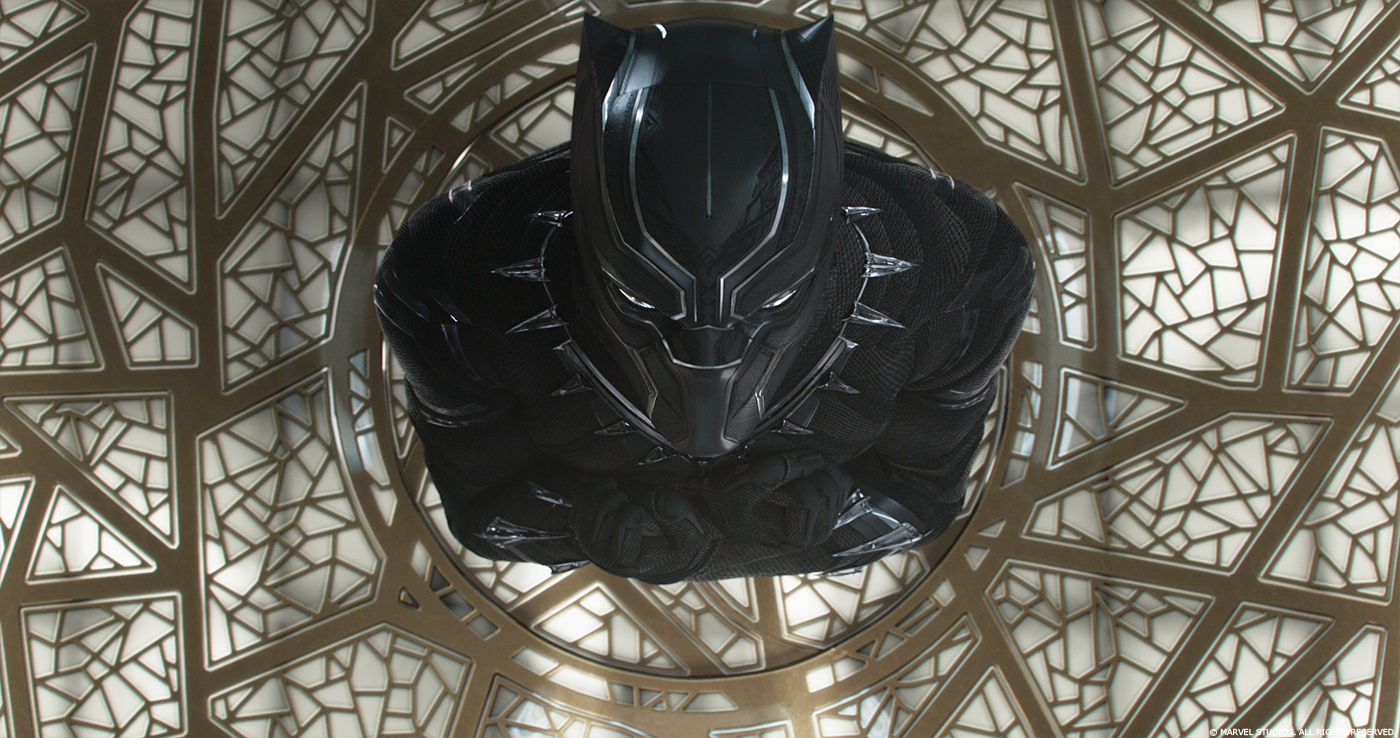 How did you work with the stunt team for the fight choreography and the stunts enhancements?
We worked closely with our stunt coordinators, to ensure we were always maximizing their efforts. Andy and JoJo are amazing! There was little we needed to do with regards to enhancements. There was wire and rig cleanup but we would only hand off to dig doubles if the animation required it. For those moments we would focus on take offs and landings, something practical to hook back into.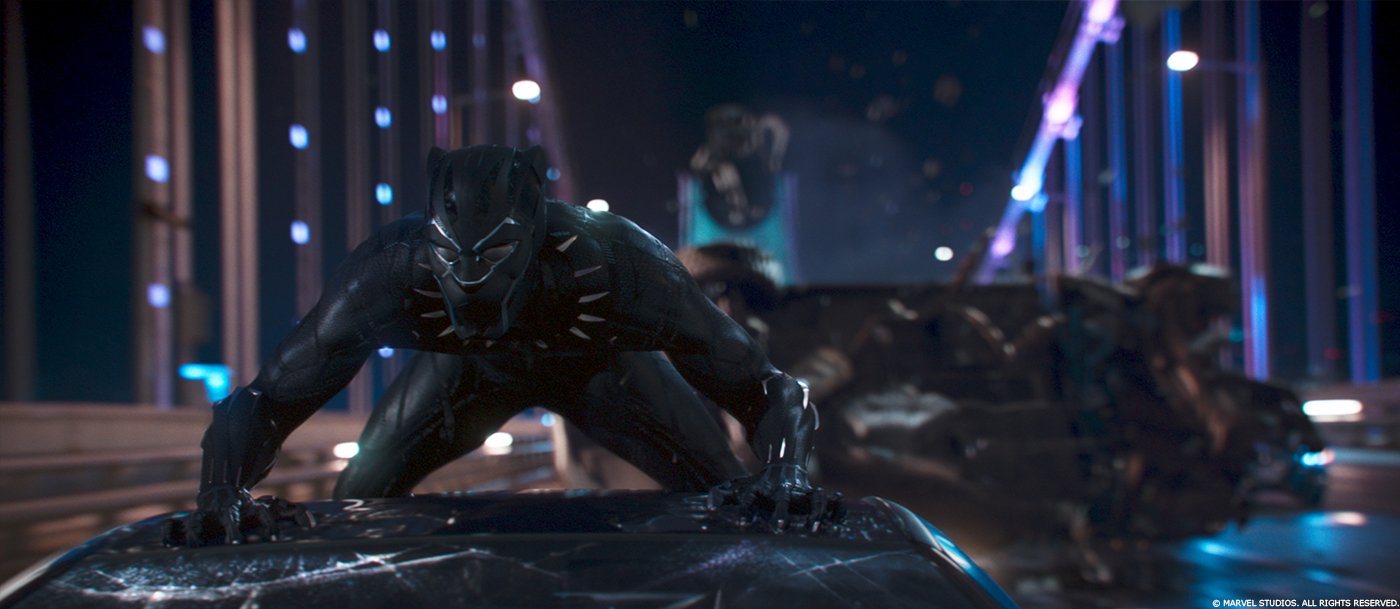 There is a big car chase sequence in Busan. How was your collaboration with the SFX team?
We worked very closely with the SFX team throughout the film. In Busan we worked with them to determine where and when we on VFX may need to take over with CG, or how to best 'hide' the rigging to minimize plate clean up. This sequence was overseen by Jesse James Chisholm. He did a fantastic job not just shooting in Busan but also helping Ryan and me filter through all of the footage as we assembled the sequence with our editors.
How did you approach the big final sequence involving so many elements?
Method Studios Vancouver oversaw the above ground final sequence on Mount Beshanga. We knew the number of elements was going to be large so we placed all of the work with them. Logistically the shots of Ross flying the RTF during the dog fight were the most complicated. Some were shares between 4 vendors.
Can you tell us how you choose the various VFX vendors?
Choosing a vendor depends of the type of work, the number of shots in the sequence, and the amount of time we have until delivery. We chose Scanline for all of our Warrior Falls work. It required heavy water simulations, and a large number of shots at various complexities. We chose Trixter to help us with the Nigeria sequence as they had worked on CIVIL WAR and this sequence would be using the Civil War Black Panther suit asset. Lisa and I would break down all of the work and split it into packages. We would write these packages on a white board with the sequences they included. We would then put all of the vendors on post it notes and then shuffle post it notes around until we felt comfortable about both the number of shots a vendor would have but also their complexity.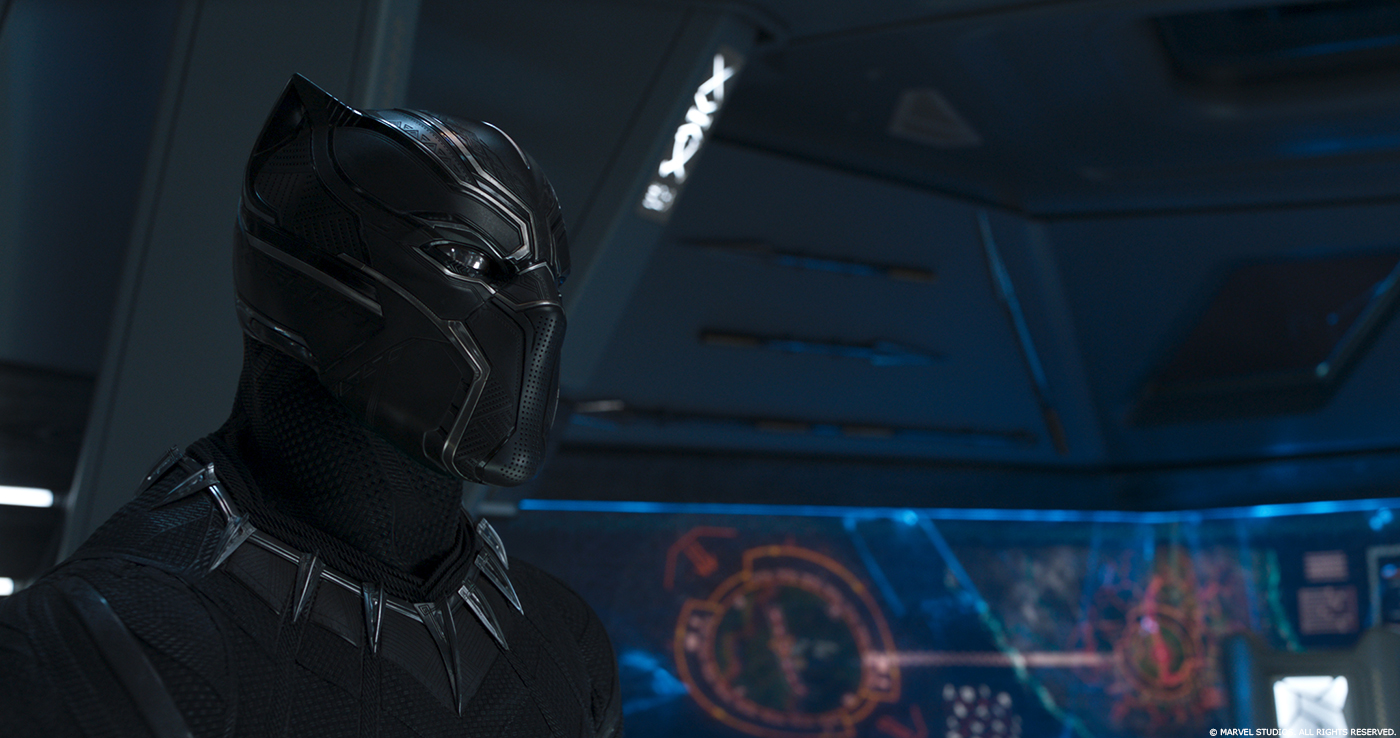 How did you split the work amongst these vendors?
It depended on shot number, complexity, and time:
capital T – 41 shots – Compositing, simple blue screen, split comps, clean up.
Double Negative – 78 shots – 3rd act Vibranium Mine fight.
Exceptional Minds – 38 – Compositing, simple blue screen, split comps, clean up.
Ghost – 41 shots – 3rd act interior shots as Ross flies RTF hologram.
ILM – 403 shots – Shots throughout the film focusing heavily on the enviroments of Wakanda and the Golden City.
Luma – 232 shots – The casino fight, and car chase that follows, as well as the CIA blacksite.
Mammal – 578 shots – Compositing, simple blue screen, split comps, clean up, as well as all temp comps and color for the few non VFX shots.
Method – 407 shots – Primarily the 3rd act on top of Mount Beshanga, they also did some of the work in Shuri's lab.
RiseFX – 180 shots – Built and designed Jabariland. They also helped out in Shuri's lab.
Scanline – 385 shots – The big focus here was the waterfall environment for the two sequences that take place here. They also did the work at the British museum and abandoned airfield in Korea.
Storm – 8 shots – The prologue.
Trixter – 205 – The Nigeria extraction as well as the Oakland apartment.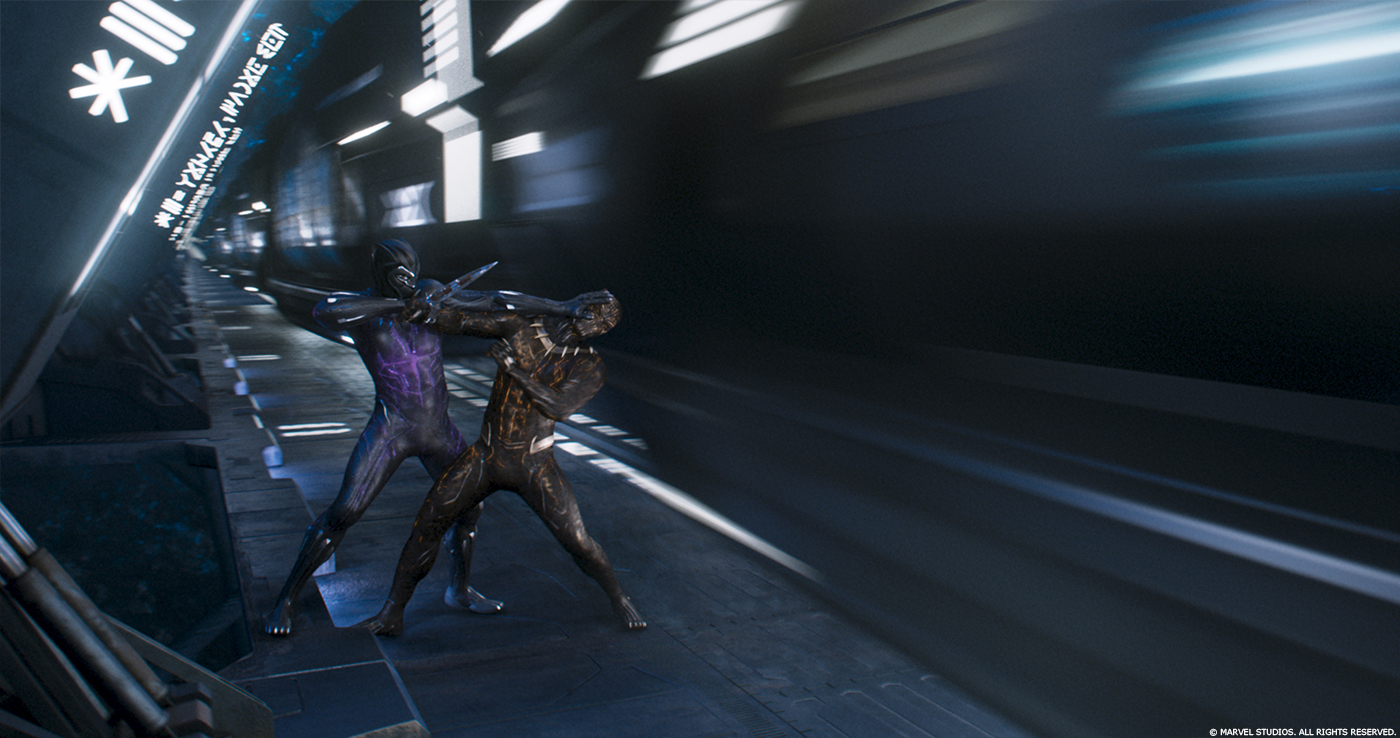 Can you tell us more about your collaboration with their VFX supervisors?
We worked very closely with all of our supervisors. In addition to having them be present during principle photography we would have multiple cineSyncs per week to over the work. There was a constant flow of information back and forth between the various supervisors and the film makers. I also felt it important to have face to face meetings when possible and I tried to make this happen as often as possible.
The vendors are all around the world. How did you proceed to follow their work?
I split the work with our additional VFX supervisor Jesse James Chisholm. We would review material from as soon as it was online and try to get notes back as soon as possible. With crews working around the globe at all hours of the day we relied heavily on cineSync, although not as good as human to human is a great visual tool that allowed us to stay on the same page.
Which sequence or shot was the most complicated to create and why?
I would have to say the waterfall sequences and the Golden City were the most complicated. The falls environment being so expansive seeing so much flowing water made for a tremendous amount of simulation and render time. The size and scope of the Golden City required streamlining all aspects of the shot. Asset referencing and render optimizations were a critical part of making the Golden City a reality.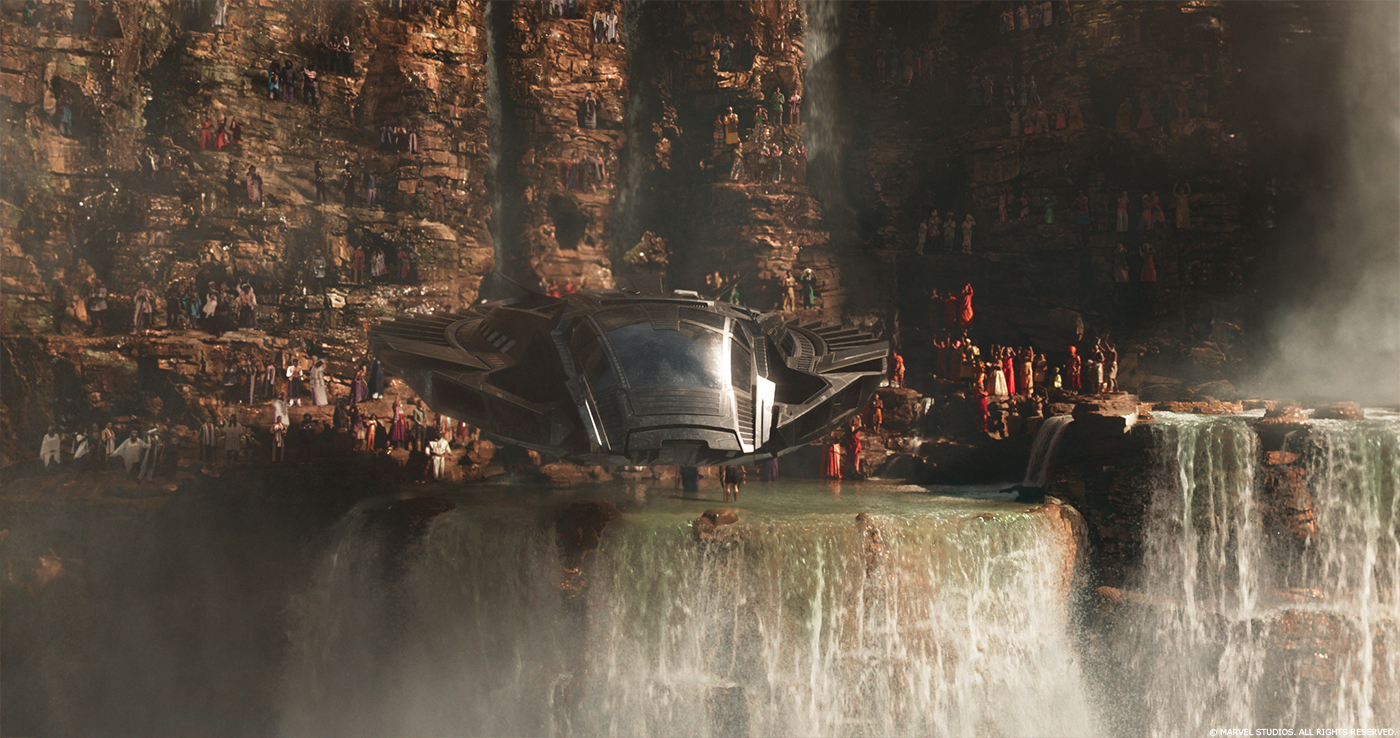 What is your favorite shot or sequence?
I don't think it is a single shot or sequence. My favorite part of the film is Wakanda. The environments, materials, colors, and patterns.
What is your best memory on this show?
I don't think there is one single moment. The best memory will be that of accompany Ryan Coogler on his journey creating BLACK PANTHER. I am very fortunate to have been a part of this.
How long have you worked on this show?
I have been on the show for 21 months.
What's the VFX shots count?
2456 shots in the film we turned over just over 3100, there were only around 200 non-VFX shots that were color only.
What was the size of your team?
We had a VFX production team of 26 over the course of the show. We were never that size all at once though.
Lisa Beroud – VFX Producer
Jesse James Chisholm – Additional VFX Supervisor
Chris Shaw – Additional VFX Supervisor
Nicole Montemayor – VFX Production Manager
Charlie Bolwell – VFX Production Manager
Jaesung Oh – VFX On-Set Production Manager
Adam Bennink – Asst VFX Production Manager
Connie Hendrix – VFX Accountant
Chris Rockwell – VFX Accountant
Eric Stewart – VFX Coordinator
Jessica Wilson-Silas – VFX Coordinator
Sarah Cave – VFX Coordinator
Rebecca Saunders – VFX Coordinator / Wit Cam Op
Rachel Sokoloski – VFX Coordinator – Previz
Valerie Wicks – Asst VFX Coordinator
Kevin Jolly – VFX Editor
Tony Bacigalupi – VFX Asst Editor
Aric Lewis – VFX Asst Editor
Andrea Maxwell – VFX Asst Editor
Nick Coker – 2nd VFX Asst Editor – Previz
Ian Doss – On-Set Lead
Zach Coker – Data Wrangler
Andrew Spalding – Asst. Data Wrangler
Adam Wagner – Witness Cam Operator
Aaron Cornwall – VFX Runner
Haesoul (Hailie) Yang – VFX Runner
What is your next project?
Unsure yet. I am just looking forward to spending time with my family.
What are the four movies that gave you the passion for cinema?
APOCALYPSE NOW
AMADEUS
THE FIFTH ELEMENT
LA FEMME NIKITA
A big thanks for your time.
© Vincent Frei – The Art of VFX – 2018