In 2017, Christopher Townsend explained his work on GUARDIANS OF THE GALAXY VOL.2. He talks to us today about his fifth film in the Marvel Cinematic Universe, CAPTAIN MARVEL.
How did you get involved on this show?
I was finishing up on GUARDIANS OF THE GALAXY VOL.2. heard that Brie Larson was attached to do CAPTAIN MARVEL, and threw my hat in the ring, saying that I'd love to do it. Once Anna and Ryan, the directors, had been brought on board, I met them, and was offered the job.
How was the collaboration with directors Anna Boden and Ryan Fleck?
This was Anna and Ryan's first real exposure to large scale VFX, so it was a really steep learning curve. When I first started, Damien Carr, the VFX Producer, and I, sat with them and over the course of a few hours went through the entire VFX process, from initial storyboards and previs to shooting through to final post production with many examples of what challenges we'd faced, and how we overcame them; a VFX 101, if you will. They asked many questions, and you could see immediately that even though this wasn't really their world, they were eager to learn. And they did, very quickly. They're both very smart people, and took to the process very well.
What was their expectations and approach about the visual effects?
At first, they didn't really know what to expect of us, and how to best use us. VFX is a very powerful tool in the film maker's toolbox; there's much that we can do to fix, augment or totally create from scratch, but just because we can, doesn't necessarily mean we should. There was an analog, almost indie vibe with the film that the directors were very keen on maintaining, and so they were always questioning how much we should be doing in VFX.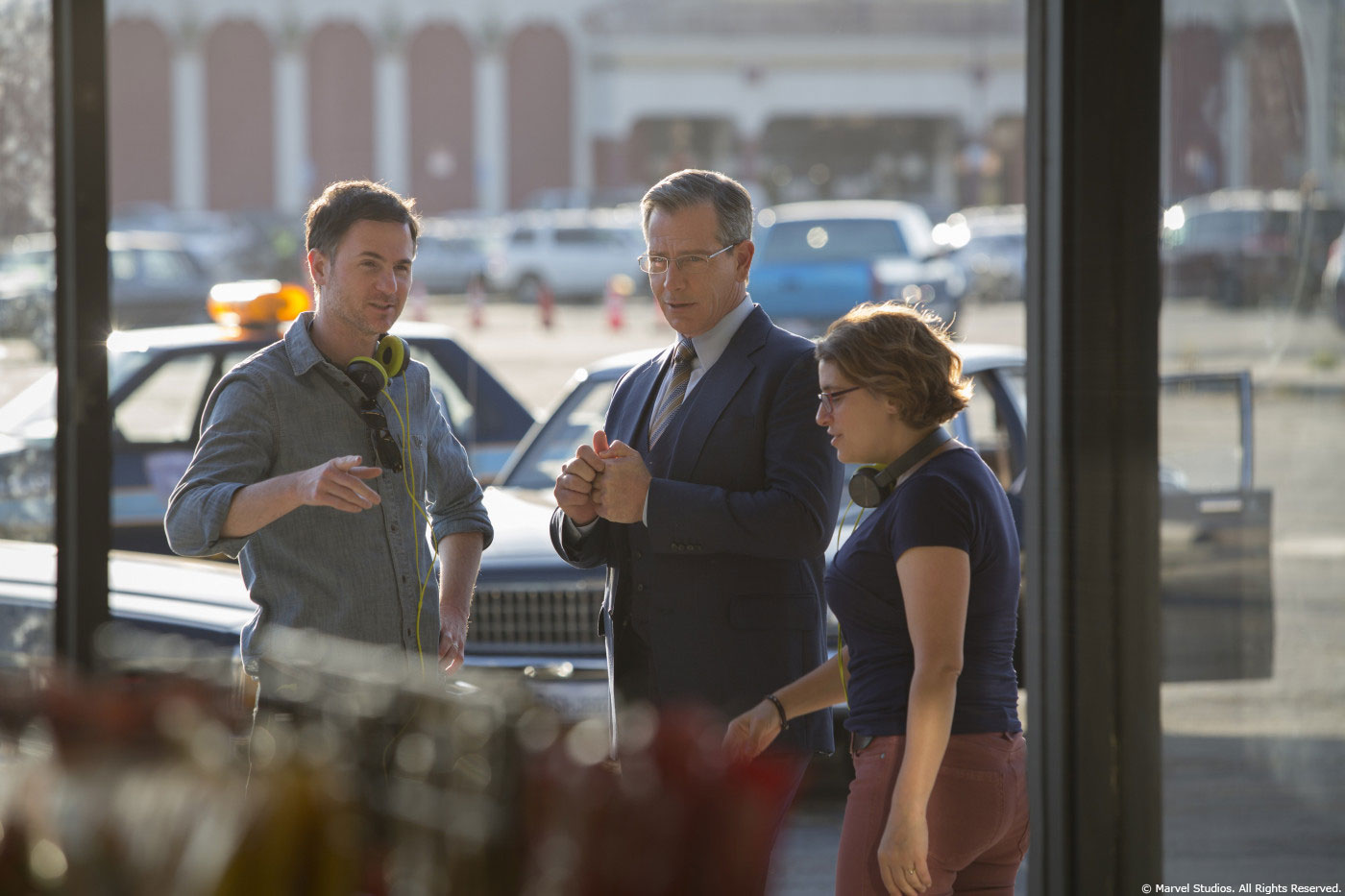 How did you organize the work with your VFX Producer?
I'd previously worked with Damien Carr, our VFX Producer, on several shows, the most recent being GUARDIANS OF THE GALAXY VOL.2. We have a short hand, which is very useful, and our roles are very clearly defined. We approach the show as a real partnership; we both read through the initial script, break down what we feel the work will be, discuss at length, start organizing different bodies of work, and start discussing who we feel would be best suited for the work. It's very much an iterative process, and one that evolves and changes as quickly as the scripts do!
Can you tell us more about the previs and postvis process?
I think previs and postvis is an incredibly useful process, and one that's integral to the success of a shot or sequence; it's one of the most creative aspects of the show, as so much is defined, from the first visualization of an idea, to basic character posing, timing and camera. Previs helps all departments get a clearer idea of what everyone has to do, from costume, stunts, production design, camera, lighting, hair and makeup, grips, and of course, visual effects. Often, the directors give specific direction to our previs supervisors, in this case The Third Floor's Shannon Justison and Heather Flynn, who come up with ideas for shots and sequences; sometimes, based on the script or conversations I've had with the directors, I'd give specific direction. Once the first pass had been done, I'd review, give notes then get them in front of Anna and Ryan. Postvis was a similar process, but included our picture editors, Elliot Graham and Debbie Berman, who often had very specific requests, in order to help tell a story. Ideally, we'd turn over sequences to our VFX vendors with Postvis already completed, as that would really help guide the process, and help inform exactly what was needed.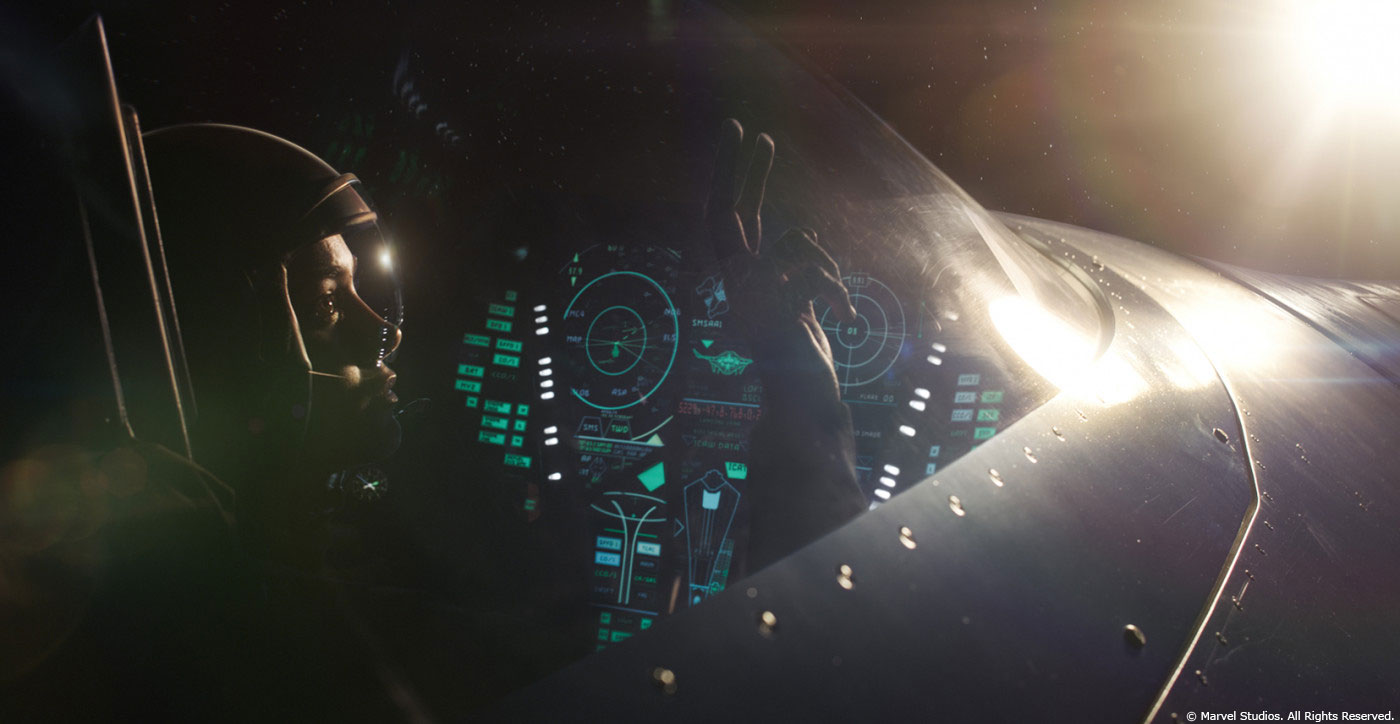 How did you use your experience from your previous Marvel shows on this one?
This was my fifth Marvel show, so I'm very comfortable with the process, and I'm fortunate to be in a creative position where everyone knows what I bring to the table. Having worked with many of the same people before is a huge advantage; there's a familiarity and comfort level, everyone knows the process and knows what to expect. It was very useful to know the paths we've previously been down, what works, what doesn't.
Captain Marvel has a many power and worlds to design. How did you work with the art department?
Marvel's Visual Development department, led by Andy Park for this film, created a lot of key art that we used for inspiration, for Captain Marvel's look and powers. Andy Nicholson, the show's Production Designer, created concept art for many worlds and vehicles and we worked very closely together throughout the process. We often used these as an inspirational jumping off point, taking things further into movement and simulation studies in real shot production.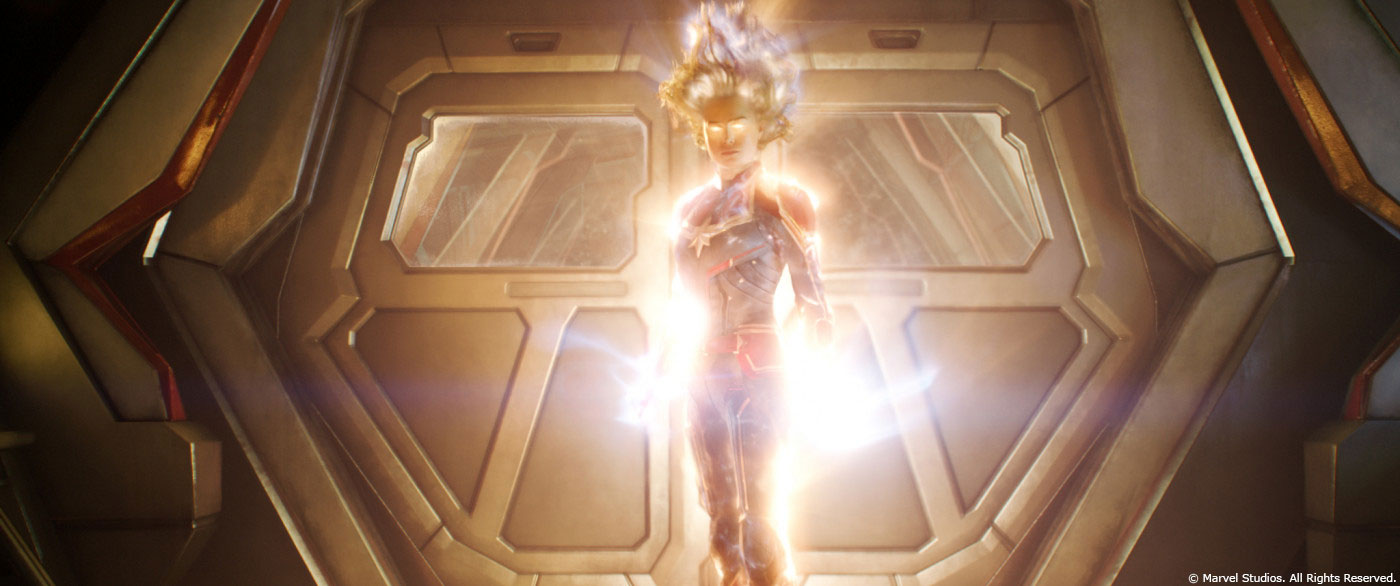 What was the main challenge on Captain Marvel?
There are always so many challenges on a film of this scope and size… keeping the visuals as grounded as the story, trying to find the line between the organic, almost analog film making style of our directors, and that of a more bombastic and spectacular comic book movie.
How did you work with the SFX and stunt teams?
We always work very closely with both SFX and the stunt team. We discuss, at length, where to best use practical effects, whether it be an explosion or a wire pull gag. There's always a hope that the practical work remains in the film, but sometimes it ultimately gets enhanced or replaced by a digital effect; however, we always reference the real effect to look at the real world dynamics of an action, an explosion or whatever.
Can you explain in detail about the beautiful slow motion shot when Captain Marvel receive her powers?
These were really fun to shoot. We meticulously prevised the scene then shot both Brie on wires and separate background plates at anywhere between 250 and 1000 frames per second, on a Phantom 4K camera. Scanline VFX, supervised by Nick Crew, took that footage and artistically crafted some gorgeous simulations, creating these very graphic moments of blue splashes of energy wrapping around and being absorbed by Carol Danvers. We wanted the look to be reminiscent of how we've seen Tessaract energy in other Marvel films, from the first Captain America to the last time we saw it in Infinity War.
The final act took place in space with many full CG shots. How did you approach those kind of shots?
ILM, under VFX Supervisor Craig Hammack and Animation Supervisor, Adrian Millington, was responsible for the final space battle scenes. Previs got us a long way in terms of shot design, and then many discussions followed on what and how to shoot the various elements of Brie. We did quite a lot of wire work, but ultimately found that for the majority of shots, the best approach was to shoot face elements of Brie, sitting in a chair, which were then projected onto a CG version of her. It was always challenging to find the balance with the camera moves and posing; this was definitely one of the most graphic comic book moments in the film, and had to be a spectacular and beautiful, but we wanted it still to feel like it could, almost, have been filmed in real life.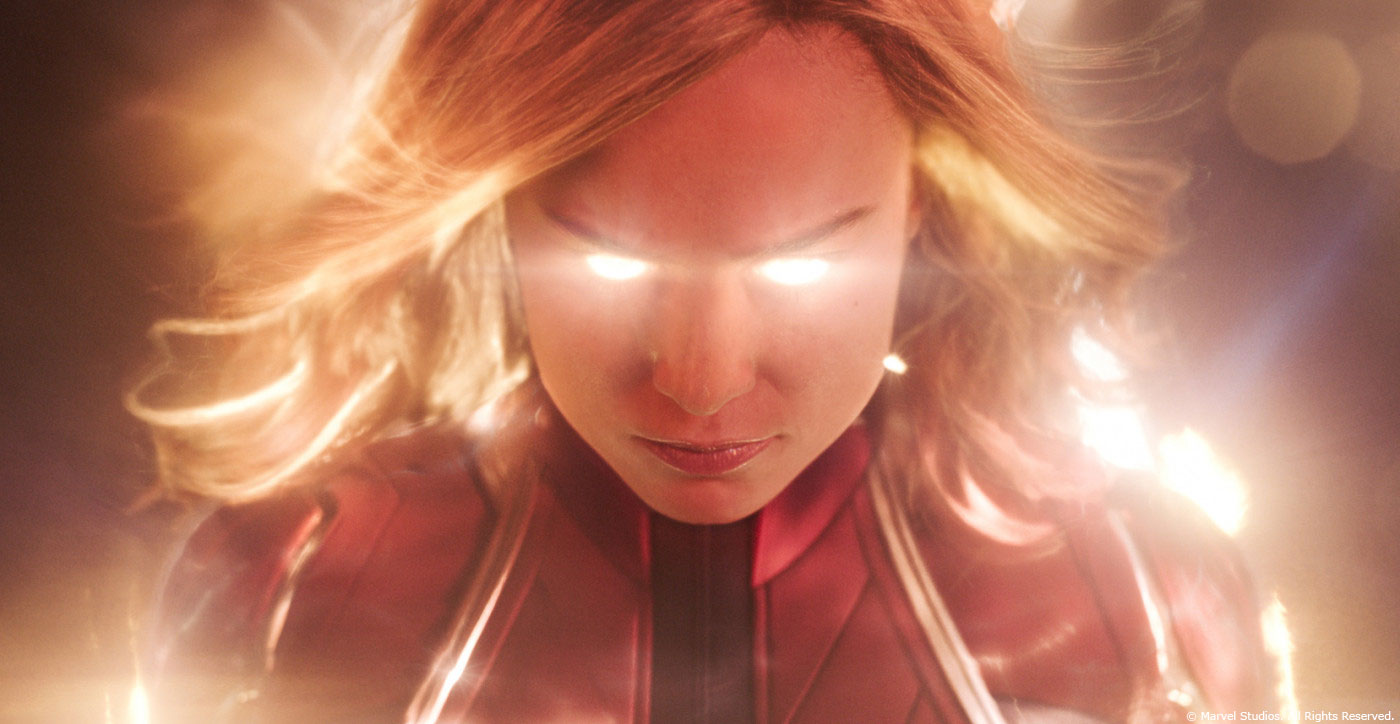 A cat has a big impact on the story. How did you handle the live action cats and his CG version?
I'm not really a cat person, and have never really worked with animals in film before, so this was a huge learning experience for me. I'd originally thought that, as most of the shots required the cat to do cat things, that most would be in camera, with just a few shots of the cat doing non cat things, floating, pinned to some crates, that sort of thing. However, it soon became apparent that continuity between takes, cats that got scared by creaking leather or loud noises or shaking sets, the legalities of being able to hold or drop a cat in a particular way, these all contributed to us ultimately having over two thirds of the cat shots in the film being all CG.
We went to Trixter to build a cat, based on the hero of our 4 real cats, Reggie. We photographed and scanned him, Trixter went to a vet and observed and photographed a dissection of a cat that had died to better understand the physiology, and many movement tests were done. Under VFX Supervisor Dominik Zimmerle and Animation Supervisor Simone Kraus, Trixter created several shots of the cat, including a side by side of the cat walking toward camera. When I showed the tests to Anna and Ryan, they asked what they were looking at; they couldn't believe that it was CG and no one could tell which was real and which was virtual. At that point, we thought that the cat would be far easier than we'd first feared; we were very wrong!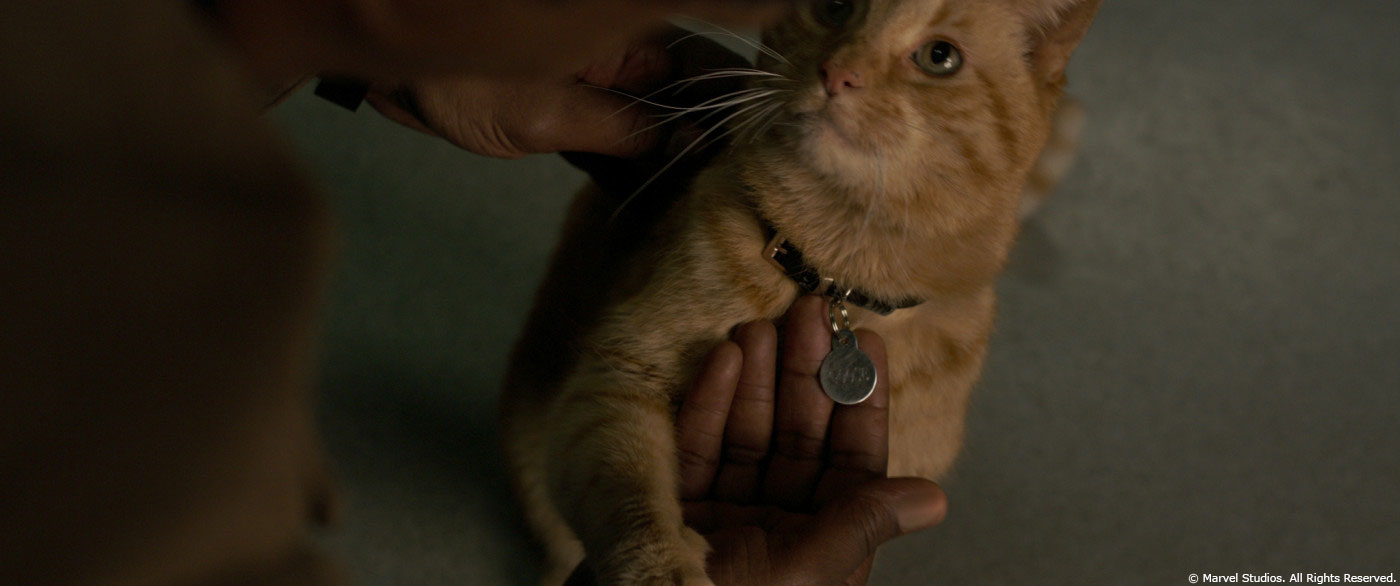 What was the most surprising thing that happens to you during the shooting or the post?
The cat and how hard it was. Intercutting between one of four slightly different real cats and our CG one proved to be one of the biggest challenges of the film, where the uncanny valley and facial recognition became incredibly difficult to overcome. It's one thing creating an all CG character, but having to go from a real Reggie the cat to a CG one and back to a Gonzo the cat, and make them all feel like the same one, meant that our attention to the finest of details in the CG one was paramount, as was the need to digitally manipulate the other real cat (Gonzo) to warp his face to better match the hero (Reggie).
Can you tell us how you choose the various VFX vendors?
Casting VFX vendors is as crucial as is casting the movie with actors. We always try and go to the company whose strengths are specific to the sequence's needs, whether animation, world building, simulation, compositing, or design. I've worked with many of the companies before, which really helps with the shorthand that means we often get to where we need sooner.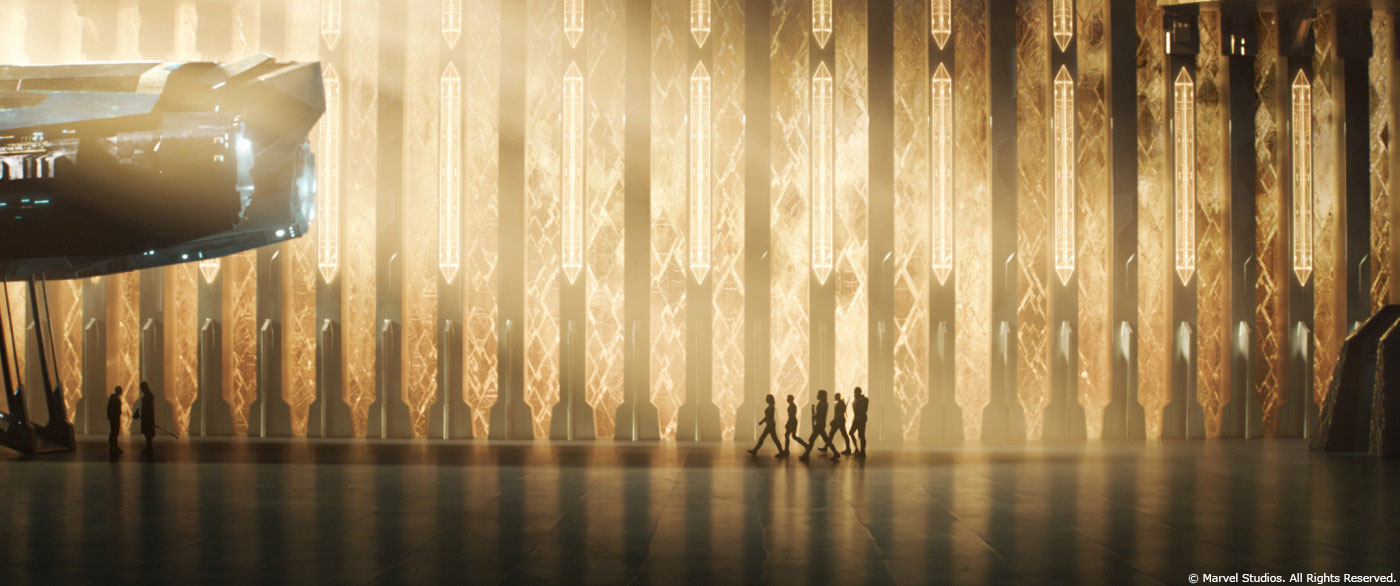 How did you split the work amongst these vendors?
Because of the way Marvel works and their schedules, we often split the work up far more than other big films. We like not to give any vendor, regardless of size, more than about 400 shots; this allows us to have a lot of things across the film, coming up to the required levels all at the same time. In the end we had 14 different companies, as well as a small in-house team, working on the shots. They were: Industrial Light and Magic, Trixter, Animal Logic, Lola Visual Effects, Framestore, Digital Domain, Rising Sun Pictures, Scanline VFX, Luma Pictures, RISE, SSVFX, Cantina Creative, Exceptional Minds, DNEG and Elastic did the end title sequence.
Can you tell us more about your collaboration with their VFX supervisors?
I have to have incredible trust with both VFX and Animation Supervisors at every company with whom we work. There are probably about 1500 artists and production folk that worked on this film, across the world. I want everyone to have some ownership, and I strongly believe that if I ask someone to specifically do something then the best thing I can possibly get is exactly that; however, if I tell them a direction, and ask them to bring their own artistry and skills to the table, often I'll get something far better and more creative than what I'd imagined. Having individual supervisors who can lead and guide those teams is imperative. I believe it has to be a creative collaboration, a partnership, and that requires trust.
The vendors are all around the world. How did you proceed to follow their work?
Reviewing every shot, from 14 companies in multiple time zones requires a very disciplined and well designed system, and having a very strong production team, on the Marvel side, is imperative. Katie Stetson, our Production Manager, led a team of amazing coordinators (Harrison Goldstein, Cole Darby, Kat Peterson, Sarah Cave and Rachel Sokoloski) who were helped by a team of assistants and VFX Editors that ensured that Janelle Croshaw Ralla, our additional VFX Supervisor and I, were able to review every single shot, give notes, then present to the Directors and Studio Creatives. We work mainly in cineSync, which enables us to work efficiently and specifically, and we use Skype so that we can have some face to face discussions, which is incredibly useful. We often started cineSyncs with companies in Germany and Ireland, then Canada, then the United States, finishing the day with Australia!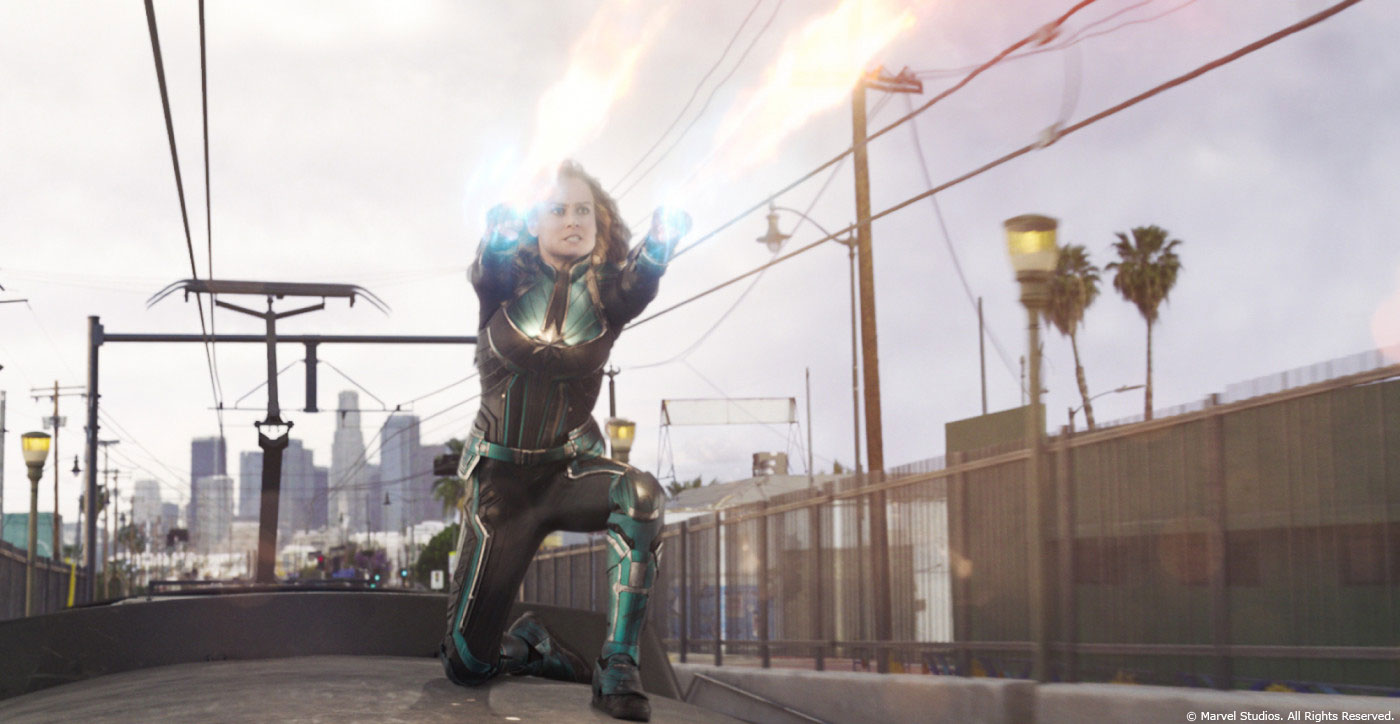 Which sequence or shot was the most challenging?
There was so much that was very challenging in this film, which is why these movies are such fun. One of the hardest things was all the youthening we did particularly on Sam Jackson. Janelle had previously worked on, among many others things, THE CURIOUS CASE OF BENJAMIN BUTTON, and was a great fit to oversee the day to day work on the 500 or so shots. Creating consistency over such a large body of work, and creating an effect that never took the audience out of the moment, didn't step on his performance and allowed his charisma to shine through, was imperative to the film's success; the audience had to believe they were looking at a younger Sam Jackson and never question it. Lola Visual Effects, under VFX Supervisor Trent Claus, took on the bulk of the work, creating the look, basing it on period appropriate movies that Sam had done (particularly THE NEGOTIATOR, SPHERE, and DIE HARD WITH A VENGEANCE). Rising Sun Pictures in Australia and Screen Scene in Ireland also took on some shots. Creating a look that was consistent across scenes, various different lighting environments, multiple lenses and different companies, was a huge challenge.
Is there something specific that gives you some really short nights?
There's always much to stress about but having faith in the teams that are working on the individual problems, is paramount.
What is your favorite shot or sequence?
It's too hard to single out one.
What is your best memory on this show?
Working with such an amazing group of incredibly talented and skilled people, from all over the world, with everyone having the same dedicated mission of making things the best they can be, is something that is unforgettable.
How long have you worked on this show?
I worked on the show for just over a year and a half.
What's the VFX shots count?
There are 2124 final shots in the film; many more shots were started and some even finished, that didn't make it in to the final edit.
What was the size of your team?
Including Production staff, VFX Data Wranglers and VFX Editors, we had a total of about 30 people on the Marvel side, over the course of PreProduction, Principal Photography, Additional Photography and Post Production.
What is your next project?
TBC!
A big thanks for your time.
CAPTAIN MARVEL – BEHIND THE SCENES – MARVEL STUDIOS
WANT TO KNOW MORE?
ILM: Dedicated page about CAPTAIN MARVEL on ILM website.
Framestore: Dedicated page about CAPTAIN MARVEL on Framestore website.
Digital Domain: Dedicated page about CAPTAIN MARVEL on Digital Domain website.
RISE: Dedicated page about CAPTAIN MARVEL on RISE website.
© Vincent Frei – The Art of VFX – 2019