Max Ivins worked for more than 15 years in the VFX. Before joining the staff of Look Effects, he has worked at Digital Domain, Blue Sky / VIFX or Rhythm & Hues. He has participated in projects such as ARMAGEDDON, APOLLO 13, or BLOOD DIAMOND. He oversaw the effects of films like SCOOBY DOO 2, BEDTIME STORIES, or AVATAR.
What is your background?
Realizing that I didn't really want to be an attorney, I turned my passion to visual effects. Over the years I have worked as a vfx artist (2D and 3D), lead and supervisor on such great projects as VOLCANO, ARMAGEDDON, STAR TREK: INSURRECTION, APOLLO 13, SUPERMAN II, BEDTIME STORIES, BLOOD DIAMOND, AVATAR, BONES, LOST, LIMITLESS and CAPTAIN AMERICA. I have worked at Digital Domain, Blue Sky / VIFX and Rhythm & Hues before coming to Look, where I am Senior VFX Supervisor.
How did Look got involved on this show?
With the short schedule remaining and the significance of the work in the additional sequences Mark Soper (Visual Effects Producer) felt they needed a facility that could bring quality creative contributions to the party. To paraphrase "all the shots are going to need special creative attention to get them where they need to be". He contacted Dan Schrecker, LOOK's Creative Director, who he had known for years and was our lead creative on the project. Co-Producer Victoria Alonso of Marvel Studios had worked with our Executive Producer and Head of Production Steve Dellerson years ago. Both relationships helped us get the job and made production comfortable that we would do what needed to be done.
How was the collaboration with director Joe Johnston and Production VFX supervisors Christopher Townsend and Stephane Ceretti?
Because we were working on some really iconic shots, a lot of need even earlier for trailer shots, we had a lot of eyes on us and our work. Our main contact Chris Townsend, a true professional, with whom we had great creative rapport, is one of the people that made it possible for us to do the variety and level of work on this project. He and Joe where on the same page and Joe knew what he was after and communicated it well (what you wish for from a director). All the Marvel people that we coordinated with were true professionals. It was a great project.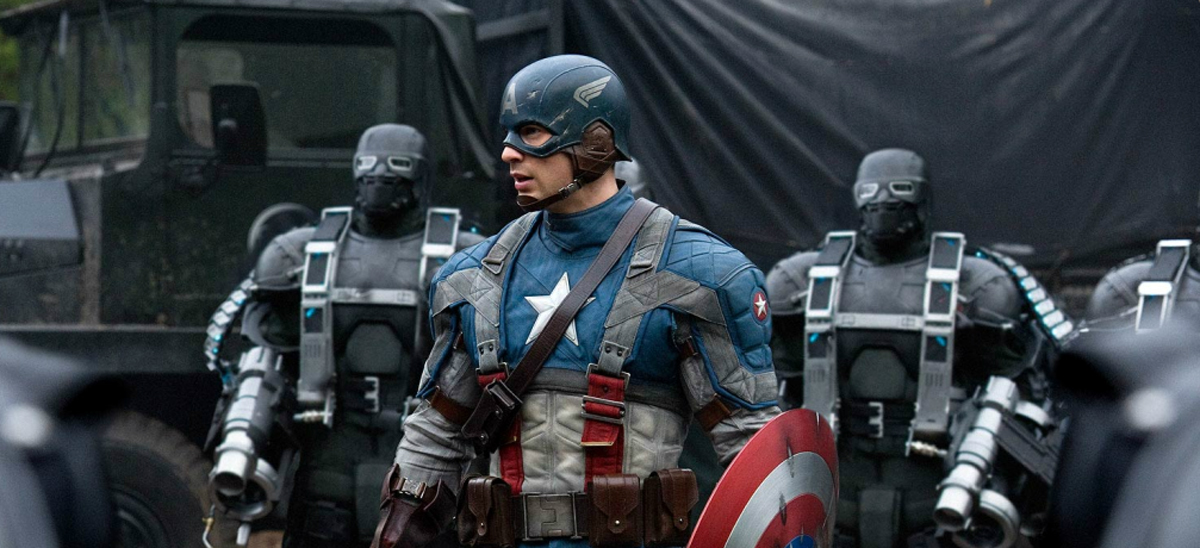 What sequences have you made on this show?
We did three major sequences:
– The hover car
– The fight scene at the entrance to the first hydra factory that Captain America 'visits" the montage sequence of Captain America.
– And the Howling Commando wrecking havoc to Hydra across war-torn Europe.
How was the shooting of the levitating car?
We weren't actually involved in the shoot. We received plates from production. But they included a really big rig.
What did you do on it?
Needless to say, our work included rig removal – lots of rig removal. We also did a lot of 3D tracking and 3D projections. We also produced 2D and 3D interactive sparks and lighting, comped everything together and tweaked a lot to match the director's vision.
How did you create the shield?
Production gave us lots of reference photos of the hero prop and a couple of hero shots from another vendor that had already done a shield. Our process was that they provided us with a very basic model on which we tweaked the shaders which were very specific because "it's another character in the movie." We then animated, lit, rendered and comped it into the plates provided by production. "Rinse and do again until satisfied."
What references or materials did you received from production for the shield?
As reference for the shields we received a very simple 3D model and photos of the hero prop production built. We also got a couple of hero shots from another vendor who had already done some shield shots.
Does the shiny aspect of the shield cause you some troubles?
The shield was really all about building a shader that created the right isotropic highlights that brushed, shiny metal produces. Generally the 3D shield pipeline was fairly standard: 3D track the plates, animating the shield, lighting, rendering, composite and tweak as necessary. We did take great care with all aspects of the shield, the shaders especially, as production was very specific and the shield really is "another character in the movie."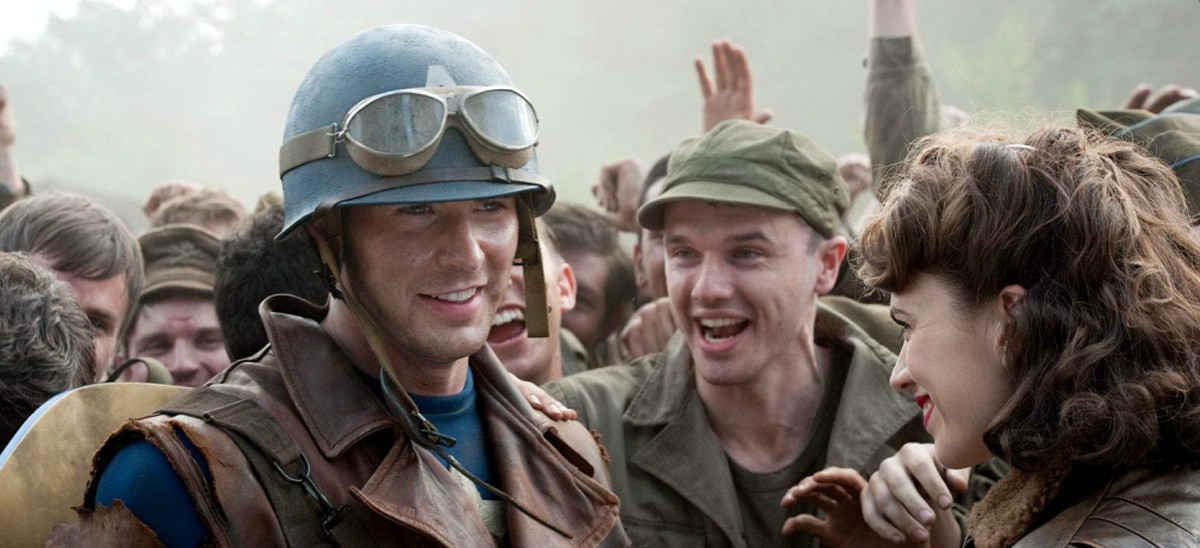 Did you share some assets with the other vendors?
While we received some aspects from other vendors, because we came onto the project so late in the game, all of our work went directly to production. We used some of the provided elements, others we created ourselves. We didn't pass any assets along to other vendors. For example, Double Negative sent us the 3D elements for the hydrabolt which they had created in Houdini. We added the impact.
We primarily did our hydrabolts in 2D, using Nuke and more traditional animation techniques. We didn't write any new, specific tools for this film. "This was a brute-force project because the time was very short and the look was already established."
What did you do on the iconic shot with Captain America and his commando?
For that great shot of Captain America and his Howling Commandos bursting through the barn doors, we received plates to which we swapped out the background, added muzzle flashes and did some environment enhancements.
What references or indications did you received from Joe Johnston?
We generally dealt with production, rather than directly with Joe Johnston. Because we came on the project during crunch ti, the look had already been established. Our job was to do what needed to be done and make it look like everything else. We were the chunk of the movie added after production.
Unlike past jobs, like BLACK SWAN and LIMITLESS, where we were involved in the development phase of the show, our mission on CAPTAIN AMERICA was to not only produce some pretty incredible shots, but to make sure they matched the look and feel of the rest of the movie. To make it look good, so no one could tell it was added after principal production. Get a lot of work done quickly, but but match everything else.
Was there a shot or a sequence that prevented you from sleep?
The biggest challenge on this show was the sheer volume of work really. The one shot that really tested our skills was the shot in which Captain America throws his shield directly into the screen. This shot had the full attention of the director, supervisors and producers and there were some very challenging aspects to the shot. Every detail of the shield had to be perfect. How Captain America interacted with the shield and the background had to be spot-on. Yeah, we lost some sleep over this one.
What do you keep from this experience?
The primary thing we keep from this experience is the fact that we could pull it off as well as we did in the time we had to do it. The trailers are full of our shots, which caused its own schedule pressure. However, even with the schedule crunch, it was a great project to be a part of. Chris Townsend and Joe Johnston and all the Marvel staff are true professionals and did a fantastic job of providing clear direction and seemed genuinely appreciative of our initiatives and attention to quality. We're really proud of the work we did.
How long have you worked on this film?
We had a little over eight weeks from when we got the first plates in house to delivery of the final shot. We did almost 60 shots in that time, many of them iconic sequences in the film. We had a little more time on the hover car sequences because they delivered those plates first.
What was the size of your team?
Our team was pretty small for a job of this magnitude. 3D had five, including 3D tracking, comping had 12. We had two sequence supervisors. A big part of our strategy was to have the two sups and divide the work up so that no one ever had to wait for notes. We needed to turn stuff around really rapidly. So we had a supervisor over every shoulder.
What is your next project?
We're currently working on THE MUPPETS, THE SITTER, TOWER HEIST, MOONRISE KINGDOM, I DON'T KNOW HOW SHE DOES IT, in film and BONES and THE FINDER for television.
What are the four movies that gave you the passion for cinema?
I enjoy making films much more than watching them. So my four favorite projects have been, for various reasons: ARMAGEDDON, APOLOO 13, SCOOBY DOO 2 and AVATAR. But off the top of my head four movies that inspired me, in various ways, would be – 2001 A SPACE ODYSSEY, STAR WARS, GHOSTBUSTERS, and ONE MILLION YEARS B.C. (Raquel Welch as a cave woman!).
A big thanks for your time.
// WANT TO KNOW MORE?
– Look Effects: Official website of Look Effects.
© Vincent Frei – The Art of VFX – 2011