Richard Clegg began his career in visual effects in 2007 at MPC. He has worked on many projects such as CLASH OF THE TITANS, CINDERELLA, TERMINATOR GENISYS or PIRATES OF THE CARIBBEAN: DEAD MEN TELL NO TALES.
What is your background?
I studied Computer Visualisation and Animation at Bournemouth University in the UK. After graduating in 2007 I joined MPC London where I worked in the film and advertising branches of the business. I specialized in Lighting. I moved to MPC Montreal in 2013 as a CG Supervisor for the film CINDERELLA. BLADE RUNNER 2049 was my first role as VFX Supervisor.
How did you and MPC get involved on this show?
John Nelson visited us in Montreal to discuss the work that we had done on recreating Arnold Schwarzenegger for the TERMINATOR GENISYS movie. Our past experience won us the work for digital Rachael.
How was the collaboration with director Denis Villeneuve and Director of Photography Roger Deakins?
Denis had a very clear vision for Rachael's performance that he wanted us to achieve. He was always so concise and motiving. It was a pleasure talking to him. Roger's stage lighting was beautiful and dynamic. The light was permanently rotating and pulsing across the characters' faces. This presented a challenge to us, but added a lovely surreal quality to the scene.
What was their approaches and expectations about the visual effects?
Expectations were high. The uncanny valley adds a huge amount of pressure to digital human work in VFX. If it's not right, it can really pull the audience out of the story. There is no middle ground, it's hit or miss. They lit, performed and shot the scene with a stand in actress. This photography with the stand in was handed over to us so we could replace the face with our digital Rachael.
Can you tell us more about your work with VFX Supervisor John Nelson and VFX Producer Karen Murphy?
John and Karen both knew what a immense challenge the Rachael scene was going to be. They were great at making sure that everyone knew this and gave us everything that they possibly could to ensure that we had the best chance of success. John put a lot of trust in us and his passion for perfection was infectious.
What was your feeling to work on the sequel of this cult movie?
BLADE RUNNER is one of my favourite movies. It's so iconic. I am also a fan of Denis' back catalog. I knew he was going to pull off something great and so I was enormously excited to be part of this sequel. It was definitely daunting to take on the digital Rachael task, but also thrilling. Right before the shoot, my jaw dropped when I saw the lighting and stage for the first time.
What are the sequences made at MPC?
The Rachael scene (digital Rachael, restoration and enhancing of the original movie « memory » footage and drones).
A digital Ryan Gosling head to replace the stunt double's head in the fight scene between Luv and K.
A few face clean up shots and small digital set extensions for Wallace's office.
MPC also did previz for the movie.
How did you organize the work at MPC?
The post work at MPC was split between Montreal, London and Bangalore. Axel Akesson was our Asset Supervisor, Wesley Chandler was our Animation Supervisor and Filip Šustek was our Compositing Supervisor.
How did you use your experience on Terminator Genisys for Rachael?
The research, artistic and technical knowledge that we accumulated from building digital Arnold proved very valuable. We had full confidence right from the start that we could pull off a digital Rachael. We were able to hit the ground running which helped us to maximize and get the best use out of our time.
What references and materials did you receive from the production?
We received an ICT Light Stage head scan and photographic data of Sean Young and the stand in Actress Loren Peta. Sean Young also kindly provided some personal photos of hers from the early 80s that were very useful. 4K scans of the Rachael scenes from original movie were also given to us.
How did you handle her facial animation?
Rachael was fully hand animated. We captured lots of Videogrammetry data that were initially going to use to directly drive the performance. However we needed to be more flexible when doing the shots and so hand animation became the primary method and the videogrammetry data became very valuable reference only.
Our animation supervisor Wesley Chandler and his team did a great job. The human face is a very subtle and complex thing. We studied all of the original BLADE RUNNER shots with Sean Young over and over again so we knew every small trait of Sean Young. We also used reference of Sean and Loren performing that was taken on a facial capture day. From this we would pluck out and copy all of the gentle nuances and nice details in their facial performances. It's a very emotional scene and it was a big challenge to get our digital head to emote to a level that would hold up next to Harrison Ford giving his top performance.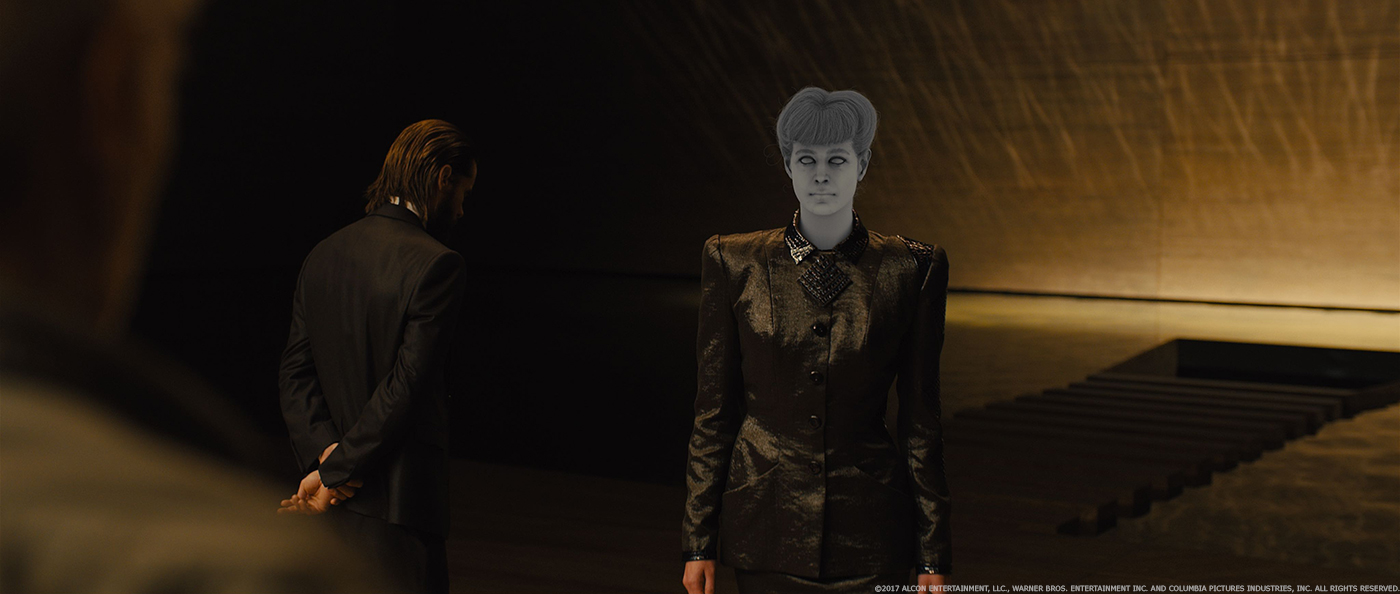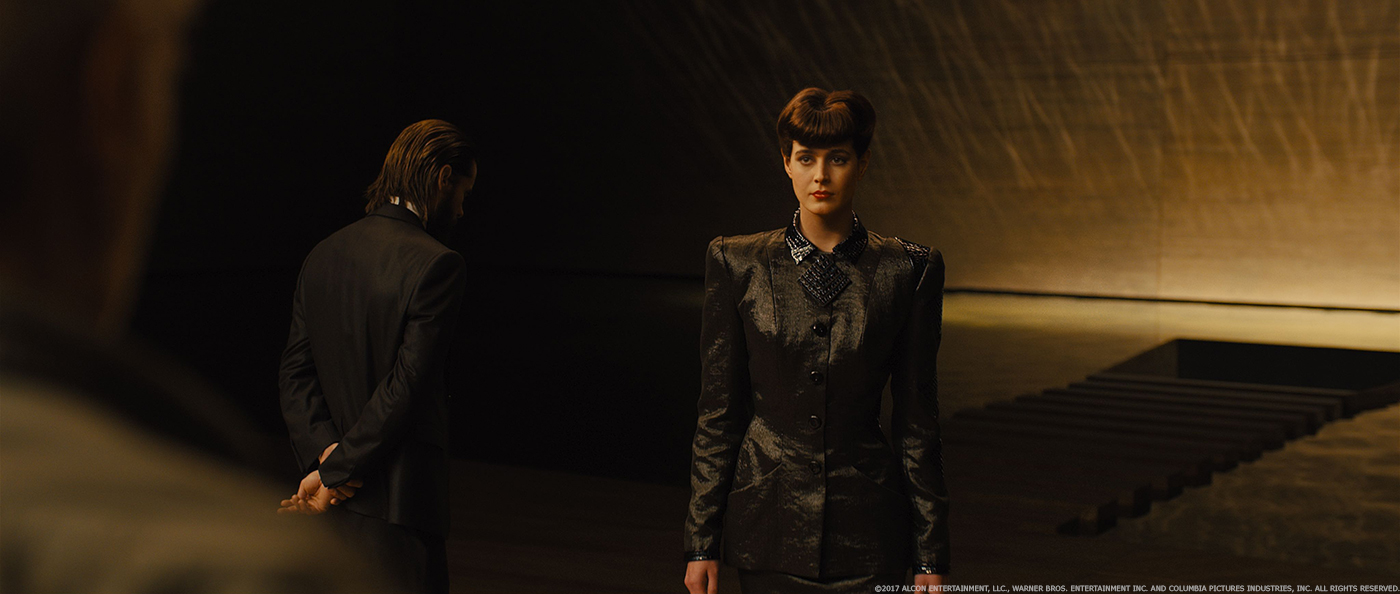 The eyes are always important. Can you explain in details about their creation?
We spent a lot of time thinking about the best way to build physically accurate eye models, textures and shaders. We fully retraced all of the eye caustics and scattering. When the eyes moved even a fraction, we simulated the tissue wobbling in the eye ball itself. We spent many months also studying eye anatomy and the human facial muscle system to help us replicate correct movement of the skin and soft tissue around the eyes.
Can you tell us more about the lighting and rendering part?
Roger's stage lighting had an enormous ring light that was constantly rotating. There was no static lighting in the scene at all. This meant that it was impossible to capture an HDRI. We therefore had to rebuild the stage digitally as well as the light rig so that we could raytrace and simulate the lighting perfectly. We used Pixar's Renderman for rendering.
What was the main challenge with Rachael and how did you achieve it?
The biggest challenge was the performance. Bringing the character to life and giving her a soul behind the eyes was made even more difficult by the face that she needed to cut against the heart felt and emotional performance that Harrison Ford delivered. It was achieved with the artistic talent of our animation team and by spending a lot of time studying reference.
What is your favorite shot or sequence?
My favourite shot has to be the the first shot of digital Rachael as she walks in. I love the initial mystery of her silhouette and the pay off of her reveal as she walks into the light. Rodger's lighting is so beautiful as it turns softly on her face as she squares up to Deckard.
What is your best memory on this show?
The day we were on a call with Denis and John and she « clicked ». Everyone on both ends of the call were very excited to see her come to life. Getting a clap from the director definitely put smiles on our faces.
How long have you worked on this show?
I worked on this show for 11 months. The shoot was in September. The post production took 10 months, starting in October and delivering at the end of July.
What's the VFX shots count?
There were 12 shots of digital Rachael in the movie. MPC did 40 VFX shots in total.
What is your next project?
I'm currently Supervising MPC's work on THE NUTCRACKER AND THE FOUR REALMS.
What are the four movies that gave you the passion for cinema?
The top movies that gave me a passion for VFX in cinema were:
1) JURASSIC PARK
2) 2001: A SPACE ODYSSEY
3) THE TERMINATOR
4) BLADE RUNNER
A big thanks for your time.
// WANT TO KNOW MORE?
MPC: Dedicated page about BLADE RUNNER 2049 on MPC website.
© Vincent Frei – The Art of VFX – 2017