Deak Ferrand has worked for more than 15 years in visual effects as a matte painter. He was on the team that won an Academy Award for the Best Visual Effects for WHAT DREAMS MAY COMES. He has since founded his own company, Hatch, and has participated in a large number of film projects such as RIDDICK, CONSTANTINE, SHOOTER, THE ASSASSINATION OF JESSE JAMES, RED CLIFF and WOLVERINE.
What is your life path?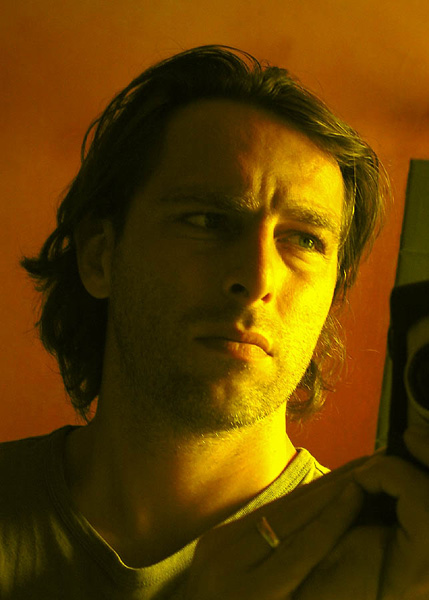 I left Switzerland to go to Montreal where I had heard that there was a 3D school, NAD Center, teaching Softimage. I attended night school there. After about 6 months the people from Buzz Effects Montreal came to teach us what they do. Each of us had to make an animation for our demo reel at the end of the year. When I met Rick Ostiguy from Buzz, he saw what I was working on and really liked what I was doing. He soon asked me to come to Buzz. They initially hired me for two weeks to work on one commercial and afterwards they asked me to stay. I accepted and it is there that I learnt everything about post production.
The next project is what threw me into the movie biz, SCREAMERS directed by Christian Duguay. That production gave us the chance to not only design the look of the movie but to also provide the matte paintings, which I had never done before. I was really pleased with what I had learned while doing this project with them. The movie is what it is, a good B movie and it definitely cemented my relationship with Buzz. They believed in me and I was sent to Los Angeles to help start a new division of Buzz there.
Once in Los Angeles, the company realized that getting into the American movie business wasn't any easy task and the company was struggling. That's when POP made an offer to buy the Buzz Los Angeles facility and Buzz Los Angeles would become the 3D division of POP. POP is when we started working on the big projects. One of our first big projects was WHAT DREAMS MAY COME, directed by Vincent Ward. That year the film won the Academy Award for Best Visual Effects. The award brought many new film opportunities to POP.
I stayed with the company and eventually that company was bought out again, this time by R!OT, while I was working on THE SCORPION KING. My new employment contract arrived right in the middle of my job. This is when I decided it was time to open my own company. I asked R!IOT to keep me on THE SCORIPION KING until the movie completed, but requested that I work under my new company name, Hatch. That's when Hatch was born.
| | |
| --- | --- |
| | |
How was your collaboration with the directors and the VFX supervisor?
What is funny with THE BOOK OF ELI, is that Jon Farhat (VFX supervisor of the movie) called to us to do the work, but we did not know him. In fact, we knew him by name and some friends of ours know him well. He called and said he would like to have Hatch work on the movie and that he was not going to bid our section of the movie with other companies. Jon said that our type of work fit exactly with what he wanted for this film. That was great for us. He wanted us to meet to see if we could all work together. So, he invited me to New Mexico, where they were doing pre-production, to meet with him and one of the directors, Albert. We all got along well, went to dinner, and didn't speak that much about the film. I left the next day and we were awarded the project shortly thereafter.
| | |
| --- | --- |
| | |
You spoke about « Bidding ». Can you explain to us what that is?
Bidding is a practice that the VFX companies do all the time. It is very rare that a VFX producer or a VFX supervisor comes to see you and just gives you the project. In general, there's a list of about 5 companies that give rough quotes on number of shots and prices. The film then decides which company is best suited for the project based on talent and price. For THE BOOK OF ELI, the supervisor did not want to bid it out to multiple companies, he wanted good quality but our prices had to fit into his budget, which they did.
Which sequences were you responsible for on this film?
We did all of the matte painting shots. There were a lot of shots because even a simple shot required a sky and a desert set extension to hide all of the vegetation and other artifacts such as a house or electrical posts. We did all of the compositing of the shots that we had too.
You don't give your mattes to others studios for the compositing?
No. I prefer to keep the control of the compositing because it can all go wrong at this step. For this project there was one studio in Canada that we had given some of our matte paintings to for composite. They were in charge of the San Francisco. We had done all of our own compositing except for that specific sequence. In the end, we wound up compositing those shots because it didn't look right from the other company. The directors even changed the concept for the second round.
| | |
| --- | --- |
| | |
The film visually is a post apocalyptic world. What references did the directors give to you?
The directors made a book during pre-production which contained very strong visual imagery, color contrasts and photographs which provided the visual landscape of the movie. It guided me towards the kind of movie that they wanted to make. One very important step that we made with Jon was to establish a chart that showed the progress of the movie in linear timeframe for color. To give you an example, the beginning of the film it is very dark with many clouds and then towards the middle of the movie Eli gets shot. It is in this instant of the movie that all of ambience and sky had to be very black. By the end, the movie takes on a little more colour, more oranges and the skies became more clear and bright. I made a sky that I created in View Infinity. I changed the cloud renders to show the ambience of the movie visually at certain key moments. That helped production to know how to light the actors.
On top of that, I did some concept drawings. They already had a lot of concepts because they had hired a great guy, Chris Weston, to do all of their storyboards. He's English and primarily focuses on comic books. His drawings were beautiful.
| | |
| --- | --- |
| | |
How did you create your mattes?
For most of the painting work that we did, we used a lot of reference pictures and it is almost a photomontage. For some shots we decided to make miniature models, not only to have a good time but also because of the timeframe. We made the models and miniatures ourselves, in the studio, with some simple cars and toys. This was specifically for the shots of the broken freeway. I took the pictures outside to capture the light. It worked really well. We then took those photographs and manipulated them in Photoshop.
We also built a huge crater. This was an extra shot that we proposed to production to because they needed some bigger shots in the movie. We still have one of the models that made it into the film.
On average, how long did you need to create a matte?
It's difficult to say. For the easiest mattes it was about one to two days. For the others, the more complicated shots, it was about 4 to 8 days.
What software did you use?
I use Photoshop to paint, XSI for 3D matte painting projection and After Effects for the compositing. That setup worked well but now we are testing a new compositing package, Nuke. My guys are now training on it and we hope to drop After Effects once we are up and running on another package.
Did the very contrast in color grading of the movie give you some trouble?
Yes, it caused me some problems because I understood where they wanted to go with the film in saturation and contrast, but for our part, we had to deliver mattes paintings rather neutral so that they would have a range to play with during the color grading. Frankly, I thought that they were going to stay close to what we had done, but when we saw the first images from the color grading, it was really different. It had too much contrast for my taste. The directors wanted to have the actors in silhouettes against a dark sky but they shot everything in hot sun. That didn't work so well. They always wanted it to be darker but it was virtually impossible. The problem with the numerical color grading process today is that you do not have limits anymore.
How long did you work on this film?
It took us about one year. We did 80 shots. 20 minutes of the movie.
How many were you at Hatch?
We worked with a reduced team because I had made the decision to do all the matte paintings myself. We were about 5 full-time artists.
What is your best memory from this project?
It was my collaboration with Jon Farhat. I only saw the directors once at the beginning of the project and once at the very end, when the San Francisco shots were redone. Jon was really thrilled to work on this film. He's a brilliant guy that let me take the creative lead on a lot of things. I like this kind of post-apocalyptic movie, it was a true pleasure to work on.
What is your next project?
I'm working on some small things right now. I have just completed a commercial. Normally I don't work on commercials, but this one was directed by a friend who I love working with. I've also done some shots on a new movie called THE LOSERS. The VFX supervisor for this movie is also somebody whom I admire very much, Richard Yuricich.
What are the 4 movies which has given you the passion for the cinema?
STAR WARS: A NEW HOPE (George Lucas, 1977)
STAR WARS: THE EMPIRE STRIKES BACK (Irvin Kershner, 1980)
BLADE RUNNER (Ridley Scott, 1982)
THE MAN WHO WOULD BE KING (John Huston, 1975)
A very big thank you to Deak Ferrand and Cheryl Bainum for their time and their help.
I invite you to see the website of Hatch to discover their work.
In conclusion, here are some beautiful matte paintings from the film and some of the concept art:
© Vincent Frei – The Art of VFX – 2010