During the period from June 10th to 15th took place the International Animated Film Festival in Annecy. Each year, this festival is one of the best opportunities to meet people from the entertainment and animation world and also to discover many films.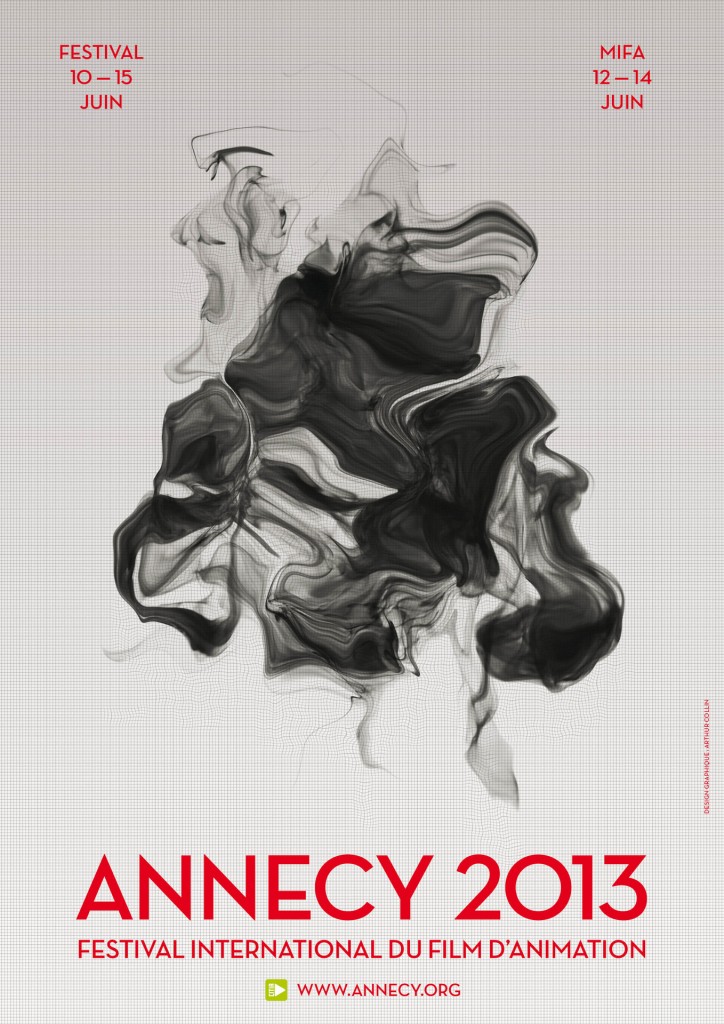 I attend to this festival since many years and it is a great moment every time for meeting people in a beautiful location between lake and mountains.
This year, I was only present for two days so my summary will be a brief excerpt of what you can discover during the festival. If you are passionate about animation, I encourage you to book your week next year to come to Annecy 2014.
// DAY ONE: WEDNESDAY, JUNE 12ND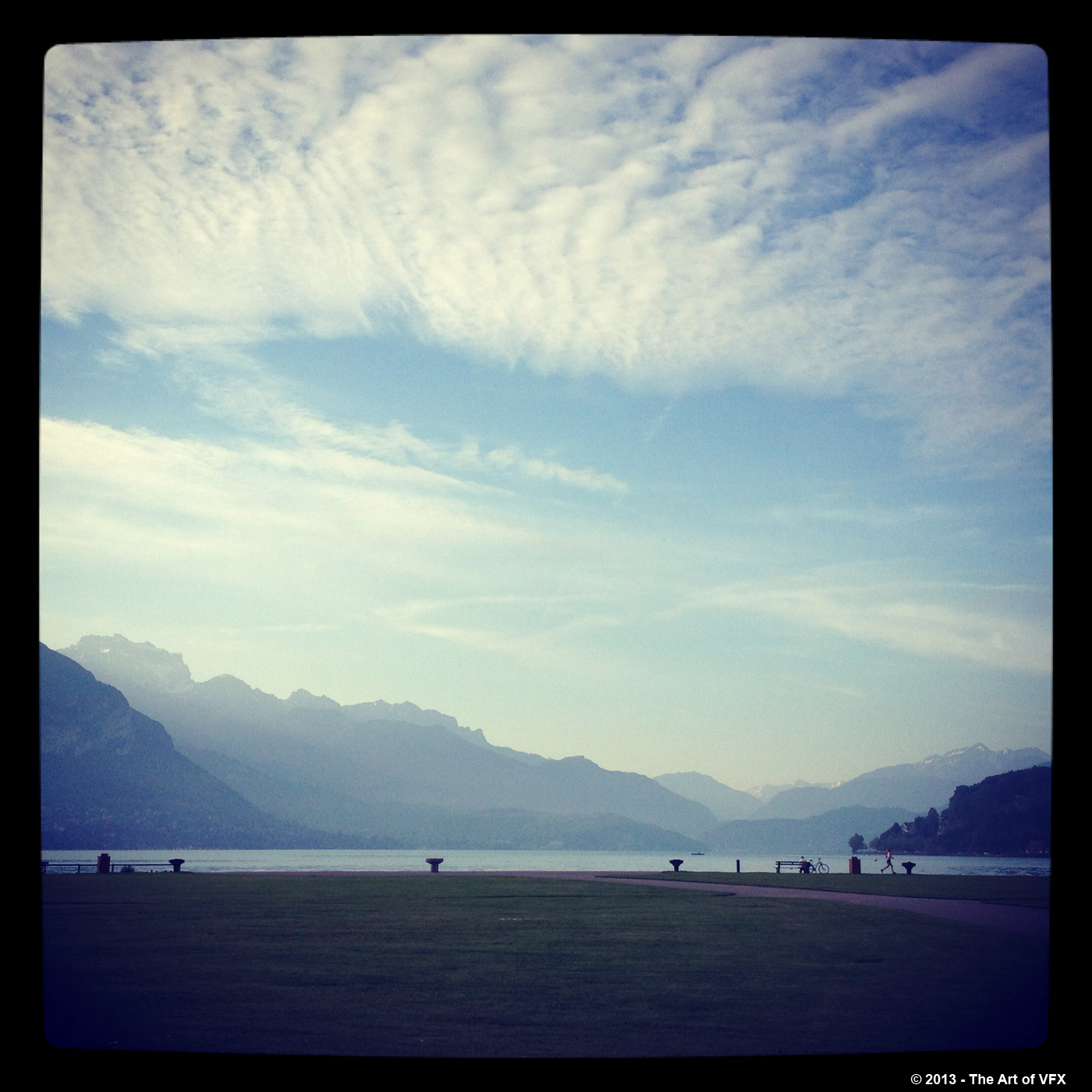 MIFA (International Animation Film Market)
One of the strengths of Annecy Festival is the MIFA that allows you to meet the producers and companies from the animation world and more.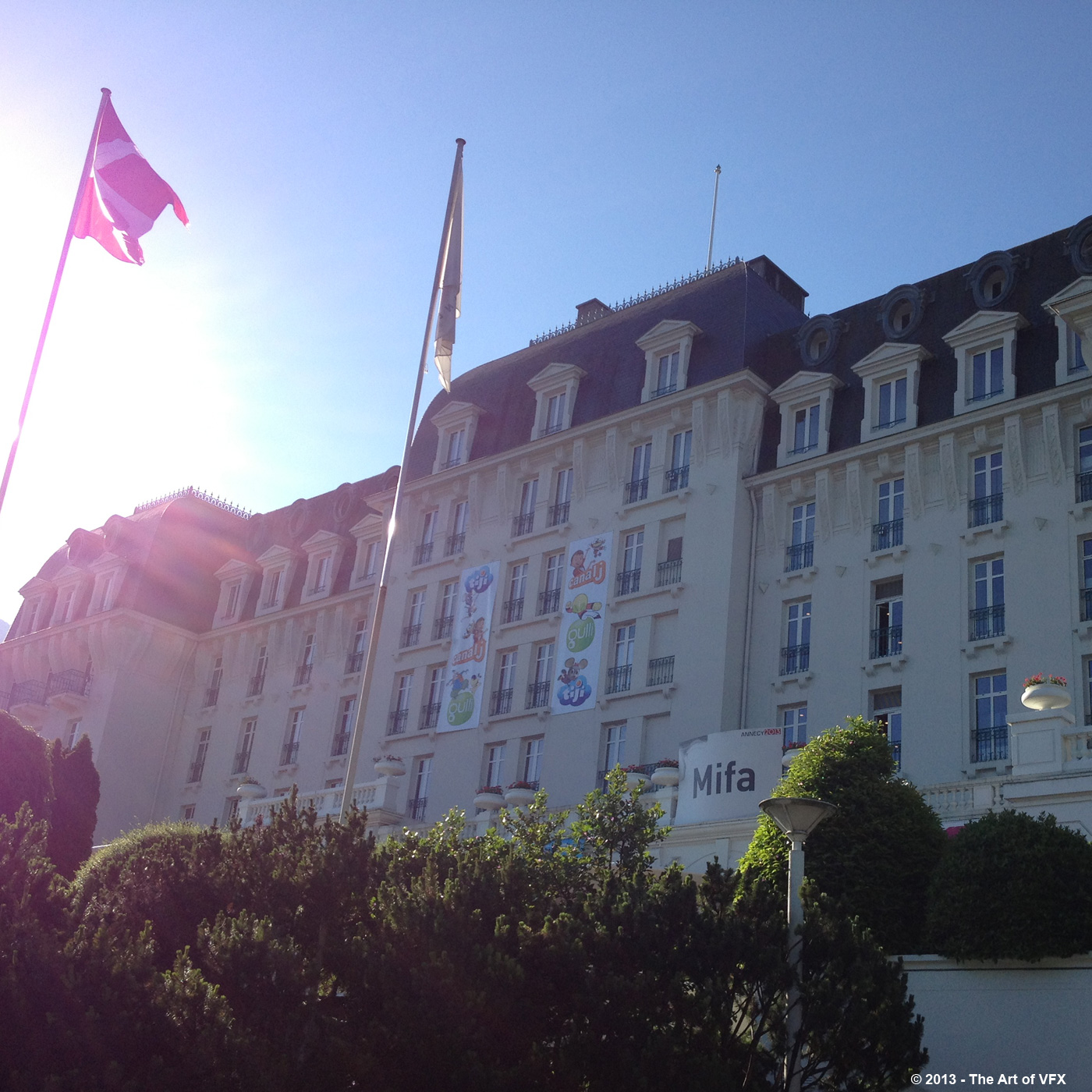 As Swiss artist and founder of Swiss Made VFX, the first Swiss Association of visual effects and animation, I could not miss this annual event that represent the cocktail organized by Swiss Films. This is a very good opportunity to meet professionals in the Swiss animation.
// DAY TWO: THURSDAY, JUNE 13RD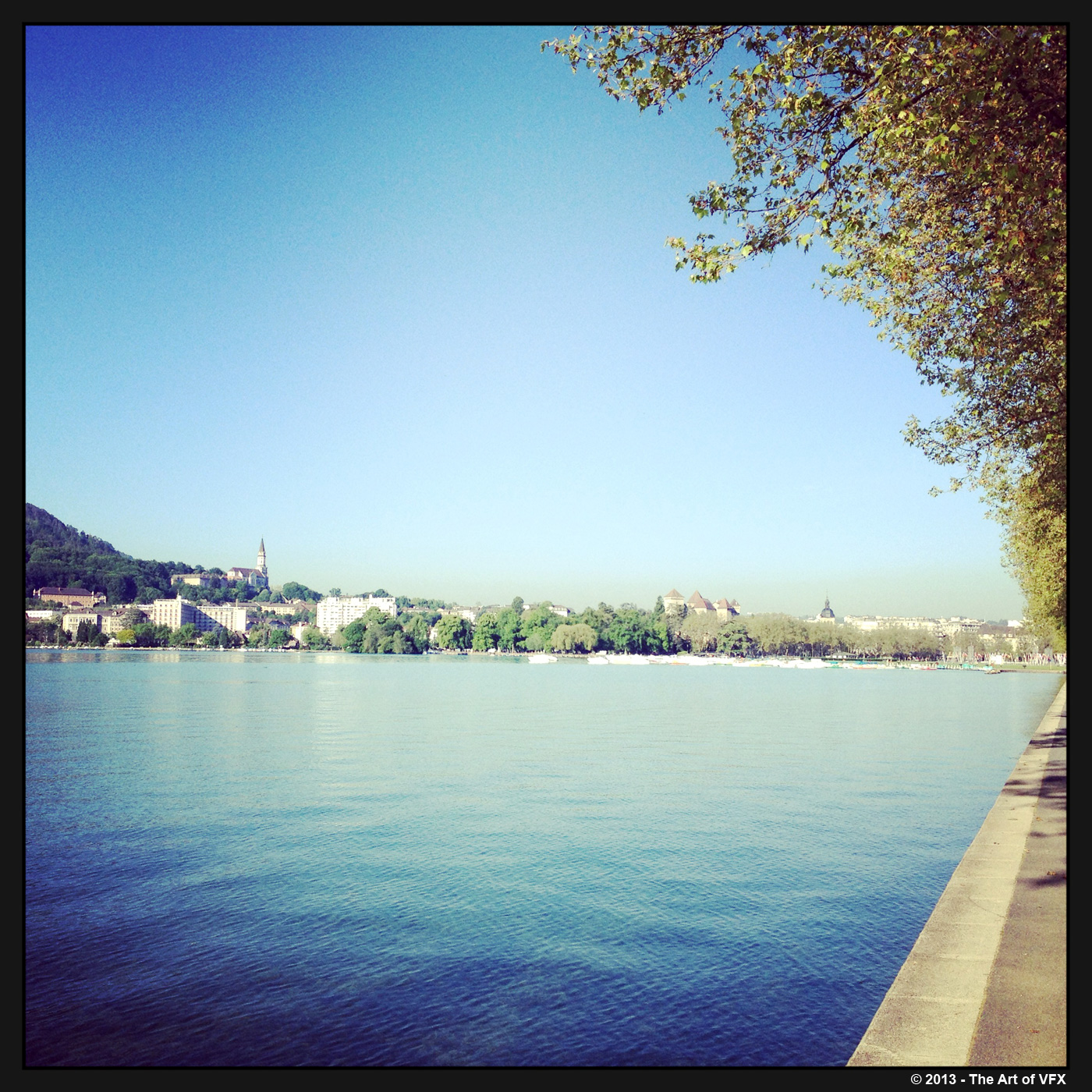 VFX: The State of Technical and Artistic Art
This conference brought together people Realise Studio, BUF, MPC and Framestore.
This is with this second day in Annecy that things really began for me and The Art of VFX. For several years, these conferences are a great opportunity to meet with speakers of the biggest VFX studios in the world and often they are in the same conference together.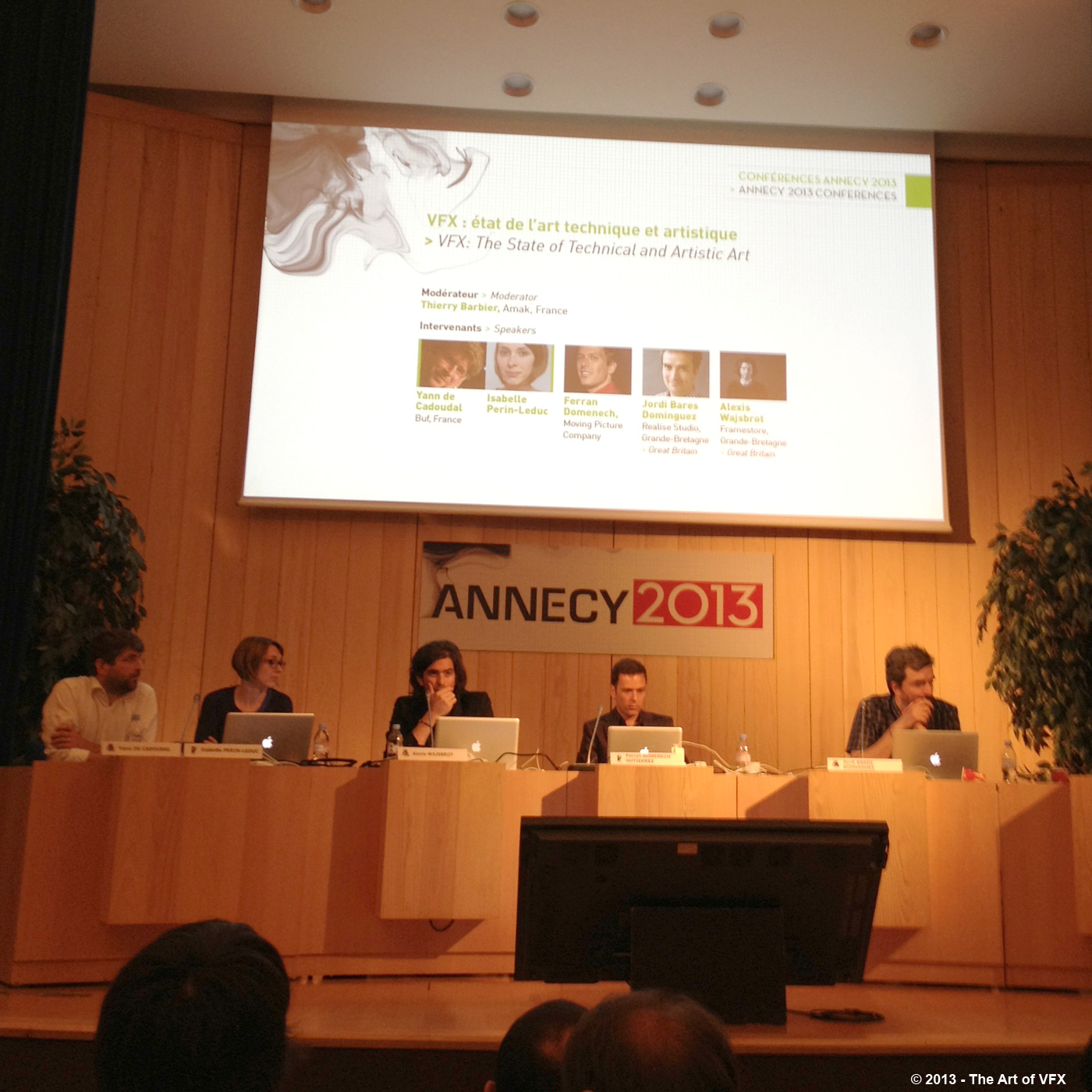 Jordi BARES DOMINGUEZ
Deputy Creative Director, ? Realise Studio, UK
The conference begins with an presentation of the studios workflow and also how Realise approach and work on his projects. This is the smallest studio at this conference and their approach is quite different from the others. I was interesting to have this other point of view.
Yann OF CADOUDAL & Isabelle PERIN-LEDUC
On-set VFX Supervisor & Supervisor, BUF, France
The conference continues with the two supervisors of BUF who worked on The Grandmaster, the new film by Wong Kar-Wai. We learn that the studio has worked on this project for almost three years, starting with a year devoted to made tests for stereoscopic and visual signatures during the fights. These two ideas will be finally put aside by the director.
Yann De Cadoudal then explains the filming particular methods of Wong Kar-Wai (close to improvisation) and how the snow was simulated on the set. We learn that the cherry blossoms were added one by one by a technician and there were thousands of them!
Isabelle Leduc-Perin then takes over to explain in detail the meticulous work done on the snow. BUF added digital snow on over 400 shots! The snow was an mix of several preset simulations that artists could add into shots before refining the effect. This ensured overall consistency with so many shots. We then learn more about the fight sequence in the train station and more about the filming and on the recreation of the train in CG.
For more details on the VFX of the film, do not miss my interview with Isabelle Perin-Leduc:
www.artofvfx.com/?p=4203
And here's the VFX breakdown of BUF:
The Grandmaster | Visual Effects Making Of from BUF on Vimeo.
Alexis WAJSBROT
CG FX Supervisor, ? Framestore, UK
The conference then moves into the world of superheroes with Iron Man 3. Alexis Wajsbrot explains in detail every step of the design and the creation of the Extremis effect. With a lot of videos and pictures, we can see the gigantic work done by Alexis and Framestore teams to achieve this effect. We also learnt that the most complicated shot needed 3 months of work and almost 230 versions!
Alexis then explains that the biggest challenge was the effect of skin regeneration, especially for the woman on fire. Because of the age limitation of the film, PG-13, Framestore teams should not go too far into the gore.
If you want to know more about the work of Framestore on Iron Man 3, here is my interview with Mark Bakowski, VFX Supervisor:
www.artofvfx.com/?p=4385
Ferran Domenech GUTIERREZ
Animation Supervisor, MPC, UK
Ferran Domenech Gutierrez then took over and explained in great detail the work of MPC for Ridley Scott's Prometheus. With almost an hour of breakdown, pre-vis and post-viz materials.
Do not miss my interview of Charley Henley, VFX Supervisor at MPC
www.artofvfx.com/?p=2842
And here is a great VFX Breakdown by MPC
After this 3 hour conference, it is the time to go on the sun and eat something with my friends of 3DVF. And then come the big conference we are all waiting for:
Anatomy of an International VFX Studio: ILM
Hal HICKEL
ILM Animation Director
Hal Hickel began his presentation by explaining what led him to the animation world and at ILM. Its introduction is very interesting and touching especially when mentionning about Ray Harryhausen. We are also fortunate to have a inside tour of the ILM filmed and narrated by Hal.
He continued his presentation with an explanation of the various stages of production at ILM. Each of these steps is illustrated with lots of pictures and videos. The audience and I are thrilled by the presentation and the time line at breakneck speed.
This conference was by far one of the best that I attended and well worth the wait she needed (more than an hour). This presentaiton concluded in an excellent way my stay in Annecy and it was really great to meet him in person after the presentation!
I'm looking forward to returning for the next edition.
A big thank you to the press service for their help.
See you in 2014!
// WANT TO KNOW MORE?
– Annecy 2013: Official website of Annecy 2013.
© Vincent Frei – The Art of VFX – 2013