The nominees for the animago AWARD 2017 have been announced.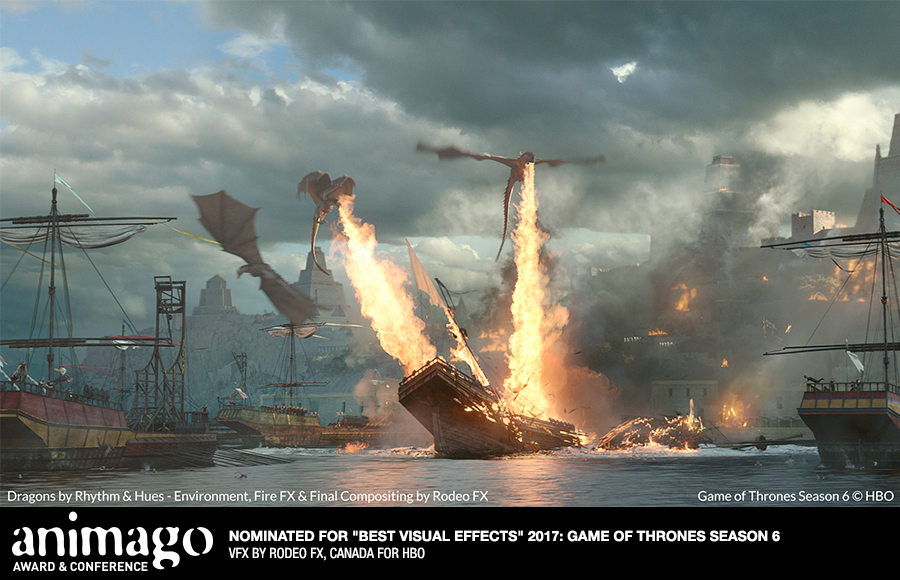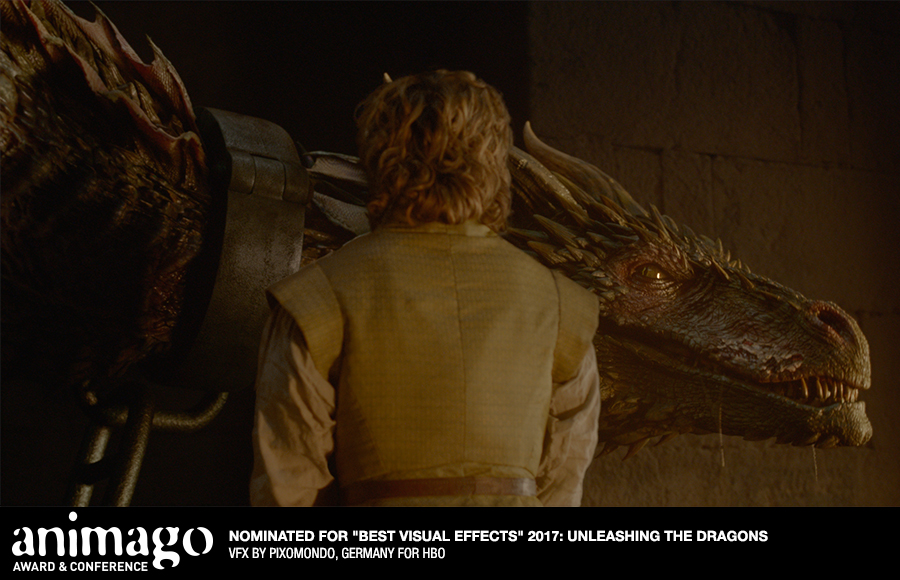 Congratulations to Pixomondo and Rodeo FX for their nominations!
Here is the press release:
Here are the nominees for the 2017 animago AWARDS / 962 Submissions from 58 Countries
Munich, 14 July 2017. The nominees for the 2017 animago AWARDS are in! An independent jury of experts sifted through nearly 1,000 submissions from 58 countries to find the final 33 nominees for the animago's eleven categories. The 2017 animago AWARDS will be handed out on 7th September 2017 during the animago CONFERENCE (7-8th September 2017) at Munich Gasteig Cultural Centre. The animago AWARD is an international competition aimed at creatives from all around the world who are invited to submit their work in the realms of 3D ANIMATION & STILL, VISUAL EFFECTS, VISUALIZATION and DESIGN.
Here are the nominated projects of the animago AWARD 2017:
Best Visual Effects
Fantastic Beasts and Where to Find Them, Warner Bros., Visual Effects by Rodeo FX, Canada
Game of Thrones Season 6, HBO, Visual Effects by Rodeo FX, Canada
Unleashing the Dragons, HBO, Visual Effects by PIXOMONDO, Germany
Best Shortfilm
Afterwork, Matte CG, Uson Studios, Apus Estudios, Ecuador
Darrel, Daniel Martínez, Marc Briones, Alan Carabantes, Spain
Revelation – the City of Haze, Magic Animation, Mao Qichao, China
Best Character
Ein Krötenlied, Robert Martin, Kariem Saleh, Filmakademie Baden-Württemberg, Germany
Poilus, Guillaume Auberval, Léa Dozoul, Simon Gomez, Timothé Hek, Hugo Lagrange, Antoine Laroye, David Lashcari, ISART Digital, France
Shine, Alexander Dietrich, Johannes Flick, Filmakademie Baden-Württemberg, Germany
Best Game Cinematic
Beyond Good and Evil 2 Cinematic Trailer, Ubisoft, Unit Image, France
Skull and Bones Cinematic Trailer, Ubisoft, Platige Image, Poland
The Crew 2 – E3 Cinematic Trailer, Ubisoft, Unit Image, France
Best Motion Design
Adele, Psyop, Joe Ball, USA
Dust My Shoulders off, Grass Jelly Studio, Taiwan
Pause 2017 Opening Titles, XZSM. Xiaolin Zeng, China
Best Advertising Production
Canal Kitchen, Unit Image, France
Lube-x, Noah Demirci, Hochschule Luzern, Switzerland
Die Oster-Überraschung, Netto Marken-Discount, Jung von Matt, Germany
Best Visualization
Antlion Audio / ModMic 5, DW Studio, Wales
Huawai 'Watch', Glassworks Amsterdam, Raphael Vangelis, The Netherlands
Nanos , Daniel Eisenschink, Simone Kellner, Simon Völkl, Technische Hochschule Deggendorf, Germany
Best Young Production (carries prize money contributed by DIGITAL PRODUCTION totaling €3,000)
Asteria, Alexandre Arpentinier, Mathieu Blanchys, Lola Grand, Tristan Lamarca, Thomas Lemaille, Jean-Charles Lusseau, ESMA, France
Less Than Human, Steffen Bang Lindholm, The Animation Workshop, Denmark
The D in David, Michelle Yi, Yaron Farkash, Ringling College of Art and Design, USA
Best Still (public voting for the winner out of the three nominees)
Her Eventual Hesitation, Marek Denko, Czech Republic
Superman Decline, Dan Roarty, USA
Timothy the autumn mouse, Jesus Fernandez Calderon, Costa Rica
Jury´s Prize
In a Heartbeat, Beth David, Esteban Bravo, Ringling College of Art and Design, USA
Overrun, Pierre Ropars, Antonin Derory, Diane Thirault, Jérémie Cottard, Matthieu Druaud, Adrien Zumbihl, Supinfocom Rubika, France
The Passenger, Orlane Brouillet, Claire d'Intorni, Antoine Mariez, Lucie Martinetto, Réda Mehleb, Eva Seyeux, ESMA, France
Best Architecture Visualization
Displacity, Frank ter Horst, The Netherlands
Madinat Al Irfan, HHVISION, Germany
Villa 3D Animation Maisons Oxygène, Valentinstudio, France
The submitted works are viewed and evaluated by an independent jury of experts. Hamburg-based graphic designer and freelance editor Günter Hagedorn, who has managed the animago competition since it was founded 21 years ago, acts as head of the jury. This year's jury members are the character animator and filmmaker Melanie Beissswenger (Happy Feet, Happy Feet 2, Iron Man 3), Alexander Bouquet, Head of Postproduction at the ad agency JUNG VON MATT, Maggy Fischer, Head of Postproduction at Neverest, Digital Production Editor Mirja Fürst, Milkroom Studios' Managing Director Robert Hoffmeister (Pirates of the Caribbean 2,3 and 4, Star Wars Episodes 2 and 3), the graphic & motion designer Elisa Krenz, Rolf Mütze, co-founder and Managing Director of the VFX and animation studio LAVAlabs moving images, Juri Stanossek, VFX Supervisor at Mackevision Medien Design and Dominik Zimmerle, VFX Supervisor at TRIXTER Munich.
This year's guest jurors include Daniel Curio, Head of Film Policy and Audiovisual Media at Bavaria's State Ministry for Economics and Media, Energy and Technology, Jürgen Korbinian Enninger, Head of Munich's Expert Team on Culture and the Creative Industries, and Marc Gegenfurtner, Head of Department I for the Fine Arts, Performing Arts, Film, Literature, Music, City History & Science in Munich's Cultural Division.
The jury for the Special Architecture Prize is made up of the architect, editor, graphic designer and concept designer Pedro Ferreira alongside Editor-in-Chief of the architecture magazine DETAIL Dr. Sandra Hofmeister, owner and interior architect/designer at Plan2Plus Ralf Peter Knobloch and DETAIL editor Peter Popp.
The animago CONFERENCE offers a programme of keynote addresses, lectures and workshops that serve to connect the creative community with an audience of international experts and film and media enthusiasts.
© Vincent Frei – The Art of VFX – 2017