Ash Thorp worked as art director and designer for many years. He has participated on films like THE TOURIST, X-MEN: FIRST CLASS, THOR, PROMETHEUS or THE AMAZING SPIDER-MAN. In the following interview, he explains the many challenges on TOTAL RECALL.
What is your background?
I come from a more traditional illustration/fine art background with a little bit of design education.
How did you get involved on this show?
While working as a lead designer on another feature film, I was contacted by a mutual friend, Michael Meyers, who knows Patrick Tatopoulos. Patrick was in search of a designer that could help build out UI and design Elements for TOTAL RECALL, and so we set up a meeting at his Los Angeles office. He showed me the pre-vis of what they had been creating for TOTAL RECALL, and from that moment I was extremely excited to jump in and join the team.
What have you done on this show?
On TOTAL RECALL, I created interactive design interface for around 200 final shots in the movie, which included everything from robotic helmet displays to street advertisements. It was a wide-scale of different needs that filled up the world they had created.
How was the collaboration with director Len Wiseman and production designer Patrick Tatopoulos?
It was a great experience. I met with Patrick a few times in person when we first started up the job together, and then I began to also have regular video conferences with Len as he would make notes and express his thoughts on the shots they chose for the edit. Thankfully through the use of modern day communications, we were able to get our thoughts and designs worked out quickly and things continued to move along at a very fast pace.
What references and indications did you receive from them?
This is a very broad question given the amount of work provided for the movie. When Ryan Cashman (who animated all my designs) and I had our initial meeting with Patrick, he explained roughly what he wanted for some of the particular shots that him and Len decided needed work. From that initial brief, I started to build a massive list of what needed to be accomplished on this project. Then as I would build the designs and assets, they would be passed on to Len so that he could provide his notes on what he thought was working and what still needed adjustments. Once we established trust and things began to progress, Ryan and I became more responsible for developing ideas, trying to bring new concepts to the table, or possibly solving issues to further help the team with their project.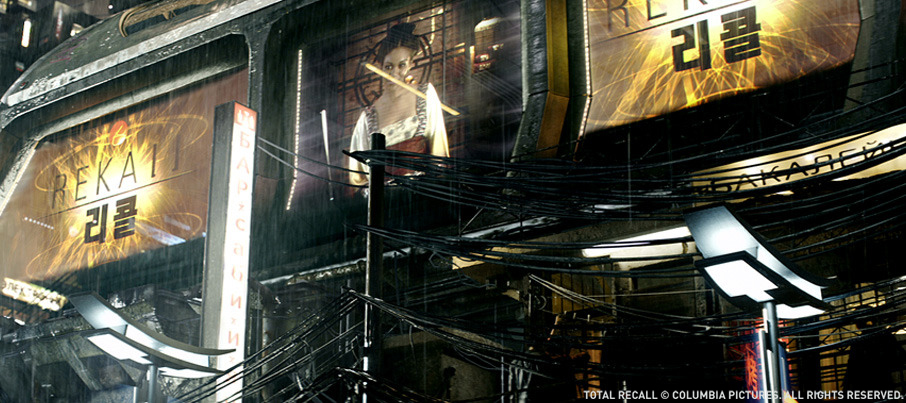 How did you approach this project?
This was a massive project for just a two person team, so staying organized was key. It's very easy for things to get mixed up or confused when you're dealing with so many tasks, but I made sure to try to keep things organized and make concise lists to help keep on the right track.
What are your first steps of work on a project like this?
With TOTAL RECALL, I tried many different techniques and even developed a few new methods to help get the work out to the client even faster. Before I start designing, I like to mentally visualize what it will look like and function before I even start. I want to dig deeper into the concept and really understand what is actually happening in the shot before I start to build out the assets. I fill my world with questions about the scene and aim to answer them with my designs. Most importantly, I always have my sketchbook close to me because I pull inspiration from the world around me, and it also helps get my thoughts and energy out as fast and honest as possible. I would start sketching out ideas on what I think might work for a scene, and from there, decide on which of those sketch designs were the best for that shot. From that point, I go into Adobe Illustrator and build out vector assets and design compositions that I feel capture that original idea I have from my mind/sketchbook. Once I am satisfied with the assets I have built, I take those elements into Photoshop and build upon those even further to achieve a result acceptable for presentation to the client for review. On some other shots, I might take another approach and draw directly onto the film plate using my Cintiq or Wacom tablet; this process helps me see how the composition is working immediately and helps me understand sizing, framing, everything. I must emphasize that the idea is king and building out the assets to support that is my main goal.
How did you choose the fonts used in the show?
Fonts can be a bit tricky. I have a pretty large asset folder that I go through before I start a project. With TOTAL RECALL, I wanted to try and stay away from the stereotypical sci-fi fonts, and I leaned more towards fonts that would be used in the real world but with a subtle twist, something a bit classic and functional. Picking font families can be difficult and so I base my final decision more on emotion and what the font reads back to me visually. Again, I try to support each shot of the story as I build out the assets, and this can be as simple as picking a font that is more legible between size increments, for example.
The movie features an impressive amount of screens and holograms. Can you tell us more about their design and creation?
Agreed! There is one particular sequence that sticks out to me, and it was a scene in the film that involved a security screening the colony citizens had to walk through. In the original film, Arnold walks through and we can see an X-ray skeleton of his body revealing his fire arm. For the new concept, Patrick and I sent designs and ideas back and forth a few times before we were finally able to nail this design down. Patrick had this great idea that all their information would project out and be visible all around them; it would be a visual passport of some sorts. I really loved that idea and built upon it to form a design language that I felt would fit their world. From there, I sent these design concepts out to Len for his feedback, and once Len was sold on the idea, I handed it off to Ryan for him to animate it with that vision in mind. For me, this scene was a very memorable moment from the original film and I really aimed to build out something that was special for Len's adaptation of Philip K. Dick's story.
How did you design the Synth screen face?
These where some of the designs I enjoyed the most. I wasn't given a brief on this other then the fact that they needed to have a visible read-out of data, such as « entity detected » or « tracker identified », etc. Before I jumped onto the computer, I began quickly sketching out the concepts from my mind. As I mentioned earlier, I use my sketchbook quite a bit at first before then moving on to Illustrator where I can further play around with shapes, forms, compositions, and ideas. I really wanted it to feel special, unique, and unlike anything I had seen. The role of the synthetic robots in the film is menacing and dominating, so I wanted to give their screen a similar feel. I looked towards nature's design and movement for a bit for inspiration here. I love nature's engineering of the mouths of spiders and praying mantis', because there is something disturbing about how they consume things. Therefore, I wanted to try and take that same feel but give it a digital aesthetic. This design is something that I really enjoyed building and that I hope others enjoyed seeing as well.
Can you tell us more about your collaboration with the different VFX vendors?
This was more for the final output stage, as many of the designs I built for this project were sent directly to Ryan Cashman. And then from Ryan, it was shipped to various vendors, such as Double Negative, BUF, and MPC. When I first started on this project, we had a few conference calls with Double Negative to make sure we were all on the same page and basic file output needs in order to make sure we didn't hold up anyone's workflow. The crews were great and did some truly amazing work. While watching the final film, I was excited at how well they were able to track the original designs. Great work guys!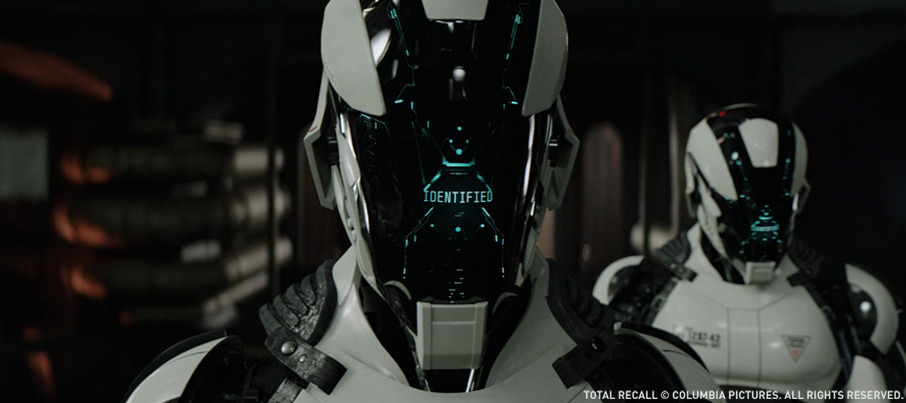 What was your feeling to work on a new version of TOTAL RECALL?
When I met up with Patrick and he showed me the new world they had created for this film, I was extremely excited to see more and be a part of this film.
Which softwares did you use for the graphics creation and animation?
For the design portion of this project, I used Adobe photoshop, Illustrator, Bridge, and Indesign CS5
Have you created procedural animation or everything is keyframed?
I know enough to get around in After Effects, but not nearly as good as Ryan; he is really amazing with that program. For TOTAL RECALL, I tried to mainly focus on design and concept, as that alone was enough work for a team in itself.
What was the biggest challenge on this project and how did you achieve it?
The biggest challenge for this project would have to be the overall scale of shots we needed to deliver. It was a massive list for just two people to accomplish from the original manifestation of design to its final animation output. Honestly, just sheer will power and hard work got us through to the end of the project. There were so many long, late nights, weeks, and months, and I am really proud that we finished this project strong.
Was there a shot or a sequence that prevented you from sleep?
All of them, really…hahaha! I was working on this film while juggling other projects as well, so everything was built through long nights and weekend hours, while also managing to try and fit in some time with my family too.
What do you keep from this experience?
I am very thankful to have been able to work with such an amazing director and crew, especially Patrick; he is so wonderfully talented in the film world, and I was honored to have been given a lot of design freedom on a film of this magnitude. Personally, this project helped push and show me what I am capable of, and how much I really can take on as one person. The biggest lesson I think I learned from this project was to understand and control every minute of my day, respect my time, and honor it with the best work I could make at the time I created it.
How long have you worked on this film?
The total amount of time was about 4.5 – 5 months roughly.
What is your next project?
I am currently a lead designer for ENDER'S GAME which I also greatly love… another amazing team/project. In addition, I am also assisting on a few other features but I can't speak of them in detail at the moment due to my contracts. I am looking forward to showing these future projects as I feel it reflects my continuing development as a creative mind.
What are the four movies that gave you the passion for cinema?
This is a very difficult question! I love cinema and have so many movies that inspire me in so many different ways. I supposed that the movies that really pushed my passion for film were AKIRA, THE ABYSS, AMERICAN BEAUTY, and of course, STAR WARS – THE EMPIRE STRIKES BACK… that movie changed my childhood.
A big thanks for your time.
// WANT TO KNOW MORE?
– Ash Thorp: Dedicated page about TOTAL RECALL on Ash Thorp website.
// TOTAL RECALL – ASH THORP REEL
© Vincent Frei – The Art of VFX – 2012