Paul Mitchell has worked 13 years at the BBC as a design director. In 2007, he joined Prologue Films and worked on numerous commercials and movie title such as IRON MAN 2 as Creative Director. He explains the challenges in this adaptation of the board game Battleship.
What is your background?
I'm a formally trained graphic designer with a passion for storytelling and film. I studied Graphic design in London and worked at the BBC for 13 years before moving to LA and joining Kyle Cooper's Prologue Films in 2007. Since working at Prologue I have been fortunate to work on some great projects; IRON MAN 2 and BATTLESHIP are two of those projects.
How was the collaboration with director Peter Berg?
Pete had a strong vision on the whole movie and that was true of the graphics he wanted. We met frequently throughout the whole process, he was open to many of the creative suggestions we put on the table, but above all, he wanted it to tell the story.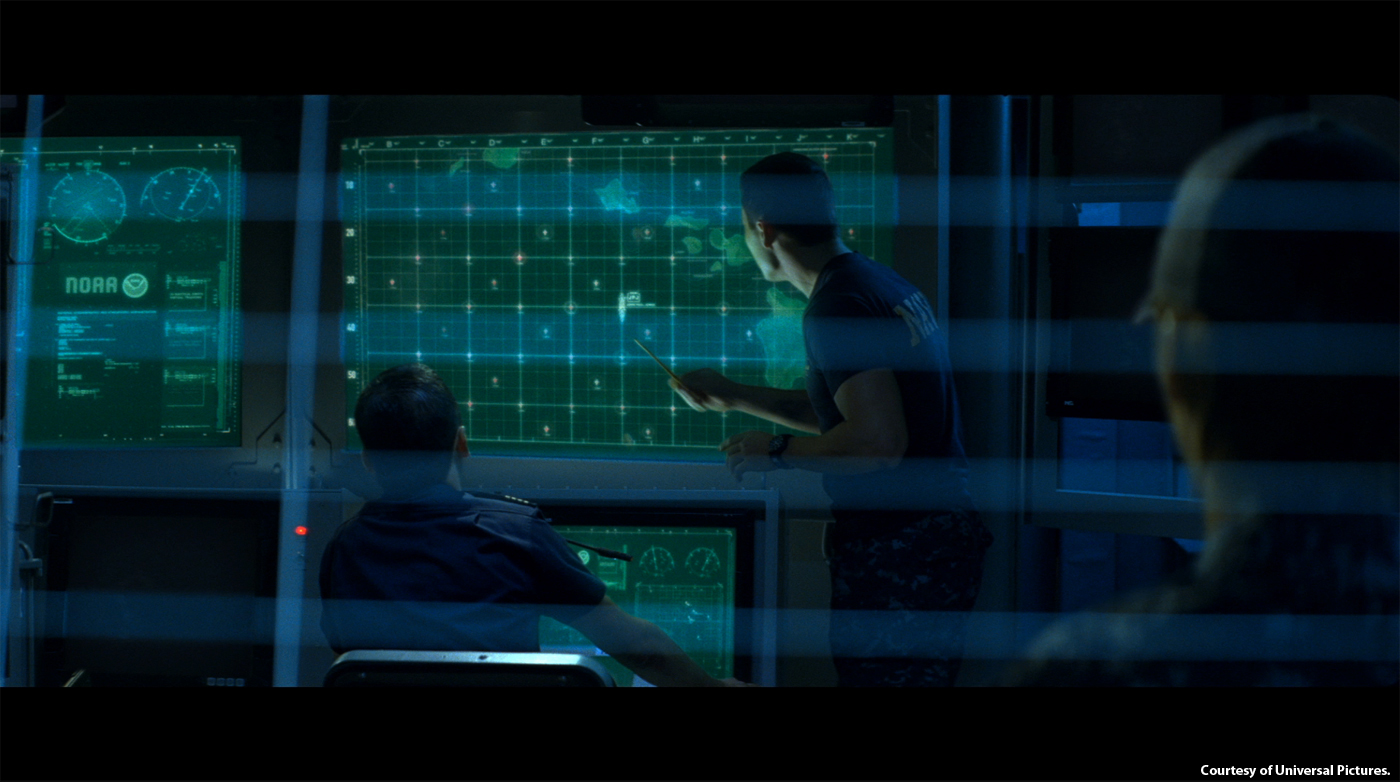 Can you tell us more about the design and the creation of the shots showing the space map?
This sequence was designed to illustrate the common factors which make up a habitable planet; for example, the right distance from the sun creates an earth-like planet. The actual final design had to clearly show this in a computer program demonstration. We designed this sequence with some basic color coding principals so that the information was very easy to understand, and then added layers of secondary infographic elements. The CG planets were created in C4D because we wanted to give the sequence a more graphic feel, rather than creating fully realistic VFX shots.
Which softwares did you used to create the various animations?
We used a combination of off the shelf tools to create the animations, mainly After Effects supported by Nuke, Flame, Maya and C4D.
How did you create the map and its animations that is a reference to the original Battleship board game?
It took a while to get this map to work well. We really needed the right balance of story information and suspense because it was part of a very critical moment in the movie. We worked through numerous iterations of the map and what appeared on it; some maps were complex, some simple but all had subtle references to the basic idea of the original Battleship board game. The grid itself needed to be relatively simple, but was brought to life with multi buoys scattered around. Each buoy had various levels of animated states helped to guide us through the scene. After Effects was the tool we used because it required a lot of detailed animation components.
Can you tell us more about how you approach the creation for the end title?
We knew we wanted something fun that tied in the Battleship map but had an extra layer of action. So we designed a grid environment which lived in 3D space – this allowed us to have fun with the 3D ships given to us by ILM. We took the models and developed a graphic rendering style. We also took time to explode the ships in a graphic way, which was in keeping with the overall style of the end title sequence. We then reenacted moments from the battle scene.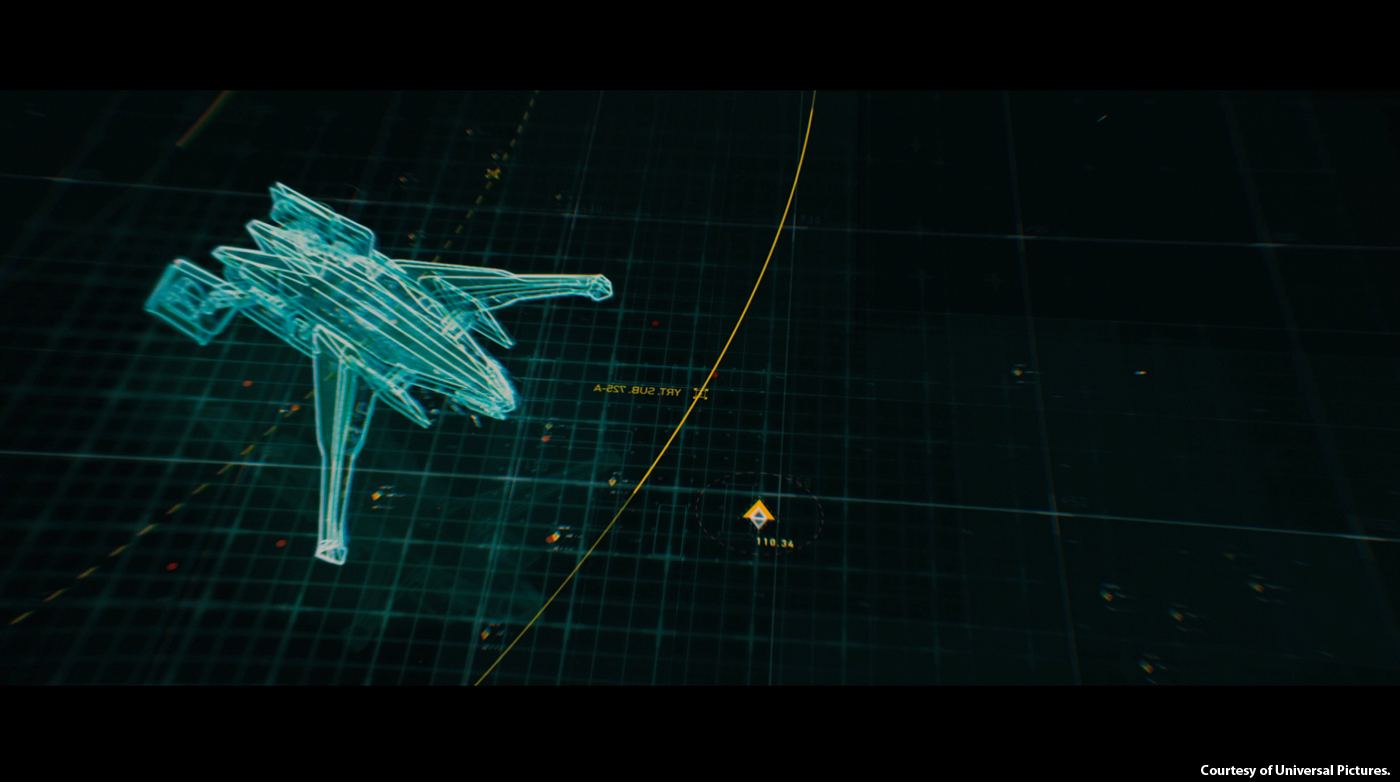 Did you received some assets from ILM especially for the end title?
Yes. ILM very generously gave us their models from a number of scenes which really helped us at Prologue. Especially the ships and missiles for the end titles – this really brought the whole sequence to life.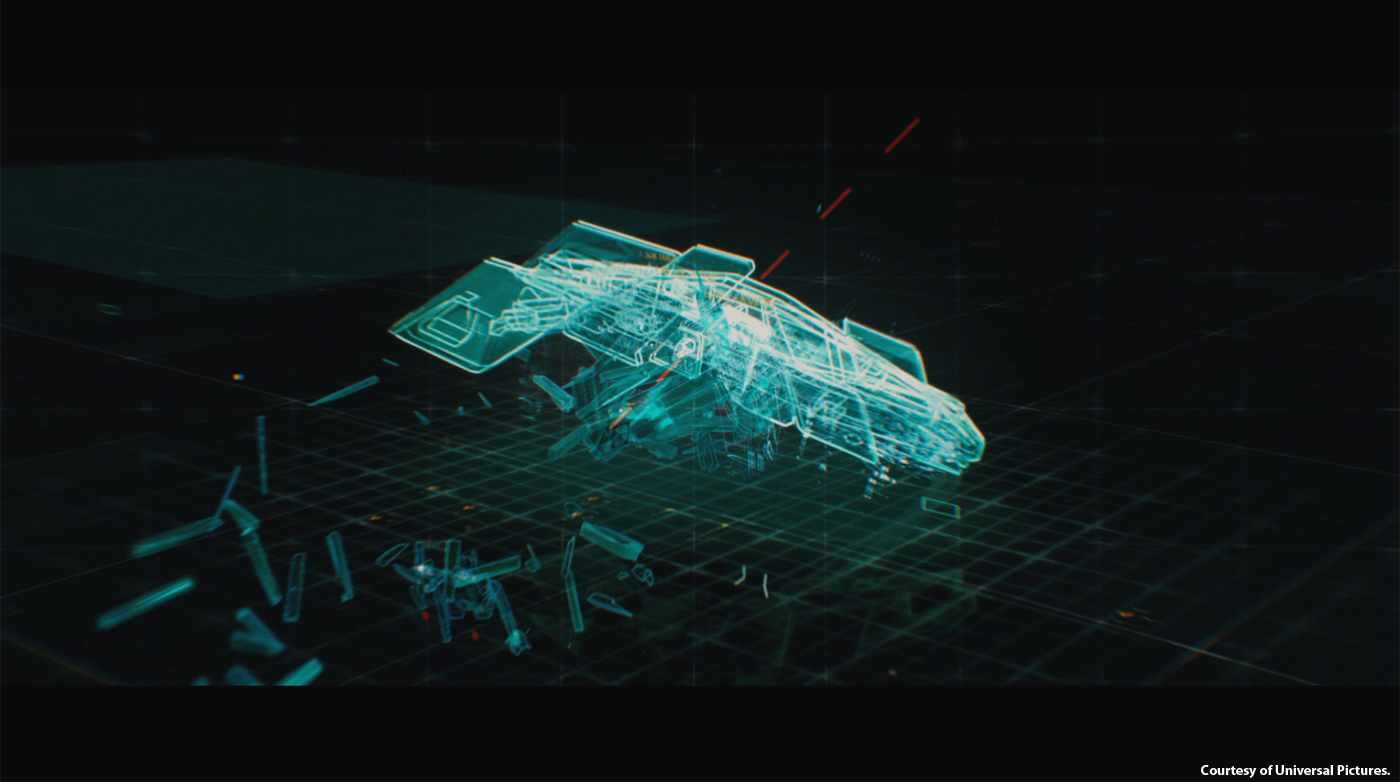 How was the collaboration with Grady Cofer and his teams?
Grady and the guys at ILM were super helpful and great to work with. They supplied us with elements and support in a very timely manner. Those guys really know what they are doing. We also supplied them with various graphic interface elements for their alien screens.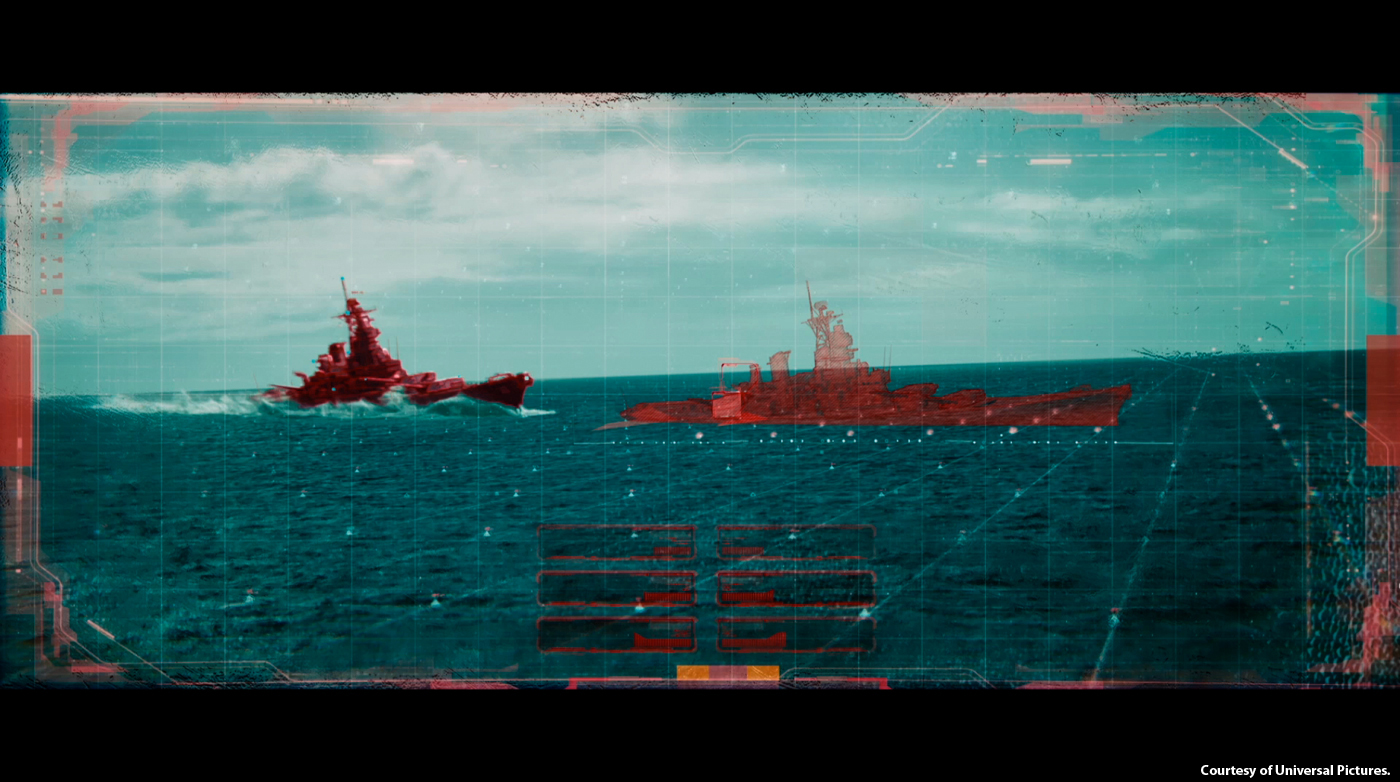 The Aliens have a scan system. Can you tell us more about its design?
The scan system is like a head up display – it's function is to isolate objects of interest or threat. We designed a display system which overlaid information and analyzed objects within the shot. We also added some dirt, scratches and condensation to the helmet surface so that the whole display had an extra element of grunge to it.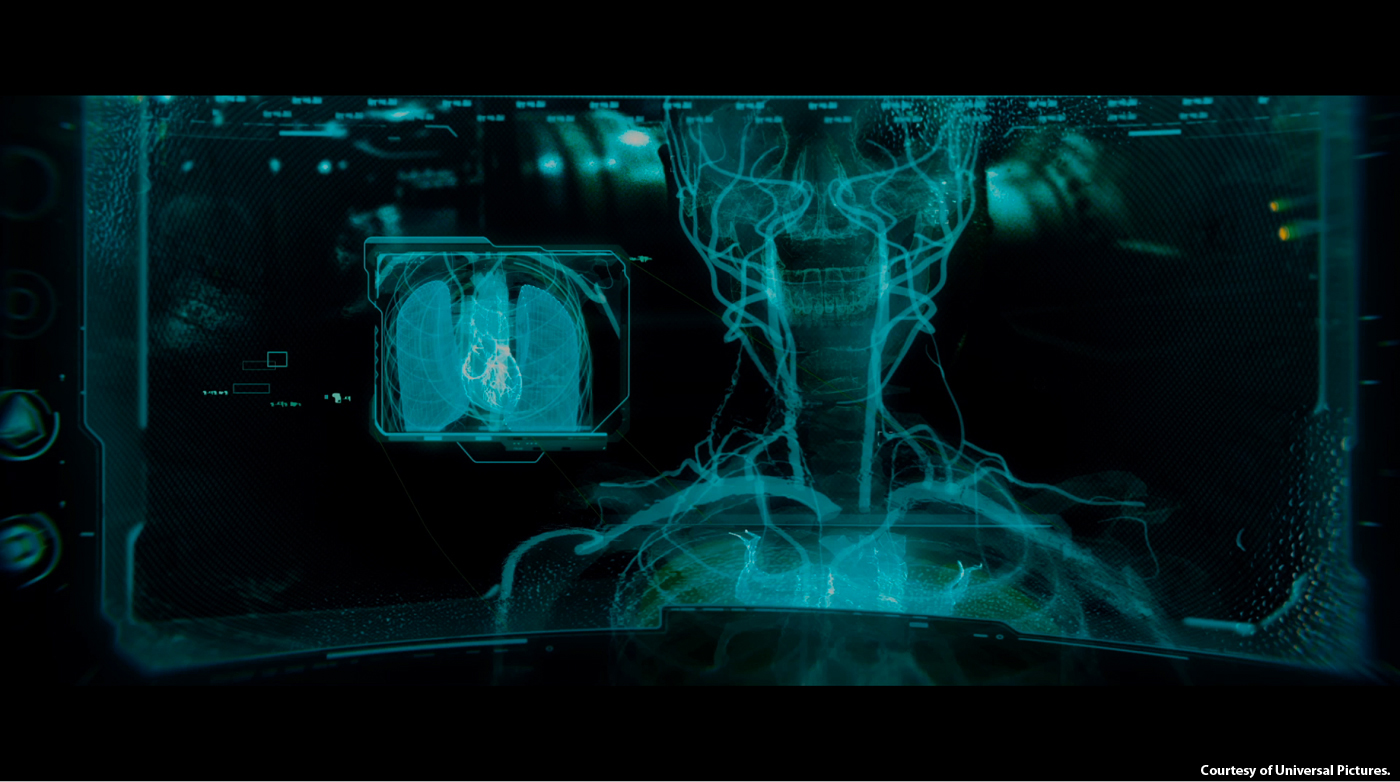 What were the challenges about the scan system?
The main challenges were to make sure that the scan system didn't confuse the audience, that it enhanced the story, and that it didn't slow down or detract from the action.
What is your methodology to create the various animations from scratch to the final result?
Our main focus as a studio is design. So at the core of every shot, we made sure the design worked and fit the tone of Pete's movie. Then we explored how it moves; we go through a lot of animation tests and always cut them into the scenes to keep check on the bigger picture. Once we get to a good place with that, we then try to push it and make it better.
Some shots involved a huge number of elements. How did you manage these?
You can't do a project like this unless you have a strong Production team who really know VFX and understand assets. They managed and organized the vast number of elements, provided by the client and other vendors like ILM, through Shotgun and various other tools. This allowed our animators to really concentrate and push themselves to create complex yet easy to understand animations.
What was the biggest challenge on this project and how did you achieve it?
The biggest challenge was really the amount of shots we had and keeping the level of design and finish to a high standard across the board.
Was there a shot or a sequence that prevented you from sleep?
The Battleship map sequence kept a few of us from sleeping. It's an important part of a critical sequence in the movie. So we had to get it right on multiple levels.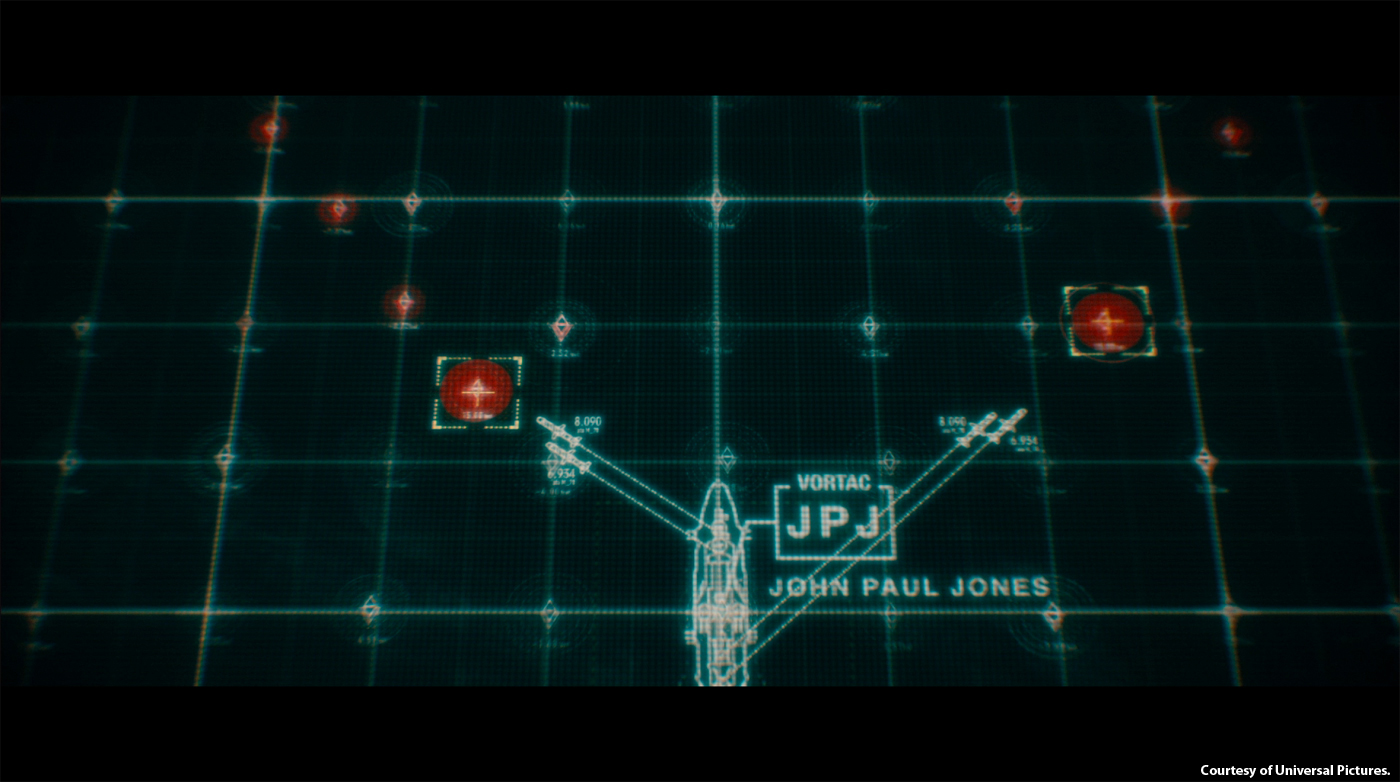 What do you keep from this experience?
This was an invaluable experience because you get to work with great artists, which really makes you want to push yourself. By artists I mean everyone from the Director, the Editors, ILM VFX Supervisors and our very own Prologue artists. The collaboration of all these artists is what I will keep with me.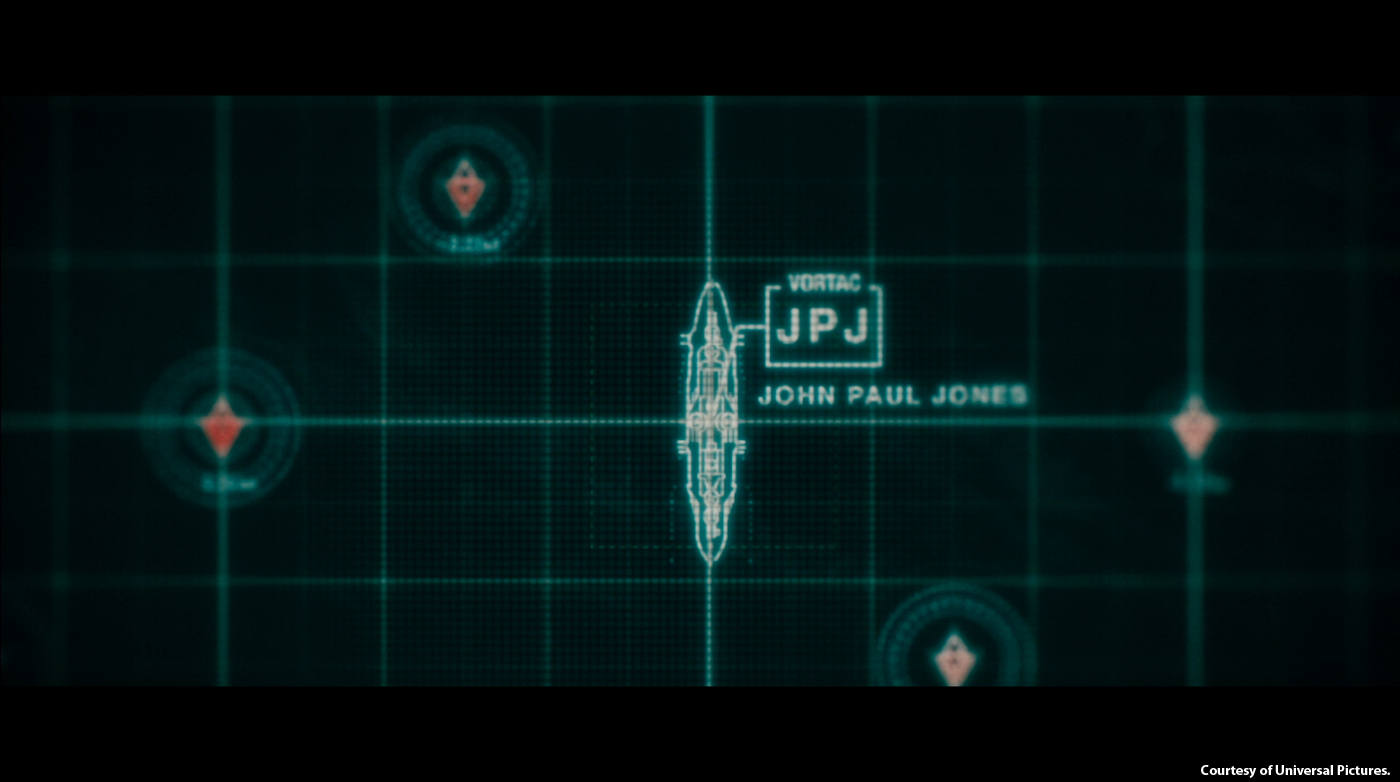 How long have you worked on this film?
Prologue worked on this film for about 9 months from design to final delivery.
How many shots have you done?
We had around 150 shots.
Can you tell us the four movies that have given to you the passion for cinema?
Growing up, my first wonder moment in cinema was STAR WARS. I had never seen anything like it. LORD OF THE RINGS blew my mind at the time – the sheer scale of the scenes was epic. More recently, INCEPTION was amazing, from the concept to the cinematography. Finally HUGO purely from a craft point of view – the art direction, cinematography, costumes and just overall beauty really inspired me.
A big thanks for your time.
// WANT TO KNOW MORE?
– Prologue Films: Official website of Prologue Films.
© Vincent Frei – The Art of VFX – 2012