Mike Stillwell has been working in visual effects for 15 years. He joined DNEG in 2010 and he has worked on many shows such as Star Trek Beyond, Pacific Rim: Uprising, Avengers: Endgame and The Dark Crystal: Age of Resistance.
What was it like working on Justice League?
Zack Snyder's Justice League had a much shorter delivery time than a lot of my previous films so it was excitingly intense. The early stages of the project were supervised by Alexander Seaman and I came in towards the second half. I had to get up to speed very quickly which was made possible thanks to the patience and expertise of our Compositing Supervisor Rodrigo Dorsch and CG Supervisor David Denley, as well as our excellent production team here at DNEG. We had a short amount of time to do a wide variety of different shots but we had a great team and it was a lot of fun.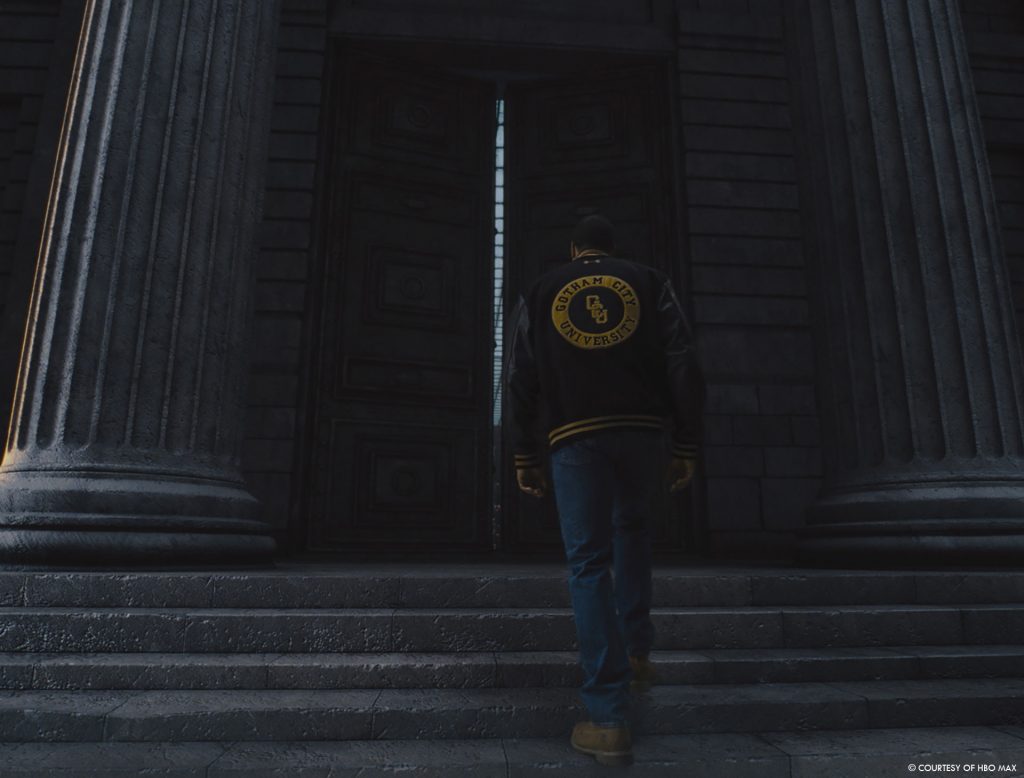 What was it like collaborating with director Zack Snyder and VFX Supervisor John 'D.J.' DesJardin?
It was a pleasure working with them both. Zack and DJ were always very 'in-tune' creatively, so once shots got the green light from DJ there weren't often any surprises when they went to Zack for his thoughts. DJ is definitely one of the nicest people I've had the pleasure of working with within this industry.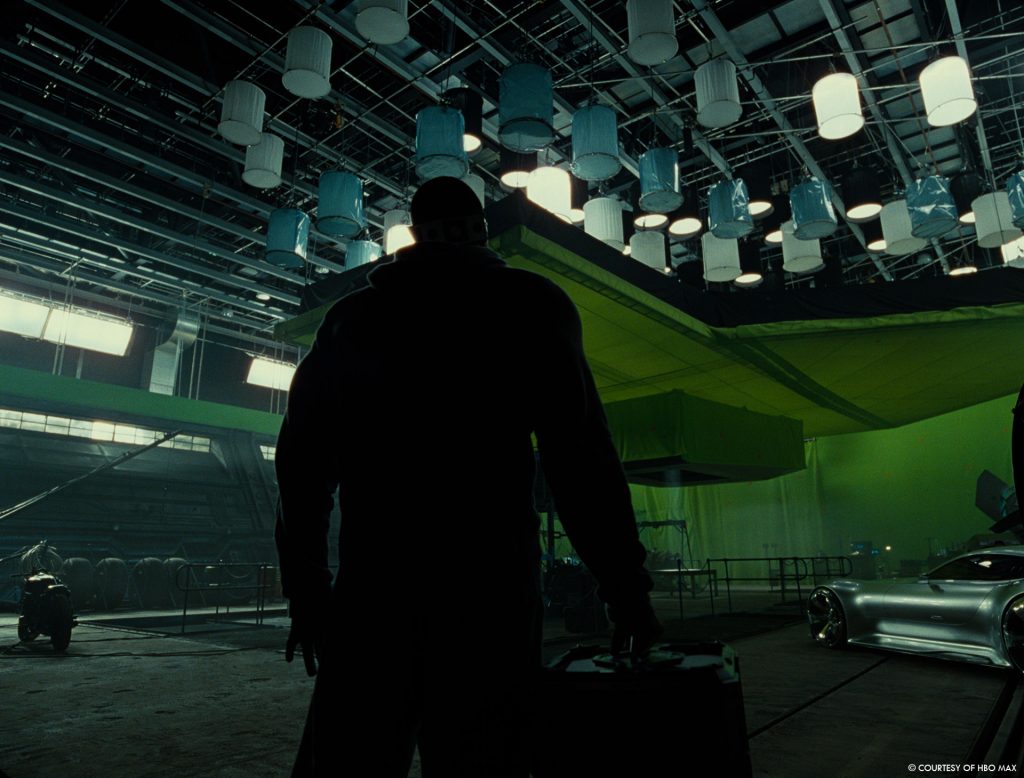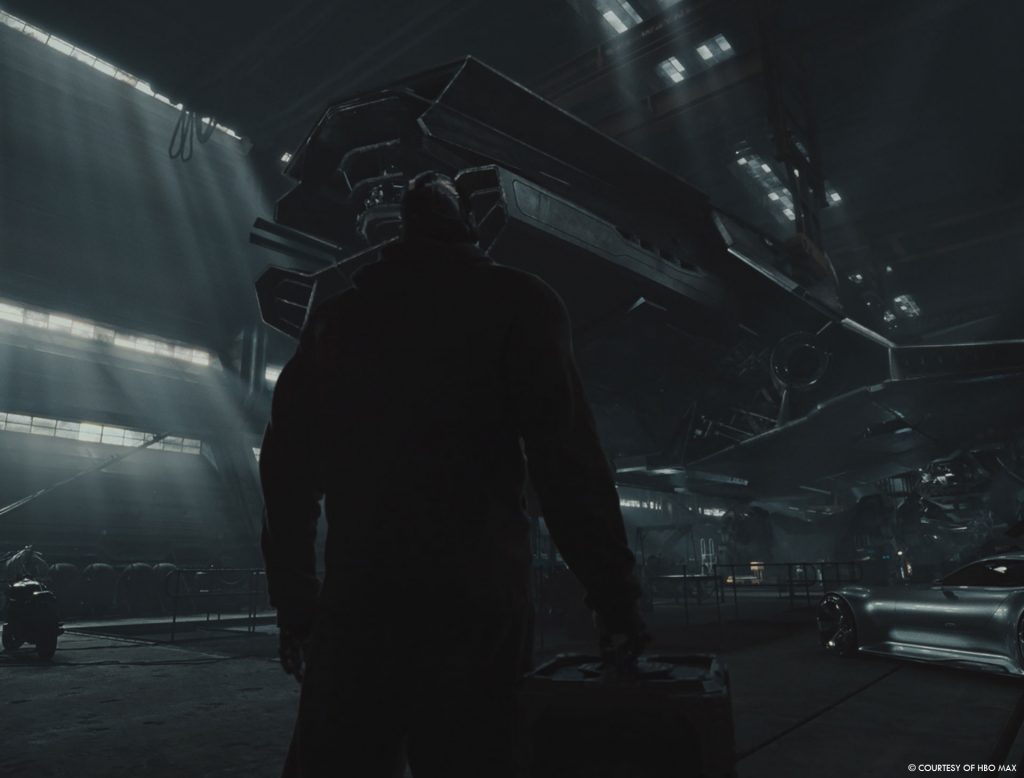 Can you tell us what DNEG did on this show?
DNEG produced several sequences throughout the show that included hero CG characters, complex environments, and large scale FX work.
The Junction Rescue sequence, where Flash saves his love interest from a car crash, was very FX heavy, with lightning bolts caused by Flash's super-speed and a slow-motion collision between Iris' car and an oncoming truck (and let's not forget the poor innocent hot dog cart). We also did a lot of retiming work as well as a full CG groom for Iris' 'underwater' style hair as she flies through the air.
Bank Brawl is a sequence where Wonder Woman rescues hostages from the Black Clad terrorists who have taken over the Old Bailey Courthouse and are threatening to blow it up. The work here involved numerous complex digi double takeovers of both Wonder Woman to show her speed, and the terrorists to show her strength as she flings them around the room. The sequence was shot in real-time and we then used those plates to stitch together shots that seamlessly blend from live-action to digi double and back again.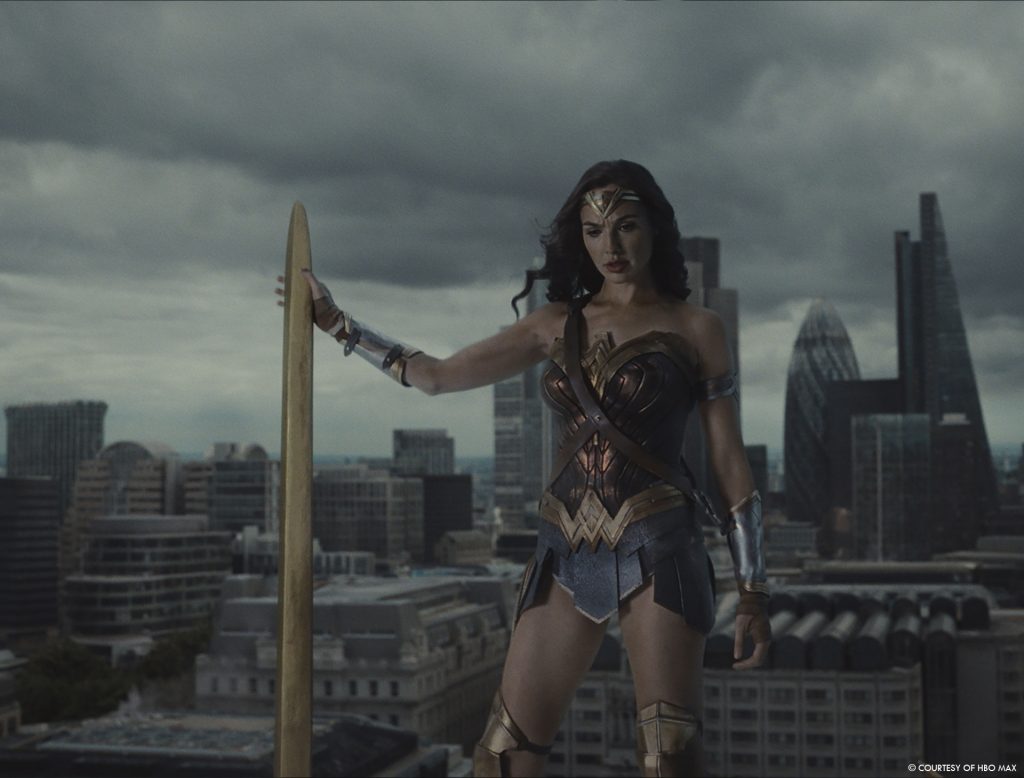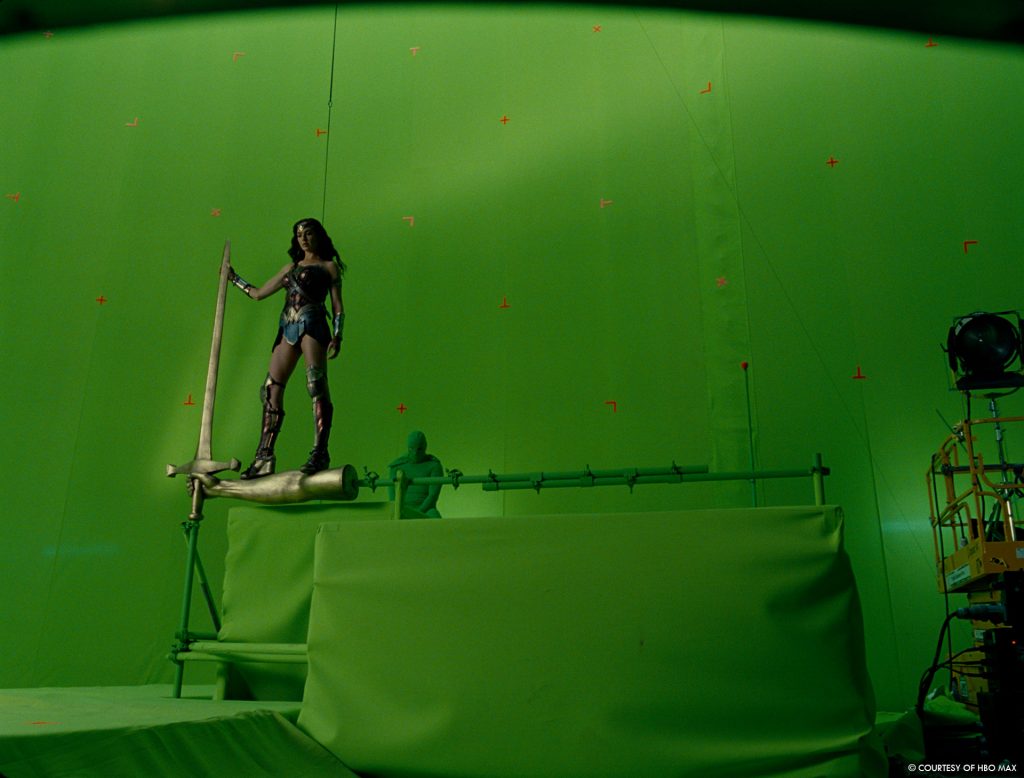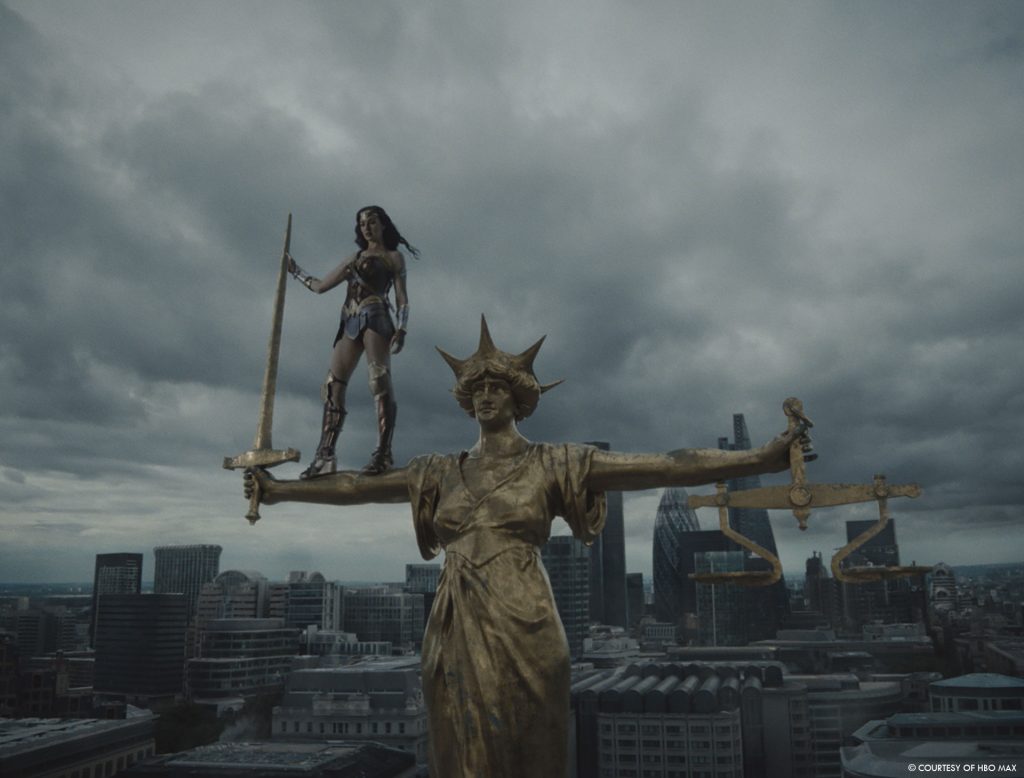 Cyborg Learns is a sequence where Victor enters a digital realm called 'The Desert of the Real'. He can see and control the world's nuclear arsenal, stock markets and banking systems. The work involved the creation of a variety of environments as well as character and FX work.
Other smaller sequences included character and environment work inside the Batcave and Wayne Hangar as well as set extensions at the Kent farm. Our DNEG motion graphics team worked across the sequences providing monitor content as well as some cool holographic effects for Cyborg.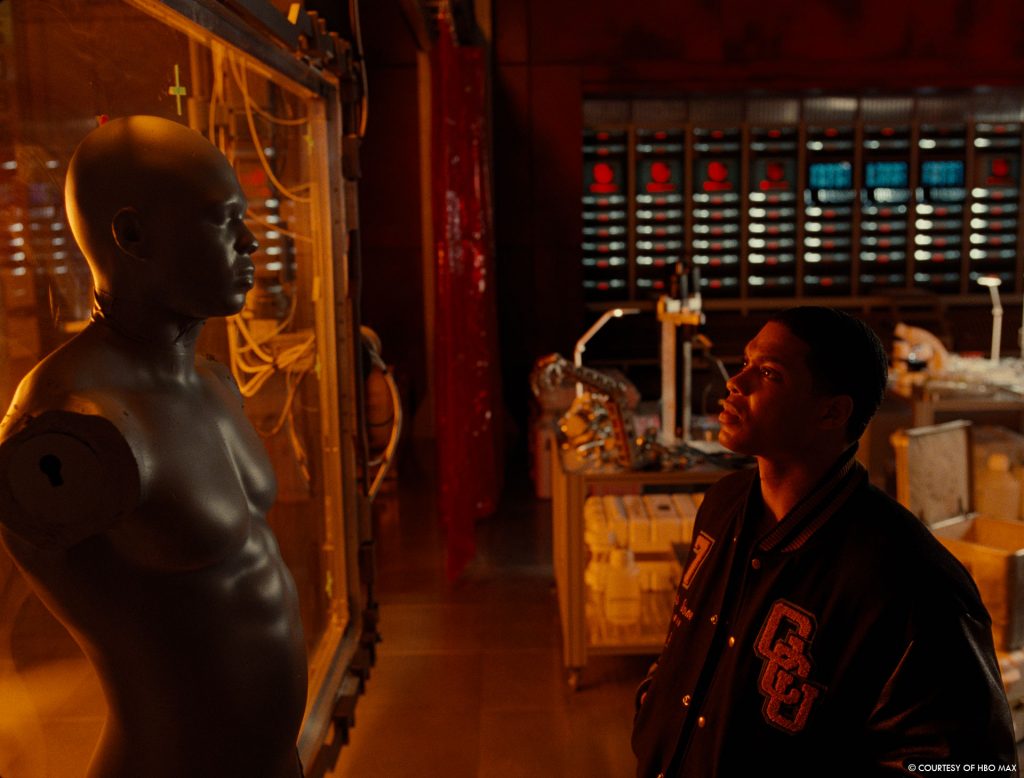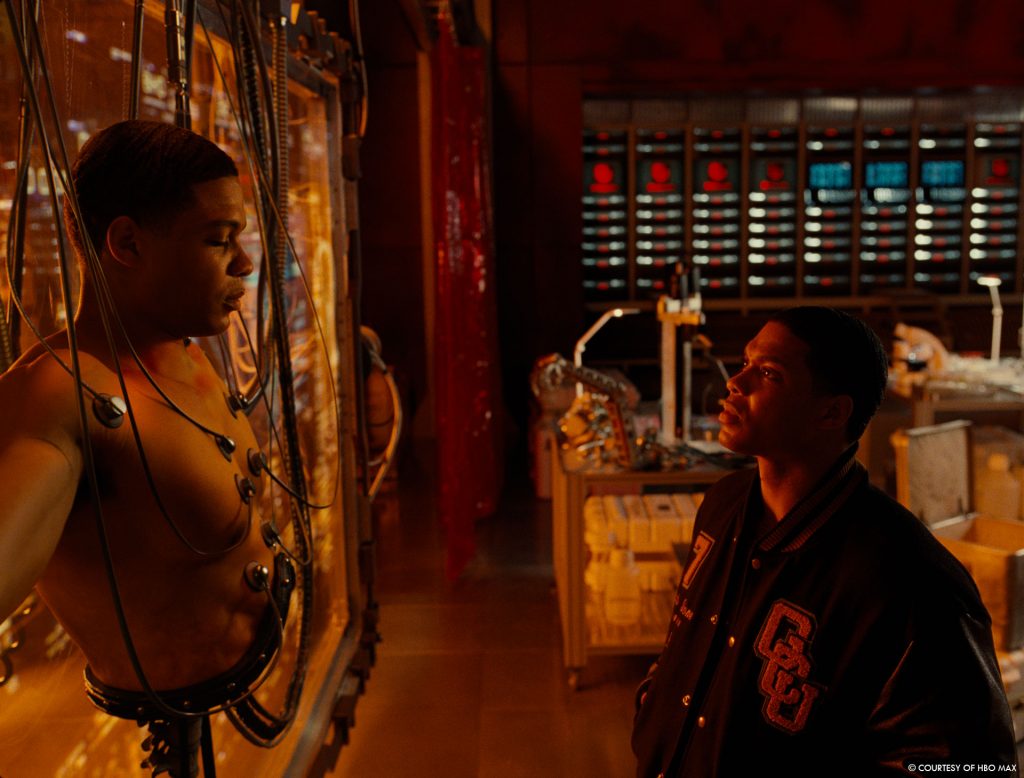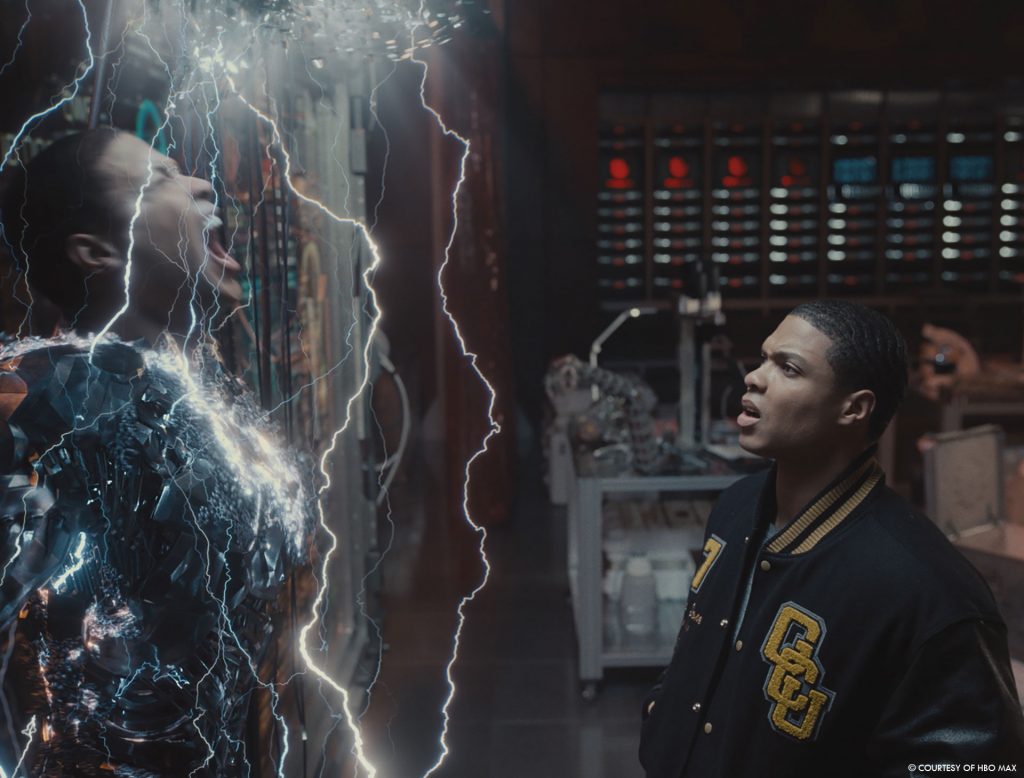 How did you manage the huge task of restoring the previous work and updating the assets?
Restoring the original shots and assets was a serious task for our pipeline teams. After four years our DNEG pipeline has changed a lot and it was important to get everything working efficiently with the new systems. The clients were very happy with how the assets looked in the original movie so we didn't want to stray too far from that approved look. We did, however, take the opportunity to update shaders and rigs to optimize our workflows.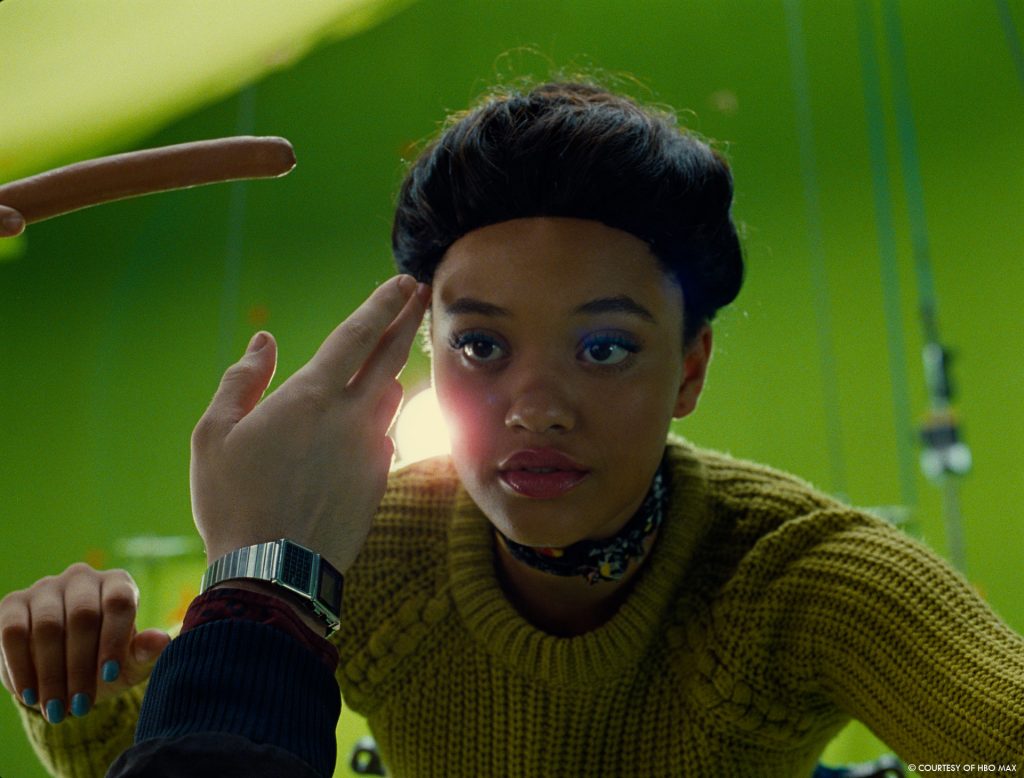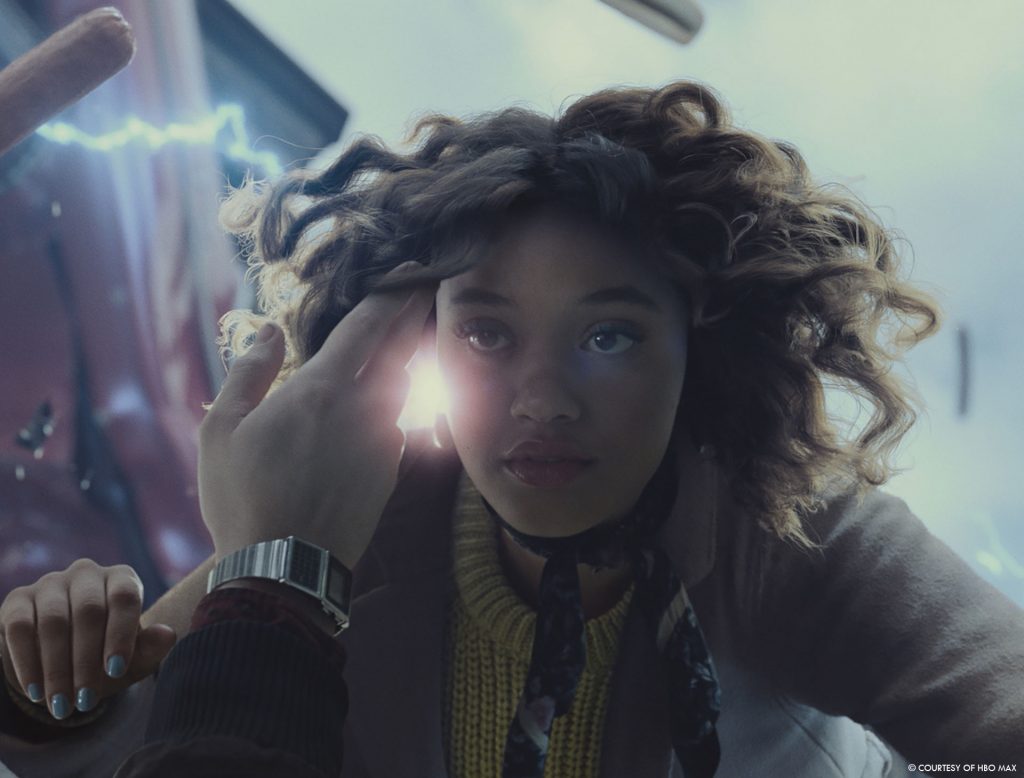 Which asset was the most challenging to enhance or rebuild?
Cyborg by far. His asset had very complex shader and rigging systems which all needed to be updated. His design didn't really change but he benefitted from a slew of subtle look enhancements thanks to the updates.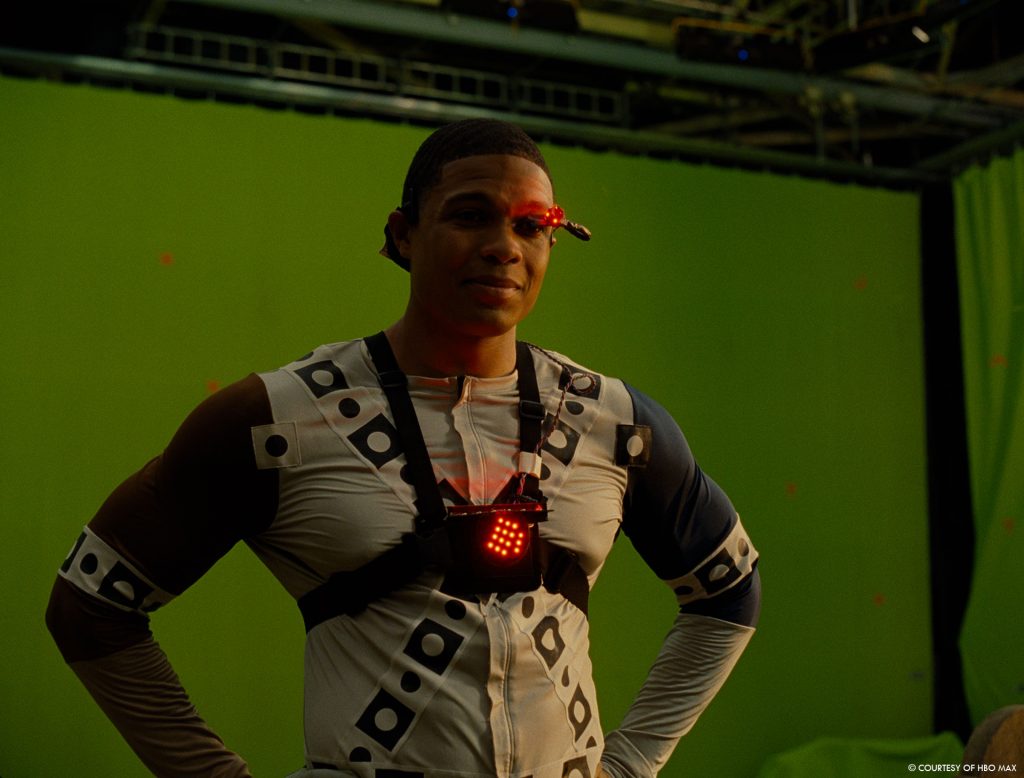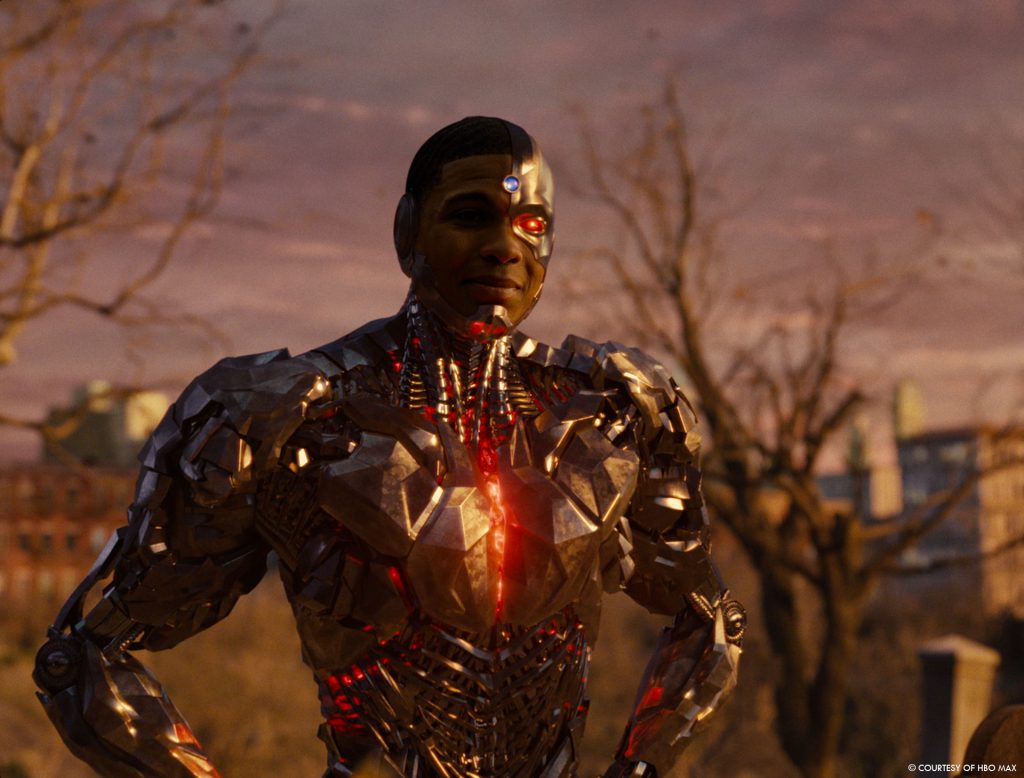 How does the 1.33 aspect affect your work?
We're used to working with this aspect ratio for IMAX shots, but all that extra height on every frame meant a lot more work. There was a reasonable amount of extra clean-up to be done and we found we were seeing that much more of our environments. However, the result was an epic that has its own aesthetic amongst today's superhero films and it was well worth it.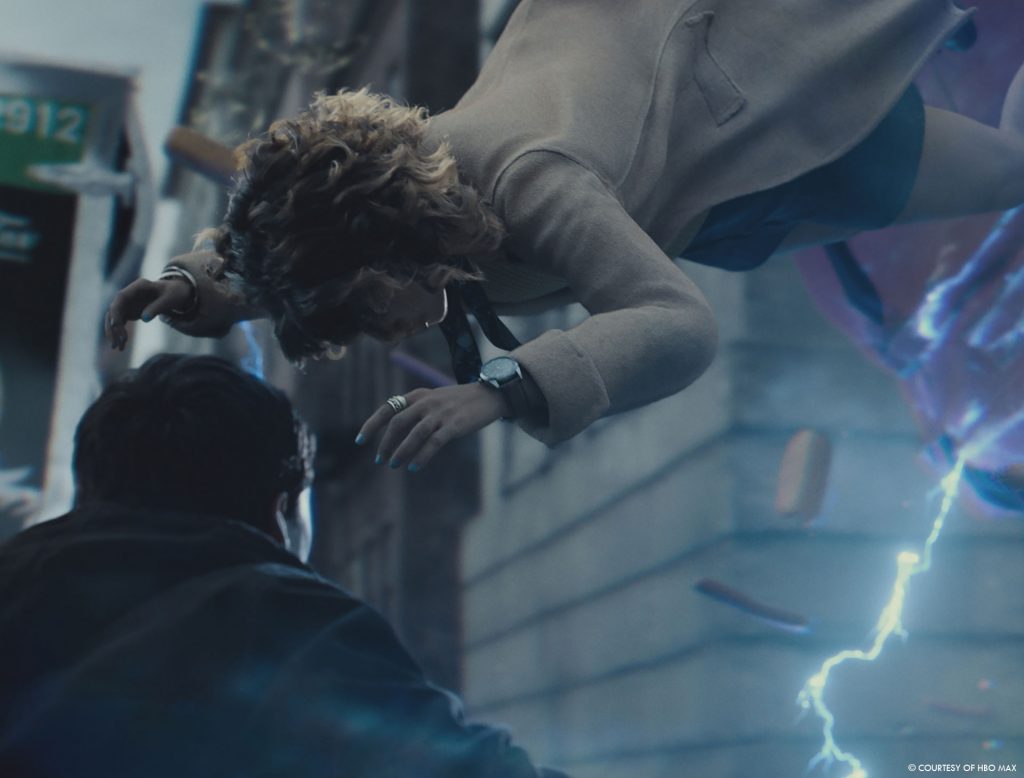 How did you manage the short schedule and the amount of work?
Balancing the timeline and workload was a challenge for sure. Some of the sequences like Junction Rescue, that are now in Zack Snyder's cut, were initially worked on for the original movie, but then dropped along the way. We were able to restore all of those old work-in-progress versions so that we weren't starting from scratch on everything. Another thing that helped was getting as many DNEG artists who worked on the original movie as possible onto the show. Their knowledge of both the lore and the history of the shots was invaluable and prevented us from having to reinvent the wheel when it came to opening the shots back up. We made full use of the combined talent pool of our global DNEG teams to help us push through large volumes of shots and make sure all the shots were delivered on time and to the best quality.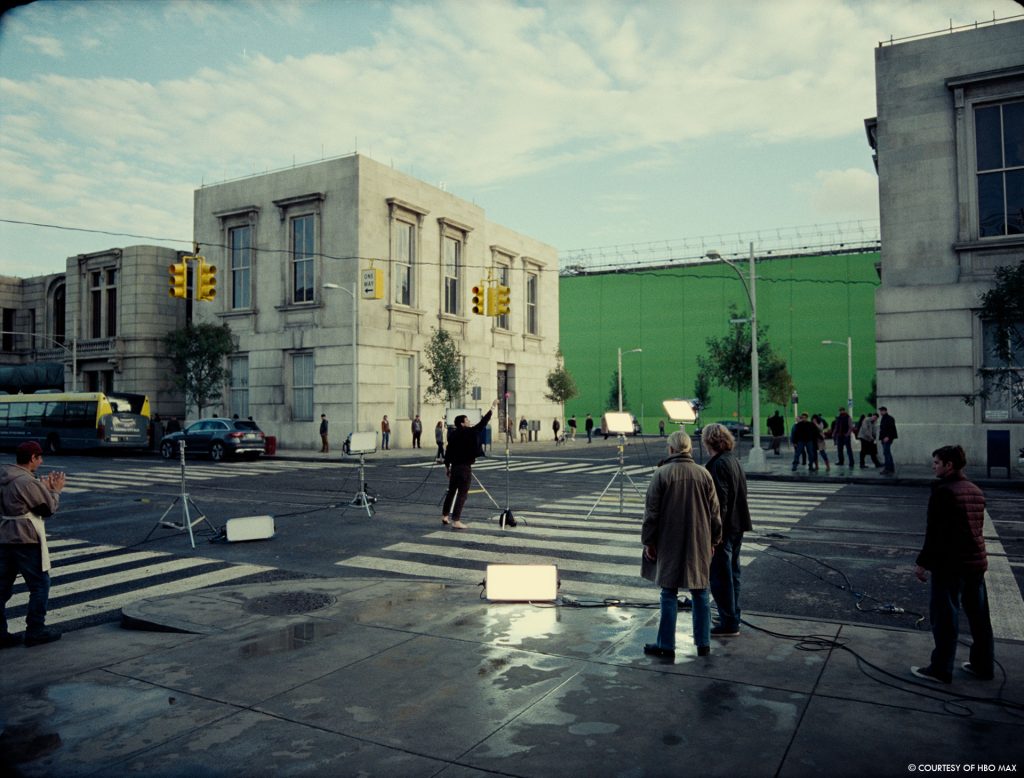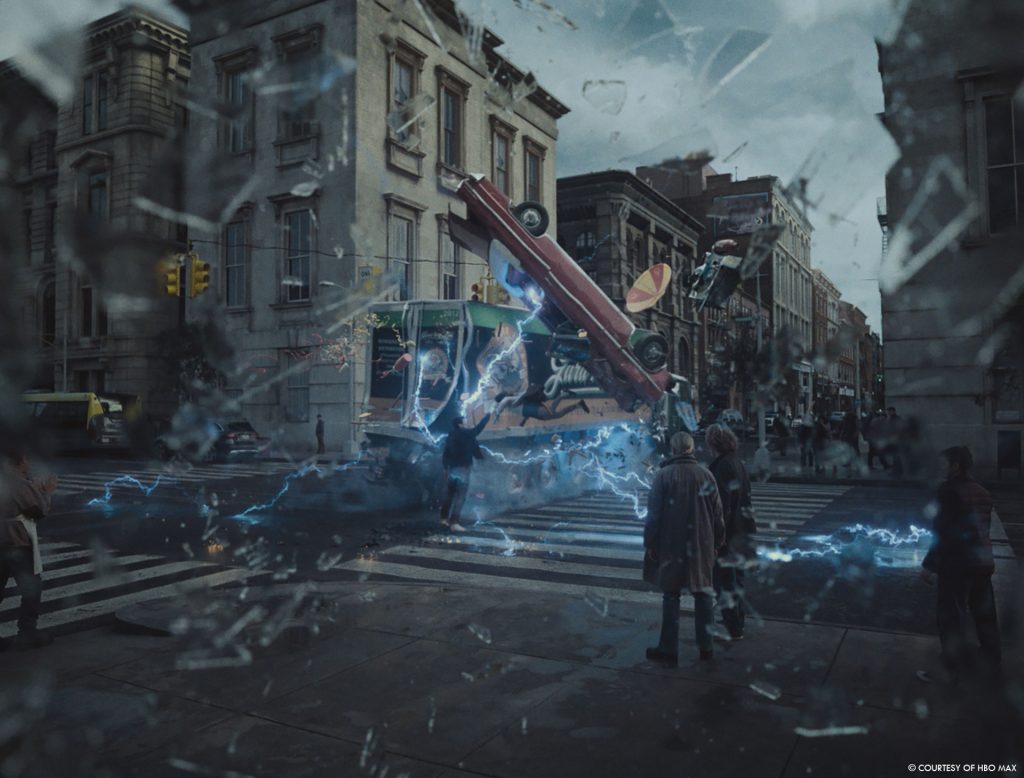 Can you explain in detail the creation of Cyborg?
Ray Fisher was shot wearing what we all affectionately called the 'Pyjama suit' which let us track his motion. This suit also had LED lights for his eyepiece and chest piece when required so that we got interactive light onto his face. We then mapped the motion data onto our rigged asset and made any required animation tweaks. We paid particular attention to the lighting on his face and the integration between skin and metal.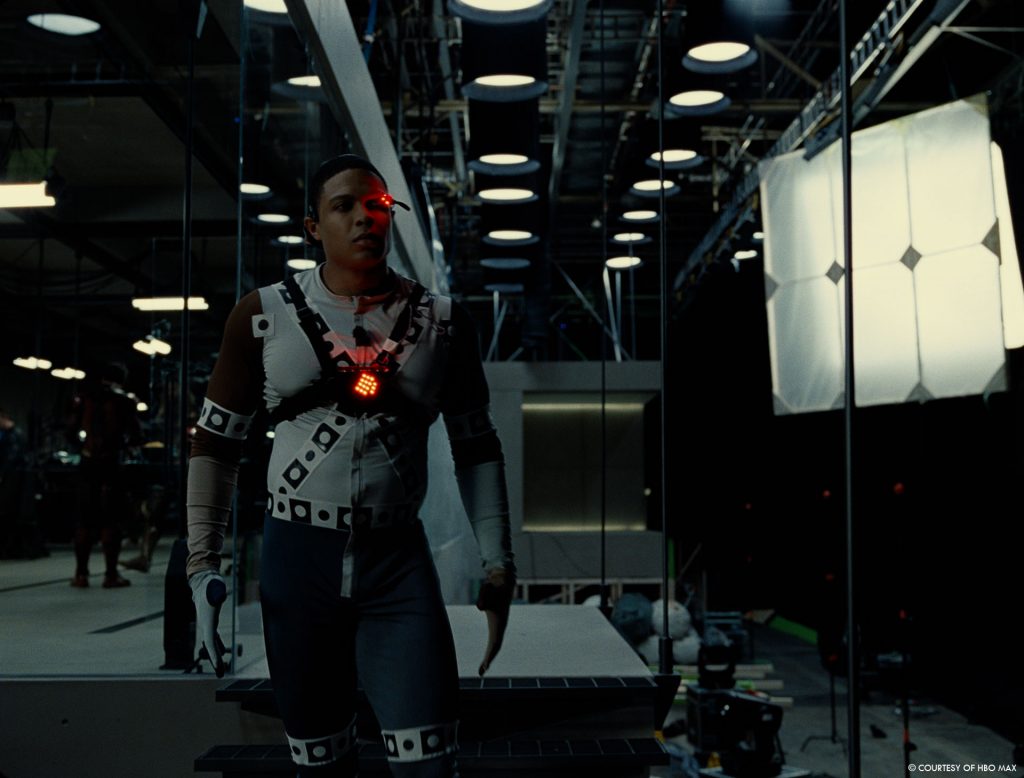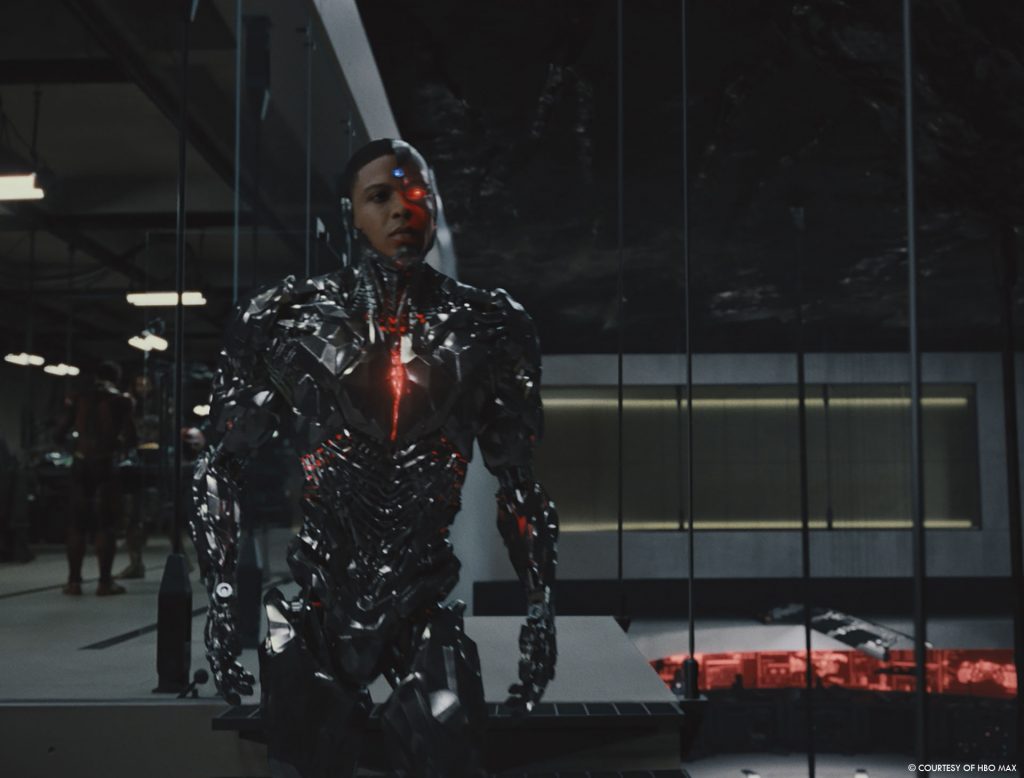 Can you elaborate on the armour animations when it changes for the weapons or in flight mode?
We had extremely complex rigs for these transformations because of the sheer number of moving parts. Sometimes to make the shot work we were forced to bend the laws of physics and tweak the inherent volume of the pieces but that's all part of the magic.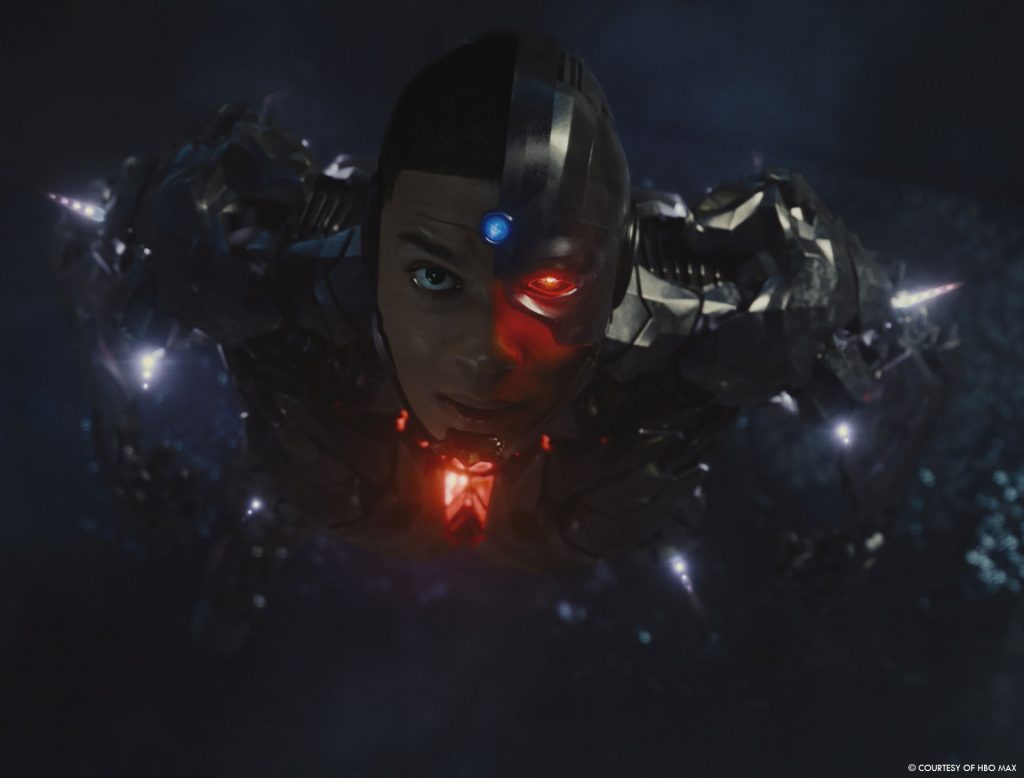 How does his shiny suit affect your lighting work?
Cyborg's highly reflective armour was a blessing and a curse. Very shiny objects are always tricky because they reflect the surrounding environment, and everything needs to line up perfectly. However, once we sorted all that out, the reflections really help tie Cyborg into his surroundings making him feel more believably there.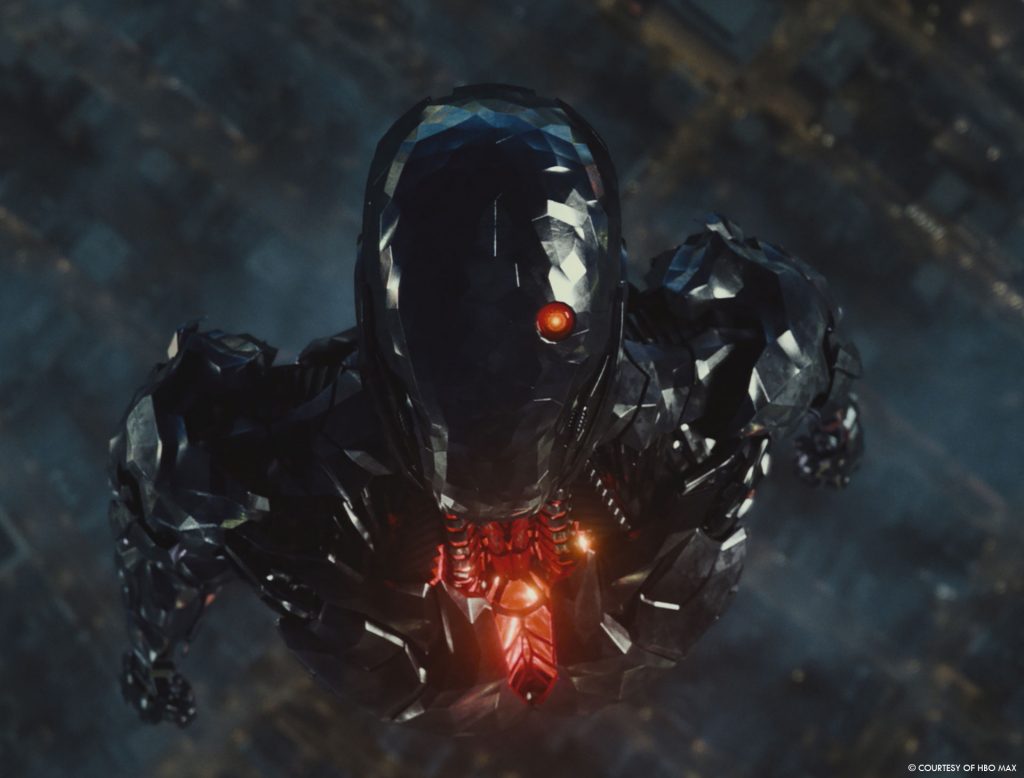 What is your favourite shot or sequence?
The Cyborg Learns sequence was a lot of fun to work on. The sequence starts with a shot where we fly up over some holographic projections created by Cyborg and in through his cybernetic eye. Inside is a representation of the banking system with thousands of towers of holographic cash representing bank accounts with bills floating between them signifying money changing hands. Here, Cyborg uses his talents to add a large sum of money to a struggling mother who is being evicted from her apartment. Scenes like this have really fleshed out Cyborg's character in the Zack Snyder version and are a lot of fun creatively. The sequence also features shots with the famous Wall Street motif of a bullfighting a bear. The bull represents a market that is on the rise and is economically sound, while a bear represents one that is receding, where most stocks are declining in value. It's a varied sequence with some great shots in it.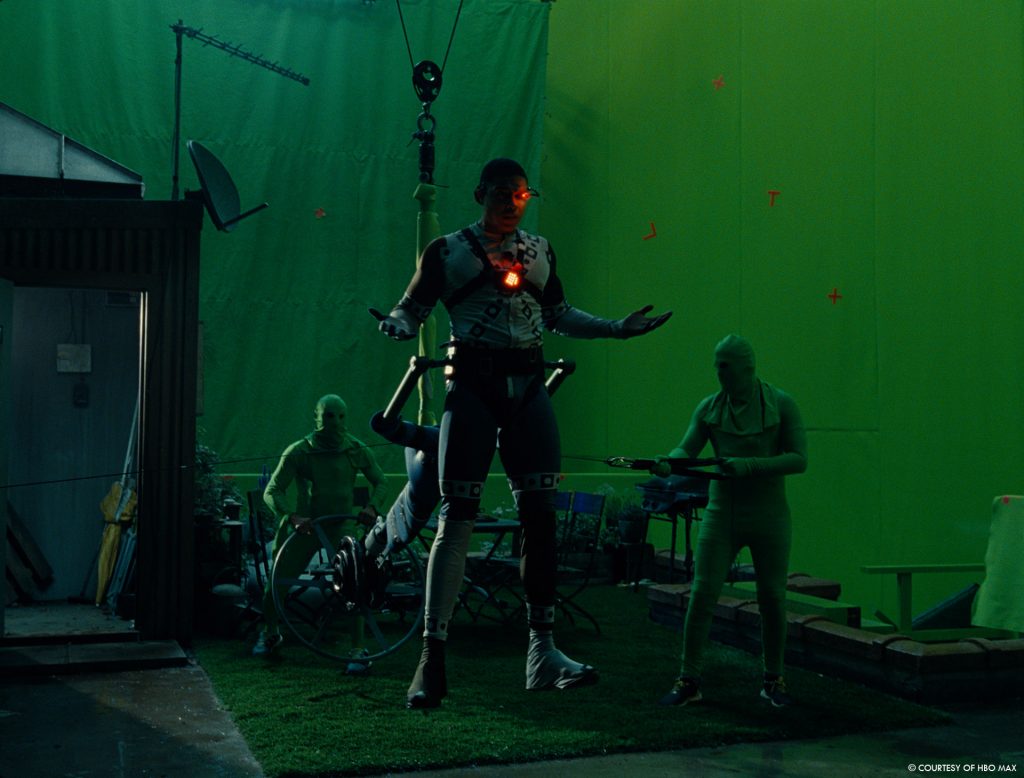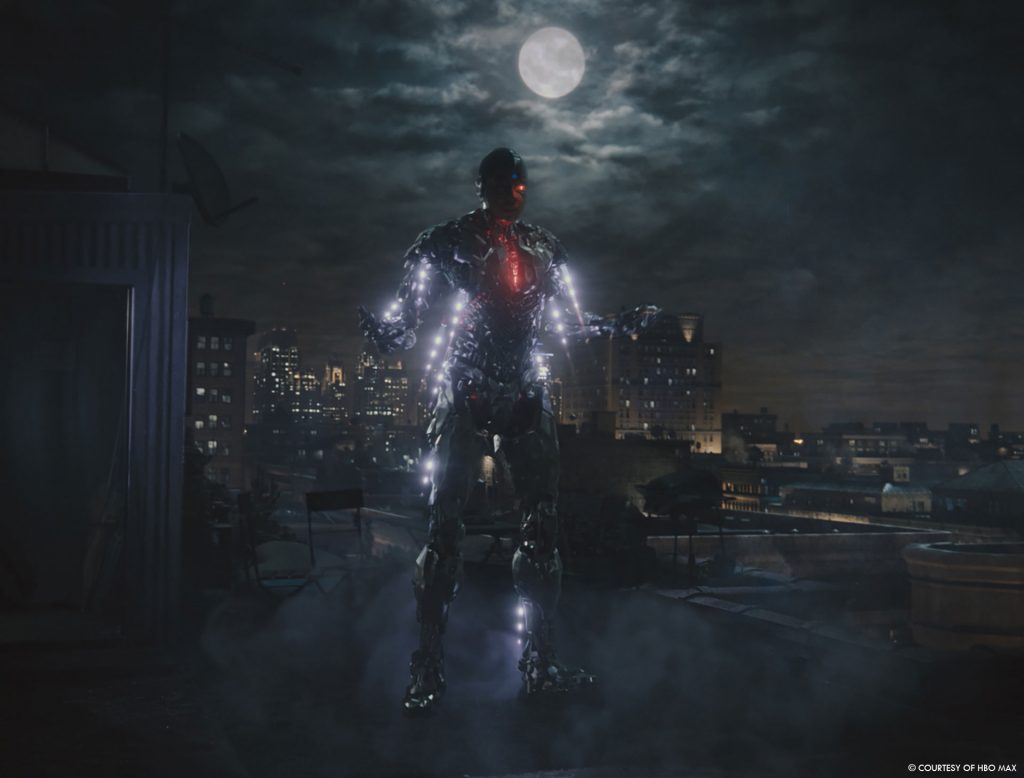 What's the VFX shots count?
DNEG worked on 430 shots for the show across 16 sequences.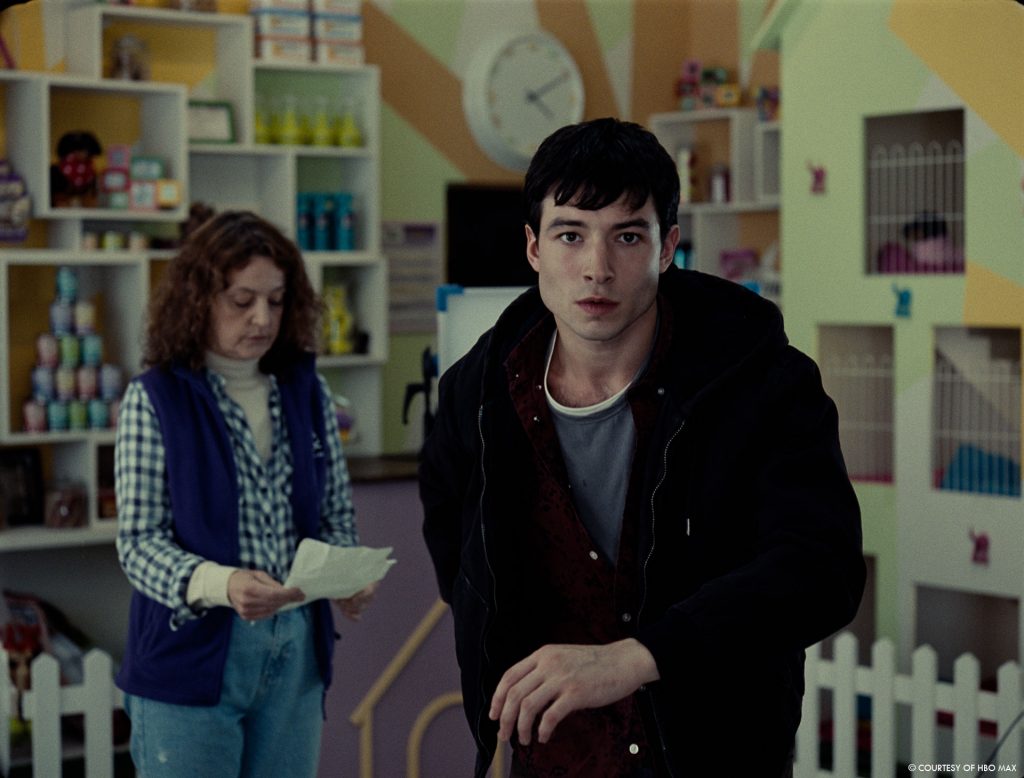 What was the size of your team?
Globally we had around 130 people in the team.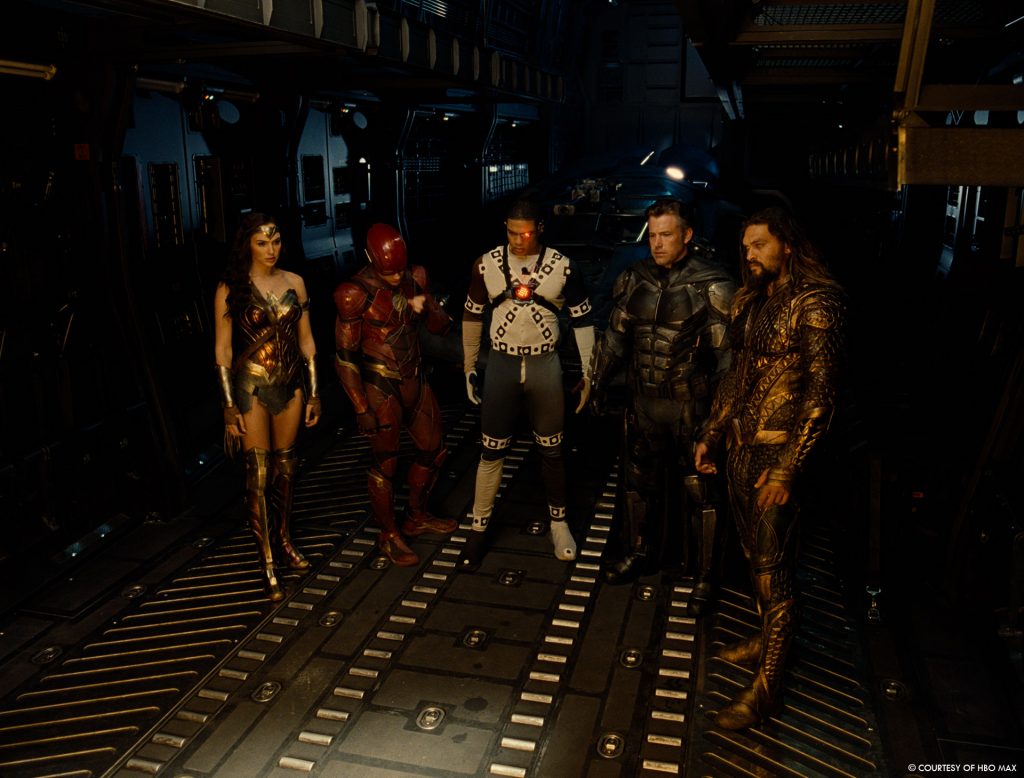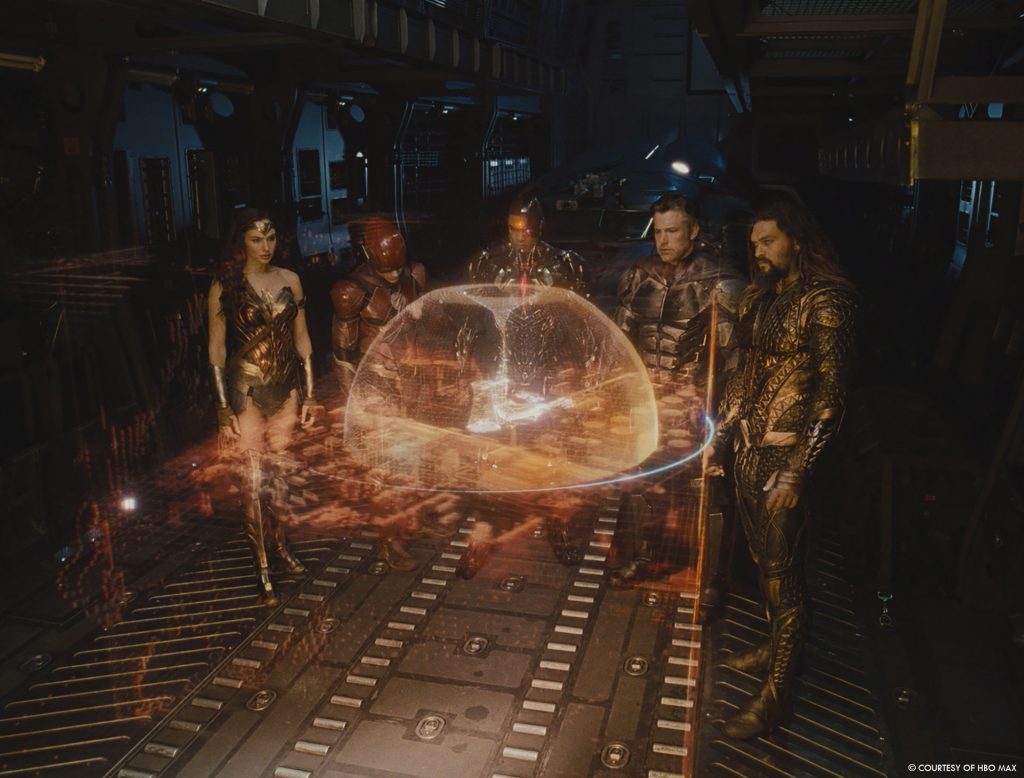 A big thanks for your time.
WANT TO KNOW MORE?
John « DJ » DesJardin: My interview of Overall VFX Supervisor John « DJ » DesJardin about Zack Snyder's Justice League.
DNEG: Dedicated page about Zack Snyder's Justice League on DNEG website.
HBO Max: You can watch Zack Snyder's Justice League on HBO Max now.
© Vincent Frei – The Art of VFX – 2021