John Heller started his career in visual effects more than 20 years ago. He has worked in many studios like VIFX, Rhythm & Hues, Furious Effects and then he joined FuseFX in 2015. As a VFX Supervisor, he took care of the effects of projects such as RUSH HOUR, OUTSIDERS, THE LAST TYCOON and THE GOOD DOCTOR.
What is your background?
I was a professional musician at a young age into my early 20s. I'm also a Professional Photographer. I have been working in Visual effects for over 20 years, mostly in film, but the past few years mostly in television. I began Visual Effects at 26 as a compositor, followed by flame artist, Compositing Supervisor and have been a VFX Supervisor for over 15 years.
How did you and FuseFX get involved on this show?
We have a history with producers on the show. Mainly Exec Producer Scott Stephens and Co-Producer Lori Slomka. Along with this history, the producers were interested in our ability to shoot driving plates using our in-house camera systems.
How was the collaboration with Show Creator Nic Pizzolatto and the various directors?
I served as on-set visual effects supervisor which allowed everyone involved, including Nic, Scott Stephens, and Daniel Sackheim and myself direct daily contact. Face to face interaction was vital to planning during preproduction scouts and meetings, daily during production and throughout the post process and final deliveries. We were all in constant touch with the process throughout.
What was their expectations and approach about the visual effects?
The bottom line was to create the highest-level visual effects that no one will ever know were there. It sounds cliché, but it's true. There are moments in the show where VFX is more apparent such as visually describing Wayne Hays' memory blackout, but even this required a delicate visual approach. The VFX is more evident in that scene, but we never wanted VFX to "be" the star of the moment or take you out of the haunting emotion of the scene. Simplicity can be elegant and effective.
How did you organize the work with your VFX Producer?
I view the VFX Supervisor and the VFX Producer role to be equal parts of a solid team. There are other key roles, of course, but these two are the top creative, managerial and client facing roles. A solid relationship both professionally and personally is very important. I believe the two roles are separate on their focus, VFX Sup being more on the creative side and having to solve technical challenges during and after production where the Producer's role might be center around budgets, schedules and client contact in that regard, however, in order for the team to work well each must be able and willing to cross over and contribute to all aspects of the process. No one is an island; it just can't work that way in my opinion. We are all creative professionals. The best environment is one where everyone feels like they are welcome to give input and be a part of the whole process. It takes the right people of course, but it's always teamwork that gets it done.
How did you split the work amongst the FuseFX offices?
All of the work was done in our Los Angeles office.
Can you tell us more about the previs and postvis process?
Most of our previs or initial development was executed during production, so we were a step ahead during post. Most of this was accomplished throughout Digital Matte Paint and previs departments as stills to put in front of Nic, Scott, and Daniel to establish a visual language that best fit the show.
Can you explain in detail about your Driving Rig tool?
Nope. It's all a tightly held secret. Actually… it's six camera rig that allows us to shoot a full 360 stitch-able pano that can also be broken out to capture any combination of angles and points of view. Each camera records to external, synced 4k recorders. The system is expandable based on client needs, and we are always looking for the latest technology for the next best solutions.
How was filmed the elements for the background plates?
All background plates were shot by Fuse Fx visual effects supervisors, and assistants. We worked alongside the main production units when the plates required a direct hookup to other car work such as Russian arm or aerial work or where background action and set dressing was necessary. Otherwise, we worked autonomously which allowed us to capture hours of footage for the various locations, times of day, and seasons needed for the entire show. The ability to do this with minimal support was key to being able to capture such a large amount of footage in a cost-effective, efficient manner.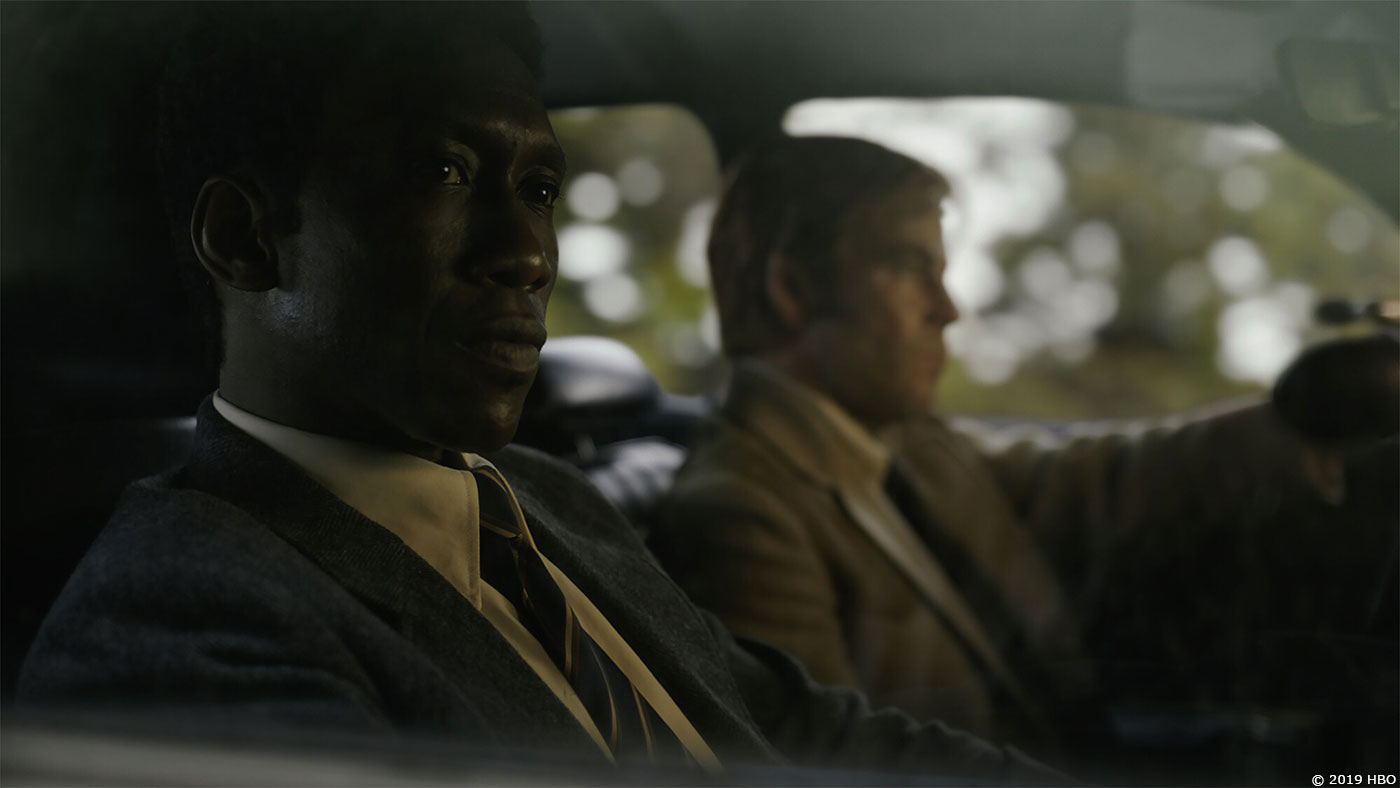 Can you tell us more about a typical day on set and during the post?
Wake up early, get to set and come up with a bunch of solutions. Really though, each day was an exercise in how the collaboration of high-level professionals produces amazing work. Nic, Scott, Dan and the team at HBO were very explicit in their demand for the highest quality work but also set a tone that allowed for the freedom and trust it takes to perform at their best as a strong unit.
On a typical day we all land on set, talk about the tasks that lie ahead. My usual process is to have a quick conversation with the director and Assistant Director to go over the day's specific needs to adjust schedule and plan for any possible changes. That is followed up by a visit with the DP, Gaffer, and key grip to be sure everyone is prepped for the day. Once the camera starts rolling it's a matter of responding quickly and concisely to changes.
What was the main challenge for the driving comp shots?
The sheer amount of material, number, and length of final shots (over 250 shots throughout the season) required a lot of planning. One thing we used to our benefit was being able to plan a large portion of the plate photography after we finished shooting the majority of the green screens. Often, the script details are honed during the green screen shoots. Camera angles are defined, ideas about lighting and location-specific details are discussed fluidly as we begin to see the setups in camera. Scheduling the plate shoots later in the schedule, including most of the main and second unit tagalongs, ensures we have the info needed to capture custom plates that best reflect what we established during the stage work. This proved invaluable to having a library of plates tailor-made for each scenario.
How did you manage the various lighting?
The Camera, Lighting and Grip crew set up a great system of programmable lighting to mimic various lighting scenarios as well as a system of rotating gobos to cast shadows on the car and actors.
The system was reconfigurable and programmable giving us the freedom we needed for generic work as well as very specific beats both day and night.
Can you explain in detail about the environment creation?
Most of the set extensions for TRUE DETECTIVE were a matter of changing existing locations in some way to show their condition over different time periods whether that was the growth and expansion of Hoyt Foods Headquarters or the various stages of decay of the Purcell house, Hoyt mansion and various neighborhoods. We also had the opportunity to create the jungles of Vietnam, using traditional Digital Matte Paintwork as well as animated 3d plants for the final scene in the show where Wayne Hays (Mahershela Ali) recedes into the jungle, a metaphor for his struggle, and perhaps a concession to his battle with memory loss.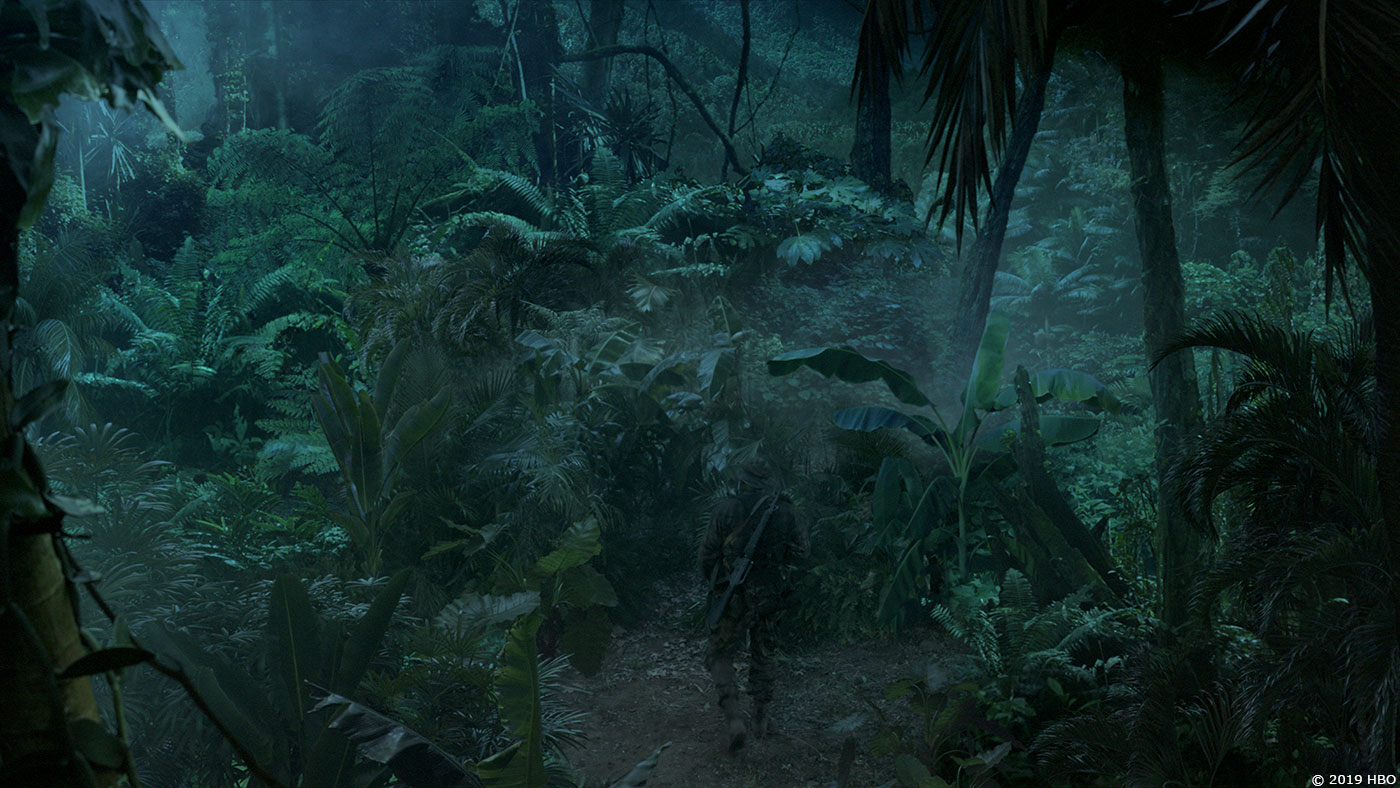 Which location was the most complicate to enhance and why?
The most challenging was the Hoyt foods headquarters which was actually a candle factory in Fayetteville Arkansas. The location itself provided a good base, but a lot of details had to be changed such as the materials of the silos, which were shown in different stages depending on the decade. We also expanded the plant with additional buildings and other structures to make it appear that the company had grown over time. We modeled the existing facility and applied fully CG elements where we needed interactive lighting and dimensional structure while treating the background buildings as a hybrid of paintwork mapped on to Geometry as a base where we could then render lighting passes to tie it all together.
How did you handle the challenge of the TV series schedule?
TV is typically challenging in regards to time and budgets. No matter what we always do our best to produce the best work possible within these constraints. HBO and everyone on the production team have the same goal of producing the highest quality work regardless of the usual constraints. In real terms, this means creating the usual schedules and budgets while maintaining a dialogue about how to push the limits of both. As one executive producer expressed after the show… how refreshing it is to work with people who put the quality of work above cost and time considerations. This has its limits too, of course, but we work to that ideal as much as possible.
Is there any other invisible effects you want to reveal to us?
Hopefully, most of the VFX are invisible. We take pride when people ask what we did on the show. Rather than touch on the other hidden effects, I'll say that I've never heard so many compliments about seemingly typical types of shots. I hope that it's proof that no matter what the shot, driving comps, for instance, we take absolute care in crafting the most believable visuals possible, especially in a show where so much nuance and dialogue happen during these moments. If we've done something that takes you away from any moment, then we haven't achieved what we set out to do, but if you ask us what we did, then it's a job well done.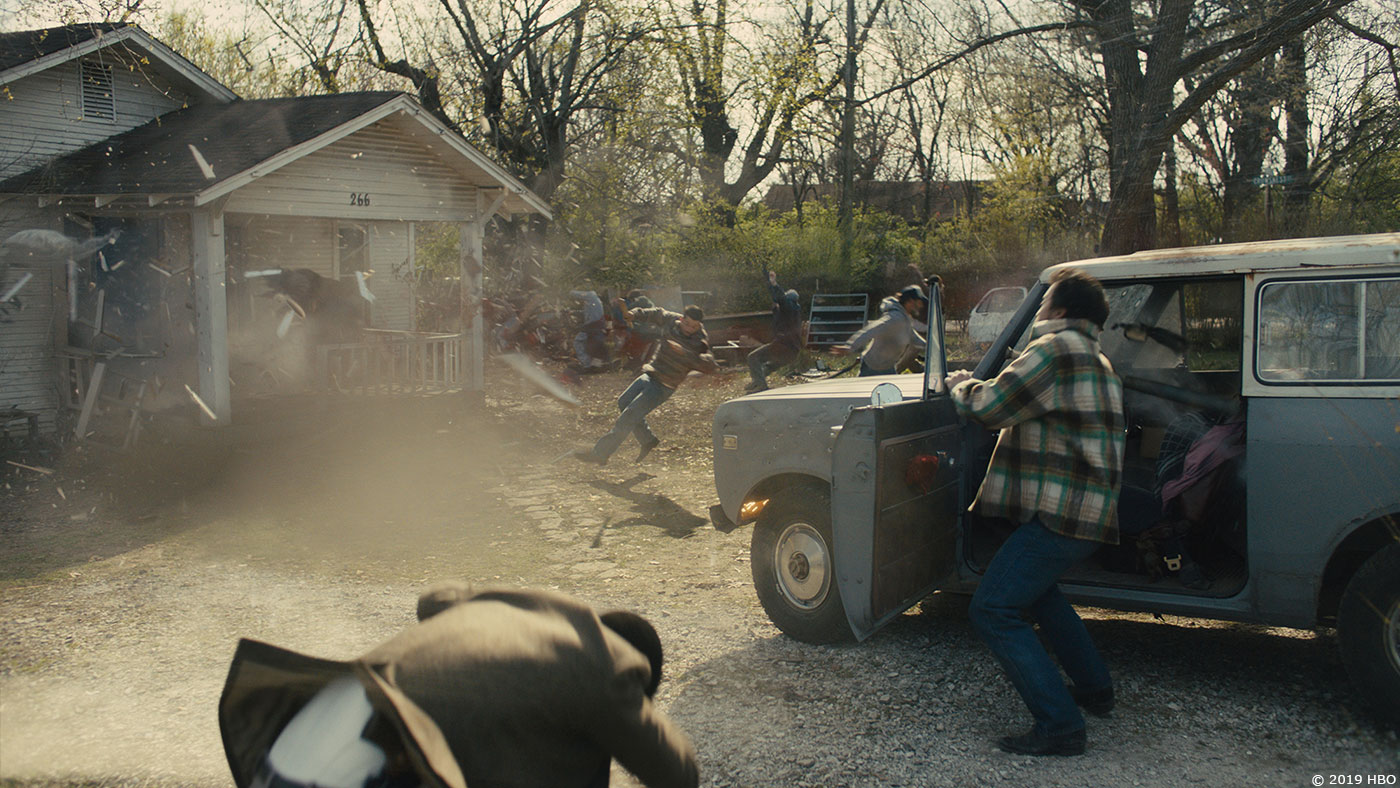 Which sequence or shot was the most challenging?
Honestly, once again it was maintaining continuity and the highest level of believability for the car sequences. Not very exciting in some eyes but it was a huge task.
Is there something specific that gives you some really short nights?
Time, time, time… we always want more so we can make that one last tweak. A shot would never be good enough if time were never a factor so in many ways, thank god we have a schedule to keep.
What is your favorite shot or sequence?
I like the sequence in episode 7 where Wayne, chases down a suspicious vehicle on his street and finds himself losing his sense of time and place. A lot of discussions happened between me, Nic, Scott, Dan, and others about how to best illustrate this moment while staying within the visual language of the show. It couldn't be too slick or feel overdone. We shot it in a way that followed the basic premise where anything familiar has dropped away leaving him in a dark void. We did some previs on this which included different lighting and atmosphere to describe this void, but in the end, we decided that simplicity was key. All we really needed to do was create a backdrop that was haunting but didn't draw attention to itself so the audience could focus on what is really important, the emotion that Mahershela Ali brought to the scene.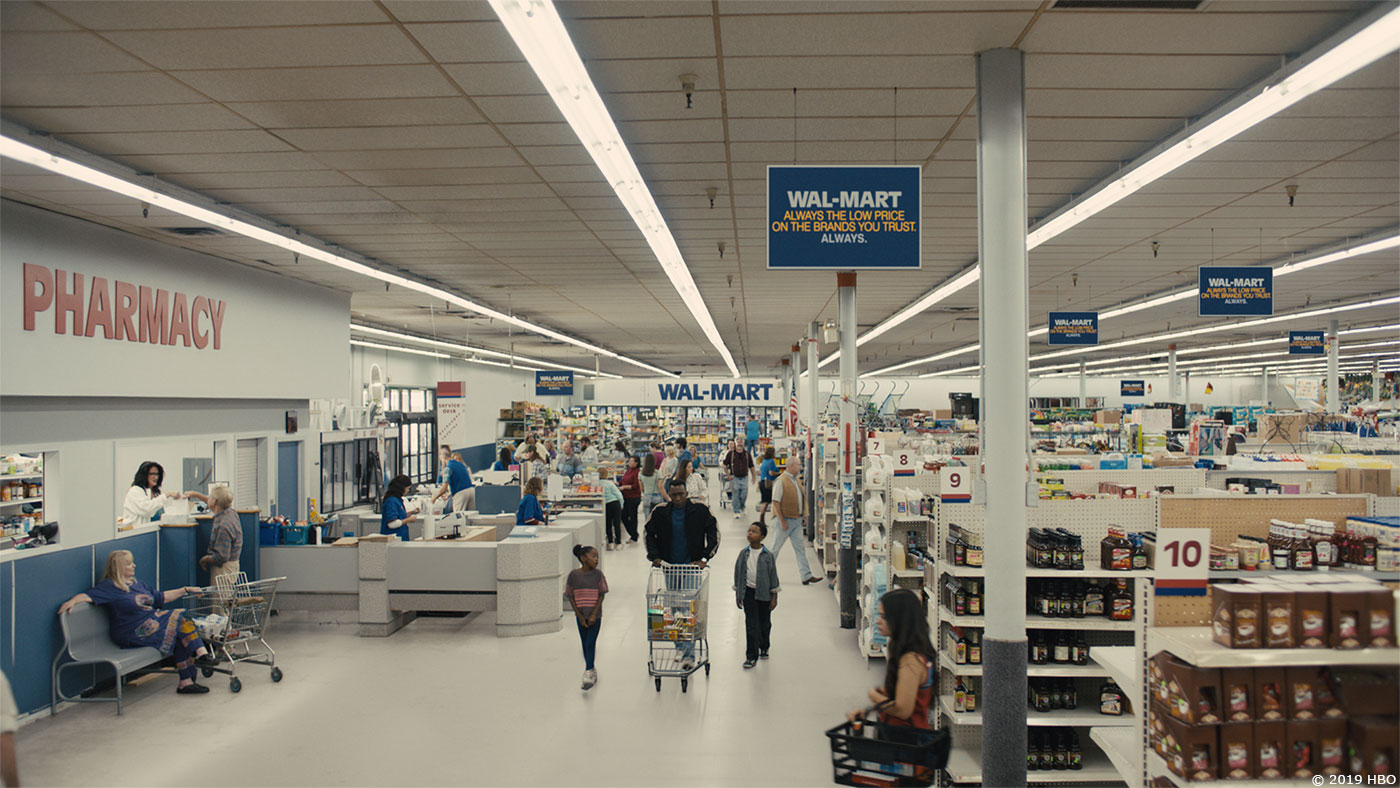 What is your best memory on this show?
Many great memories that mostly center around the people. Simply said I had a great time just being around Mahershela, Stephen and other cast members who were all so personable and engaging as well as the most professional and talented crew and production folks. Nic, Scott, Dan, Peter Feldman were terrific to work with. And I'll never forget the weekend trip to Eureka Springs with Co-Producer Lori Slomka, Serene, and Dan from post!
How long have you worked on this show?
I took over the show a month or two into production beginning as on-set sup around April 2018 and finished supervising VFX in post in Feb of 2019.
In fact… we just finished a handful of extra comps for the DVD release so about a year total.
What's the VFX shots count?
Somewhere around 500 over eight episodes.
What was the size of your team?
We had as many as 10 compositors, 2-3 matte painters and several 3D artists working on the show at any given time.
What is your next project?
I have a few pans in the fire, but I'll just say I am excited to be currently working on another great HBO project and hope to grow my relationship with HBO and other members of the TRUE DETECTIVE family.
What are the four movies that gave you the passion for cinema?
That's always a tough question but among the many…
STAR WARS (original trilogy), anything Stanley Kubrick, THE CITY OF LOST CHILDREN, ALIEN, (GOODFELLAS and RESERVOIR DOGS too..).
A big thanks for your time.
WANT TO KNOW MORE?
FuseFX: Official website of FuseFX.
© Vincent Frei – The Art of VFX – 2019