Rob Bredow has worked in visual effects for almost 25 years. He worked at Sony Pictures Imageworks for 15 years before joining Lucasfilm in 2014 and then became SVP, Executive Creative Director and Head of ILM in 2018. He worked on many films such as STUART LITTLE, CAST AWAY, THE POLAR EXPRESS and MEN IN BLACK 3.
Patrick Tubach began his career in visual effects in 1996 at Cinesite. He then joined Industrial Light & Magic in 1999. He worked on many films such as ARMAGEDDON, JURASSIC PARK III, the first three films PIRATES OF THE CARIBBEAN and TRANSFORMERS. As a VFX Supervisor, he took care of the effects of films like STAR TREK: INTO DARKNESS, TRANSFORMERS: AGE OF EXTINCTION and STAR WARS: THE FORCE AWAKENS.
Matt Shumway worked for 10 years at Rhythm & Hues before joining ILM in 2013. He has worked on films such as THE GOLDEN COMPASS, LIFE OF PI, THE REVENANT and STAR WARS: THE LAST JEDI.
What is your background?
Rob Bredow (RB): I'm a VFX Supervisor who started working in VFX when it was really helpful to have some coding skills to make stuff work. On my first big feature film, INDEPENDENCE DAY, I co-wrote the software and did a lot of the shots simulating the alien attackers and F/A-18 Interceptors myself. I've been fortunate to be surrounded by really talented artists and learned a lot about photography, composition, and the language of film working on projects over the years. After joining Lucasfilm and Industrial Light & Magic, I helped start ILMxLAB and lead the technology efforts before jumping in as the Visual Effects Supervisor for SOLO: A STAR WARS STORY.
Patrick Tubach (PT): I've been with ILM for 19 years – I started as a compositor on THE PERFECT STORM, and have been a Composting Supervisor and 2D Department Supervisor at ILM before moving into VFX Supervision. This is my fourth STAR WARS feature film, having worked on EPISODE II, III, VII, and now, SOLO.
Matt Shumway (MS): I joined ILM as an Animation Supervisor in 2013. Prior to that, I spent 10 years at Rhythm and Hues Studios in Los Angeles. There I was part of the supervisory team for several films, including two Academy Award® winning films, THE GOLDEN COMPASS and LIFE OF PI. In 2016, I was nominated for an Academy Award® for THE REVENANT. Following that, I joined the Force by supervising on THE LAST JEDI and SOLO.
How did you get involved on this show?
RB: I got a call from my friends Chris Miller and Phil Lord as they were first getting involved with the show asking if I was available to supervise. Even though I was really busy with exciting work as Lucasfilm's CTO, I was thrilled that the company supported me diving head first into the film. I started while the script was still developing and we were in early concept stages of the big set pieces for the film, and worked on the film for about 2.5 years seeing it through the final DI. In the end, I was credited as Visual Effects Supervisor and also Co-Producer on the film for my creative contributions to the show which I was really grateful for.
PT: I have been talking with Rob Bredow about STAR WARS projects from his early days at ILM in the Advanced Development Group and as CTO, although neither of us knew about SOLO at that time. When the opportunity came up to help supervise the show from our San Francisco studio, I jumped at the chance to work with him and the team.
MS: After my work finished on THE REVENANT. I was invited to come help with THE LAST JEDI on the Crystal Foxes, Porgs, and Fathiers. This then led to a larger role working with Rob and Pat by overseeing all of the animation in SOLO. For awhile, I was working on both films at the same time. Prepping Solo while finishing JEDI. Apparently, I was a very greedy and lucky animation supervisor.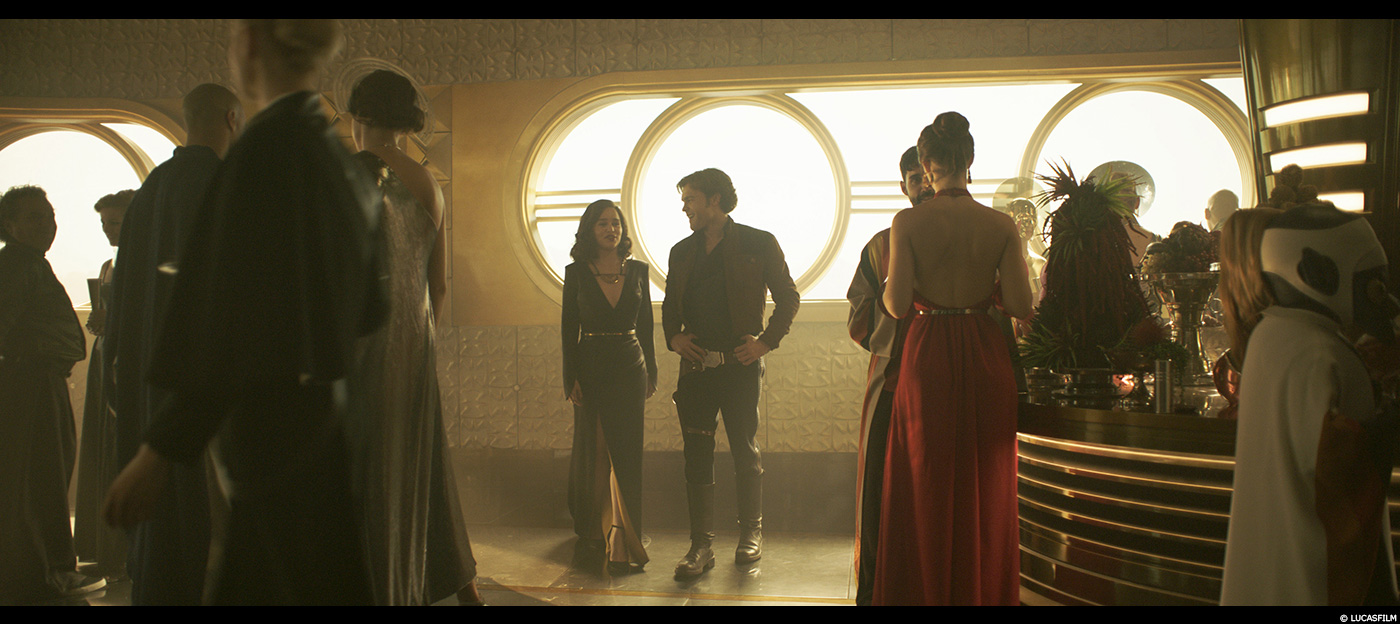 What was it like to be entering the Star Wars universe?
RB: Working as a Visual Effects Supervisor on a STAR WARS film was a dream come true for me. I remember one of my first days on the set, walking into the cockpit of the Millennium Falcon and the biggest smile growing across my face. There's nothing like shooting a film on the Falcon to bring the inner kid in you out!
PT: As I mentioned, I'd been on STAR WARS projects before, but this being a standalone film outside of the established storylines was very refreshing and inspiring, as we were able to explore parts of the universe that had only been hinted at before, like Corellia and Kessel.
MS: It's every bit as surreal and wonderful as you'd expect being allowed to play in the Star Wars sandbox. I wondered if it would ever become normal or routine. The simple answer is…no. Even after two years of staring at the Falcon, Stormtroopers, and TIE Fighters, your inner Star Wars fan still can't believe you get to contribute to this amazing legacy. I don't see that feeling going away anytime soon!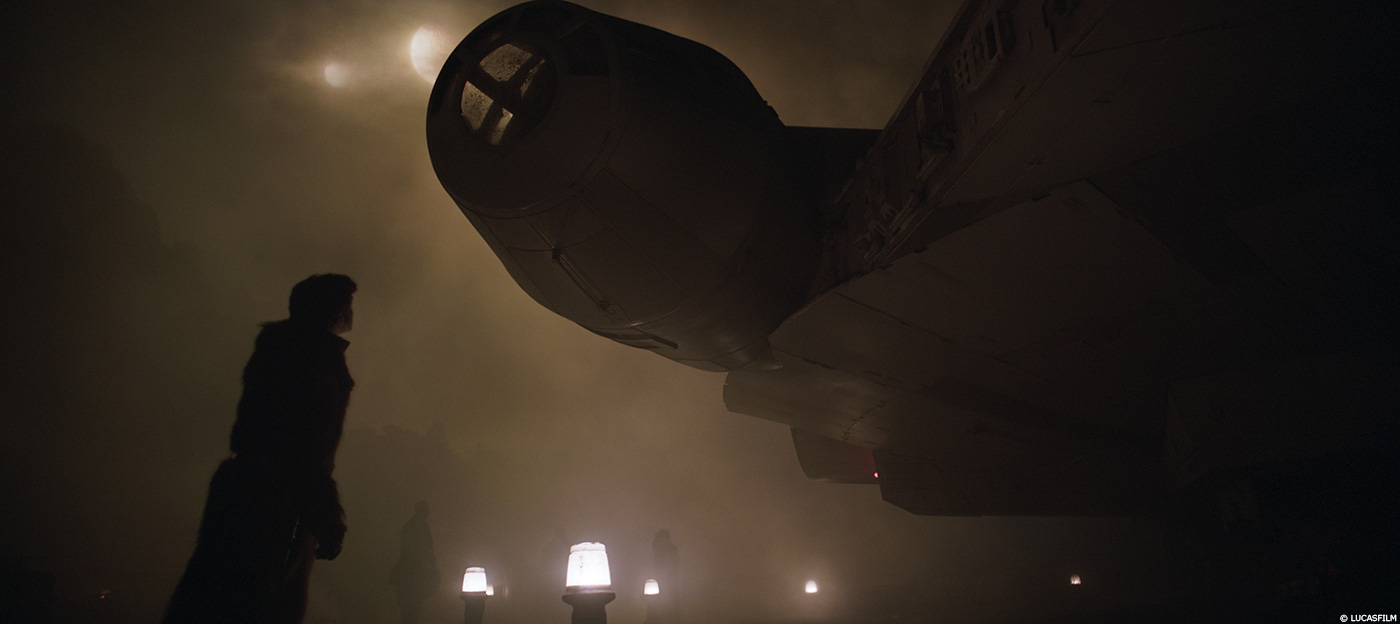 How was the collaboration with director Ron Howard?
RB: Working with Ron Howard was a real highlight of the show. Ron is an incredible collaborator and a great storyteller. He is great at making decisions, picking the best ideas, and driving a massive film like this forward. He also has the experience from directing nearly 40 films and understands what makes a shot and a sequence work so it was great to get to learn from him every day.
PT: Ron is a lot of fun to work with, and he puts a ton of passion into making his films. He seemed to adopt the attitude from day one that this was a unique opportunity to work with some of the best crew in the business at ILM and on the production side, and I believe that sort of positive energy translated into our work.
MS: When working with such a legendary director as Ron Howard, you only hope they are as great and wonderful as their reputation suggest. Ron was all of that and more. I've never worked with such a smart and humble director. He was incredibly collaborative, but at the same time, very clear on his vision for the film. While he focused on character and story, he trusted us to bring our expertise to the film. I feel very fortunate to have worked with Ron. It was an incredible joy!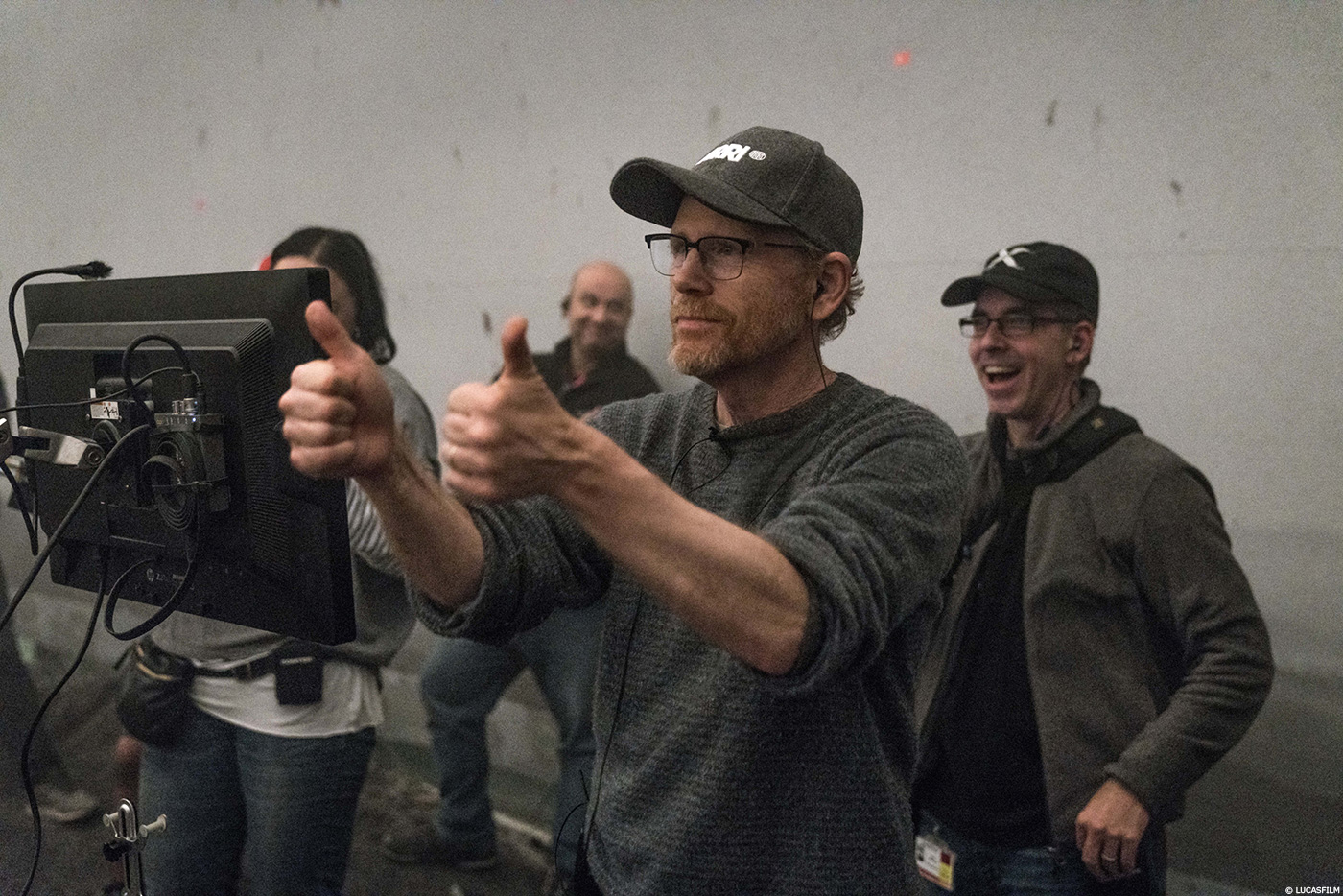 What was his expectations and approaches about the visual effects?
RB: The approach to the VFX on this film was to make things as natural and tactile as possible. This required a really close collaboration between VFX and all of the other departments on the show including Art Department, Props, Creature FX, Special FX and pretty much every other part of the crew. For every trick, we were always looking at a way to get something to work on set in a practical way as much as possible.
A good example of this is the way we created the scenes in the cockpit of the Falcon. While we could have used blue or green screen for that work, we were looking to get more lighting interactivity on the actors faces and try to get as much in-camera as possible. So, we built a 30' tall screen that wrapped around the cockpit of the Falcon 180 degrees. Then, ILM created 8k by 4k fully rendered media that we projected from the rear of the screen at full quality. Not only did it give us the exact lighting we needed in the cockpit, but we had it synchronized to the cameras so we could photograph it directly and put it in the film.
PT: All STAR WARS films have high expectations for the VFX crew, and this film was no exception. There are large parts of these stories that need to be compelling visually in order to draw the audience more into our world. It's a large part of the fun and adventure of Star Wars, and allows the characters to shine.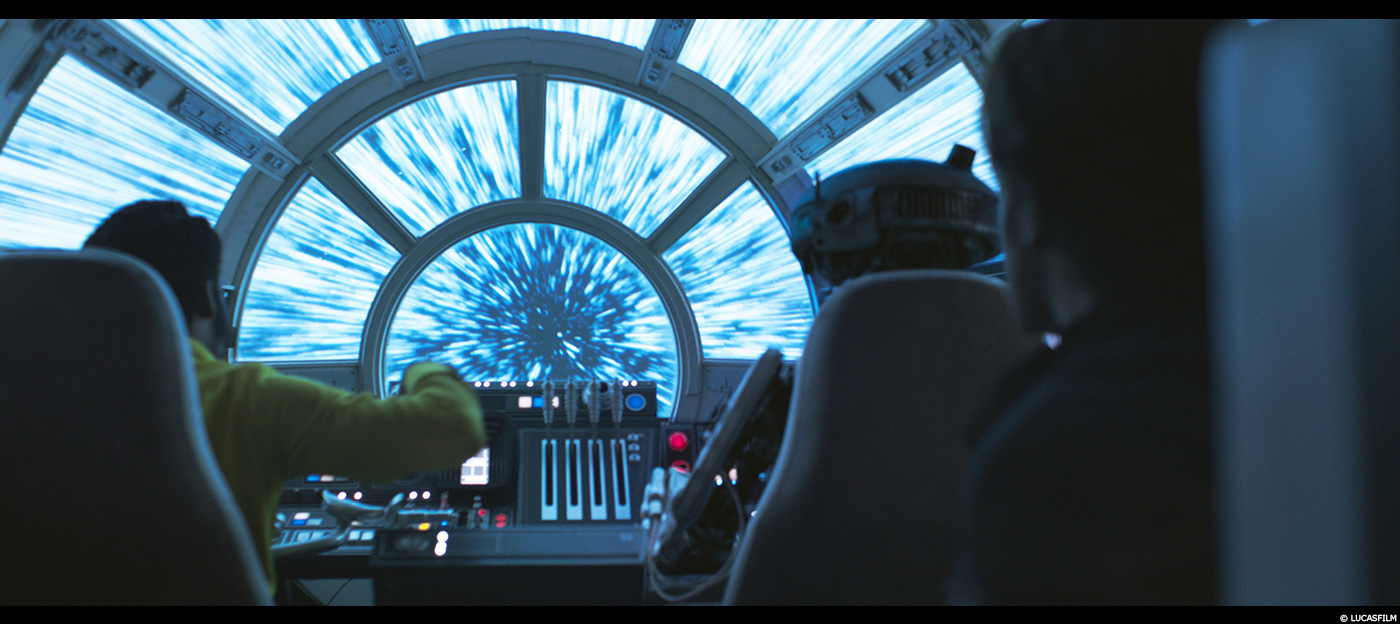 How did you organize the work with your VFX Producer?
PT: The work was so varied on this film, and had so many unique challenges depending on the location and the characters in question, it wasn't too hard to find a main focus for our various ILM studios and our vendors. Working with our VFX Producer Erin Dusseault, and Rob we split up the work around the world. Our London studio focused on the Train Heist for example, while here in San Francisco took most of the Rio shots, the Kessel Mine environment, and FX entrance tunnel at Kessel. We tried to keep like work grouped together, but of course, you always end up sharing pieces of some shots. The teams were great about jumping into sequences outside their scope of work where needed, and occasionally we rendered pieces in one location and send them to another for final comp work.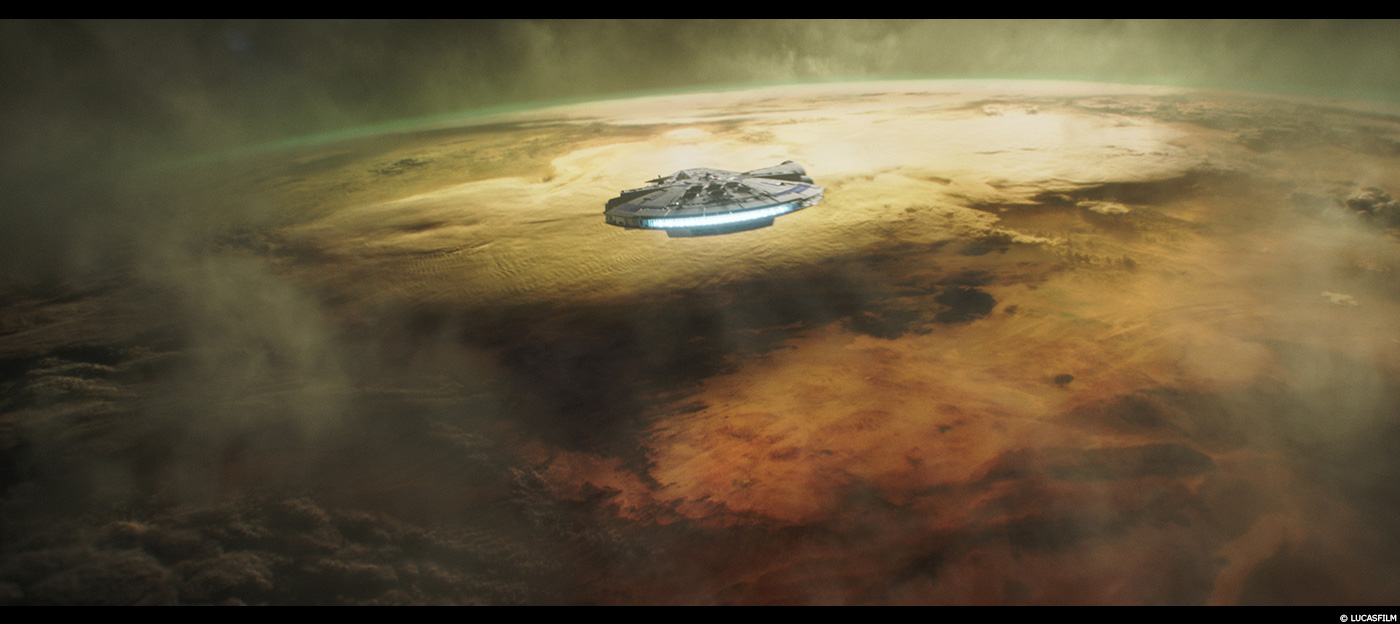 How did you handle the rigging and animation of the CG characters?
MS: Rio was really interesting for animation. The performance would vary from just head replacement, all the way through a fully keyframed CG character. The motion we were striving for was to make him feel like an extremely sophisticated puppet. What I mean by that is, we wanted to make sure Rio mixed in with the rest of the Star Wars puppeted creatures created by Neil Scanlan and his team. So he needed to be complicated enough to give an emoting performance, but simple enough to match the texture of the Star Wars world. That tactile feeling is really what makes Star Wars appealing and unique. We didn't want to lose any of that with our animated character. This limitation informed the way we built our shapes and handled the motion. Less was more in many cases. We would often start with super detailed dialog, matching frame for frame what Jon Favreau performed. Then we would break down that motion and see how far we couple simplify it before it would break. After that, we would introduce a bit of character into Rio. We decided that he had probably been in a few fights in his day, so the left side of his mouth didn't work as well and has to talk more out of the right. He also has more of a tighter squint on his right eye, than his left. We wanted Rio to feel more like an older, more battle-scarred veteran compared to the young and wide-eyed Han.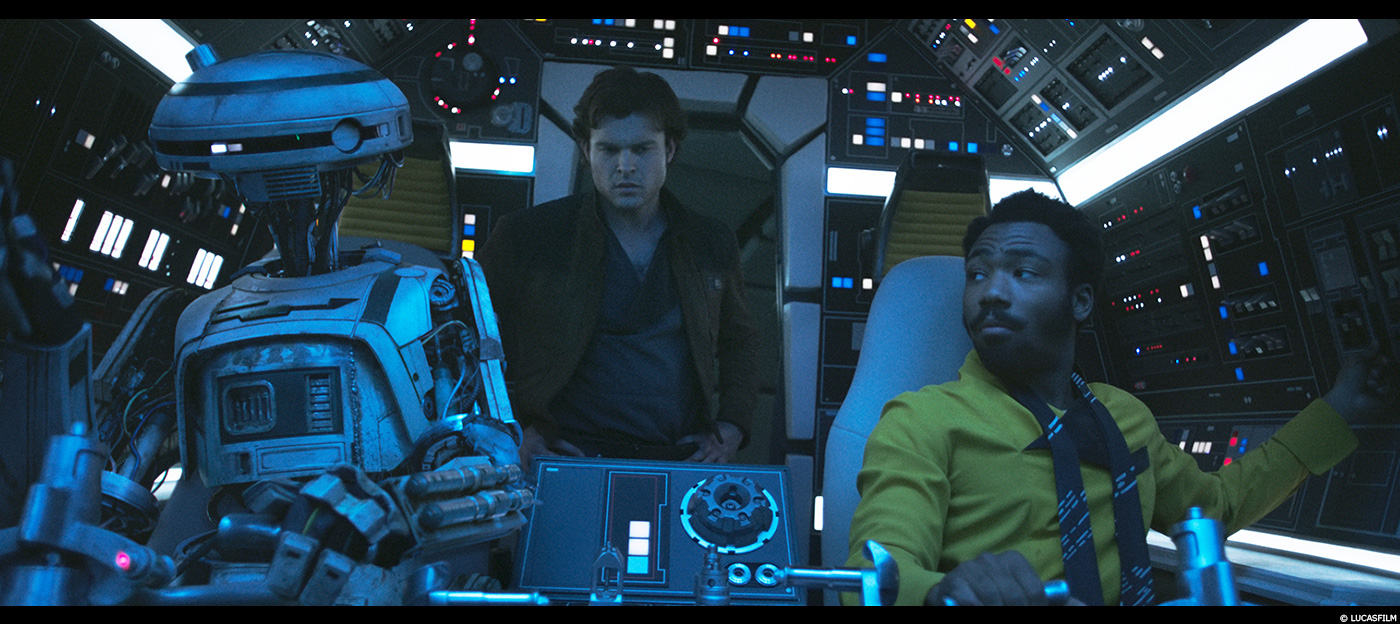 Did you received specific indications and references for their animation?
MS: The wonderful part of creating Rio was the amazing mix of skills and disciplines brought together to create one performance. He started with a costumed design by Neil Scanlan and performed on set by Katy Kartwheel. This was wonderful, as it gave the actors a real life actor to work with. The next step was for Jon Favreau to record the dialog. We had several cameras in the recording sessions to capture reference for the animators. At that point, we would decide what needed to be done in the shot. If the onset performance worked well with the dialog and acting choices, we would leave the onset body and only replace the head and add in the back arms. If a different performance was needed, we would see if there were any parts we could hold on to, such as a hand holding a pan, or moving the controls on the AT-Hauler. Finally, in some cases, we need to do a full CG replacement to achieve the performance that Ron was looking for. In that case, we would shoot reference of our animators performing the new body motion and marry that to the Favreau Dialog reference. In a couple rare, but really fun instances, we got Ron Howard to perform a couple lines for us. Yes, we used that reference and it is in the movie!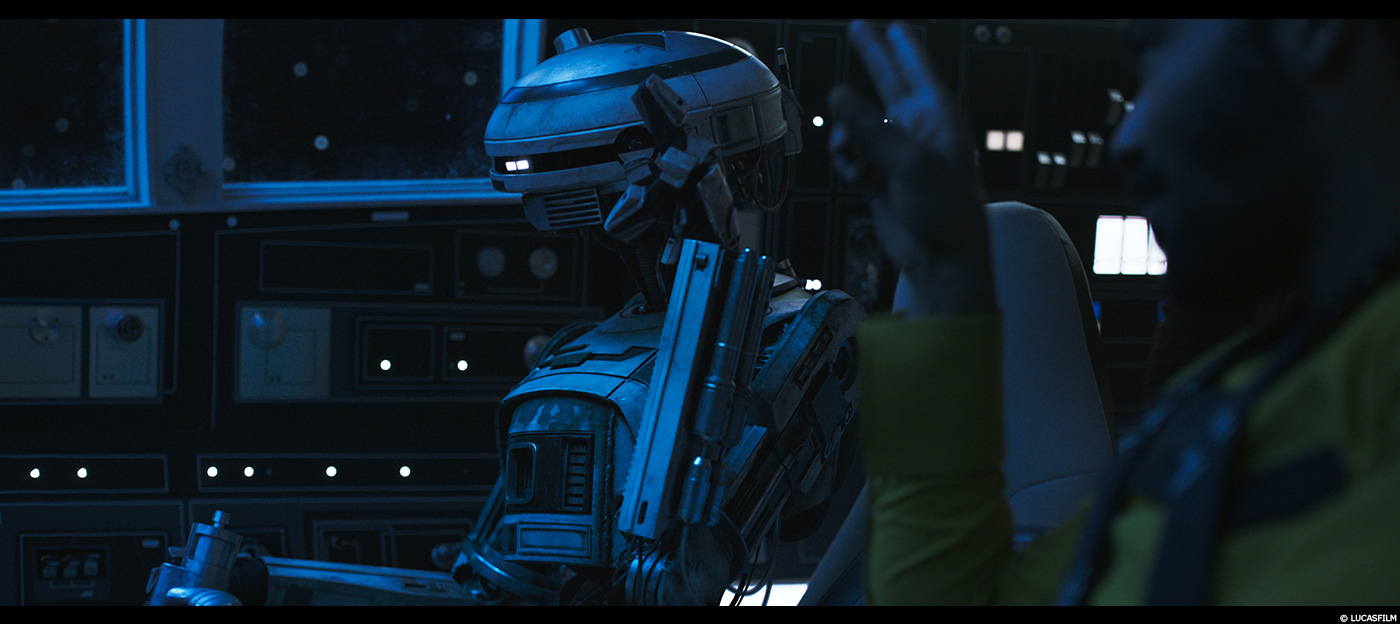 Rio Durant and Lady Proxima have multiple arms. How does that affect your work?
MS: There are a lot of arms between Rio and Lady Proxima. For Proxima, she is a largely a puppeted character. The full body and top most arms were puppeted on set. We then took over the remaining lower arms in animation. It ended up being a fairly simple task for our animators, as we did just a simpler version of what the hero puppeted arms did. However, it was in incredibly demanding task by our layout department, supervised by Tim Dobbert. The constant squashing and stretching of the puppet made for very difficult matchmoves. For Rio, often the challenge was what to do with the extra arms. On set, the gags and switch flipping would happen with the front arms. It became a fun challenge for our animators to integrate the back arms into the scene to help support the motion that was already dictated by the onset performance.
How did you use the ILM experience on K2-SO for the new droid, L3-37?
PT: I think the experience the team had on K2-SO gave us a lot of confidence that we would be able to track the Phoebe's performance in costume and get the subtle movements that made her performance so unique. We didn't want to put ourselves in the position of having to give up on the tracking and re-animate the character. Not only would have that killed our schedule, we would have inevitably lost a bit of authenticity which is what we strive for in these films by putting some much work into what goes in front of the camera before post even begins.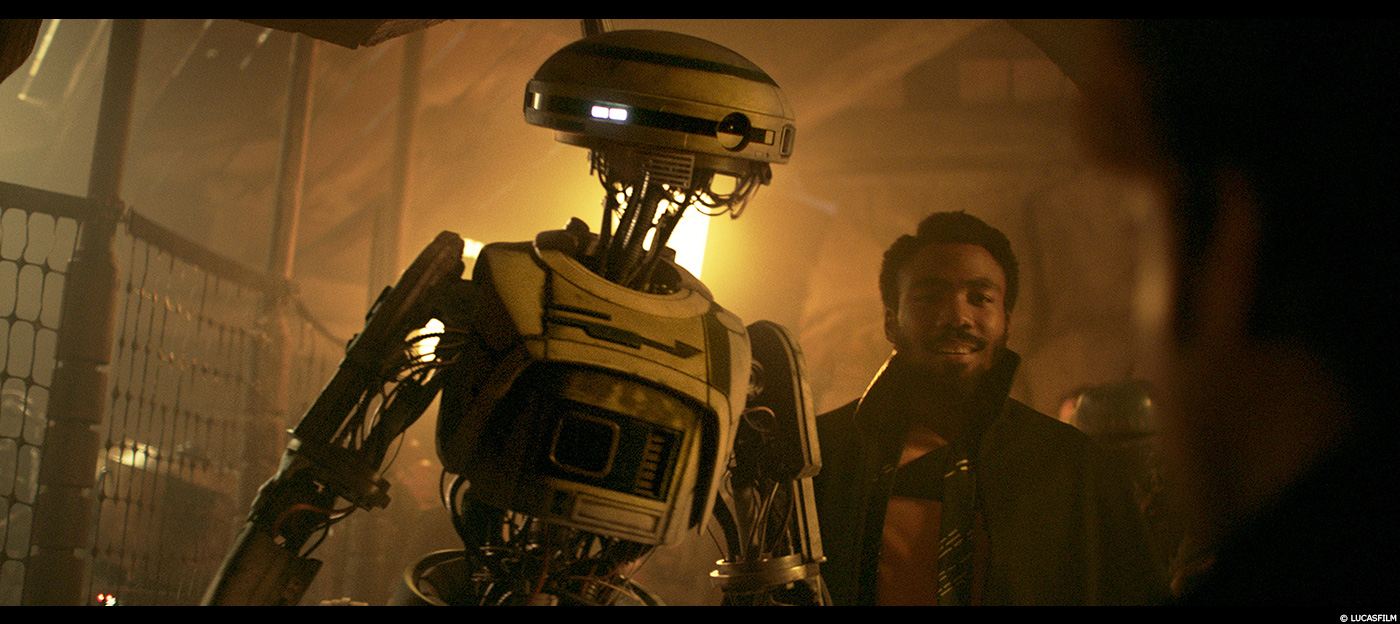 How did you manage the lighting challenges for these full CG characters?
PT: Our lighting team, led by CG Supervisor Dan Lobl and Lighting Supervisor Vick Schutz, were unbelievably good at breaking down lighting of a scene and creating templates for our lighters to work with. We recorded all the data we can on the day (HDRI, charts, spheres, etc.) but there were some challenges in this show that required them to go above and beyond the basic accuracy we expect. In the campfire scene with Rio, for example, they had to contend with a flicking campfire light that was casting dramatic shadows and flickering unpredictably. Not only that, but no one was going to be happy if Rio did not look good- he's a movie star after all- and so we had to make aesthetic adjustments much the way you would on your actors who were there on the day. Thankfully, since the motto of Star Wars is to shoot whatever you can, we had great reference of our Rio performer to start with, so started in a good place with that ground truth and could adjust from there.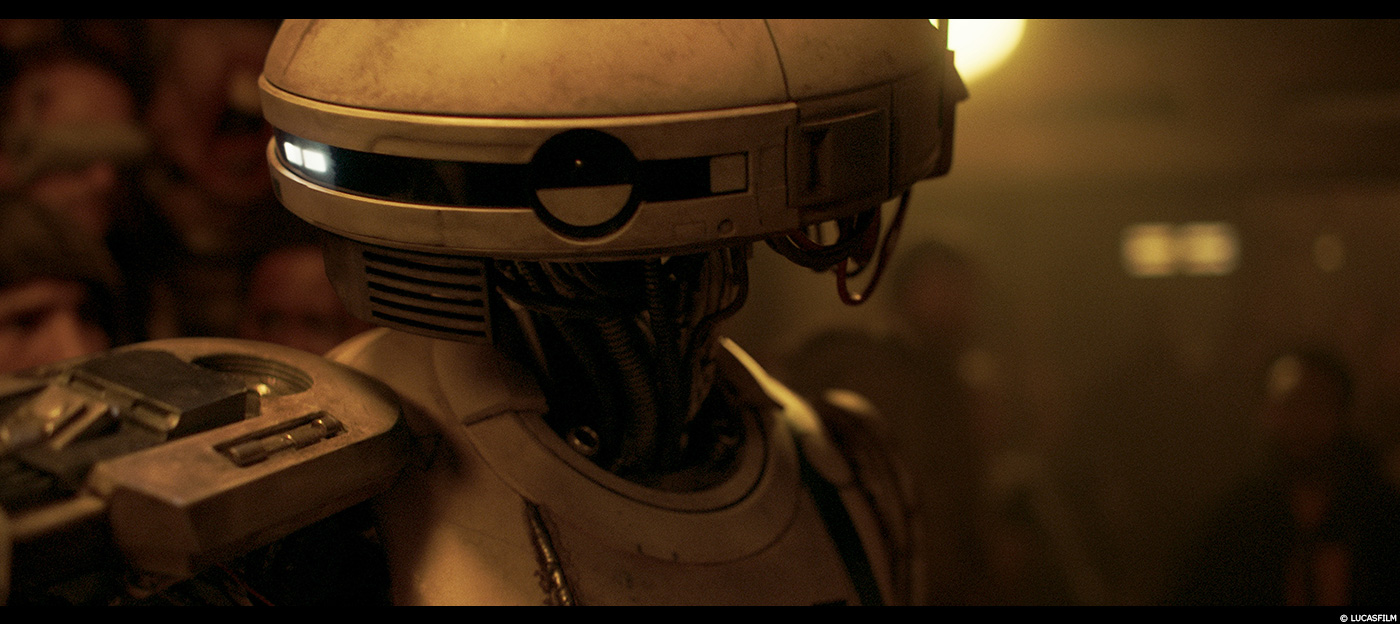 How did you work with Neal Scanlan and his team to enhance their animatronic creatures?
PT: Neal and his team really outdid themselves on this film. The level of the animatronic creatures, costumed characters, puppetted characters and the like is simply extraordinary. I know that there are creatures in this film that look so complicated and non-human that people assume they are CG, but that's most often not the case! Six-Eyes, the gambler at the card table next to Han is one example. His movements are so subtle and nuanced that it's hard to believe it was not computer animated, but it was all done live on set by the Creature FX team. There are other moments, like in Lady Proxima's den for example where we used some 2D Warping techniques to tighten up Lady Proxima's dialogue and pull some more emotion from some of her expressions. In these cases we're striving for a seamless merge of VFX and the creature work so it becomes undetectable to the audience.
Which new characters is your favorite and why?
PT: I really enjoyed working on L3! Phoebe Waller-Bridge did an incredible job creating the essence of that character on set, and I think our ILM work kept that alive in the final film version as well. Her attitude and behavior gave me the same kind of smiles I got when watching C3-PO in the original trilogy films.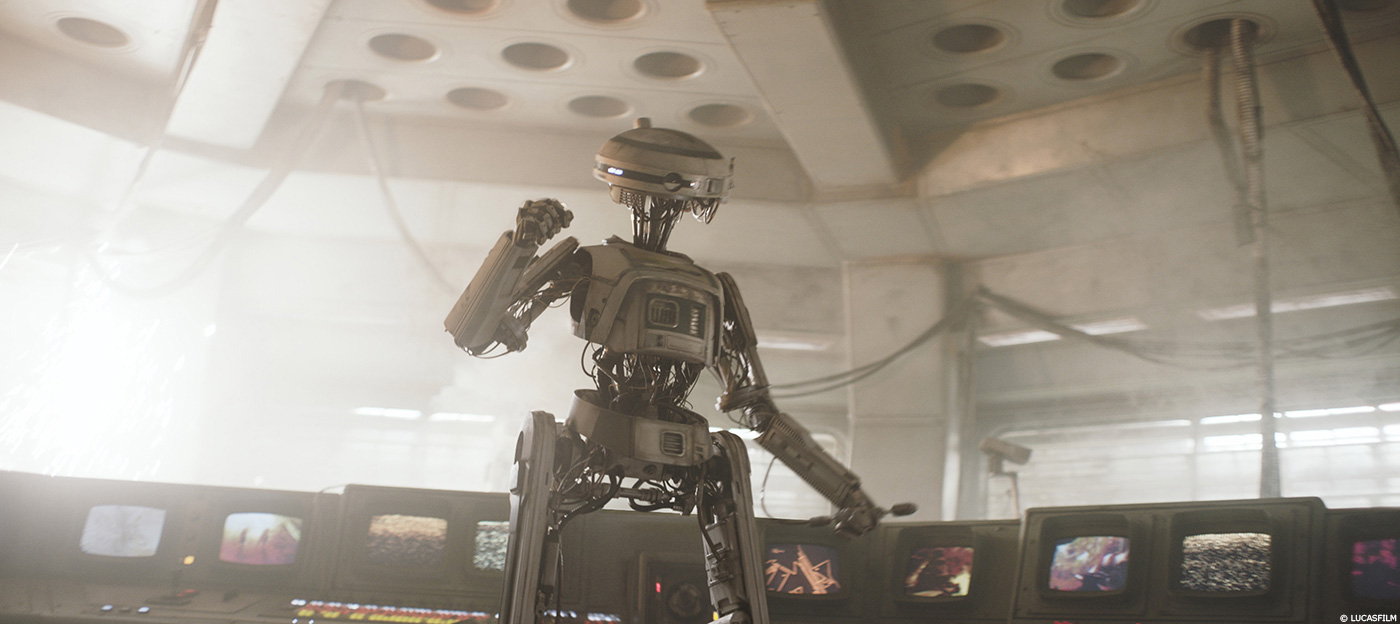 Han and his team attack a train convoy. How did you design and create the train?
MS: Motion for the dynamic train sequence was executed by our London animation team. At the start of the project, we went through the history of film and tried to review as many sequences that involved some sort of train adventure. Everything from BACK TO THE FUTURE, to BUTCH CASSIDY, to SNOWPIERCER. We studied what worked and what we felt wasn't as strong. In the end, even though this is a science fiction fantasy, grounding ourselves in reality proved to be the most successful. So instead of treating it like a high-speed space train, We found that the slower trains felt more dangerous. They would often shoot on real trains back in the day and you can feel the anxiety and stress on the actors. It just felt more engaging and gave a real sense of danger. For the motion on the train cars, our London animation supervisor, Chris Lentz, shot a lot of wonderful reference of the London Tube. It really gave us the right feel on how that cars would play against each other. The most challenging section came when they pulled the train car off the track and began a large game of tug of war. The physics of the train car, the AT-ST Hauler, and the skiffs playing against each other involved a lot of study for various sources of reverence, including our animation team running around with toys being pulled by strings. It was important to always feel the weight of the train car while also believing that the Skiffs and the Hauler each had a fighting chance to steal it.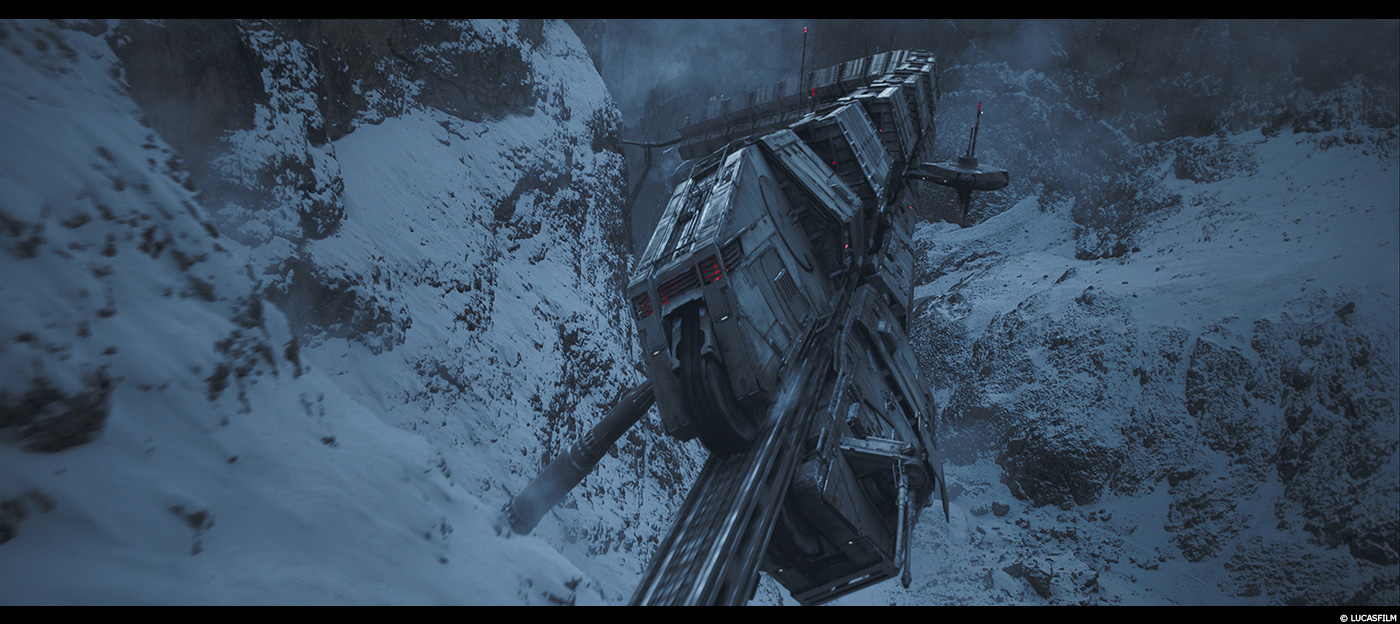 How did you create the digital doubles for this sequence?
PT: We have had to develop a consistent and reliable methodology for digital double creation on the STAR WARS films, given that there is so potential for our characters to possibly appear somewhere else in the larger universe, perhaps many years later. We're diligent about collection great scans and photography of the actors and costumes and then we carefully match the looks during look development. One of the things we've incorporated into the process in the last couple of shows is scanning of the color data, so we not only using the images but also precise color measurements to determine the colors of the costumes. That has proven to be very valuable and reduces some of the area that naturally occurs between photos, light, and software.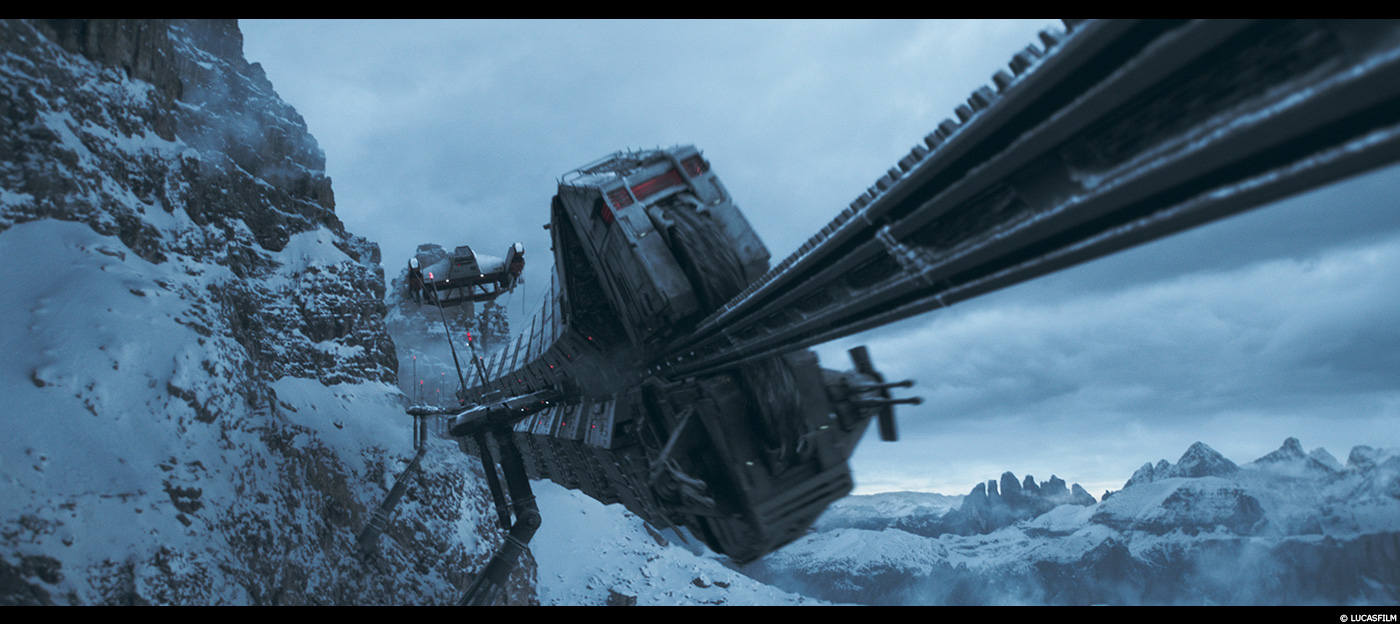 How did you handle the fur aspect for Chewie?
PT: Fur is always a challenge, and when you're going into a film where one of your main heroes is a walking furball you have to be ready. Lucky for us, Joonas (Suotamo) is such a talented performer that the number one go-to answer for Chewie was to shoot him whenever it was possible (and safe, of course) to do so. Second, we had some great fur grooming on our digital Chewie double and although the intention was never to use him outside of medium to wide shots, he inevitably got into some closer shots as the edit evolved. We started from excellent scans and photo reference from the real costume, and even some hairstyling advice from the team who was in charge of grooming him on-set. There was a considerable investment into the CG hair on his head and arms, and as time consuming and painstaking as it was to build the double to that level it paid off in the end in not having to do more asset work in the midst of shot production.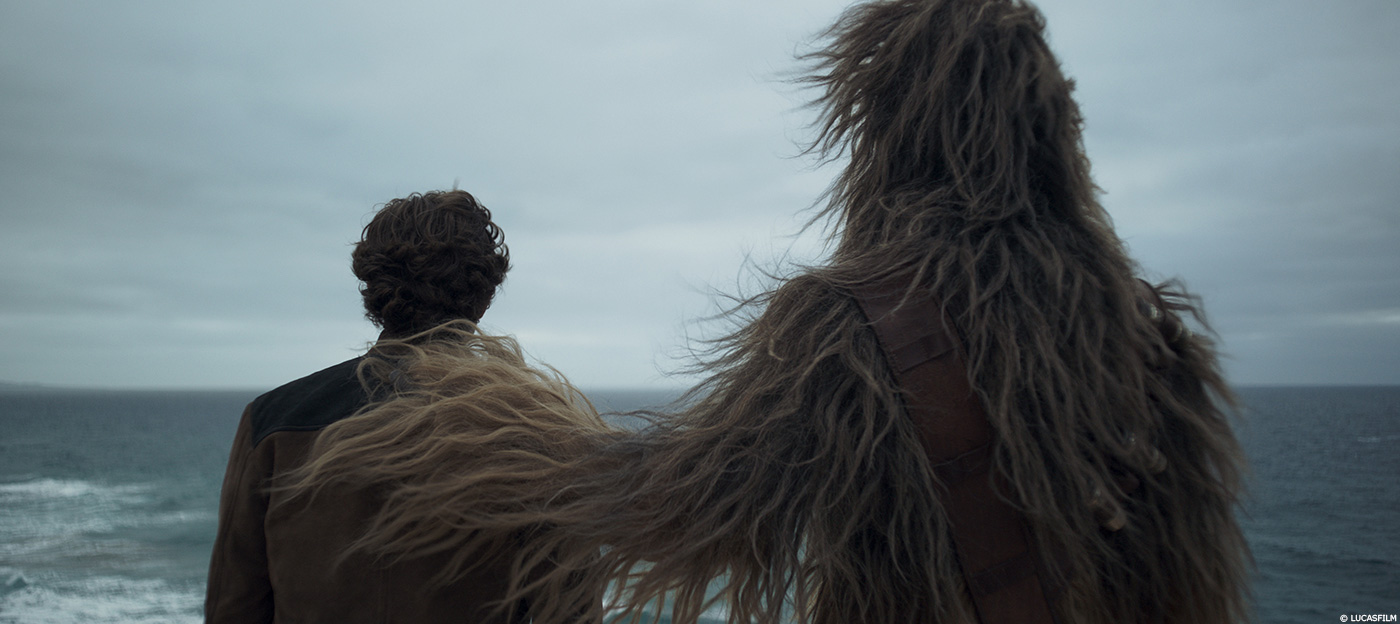 Of course the Millennium Falcon is back along with new ships. Can you explain in detail about the creation of the Millennium Falcon?
MS: Speaking of the Falcon from an animation perspective, it was incredibly important that we get it right. Its not just a ship, its a character in it's own right. The Millennium Falcon has very distinctive motion. Part of that was the limitations of the time it was created, others were just very specific motion choices. One of the first things I did when starting this show was to breakdown the motion of the Falcon. I pulled every shot from the original films and broken down their movements. How does the Falcon turn? How does it land? How many frames does it take to get to hyperspace? I created a Falcon Bible for the animators to reference. One of the joys of working here at ILM is that I can walk over to Dennis Muren's office and discuss with him my interpretations of the beautiful work they created. He was able to guide me and make sure what we were about to do with Solo was consistent with the work they did. It didn't mean we couldn't break the rules, it just helped us to understanding when we were. The Millennium Falcon is not just a beloved ship, it is just as much at the heart of Star Wars as Han, Chewie, or Lando. It was very important that we respected it and cared for it like any other Star Wars character.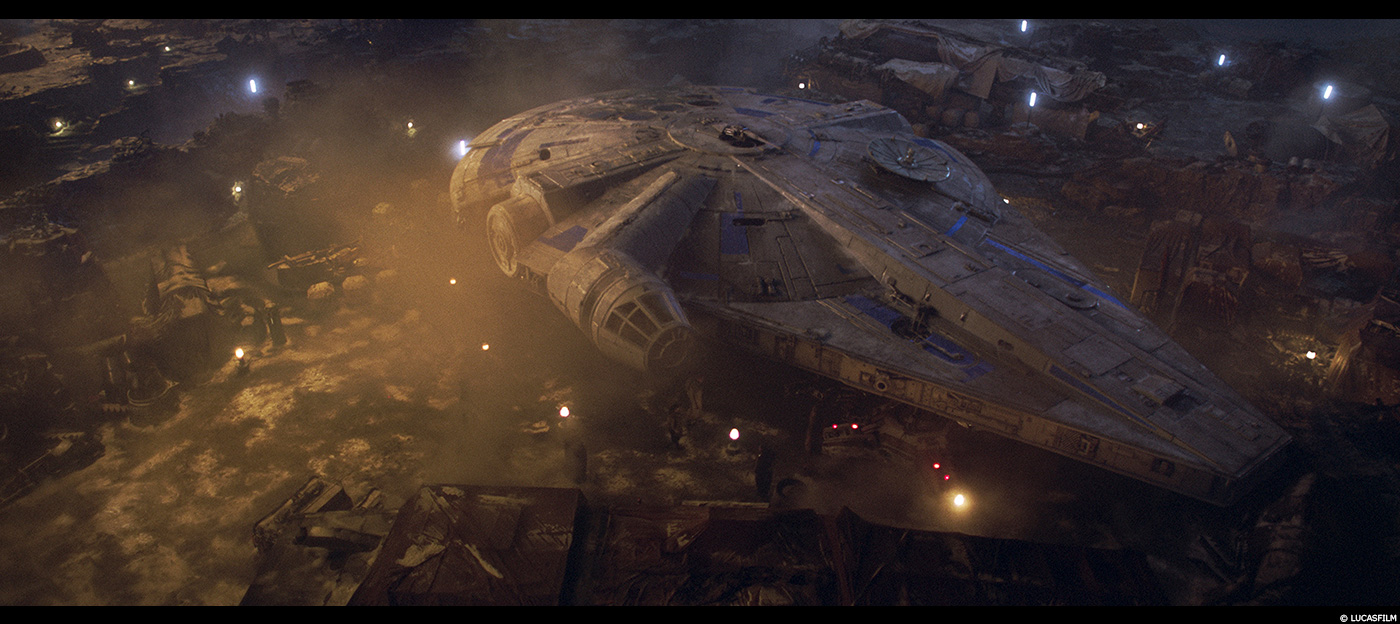 During their escape from Kessel, the heroes meet a "Space Octopus". How did you design and create this massive creature?
MS: The space octopus (Spactopus as we lovingly called it internally) was a really fun and challenging sequence for animation. We were super excited when Ron decided he want to add a space monster in the Kessel Run. That excitement turned into concern when we showed the animators the 38 tentacles that needed to be animated. Thankfully we had some wonderfully smart artists that dug in and took on the large (Pun intended) animation challenge. Our lead animator Derrick Carlin worked closely with our creature supervisor, Karin Cooper to develop a system that could combine some free dynamic sine wave motion along with traditional key framing. Karin was able to leverage her experience on Davy Jones for PIRATES OF THE CARIBBEAN to help animation with the massive amount of tentacles. Though not the easiest character for animation to handle, it really added a lot of fun to the Kessel Run and it made the effort all worth it!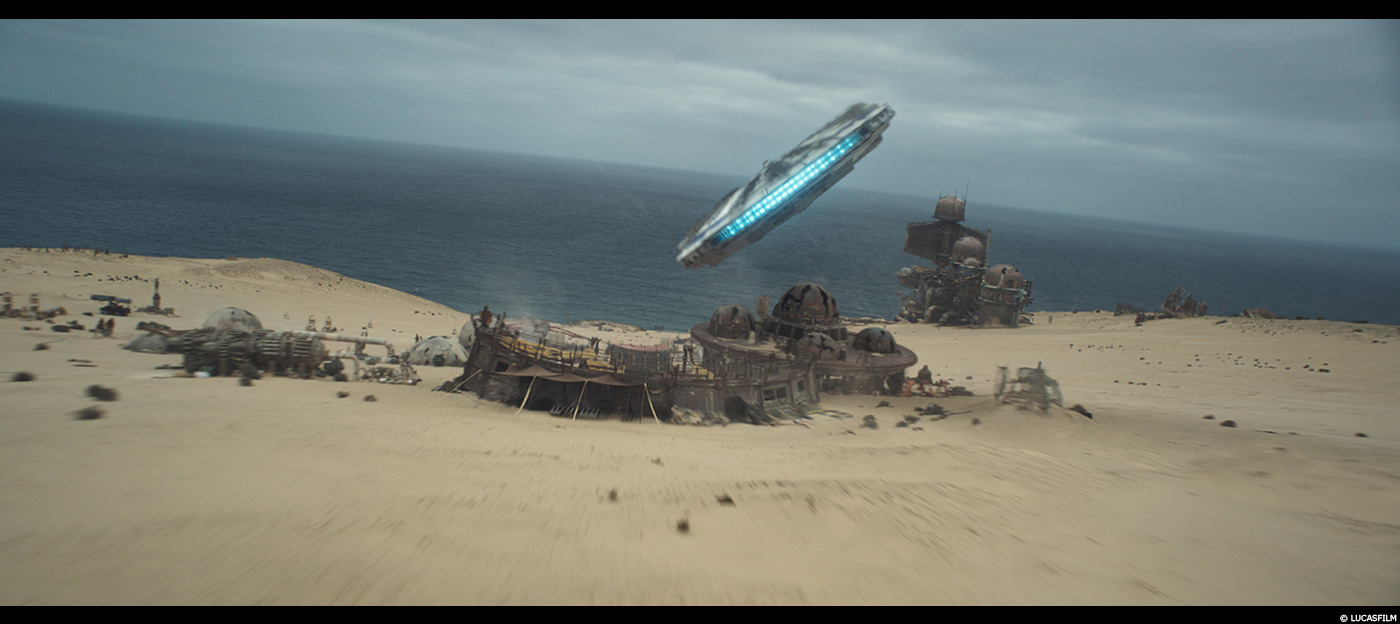 How does his massive size affects your work?
MS: The massive size of the space monster provided a few challenges for the animation team. Staging the Falcon and the monster was tricky because it was almost impossible to see the Falcon if you are looking full body on the monster. It was just too small in comparison. Fortunately, the Falcon has a large engine light to help illuminate it's position. When it comes to the motion, we also had to respect the size of the creature. Moving him too fast would break the scale. However, often when we would move him at the correct scale, it would be very boring and not match the high energy of the sequence. Fortunately, we had a large Gravity Well behind him that had all sorts of different forces pulling towards it. It justified some faster motions in the tentacles without breaking scale. It was always a delicate balancing act between being physically correct and telling an exciting story. A fun problem to solve for the animation team.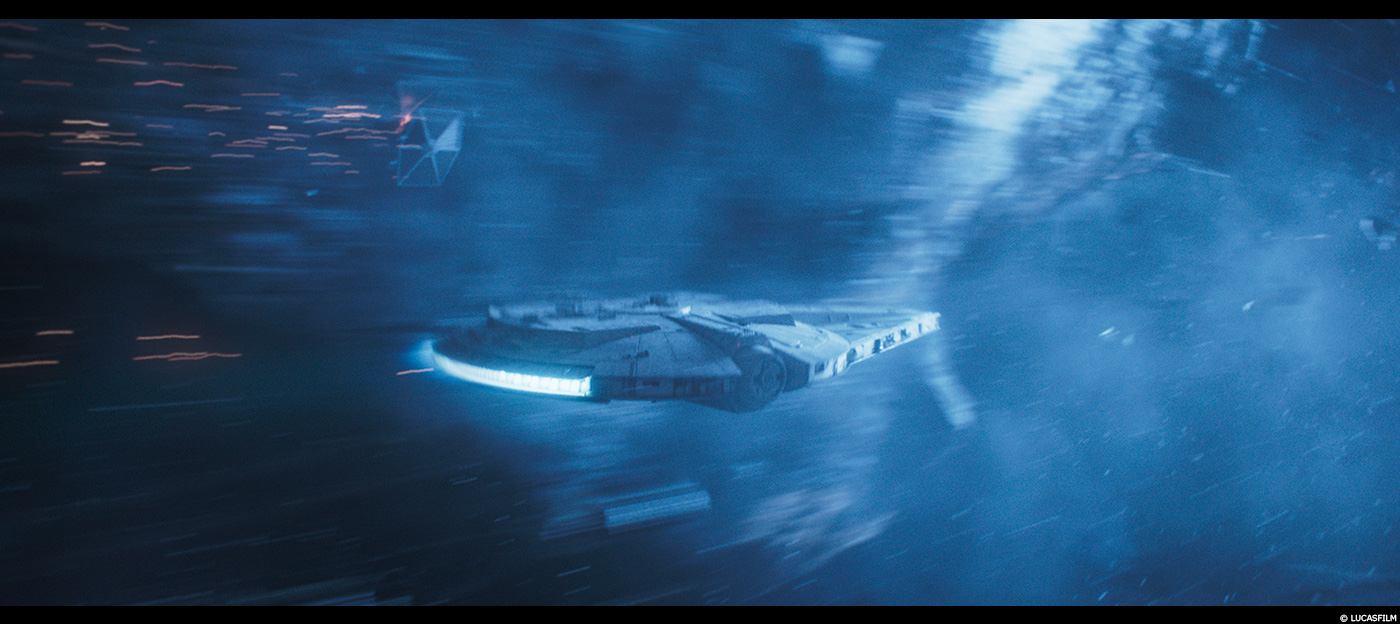 What locations were used to film the different parts of the movie?
PT: The Dolomites in Italy were the mountain backdrop for the train heist, and the Canary Islands were used to represent Savareen. Both locations provided some amazing views and really helped bring the sequences to life. Great location shots are a STAR WARS tradition that we were happy could live on in this film. Of course we also film on sound stages at Pinewood in the UK.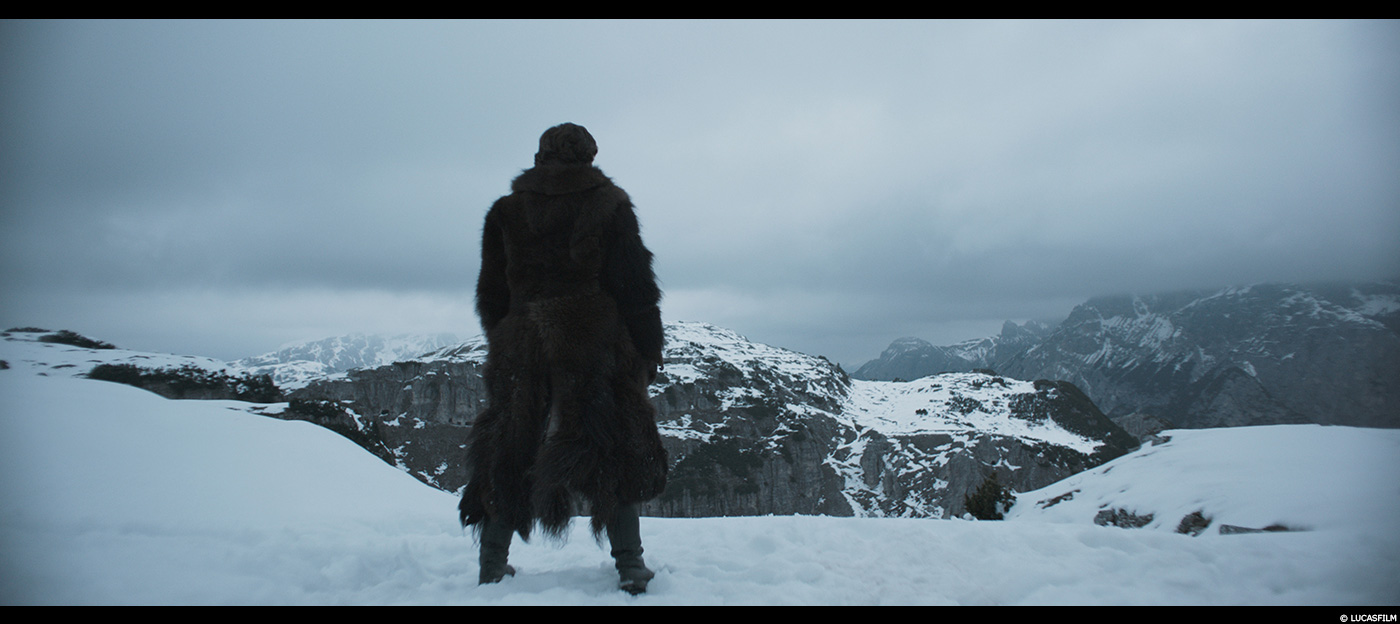 Which sequence or shot was the most complicated to create and why?
MS: The space monster for sure was the most complicated for animation. Not only because of its 38 tentacles, but it was also an incredibly challenging story point in the movie. Everything in the Kessel run needed to come together in this moment. So mix important storytelling with a complicated piece of motion and it certainly gets a lot of attention from all the creatives.
PT: It's hard to say precisely which sequence was the most complex, as they all had unique challenges, but the Kessel Run probably presented the widest variety of challenge because there was so much going on.
To begin with, we had what we called "the corkscrew tunnel" which was a mass of swirling clouds and a custom sim of spidery lightning running along the surface of the clouds. Anytime you are dealing with a primarily FX driven environment, there is a lot of planning needed to avoid having to double back on very expensive simulations. Next, we moved to the storm section of the chase, which was also an FX heavy area, but with story driven moments and interactions with the carbonbergs- huge frozen rocks that fly by at hundreds of miles per hour. Then we come upon the Summa, the space monster in which we had to strike the right balance between seeing enough to be intriguing, but not so much that we reveal too much, too soon. That encounter ends violently in the jaws of the Maw, a swirling mass of rock and energy that required a custom FX system that had to be repeatable from any shot angle. Finally, we end with a coxium fueled rocket launch through some massive, crushing and collapsing carbonbergs. Each of these moments would have been tricky enough on their own, but the wide variety of CG heavy FX, simulation, lighting and compositing challenges strung out in the climactic third act of the film gave us a lot to chew on.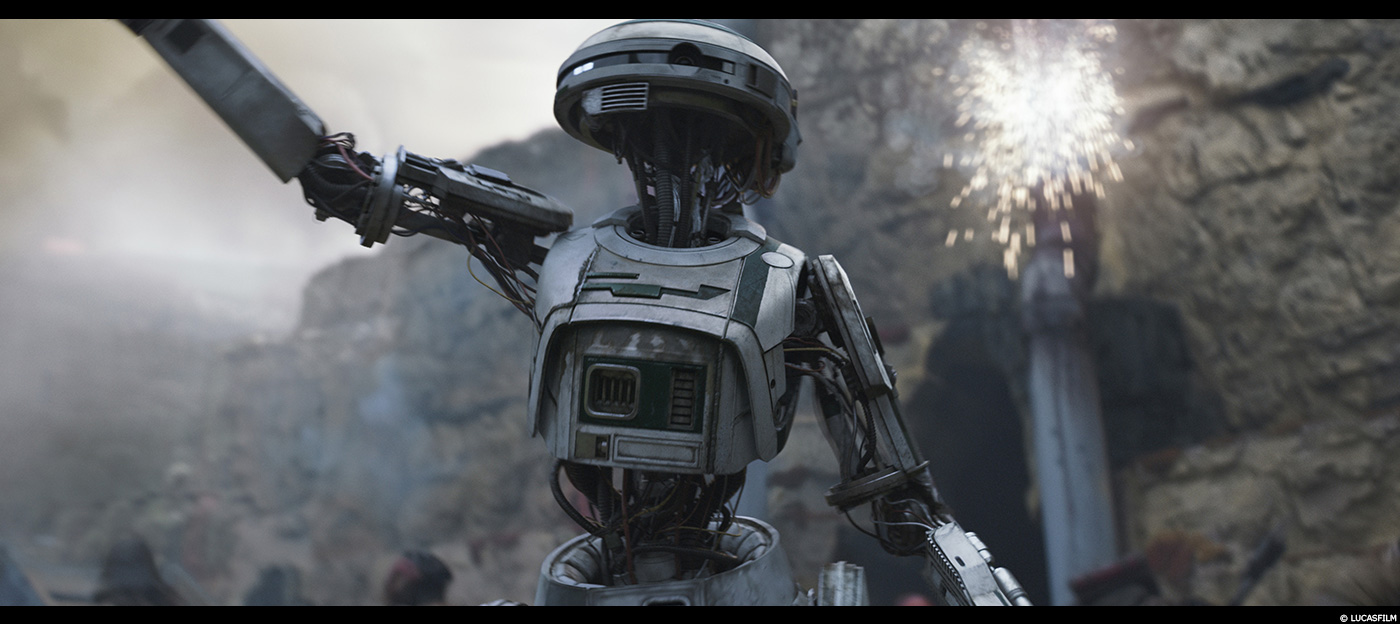 Is there something specific that gave you sleepless nights?
MS: The space monster kept me up the most. Not so much in the execution, but making sure we got the story beats right.
PT: One of the effects I was a little concerned about was the scars on Dryden's face. Not whether we could technically do it, but if the storytelling aspect of it would be as successful as we'd hoped it would be. Because it was a relatively subtle effect in very dialog heavy scenes, it required doing an awful lot of the work up front to then watch it with Ron Howard to find out how we felt about it on an emotional level. In the end, I believe it really helps enhance his menace and makes you more aware of Dryden's emotional state.
What is your best memory on this show?
MS: This show has been filled with so many wonderful memories. But by far my favorite is probably one shared by anyone who has been lucky enough to step onto a STAR WARS set. It's always an exciting time. All the amazing teams of people working together to prep the stage, set the lights, check the cameras. There are super famous celebrities getting ready to do their performance. All great things and you are there to do your job. You stay pretty cool and collected, cause you are a professional. Then that all changes when a rather large walking carpet enters the stage. Seeing Chewie (Not Jonas… Chewie) for the first time is such a rush of excitement. No matter how cool you pretend to be on the outside, inside you are screaming, "OMG, that's Chewie! That's Chewie!" It was magical.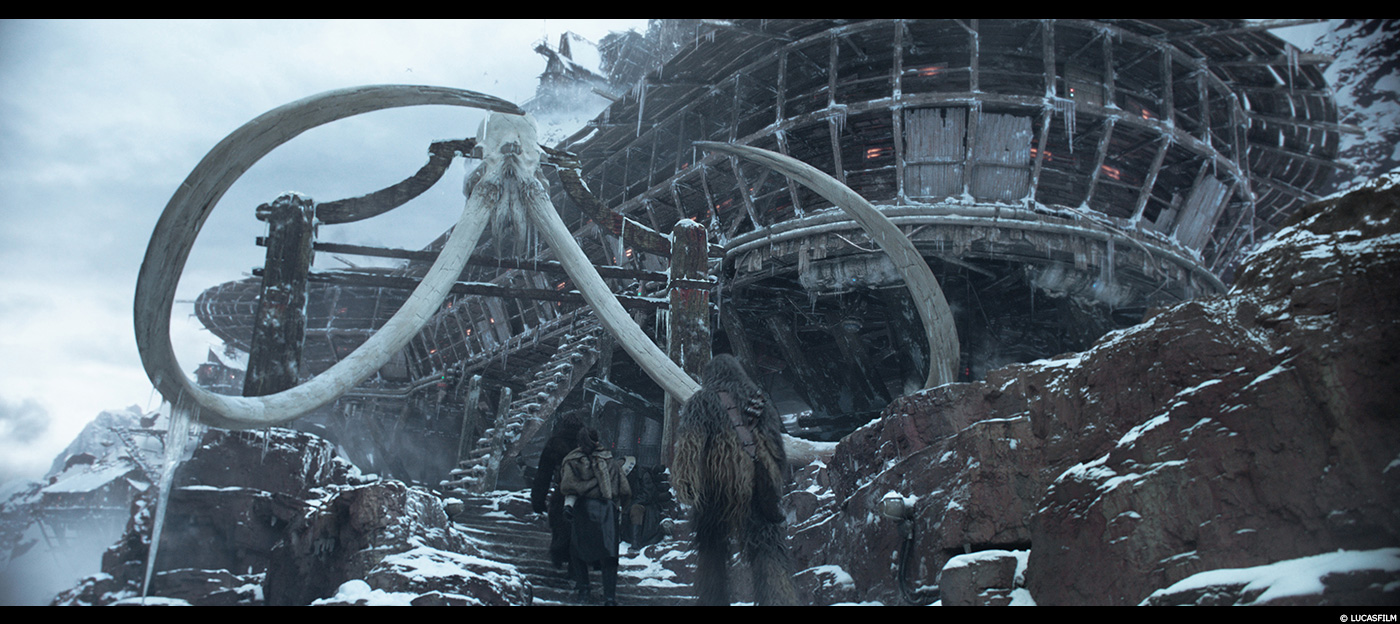 How long have you worked on this show?
PT: I started around May of 2016, so almost 2 years.
MS: I was fortunate enough to be brought on to the show very early, long before animation began. I started digging up train reference in fall of 2015. So about 2.5 years being involved with this amazing show.
What was the VFX shot count?
PT: ~1800 shots.
What was the size of your team?
PT: Between the four ILM studios (San Francisco, Vancouver, Singapore and London) we had about 500 people on the crew. Around the world with our various partners, we were over 600.
MS: Our animation team for SOLO was spread out across the globe in San Francisco, Vancouver, London, and Singapore. We also had a team of animators at Hybride in Montreal and Tippett Studio in Berkeley. We had 45 total ILM animators, each team lead by each of their local supervisors. Chris Lentz, Alexander Lee, Atsushi Kojima, and Hal Hickel rounded out our supervisory team.
What are the four movies that gave you the passion for cinema?
PT: I think I would credit RAIDERS OF THE LOST ARK, E.T., LAWRENCE OF ARABIA and JURASSIC PARK as having a profound impact on me. It's not just about VFX, it's really about those films feeling magical in their own way.
MS: JURASSIC PARK, BEAUTY AND THE BEAST ('91), THE IRON GIANT and STAR WARS (1977) – of course! Pretty much, if it had animation, I was watching it.
A big thanks for your time.
// WANT TO KNOW MORE?
Industrial Light & Magic: Dedicated page about SOLO: A STAR WARS STORY on ILM website.
© Vincent Frei – The Art of VFX – 2018