Robert Nederhorst worked since 10 years in the VFX. He has participated on projects like X-MEN, THE DAY AFTER TOMORROW or THE BOOK OF ELI. He joined Svengali FX in 2010 and oversees the effects of IRON MAN 2 and THE LAST AIRBENDER.
What is your background?
Initially I studied Architecture and Environmental Design at Texas A&M University
How was your collaboration with director Scott Stewart and Production VFX supervisor Jonathan Rothbart?
I think Jonathan and I got along well and saw eye to eye on many of the visual details that were required by Scott. The mission was to create a BLADE RUNNER style environment for establishing the world that the priests inhabit and we would reference similar parts of that film during the course of production. Jonathan Rothbart made solid decisions and understood when specific requests were too complicated for the time left. We then discussed alternative solutions. There is always a clever way to solve a problem.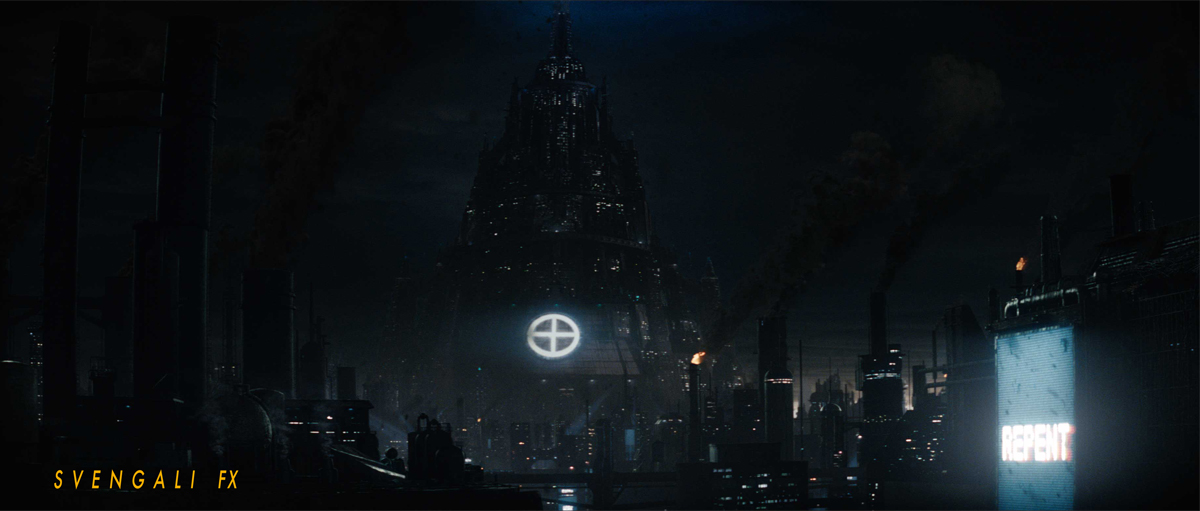 How did Svengali FX got involved in this film?
Jamie Venable, Svengali FX's owner, was contacted by VFX Producer, Jenny Fulle, and VFX Supervisor, Jonathan Rothbart who introduced us to director Scott Stewart. We met and discussed his vision for the world he wanted to create and from there our focus turned to building the best team for the types of work they had in mind.
What are the sequences made by Svengali FX?
We worked on the City Five sequences and the Jericho sequence.
How did you proceed to create your matte painting?
We used Photoshop, 3DS Max and Cinema 4D. We did quite a bit of concept work and so it was a little bit more straightforward to create production assets from these.
Can you explain in detail the creation of the impressive City Five?
Early on we bid all this as matte paintings and projections. However, it became clear that we needed to change gears and turn this into a full 3d city, which is exactly what we did. We modeled a ton of buildings and even more bits and pieces that we could use to individualize buildings to make many unique looking structures. For the very expansive wide shot we had around 2 billion polys in the scene. It was pretty crazy but as we were using VRay for rendering it was not an issue.
What references have you received for City Five?
There was a lot of looking at BLADE RUNNER but we did look at other major metropolitan cities as well for guidance on how cities are built.
What was the main challenge for this city?
To get a photographic look for something that clearly is not real. Dealing with the scale required was also a challenge.
How did you create Jericho?
Similar to City 5 we built a kit of parts and did a ton of concept work. After the general building shapes were approved we just used the kit to outfit the larger shapes.
What references have you received for Jericho?
We did our own internal concept art as well as some from production.
Does the daylight caused you problems?
Actually no. It was not the biggest issue on the show. I am really happy with the daylight Jericho shots.
Were there a shot or a sequence that prevented you from sleeping?
Luckily I have never lost sleep due to a vfx show. We tried very hard to make the show manageable from the beginning and keep it that way throughout the production. Very meticulous tracking of all our shots and tasks made this possible. We also had an amazing crew of people that made it easy to do great work.
How long have you worked on this film?
We spent around 6 months doing the majority of the work.
What are your software and pipeline in Svengali FX?
Software was 3DS Max, VRay, and Nuke. I wrote the pipeline from scratch and based everything around Shotgun for project management. We used Qube for rendering management and RV as our flipbook of choice.
How many shots have you made and what was the size of your team?
We did around 80 shots with a team of around 15 people.
What did you keep from this experience?
I learned again that small teams are very powerful with the right people in place and the management that supports their efforts. Any project and how it gets done is only as good as the team members are. I said it before but once again, the quality of the team in all aspects allowed us to do great work without the pain that people usually associate with the vfx world. We did not do insane hours on this job. For 5 months we did 8 hour days. The last month had some 10 hour days and two Saturdays which were optional. Talented people, good management and careful execution create a great work environment where people can do excellent work and enjoy the job.
What are the four films that gave you the passion of cinema?
SCHINDLER'S LIST, BLADE RUNNER, TERMINATOR 2 and THE FIFTH ELEMENT.
A big thanks for your time.
// WANT TO KNOW MORE?
– Svengali FX: Official website of Svengali FX.
© Vincent Frei – The Art of VFX – 2011