Charlie Tait began his career in visual effects in 1996 at Cinesite. He worked on films like EVENT HORIZON, TOMORROW NEVER DIES, or LOST IN SPACE. He joined Weta Digital in 2000 and worked on the LORD OF THE RINGS trilogy. He participates in many projects of the studio like AVATAR, PROMETHEUS or IRON MAN 3.
What is your background?
20 years as a compositor, 16 of those for Weta Digital.
How did you and Weta Digital got involved on this show?
Fox and the filmmakers felt confident that we would be able to efficiently take on the mask/facial work and help ensure that Ryan Reynolds' performance would come through.
How was the collaboration with director Tim Miller and VFX Supervisor Jonathan Rothbart?
Fantastic. Tim always wanted us to start by matching the Ryan reference. We'd do this first, and then make adjustments to make sure the intent came across well. Jonathan always simply advised about changes we should try, to make sure we were producing shots that Tim would be happy with. I always felt that Jonathan's ideas were great and his comments fair, so in terms of collaboration it was excellent. We were a team working towards a common goal and there was no confusion about what we were trying to do.
What are the sequences done by Weta Digital?
We started by focusing our efforts in the Deadpool Counts Bullets scene. Our idea was to try to get a good chunk of a single scene done, so the film makers could see how much difference the facial animation made to a complete scene, all in context. This worked well – there was a lot of enthusiasm from the client, and it helped us to see how much difference this work would make to the film. Ultimately we worked on sequences scattered right through the film from the opening shot, to the final scene.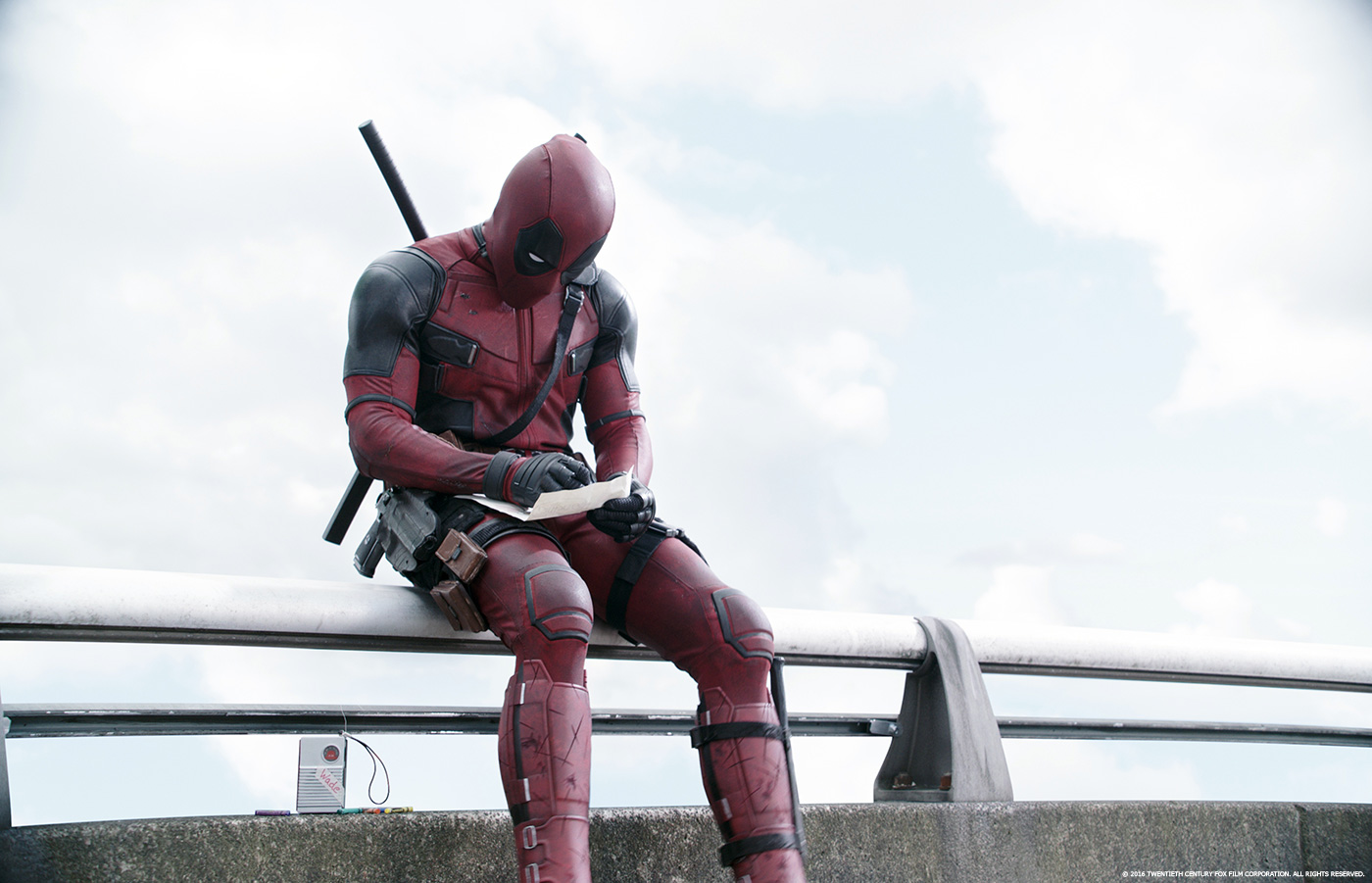 How did you approach the project?
We knew this had to be handled in 2D. The film makers already had their shots; the plates were good, but the facial expressions were missing. Producing an animated CG head would obviously solve the problem. But the overheads with this approach would have been prohibitive for the number of shots we needed to do. The pipeline would be complex and would therefore create a slow turnaround situation. So it needed to be some kind of warp. We got started by having Compositing Supervisors Ben Morgan and Sean Heuston try out the most obvious approaches. Spline warping seemed like it would be the quickest turnaround, but this wasn't the case. Keyframe interpolation is always linear, and there's a lot of manual tracking etc. It was also going to be difficult to repeat expressions. At this point the possibility of a geometry driven warp became the obvious avenue to explore.
Can you explain in details about the facial rig that you created for Deadpool?
Initially we took a Maya file from the client that contained facial blend (modelled at Image Engine) shapes for the Deadpool head. From that file we exported an obj file for each blend shape pose, as well as an obj for the Neutral Pose head. Next we projected a UV Ramp on each of the models and unwrapped the result to create a texture map for each.
Once we had all these blend shape images prepared we built them into a Nuke Group. It mimics a 3D animation blend shape rig by providing the artist with a series of sliders representing each facial control. Under the hood it makes us an image to drive the warp based on the 3D muscle movements the modelers created. We also included a small library of pre-defined poses for the artists to use.
The process was then templated, leaving the artists free to just animate and attend to any post process clean up needed. We were extremely grateful to our camera department for providing a head track for every shot, as the technique wouldn't have been viable if they hadn't found the capacity to be able to do all this work for us.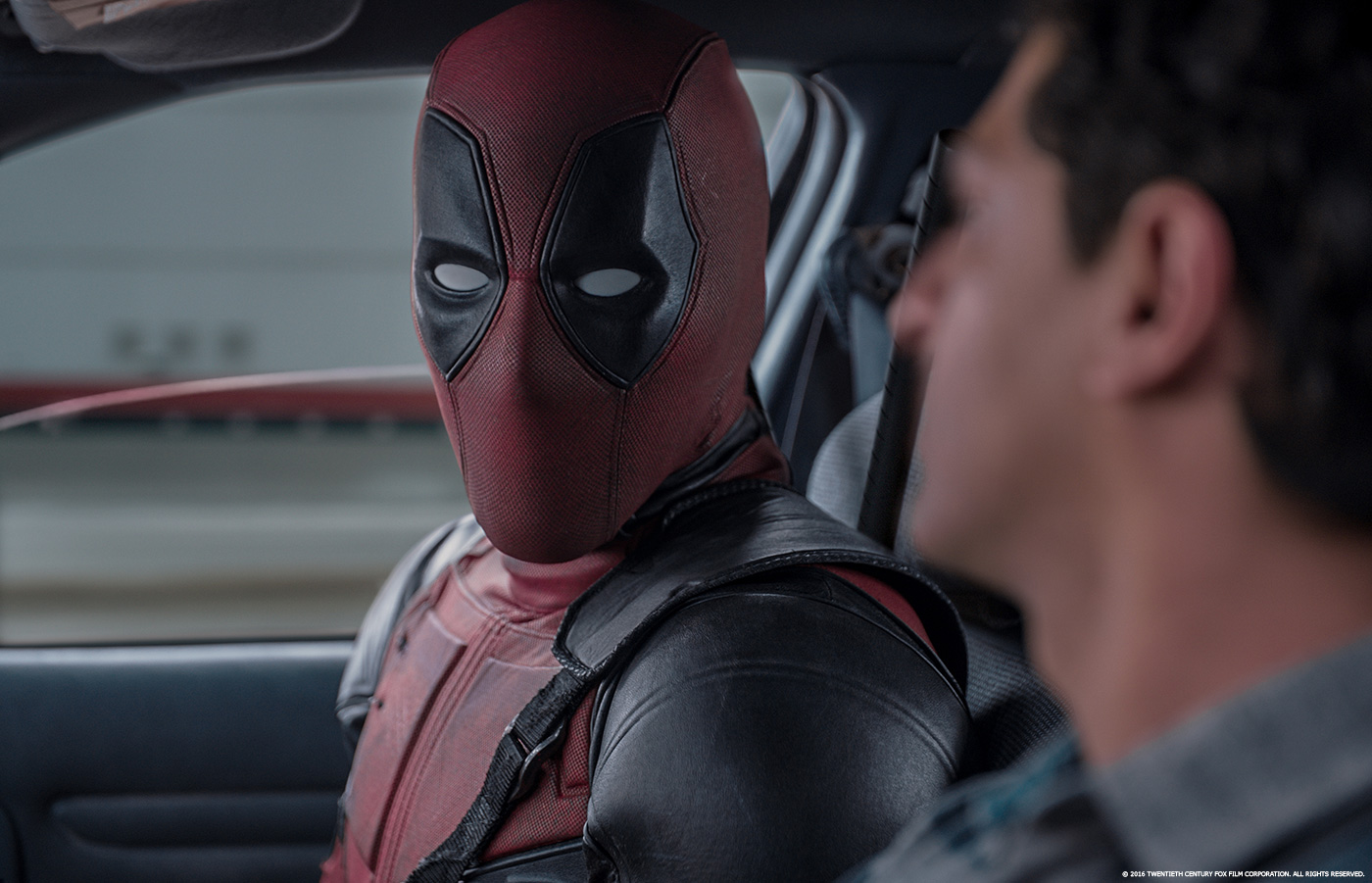 Deadpool face is seen is an large variety of lighting conditions. How did you handle this aspect?
In general because we are simply warping the plate, the lighting is baked in so the variations between shots are not relevant. However, we found that rendering a specular pass added a lot of detail to the expression that was hidden when we only warped the plate. The surface shape of the mask is changing in the blend shape models, and this is really visible in the spec pass. To generate the spec pass, we'd export our Nuke blend shape animation keyframes to a corresponding rig in Maya, and render the spec pass with an IBL and a leather shader in Gazebo, our real time renderer. The output would be passed automatically back to Nuke, for compositing onto the warped plate.
What references and indications did you received from Tim Miller for the facial expressions?
Deadpool is Ryan Reynolds! We had video reference of Ryan Reynolds for every single shot. Our editorial team kindly synchronised the timing of these clips to the audio of the shots. We'd bring these reference clips into Nuke and create the important expressions at the relevant keyframes. This was the starting point for every shot. Tim would suggest various changes where necessary to make things work better in the wider context of the cut.
What was the most complicated face expression to do and why?
Deadpool's mask has a sort of intense somewhat angry look to it. So we're always starting from that default pose. The hardest expressions to create were the ones which are furthest from this, such as sad, longing, or confused. In the end though, these were also some of the most effective, because the change was so noticeable.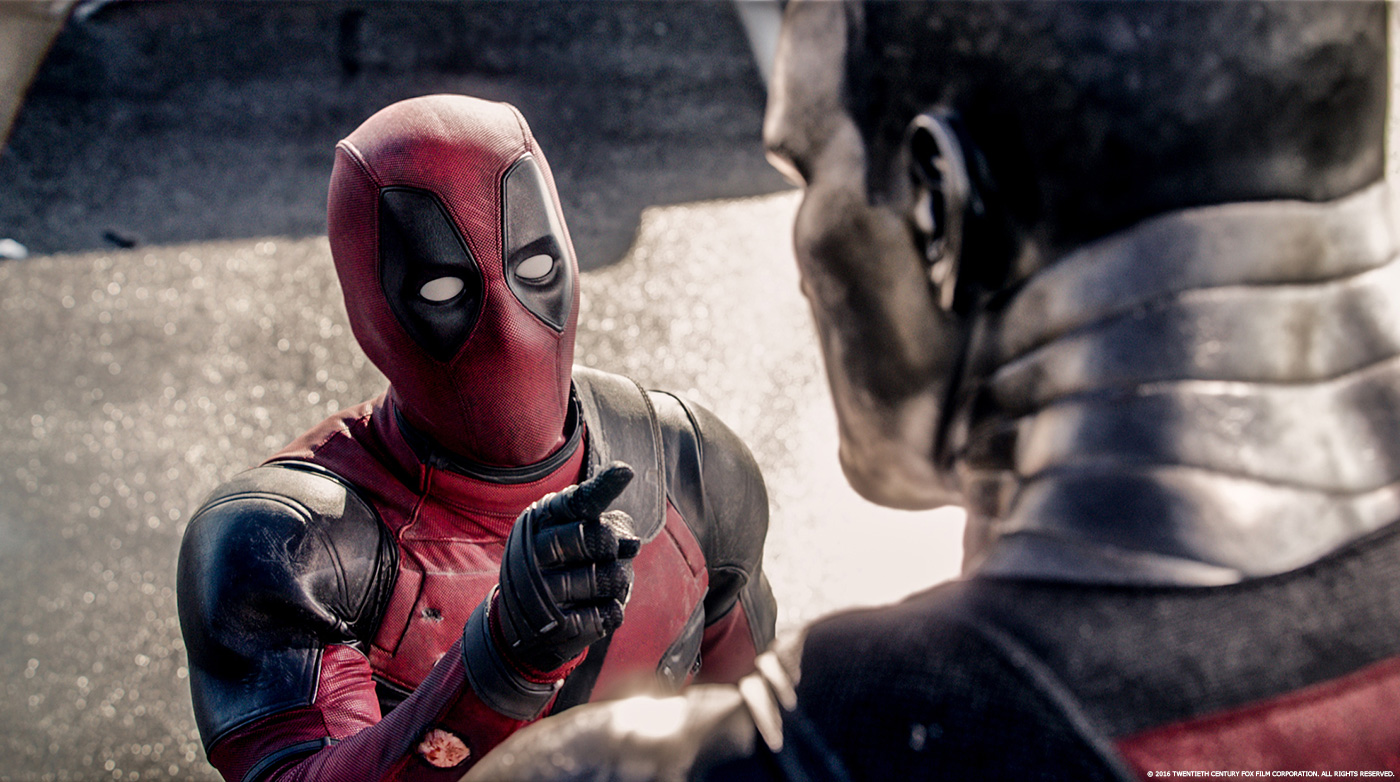 How did you work with the other VFX studios?
Almost all our shots were shared with other vendors. We worked on the original input images and took good care of them, so that our finals could be passed on to other vendors to replace the plates they had been working with up to that point. For consistency and convenience, we maintained this « Weta finish first » workflow through the entire schedule.
What was the main challenge for you and your team?
I think making sure that we were doing justice to Ryan's performance was the big thing. It was the thing that we were most concerned that we got right.
What do you keep from this experience?
It was a real joy to work on; the whole team was sorry when it was over. Working with Jonathan Rothbart was a first for me, and a real pleasure. It became increasingly obvious as the final count went up, that our work was making a big difference; unlike most visual effects, this task could simply have been omitted altogether, but the film was clearly better for it so that brought us all a good deal of satisfaction. Obviously the success of the film has been thrilling too.
How long have you worked on this show?
Three and a half months.
How many shots have you done?
284.
What was the size of your team?
57, comprised of artists from the animation, models, lighting, shaders, camera and compositing departments.
What are the four movies that gave you the passion for cinema?
Both STAR WARS and E.T. made big impressions and I remember THE MATRIX really stunned me when I first saw it as a young VFX artist. LAWRENCE OF ARABIA is my favourite film of all time.
A big thanks for your time.
// WANT TO KNOW MORE?
– Weta Digital: Official website of Weta Digital.
© Vincent Frei – The Art of VFX – 2016