Dan Charbit started his career in visual effects more than 20 years ago in France and has worked in many Parisian studios such as Mac Guff Ligne. In 2013, he moved to Montreal and worked for Rodeo FX, FOLKS and MPC before joining DNEG in 2018. As a VFX Supervisor, he took care of the effects for shows like SHADOWHUNTERS, CATCH-22 and ALTERED CARBON – Season 2.
Barry Corcoran has been working in visual effects and motion graphics for over 10 years. He worked at Rushes and joined DNEG in 2018. He has worked on projects such as SPECTRE, DEADPOOL 2, VENOM and HOBBS & SHAW.
What is your background?
Barry Corcoran // I come from an art background originally. All I wanted to do was paint, but a wise man known as Dad convinced me to use a computer instead of a brush. I got into web design, thought that was interesting, discovered flash animation and thought that was cool. Then I came across something called after effects; the rest is history I guess!
Dan Charbit // I started in the VFX industry 25 years ago in Paris, mainly working on commercials and movies. Back then we were assigned whole shots rather than specialist tasks, which meant I was doing everything from Camtrack and roto, to CG and Comp. With this experience, I moved quickly through the ranks to become On-Set Supervisor and then VFX supervisor. I moved to Montreal in 2013 and started at DNEG at the end of 2018.
How did you get involved on this show?
Barry Corcoran // It was the same creative team that worked on both seasons, which was really helpful. Back when we made season one DNEG was actually our client, which meant we already had a great working relationship with all parties when it came to season 2.
Dan Charbit // After being nominated for an Emmy for my work as VFX Supervisor on CATCH-22, I was asked if I would be interested in working on ALTERED CARBON season 2, led by DNEG out of Montreal. Of course, there were no hesitations on my part. I liked the look of that show and I was honored to be a part of it.
How was the collaboration with the Showrunner and Executive Producer?
Barry Corcoran // Our previous working history with the showrunners and our familiarity with the show really helped us get up and running. We already knew the aesthetic and the high standards expected of us. We had an established working relationship with executive producer James Middleton which really helped things move forward creatively. It's always great working with producers like James and Supervisors like Jay Worth, who put such an emphasis on the importance of motion graphics in storytelling. 
Dan Charbit // Excellent! That was one of the reasons I enjoyed working on that show so much. Alison Schapker and James Middleton were so open to our ideas and vision; the collaboration was great. We had a lot of creative freedom. 
What were their expectations and approach to the visual effects?
Dan Charbit // The client's expectations were of course pretty high and that was exciting for us. The look of ALTERED CARBON had been established in season one. We had to take that look, and continue to finesse it and improve upon it. This season happens about 30 years later on a different planet. Some things haven't changed that much, others have evolved and there are some new elements – so it required a tailored approach.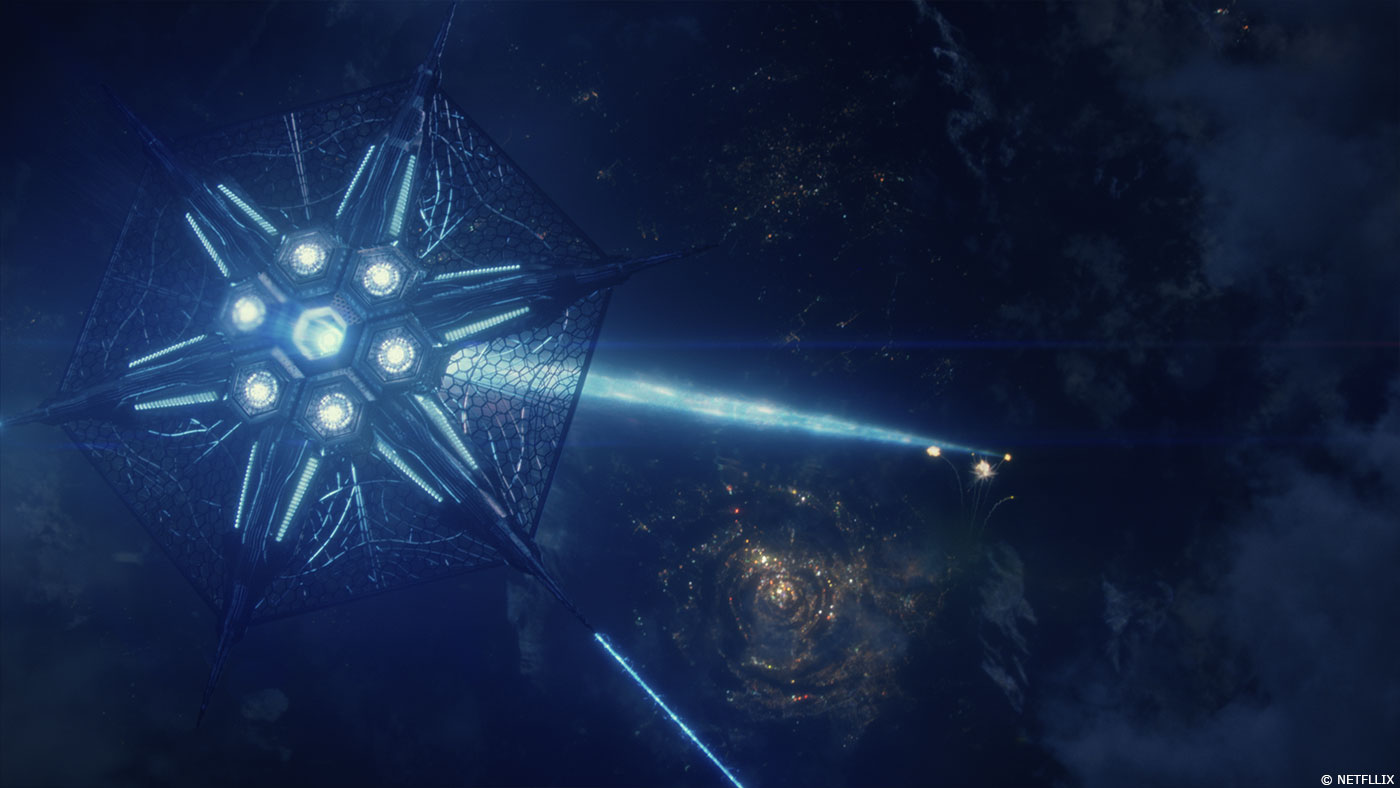 How did you organize the work with your VFX Producer and at DNEG TV?
Dan Charbit // Working with Philipp Wolf was awesome. We were very collaborative and decided how to split the project between the Montreal, Vancouver and Mumbai DNEG offices together. We gave entire sequences and assets to Vancouver, like the Angel Fire for example. Mumbai did a pretty big part of the show, including CG, animation, rendering and comp. The production team we got on that show were fantastic. They were an integral part of our success.
We discover a lot of new environments and locations this season. How did you work with the art department?
Dan Charbit // For the city of Harlan's World, our first approach was to match the concept from the Art Department in terms of camera, scale and layout. From that point, we made some changes to ensure the city would be visually stunning from all angles. We created some locations from scratch, like the mining area.
Harlan's plaza, where we can see the Needlecast Tower and The State House Tower, had been set dressed by the art department and we created the State House Tower based on concepts and set dress they did in Danica's Office. They did an amazing job on set. 
Where were the various parts of the show filmed?
Dan Charbit // They shot the whole show in Vancouver; the scenes were split between Skydance Studios and some other places around Vancouver. Harlan's Plaza scenes, where we see Danica's hologram, the Needlecast tower and the State House tower, were filmed in Surrey City Hall.
Which location was the most complicated to create and why?
Dan Charbit // The city of Harlan's World of course. The challenge was to create a full city, usable in shots from any angles, sometimes from afar and sometimes pretty close.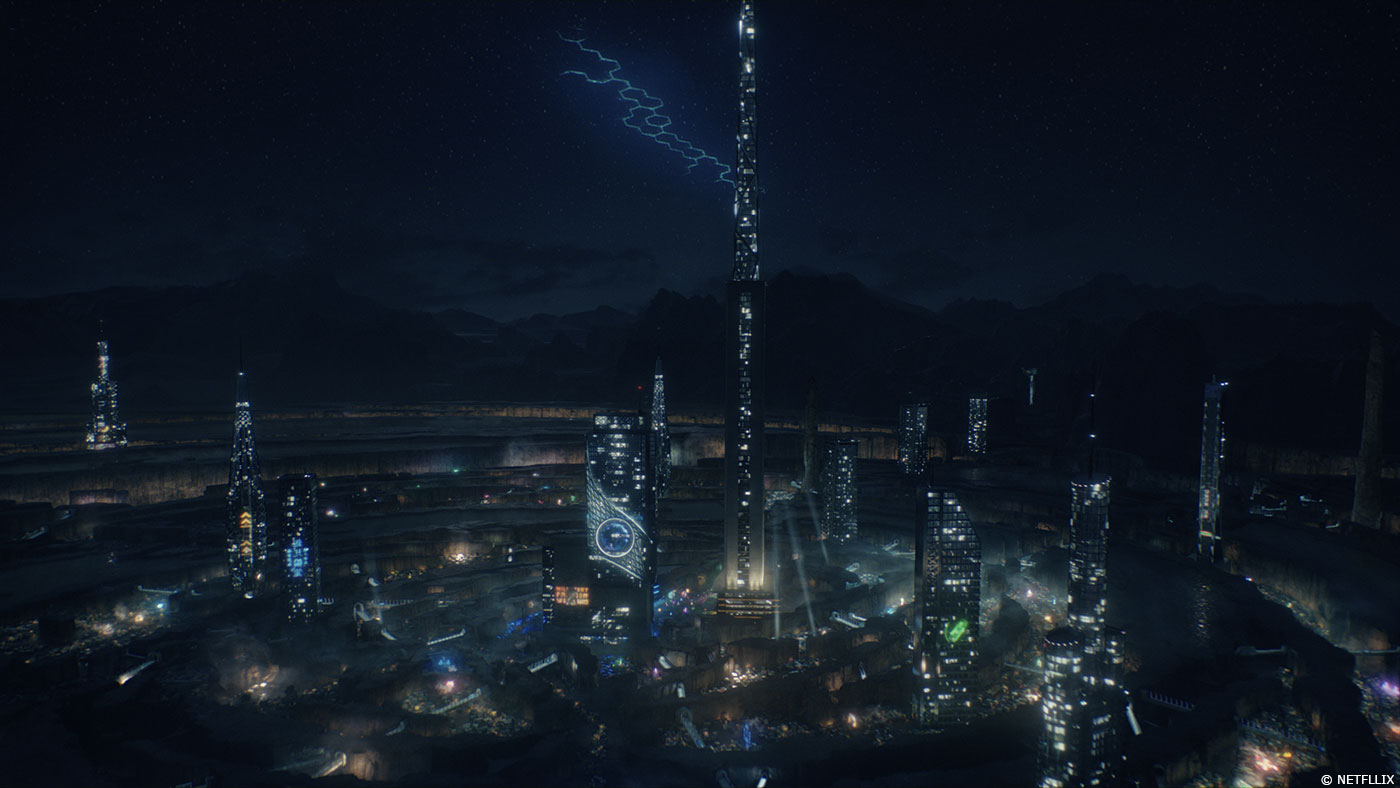 The city is full of holograms and motion design. Can you elaborate on the designs and creations?
Barry Corcoran // We based the holograms around two types of executions; one being 2-dimensional and the other being more involved 3-dimensional holograms. The backdrop to these holograms had changed significantly, so the content had to change accordingly. Kovacs was no longer traversing the streets of Licktown with its sleazy strip clubs and dive bars. In season 2, we were on Harlan's World in Millsport, a mining community, so the advertising was aimed more towards this populace, with Asian and Slavic undertones to reflect the ethnicity of the people living there.
How did you handle the animations of so many elements?
Barry Corcoran // Our teams are deeply entrenched within DNEG's VFX pipeline, allowing for quick sharing and easy access to the assets needed. It allowed us to speed up workflow and allow for more iterations per shot. All assets were tracked by our production team. You also learn very quickly to build libraries and approach a show of this scale in a sensible manner that allows you to populate shots quickly.
Did you use procedural tools for the motion graphics elements?
Barry Corcoran // C4d's mograph is always a go-to for our MGFX teams, we also used x-particles in the more designed, VFX-heavy shots. These tools really helped us turn around iterations efficiently when dealing with client feedback.
How have you enhanced the hologram effects since the first season?
Barry Corcoran // Being under the DNEG roof this time allowed us to make use of proprietary software and push the look further. We did a lot of 32-bit linear workflow lookdev upfront with softwares such as Nuke. This ultimately resulted in minimal variation from signed off looks when handing over to comp. Sitting closer to the comp team allowed us to oversee the art direction of MGFX shots. Dan Charbit was great at taking onboard our input on how the holograms could look. This collaboration and cohesion across departments really gave us an end product we were all happy with.
What were the most complicated motion graphics elements to create and why?
Barry Corcoran // The archaeologic intro shot was particularly difficult as it involved CG camera takeover and full on-scene projection on to a motion graphic asset. This all had to exist in an expansive backdrop that involved other assets. Marrying up the cameras whilst the room unfolded and re-formed wasn't straightforward, but we got there!
We discover the Elder in an impressive shot. Can you elaborate on his design and creation?
Dan Charbit // We received a few concepts of the Elder from Weta Workshop. They were showing the creature in pose and from the front, and they were awesome. From that point we had to imagine everything else. How it looks from the sides and the back, how it moves, how the skin looks with the bioluminescent flesh, and how the face looks from a closer view. We worked closely with the client to be sure we were creating an Elder that would be even better than what they had in mind. That was an exciting process as we had a lot of creative freedom.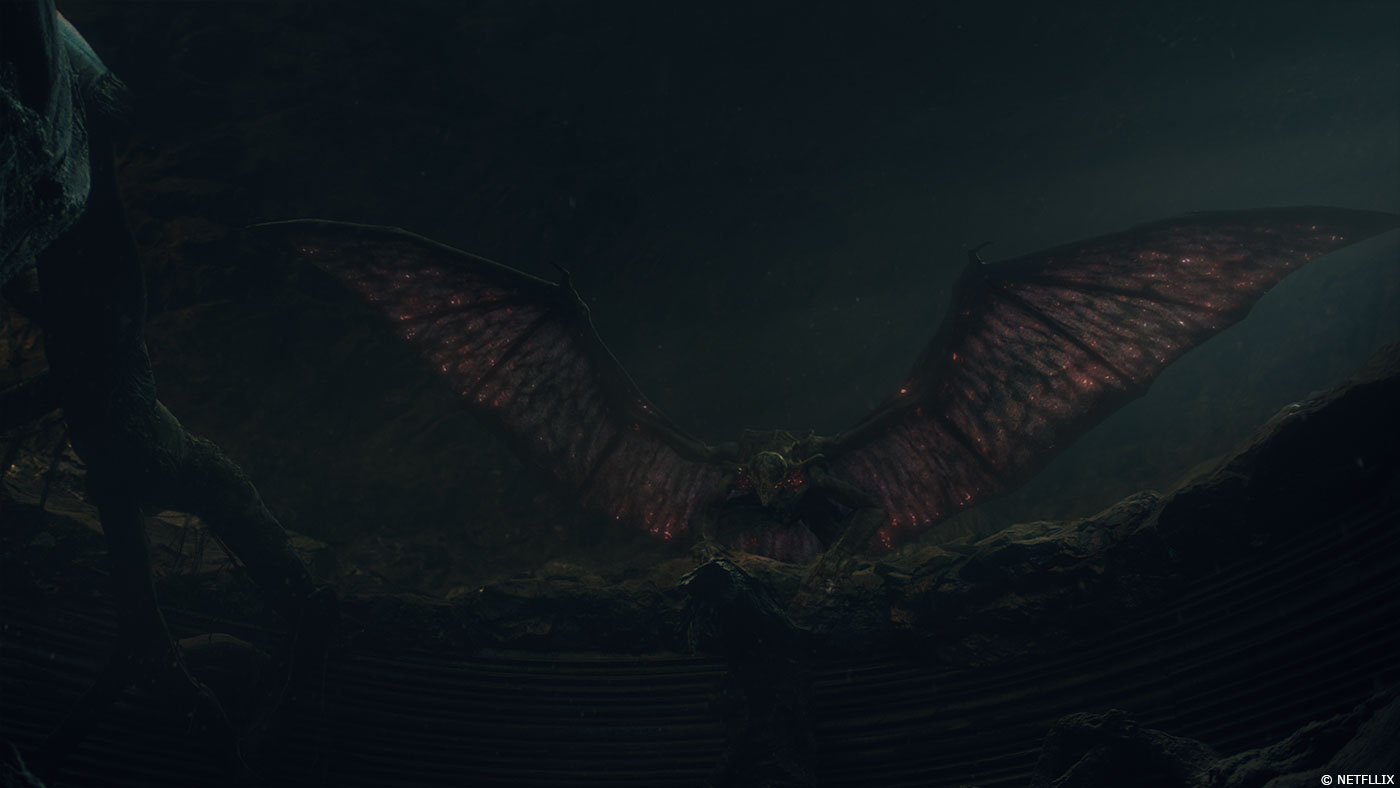 How did you handle the challenge of building and animating a creature for so few shots?
Dan Charbit // The process of building the creature started before the sequence was shot. We talked a lot with the client, trying to define what this creature would or would not do. On the first edit there was no closeup of the head, but on reflection we thought the Elder deserved a closeup shot… We talked about it with Alison Shapker, we showed her a blocking animation of it, and then she was won over by the change. Then we had to upgrade the head to be visible from up close, which we were able to achieve in camera thanks to the team's hard work.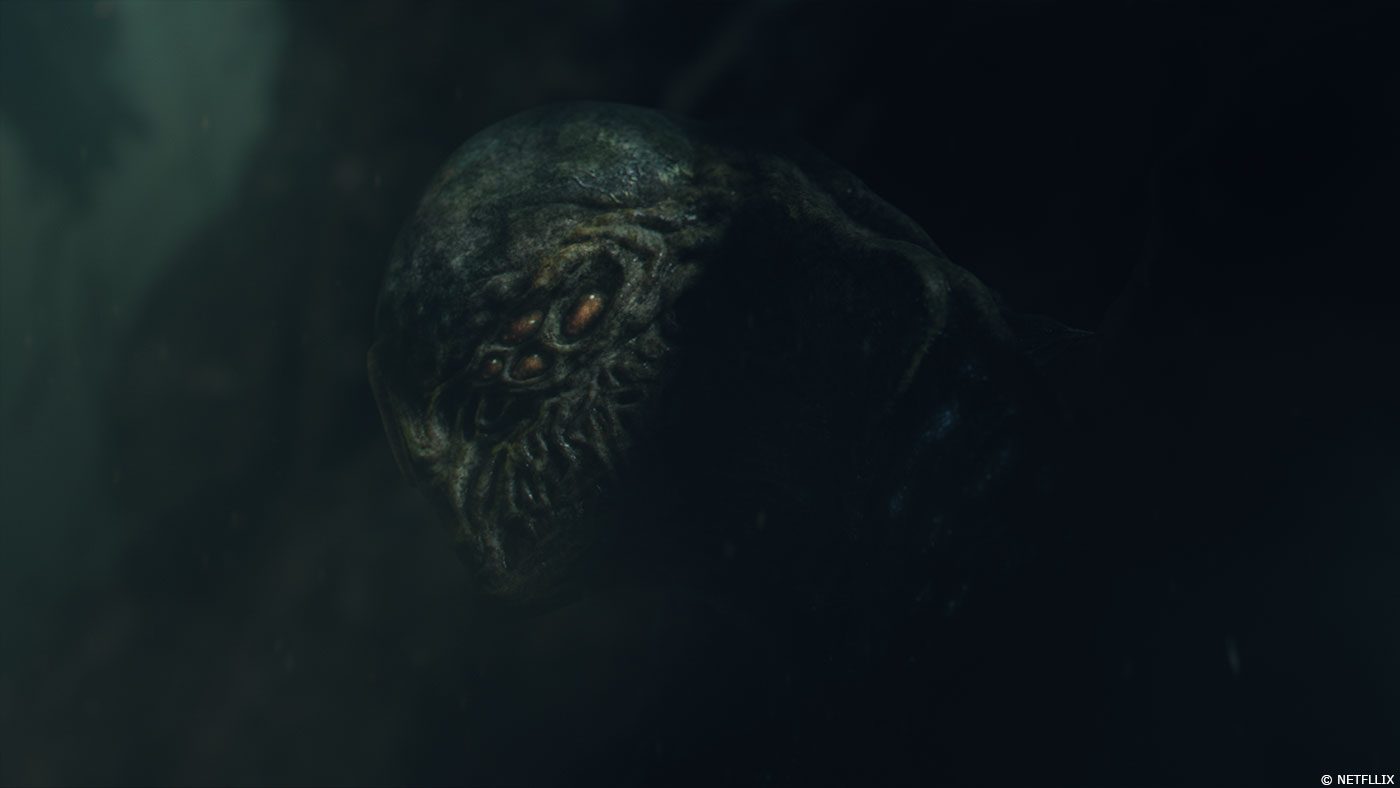 The Angelfire attack in the forest is really impressive! What kind of references and indications did you receive for it?
Dan Charbit // The Angelfire is one of the most important elements in this season of ALTERED CARBON. The brief was pretty clear: it is a weapon, it has to be extremely powerful and violent, and extremely precise. There is a downstream to kill and an upstream to suck data from the target. The Angelfire burns and kills instantaneously!
Can you explain in detail the creation of the Angelfire FX?
Dan Charbit // We started by doing some concepts and got approval on the look before going to. The outside of the beam is the downstream which kills; it's frenetic, violent and hot. Inside there is an upstream made from particles of the target. The effect is cooked in Houdini and Compositing mixes all the layers to create the final image.
When we discovered that some shots would be in slow motion, we thought it would be a great opportunity to make the deaths more interesting. Our team in Vancouver did a great job transforming those poor guys into charred bodies, complete with embers and smoke.
Which sequence or shot was the most challenging?
Barry Corcoran // The VR torture sequence was particularly difficult as that involved us recreating an effect and matching into the style of the sequence without upsetting continuity. That can be difficult, especially with stylized material, but we managed to achieve a look that married well to the plate photography.
Dan Charbit // If I count how many methodology meetings we had on the sequence we called « Pixel storm », then that was the most challenging one. That's the sequence in the VR construct when Kovacs uses Tanaseda's stack to try and understand who killed him and why. The whole VR construct disintegrates in a pixel storm and the editing had a lot of small shots with a lot of jump cuts. The look of the sequence had to be shared with FX and Comp, and we had to coordinate their R&D and work. But because of this collaborative effort, it wasn't too difficult to perfect the look, and I think the result was a success.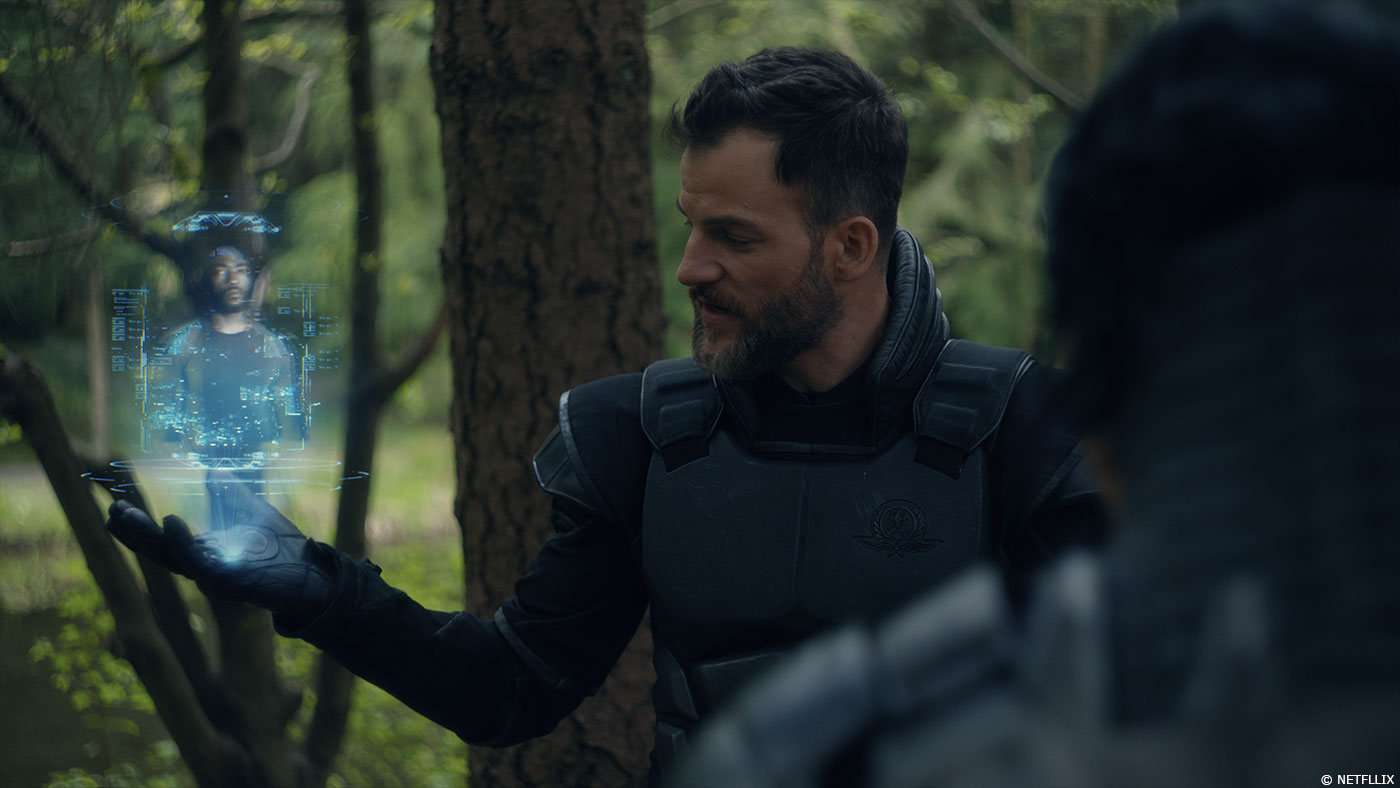 Is there something specific that gave you some short nights?
Barry Corcoran // The major challenge with a project like this is handling a large workload whilst maintaining the high standards expected. That quality is always guaranteed by the great team of designers at DNEG. Delivering finals to a tight deadline on an episode while working on first versions for the next can be challenging. Spinning plates and keeping everything ticking along can give you some short nights. It can get hectic, but when you're surrounded by people who care about it as much as you do… It also becomes the fun part! We're lucky to have great producers on our team. They kept everything moving with realistic milestones. They played a vital role in meeting our deadlines. 
Dan Charbit // Without hesitation, rendering the flight over Harlan's world. That's a night shot with tons of lights and too much parallax to cheat as much as we would need. On top of that the shot was pretty long and we rendered a lot of layers. Oh I forgot, of course it was a 4K render! The result is impressive.
What is your favorite shot or sequence?
Barry Corcoran // My favorite shot would have to be in episode 4, when Kovacs is standing near a river's edge within a virtual world. The camera moves over the water towards Kovacs. We were tasked with doing a stylized intro into this VR space. We received a 3D track of the scene from the match-move team and we built out the geo for the shot. After projecting the plate back on to the tracked geo, we broke it all apart with x-particles and reformed it over the camera move. There was something about it. The effect just complemented the camera move. When we presented it … it got the best reception I've ever heard. It was a big win and a great moment. 
Dan Charbit // I love the shot from Axley's balcony, when we see the city for the first time. There are so many details and so much life in that one shot. 
What is your best memory on this show?
Barry Corcoran // We had a hefty task that involved a lot of intricate animation on episode 3. Poe and Dig had a lot of intricate performance that needed timed bespoke GFX. A lot of upfront conversation was had about the best way to approach the shot. Eventually, the time came for the team to roll up their sleeves and get a v001 in front of the client. When we showed it to them, a small giggle of excitement came down the line. To have that kind of feedback, and be reminded that everyone was just trying to make the coolest picture possible… that was undoubtedly my favorite moment!
Dan Charbit // I have a lot of good memories from that show; it's difficult to pick only one. The production team at DNEG and all the artists were amazing. The mood was awesome, and we became more than co-workers, now most of us are friends.
Also, our relationship with Alison Shapker and James Middleton was perfect. They trusted us and gave us so much creative liberty. I think it was a privilege working with them on Altered Carbon.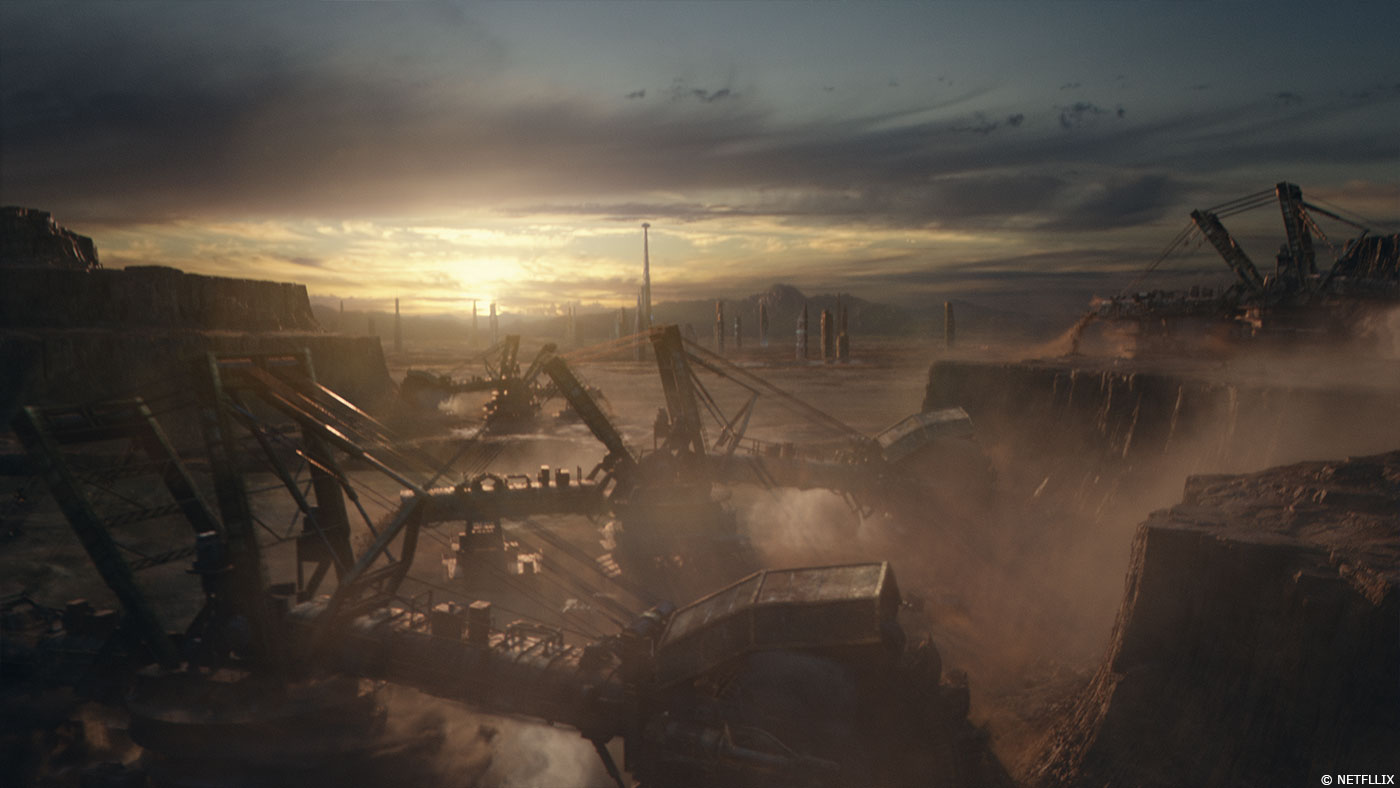 What was the size of your team?
Dan Charbit // About 700 artists worked on the show.
Barry Corcoran // At our largest, there were 12 MGFX artists across 3 locations.
What is your next project?
Barry Corcoran // The DNEG MGFX team serves all graphic design needs for the company globally. We're working on TV, film and feature animation projects, so we have our fingers in a lot of pies. Watch this space!
Dan Charbit // Top secret for now!
A big thanks for your time.
WANT TO KNOW MORE?
DNEG: Dedicated page about ALTERED CARBON – Season 2 on DNEG website.
Netflix: You can watch new ALTERED CARBON on Netflix.
Alison Schapker: Our interview of Alison Schapker, Executive Producer & Showrunner, on ALTERED CARBON on What's on Friday our brother website.
© Vincent Frei – The Art of VFX – 2020